Historically, crypto has battled with law and regulation. The battle has been ongoing since Bitcoin's inception and has continued all the way to the modern day, where the US Securities and Exchange Commission (SEC) claimed all proof-of-stake cryptos are securities.
However, an exciting new presale crypto, Brickken, aims to tackle this issue once and for all. Brickken will make it possible for companies to sell their shares on the blockchain while complying with local laws and regulations.
In this Brickken price prediction, we dissect the Brickken ecosystem and forecast its short and long-term price.
Brickken's IEO Set For 2023
One of the main concerns of presale coins and new cryptos is that they are unregulated, making them riskier investments. However, Brickken's entire project is based on enabling tokens to launch while complying with local laws and regulations.
The Brickken initial coin offering (ICO) brings a new use case to the world of presales based on legitimizing the blockchain industry in the eyes of the traditional finance sector.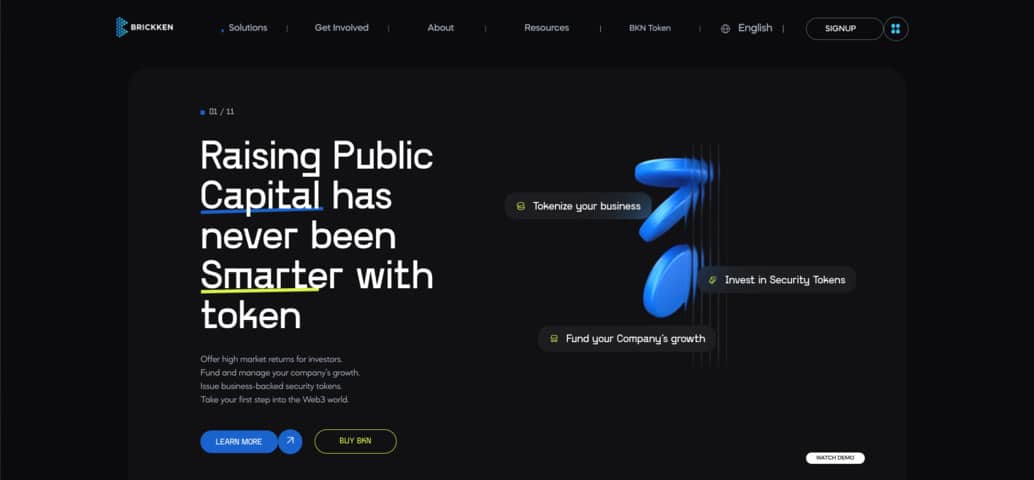 Brickken is currently in its second crypto ICO stage, with tokens on sale at $0.13 per token. The round is set to end on June 1, 2023, with its initial exchange offering (IEO) to follow, set to begin at $0.16. Once the token is listed on exchanges, investors can buy and sell it freely, with its price dictated by supply and demand.
Of the 150 million max supply of $BKN, 34% of tokens were distributed between the public and private sale rounds, all of which will be unlocked gradually. This will ensure that excess supply does not negatively impact the $BKN price in the project's early days.
The Brickken platform will allow anyone to launch a 'Stock Token Offering' or tokenize any real-world asset on the blockchain. This means the issuer and investor will both benefit from the core blockchain advantages like immutability, traceability, low fees and borderlessness.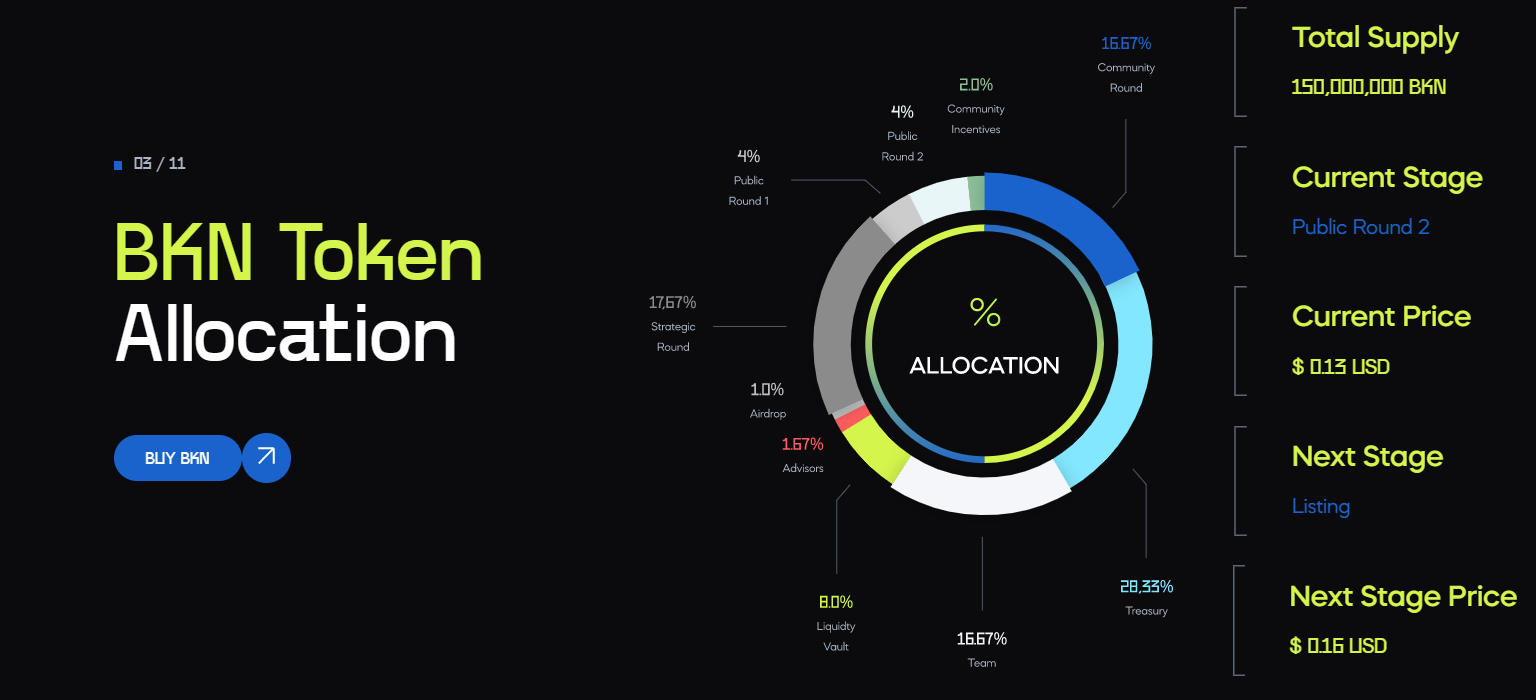 However, both parties will also be protected since the Brickken platform has built-in frameworks to ensure issuers and investors comply with local regulations.
The $BKN token is the platform's primary utility token with various use cases. For example, it can be used for investing and fees on the platform, staking, participating in the Brickken DAO and much more.
Ultimately, this means that the coin's price will rise as long as the platform is in demand. To determine the possible level of demand for the Brickken platform, it is important to understand what problems it solves.
What Has Caused Brickken's Hype So Far?
Until now, Brickken has kept a low profile among the mainstream crypto community. That said, those in the know are particularly excited as Brickken has confronted some of the key criticisms of crypto.
For example, many critics have said that the crypto industry's lack of regulatory compliance is a barrier to entry. Meanwhile, the SEC has stated all proof-of-stake cryptos should be regulated as securities.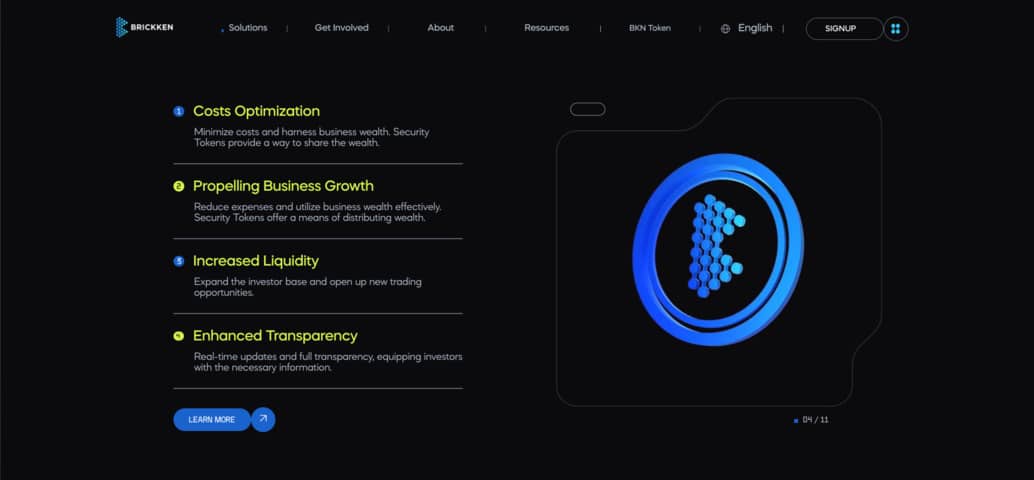 However, Brickken allows founders and businesses to launch their projects on the Ethereum blockchain without facing these issues – although this may beg the question of why Web2 companies would want to launch on the blockchain in the first place.
According to the Brickken whitepaper, there are several reasons for this. For example, tokenizing ownership can lead to increased financing, loyalty, more efficient governance, or higher profitability for companies or asset issuers.
Moreover, blockchain enables 24/7 trading and instant settlement on token transfers. This spans from previously illiquid assets like art or property to liquid assets like stocks and shares.
Overall, Brickken has taken on the role of onboarding Web2 companies to Web3 using decentralized legal frameworks. This is a massive step forward in innovation and has generated much anticipation about the platform launch.
Moreover, the tokenization of real-world assets and making them liquid and tradable 24/7 could bring massive amounts of new demand to the crypto industry.
Brikken Price Prediciton
As a concept, Brickken has enormous potential. That said, the purpose of a presale is to raise funds for the project's future developments. In other words, the project's rollout is not guaranteed to go as planned.
Nonetheless, Brickken's founding team is fully doxxed and features a range of experts. Moreover, the project follows regulatory procedures and has a clear long-term plan – these factors all point toward the token having considerable long-term potential.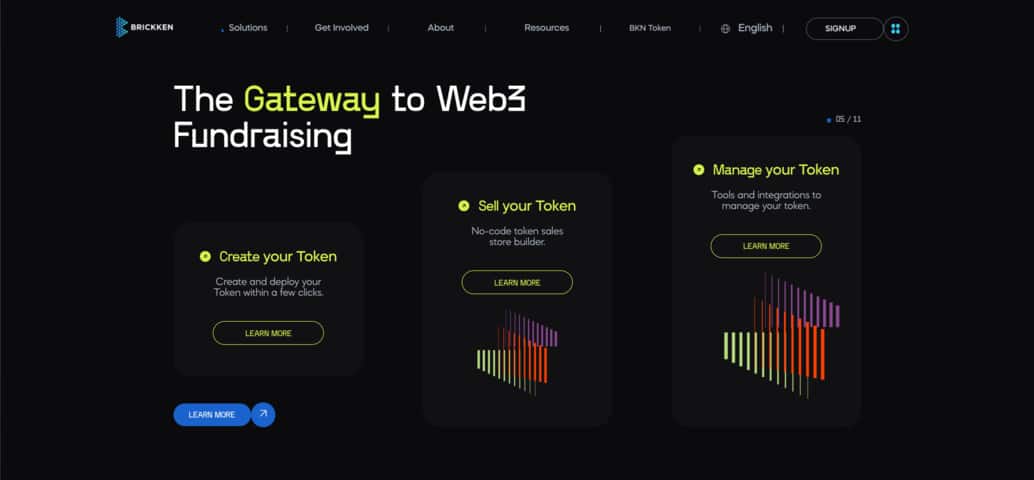 Taking into account the early stage of the project, it is difficult to predict how far it could go. However, our Brickken price prediction estimates the coin could reach $0.35 by the end of 2023. This is because the token will have had its IEO, which will likely bring with it lots of new hype-driven demand.
Looking further ahead, we could expect the crypto to reach $1 by 2024 – a 660% increase from the current presale price. This is because crypto is expected to experience its next bull market in 2024, and Brickken's strong fundamentals could be enough to see it become one of the best-performing cryptos.
How to Buy Brickken Token
You can start buying Brickken in ten minutes or less by following the steps below.
Step 1: Create a MetaMask Account
Download the MetaMask application to your device and follow the sign-up instructions to get started.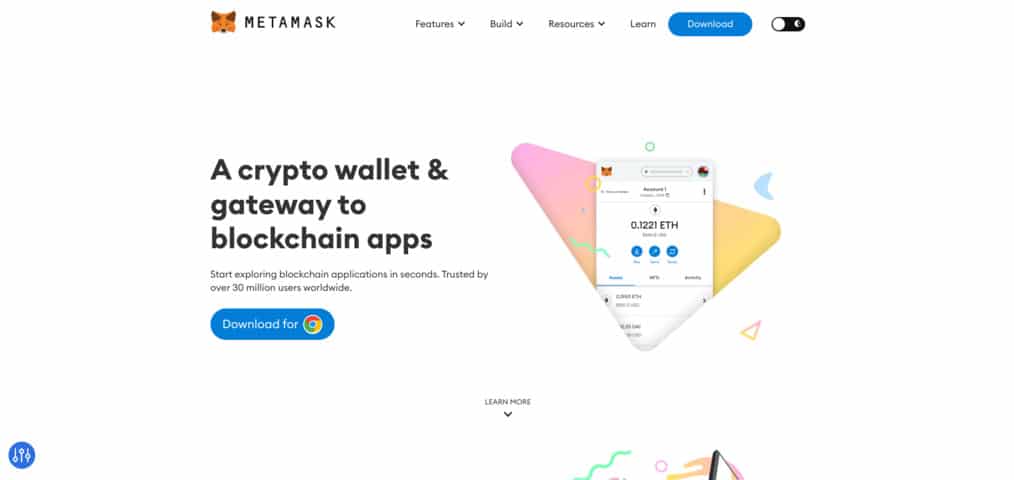 Step 2: Purchase Crypto to Fund Your Investment
Buy either ETH or USDT on MetaMask with your credit or bank card. Alternatively, send your fiat to a centralized exchange, purchase ETH or USDT and send it to your crypto wallet.
Step 3: Create a Brickken Account
Visit the Brickken website and create an account. Follow the instructions and complete the KYC verification to complete the account creation.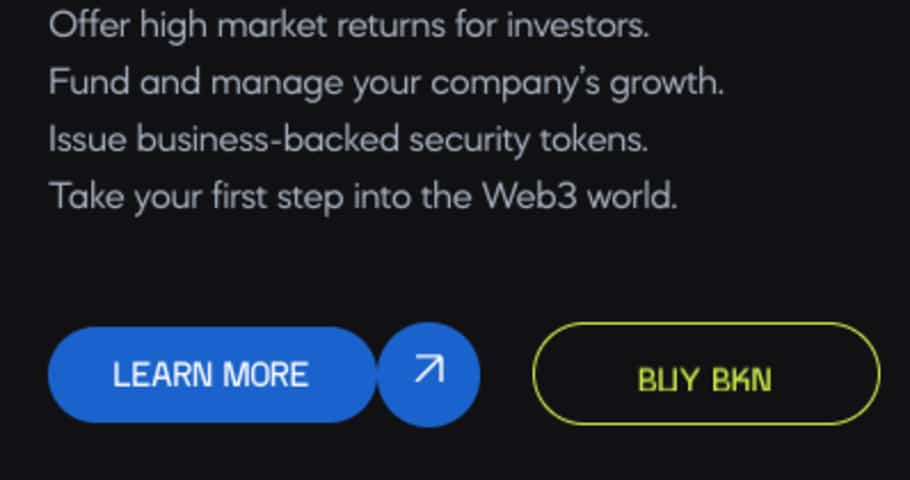 Step 4: Buy Your Brickken Tokens
Next, visit the Brickken presale page, and select 'Automatic Crypto Payment'. Then, choose the amount of crypto you want and complete the payment with Metamask.

Step 5: Claim Your Brickken Tokens
Finally, you can claim your Brickken tokens. The Brickken stage 2 presale features a 12-month unlock schedule. 20% of tokens will be released at the TGE, and from the second month, 0.242% of tokens will be released daily until the total amount is released after 330 days.
Brickken Alternatives
Brickken is a high-potential presale project but it does not make our list of the best crypto presales on the market right now.
Our expert writers have found 13 different projects – from trending new meme coins to AI-powered trading platforms and the best new crypto games – to offer a diverse selection that will suit all different crypto investors.
Best Place to Buy Cryptocurrencies
You can't buy Brickken token on Binance yet, but you can buy over 350 cryptocurrencies, such as Bitcoin, Ethereum, Dogecoin and Floki, with some of the lowest spot trading fees in the space of 0.1%.
If you're in a hurry, buy the cryptocurrency you want with a card. This will cost around 4% in fees but sometimes it could be more costly to wait for a bank transfer to clear and purchase the coin you want.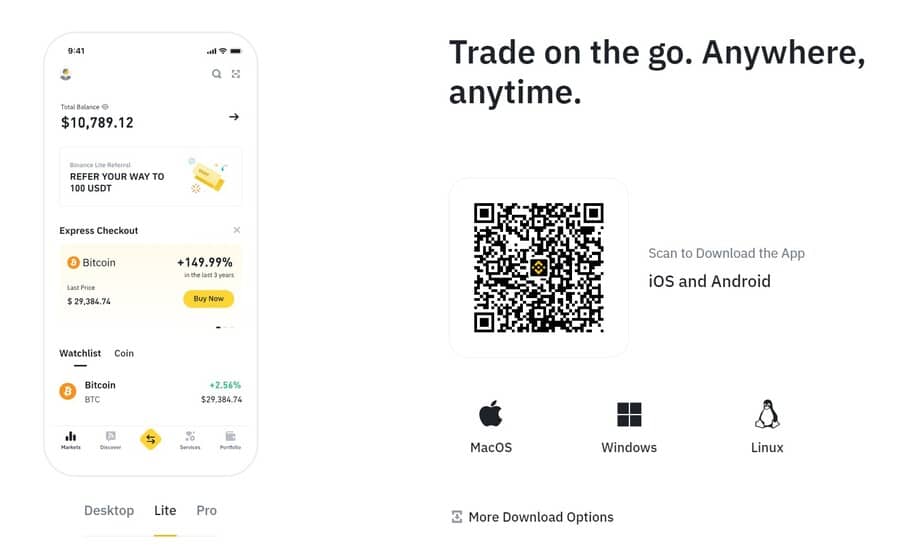 Those who want to take higher risk can trade crypto options and futures with up to 10x leverage. Moreover, you can automate your trades with bots and copy trading features.
And if you're looking to grab the newest coin, Binance Launchpad occasionally will let you earn a new token before it's listed on the exchange, potentially giving you a better entry price.
Overall, Binance is the best crypto exchange due to its low fees and a number of useful features that can help you grow your crypto portfolio.
Don't invest unless you're prepared to lose all the money you invest. This is a high-risk investment and you should not expect to be protected if something goes wrong.
Brickken Price Prediction – Conclusion
Overall, Brickken is providing a cutting-edge solution to the age-old issue of legality surrounding blockchain adoption. If it proves successful in its feat, we could see trillions in new liquidity added to the blockchain, which would give the price huge potential.
FAQs
What is a crypto presale?
What is the Brickken Price Prediction?