A new recently listed crypto, BTC20, is giving crypto investors a shot at purchasing a Bitcoin alternative for its 2011 price of $1. The question is, will BTC20 explode like Bitcoin?
This BTC20 price prediction looks at how far BTC20 could go, providing our price predictions for 2023, 2025 and 2030.
BTC20 Price Prediction Summary
End of 2023: BTC20 witnessed a presale sell-out where all tokens were sold for $1. The remainder of the tokens are allocated to the community as staking rewards on a 120-year unlock schedule, making the asset scarce. Therefore, we forecast possible highs of $3.8 by the end of 2023.
End of 2025: BTC20 is a greener and more accessible alternative to Bitcoin with similar long-term tokenomics. As such, once the word gets out, the masses could scramble for a second chance at an early "sound money" pump. With this in mind, our BTC20 price prediction estimates a price of $6.5 by the end of 2025.
End of 2030: The project is built on Ethereum. This makes it interoperable with many of the top DeFi applications, opening the project to endless potential partnerships and integrations. Moreover, a rising BTC20 price will likely snowball as more people buy it to take advantage of staking rewards. Therefore, our BTC20 price prediction forecasts a price of $11 by the end of 2030.
BTC20 Price History
BTC20 is rolling back to 2011 when investors could buy Bitcoin for just $1.
While it may seem like a dream, BTC20 provides a viable alternative to Bitcoin. It features the same capped supply of 21 million tokens and an extended unlock schedule of 120 years.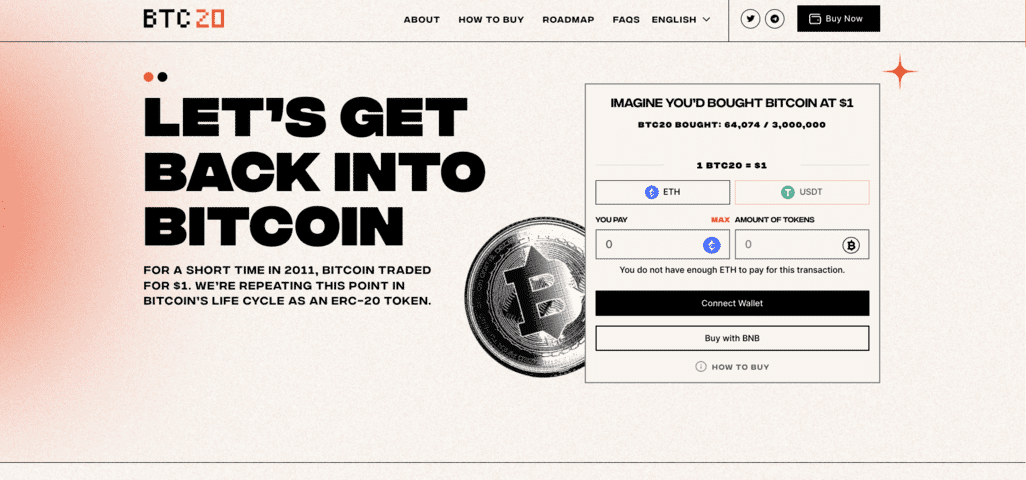 Since its launch on Uniswap, $BTC20 saw an over 300% jump in its price. Its press time market cap stood at over $59 million.
The project's presale featured two phases, its initial phase, where 3,000,000 $BTC20 were sold. The second phase where another 3,050,000 tokens were sold.
All the remaining tokens will be issued as staking rewards in line with its unlock schedule. This also includes any "additional oversupply" of tokens not sold in its presale.
Therefore, in typical Bitcoin fashion, BTC20 is 100% community owned and decentralized.
BTC20 Price History Key Points:
BTC20 has a capped supply of 21 million tokens and a 120-year unlock schedule.
6,050,000 tokens were sold out in the presale, with the rest attributed to staking rewards.
100% of the supply is allocated to the community, making the project truly decentralized.
The presale secured has a $6.05 million hard cap, and the $BTC20 tokens are now listed on Uniswap.
BTC20 Price Prediction 2023
Despite launching recently, BTC20 has already created a wave of excitement amongst the crypto community. Analysts like Jacob Bury have dubbed BTC20 as having 10x potential, and it has already received coverage from several high-profile media outlets.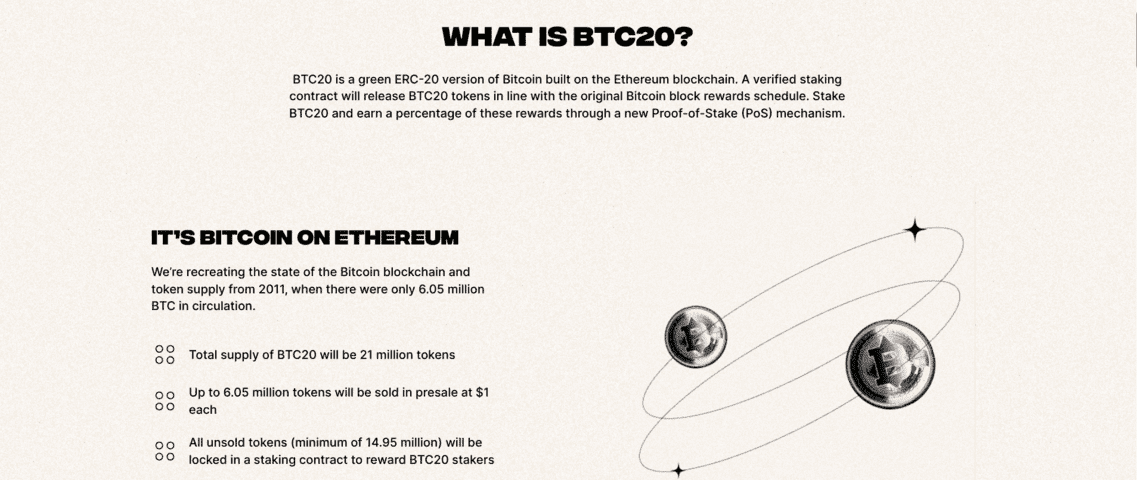 Moreover, the project has already raised over $60K despite launching yesterday.
Yet this is no surprise. "2.0 meta" coins frequently pump thanks to the ease at which investors can understand their potential. Generally, 2.0 coins seek to improve an aspect of the original crypto, and BTC20 is no exception.
While it features similar tokenomics to Bitcoin, its main difference is that it is built on Ethereum as an ERC-20 token. This boasts a plethora of advantages and is likely the reason behind the BTC20 frenzy thus far.
Essentially, being built on Ethereum means BTC20 has much more functionality than Bitcoin, such as integrating with Ethereum-based DeFi applications.
XRP's recent partial victory over the SEC has injected a new sense of optimism into the markets. Therefore, it is likely that new liquidity could begin entering the markets in anticipation of the 2024 Bitcoin halving.
As a result, our BTC20 price prediction forecasts that the project could pump, potentially reaching highs of $3.8 by the end of 2023. This equates to a 180% increase from its current price.
BTC20 Price Prediction 2025
With analysts predicting Bitcoin could reach highs of $120K by the end of 2024, we could see a parabolic altcoin season commence in 2025.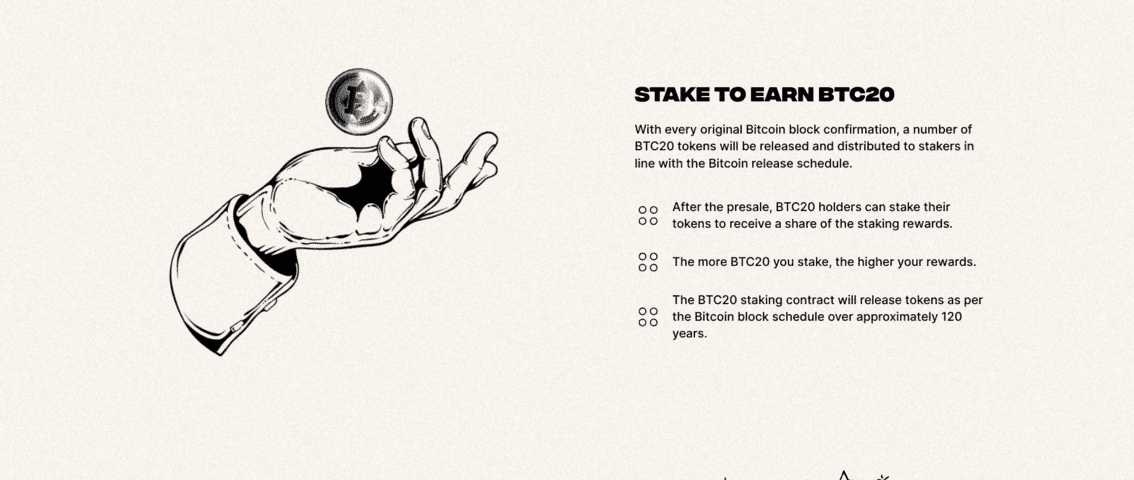 One of BTC20's primary advantages over Bitcoin is that it is greener. Bitcoin has faced extensive criticism for its energy consumption due to the "mining" process required to earn rewards.
In comparison, users can earn BTC20 by staking, which is significantly less energy-intensive, presenting an attractive Bitcoin alternative to environmentally conscious investors.
However, sustainability is not the only advantage of BTC20's staking mechanism. Bitcoin miners require expensive ASIC chips to mine Bitcoin, which are expensive to purchase and result in astronomically high electricity bills.
On the other hand, BTC20 stakers can simply deposit their tokens into a smart contract and earn passive rewards without lifting a finger.
Moreover, with the same 100% community-owned, decentralized tokenomics as Bitcoin, it becomes clear that BTC20 is one of the most promising cryptos, continuing from where Bitcoin left off.
Therefore, our BTC20 price prediction estimates a price of $6.5 by the end of 2025.
BTC20 Price Prediction 2030
Sine BTC20 is a newly-created project, forecasting a long-term price is difficult. Nevertheless, its 100% community-owned tokenomics means it will not face the same liquidity issues as other new cryptos.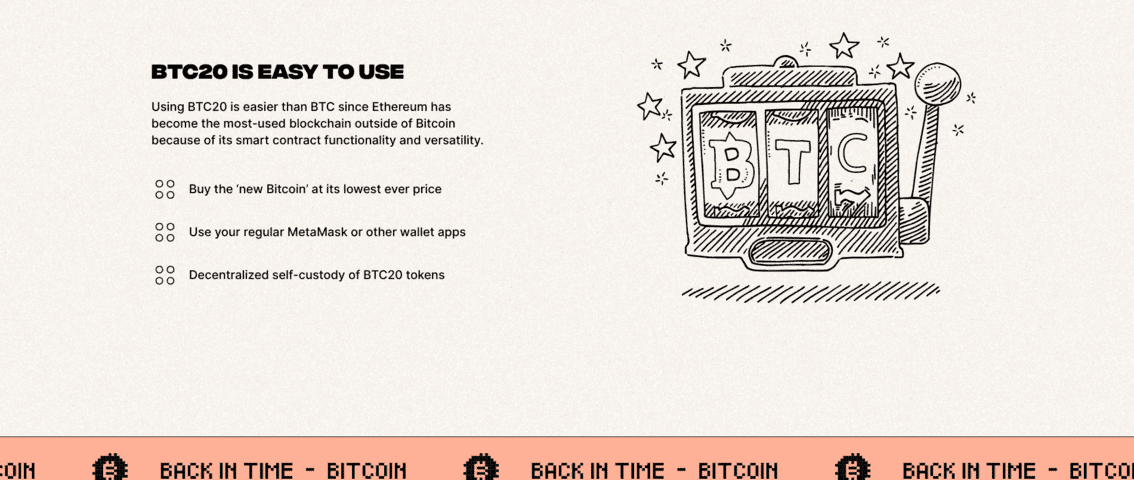 Since BTC20 is built on Ethereum, users can purchase and manage the token from their MetaMask or other Ethereum wallet. This makes BTC20 far more accessible to the average crypto user than Bitcoin.
Another benefit of launching on Ethereum is the potential for partnerships and integrations. If it secures partnerships and integrations, the chances of it becoming one of the top long-term cryptos would rocket.
Currently, decentralized applications must use synthetic or wrapped Bitcoin if they want exposure to Bitcoin on the Ethereum chain. This presents a significant risk since wrapped cryptos are often targeted in bridge exploits.
For example, the most recent bridge incident happened just weeks ago, with the Multichain bridge collapse causing losses worth $120 million.
However, since BTC20 is native to Ethereum, this means it is backed by the Ethereum network security and is not exposed to bridges. Consequently, it could become an attractive option for DeFi projects looking for Bitcoin-like tokens native to the Ethereum blockchain.
Furthermore, as the price of BTC20 increases, staking will become more lucrative. This could drive more buyers to the market, pushing the price up further.
With this in mind, our BTC20 price prediction forecasts a price of $11 by the end of 2030.
Possible Lows and Highs of BTC20
While it does not come without risk, BTC20's forward-thinking approach to improving Bitcoin could make it one of the best altcoins to buy. With that in mind, we have listed our predicted lows and highs below.
| | | |
| --- | --- | --- |
| Year | Potential High | Potential Low |
| 2023 | $2 | $3.8 |
| 2025 | $5 | $6.5 |
| 2030 | $9.5 | $11 |
Nevertheless, our predictions could prove lower than the actual future price, particularly if BTC20's unique selling points (USPs) of sustainability and versatility catch on.
What is BTC20 Coin?
Key Points on BTC20
It is a "Stake to Earn" version of Bitcoin built on the Ethereum blockchain.
According to its website, the project is "a more versatile version of Bitcoin".
It follows Bitcoin's "sound money" principles but provides a more functional and "green" alternative.
Since it is built on the Ethereum network, it is integrable with all other Ethereum-based applications. Consequently, the project has access to the Ethereum ecosystem's vast liquidity while following the "sound money" principles created by Satoshi Nakamoto in 2008.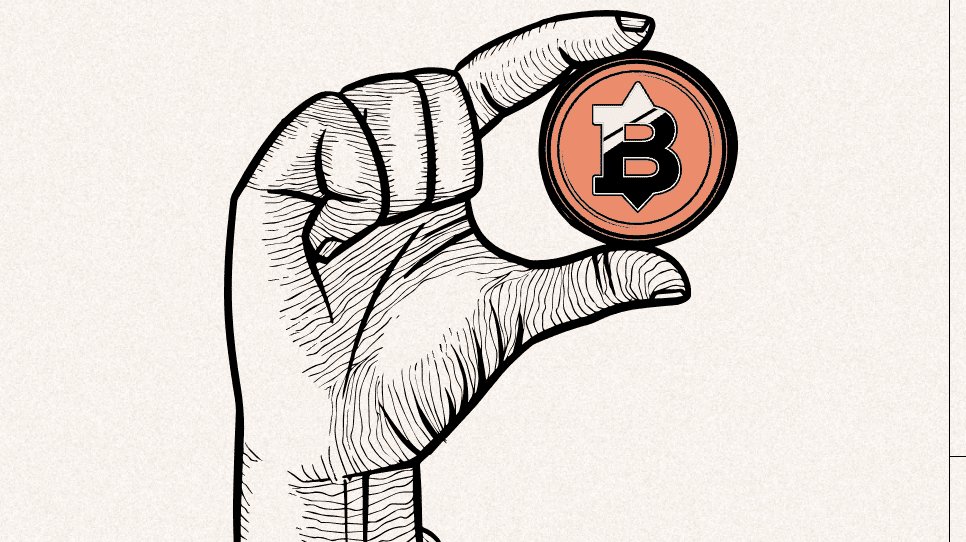 The BTC20 staking mechanism involves a 120-year unlock schedule, which will include the release of all tokens not sold in its presale.
Tokens unlocked will be rewarded to stakers, proportional to the amount they stake. This provides an extra revenue stream for BTC20 investors, all while reducing sell pressure. Consequently, BTC20 could become one of the best staking coins in crypto.
What Influences the BTC20 Price
BTC20 has built on the principles of Bitcoin, providing extra incentives for its community and making the project more accessible. With this in mind, let's take a look at the factors affecting its price.
Community
Since BTC20 will be 100% community-owned, the actions and efforts of its community could play a considerable role in its price performance. So far, investors have shown immense interest, raising over $60K in a day.
Looking ahead, growing investor interest could cause the project's price to explode.
Staking
The BTC20 Stake to Earn feature is cutting edge. It takes the Bitcoin tokenomics but simplifies and streamlines them, making passive rewards accessible to everyone.
As demand grows for staking, sell pressure on the token will reduce, causing the price to increase.
Hype
In recent years, crypto has received more media coverage and legitimacy. Blackrock CEO Larry Fink said Bitcoin could "transcend" the US Dollar just days ago. Media coverage plays a significant role in cryptocurrency prices, and BTC20's ability to garner it could cause its price to surge.
Also, its close ties to Bitcoin mean it could quickly amass recognition and hype, leading its price to pump.
Exchange Listings
As we have seen with many of the top cryptos, exchange listings can crypto prices to increase drastically. With BTC20 already receiving mass media coverage, future tier-one exchanges are likely. If so, its price could rise significantly.
Is BTC20 a Good Investment?
While it remains to be seen how far BTC20 can go, it has already gotten off to a fantastic start, with investors and analysts easily resonating with the value it brings.
With a hard cap of just $6 million, BTC20's liquidity is a drop in the ocean compared to Bitcoin's $580 billion market cap. Yet BTC20 is not just another Bitcoin copycat; it fixes many of Bitcoin's main criticisms.
BTC20 has identified and resolved problems like Bitcoin's lack of accessibility, the complexity of using and mining Bitcoin, its significant energy consumption and much more.
As such, BTC20 undoubtedly has the potential to become one of the best cryptos for 2023.
Bitcoin BSC – Alternative Bitcoin Replica With Estimated 508% APY Yields, Raises $1 Million in 6 Days
BTC20 is undoubtedly a strong project with impressive fundamentals. But Bitcoin BSC ($BTCBSC) is another Bitcoin clone that could prove to be a superior investment at the present time, for multiple reasons.
Right now, Bitcoin BSC is in an earlier stage, and this often translates to better yields and lower entry prices. Bitcoin BSC is available for just $0.99 per token and offers yields of 508%. BTC20 is presently offering yields of 60%, which are much lower in comparison.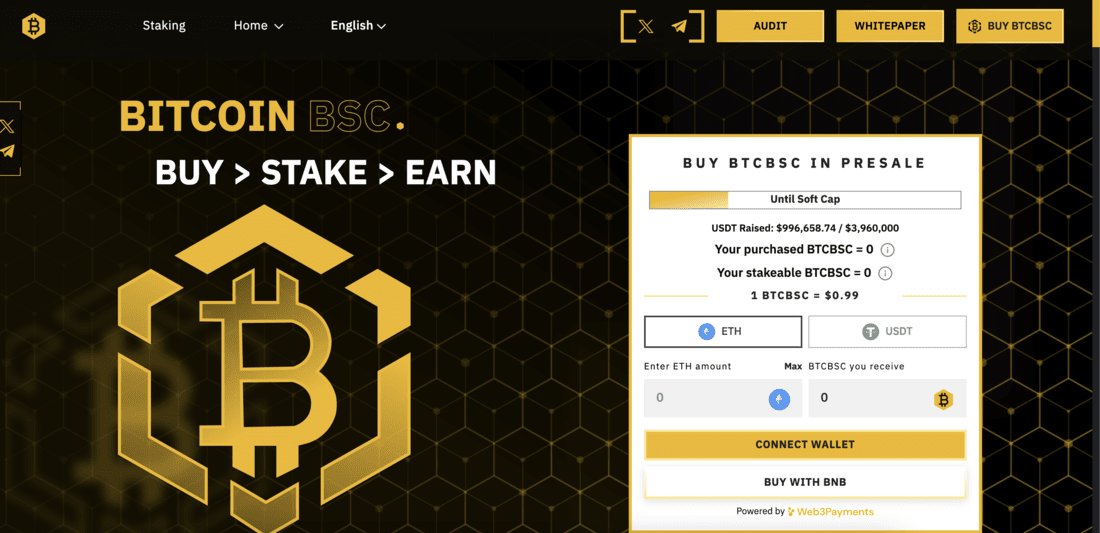 And while $BTC20 has already observed price appreciation of 600% within certain time frames, Bitcoin BSC has yet to complete its presale and list on an exchange. This means it has increased potential for price appreciation due to being in an earlier time period. Moreover, the project has already raised $1 million in less than a week, showing considerable interest among investors.
Like BTC20, Bitcoin BSC is a Bitcoin clone. It offers a similar supply, price, and demand of Bitcoin in 2011. So there are 21 million $BTCBSC tokens available with 6.125 million available in the presale, at a price of $0.99 each. Block rewards are generated at 10-minute intervals with a 120-year vesting period for overall token release.
But Bitcoin BSC is superior for many reasons. It's derived from the BNB Smart Chain, which has lower fees and higher speeds in comparison to BTC20, which is an Ethereum implementation. It is in an earlier stage, meaning it has more upside potential (provided it gets moving in the right direction).

And it offers APY rewards of 500%, which are higher than BTC20's estimated yields of 60%, at the time of this writing. Bitcoin BSC also accepts BNB and Credit Card to facilitate transactions, meaning it has more payment methods in comparison.
While both of these are great tokens, we feel that Bitcoin BSC has a definite edge and demonstrates more upside potential for the modern investor. It offers more utility via the BNB Smart Chain and higher yields for stakers.
While nothing is guaranteed and individual research is a necessity, we predict 10X potential, as do certain other analysts, but its better to invest sooner rather than later for maximum returns.
For further information, check out the Twitter and Telegram channels, as well as the Whitepaper.
Please remember that investments can go in either direction and to complete your due diligence beforehand.
| | |
| --- | --- |
| Hard Cap | $6,063,750 |
| Total Tokens | 21 million |
| Tokens available in presale | 6,125,000 |
| Blockchain | BNB Smart Chain |
| Token type | BEP-20 |
| Minimum Purchase | $10 |
| Purchase with | USDT, ETH, BNB, Credit Card |
How to Buy $BTCBSC
The following guide outlines how to buy $BTCBSC in four easy steps. You will need to have some tokens beforehand to send to your Web3 wallet.
Step One: Create a Wallet
First, create a software wallet. We will use MetaMask for this tutorial, but you can use the Ethereum-compatible software wallet of your choice.
Visit the MetaMask website, or search MetaMask on the App Store and download it to your device. Then, follow the set-up instructions, ensuring you store your seed phrase securely.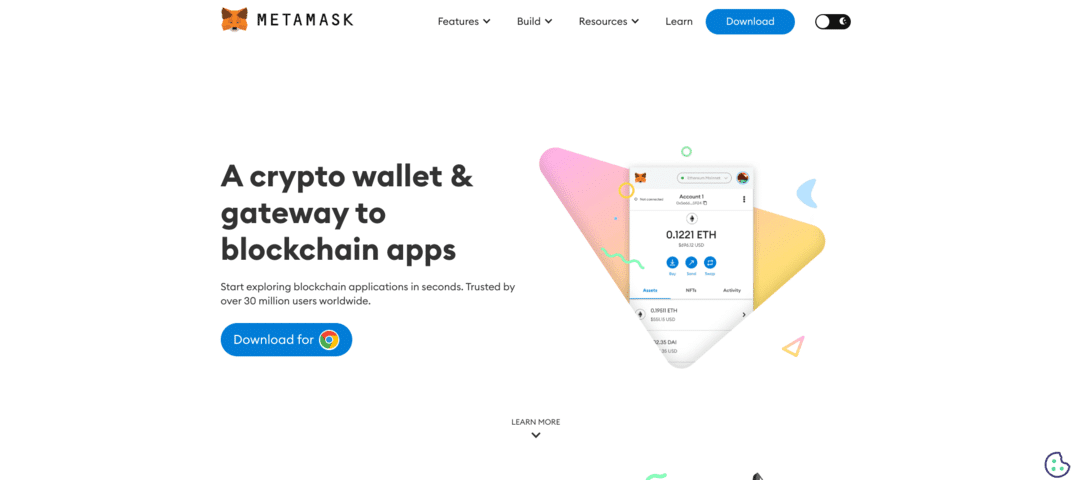 Send an acceptable crypto – ETH, USDT, or BNB to this wallet so you have something to purchase $BTCBSC with.
Step Two: Navigate To The Official Presale Page
The next step is to find your way to the official listing page. You can use the links on this page, as they are the real ones.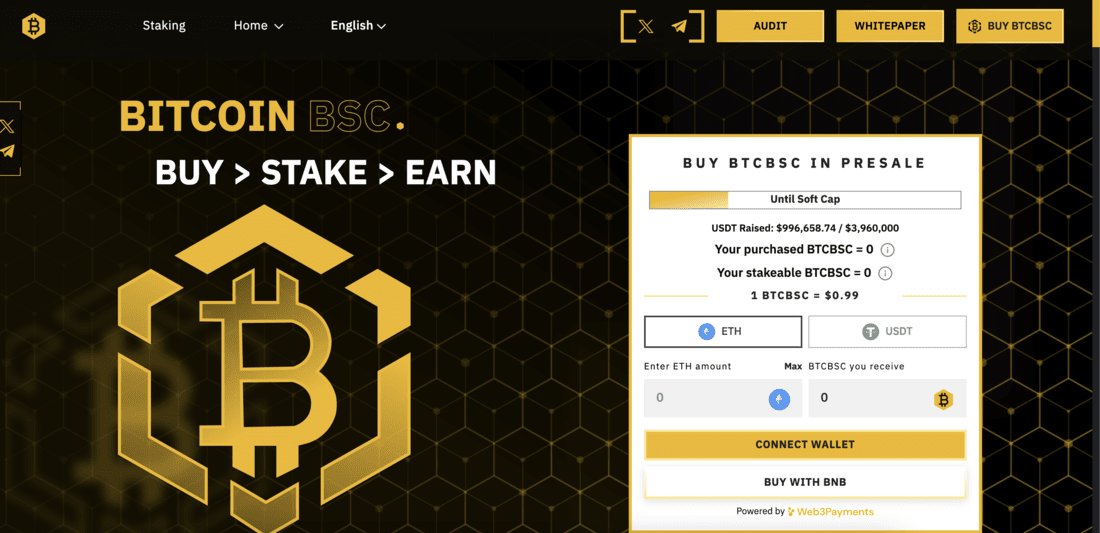 Click here to visit the official presale page for Bitcoin BSC.
Step Three: Connect To The Listing Page
Underneath the form, you will see a 'Connect Wallet' button.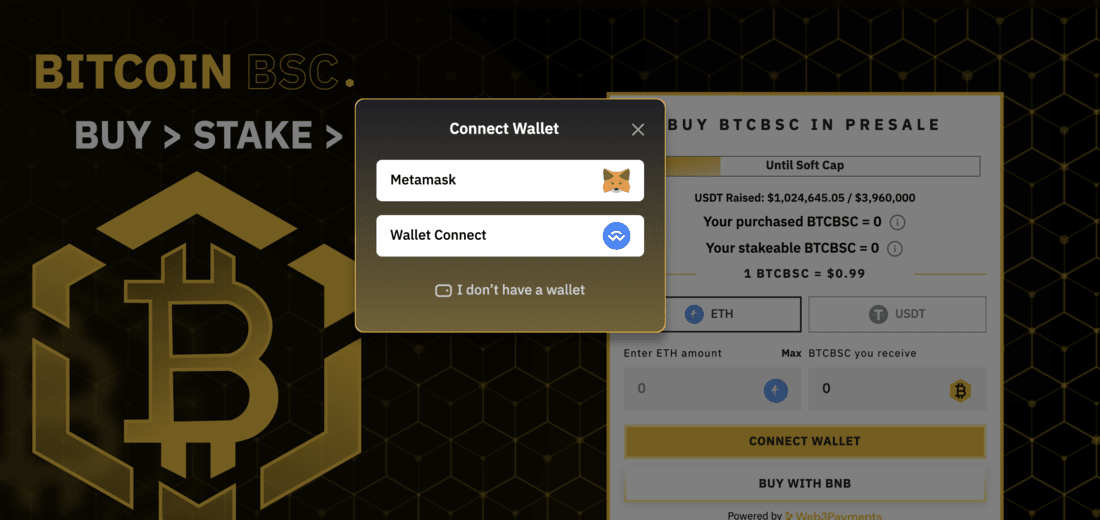 Click on this and it will display the available wallets you can use. In this instance, we are using MetaMask, the most popular Web3 wallet.
Step Four: Buy $BTCBSC
After you have connected your Web3 wallet, you can simply key in the amount of crypto you would like to buy. When connected, a contract address will be displayed on the form.
Remember to keep some extra crypto at hand to pay for gas fees.
Purchasing presale tokens is quite simple – when you have done it once, you won't forget and can do it for other presales as needed.
Conclusion
Overall, BTC20 offers a unique take on the recent 2.0 coin trend. It has added further value to where Bitcoin left off and has received tremendous hype and positive reviews so far. With this in mind, BTC20 has lots of upside potential.
However, those looking to get the "new Bitcoin" for $1 must be fast, as the BTC20 tokens are gaining traction after their recent Uniswap listing.
References
FAQs
What will BTC20 price be in 2025?
Is BTC20 the new Bitcoin?