Interested in learning how to buy a car with Bitcoin?
In this guide, we review the best car dealers that accept Bitcoin and other cryptocurrencies. We have also included a step-by-step explanation of buying a car with Bitcoin via a reputable online platform.
How to Buy a Car with Bitcoin in 5 Easy Steps
Below is an outline of how to buy a car with Bitcoin on Crypto Emporium, a trusted and established online car dealer.
Step 1 – Register on Crypto Emporium: Go to the Crypto Emporium website and create an account. This requires basic information such as an email, full name, and home address.
Step 2 – Search for Cars: Crypto Emporium features a wide selection of cars, from luxury to practical choices. Upon finding the desired model, add the car to the shopping cart.
Step 3 – Review Shipping Cost: At checkout, review the shipping details shown by Crypto Emporium. This will include the expected delivery date and the total shipping costs.
Step 5 – Make Payment: Next, choose Bitcoin as the preferred payment method. Complete the payment by transferring the BTC tokens to the displayed wallet address.
Crypto Emporium will immediately process the order once the payment is received. The car will then be delivered to the buyer's address.
The Best Dealers to Buy a Car With Bitcoin
The growing popularity of cryptocurrencies has prompted many to wonder, 'Can you buy a car with Bitcoin?'. Today, there are many reputable car dealerships that accept Bitcoin and other digital assets.
This section offers reviews of the top eight car dealers that support crypto payments.
1. Crypto Emporium – The Best Place to Buy a Car with Bitcoin in 2023
Crypto Emporium is an innovative online retailer that allows users to shop using cryptocurrencies. The platform was established in 2018 and has since become one of the leading crypto-only e-commerce sites.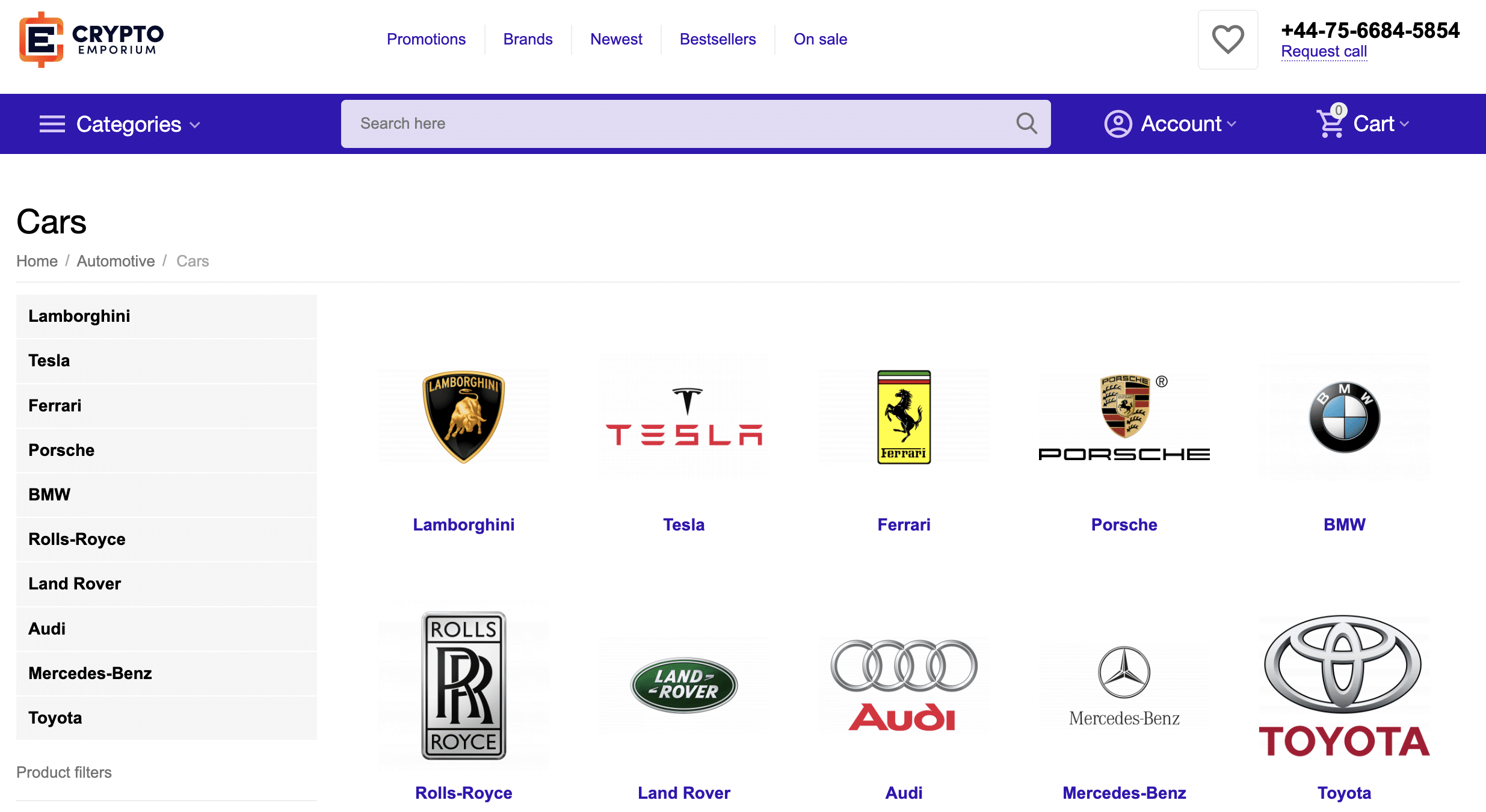 Crypto Emporium's product catalog includes luxury watches, jewelry, art, real estate, and cars. The platform features a vast selection of cars suitable for all budgets. This comprises everything from classic vintage models to modern supercars.
There are over 45 car brands to choose from, such as Ferrari, Lamborghini, Porsche, Audi, Land Rover, Tesla, Toyota, Ford, and more. We also found that the car library includes both new and used models.
For second-hand models, Crypto Emporium provides detailed descriptions of their history and usage. Moreover, Crypto Emporium will also handle all the paperwork associated with the purchase. This makes the entire purchasing experience stress-free.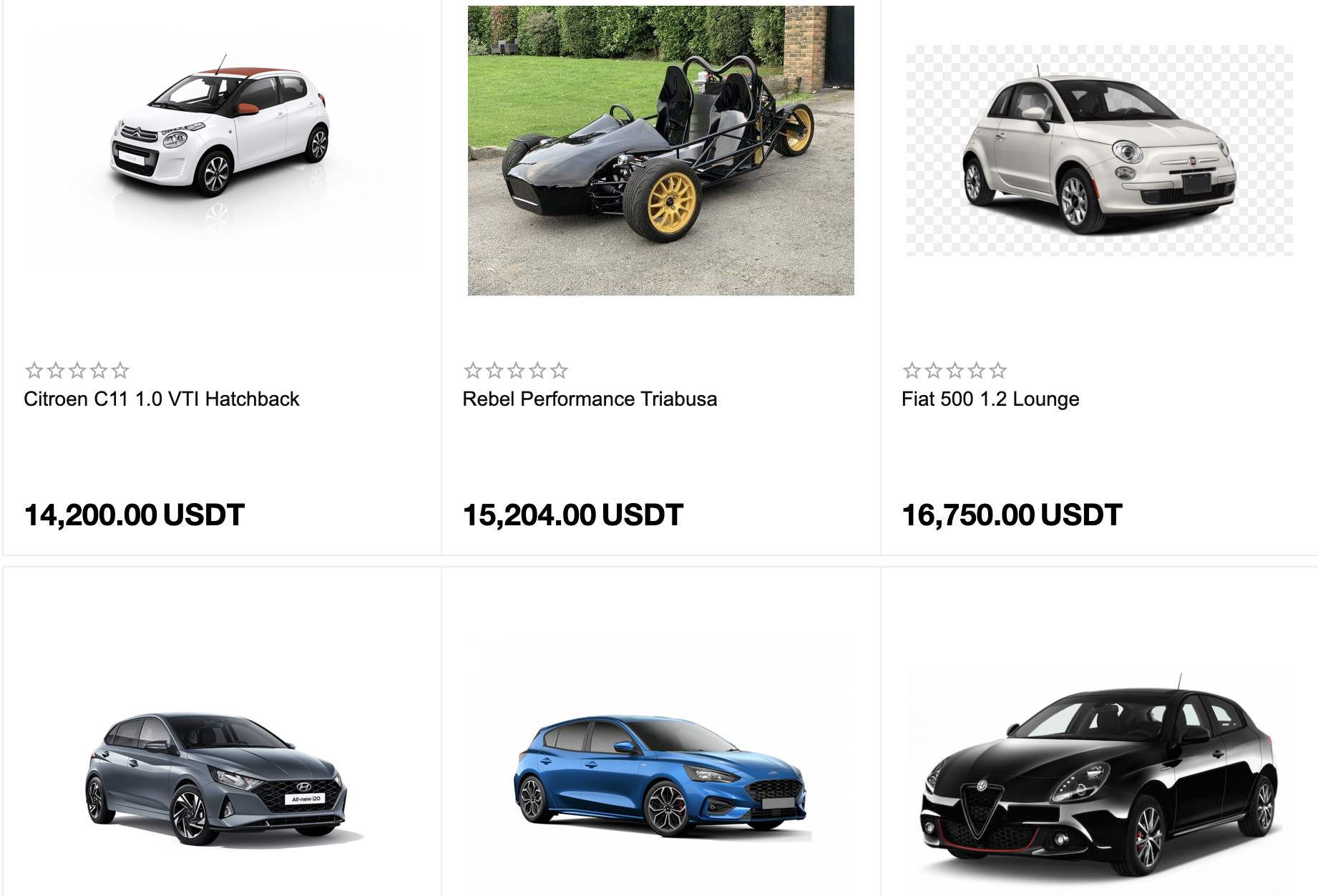 Additionally, customers can also find significant discounts on luxury cars. For instance, a 2013 Mercedes-Benz CLS 350 CDI – High Spec is listed for $31,950, 12% down from its initial price of $36,499.
There are also many supercars available, such as the Bugatti Centodieci, worth over $13 million, and the Pagani Huayra Roadster, priced at over $4 million. Those who prefer more practical cars will also find many models under $25,000, such as the Ford Focus or Hyundai l20.
Crypto Emporium is also sought after for the convenience it offers. The platform streamlines the entire purchasing process, allowing users to browse cars, select their desired vehicle, and complete the transaction using their preferred cryptocurrency.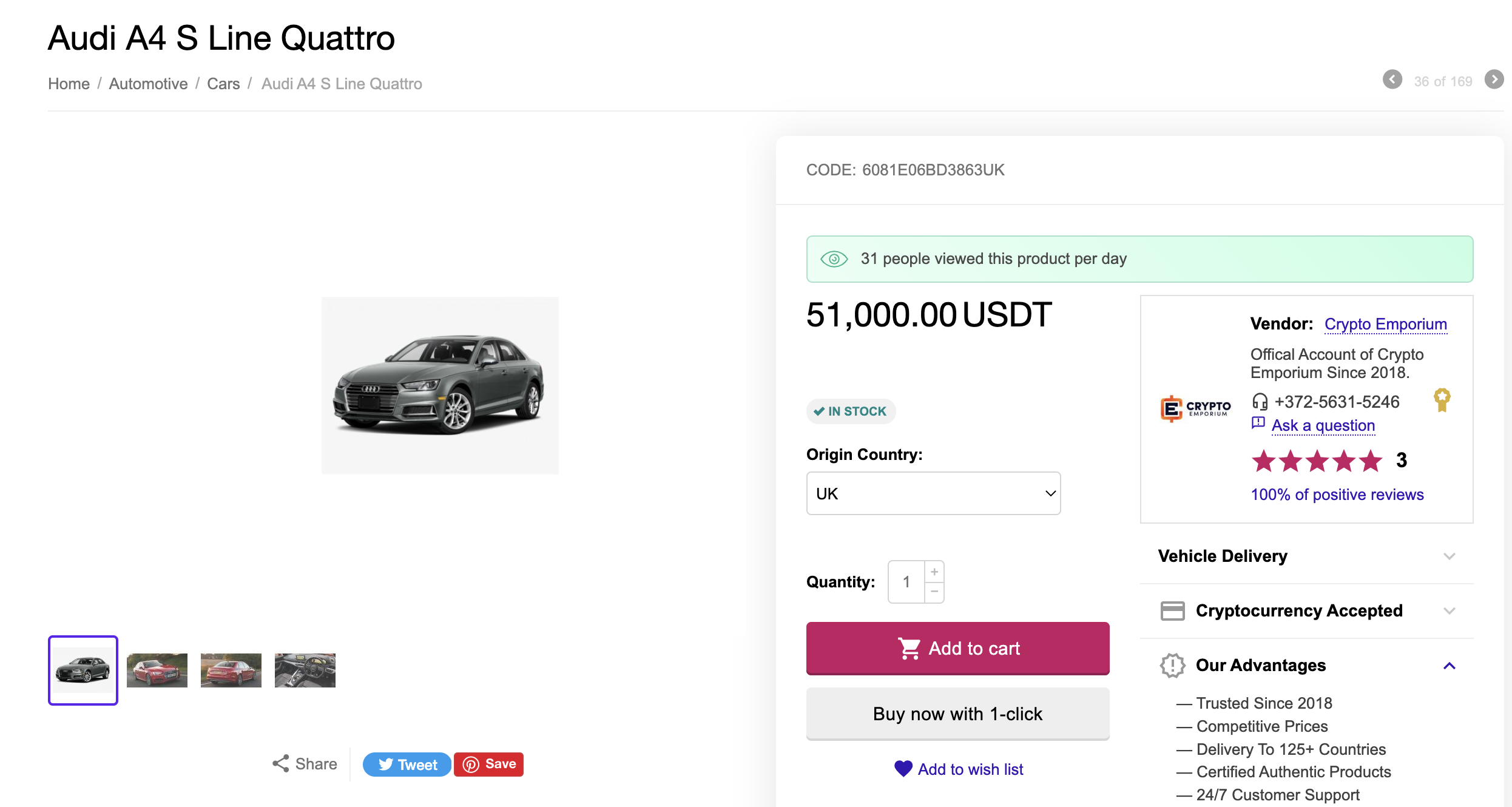 The platform accepts Bitcoin payments and some of the best altcoins available in today's market. Regarding customer service, Crypto Emporium has received high praise for its responsive and knowledgeable team.
Cars aren't the only products available on Crypto Emporium. Customers can use this platform to buy watches with Bitcoin and purchase other products such as artwork, electronics, luxury clothing, crypto merchandise, sporting goods, and much more.
Read our full Crypto Emporium review to learn more about this marketplace.
2. BitCars – Buy Luxury and Supercars With Bitcoin
BitCars is another luxury car dealership that accepts cryptocurrency as payment. It offers crypto holders access to both premium and vintage cars. Moreover, the website offers a seamless buying experience.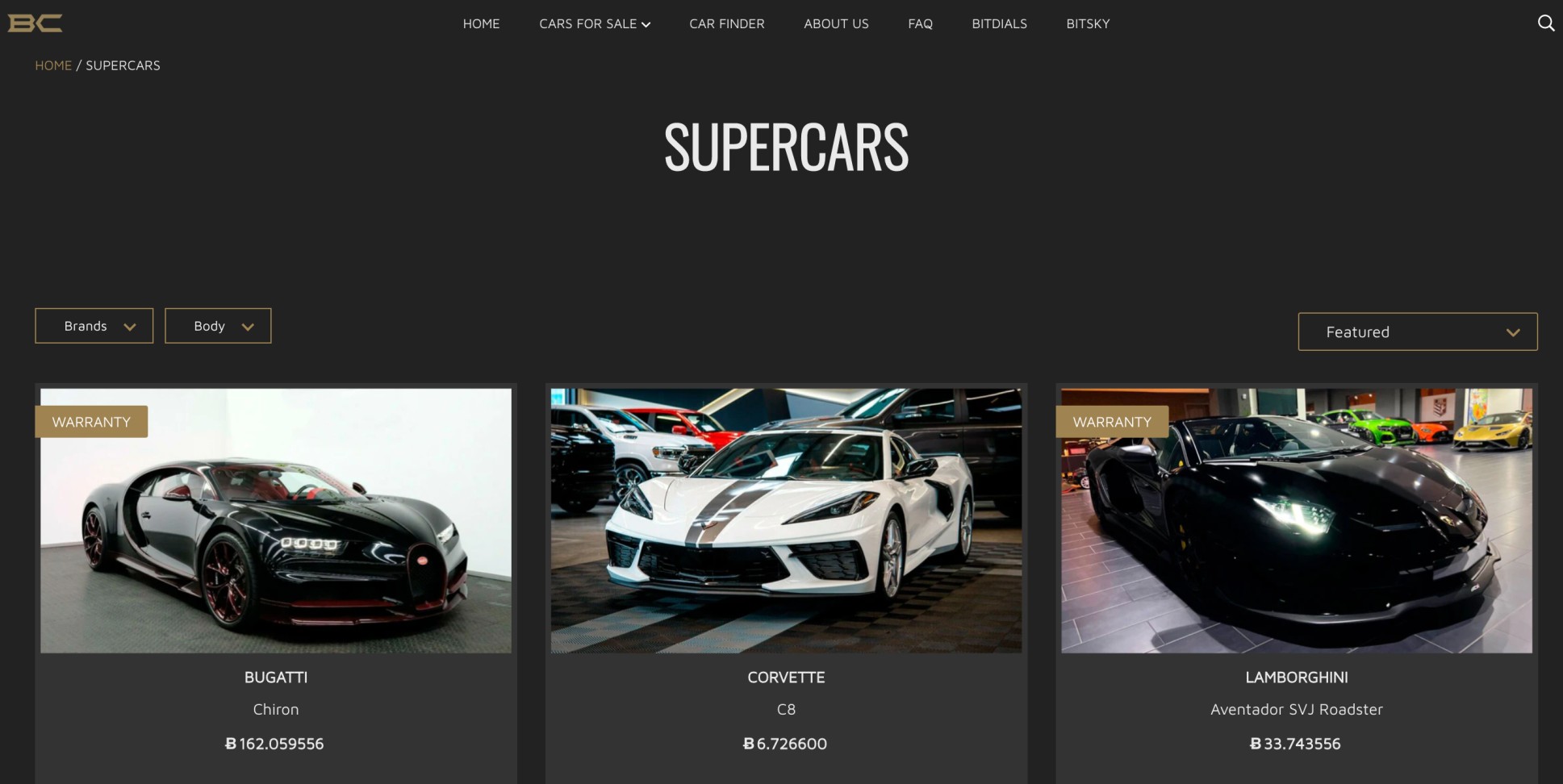 Users can easily navigate between the different categories and filter their options based on brands. The types of cars featured include luxury, premium, sports utility, vintage, motor homes, and more. There is also an impressive selection of motorbikes.
Some of the sought-after models available on BitCars include the Lamborghini Aventador LP780-4 Ultimate Roadster and the Bugatti Chiron. Ferrari, Rolls-Royce, Bentley, McLaren, and Aston Martin are some of the other brands listed on BitCars.
In addition to offering cars, BitCars also provides related comprehensive services. For instance, the platform will procure necessary certifications and documentation and manage customs paperwork.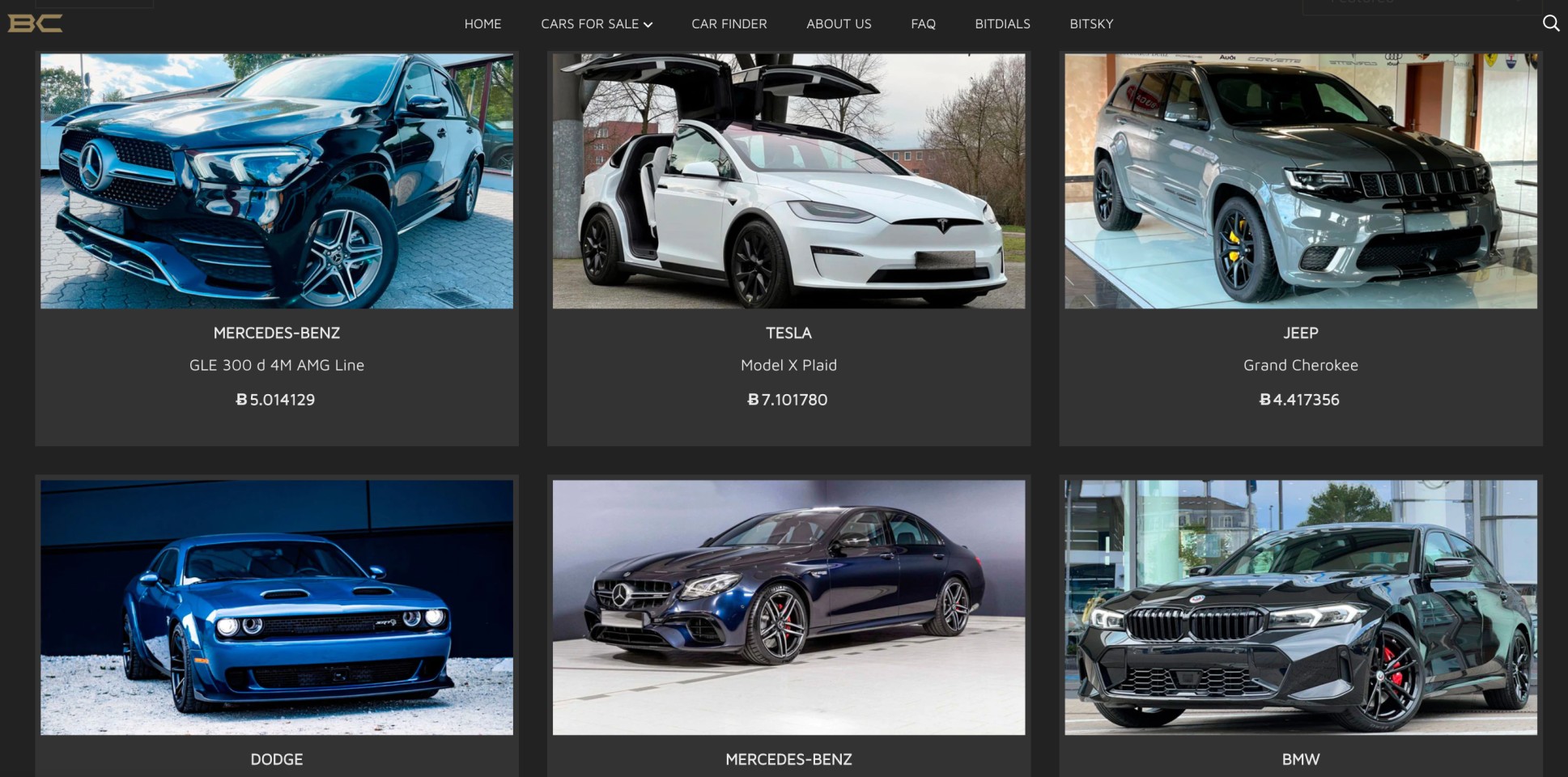 Moreover, BitCars will also deliver the car to the buyer directly. And interestingly, there is also a 'car finder' feature on BitCars. With this option, users can inquire about a specific model they want, and BitCars will help them find it.
BitCars also offers guarantees for new models. What's more, customers can even opt for customized cars. BitCars also offers temporary registration services with plates through its partnered company for EU-based customers.
3. Carriage Auto Group – US-based Network of Car Dealers
Wondering how can you buy a car with crypto in the US? Carriage Auto Group can help with that. This is a reputable chain of automobile dealerships based in the US. The dealer offers a range of new and used vehicles and financing and repair services.
The selection of cars here includes brands like Buick, Cadillac, Chevrolet, Kia, Mazda, and GMC. We also found that the website makes it incredibly easy to find a desired car. Users can narrow their search with numerous filters and sorting options.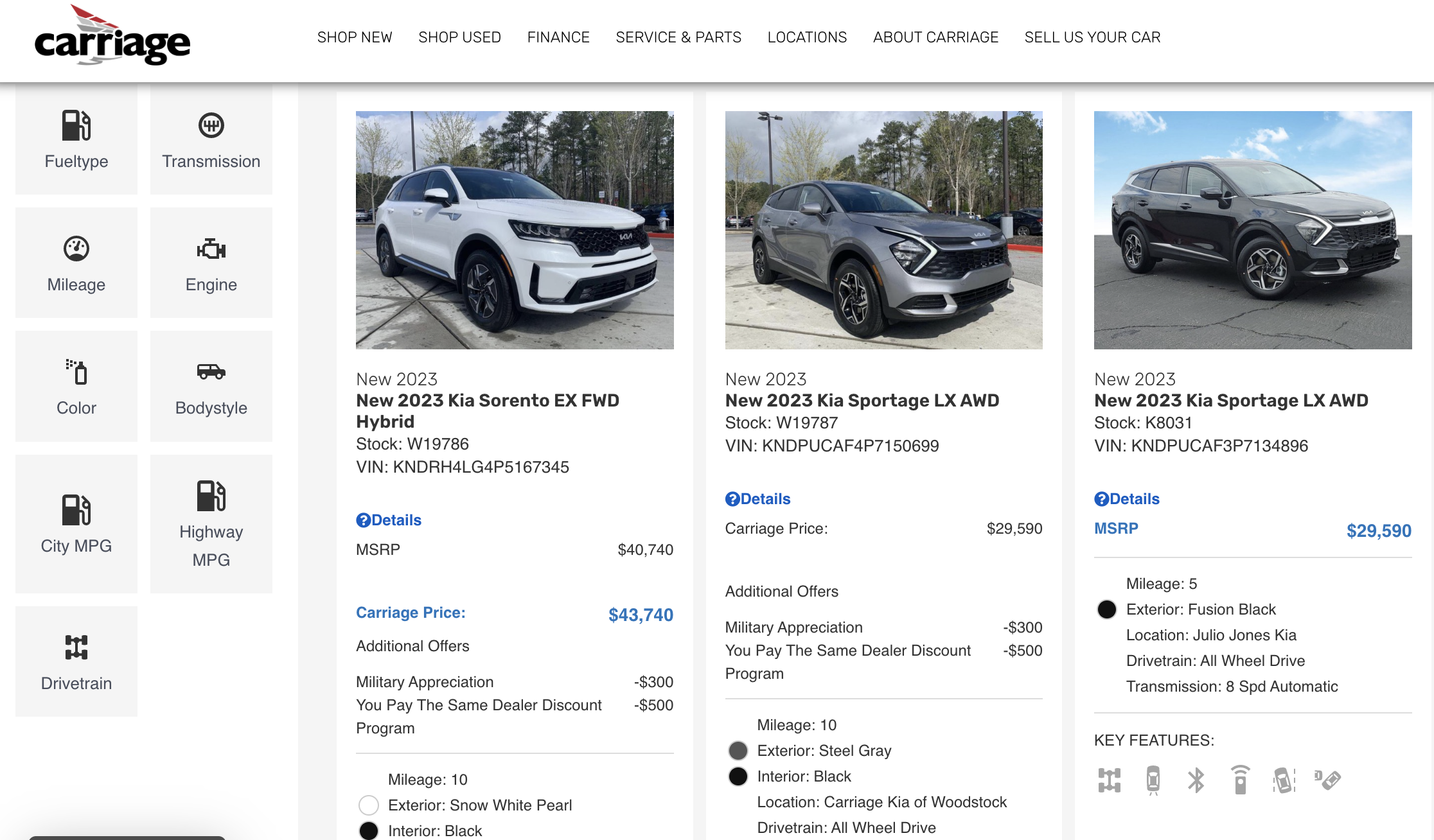 The dealer will also help users find a specific vehicle, even if it's not in stock at the moment. Regarding Bitcoin payments, Carriage Auto Group dealers process crypto transactions using Coinbase.
Customers can purchase all cars with Bitcoin if they pay for the vehicle in full, including tax, tag, and title fees. However, financing and lease options are unavailable with Bitcoin payments.
4. Mecum Auctions – Bid on a Classic Car With Bitcoin
Mecum Auctions is a well-known auction house specializing in selling collector cars and vintage motorcycles. Founded in 1988, the company has grown into one of the world's largest auction houses, hosting events worldwide.
Mecum Auctions features a wide range of vehicles, including classic cars, supercars, sports models, and exotic automobiles. For instance, we spotted a 1967 Austin-Healey 3000 Mkiii and a 1940 Ford Woody Wagon, – which are hard to find.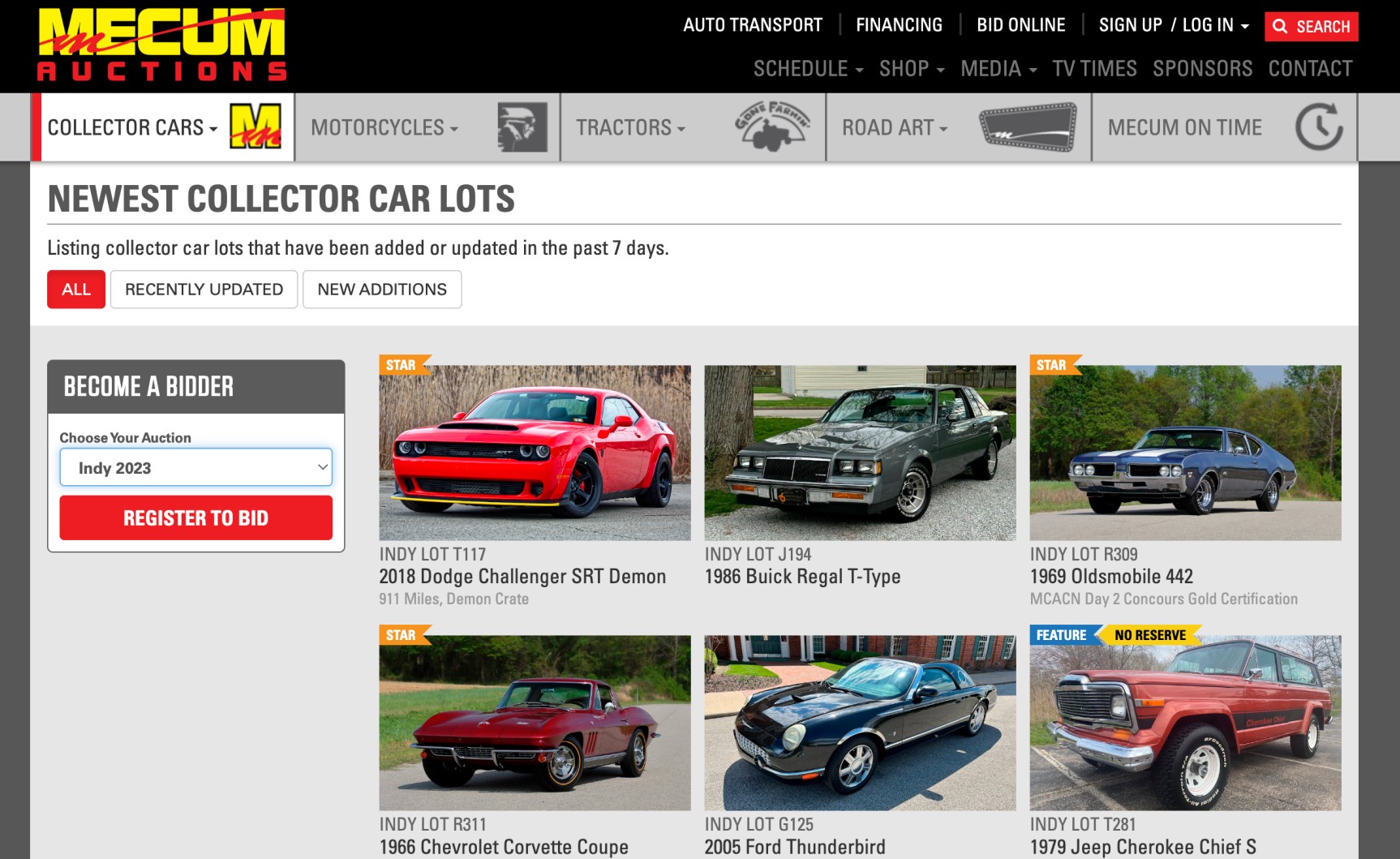 Currently, Mecum has upcoming auctions set to happen in Tulsa, Las Vegas, Dallas, and many other US cities. The platform started accepting cryptocurrencies via BitPay in 2021. Registering on its website or in person is required to bid at Mecum Auctions.
Once registered, bidders can preview the vehicles and items up for auction and create a list of items they are interested in. On the day of the auction, customers can bid on their desired items through several methods, including in-person, online, and by phone.
5. Import Marques – International Vehicle Dealer Specializing in Luxury Car Export
Import Marques is a UK-based car dealership that sells high-end luxury and sports cars from prestigious brands. This includes the likes of Aston Martin, Bentley, BMW, Ferrari, Jaguar, Land Rover, Lamborghini, Rolls Royce, and Porsche.
The company also operates internationally and is active in Australia, China, Singapore, Hong Kong, India, Indonesia, Thailand, Malaysia, New Zealand, and Africa. Customers can buy cars on Import Marques using crypto and fiat currencies.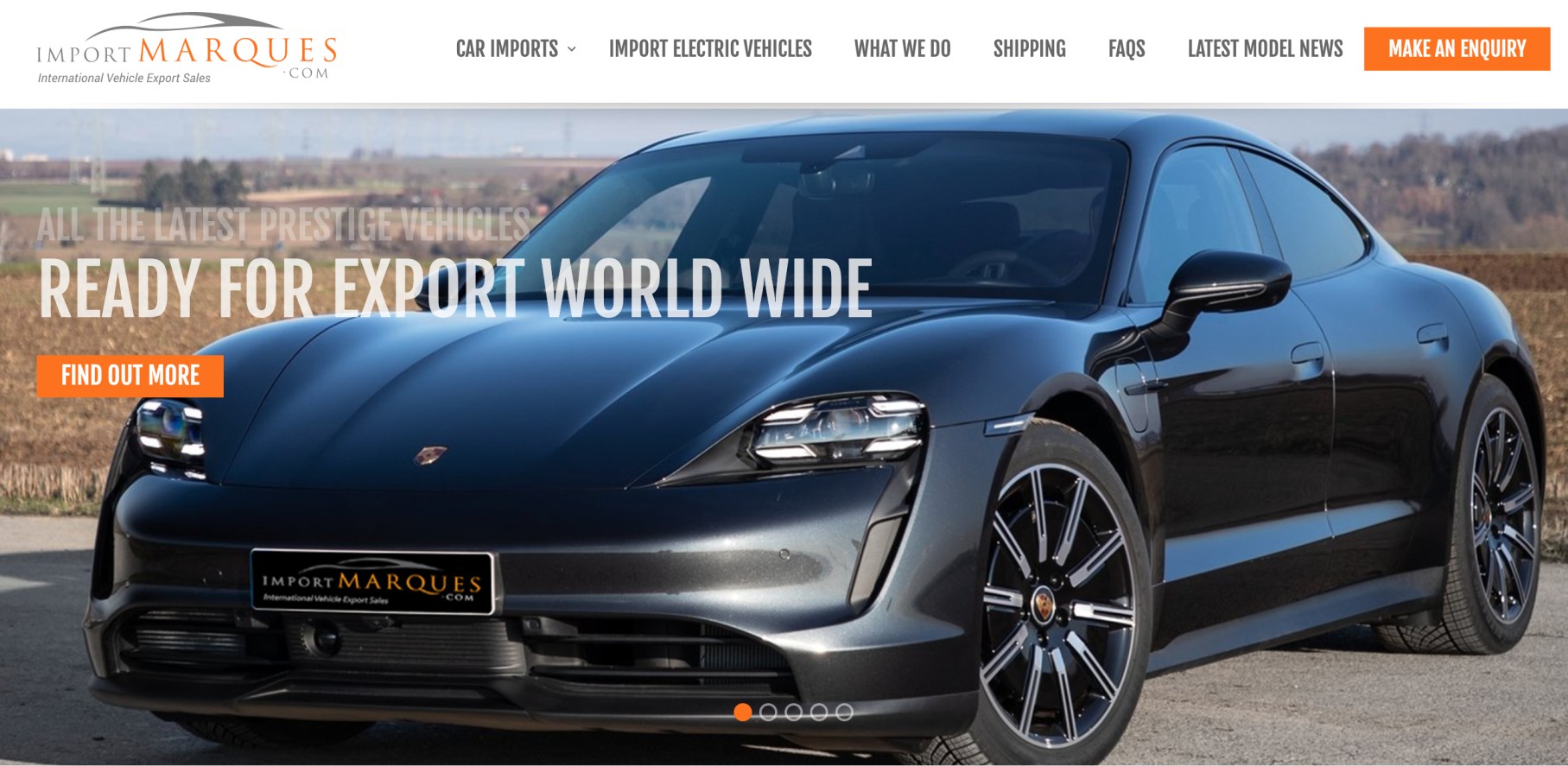 Import Marques processes crypto payments via Bitpay. Once the buyer chooses their desired car, the platform's consultants will provide information about the required amount. The team will also guide buyers through the crypto payment process.
The dealer also excels in providing customers with bespoke assistance tailored to their individual needs. This encompasses vehicle sourcing, financing, and shipping globally. Customers can also access services such as maintenance, repairs, and detailing for optimal vehicle upkeep.
6. Exclusive Automotive Group – Top Luxury Car Dealer in Mid-Atlantic
The Exclusive Automotive Group is another high-end luxury car dealership in the US. The company is the exclusive seller of Aston Martin, Bentley Motors, Koenigsegg, and Karma Automotive vehicles in the Mid-Atlantic.
It also lists other brands, such as Land Rover, Mercedes Benz, and Lamborghini. The selection includes a wide range of new and pre-owned luxury cars. Moreover, the Exclusive Automotive Group also offers financing and maintenance services.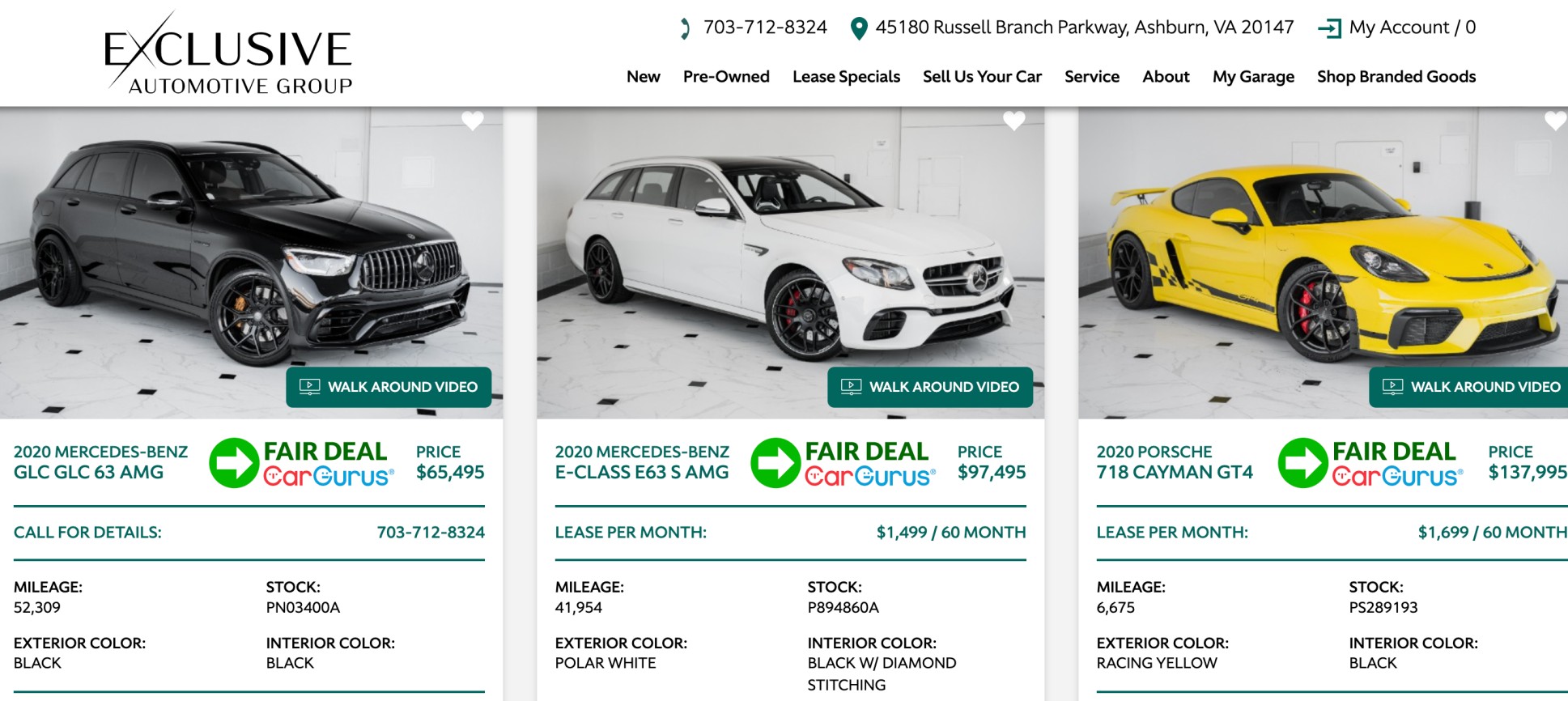 The company started accepting crypto payments in 2022. The transactions are processed by BitPay. Customers can keep an eye out for the BitPay symbol to know which cars can be bought with cryptocurrency.
To make the process easier, the dealer offers all the necessary information regarding a car on its website. Customers can either send an inquiry through the website or schedule test drives at one of its dealerships. The group has multiple locations throughout the US – making it a convenient choice for car buyers nationwide.
7. Post Oaks Motor Cars – Get Financing to Buy Cars With Bitcoin
Can you buy a car with Bitcoin with financing? This is possible with Pak Oak Motors. This is a luxury car dealership located in Texas. The group has partnered with NYDIG, enabling customers to buy high-end cars using Bitcoin-backed loans.
NYDIG offers 100% cold storage custody. Customers can borrow USD using Bitcoin as collateral without selling any tokens. Moreover, Pak Oak Motors also exempts customers from making interest payments.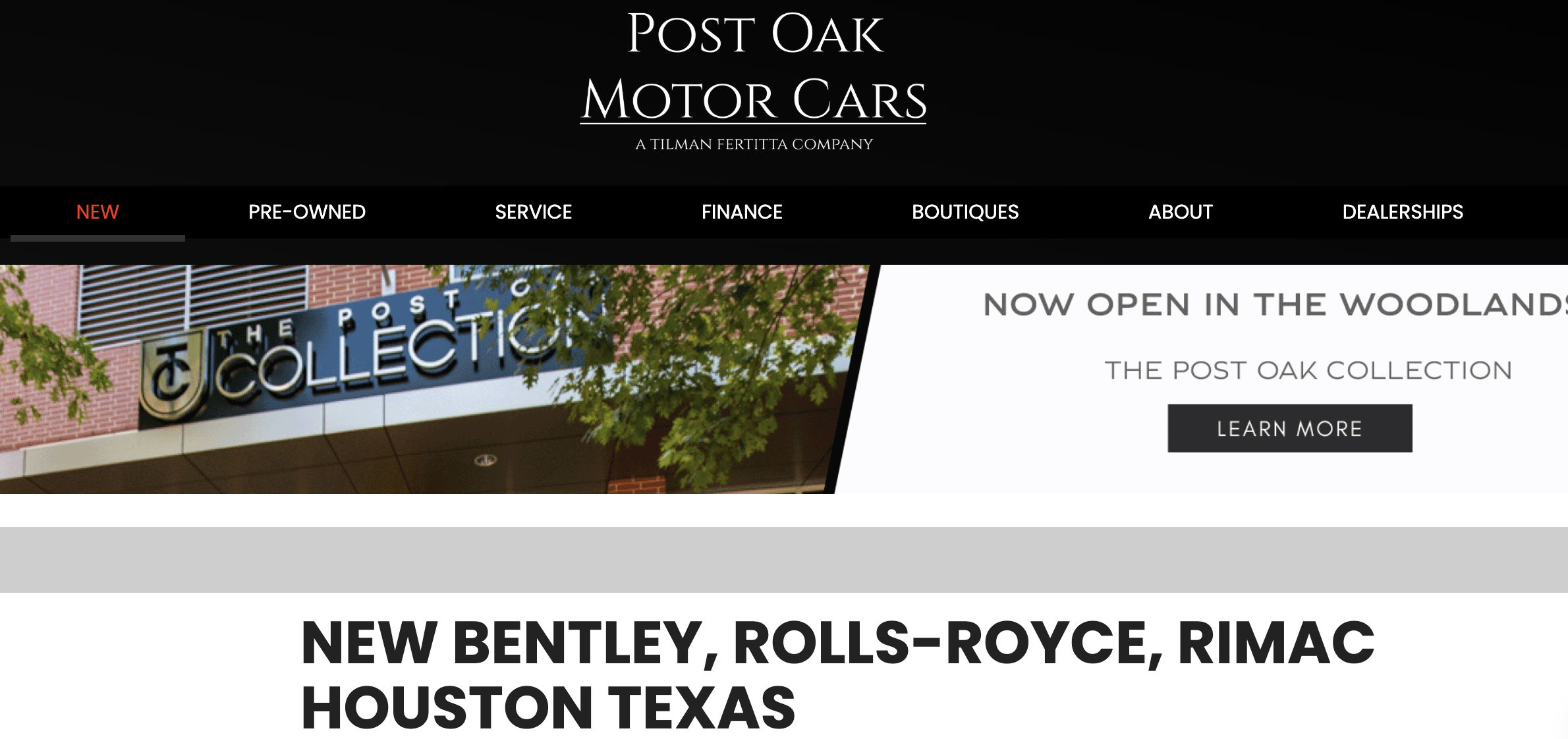 Aside from loans, customers can also buy cars with a single payment via this dealer. In this case, customers will have to make a payment using BitPay. Post Oak Motors specializes in high-end vehicles.
This includes brands such as Bentley, Bugatti, Rolls-Royce, and Karma. In fact, Post Oak Motors is the only authorized Bentley dealership in Houston. It is also Texas' only Bugatti dealership.
8. Lamborghini Newport Beach – Purchase New and Used Lamborghinis With Crypto
Thinking about buying a Lamborghini with Bitcoin in 2023? As is evident from the name, this is a Lamborghini dealer based in Newport Beach, California. The dealership offers new vehicles and an extensive inventory of certified pre-owned Lamborghini models.
Crucially, all models available undergo careful inspection and maintenance to ensure optimal quality and performance. Moreover, the dealer also helps customers personalize their Lamborghini according to their specific preferences and style.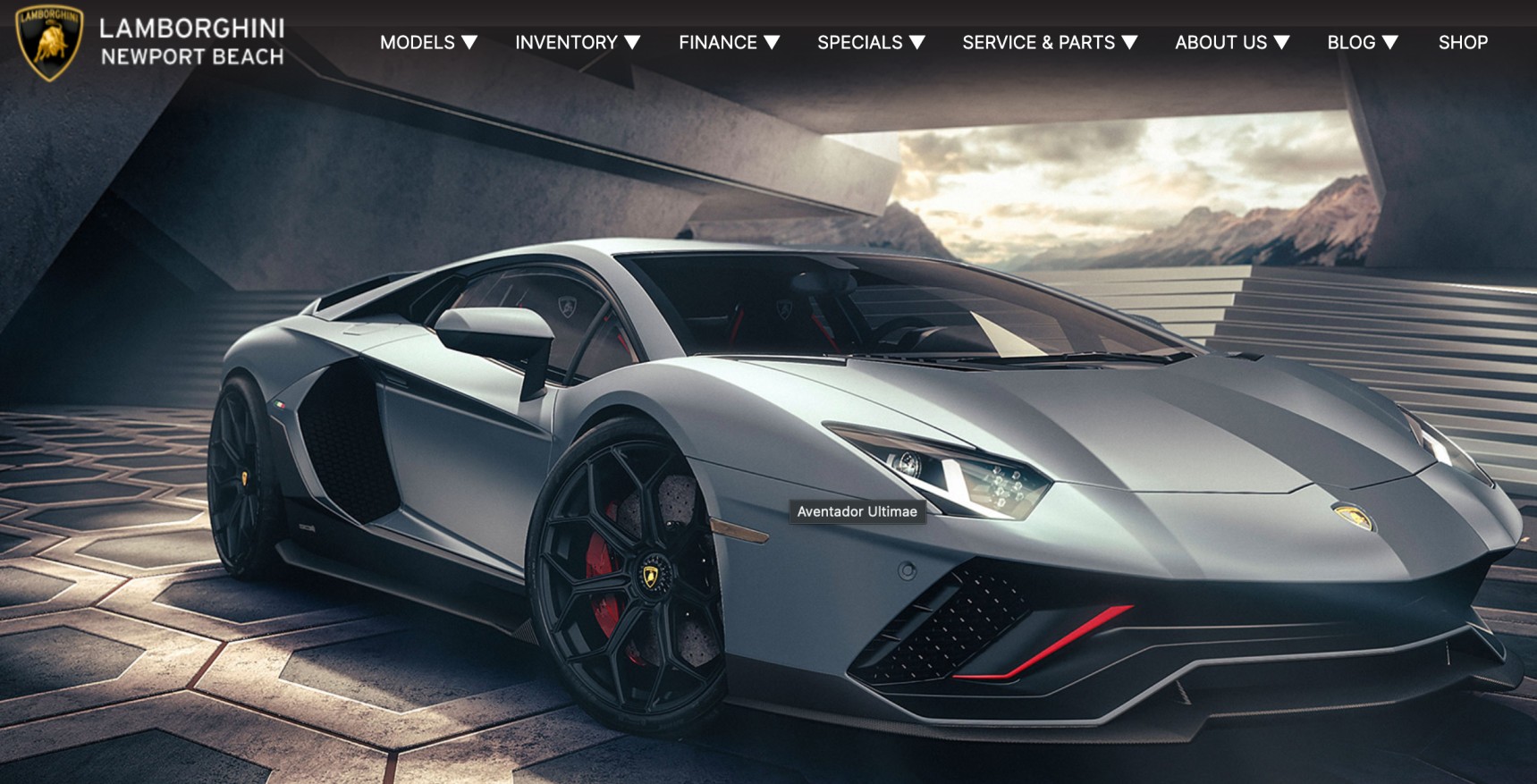 Lamborghini Newport Beach accepts payments in a number of cryptocurrencies, including Bitcoin. However, crypto can be used only to purchase new Lamborghinis, not to finance a used vehicle or to pay for services.
Reasons to Buy a Car with Bitcoin
Now that we've covered where to buy a car with Bitcoin, let us consider the advantages of using cryptocurrencies as a payment method.
Fast Payments
Buying a car using Bitcoin has a significant advantage over traditional fiat payments. This is because crypto payments are much faster. Fiat payments rely on bank transfers or credit/debit cards, which require multiple intermediaries for processing.
On the contrary, Bitcoin transactions are decentralized and do not involve intermediaries. This facilitates quicker transactions, often taking only a few minutes.
Highly Secure Payments
Bitcoin transactions are highly secure due to advanced encryption techniques. Transactions are recorded on a public ledger called the blockchain, which makes them virtually impossible to counterfeit or alter.
Once a transaction is recorded on the blockchain, it cannot be amended or deleted. This immutability ensures that all transactions are permanent and tamper-proof, making it difficult for anyone to manipulate network records.
Lower Transaction Fees
Another important factor to consider is the payment fees. Bitcoin transactions typically have lower fees than traditional payment methods, such as credit cards or wire transfers.
This can be especially beneficial for international transactions, where fees can be high. In fact, research shows that crypto transactions could eliminate 97% of traditional remittance fees. This facilitates cost-effective cross-border transfers of large sums when purchasing cars.
No Transaction Limits
Lastly, buyers do not need to worry about transaction limits when purchasing a car with Bitcoin. This is a serious consideration when making big purchases such as cars.
Credit card companies and banks may decline a purchase exceeding a certain amount, but there are no such limitations with cryptocurrency. This ensures that the transaction goes through without any delays.
Can you Buy a Car With Bitcoin Legally and Securely?
Yes, buying a car legally and securely with Bitcoin is possible. Buying a car with some of the best meme coins, such as Dogecoin and Shiba Inu is also possible.
However, as with any online transaction, taking certain precautions is imperative.
To start with, it's advisable to research reputable car dealerships that accept Bitcoin as payment.
Customers can check out third-party consumer forums for reviews to find the best place to buy cars with cryptocurrencies.
Platforms like Crypto Emporium and BitCars have supported crypto payments for over five years.
In other words, these platforms have proven to be trustworthy and have a superb reputation in the market.
That being said, it's not all about choosing the right car dealer. Customers also have to adopt secure practices. For instance, it is up to the customer to store Bitcoin safely using a secure wallet and make the payment to the correct address.
Aside from these factors, crypto transaction systems are considered to be highly secure. As we discussed above, Bitcoin transactions are verified by a network of computers rather than any central authority.
Moreover, buyers don't have to share any personal information regarding their finances. Transactions are carried out between two wallets – which adds to the safety.
How to Buy a Car with Bitcoin – Step-by-Step Tutorial
Before concluding our guide, we will now explain how to buy a car with crypto.
Follow these six steps to purchase a car on Crypto Emporium, the best online marketplace for cryptocurrency purchases.
Step 1 – Create a Crypto Emporium Account
First, visit Crypto Emporium and open a new account. New users will have to enter basic information such as a full name and contact details. This is for processing the shipping information.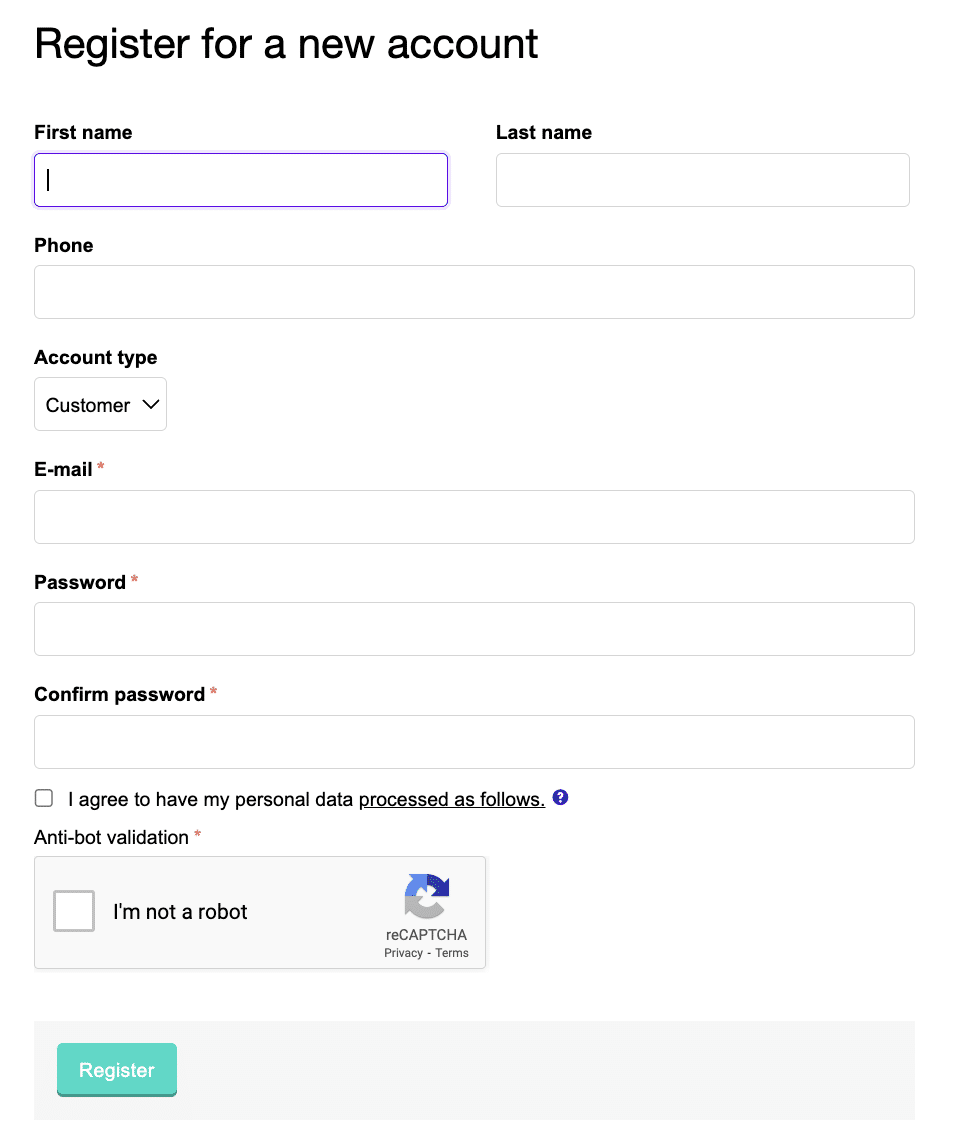 To activate the account, click the link sent by Crypto Emporium via email.
Step 2 – Explore Car Selection
Crypto Emporium neatly lays out its extensive library of cars under the 'Automotive' tab.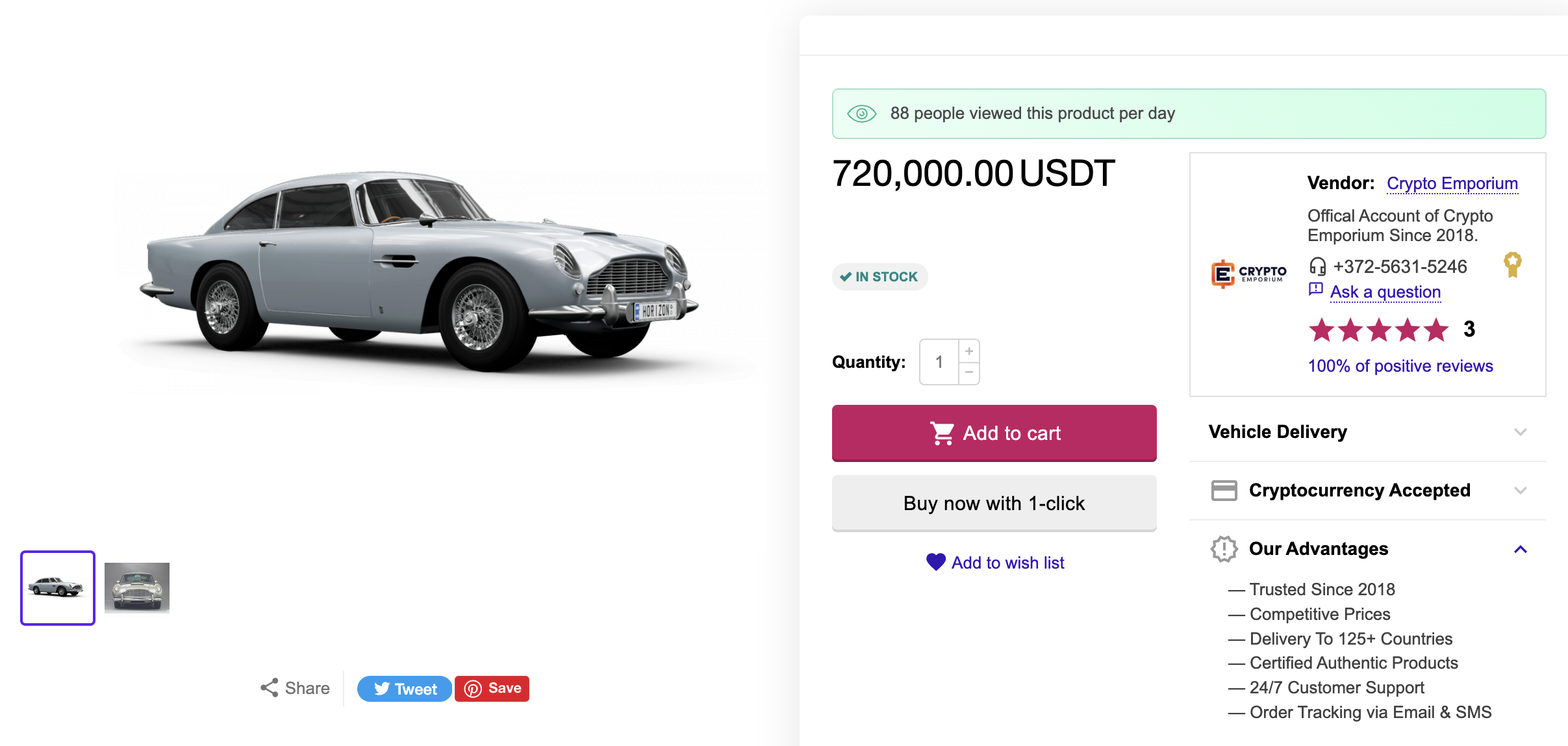 After finding a suitable car, click on the listing and then click on the 'Add to Cart' button.
Step 3 – Review Shipping Info
Navigate to the checkout page, and choose Bitcoin from the drop-down box on the right. Crypto Emporium also accepts some of the best long-term cryptos, like Ethereum and Dogecoin.
Next, buyers will also have to provide the shipping address.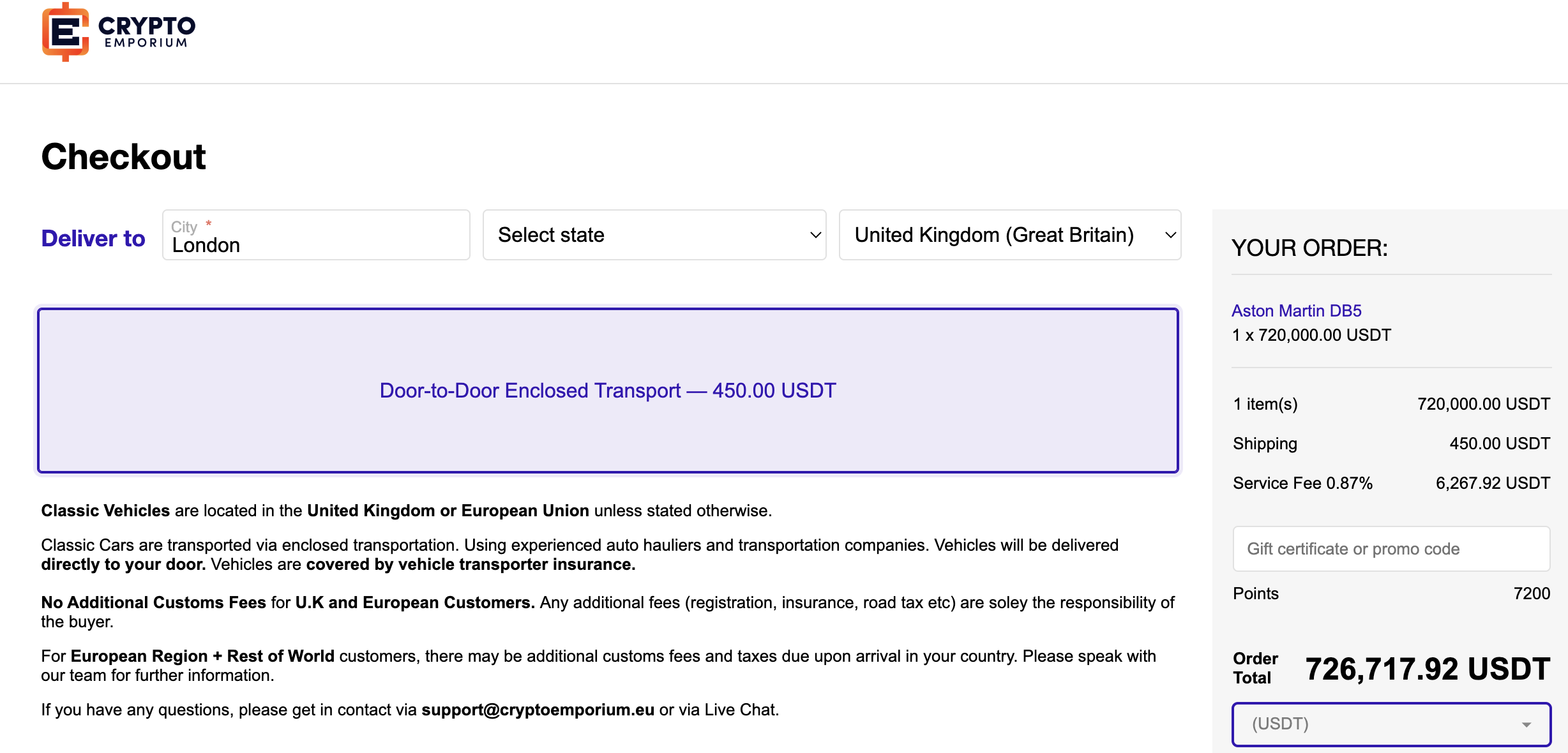 Crypto Emporium will calculate the shipping fees right away. Customers will also have to pay the platform a 0.87% service fee.
Step 4: May Payment to Complete Order
At the final stage, Crypto Emporium will display a unique wallet address to which buyers should make the payment. Customers can then copy the address or scan it via their wallet.
After receiving the payment, Crypto Emporium will send a confirmation email containing details on how to track the order.
Which Cars Can You Buy With Bitcoin?
This section will explore the different cars that can be purchased using Bitcoin.
Regular Cars
There is a misconception that only luxury brands can be purchased with cryptocurrencies. However, this isn't the case. With online platforms such as Crypto Emporium, buying affordable and practical everyday cars with Bitcoin is possible.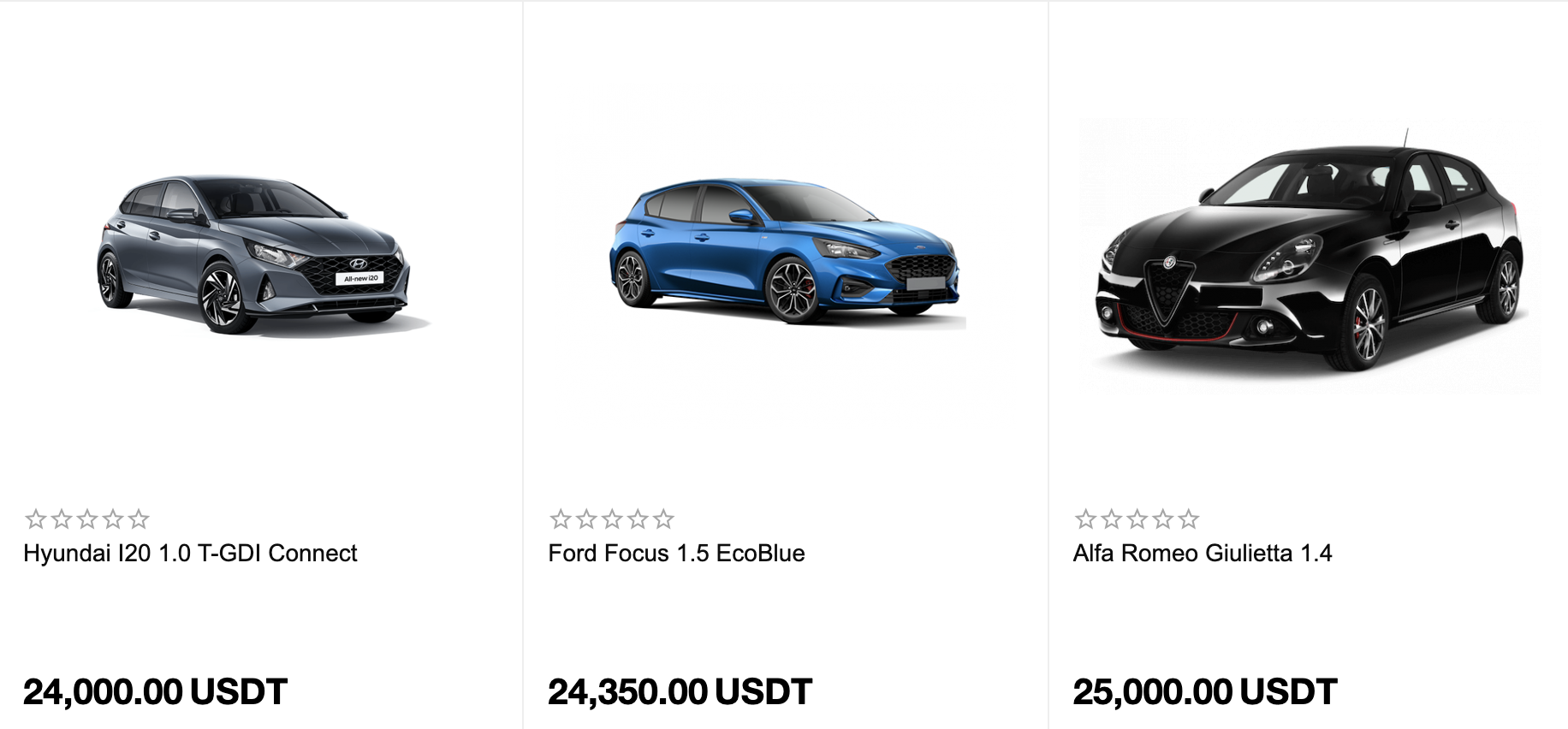 For example, a 2020 Dacia Sandero Hatchback is available for just $12,500 on Crypto Emporium. Based on the price of Bitcoin as of writing, this amounts to just 0.42 BTC. Other budget-friendly models include brands such as Fiat, Ferrari, and Toyota.
Supercars
Supercars are vehicles that are engineered to be the fastest on the market. They are commonly popular for their streamlined and aerodynamic designs as well as their high-performance engines, capable of reaching speeds in excess of 200 miles per hour.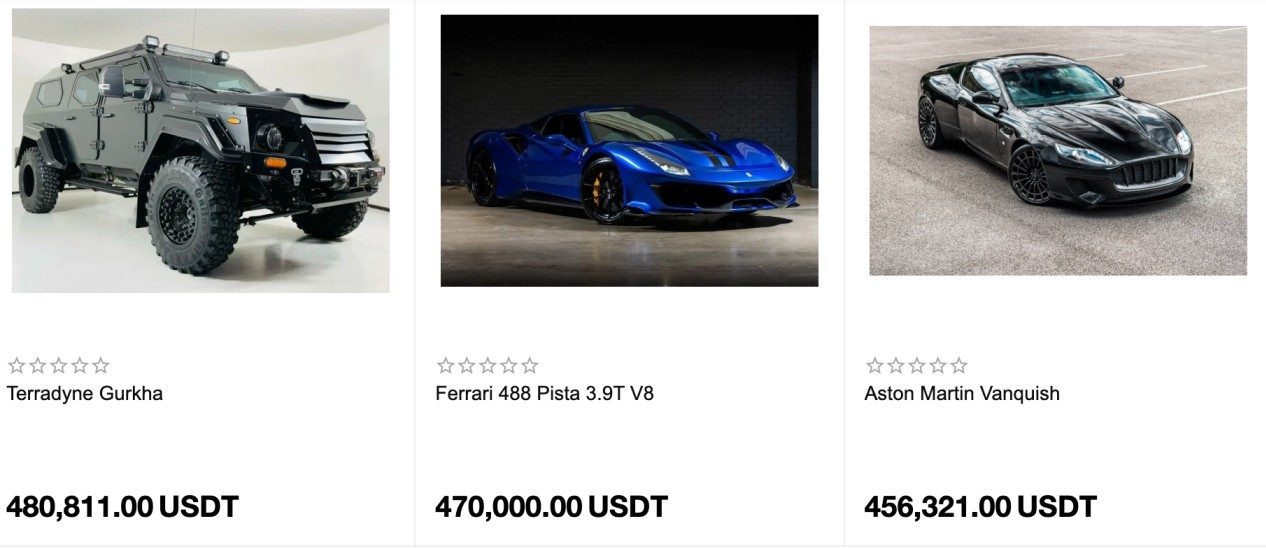 Popular supercars include the Lamborghini Aventador, Ferrari 488 GTB, and Bugatti Chiron – both available on Crypto Emporium. Supercars are exclusive and rare, produced in limited numbers, and sold at prices ranging from hundreds of thousands to millions of dollars.
Vintage Cars
Classic vintage cars can range from old-timer models from the early 1900s to muscle cars from the 1960s and 1970s. Typically, collectors must go through dealers like Mecum Auctions to bid on vintage cars.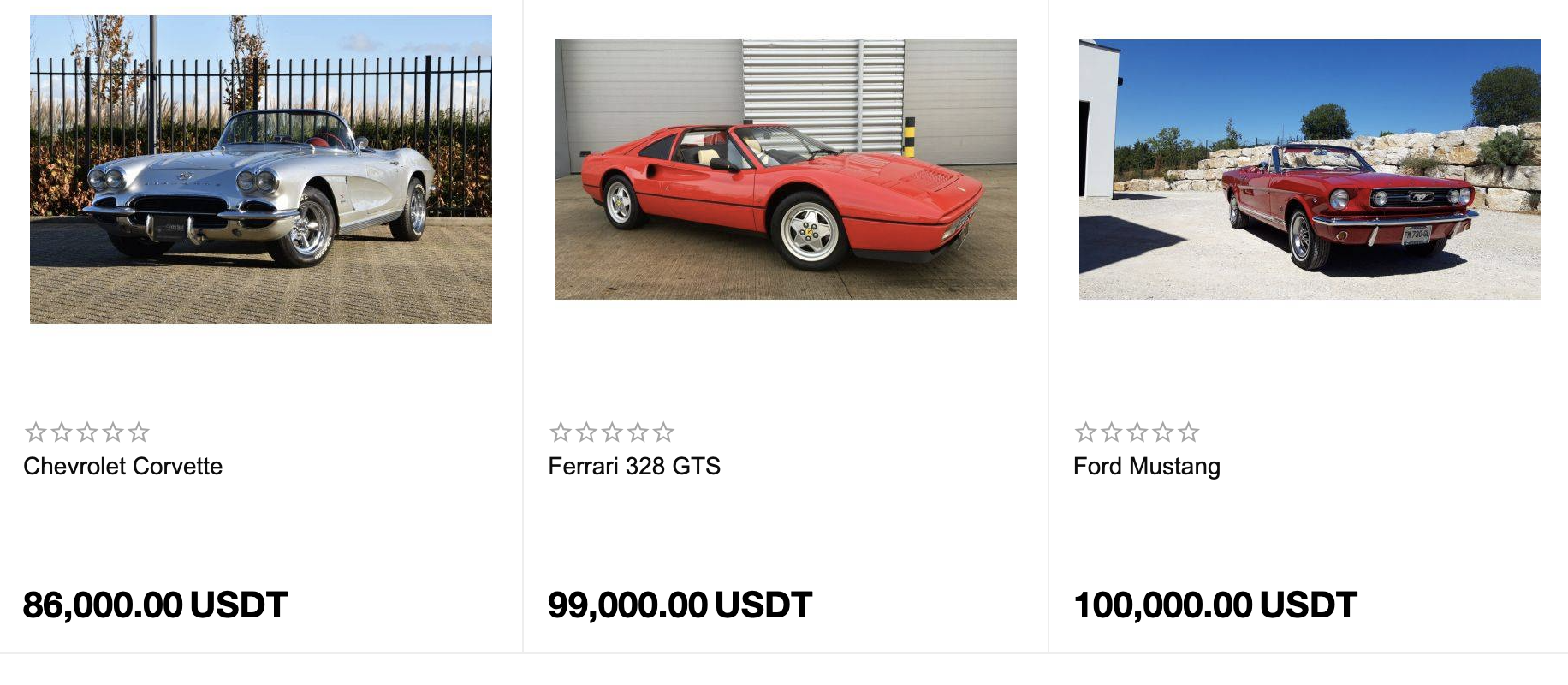 However, platforms like Crypto Emporiums make it possible to purchase classic cars without engaging in a bidding war.
Vans and Trucks
Crypto holders can also purchase convenient vehicles such as vans and trucks via Crypto Emporium. The price of vans available on this website varies widely, depending on the model.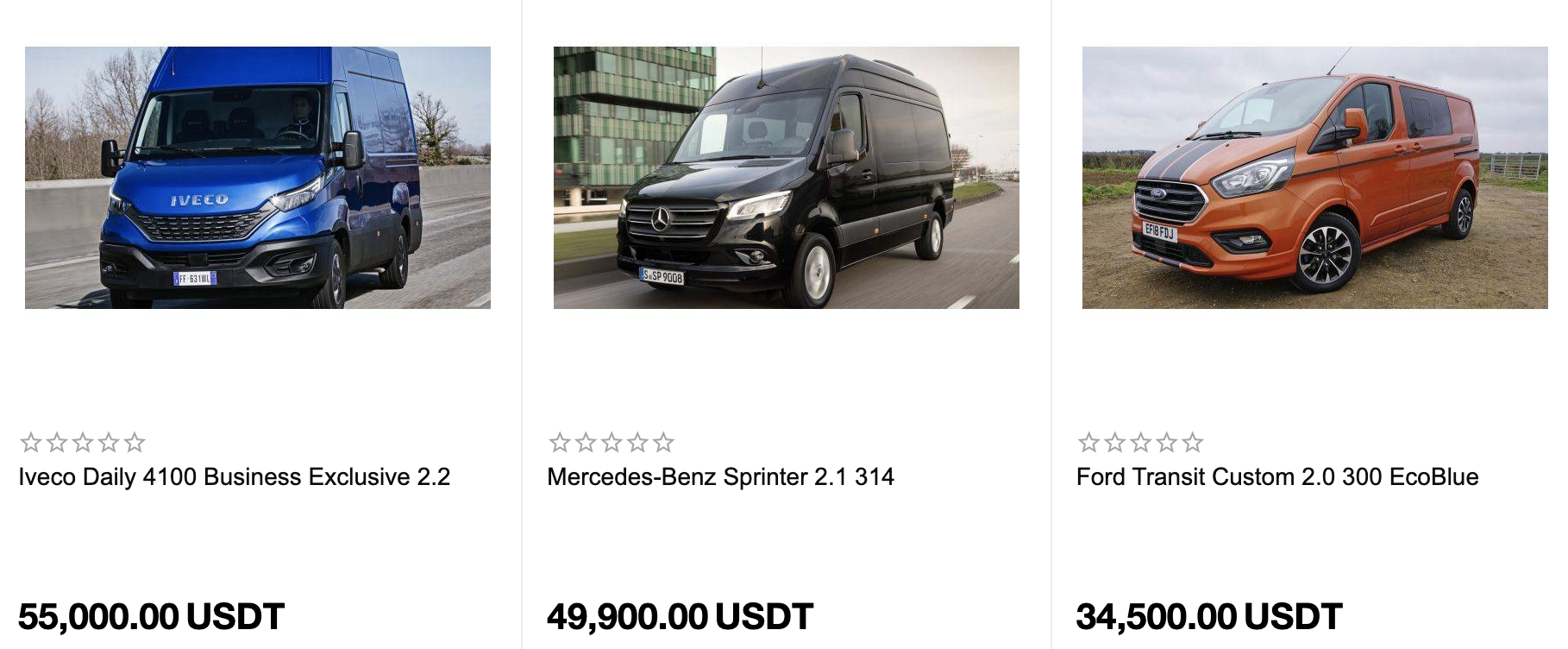 For instance, the Citroen Berlingo is available for $20,000. And at the other end of the spectrum, a Mercedes-Benz Sprinter can be bought for $200,000.
Conclusion
To summarize, we have explained how to buy a car with Bitcoin in 2023. We have also highlighted eight well-established dealers that accept BTC payments.
Those interested in buying cars using cryptocurrency can explore Crypto Emporium. This highly reputable online dealer has a diverse range of car brands, including Lamborghini, Ferrari, BMW, Ford, Fiat, and more.
Customers can also buy cars using Ethereum, Litecoin, and other top altcoins. Furthermore, with 24/7 customer support and live order tracking, Crypto Emporium provides a hassle-free shopping experience.
FAQs
Can I buy a car with Bitcoin?
What car dealers take Bitcoin?
Can you buy a Mercedes with crypto?
Can I buy a Ferrari with Bitcoin?