The next tool in generative artificial intelligence is here and looks ready to disrupt the online meme space. AiDoge is a unique blockchain protocol allowing users to generate memes with AI prompts instantly. Its native token, $AI, is currently available to purchase after launching on June 19.
The presale previously sold out its $14.9 million hard cap with investors excited over the potential of the meme generator, that will also allow users to claim ownership through NFTs and earn rewards for their creations.
This guide walks you through how to invest in AiDoge.
AiDoge Key Points:
Before diving into buying AI tokens, here are the key things you need to know:
AiDoge is a cutting-edge blockchain platform enabling users to generate memes with text-based prompts.
Its native token, $AI, has multiple utilities, such as the ability to pay for meme generation and staking.
The platform features a public wall where users can find new, emerging and trending memes.
The AiDoge platform rewards users $AI that create the best memes, which are voted on by other users.
AiDoge leverages cutting-edge algorithms trained on up-to-date news and crypto industry events, enabling users to create engaging and relevant memes.
AiDoge allows meme creators to claim ownership of memes as they become NFTs.
The AiDoge project uses smart contract audits to secure the platform and its token.
How to Buy AiDoge Tokens: Definitive Guide
This section runs through how to purchase AiDoge tokens from start to finish in ten minutes or less.
Step 1: Create a Crypto Wallet
You will need a software wallet to connect to the AiDoge website and purchase your tokens. $AI is an ERC-20 token, so the wallet must be compatible. The ones we recommend most are MetaMask for desktop or Trust Wallet for mobile.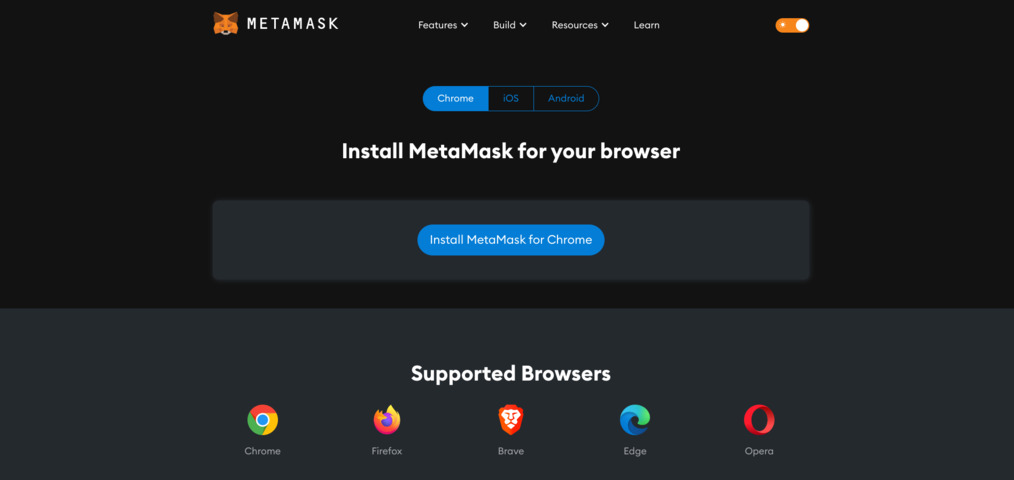 Step 2: Purchase Crypto to Buy AiDoge
Next, you must load your wallet with crypto to fund your purchase.
Most crypto wallets, including MetaMask, allow users to buy ETH or USDT directly on the platform with bank cards via trusted third-party apps such as Transak or MoonPay.
ETH is recommended as some will be needed anyway to cover Ethereum transaction costs (gas fees).
Skip to step 3 if you do it via this method.
Alternatively, investors can send tokens that are held on an exchange to the wallet or send fiat to a centralized exchange, purchase ETH or USDT, and then transfer it back to the wallet.
To transfer it to a software wallet, visit the wallet dashboard, click receive, select the crypto you are sending then copy the wallet address. Then head back to the CEX account, hit send, select the crypto and paste the wallet address.
Step 3: Connect Software Wallet to AiDoge
Visit the AiDoge website, click 'Buy Now' and follow the on-screen instructions to connect your wallet.
Select the relevant wallet and then input your MetaMask (or alternative) password to sign on.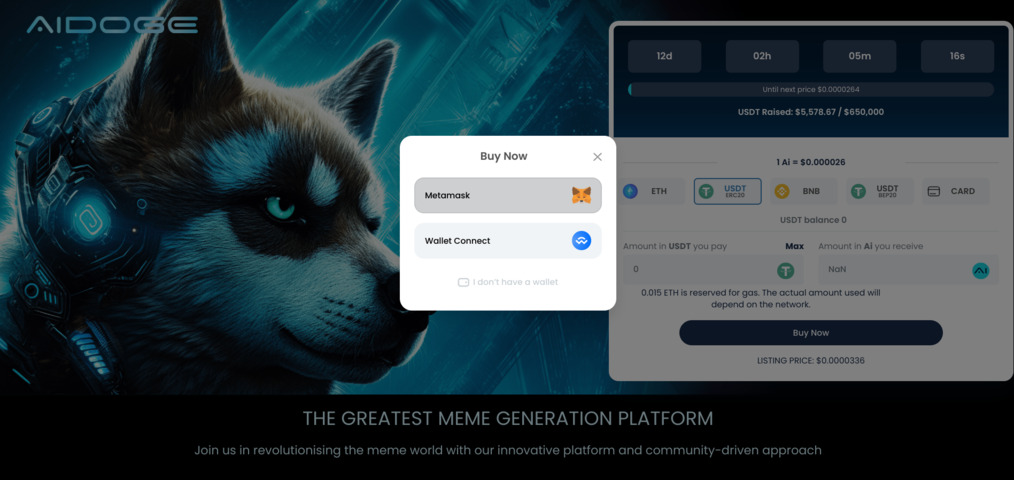 Step 4: Buy $AI tokens
Choose the crypto you are paying with and the amount. Alternatively, select ''Card'' and choose the amount of $AI you want to buy in USD.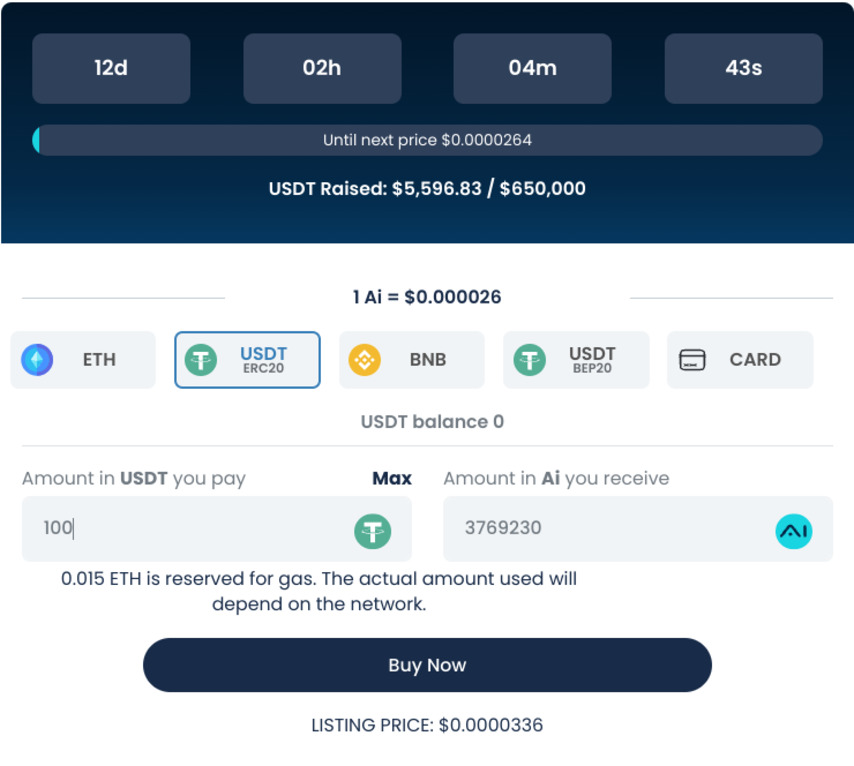 Input the amount you want to spend and click 'Buy Now'. Another pop-up box will appear that shows the estimated gas fee to pay, which will vary depending on how busy the network is.
Accept that fee and confirm the transaction before waiting a short while for $AI tokens to appear in your wallet.
What is AiDoge?
AiDoge generates high-quality memes using AI algorithms trained on meme datasets and crypto news.
Users input their preferences, and the AI creates memes accordingly.
The platform uses $AI token as the primary utility token for purchasing credits to create new memes, and also features a public wall for sharing and voting on memes.
Users also have the memes turned into NFTs to prove ownership while users can vote on their favorites, with the best earning rewards.
Meme culture is one of the most prevalent trends influencing the cryptocurrency industry, with even the most prominent figures, like Michael Saylor, partaking in the meme culture through actions like featuring ''laser eyes'' in their Twitter profile pictures.
The power of community and culture is one of the most defining features of trending cryptos. It is the main reason prices go so high and is a massive factor in why many people originally join crypto.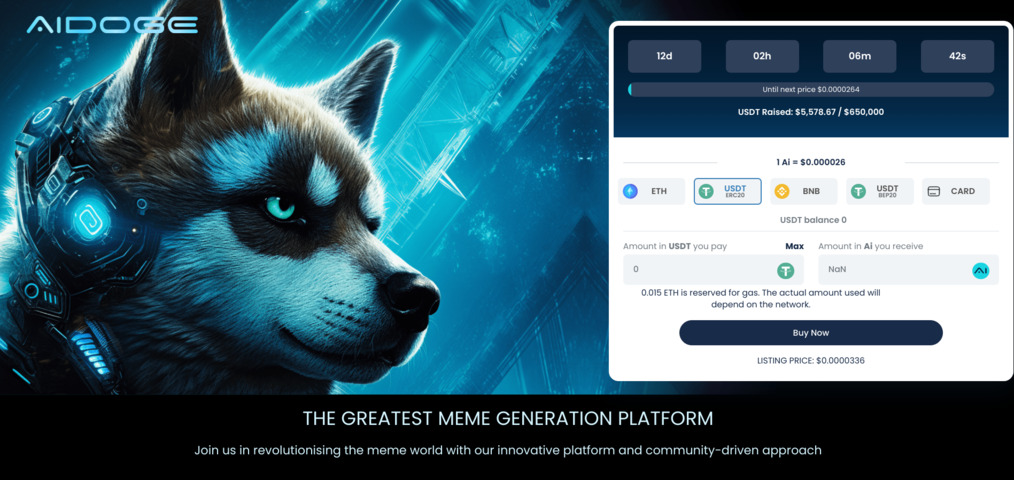 With that in mind, AiDoge is the first cryptocurrency project to integrate AI technology, allowing anyone to easily create memes based on the latest crypto trends and events through text-based prompts.
There are infinite exciting ways people could leverage the platform, like using it to grow crypto communities on Twitter and Reddit, or cryptocurrency projects could use it to better connect with their audience.
Staking
The project leverages blockchain technology for a seamless and borderless credit system where users can easily buy, sell or transfer tokens which can be used to purchase AI services or for staking to earn rewards.
When it comes to community-centric projects, the most important feature is rewarding the community; and the AiDoge staking mechanism does just that. By depositing and locking tokens in the platform, users gain daily rewards through $AI tokens, which they can swap for another crypto or stake to compound their gains.
On top of that, staking grants users exclusive access to brand-new features, including new templates, special contests, or platform enhancements. Moreover, staking enables users to vote on the direction of the platform.
Meme Feed
Taking a step back and looking at the broader project for a moment, the central hub of AiDoge is its ''Meme Feed''. This is where all new memes will go and where users can up or downvote memes, with the best memes rising to the top.
As mentioned earlier, users who create the most upvoted memes will receive $AI rewards.
One main criticism of generative AI so far is that results can be generic. However, the contrary to this is that specific and detailed prompts will yield better quality results.
With that in mind, the Meme Feed provides a brilliant way to encourage users to get creative with prompts to produce better and more unique memes than others. It also adds an element of competition and community, potentially resulting in the protocol becoming highly popular.
NFT Ownership
Meme ownership has previously been difficult to prove but AiDoge will prove who created a certain meme via NFTs being created.
The NFTs can then be held or sold on the open market.
Supply and Demand
New and innovative cryptos often get off to a great start, increasing in price, but after a couple of months, the price begins to decline as they rely on token emissions to fund the project.
However, AiDoge stands apart from competitors in this regard as it generates revenue through selling access to its meme creation tool for a small fee. In other words, all demand to use the tool will result in revenue for the project, contributing to sustaining the ecosystem over time.
To further cement it as one of the best long-term cryptos, the project has set its team allocation vesting schedule to ten years, showing their intentions to create a long-lasting project.
The coin also has a capped supply of one trillion tokens, with 50% sold during presale and a hard cap of $14,900,000. Its capped supply reduces the sell pressure and has already made AiDoge one of the best presale coins of 2023.
The Role of AiDoge Tokens
AiDoge is designed to bridge the gap between creating online memes, AI, and cryptocurrencies. By using the $AI token users can create relevant and engaging memes with ease.
The $AI token is the core component allowing users to interact with the AiDoge platform. There are several utilities for the token in the ecosystem. For example, users will earn it by voting on their favorite memes.
Holders can stake $AI on the platform and earn passive rewards.
The APY is not yet set, but rewards will be proportional to the amount the user stakes compared to the pool size.
12.5% of tokens have been allocated to rewards.
Holders that stake their $AI tokens also get voting rights and exclusive perks.
Meme-creators will receive $AI for attaining a high position on the Meme Feed.
Platform users will pay to generate memes with the coin, giving it utility and long-term demand.
Another key token utility is the ability for investors to speculate on the growth of AI by holding the token. This factor will become apparent following its IEO, where $AI will become available to buy and sell on exchanges.
Since AiDoge is based on AI technology, this is a fantastic way for crypto investors to gain exposure to AI-industry growth directly from the blockchain. Once the presale ends, this could cause massive interest from investors who missed purchasing at a fixed price, potentially leading to a price surge.
Reasons to Buy AiDoge Crypto
Below we have considered a range of factors which could make AiDoge one of the best altcoins to buy this year.
AiDoge is a meme coin project with huge potential and an extremely unique and exciting use case. While there is no guarantee of success with any investment, meme tokens have yielded significant returns for investors in the past such as Dogecoin and Shiba Inu and more recently Pepe.
As such, including tokens such as AiDoge in one's investment portfolio could potentially be a worthwhile consideration – especially considering it has an exciting use case compared to other projects in the niche.
However, it is important to carefully evaluate the risks involved before making any investment decisions.
Capitalise on a Growing Trend
Many top media outlets and journalists have documented the rise of generative AI over recent months. With Microsoft's acquisition of OpenAI and continued interest in the industry's development, the trend is likely to continue far into the future.
With this in mind, investing in one of the top AI coins is a brilliant way to capture growth from two explosive industries with one coin.
Leverages Community
We have seen some of the top meme coins rally in recent weeks, with Pepe climbing 21,000% since its inception just a few days before. This is also comparable to the last bull market's NFT boom, which saw JPEG images reach million-dollar valuations showing the power of community.
Therefore, AiDoge's positioning as a hub for meme creation means it could easily gain a massive community, boosting its price over time.
Exchange Listings
The AiDoge IEO is set for Q3 2023. So looking ahead, there will be increased marketing efforts, and the coin will become accessible to many new investors who do not know about it or only use centralized exchanges.
With that in mind, there will likely be a new surge of buyers, potentially leading to a much higher price.
Easy Access to Meme Creation
One of the best ways to get ahead when creating an online presence, particularly in crypto, is through publishing engaging and relevant memes on social media. AiDoge allows you to create memes based on text prompts in seconds.
Therefore, holding the coin could enable you to effortlessly build an online presence, which you could eventually monetise.
Staking, Rewards and NFTs
As outlined in more detail above, AiDoge offers extra opportunities for its community to earn rewards via its staking mechanism, rewards program and NFT ownership.
Users can stake $AI to generate credits used in meme creation, while they vote on each others' creations, with the best memes earning rewards.
Finally, AiDoge memes will have proven ownership based on NFTs that are created – which can also be sold on the open market.
AiDoge Tokenomics
There is a max supply of 1 trillion $AI tokens, with 50% of that supply sold during the presale. The team has allocated 12.5% to the sustained development of the project, 12.5% to listings and liquidity and 12.5% to community rewards.
One thing that sets AiDoge apart as one of the best coins for the next bull run is that the 12.5% team allocation is tied to a ten-year-long vesting schedule. In comparison, many new presale coins follow a 12-18 month schedule. This shows the AiDoge team's positive intentions and long-term approach.
AiDoge raised $14,900,000 in its presale in just four weeks. The presale's purpose was to raise funds to roll out the application and continue development until it goes live and begins to generate revenue.
AiDoge Price Prediction: How Far Can AiDoge Go?
While many investors wish to know exact price predictions for new coins, they can be challenging to make. This is mainly because they lack price history, and it is tough to estimate a new coin's demand before it has a settled and established base of supporters and investors.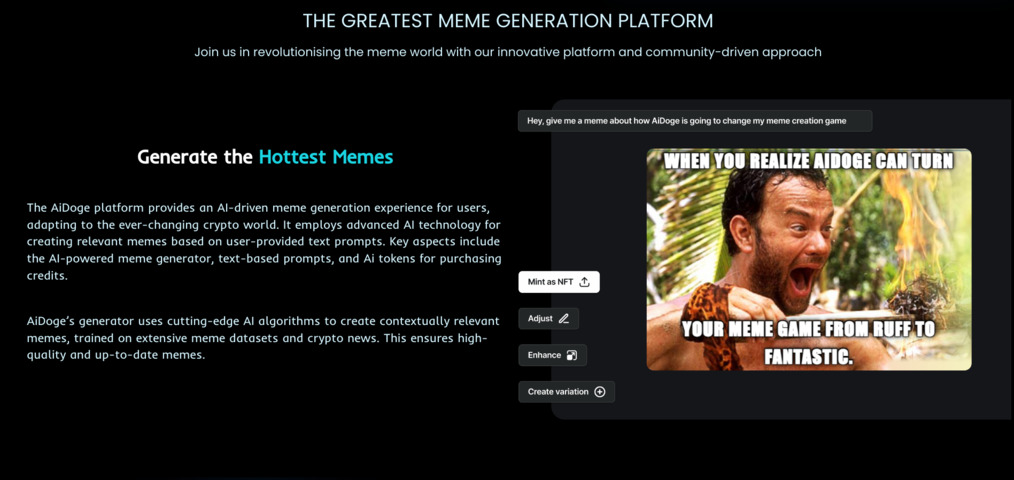 That said, one of the best ways to predict a new coin's price is by comparing it to competitor coins and looking at its competitive advantages.
AiDoge is first-in-class as the only AI crypto that allows users to generate memes with text prompts. This creates a first-mover advantage and could cause a lot of hype following its launch.
With that in mind, we will look at CoinMarketCap to compare the AiDoge price to ETH's price in the months following its launch since Ethereum also had a first-mover advantage.
Ethereum had a price of $2.7938 on 8 August 2015.
On 9 August 2016, Ethereum's price was $11.27.
Ethereum price reached $379.55 on 8 August 2020.
The coin hit an all-time high of $4,891.70 on 16 November 2021.
Although gains of this magnitude would be difficult to replicate, the Ethereum price history shows the parabolic nature of innovative cryptos.
Nonetheless, Ethereum surged by 303% in its first year. According to our AiDoge price prediction if $AI did the same, we could expect a price of $0.00010181 by 2024.
That said, low-cap coins can be volatile, and the best strategy is always to diversify to protect against unexpected losses. Still, high-risk cryptos usually come with the most upside potential.
Conclusion
As we see companies like Google increase AI adoption, now is the perfect opportunity to get involved with an AI-focused cryptocurrency. Furthermore, since AiDoge has only just launched, investors can buy into a brand new project with a low market cap.
The $AI presale was a roaring success, selling $14.9 million of tokens in just four weeks, and became a top trending coin on DEXTools after its IEO on June 19.
Tokens are now available to on the AiDoge website.
FAQs
What is the AiDoge Market cap?