As one of the latest new crypto projects and a meme coin, the Big Eyes presale has been trending online – is Big Eyes coin a good investment though?
This guide examines how to buy Big Eyes tokens – ticker symbol $BIG – ahead of its stated June 3rd, 2023 launch date or following that on a crypto exchange.
Big Eyes: Key Points
There has been some criticism from various crypto influencers of the Big Eyes presale. As with any new project, conduct thorough research and only invest what you can afford to lose.
A cat-related meme token, the Big Eyes project is centred around community building and charitable causes, according to the whitepaper
The presale will have run for ten months from August 2022 – June 2023, and claims to have raised $35 million
Investors have the option to buy Big Eyes coin with a MetaMask wallet or other crypto wallets at its official website bigeyes.space, or wait for its listing on Uniswap and a centralized exchange that is yet to be announced
How to Buy Big Eyes Tokens: Presale Guide
Now on round 13 of a total of 15 presale rounds, the Big Eyes token price is $0.00052. The steps to buy Big Eyes token are:
Step 1: Get a Crypto Wallet
Download a software wallet such as MetaMask or Trust Wallet. The Big Eyes presale also accepts Opera Wallet, WalletConnect, MathWallet, TokenPocket, SafePal, Coin98, and Blocto wallets.
Step 2: Add Crypto to Wallet
According to the Big Eyes website, USDT, ETH or BNB can be used to carry out a swap, i.e. exchange those cryptocurrencies for Big Eyes tokens. A small additional amount may be required to cover gas fees.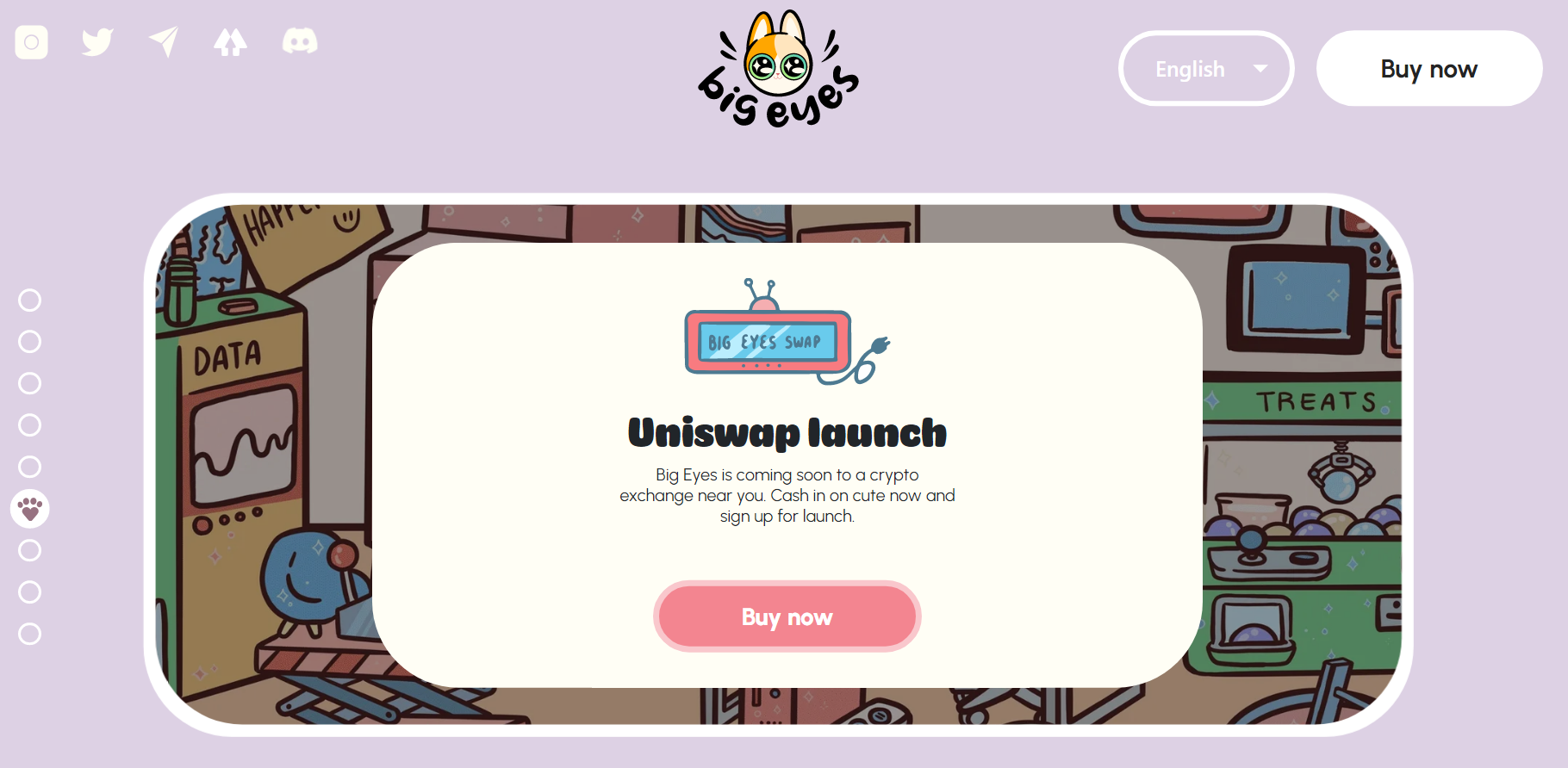 Step 3: Connect Wallet to Big Eyes Presale
Click 'Buy Now' or 'Buy' on the top right or centre of the bigeyes.space homepage – ensure you only visit the official sites of any new presale projects and see our related guides to staying safe when investing in them.
Step 4: Fill Out Presale Order Box
Enter an amount of USDT, ETH or BNB to buy Big Eyes tokens with.
Step 5: Confirm Order and Buy Big Eyes Tokens
Confirm your order. As with most crypto presales, Big Eyes tokens become available to claim on the official website during the token generation event (TGE) once it concludes.
Alternatively, wait for an official listing on Uniswap (beware of fake listings) or a centralized exchange. The Big Eyes project team have stated one CEX will be announced following the presale end date, June 3rd 2023.
The Big Eyes listing price has been set at $0.0006, a sixfold increase on its initial first round price at presale.
What is Big Eyes?
Big Eyes aims to meet the demand for cat meme coins and become as widely accepted as Dogecoin is
Its roadmap however is lacking in detail and its team are anonymous
An Ethereum chain (ERC-20) token with a total supply of 200 billion, Big Eyes coin is primarily a meme coin focused on community building and a vehicle for charity drives, according to the whitepaper.
80% of Big Eyes tokens will be in the hands of buyers at launch. Based on that circulating supply its fully diluted market cap at launch will be $120 million, higher than most new altcoins usually start at.
The Role of BIG Tokens
The main utility those that buy Big Eyes coin will have appears to be speculation – the Big Eyes presale marketing focuses on the $BIG token price 'going to the moon' and growth from 'hype', events and NFTs.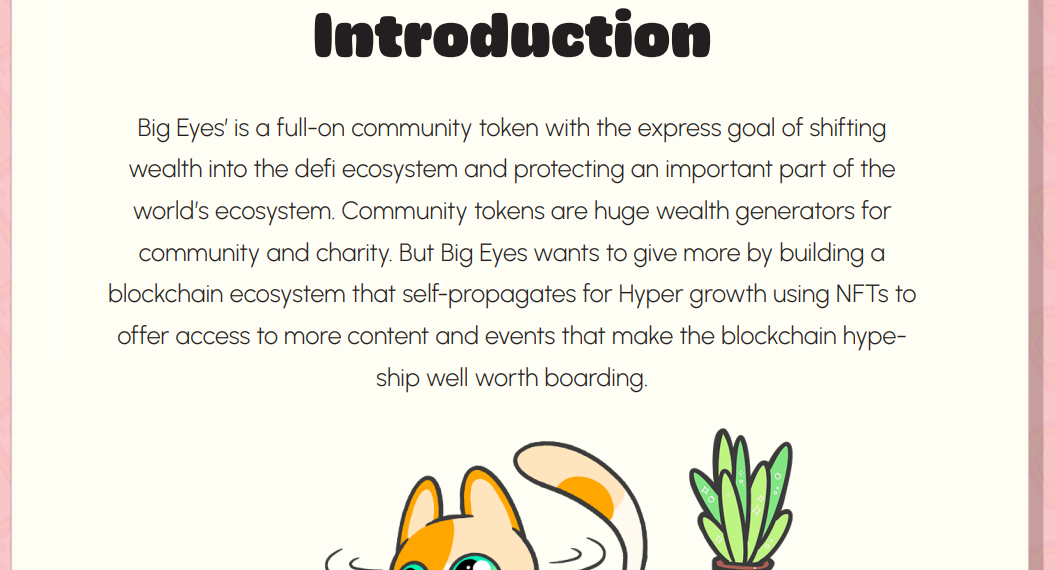 For projects with a more clearly defined use case, we listed some of the best cryptocurrency to buy now.
Reasons to Invest in Big Eyes
Even without a clear use case, some meme coins are capable of exploding in price, at the time of writing Pepe (PEPE) achieved an over $500 million market cap at its peak, shortly before May 2023, simply by being popular with buyers.
It should be noted however that Pepe coin was first listed at a significantly lower market capitalization than Big Eyes coin will be.
The best entry point to invest in Big Eyes coin would have been at round one, or may be following an initial correction on Uniswap to test demand from buyers at a lower price point.
Big Eyes Presale Details and Tokenomics 
Early entrants that opted to buy Big Eyes coin at round one have already benefitted from an over 500% price increase, assuming the project will launch successfully and have enough liquidity available for buyers to sell.
| | | |
| --- | --- | --- |
| Presale Round | Big Eyes Token Price | Funds Raised |
| 1 | $0.0001, 1 USDT = 10,000 BIG | $1.95M |
| 2 | $0.00014, 1 USDT = 7368 BIG | $3.2M |
| 3 | $0.00017, 1 USDT = 5833 BIG | $4.7M |
| 4 | $0.00021, 1 USDT = 4827 BIG | $6.45M |
| 5 | $0.00024, 1 USDT = 4117 BIG | $8.45M |
| 6 | $0.00028, 1 USDT = 3589 BIG | $10.7M |
| 7 | $0.00031, 1 USDT = 3181 BIG | $13.2M |
| 8 | $0.00035, 1 USDT = 2857 BIG | $15.95M |
| 9 | $0.00038, 1 USDT = 2592 BIG | $19.95M |
| 10 | $0.00042, 1 USDT = 2372 BIG | $24.2M |
| 11 | $0.00045, 1 USDT = 2187 BIG | $28.7M |
| 12 | $0.00049, 1 USDT = 2028 BIG | $33.45M |
| 13 | $0.00052, 1 USDT = 1891 BIG | $38.45M |
| 14 | $0.00056, 1 USDT = 1772 BIG | $44.7M |
| 15 | $0.0006, 1 USDT = 1666 BIG | $51.2M |
5% of the token supply are set aside for a charity wallet according to the Big Eyes website, and 5% for marketing efforts.
The addition of Big Eyes NFTs and influencers has been marked as 'coming soon' on the website since August 2022 when the Big Eyes presale began.

No token burn has so far been announced to lower the 200 billion $BIG supply over time, however it is a capped maximum supply with no inflationary mechanics.
BIG Price Prediction: How Big Can Big Eyes Get?
While meme coins like PEPE have made over 100x gains due to launching with a low market cap, that may be unrealistic for Big Eyes as a 100x price move would flip Dogecoin (DOGE) in market cap, a 50x would flip Shiba Inu (SHIB), and a 4-5x would flip Pepe (PEPE).
Crypto ICOs, IDOs or IEOs (initial coin offering / initial DEX offering / initial exchange offering) often experience a retracement following their launch, similar to the Gartner hype cycle for any new financial asset.
Bitcoin may also have found resistance at the $30,000 level, and some market commentators still consider cryptocurrency to be in a bear market.
See our full Big Eyes price prediction article here, where we speculated on some potential points to buy and sell Big Eyes token.
Conclusion
Buying Big Eyes coins is a straightforward process of connecting a decentralized wallet to the official site, carrying out a swap, then claiming tokens after the presale via the same wallet address.
Some Big Eyes buyers may prefer to wait until a confirmed DEX or CEX listing takes place to buy the dip, as the Big Eyes presale has already advanced to a late round at a higher price level, and consider diversifying their portfolio with other assets.
FAQs
How to buy Big Eyes tokens?
What is the Big Eyes token supply?
Should I buy Big Eyes coin?