Bitcoin Minetrix is a revolutionary new crypto project that is the first stake-to-mine protocol on the blockchain.
While Bitcoin mining, in recent years at least, has been almost impossible for retail investors to take part in – due to the sky-high hardware and energy costs – Bitcoin Minetrix will allow investors to purchase and own tokens that can be used to generate mining power.
Huge annual percentage yields are also on offer, with the presale enjoying a red hot start and raising more than $4.2 million in its first few months.
Read on to find out how to purchase $BTCMTX tokens and learn more about the project as a while.
Bitcoin Minetrix Presale Key Points
Here are the key points about the Bitcoin Minetrix presale:
Bitcoin Minetrix is the world's first stake-to-mine crypto project
Users stake tokens to generate mining power
Earn passive BTC without the need to set up expensive rigs
No costs beyond purchasing BTCMTX tokens
Increased security and avoid scammers
Ability to stake tokens and earn APY or sell them on exchanges
How To Buy Bitcoin Minetrix ($BTCMTX) Tokens – Beginners' Guide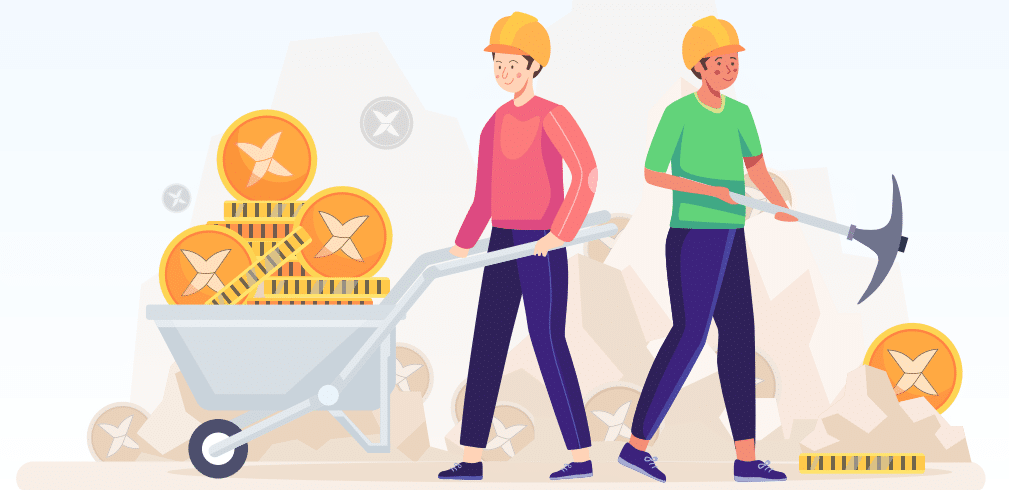 The detailed steps below will outline how to purchase $BTCMTX tokens during the ongoing presale.
Step 1: Download Crypto Wallet
Before being able to purchase $BTCMTX tokens, investors will need a crypto wallet that's compatible with ERC-20 tokens.
MetaMask is a popular choice as a Web3 wallet with multi-chain functionality and high security features, and we will use it as an example in this guide – there are dozens available including Trust Wallet, Phantom and Exodus.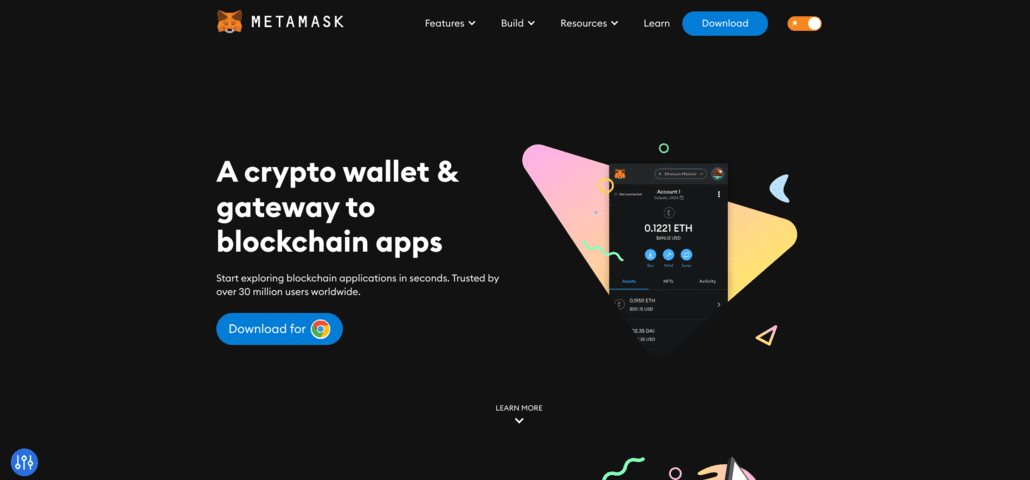 MetaMask is available either on mobile and desktop as an app or a browser extension. Download it and create an account with a strong password, making sure to note that down on paper along with the 12-word seed phrases.
Step 2: Buy ETH, BNB or USDT
Next, investors need to load the wallet with tokens to then convert into $BTCMTX.
ETH is the logical choice as some ETH will be needed to cover transaction (gas) fees when the purchase is complete – USDT or BNB can also be used.
ETH can be purchased directly on MetaMask, via trusted third-party brokers such as MoonPay, or transferred via a centralized exchange or another wallet. Just carefully copy the wallet address and then deposit, the transfer may take a couple of minutes to complete.
Step 3: Connect to the BTC Minetrix Presale Website
Visit bitcoinminetrix.com and click the orange button that says 'Connect Wallet'. Then select MetaMask – or an alternative – and follow the steps on-screen, inputting your password and confirming the connection.
Once the connection is complete, the website will appear slightly different with no options to purchase.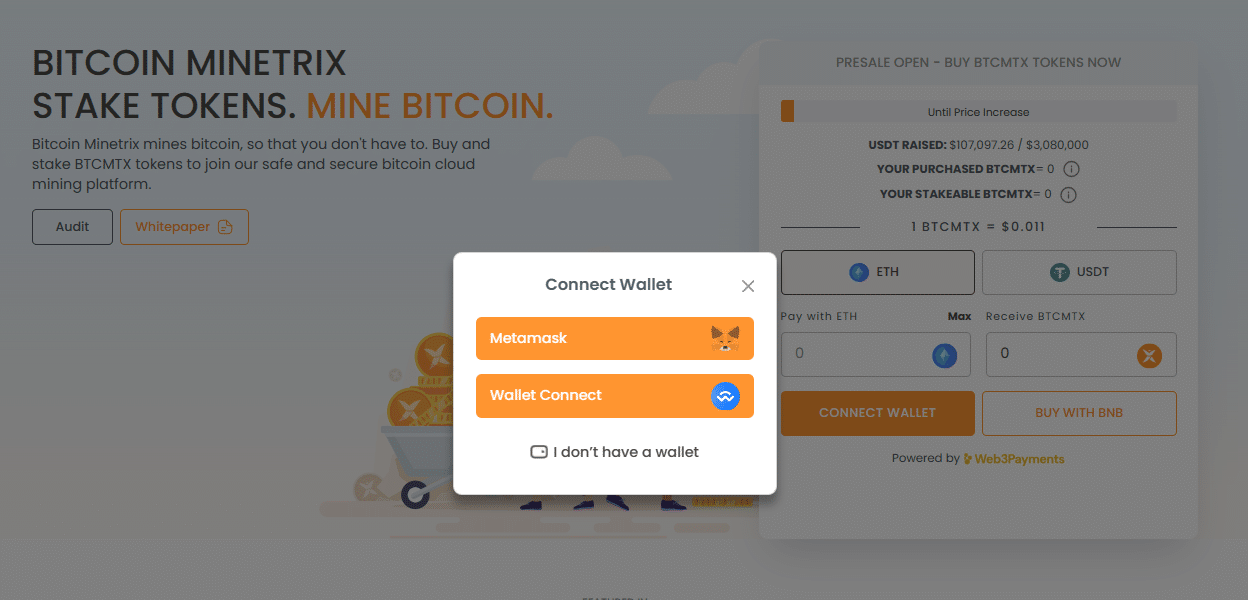 Step 4: Purchase $BTCMTX Tokens
Buyers will now have the option to purchase BTCMTX tokens but must first select the currency they wish to convert.
Choose ETH, USDT or BNB and input either the number of tokens to purchase or the amount to spend. Note that enough ETH needs to be left over to pay for gas, with 0.015 (approx $20) enough to cover it. There is a minimum purchase of $10.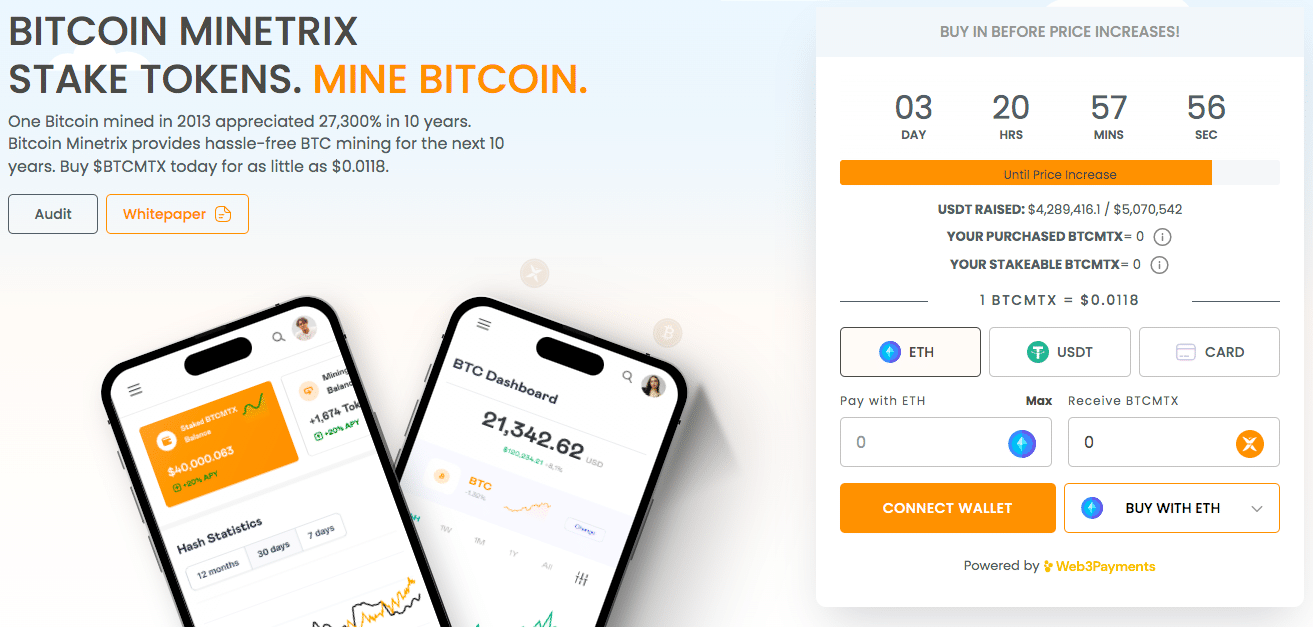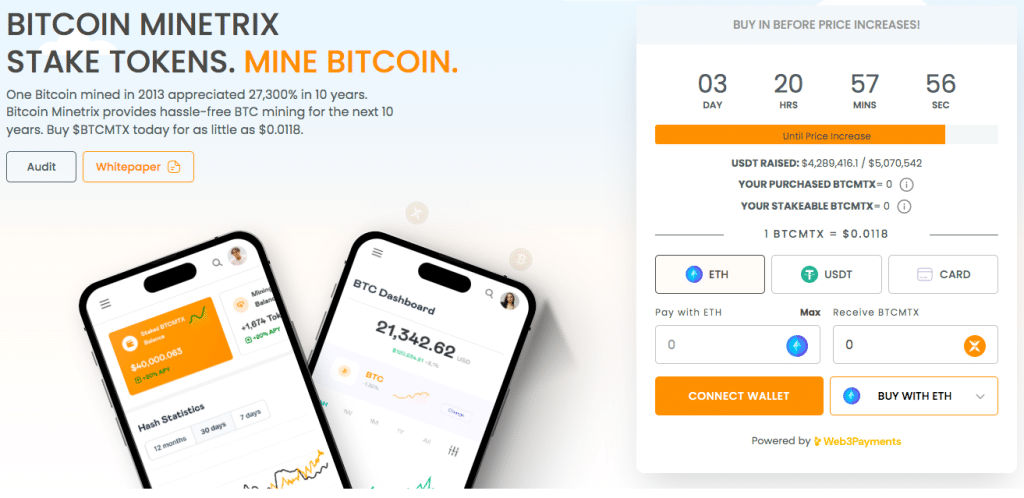 Skip to step 5 to stake tokens – where the current APY is over 138% – or select 'Buy Now' if you do not wish to stake $BTCMTX and earn rewards.
A new window should appear from MetaMask asking you to confirm the gas fees and the transaction and once that is complete, you will be notified.
Step 5: Earn $BTCMTX Staking Rewards
If you wish to stake tokens and earn staking rewards throughout the presale, there is the option to 'Buy & Stake' tokens.
They will immediately be locked into the staking pool, which has a current estimated annual percentage yield (APY) over 138%, and will accrue rewards until the presale ends.
Claim 6: Claim Bitcoin Minetrix Tokens
The final step is to claim tokens once the presale ends. They will be held securely until the token generation event (TGE) which will be announced by the project once the presale is closed.
Tokens can be claimed by returning to the website at the right time, selecting the 'Claim' button and confirming the transaction.
Follow the Bitcoin Minetrix Telegram group to keep up to date with the latest news from the project and to get full details on the claiming process when it's time.
What is Bitcoin Minetrix?
Bitcoin Minetrix is the world's first stake-to-mine crypto project, allowing token holders to get in on lucrative Bitcoin mining for as little as $10.
The token presale has just launched, and has already raised $4.2 million with excitement building over the project's ability to break down barriers in the cloud mining space.
Stake-to-Mine
Staking and mining are two of cryptos most popular themes but no project has previously combined the two.
Bitcoin Minetrix allows token holders to stake their tokens to generate cloud mining power and hashrate, with BTC rewards then paid back into a holder's wallet.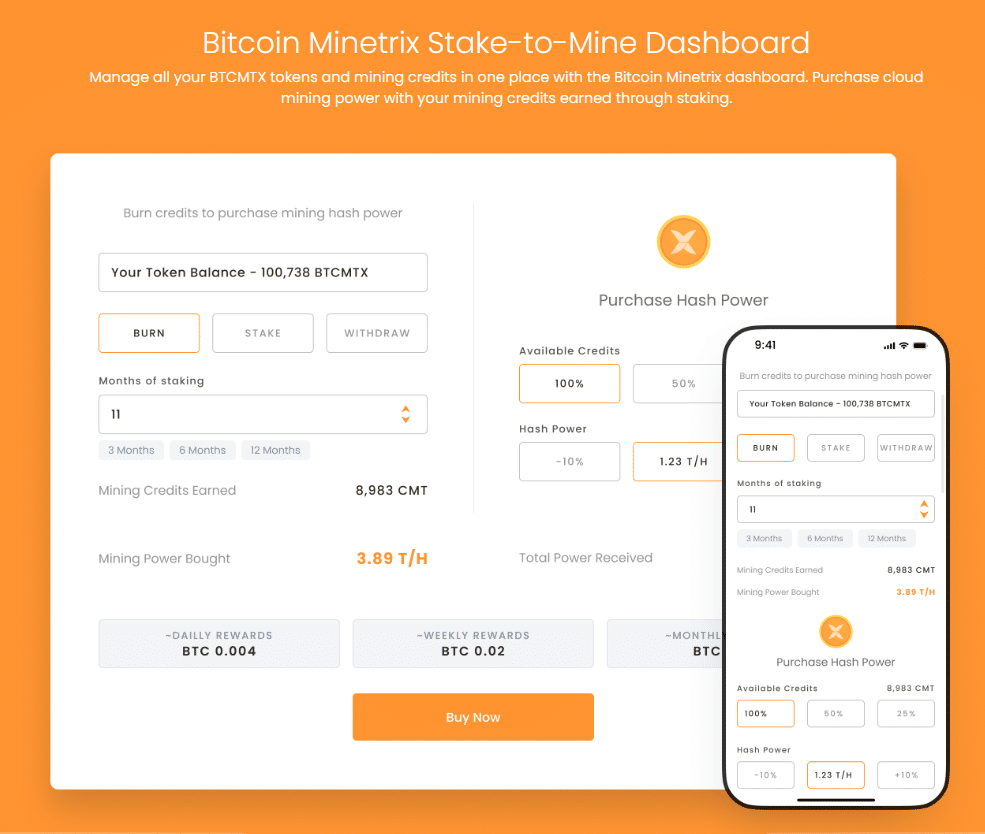 It means that rather than the need for expensive mining gear and the incredible costs of powering mining rigs, anybody can mine Bitcoin with just a minimum $10 purchase of $BTCMTX. The average price to mine one BTC is currently $42,000 when all costs are taken into consideration – 60% higher than the price of the coin.
Bitcoin Minetrix works by staked tokens generating cloud mining credits, which are non-tradeable ERC-20 tokens – they are then burnt in exchange for allocated mining time, with the BTC rewards then distributed back to token stakers.
Furthermore, $BTCMTX can also be staked to earn token rewards itself, with the current annual percentage yield sitting at over 138% – although this will come down as more tokens are locked into the staking pool.
More than millions of tokens have been locked into the pool at the time of writing, with 158.6 tokens per ETH block generated and a two-year unlocking cycle.
Users will eventually be able to manage their tokens via a dedicated Bitcoin Minetrix mobile app, which is currently in development.
| | |
| --- | --- |
| Presale Started | 26 September 2023 |
| Purchase Methods | BNB, ETH, USDT |
| Chain | Ethereum |
| Total Supply | 4 billion tokens |
| Min Investment | $10 |
| Presale Allocation | 70% of total supply |
Cloud Mining and Scammers
Cloud mining is not a new phenomenon and has been around for a while as traditional mining became almost the sole preserve of multi-million-dollar companies.
Cloud mining involves a user, or group of users, renting or purchasing shared computing power and covering the large energy cost.
While it has proven to be a fruitful avenue for many investors, the cloud mining space is increasingly occupied by scammers.
They often demand large sums of cash upfront and provide overly complicated contracts that make it difficult to work out how much BTC can actually be mined.
Furthermore, there are often cases of fees being added at the end of a contract for things like energy consumption and hardware maintenance that are hard to push back on and eat into any profits.
Bitcoin Minetrix is making the cloud mining space more secure and transparent by allowing users to simply stake tokens without the need to pay any further cash – tokens can also be unstaked and sold on an exchange at any time.
The lock-in period is determined by an individual investor, contrary to fixed terms in other cloud mining projects and Coinsult has also carried out a full audit of the smart contract to ensure investor peace of mind.
Bitcoin Minetrix Tokenomics & Presale
The Bitcoin Minetrix presale will run for 39 stages with tokens starting at $0.011 and increasing to $0.0148 by the final stage.
There is a max supply of 4 billion tokens, with 2.4bn of those (70%) available to purchase during the presale.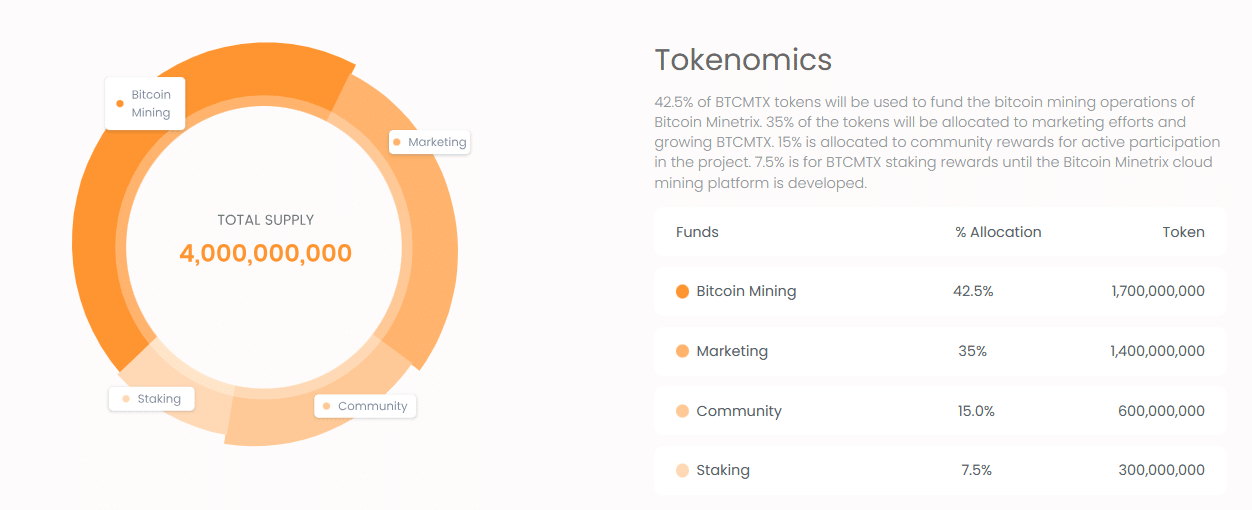 The soft cap is set at $15.6 million – for 1.4bn tokens – with the hard cap at $32 million should the presale sell out.
As mentioned above, there is a minimum purchase of $10 and ETH, BNB or USDT can be used.
Read through the Bitcoin Minetrix whitepaper for full information on the project.
Why Buy Bitcoin Minetrix During the Presale?
Bitcoin Minetrix has become one of the hottest new crypto projects on the market and we already rate it as our overall best crypto presale. Its key features include
Unique utility: Bitcoin Minetrix is the world's first stake-to-mine token, allowing users to earn staking rewards and earn Bitcoin through safe and secure cloud mining
Low barrier to entry: Typically, Bitcoin mining requires either huge costs on rigs and energy or high costs to cloud mine. Bitcoin Minetrix allows users to enter into the ecosystem and mine BTC for a minimum purchase of just $10.
Enhanced security: Cloud mining has become riddled with scammers who ask for upfront cash and then mislead investors about how much BTC can be earned. Bitcoin Minetrix allows holders to manage exactly how many tokens they want to stake for mining power, how long for and allow them to withdraw at any time.
Staking rewards: $BTCMTX can be staked to earn mining power or just to for the large staking rewards, which currently sit over 138%.
Bitcoin Minetrix Price Prediction – What is $BTCMTX's Potential?
As a revolutionary crypto project it is difficult to accurately create price predictions for Bitcoin Minetrix as no other project has offered stake-to-mine previously.
However, that should be seen as one of its biggest strengths as trailblazing protocols often set the market and enjoy incredible growth and gains.
Bitcoin mining is already a multi-billion-dollar business and allowing retail investors and those on a smaller budget to enter into it appears to be a masterstroke.
The project is in the early stages of its development but a planned mobile app will also make managing an investment extremely easy.
$BTCMTX tokens cost just $0.011 in the first stage of the presale so early investors could take advantage of one of the best ICOs of the year.
Conclusion
Bitcoin Minetrix ($BTCMTX) is an exciting new crypto presale project with a world-first offering in its stake-to-mine utility.
It means that any investor can now start securely and safely mine Bitcoin for as little as $10, while also earning generous staking rewards from the staking pool.
Tokens are also available at a discounted price during the early stages of the presale, allowing those who join early to earn extra tokens at a reduced price.
References
FAQs
What is Bitcoin Minetrix?
How to invest in $BTCMTX?
What is the market cap of Bitcoin Minetrix?