One of the most cost-effective ways to buy Bitcoin is via bank account transfers. While traditionally slower than debit/credit cards, some Bitcoin exchanges support instant bank payments.
In this guide, we explain how to buy Bitcoin with a bank account in 2023. We also discuss the best exchanges for the job, in terms of speed, low fees, and user-friendliness.
Why Buy Bitcoin with a Bank Account?
Before explaining how to buy Bitcoin with a bank account, let's explore some of the key benefits of choosing this payment type.
Very Low Fees
When compared to other payment methods, bank account transfers are by far the cheapest option when buying Bitcoin online. As we cover shortly, the best crypto exchanges charge no fees at all when depositing funds via a bank account.
In contrast, debit/credit card and e-wallet payments can attract very high fees. For example, Coinbase and Kraken charge 3.99% and 3.75%, respectively. Bitstamp is even more expensive, charging 4% of the purchase amount.
Why Are Bitcoin Credit Card Transactions So Expensive?
The main reason for high credit card fees when buying Bitcoin is because of risk.
For instance, crypto exchanges bear the risk of a credit card payment being reclaimed as a chargeback.
The user will report the credit card payment as fraudulently to their bank, and if successful, the funds will be returned.
Similarly, e-wallet providers like PayPal have 'Buyer Protection' schemes in place.
If the user reports the transaction and PayPal takes the buyer's side, the payment can be refunded.
In comparison, the same risks do not apply to bank account transfers. Additionally, bank account transfers are also more cost-effective for crypto exchanges. When the payment is made domestically, no fees are borne by the platform. This is in contrast to credit cards and e-wallets, which charge merchants processing fees.
To offer some insight, US clients making an ACH deposit into their eToro account will not pay any fees. This is also the case with Crypto.com, which also offers fee-free bank transfers to UK clients.
Local Bank Transfers Are Often Processed Instantly
Many crypto exchanges have a global client base. In turn, exchanges often support local bank transfers.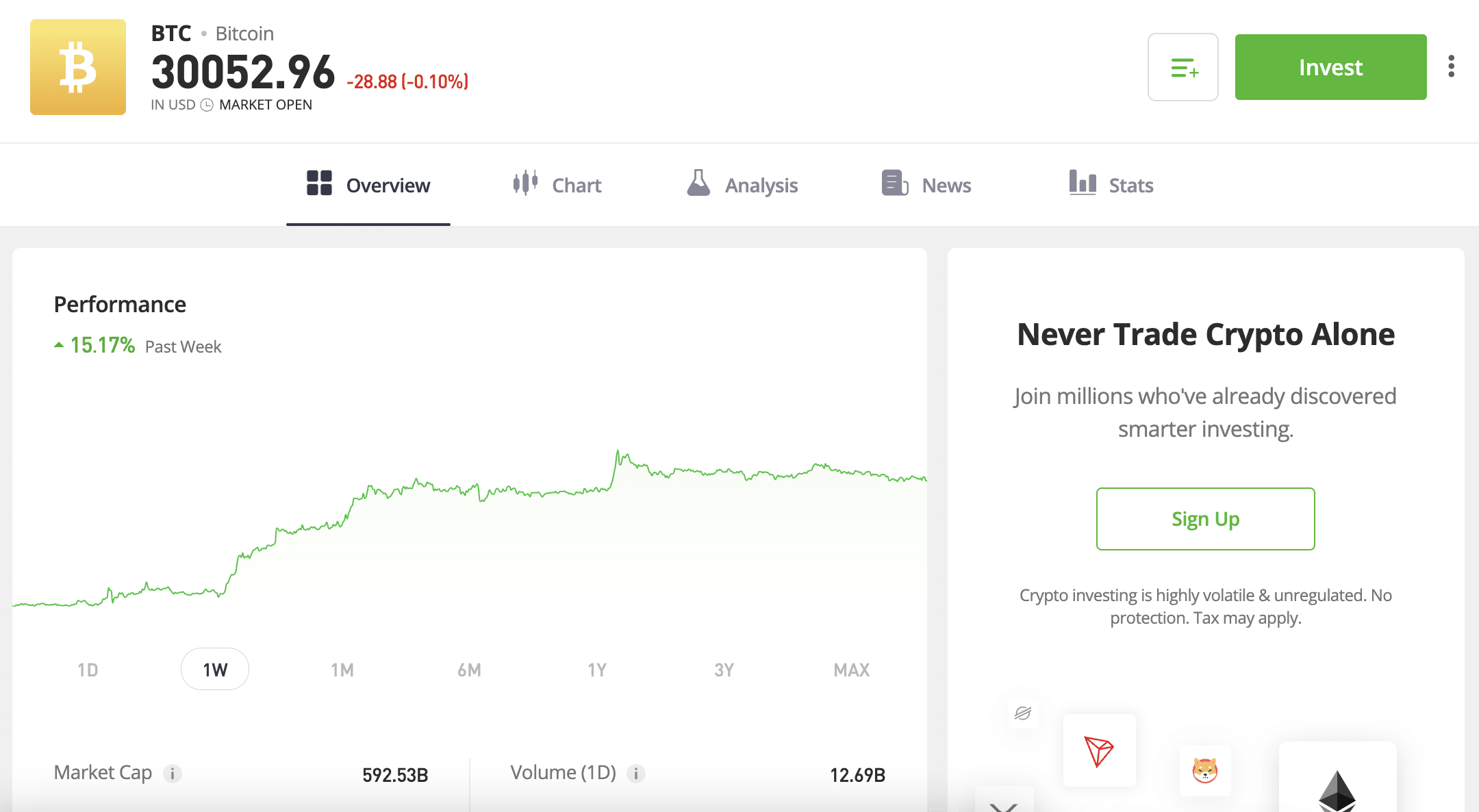 Not only does this save fees and avoid foreign exchange rates, but it speeds up the payment process considerably.
For example, we mentioned above that eToro allows US clients to deposit funds via ACH.
eToro also supports local banking options for other nationalities. For instance, it supports the Faster Payments network for UK clients and SEPA (via Trustly) for Europeans.
Additionally, eToro allows Australians to deposit funds via POLi.
In many cases, these local banking methods are processed instantly. As such, they offer similar speeds to credit cards and e-wallets.
Crypto.com is also a popular option to benefit from instant bank transfers. For example, when using the Crypto.com app, ACH transfers are processed and credited instantly.
Higher Level of Security
Buying Bitcoin with a bank account is also a lot safer than using e-wallets or credit cards to buy BTC.
For example, consider that stolen credit card numbers are rife on the dark web. Once in the wrong hands, this allows someone to use the credit card to make purchases online. This is also the case with e-wallets like PayPal. So for those looking to buy Bitcoin with PayPal this is something to keep in mind.
In contrast, bank accounts come with significantly more robust security tools.
While this will vary depending on the bank, this often includes two-factor authentication.
This is in addition to an online banking password and secret phrase.
Another safeguard is that new beneficiaries (e.g. a crypto exchange) must be approved before transactions can be made.
This prevents transactions from being sent to unauthorized locations.
In addition, buying Bitcoin with a bank account does not require investors to enter sensitive financial information into the exchange's website. Instead, the bank transfer is made externally. This reduces the risk of investors becoming a victim of fraud.
Recurring Payments
Seasoned investors will often set up recurring buy orders when investing in Bitcoin. This allows investors to stick to a dollar-cost averaging strategy.
What is Dollar-Cost Averaging in Crypto?
Dollar-cost averaging is a long-term strategy that allows investors to avoid short-term volatility. Crypto purchases are made at regular intervals, at the same amount. For example, buying $100 worth of Bitcoin every week. In doing so, investors average out their cost price in line with broader market trends.
Dollar-cost averaging is a sensible long-term strategy when investing in Bitcoin. And using a bank account is one of the best ways to achieve this. This is because many financial institutions allow users to set up recurring transfers.
Once set up with a suitable crypto exchange, the recurring deposits will be used to buy Bitcoin on a date specified by the user.
Seamless Withdrawals
At some point, investors will look to sell their Bitcoin back to cash. Then it's just a case of withdrawing the proceeds out of the exchange. Bank accounts make this process seamless.
This is because the user will be able to withdraw the funds back to the same bank account used to make the initial deposit. And just like deposits, bank account withdrawals are often fee-free. If a fee is charged, this is usually minimal.

For example, eToro charges just $5 to withdraw funds to a bank account. This fee is waivered when the withdrawal is made in US dollars. Moreover, bank account withdrawals are often faster when compared to credit cards.
For example, according to Experian, credit card refunds average 3-7 business days. In comparison, ACH transfers often take several hours to process. US bank wires are also usually credited on a same-day basis. While in other countries, Faster Payments (UK) and POLi (Australia) are processed instantly.
Avoid Using Credit to Buy Bitcoin
One of the biggest mistakes made by beginners is using a credit card to buy Bitcoin and not clearing the debt in full. This can have disastrous effects.
For example, consider an investor buying $5,000 worth of Bitcoin with a credit card.
By the time the credit card statement is received, Bitcoin has plummeted by 50%.
In this scenario, the Bitcoin investment is worth just $2,500, but they owe the credit card company $5,000.
If this isn't paid in full, interest will be charged on the investment. This increases the cost basis even further.
The same risks are not present when using a bank account to buy Bitcoin. This is because the investor is using money they actually have in their account, rather than credit.
How to Buy Bitcoin with a Bank Account – Quick Steps
Wondering how to buy Bitcoin with a bank account in the safest, fastest, and most cost-effective way possible? Here's a quick overview of how to complete the process of purchasing BTC with eToro.
Step 1: Open an account with eToro – First, visit the eToro website and open an account. Enter some personal information and contact details when prompted. Choose a suitable username and password.
Step 2: Complete the KYC Process – To get verified, upload two documents. First, a government-issued ID. Second, proof of address, such as a utility bill or bank account statement. The documents should be verified in under two minutes.
Step 3: Deposit Funds via Bank Account Transfer – Next, choose the preferred bank method. For example, ACH (US), POLi (Australia), Trustly (EU), or Faster Payments (UK). eToro will then display the account details to transfer the funds into.
Step 4: Buy Bitcoin – When the bank account deposit is credited to the eToro account, search for 'Bitcoin' and click on 'Trade'. Type in the amount of Bitcoin to buy (from $10) and click 'Open Trade' to complete the investment.
Further down, we offer a more detailed explanation of how to buy Bitcoin with a bank account.
Where to Buy Bitcoin With a Bank Account
It is important to use a suitable exchange when electing to buy Bitcoin with a bank account. Important factors to consider include regulation, deposit fees, trading commissions, and payment speeds.
Below, we explore the best places to buy BTC with a bank transfer.
1. eToro – Overall Best Place to Buy Bitcoin With a Bank Account
eToro is the overall best place to buy Bitcoin with a bank account. This popular crypto broker is regulated in various jurisdictions, including the US, UK, Cyprus, and Australia. eToro offers some of the lowest fees in the industry – especially when depositing funds. For example, those based in the US opting for ACH or domestic bank wires will not pay any fees at all.
Investors located in other countries will need to cover a small FX fee of 0.5%. This is to exchange the investor's local currency for US dollars. Moreover, eToro supports plenty of local bank methods. This ensures that payments are processed super fast. For example, Europeans can make an instant bank account transfer via Trustly. While Australians benefit from instant POLi transfers.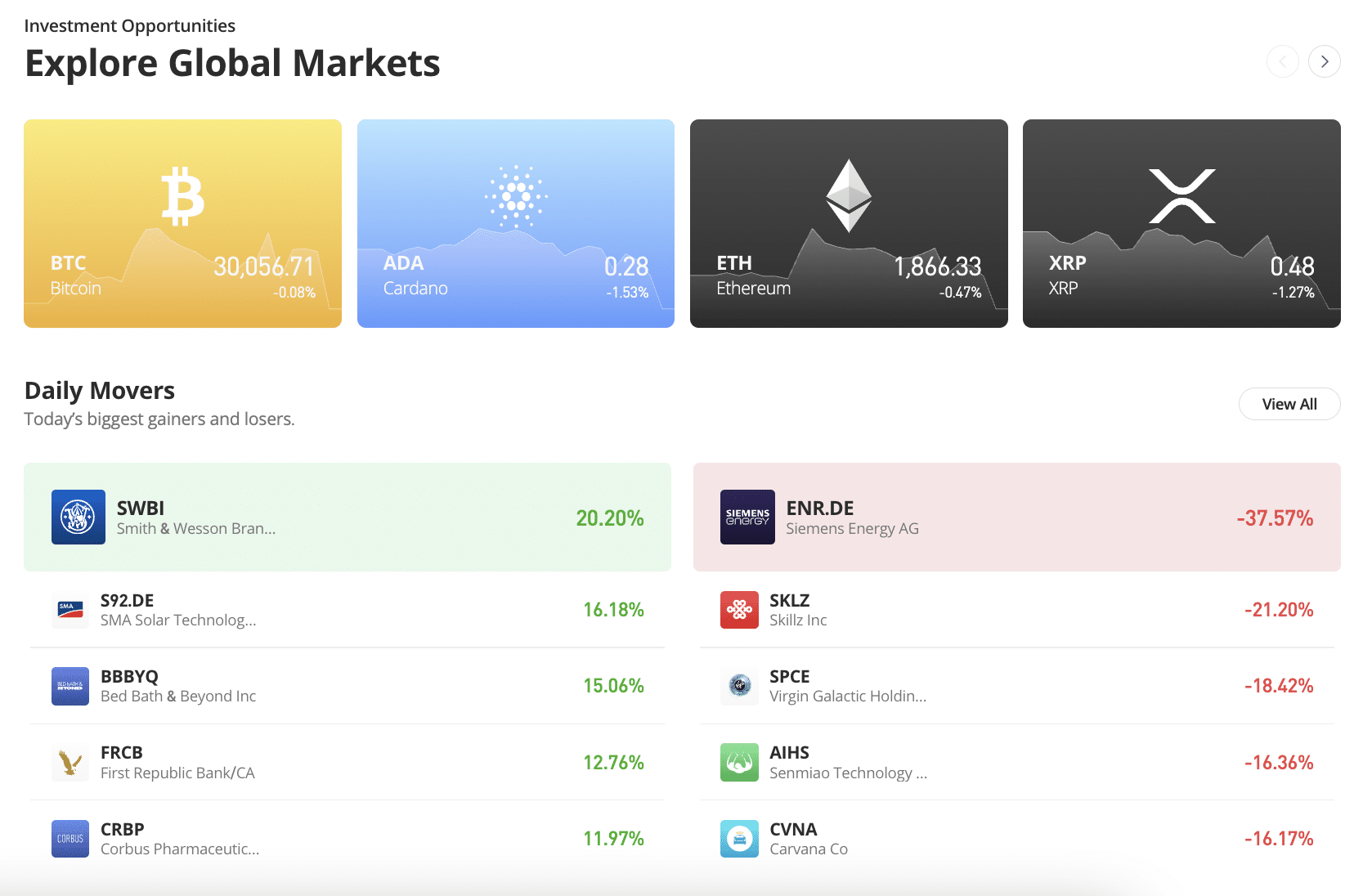 A full list of supported banking methods is shown when making the payment. eToro will display the bank account details for making the payment, alongside a unique reference number. Be sure to enter the reference number to expedite the payment. That said, a major drawback when using eToro for bank account transfers is the $500 minimum requirement.
This is reduced to just $10 when using a debit/credit card or e-wallet. Nevertheless, after completing the bank payment, investors can then buy Bitcoin from just $10. Standard commissions amount to 1% of the purchase price. This is also applied when cashing out. Not only does eToro support Bitcoin but dozens of other popular cryptocurrencies. This includes some of the best cryptocurrencies to buy, such as Ethereum, BNB, Cardano, Dogecoin, and XRP.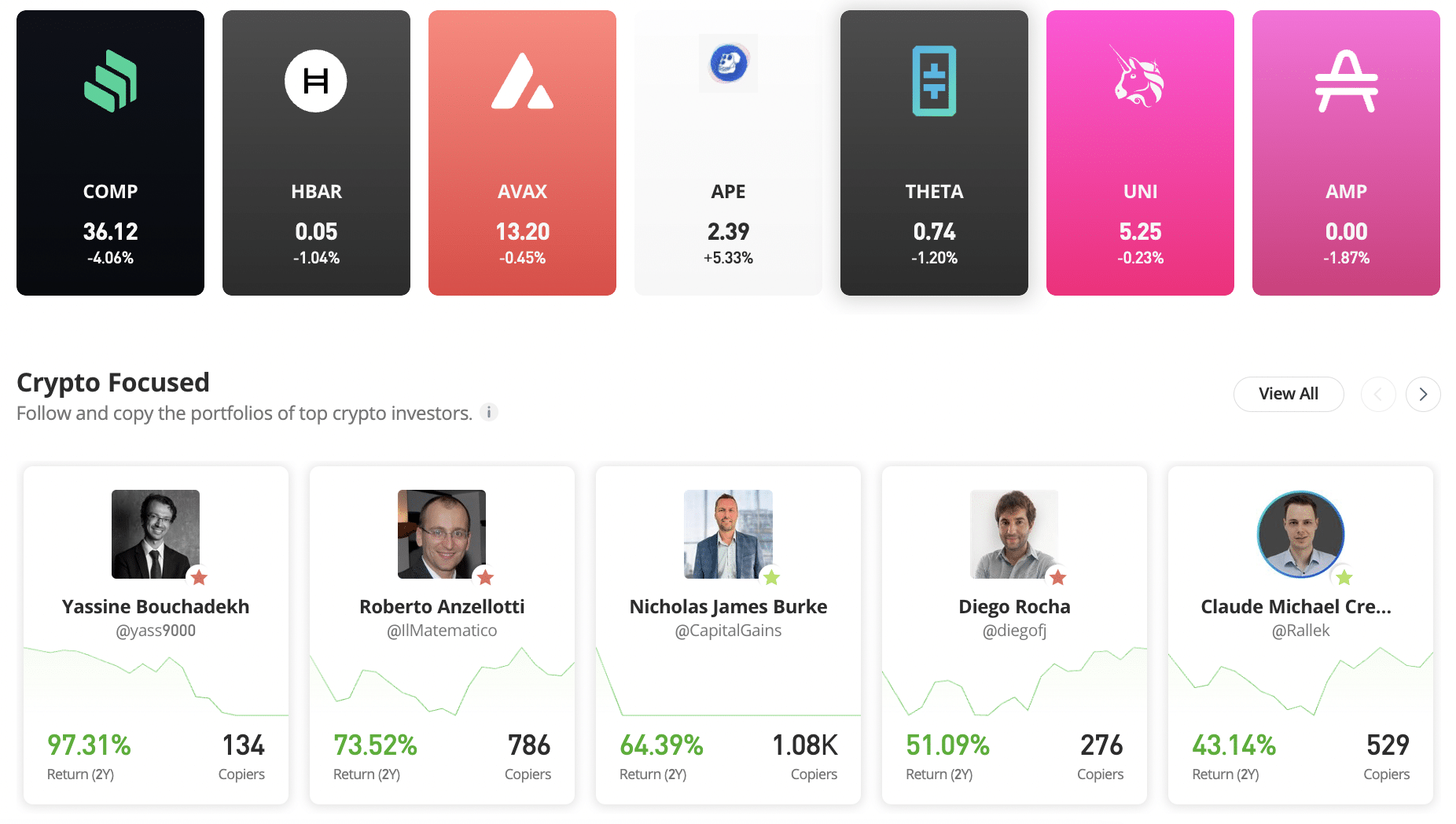 eToro also offers a range of trading tools that will appeal to beginners and experienced pros alike. For example, eToro supports real-time charts and technical indicators, not to mention limit, stop-loss, and take-profit orders. It also offers professionally managed crypto portfolios that are rebalanced on behalf of investors.
Copy trading is another popular tool, allowing users to mirror the trades of a successful crypto investor. What's more, eToro also offers one of the best crypto wallets. This is a custodial wallet, so Bitcoin investors don't need to worry about having their private keys hacked. The eToro web wallet also makes it seamless to buy and sell Bitcoin around the clock.
Pros
Overall best place to buy Bitcoin with a bank account in 2023
No fees on US dollar deposits – pay just 0.5% on other currencies
Regulated by multiple tier-one bodies – including FINRA
Supports dozens of digital assets – including some of the best altcoins
Offers passive investment tools – including copy trading
Cons
The minimum bank account deposit is $500
Not all supported banking networks are processed instantly
Cryptoassets are highly volatile and unregulated in most countries. No consumer protection. Tax on profits may apply. Your capital is at risk.
2. Crypto.com – Fee-Free and Near-Instant ACH Deposits
Crypto.com is one of the best places to buy Bitcoin with a bank account instantly in the US. This is because Crypto.com supports near-instant ACH deposits. In most cases, the payment should arrive in the Crypto.com account within 30 minutes. Best of all, there are no fees to deposit funds via ACH. US clients that prefer domestic bank wires are also catered for.
While this option is also fee-free, the payment can take 1-2 business days to process. Outside of the US, Crypto.com also supports a range of other local banking methods. For example, UK clients can deposit funds via the Faster Payments network. This is free of charge, but payments can take up to three business days. Australians can deposit funds via NPP (PayID). No fees are charged, and payments typically arrive in 1-4 business days.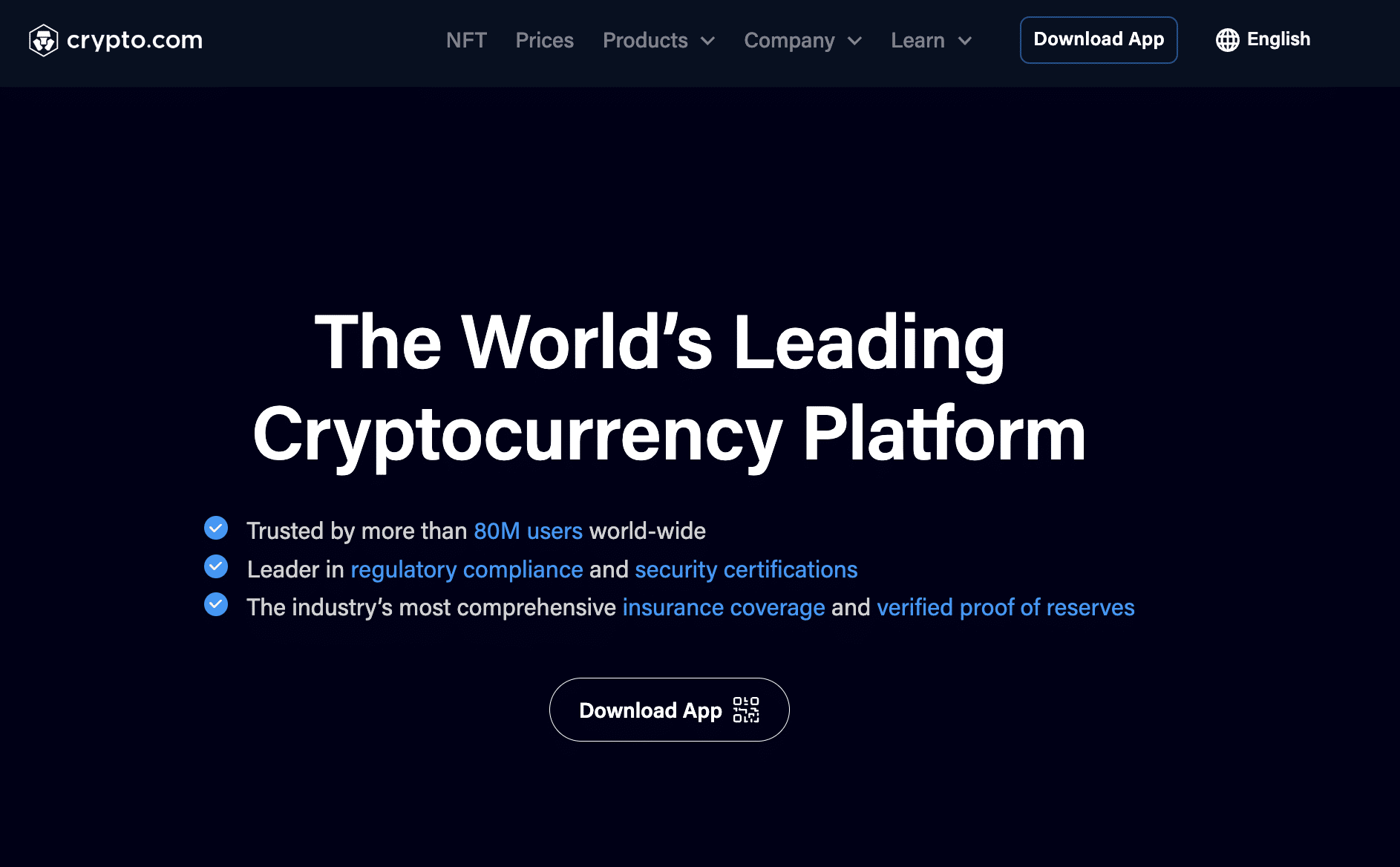 After depositing via bank transfer, the user will need to buy Bitcoin and pay trading commissions accordingly. The commission amounts to just 0.075%, which is very competitive. The Bitcoin tokens will then be stored in the Crypto.com web wallet. Crypto.com also offers a decentralized wallet that gives users full control of their private keys.
Additionally, Crypto.com is also a good option for creating a diversified portfolio. On top of Bitcoin, it supports over 250 other cryptocurrencies. This includes popular altcoins like Ethereum, Litecoin, and Polygon. Crypto.com also offers savings accounts, although APYs are no longer very competitive. Finally, Crypto.com is also one of the best places to buy and trade NFTs, with no fees charged on purchases.
Pros
Buy Bitcoin instantly with a bank account via ACH
No fees are charged on any supported banking method
Supports more than 250 digital assets
Charges trading commissions of just 0.075%
Cons
Non-US bank transfers can take several days to arrive
Crypto savings accounts come with low APRs
3. Binance – Fast Bank Account Deposits and Super-Low Trading Commissions
Binance is also worth considering when exploring how to buy Bitcoin with a bank account. It is important to note that fees and supported banking methods vary depending on the country of residence. For example, Americans going through the Binance US website, will not be charged any fees to use ACH or a domestic bank wire.
All other nationalities will need to use the global Binance website. Investors based in Europe will be able to deposit funds near-instantly via SEPA. Binance charges just €1 on SEPA payments, irrespective of how much is being deposited. UK investors, however, are no longer able to deposit funds with a bank account. Binance recently removed its GBP banking facility, as per pressures from UK regulators.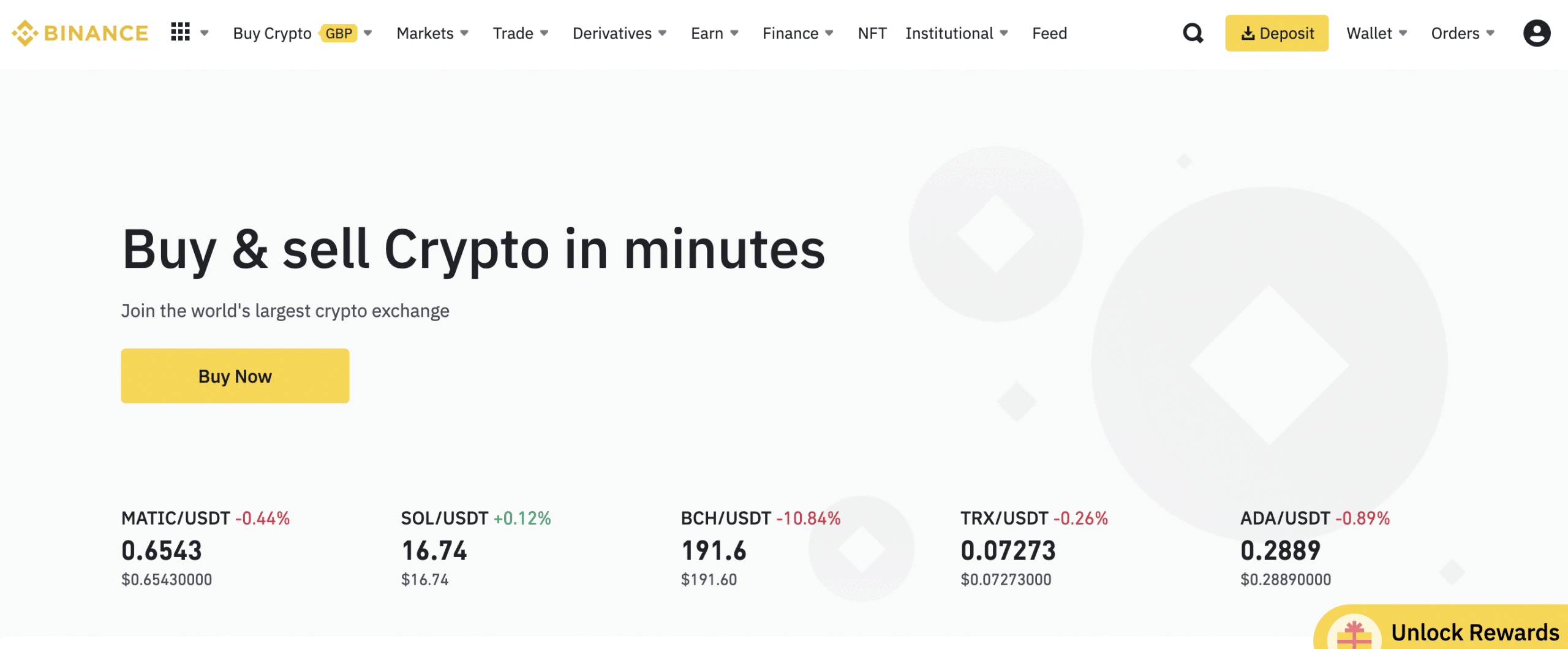 Nonetheless, those that can deposit funds into Binance will benefit from competitive commissions. Each buy-and-sell order is charged just 0.1%. What's more, Binance is another great option for diversification. It supports more than 350 cryptocurrencies, including some of the best utility tokens. Binance also stands out in the customer service department, with live chat support available 24/7.
Pros
Low-cost bank account transfers are supported in many countries
No minimum deposit requirement on bank transfers
Trading commissions of just 0.1%
More than 350 cryptocurrencies are supported
Cons
Some nationalities cannot deposit funds via bank transfer – including those from the UK
Payment gateways are constantly being removed due to regulatory pressures
How to Buy Bitcoin With a Bank Account on eToro – Tutorial
Looking to buy crypto with a bank account right now? Below, we explain the step-by-step process with the regulated Bitcoin broker, eToro.
Step 1: Open an eToro Account
Head over to the eToro website and open an account.
First, choose a username and password. Then, enter some personal information, such as a full name, nationality, and home address.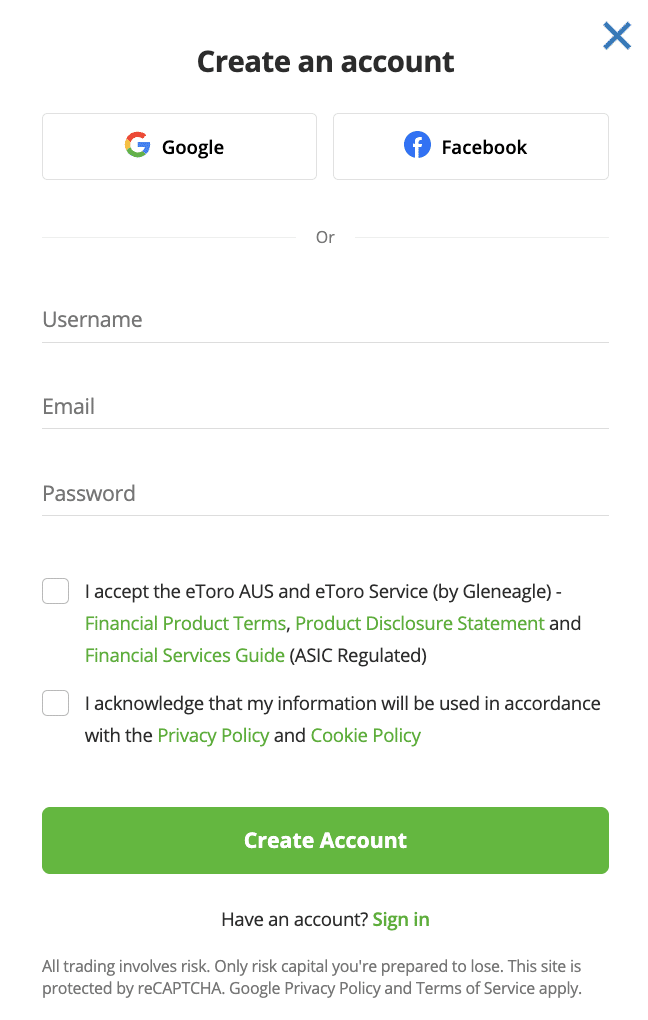 eToro will then ask for a cell phone number. It will send a code to the provided number, which needs to be entered to verify it.
Finally, eToro will ask some basic questions about the investor's historical trading experience.
Step 2: Get Verified
When using fiat money to deposit funds into a crypto exchange or broker, a KYC process is required. At eToro, the process takes less than two minutes.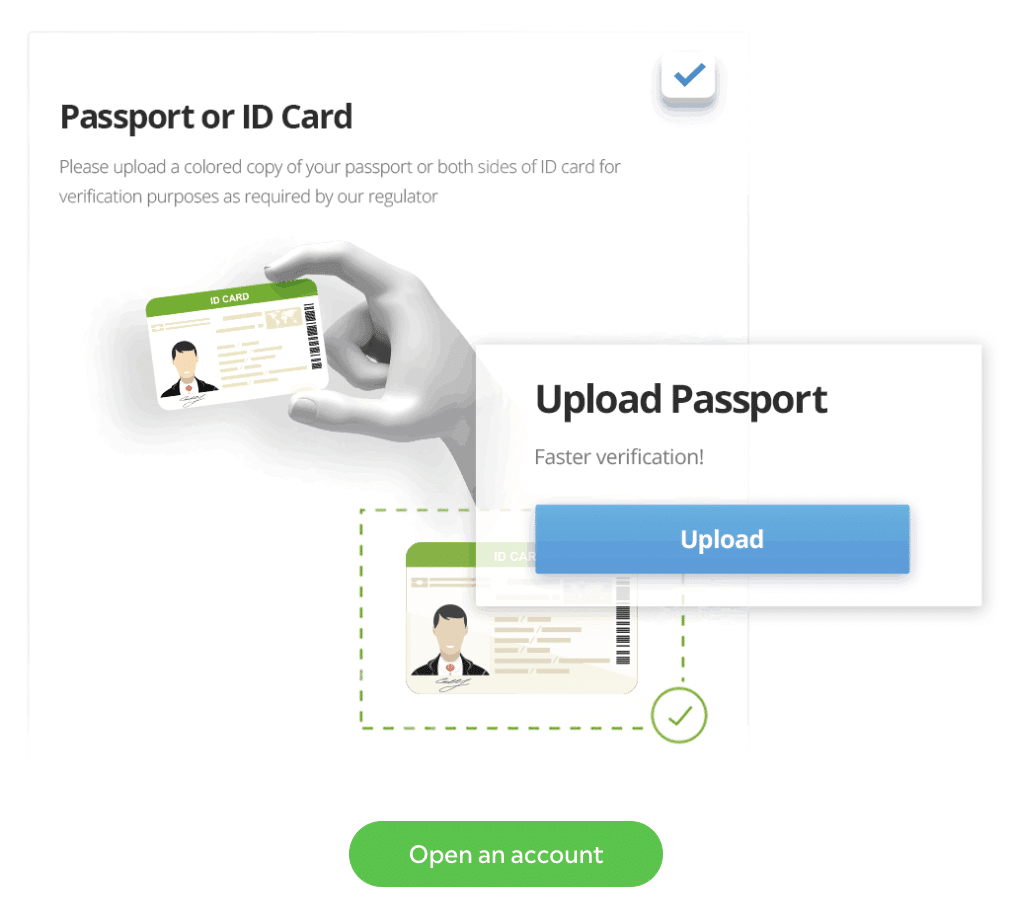 Users will need to upload a government-issued ID and proof of address. The latter needs to have been issued within the prior three months.
Step 3: Deposit Funds With a Credit Card
Now that the KYC process has been completed, proceed to the deposit page.
From the drop-down list of payment types, select the preferred banking method. Then, type in the amount of money to be deposited.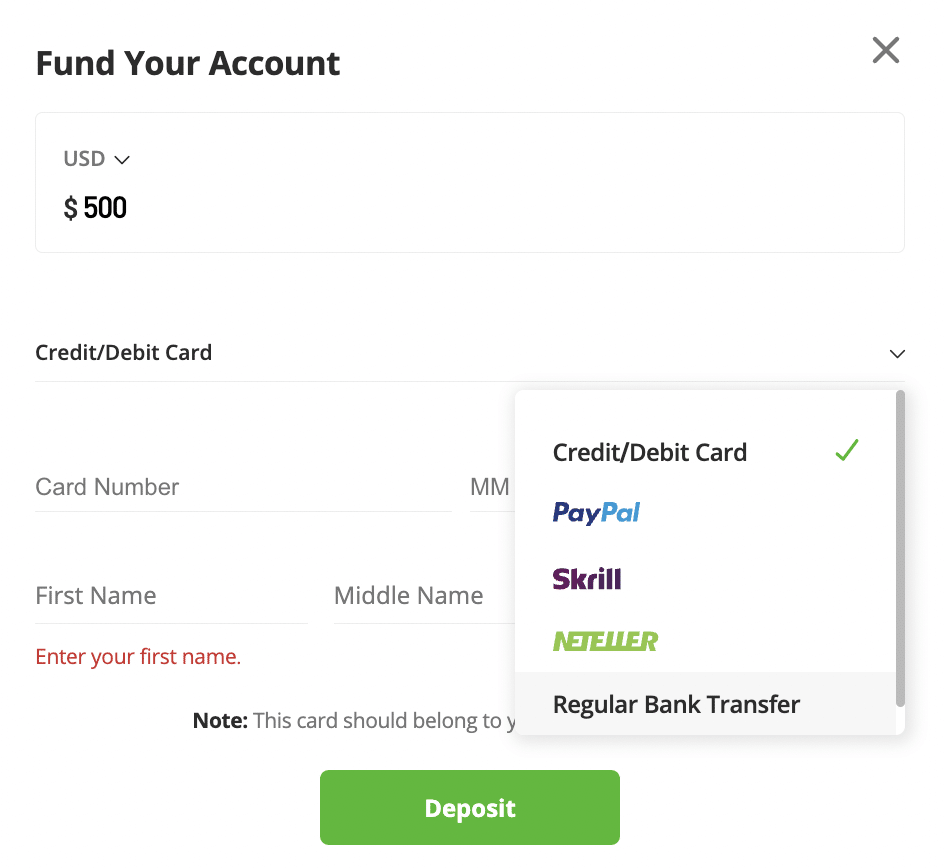 Don't forget, eToro requires at least $500 when using a bank account. Next, click on the 'Continue' button.
This will reveal the:
Account details to send the payment to
The unique customer reference
Be sure to enter the custom reference when completing the bank account transfer. This will speed up the deposit timeframe considerably.
Note: Wondering how to buy Bitcoin without a bank account? eToro also accepts debit/credit cards and e-wallets, and the minimum is reduced to just $10.
Step 4: Search for Bitcoin
Once the bank account transfer has been credited, it's time to buy Bitcoin.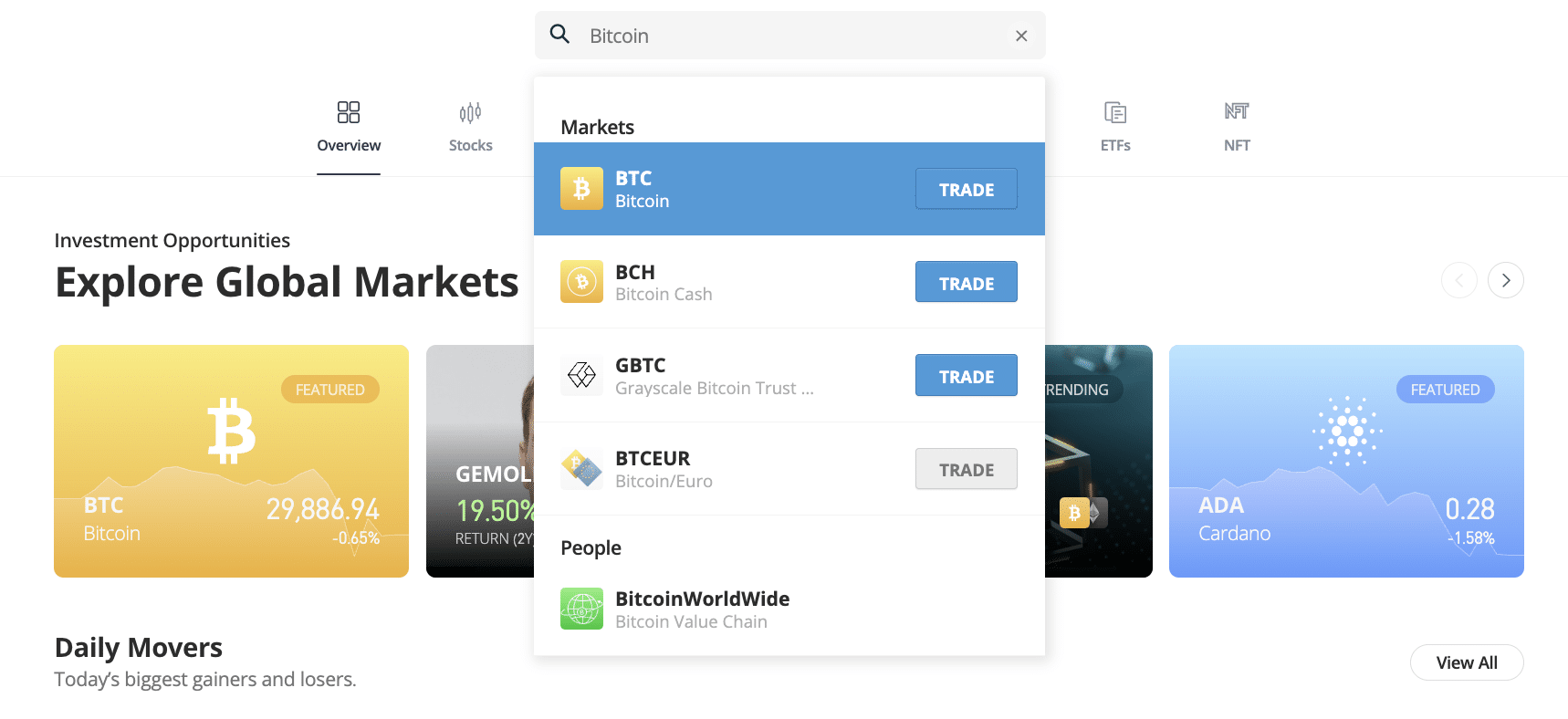 In the search box, type in 'Bitcoin'. Then, click on 'Trade'.
Step 5: Buy Bitcoin
To complete the Bitcoin investment, an order form must be completed.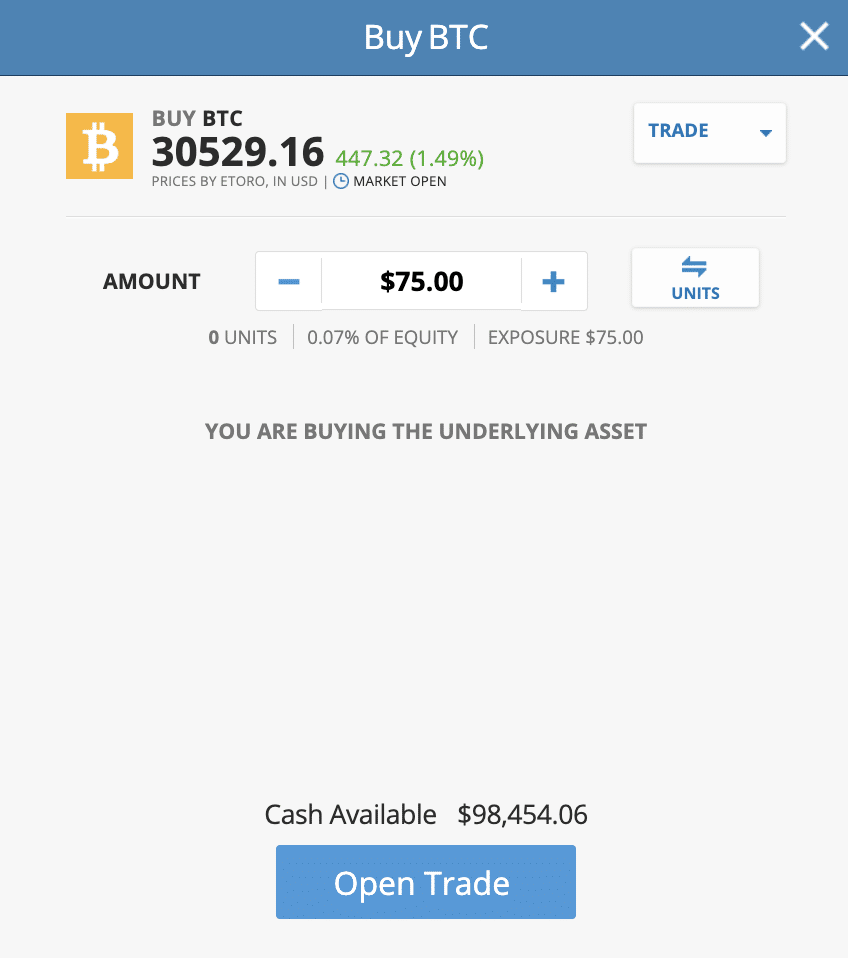 As seen in the image above, users simply need to enter the total investment amount. This can be any amount from $10 or more.
Click on the 'Open Trade' button to complete the order.
How to Withdraw Bitcoin to Bank Account
After buying Bitcoin on eToro, the tokens are transferred to the user's web wallet. This is safeguarded by eToro, so no knowledge of wallet security or private keys are needed.
Those wondering how to sell Bitcoin and withdraw the tokens to their bank account can follow the steps below:
Step 1: Sell Bitcoin on eToro
The first step is to sell Bitcoin on eToro. Log into the account and click on the 'Portfolio' button.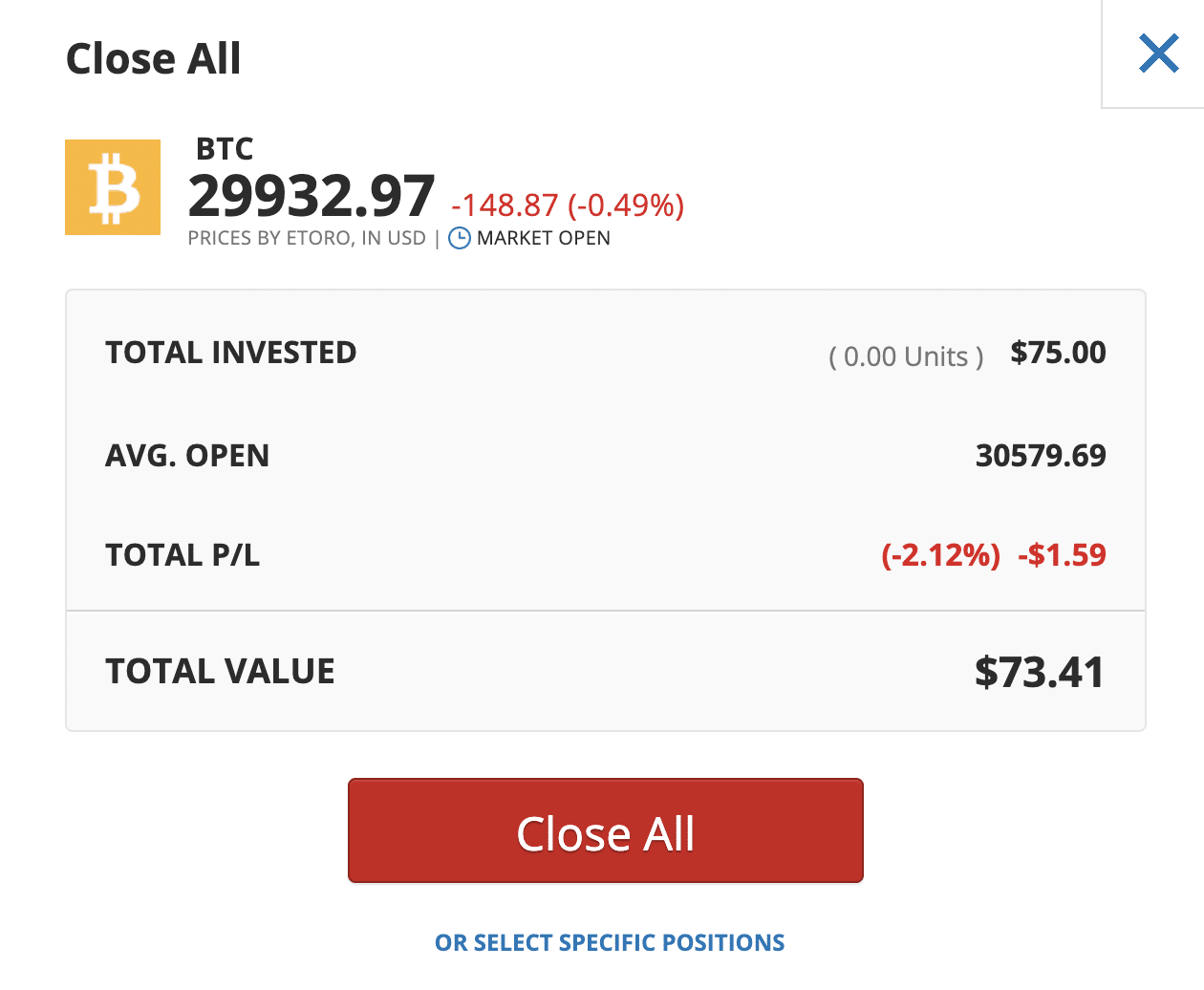 Next, click on Bitcoin. This will display the current value of the Bitcoin investment. To sell, click on the 'Close All' button.
To confirm, click on "Close All" once more.
Step 2: Withdraw the Balance to a Bank Account
Once the Bitcoin is sold on eToro, the proceeds will be added to the user's balance. This will be displayed in US dollars.
To make a withdrawal, click on the 'Withdraw Funds' button.
This is located on the left-hand side of the user's dashboard.
Select the preferred banking methods and type in the required information.
After confirming the withdrawal, eToro will process it – usually within 24-48 hours
After the withdrawal is approved, it can take several days for the funds to arrive in the user's bank account. That said, some banking methods, such as Faster Payments in the UK, are usually processed instantly.
Can You Buy Bitcoin With a Bank Account and No Verification?
The anti-money laundering regulations on fiat money payments are universal. Whether an investor is using a bank account, credit card, or any other fiat method, KYC is required. As such, it is not possible to buy Bitcoin with a bank account and routing number with no verification.
On the contrary, investors will be required to complete KYC before fiat facilities are offered by the chosen exchange. The amount of time this takes will vary widely. For example, platforms like eToro, Crypto.com, and Binance can verify KYC documents near-instantly. While others can take several days.
Nonetheless, once the KYC process has been completed, users will be able to buy BTC with a bank account instantly. Thereon, there should be no more delays. That said, the chosen exchange might ask for additional information (such as proof of source of funds) if very large amounts are being deposited.
Note: We should also note that some peer-to-peer (P2P) exchanges claim to support bank account payments without any verification or KYC. However, not only are these platforms unregulated, but they come with additional risks. This is because P2P transfers are prone to scams and fraud.
Bitcoin Minetrix – Bitcoin Alternative With High APY Rewards on Stake-to-Mine, Raised $300K In Less Than A Week
Bitcoin Minetrix is a trending new project in the Bitcoin cloud mining sector. This Ethereum-based project raised over $300,000 in less than a week.
Bitcoin Minetrix's native token, $BTCMTX, is available at an initial price of $0.011 during the presale. Designed with a tiered pricing system, the token cost will incrementally rise, rising to $0.0119 in the final presale stage.
With a hard cap target of $32 million, 70% of the total token supply is allocated for the presale.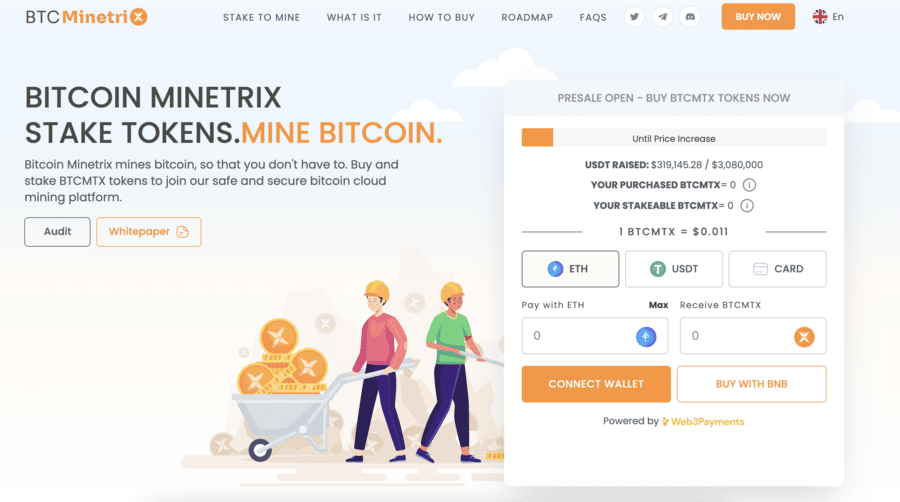 Breaking away from traditional cloud mining practices that often involve riskier cash contracts, Bitcoin Minetrix introduces a unique 'Stake-to-Mine' feature.
You can stake the $BTCMTX tokens to earn 'mining credits,' non-tradable tokens. These credits can be burned to acquire Bitcoin mining power, reducing the chances of scams and fraudulent activities.
One of this platform's standout features is its financial flexibility. Unlike traditional methods that involve locking in your funds, Bitcoin Minetrix allows users to unstake or sell their $BTCMTX tokens at any point. This ensures users maintain control over their investments.
This innovative platform aims for sustainability, departing from the energy-intensive Proof-Of-Work model commonly associated with Bitcoin mining. Users can engage in eco-friendly cloud mining without bearing the brunt of expensive equipment costs or the need for specialized software.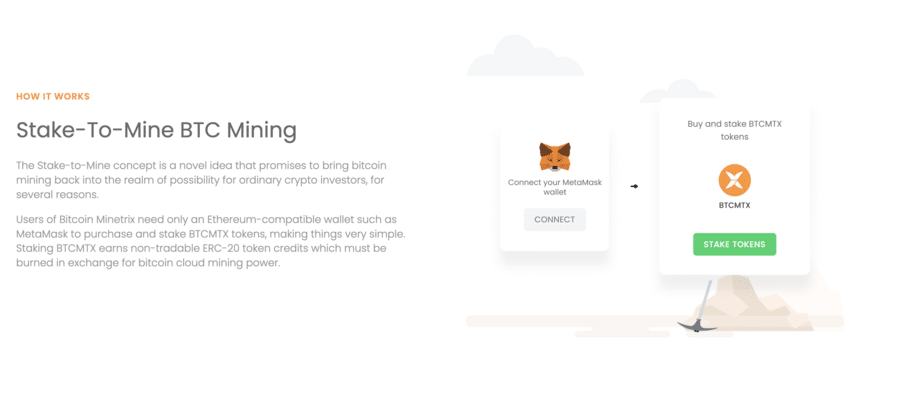 According to the Bitcoin Minetrix whitepaper, the project is designed to function on mobile applications, allowing users to mine Bitcoin on the go.
It also features an intuitive dashboard, displaying key metrics like 'mining power bought' and 'mining power earned,' thus simplifying the entire mining process.
You can invest in the presale using cryptos like USDT, BNB, and ETH. You can follow Bitcoin Minetrix on X (previously Twitter) or join their Telegram group for updates and community interaction.
| | |
| --- | --- |
| Hard Cap | $32,000,000 |
| Total Tokens | 4 Billion |
| Tokens available in presale | 2.8 Billion |
| Blockchain | Ethereum Network |
| Token type | ERC-20 |
| Minimum Purchase | $10 |
| Purchase with | USDT, ETH, BNB |
Conclusion
In summary, using a bank account to buy Bitcoin online can be a smart move. Not only in terms of reduced fees but increased safety.
We found that overall, the best place to buy Bitcoin with a bank transfer is eToro. This regulated broker supports fee-free USD bank payments. Other major currencies are also supported at a small fee of 0.5%.
Cryptoassets are highly volatile and unregulated in most countries. No consumer protection. Tax on profits may apply. Your capital is at risk.
References
FAQs
Do you need a bank account to buy Bitcoin?
How do I buy Bitcoins with my bank account?
Can you buy Bitcoin with a bank account without verification?