BTC20 is an upcoming crypto project that recently got listed on Uniswap that has been gaining traction due to its ability to blend Bitcoin's fundamentals with the latest blockchain trends.
This guide takes you through a few simple steps to buy $BTC20, discusses its utility, and gives a glimpse into the future of the token.
BTC20 Key Points:
Here's a quick overview of the BTC20 platform:
BTC20 uses a green crypto model using the eco-friendly Proof-of-Stake consensus mechanism. Holders can contribute to sustainability while earning passive income.
The platform shows a solid dedication to transparency and decentralization. All tokens are publicly accessible, with none reserved for the team, reflecting their commitment to tokenomics.
The platform's presale saw a quick sell-out as it raised over $6 million in just a few days of its official launch. Paired with strategic partnerships and planned integration with decentralized apps, this could suggest a rising trajectory for BTC20's value in upcoming quarters.
How to Buy BTC20 Tokens – An Easy Guide
Most people missed the opportunity to buy Bitcoin during its initial stages, but now, the $BTC20 token's recent listing has set the stage for an upside. Here's a simple step-by-step guide to buying BTC20 tokens on DEXTools.
Step 1: Get a Digital Wallet
Start by creating a digital wallet that can be connected to DEXTools. MetaMask is a common choice with a mobile app and browser extension. Many Other options, like Binance Wallet, OKX Wallet, Ledger, and Trust Wallet, work and are accessible through the WalletConnect Widget on DEXTools.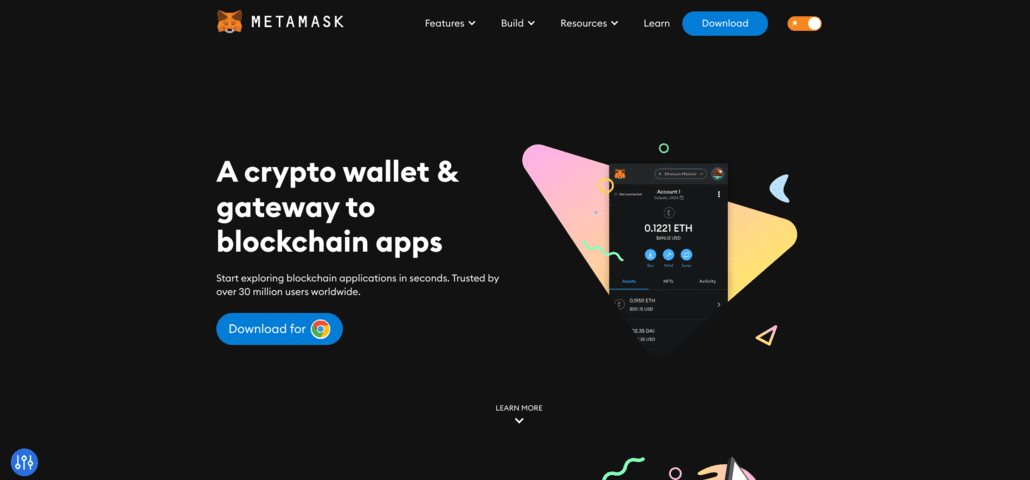 Step 2: Ensure You Have Crypto
Head over to DEXTools and search for BTC20. You can swap BTC20 with ETH/WETH/WBTC/USDT/USDC. You can get these from a crypto exchange and then transfer the crypto to your wallet or buy directly within your wallet.
Step 3: Connect The Wallet
To buy BTC20, link your wallet to DEXTools. Click 'connect wallet,' select your preferred wallet, and link. Now, pick the crypto you wish to exchange for $BTC20.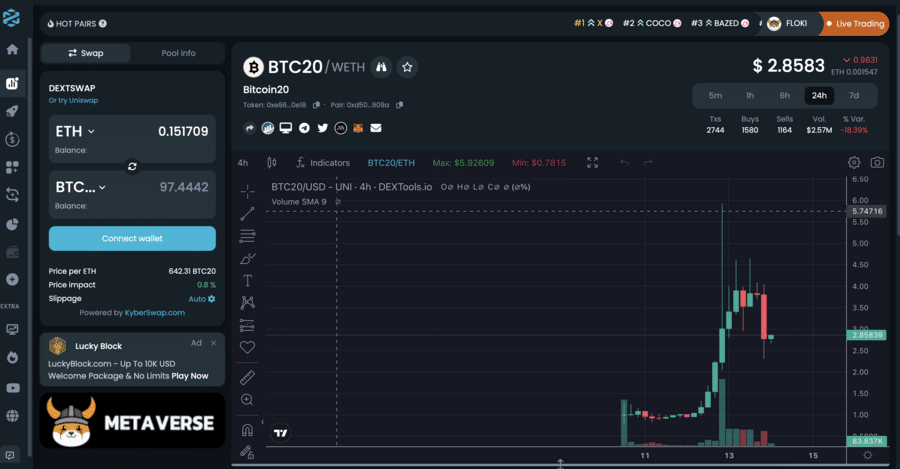 Step 4: Purchasing $BTC20
Once your wallet is connected, specify the crypto amount for BTC20. Click 'Buy $BTC20 Tokens' and follow the instructions to confirm the purchase. Keep in mind that gas fees can apply.
What is BTC20?
BTC20 is an emerging coin that aims to restore the excitement of Bitcoin's initial days when it was valued at just $1. Unlike Bitcoin, which uses a power-intensive mining system, BTC20 is based on the greener Proof-of-Stake protocol.
As each block is confirmed, a specific number of BTC20 tokens are distributed among stakers, ensuring a fair reward system that encourages long-term participation. This means you can earn by staking your tokens instead of mining. This approach not only lessens environmental impact but also provides an earning opportunity for its holders.
The staked tokens are released at a comparable rate to Bitcoin's block generation, aligning with Bitcoin's original block release schedule. This mechanism implies a gradual release of BTC20 tokens, projected to span 120 years.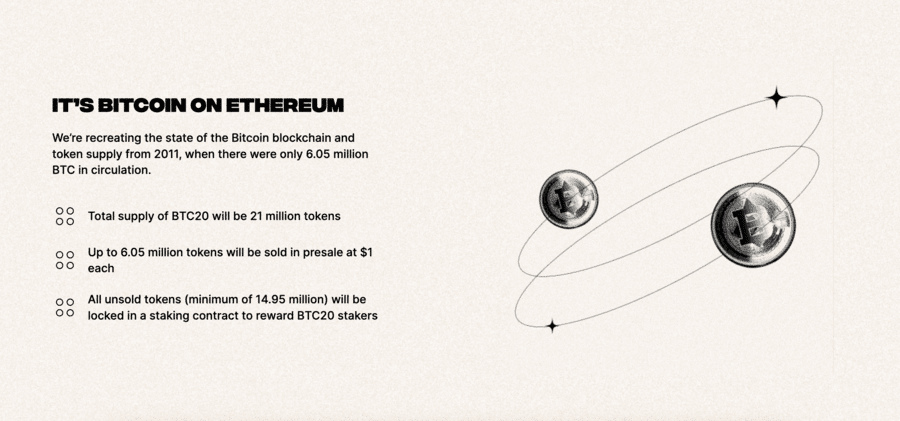 According to the BTC20 whitepaper, the project demonstrates a strong commitment to transparency and decentralization by making all its tokens publicly accessible.
Moreover, as an ERC-20 token, BTC20 easily works with existing crypto wallets and platforms, ensuring a user-friendly experience for all holders.
The platform has plans beyond staking, aiming to offer value and utility to its holders. The roadmap includes strategic partnerships, usage in decentralized applications, and voting rights in the BTC20 ecosystem.
BTC20 provides a second chance for those who missed the early Bitcoin boom, making it one of the top cryptos to watch. It cleverly merges Bitcoin's foundational blueprint with cutting-edge blockchain advancements, creating a new opportunity for investors.
To stay updated on the project's progress, you can enter the BTC20 Telegram channel.
Reasons to Buy BTC20
At press time, buyers are looking for the next crypto to explode as the current market shows signs of recovery. Let's look at some of the reasons to gauge if BTC20 can explode in the next market upswing;
Early Access Benefit

: Like the early Bitcoin days, the initial stages of BTC20 offers investors an exciting opportunity. Each token is priced relatively lower, near to Bitcoin's 2011 price. It allows early entry into the project at a bargain price, an opportunity many missed during Bitcoin's initial surge. Moreover, it's not uncommon for presales to skyrocket after the Initial Exchange Offering (IEO).

For instance, the viral meme coin Tamadoge saw an

exponential surge

from its presale price. Soon after its Uniswap listing, the BTC20 token was up by over 300%, showing a positive investor sentiment.

Sustainable Option With Passive Income

: BTC20 adopts the environmentally friendly Proof-of-Stake protocol. By staking tokens, you help reduce crypto's environmental footprint and also earn rewards.

Long-Term Prospects

: BTC20 plans to release tokens over 120 years, similar to Bitcoin's block generation pace. So, purchasing BTC20 during its initial stage isn't just a quick-return investment. It seeks to create long-term prospects for its investors. Also. The project's roadmap hints at strategic partnerships and integration with decentralized applications suggesting the potential for further growth. Early participation in the platform can give investors a head start in benefitting from these developments.
BTC20 Tokenomics and Presale Information
BTC20 seeks to mimic Bitcoin during its infancy in April 2011, when the price per coin was just $1, with a circulation of about 6.05 million coins. Emulating this, BTC20 released 6.05 million tokens in its recently concluded presale. This mirrors Bitcoin's historical market cap while allowing users to stake and earn rewards. The presale was successful, raising the hard cap of $6.05 in just a few days.
The leftover 14.95 million tokens will be locked into a staking contract. Users can then stake their BTC20 tokens to earn more. The more you stake, the more you earn, creating a community spirit where everyone's success is interlinked.
Any remaining tokens will be funneled into the BTC20 staking contract, maintaining the total supply at 21 million BTC20 tokens. Also, the project's decision not to reserve any tokens for the team highlights its commitment to true decentralization, making it one of the best ICOs to watch out for.
BTC20 Price Prediction – What is the Potential of $BTC20?
BTC20's early momentum is impressive. Raising $110K within two days through strong community support. This hints at this coin's possible upward trend in the coming quarters.
The platform's design follows the original Bitcoin blueprint, starting low-priced with a planned, gradual release. The Proof-of-Stake model promotes a rewarding system that could invite steady growth. Its commitment to transparency and decentralization further increases its appeal, as these are highly valued traits in the crypto space.
Moreover, a listing in the coming quarters can also set the stage for exponential growth. Nonetheless, it's essential to factor in the prevailing sentiment toward Bitcoin and larger economic trends when identifying the best long-term investment.
Wondering what the future holds for BTC20? Read our full BTC20 price prediction for 2023 – 2030.
Bitcoin BSC – Alternative Bitcoin Clone With $1 Million Raise in 7 Days, Powered by BNB Smart Chain
Bitcoin BSC ($BTCBSC) is a viable alternative to BTC20 for several reasons. While both of these are reflections of Bitcoin tokenomics in 2011, mirroring the supply, price, and availability, Bitcoin BSC has a number of advantageous features at the present time.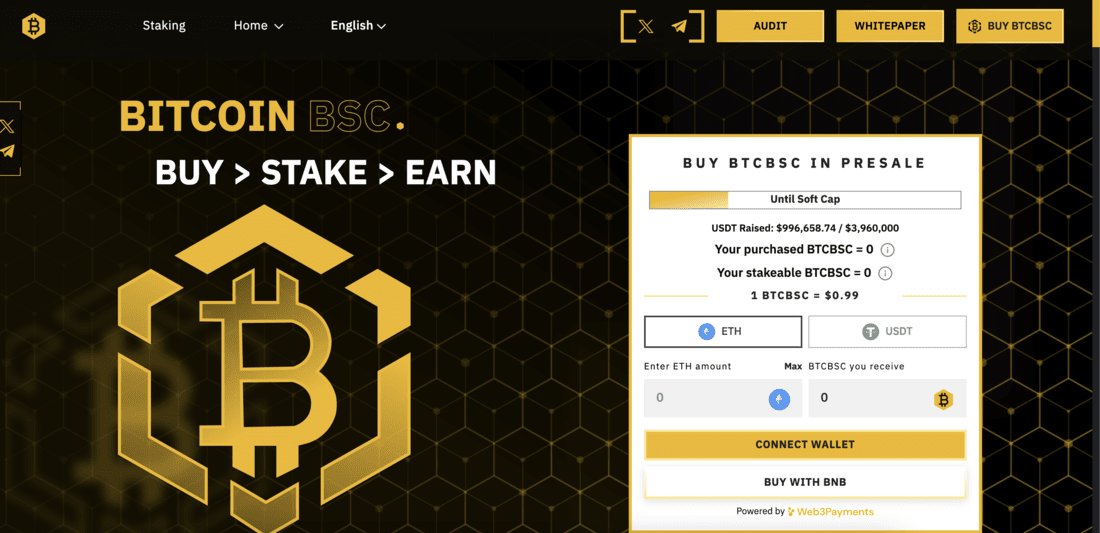 The most obvious one is that Bitcoin BSC offers higher estimated yields, at 508% as opposed to 60%. This is a significant differential that new investors will be looking out for. Yields will come down with time, but for now Bitcoin BSC rewards remain impressive. Rewards are release at 10 minute intervals with a 120 year release schedule for both projects.
Bitcoin BSC also uses the BNB Smart Chain as opposed to Ethereum. The BNB Smart Chain has much lower fees and is faster than Ethereum, which only recently migrated to a proof-of-work consensus mechanism. On average, BNB Smart Chain transactions are only $0.10, and it can process over 2,000 transactions per second. Ethereum can handle about 15.

There are 21 million $BTCBSC tokens with 6.125 million up for grabs in the presale at a price of $0.99, so both projects are practically the same price.
But it could be argued that Bitcoin BSC has more upside, being an early stage token ($BTC20 already saw a price increase of 600% at one stage). Tokens can rise in price shortly after presale completion and listing on an exchange, something which Bitcoin BSC has yet to undergo.
Another minor advantage is that Bitcoin BSC offers BNB and Credit Card as means of payment, offering more methods in total compared to BTC20. To take part in the presale, users are still required to have a MetaMask or Wallet Connect.
More information can be found in the Bitcoin BSC Whitepaper. This should be explored carefully to examine all risks prior to any investment.
Remember this is a Bitcoin clone and has no relationship with the original Bitcoin token. You can also stay alerted to updates through the Twitter and Telegram accounts.
| | |
| --- | --- |
| Hard Cap | $6,063,750 |
| Total Tokens | 21 million |
| Tokens available in presale | 6,125,000 |
| Blockchain | BNB Smart Chain |
| Token type | BEP-20 |
| Minimum Purchase | $10 |
| Purchase with | USDT, ETH, BNB, Credit Card |
Conclusion
BTC20 promises an exciting opportunity for those eager to experience the early days of Bitcoin. Merging Bitcoin's origins and advanced blockchain tech, the platform offers an exciting mix of the old and new.
However, as with any investment, one should perform due diligence and consider market movements making any decisions. BTC20's recent listing on Uniswap provides an ideal opportunity to enter early in BTC20's journey, potentially reaping high rewards over its planned 120-year token release.
Only follow the official social media channels listed on btc20.com, as many fake accounts exist. Remember, real admins, will never direct message you, but scammers posing as admins might attempt to do so.
FAQs
What is the market cap of BTC20?