DigiToads is a utility memecoin designed to service both the stake to earn and play to earn space. The new coin is currently in the fifth stage of its presale, which has now raised close to $3 million. But can this utility-focused crypto continue to capture the attention of today's investors?
In this guide, we review how to buy DigiToads and whether it is a good investment.
DigiToads: Key Points
As well as focusing on P2E and S2E fundamentals the DigiToads project has envisioned its own metaverse known as "The Swamp". The initial pages of its whitepaper is a collection of quirky puns that equate every standard blockchain aspect to toads. Here are the key points to note about DigiToads:
DigiToads is a utility-focused memecoin with a focus on frog-related memes and games.
Environmental concerns are also primary for this crypto project, as one of the key missions of this project seems to be to protect rain forests of Amazon by dedicating 2.5% of all the profits generated.
DigiToads has also envisioned an NFT project of the same name, with the project featuring toad NFTs of different attributes.
How to Buy DigiToads – Quick Guide
DigiToads is currently in the fifth phase of its presale, to which it has dedicated 46.58% of its total supply. The presale started with the price of 1 TOADS being $0.01 (priced in Tether, USDT).
The price of the TOADS token is now $0.024. The listing price has been set at $0.05, which means those who invest now can make 2x gains on their original investment. Here is a quick guide to buying DigiToads:
Visit the official website.
Click on the "Buy Tokens" button.
Connect your wallet.
Enter the promo code "DIGIWELCOME," – which will give you a 5% bonus.
Swap your ETH to buy DigiToads.
Claim your tokens during the Token Generation Event.
What is DigiToads?
DigiToads proudly states in its whitepaper, "Toads are awesome". The project is geared towards moving the idea of memecoin from being a joke token to a utility token that covers P2E and S2E mechanics while, at the same time, helping the ecosystem through NFTs.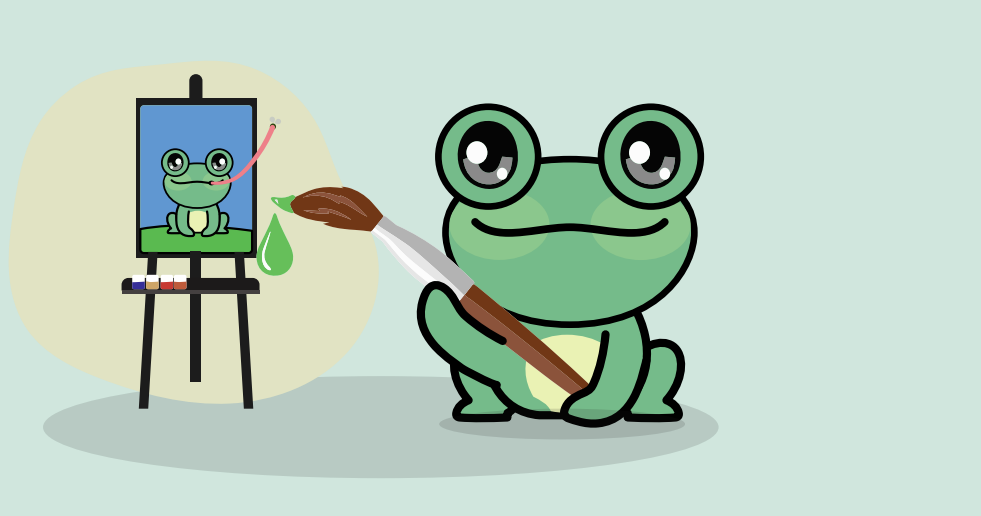 According to the official abstract of the project, DigiToads seek TOADS to be. recognized crypto assets across multiple cryptocurrency exchanges.
The "masterplan" of this project includes:
A Mascot meme contest that will have the community creating TOADS memes on social media in return for rewards.
A Trading school or "School of TOADS" where investors will be offered a full trading course.
A Trading Post – Decentralized Exchange – where traders can engage in crypto trading.
And a P2E mode, where the project will hold on-chain trading competitions.
The platform will also consist of merchandise influenced by the memecoin, allowing the project to make a real-life impact.
DigiToads is powered by the TOADS token, which has a total supply of 585 million.
The Role of TOADS Tokens
TOADS are ERC-20 assets. These are marketed as memecoins and are used for the following purposes.
NFT Staking Pools
Those who hold toads are to be rewarded with staking rewards. Those come in the form of a 2% APY as well as rewards for staking TOAD NFTs.
Access to Toad-Cade
Toad Cade is the name DigiToads has given to its P2E ecosystem, where the NFTs can be traded and merged together to create better toads. The NFT game will use a turn-based combat system similar to Axie Infinity. The winner will be given TOADS tokens as a reward.
From the looks of the project's official whitepaper, the primary function of the TOADS token seems to be as a reward token. The whitepaper also explicitly states that the goal of the platform's P2E ecosystem is to give users a chance to win "real money."
This attribute seems minimalistic and something that has been done a lot of times before. That is why we can say that TOADS has more in common with standard memecoins like Shiba Inu.
Reasons to Buy DigiToads
DigiToads is currently available as a presale. During the first stage, the token was available to buy at $0.01, and the listing price of this asset was set at $0.05. So, for early movers, assuming that a DEX or CEX listing gets confirmed soon, they can earn 5x returns on their investments.
However, as for the long-term prospects of this project, we have to wait and see. DigiToads does say that it combines S2E and P2E, but its fundamentals can be a bit too simplistic. Also, we haven't had a chance to glance at how the NFTs would look like at the moment. But once the NFTs arrive and the non-fungible tokens get the same traction that they did in 2021, now would be a good time to buy DigiToads.
Another major reason for DigiToads is the market's acceptance of memecoins right now. Tokens like SpongeBob (SPONGE) have gotten a lot of attention due to their appeal to the community. DigiToads might be able to make the same mark.
DigiToads Presale Details and Tokenomics
The DigiToads team are running a multi-staged presale. The presale started at the price of $0.01, and the listing price has been set at $0.05.
At press time, the price of the token is $0.024. The conclusion of this stage and the start of stage 6 will increase the price to $0.027.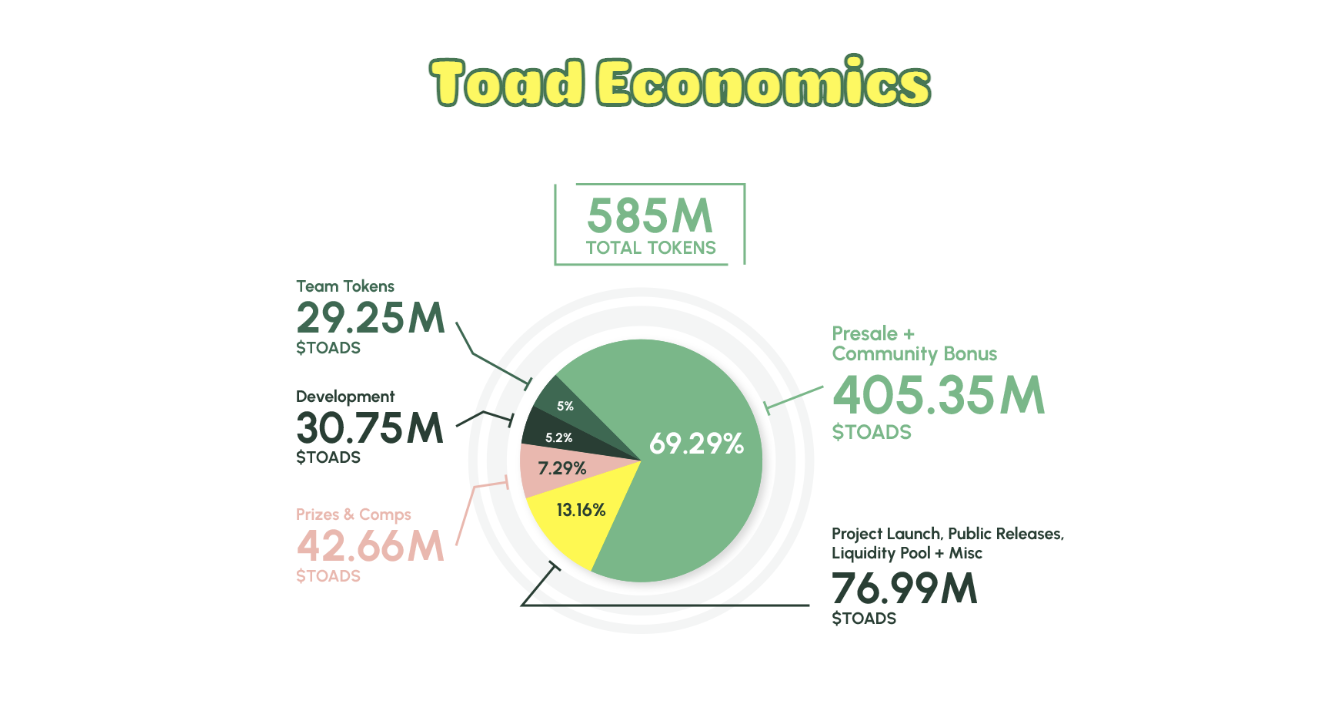 DigiToads's information about how many tokens have been dedicated to the presale isn't uniform. The official whitepaper states that 46.5% of the tokens are on presale. But the official website says that this number is 69.20%.
29.25 million tokens are for the team
30.75 million tokens are for developing the platform
42.66 million tokens are for rewards
And 76.99 million tokens are dedicated to the public release, project launch, liquidity pools, etc.
DigiToads Price Prediction: How Big Can TOADS Get?
If we separate the token from its utility, DigiToads has the same appeal as Pepe (PEPE) or the more recently released SPONGE token. It focuses on memes, makes it rewarding – and that can push its price up when it gets listed.
However, one can never tell how memecoins might perform on the price charts. PEPE has also gone through some retrace after reaching its peak. At press time, it has corrected by 68%. So, much of how DigiToads end up performing will depend on how high memecoins are able to climb in the future. But that would also require a major marketing push. DigiToads, with its 14.7k followers on Twitter, would need to up its game for that.
Check out our full DigiToads price prediction post for more details.
Conclusion
DigiToads is a memecoin that aims to bring major utilities to the ecosystem. However, it is primarily focusing on providing a meme-like experience through its NFTs and memes. Many publications, including Cointelegraph, have talked about the project and how to buy DigiToads. That said, there is some dissonance between what's written on the official website and on the whitepaper of this token in regards to how many TOADS are available on presale.
These minor factors must be taken into account when deciding to invest in DigiToads. Meanwhile, there are other alternative crypto presales that have proven to be more transparent and offer more utilities. You can check them out, too, using the link below.
FAQs