eTukTuk is a revolutionary cryptocurrency project that looks to help TukTuk drivers from developing economies switch to more energy-efficient modes of transportation. By leveraging the $TUK token, eTukTuk will set up Electric Vehicle Charging stations (EVSEs), offer staking rewards to investors, and reduce drivers' costs.
This guide will show readers how to buy eTukTuk on presale in a few simple steps. Our guide also discusses the $TUK tokenomics, presale, and the key talking points of this new cryptocurrency platform.
eTukTuk Coin Presale: Key Points
Here are a few key points of the eTukTuk token presale:
$TUK, the native cryptocurrency of eTukTuk, can be used as a payment method by TukTuk drivers at electric vehicle (EV) charging stations to earn passive income via staking and as a reward for setting up charging stations.
At the time of writing, $TUK can be purchased at a price of $0.04 per token, which includes a 2-month vesting period. Alternatively, investors can purchase this new cryptocurrency at a 40% discounted rate of $0.023 by completing a 4-month vesting period and a two-month cliff.
$TUK has a total supply of 2 billion tokens, 300 million of which have been allocated for the ongoing presale.
How to Buy eTukTuk: An Easy Guide
Now, let's look at how to buy eTukTuk through the ongoing presale round:
Step 1: Get a Cryptocurrency Wallet
Firstly, investors need to set up a cryptocurrency wallet to access the presale. This presale can be accessed by several wallets, such as MetaMask, Binance Wallet, Trust Wallet, or the Crypto.com wallet.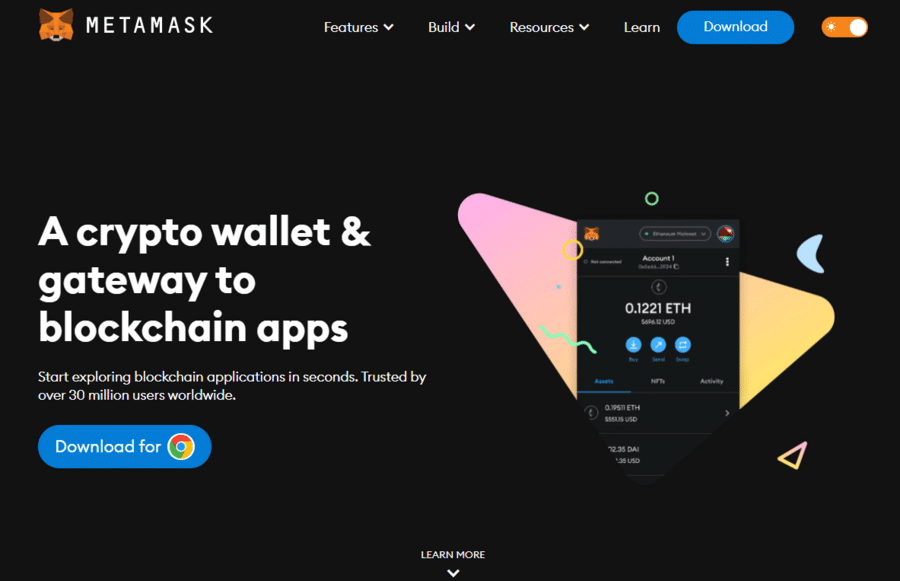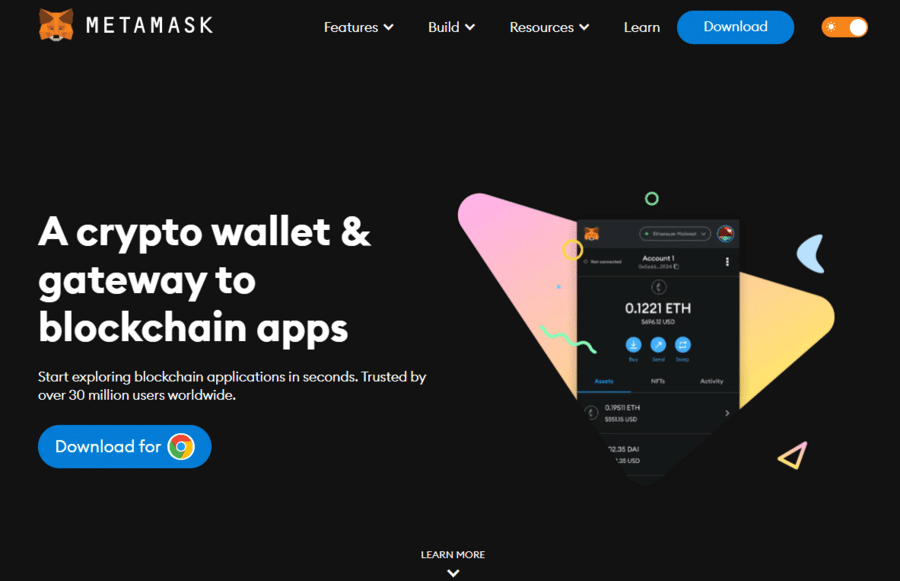 Choose your preferred wallet, add the extension to your desktop, or download the mobile app and create a new account.
Step 2: Buy ETH, USDT, or BNB Tokens
The $TUK presale can be accessed with other tokens such as Ethereum (ETH), Tether (USDT), and BNB (BNB). If you do not hold any of these tokens, purchase them from a crypto exchange and transfer them to your wallet.
Step 3: Connect the Wallet to the Presale and Buy $TUK
Visit the eTukTuk presale website, and enter the USD amount you wish to transfer. The website will display the number of $TUK you get in return. For example, a $1 investment lands you 41.67 $TUK at the current stage.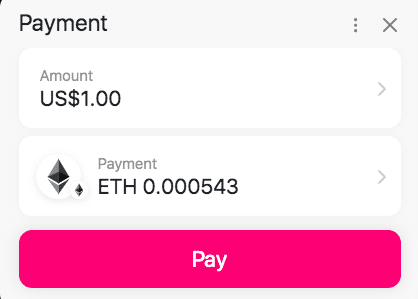 After the amount has been entered, click 'Connect Wallet' and follow the instructions on-screen. After the wallet is connected, you can view the transaction amount in the cryptocurrency you are swapping $TUK with. Click on 'Pay' to confirm the purchase.
What is eTukTuk?
For the past five years, eTukTuk has been developing a way to reduce air pollution and carbon emissions. The platform's main goal is to set up proprietary zero-emission vehicles (ZEVs) and EVSEs, in various urban and suburban areas of developing economies.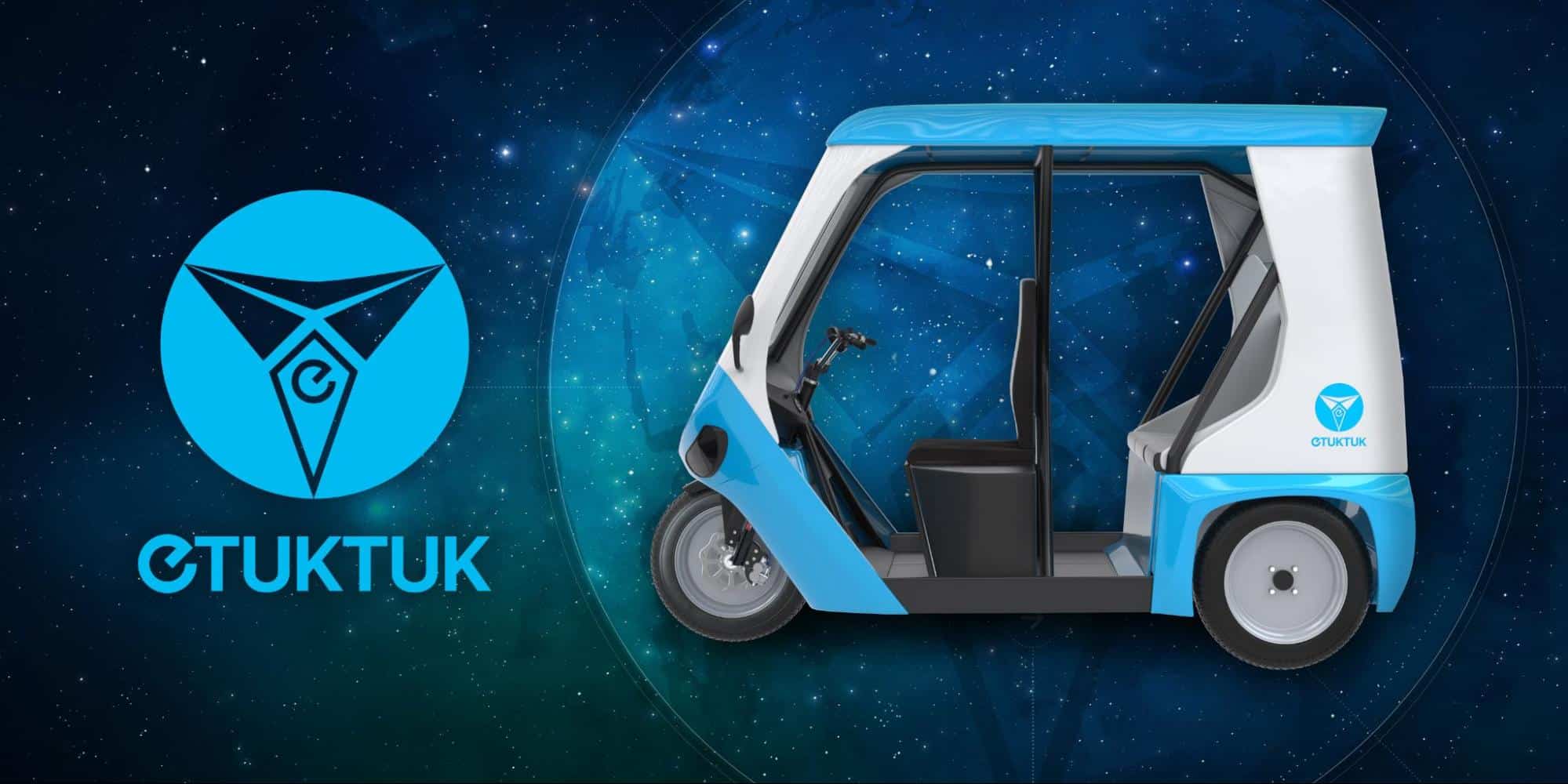 According to the World Health Organization, 99% of the human population breathes air that exceeds their guidelines for safety. One of the main causes of this is the overuse of non-renewable forms of energy, such as fossil fuels, which are used to run automobiles.
Over 270 million TukTuks operate using internal combustion engines (ICEs), which run on fossil fuels. This contributes to more air pollution than cars. As ICEs are slowly becoming obsolete, ​​eTukTuk is helping TukTuk drivers shift to electric vehicles.
The platform is based on the Binance Smart Chain (BSC), which will help provide scalability and an extensive presence in developing nations. To reduce the costs, eTukTuk will set up multiple EVSEs and create ZEVs with the help of territory partners.
Therese partners help in the installation and operation process. Since the partners will be hired locally, the cost of production will be massively reduced. These partners will be given a share of the profits from the EV charging stations.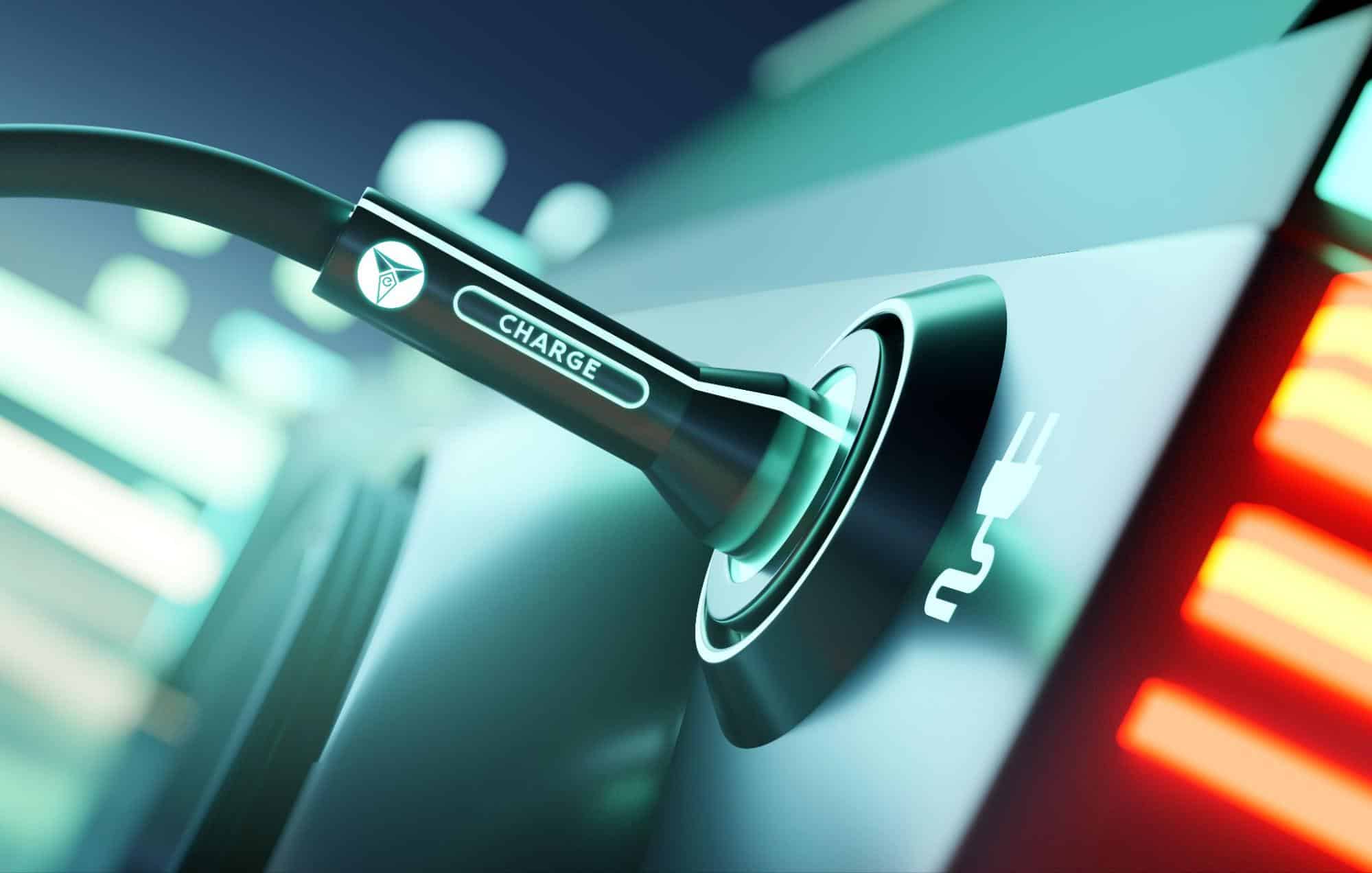 TukTuk drivers can access these charging stations and make payments through an upcoming 'Drivers app.' The payment will be made using $TUK. The territory partners will be handed a portion of the earnings for each new transaction completed at the charging stations.
In the long term, eTukTuk wants to be fully self-sufficient and will start incorporating solar-powered charging stations to become an energy-efficient platform. As carbon neutrality by 2050 is one of the world's urgent missions, eTukTuk is already taking steps to achieve this goal.
Reasons to Buy eTukTuk on Presale
Now that we have looked at the basics of the eTukTuk movement, let's talk more about the $TUK token. The sections below discuss the reasons for purchasing $TUK during the presale:
First-Mover Advantage in an Emerging Market
eTukTuk is the world's first automotive project based on the Binance Smart Chain (BSC). This cryptocurrency offers real utility and wants to help reduce worldwide carbon emissions. By adopting a fast and reliable blockchain such as BSC, the platform is reducing costs and making switching to EVs simpler for TukTuk drivers.
Furthermore, since it is the first project of its kind, it can take advantage of the growing EV market size. By 2028, the electric vehicle charging station market size is estimated to rise to $111.90 billion. Compared to the current market cap of $17.59 billion, this equates to a Compound Annual Growth Rate (CAGR) of 30.26%.
Thus, as eTukTuk looks to spread its operations and open new charging stations, the increase in blockchain activity can help $TUK become the next crypto to explode.
Staking Rewards
While the platform's purpose is to help increase EV adoption more affordably, eTukTuk also provides valuable earning opportunities to $TUK token holders.
By entering the presale, investors can get early access to $TUK, which can become one of the best staking coins. The platform is set to introduce staking mechanisms to allow investors to contribute to the network's success.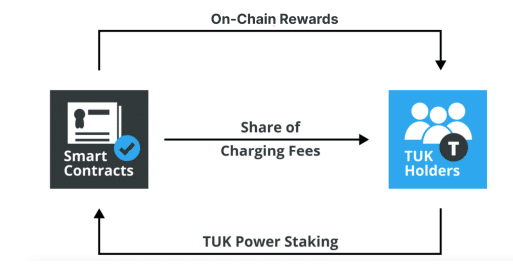 Token holders can help support the sharing economy by engaging in a concept known as 'Power Staking.' A token holder can stake $TUK into various staking contracts, each operating in a different jurisdiction.
Participants will essentially stake the tokens into power nodes, which the territory partners will leverage to power the network. As the numbers of charging stations and transactions increase, staked token holders earn a higher passive income in the ecosystem.
eTukTuk Tokenomics and Presale Information
After initially allowing early investors for the token whitelist to get early access to $TUK, the token presale is underway. $TUK has a total supply of 2 billion tokens, 300 million of which are available for presale.
At the time of writing, $TUK is priced at only $0.04 per token. Investors who purchase the token at this price will get access to $TUK after completing a two-month vesting period. However, interested readers can also buy $TUK at a 40% discounted price of $0.024 per token.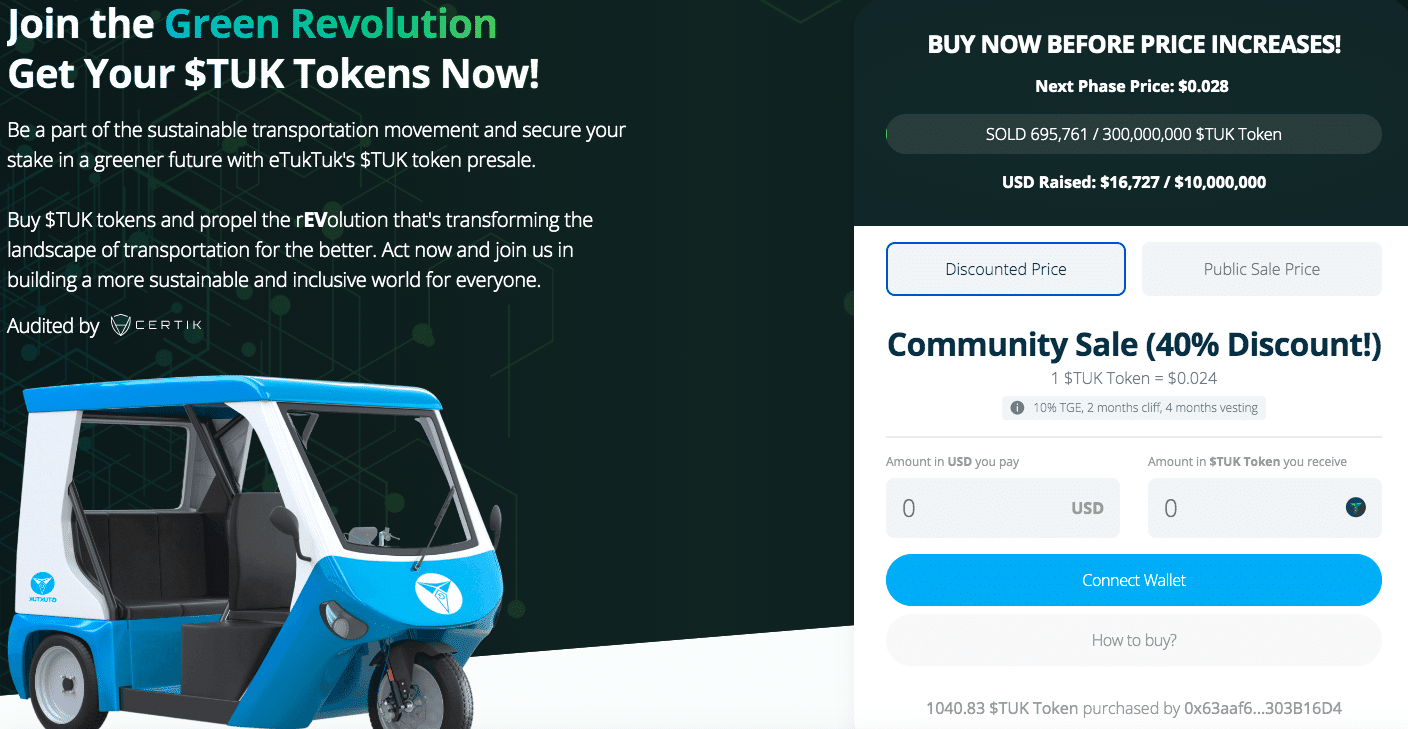 By purchasing $TUK at this lower price, investors will need to complete a 4-month vesting period. However, there is also a two-month cliff period, which means that the vesting period will be delayed by two months.
430 million tokens (21.5% of the token supply) will be offered as staking rewards. The rewards will be offered over the course of 15 years through a dynamic on-chain staking rewards pool.
To secure the long-term growth of this project, 19.5% of the token supply has been allocated to a project operations fund. A further 9.5% of the token supply has been allocated to the development team. Since the start of the presale, nearly 700,000 $TUK tokens have been sold.
eTukTuk Price Prediction – What is the Potential of $TUK?
eTukTuk is releasing a platform that benefits multiple sects of people – including local operators, TukTuk drivers, and token holders. Importantly, with the $TUK token, eTukTuk looks to reduce carbon emissions and air pollution.
By purchasing the token at the presale, $TUK holders can contribute to the sharing economy and earn staking rewards. As the staking mechanism is released, we may see wider token adoption. With over 25% of the available presale tokens sold out, eTukTuk has already enjoyed a successful start to the presale event.
Once the circulating supply reduces post the release of the staking mechanism, the price may push upwards with increased demand. According to the eTukTuk whitepaper, the platform aims to maintain liquidity and will list $TUK on decentralized exchanges in the future.
This can help increase the trading volume and make $TUK one of the most profitable crypto investments of the year.
Conclusion
eTukTuk is a sustainable cryptocurrency platform setting up charging stations and building proprietary electric vehicles in developing nations. With the $TUK token, holders can earn passive income, TukTuk drivers can complete payments on charging stations, and charging station operators can earn a share of the profits.
Our how to buy eTukTuk guide has given a detailed breakdown of how to access the $TUK presale, along with the key features of this new project.
References
FAQs
What is the price of $TUK?