Evil Pepe Coin is a new meme coin taking the crypto market by storm. It's based on the popular meme culture of Pepe Coin, which has found new life in Pepe v2.0, Jim, and more.
With hyped meme coins like Pepe Coin turning a mere $260 initial investment into a $3.8M profit for some early buyers, most crypto degens are on the hunt for the next 100x altcoin.
Evil Pepe Coin is currently on presale, offering crypto traders a chance to buy the token before it hits exchanges. We'll explain how to buy Evil Pepe Coin today and explain everything investors need to know about this meme coin's potential.
Evil Pepe Coin Presale Key Points:
Evil Pepe Coin is a new coin based on the Pepe meme that encourages investors to embrace their dark side.
The project just launched its presale and has a hard cap of $1.996 million.
The Evil Pepe Coin presale has only one stage.
How to Buy Evil Pepe Coin Tokens During Presale
Evil Pepe Coin is available to buy on presale right now. We'll explain how to buy $EVILPEPE in a few steps.
Step 1: Set Up a Crypto Wallet
Investors must create a crypto wallet in order to purchase $EVILPEPE tokens. We recommend using MetaMask. It's free, secure, and installs on any device.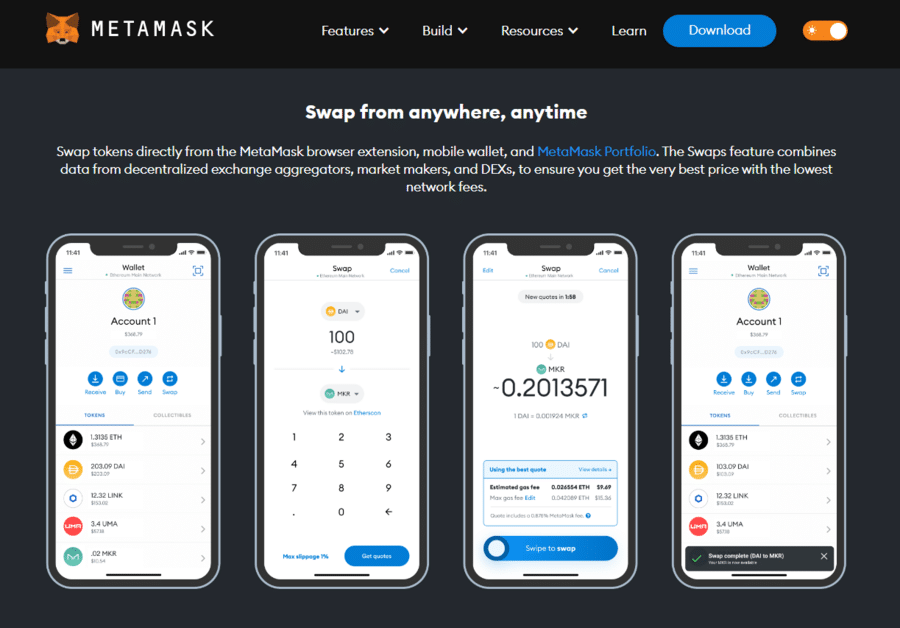 Visit the MetaMask website and install the wallet on a computer or smartphone. Set up a password for the new wallet account.
Write down the seed phrase and store it somewhere secure. The seed phrase is required to restore access to the wallet if the password is ever lost.
Step 2: Buy Ethereum or Tether
Investors will need to swap Ethereum (ETH) or Tether (USDT) for $EVILPEPE during the presale. The best way to buy ETH or USDT is using a centralized exchange since these exchanges accept fiat, including credit cards, debit cards, and bank transfers.
Set up an exchange account and deposit funds, then buy ETH or USDT. Once tokens have been purchased, transfer them to the MetaMask wallet.
Step 3: Visit the Evil Pepe Coin Presale
Head to the Evil Pepe Coin presale site and connect the MetaMask wallet. The connection should take place automatically, but investors may need to give authorization when prompted.
Step 4: Buy $EVILPEPE Tokens
Enter the amount of $EVILPEPE tokens to buy in ETH or USDT. The presale site will calculate the corresponding amount of $EVILPEPE coins automatically.
When ready, click 'Buy Now' to complete the transaction.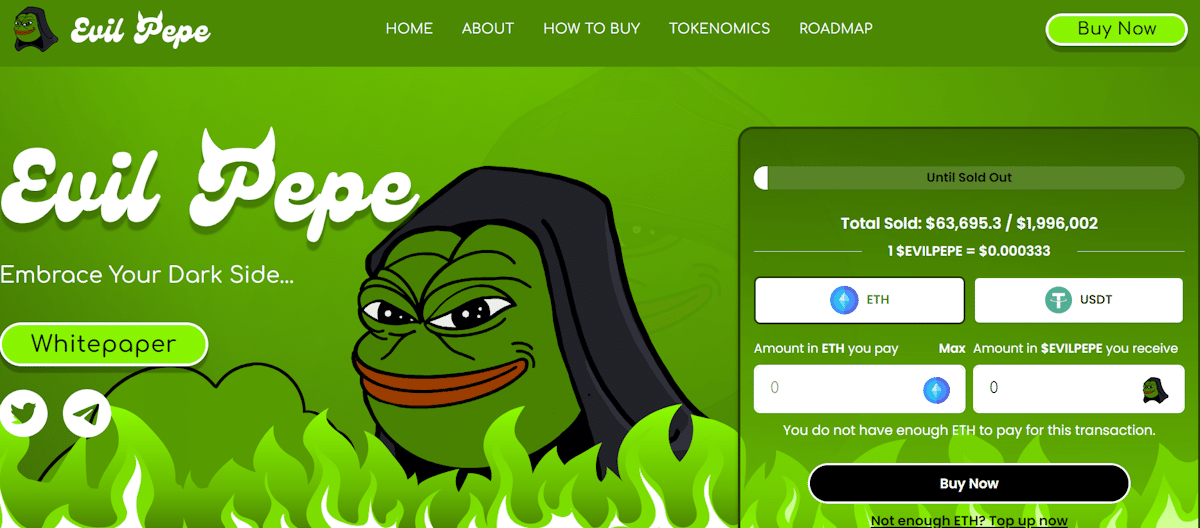 Step 5: Claim Tokens
All $EVILPEPE tokens purchased during the presale will be released to investors at the end of the presale, before the token's ICO. Return to the presale site, connect the MetaMask wallet, and click 'Claim Tokens.'
What is Evil Pepe Coin?
Evil Pepe Coin is a meme coin project that aims to achieve a $100 million market cap.
The project is building enthusiasm and anticipates surging prices once it lists on a decentralized exchange.
Evil Pepe Coin has no utility, but liquidity in the token is locked for one month after launch.
Evil Pepe Coin is the latest Pepe-themed meme coin to hit the crypto market. It builds on a legacy of highly successful coins. The original $PEPE soared more than 10,000% after launch and made some crypto traders a fortune.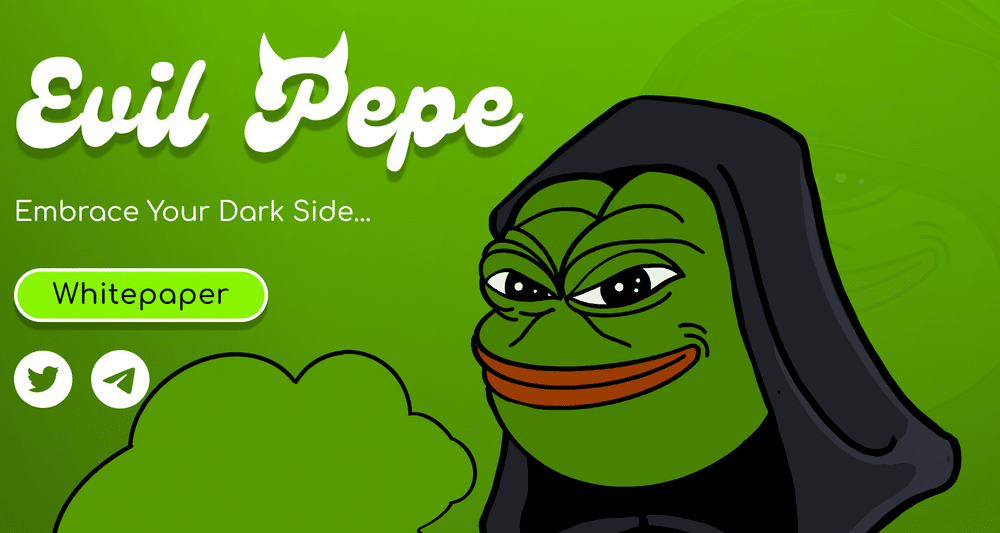 Evil Pepe Coin differentiates itself from $PEPE with a new theme—Pepe the Frog wearing a hooded Sith costume. The project encourages investors to listen to their evil inner voice, which is the only way they'll get ahead in a highly volatile and constantly changing crypto market.
Evil Pepe Coin doesn't have any utility, which is the case for many meme coins that have pumped in recent months. The project's roadmap suggests a goal of reaching a $100 million market cap, using marketing to reach a wider audience as the project grows.
For more details about this brand new meme coin, degens and interested buyers can stay updated via the project's Twitter and Telegram accounts, as well as reading through the Evil Pepe Coin whitepaper.
The Purpose of the $EVILPEPE Token
$EVILPEPE token is a meme coin. It has no utility, but traders can speculate on its price to try to achieve returns.
$EVILPEPE is similar to some of the best meme coins on the market right now. $PEPE, $SPONGE, and even $DOGE all lack utility, and they've all experienced huge gains. So, traders who buy $EVILPEPE generally do so with the hope the token will gain value.
The team behind Evil Pepe Coin hasn't announced any plans for rewards, airdrops, or other special giveaways for $EVILPEPE holders. This token is primarily for speculation.
Reasons to Invest in Evil Pepe Coin
The main reason traders and investors are interested in $EVILPEPE is because of the token's potential to be the next meme coin to explode. There are a few factors weighing in Evil Pepe Coin's favor.
Red-hot Meme Coin Market
The market for meme coins like $EVILPEPE has been hot for several months. It started with $PEPE in April, and has been on a roll ever since. $SPONGE, $JIM, $BEN, and $PEPE2 all saw enormous price gains after listing, and presale projects like Wall Street Memes have gained huge followings ahead of launch.
Meme coin season shows no signs of slowing down, and investors are on the hunt for the next big token. That exuberance for new meme coins could push investors into $EVILPEPE and help the coin shoot up in price after launch.
Emergence from Crypto Winter
It's not just meme coins that are performing well right now. The crypto market as a whole has been on the upswing.
Bitcoin is back over $30,000 and many analysts are predicting boom times ahead after a US court ruling suggests that many tokens may not be securities.
Bullish trends in the broader crypto market are good for $EVILPEPE. If money is flowing into the market when $EVILPEPE launches, it's likely to help drive demand for this new token.
Fast Presale
Evil Pepe Coin's presale has only one stage and a hard cap of less than $2 million. That's relatively low for a meme coin, so this presale could move fast and leave plenty of demand outstanding for the token's ICO.
The more demand for $EVILPEPE there is at launch, the more likely it is that the token's price will pop.
Evil Pepe Coin Tokenomics and Presale Information
$EVILPEPE is an ERC-20 token with a total supply of 6.6 billion tokens. 90% of the supply (5.994 billion tokens) are available to purchase during the presale. The remaining 10% of tokens are locked for one month to provide liquidity during the project's ICO and to prevent a rug pull.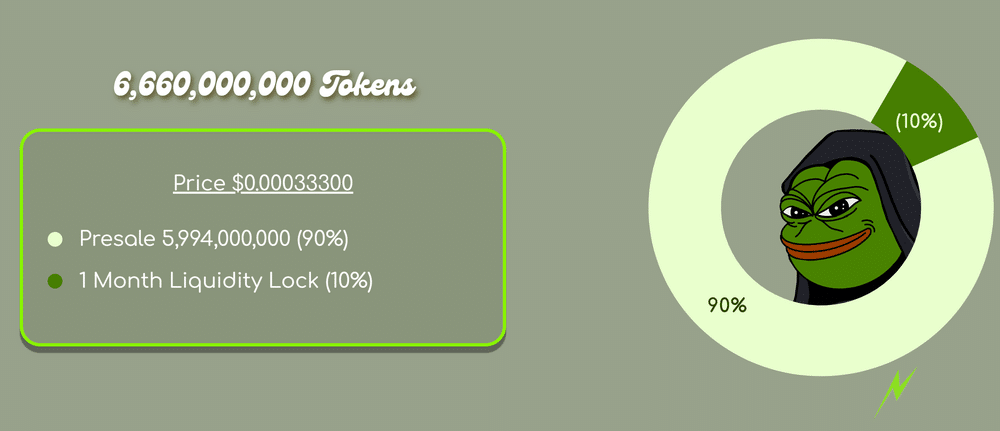 The Evil Pepe presale has only one stage. $EVILPEPE is priced at $0.0003330, giving the presale a hard cap of $1.996 million.
The team behind $EVILPEPE has not yet announced a planned list price for the token. However, it is likely to be slightly higher than the presale price.
Evil Pepe Coin Price Prediction – What Is the Potential of $EVILPEPE?
Investors want to know what $EVILPEPE could be worth in a few years' time.
It's difficult to predict since the token has no price history and meme coins are notoriously hit or miss. However, we can make some rough predictions based on the trajectory of similar meme coins.
Many recent meme coins have seen gains of 1,000% or more after listing. Pepe v2.0, the most recent Pepe-themed token to launch, gained more than 2,000% within 10 days of launching.
Most traders would consider this a very good outcome for $EVILPEPE. For presale investors, a 2,000% gain would mean that a $100 investment in the presale would be worth $2,000 at the token's peak.
However, meme coins tend to fall as quickly as they rise. So, the price of Evil Pepe Coin is likely to hit a peak within 1-2 weeks after launch, then fall to a more sustainable long-term price. This price is likely to be above the presale price, but far less than the peak price.
Since $EVILPEPE has no utility, this token likely isn't among the best long-term potential cryptos. However, it does have a lot of short-term potential for traders in search of quick gains.
Closing Thoughts
Evil Pepe Coin is a new meme coin that builds on the hype around the Pepe meme. It holds a lot of promise for traders in search of the next big meme coin, especially since it's launching just as the crypto market turns bullish.
Investors can buy $EVILPEPE now during the project's presale. The presale only has one stage and is expected to sell out quickly, so don't wait to join the presale and get in on this hot new meme coin.
References:
https://www.dextools.io/app/en/ether/pair-explorer/0xd738e6a2ef2846a643dc68092ad0fd7f5a8eb6f8
https://www.coindesk.com/markets/2023/05/05/pepecoins-bewildering-rise-turned-a-pittance-into-an-almost-5000000-meme-coin-profit/
https://academy.binance.com/en/glossary/bull-market
FAQs
How to invest in Evil Pepe Coin?
What is the market cap of Evil Pepe Coin?
What exchanges does Evil Pepe Coin trade on?