With nearly $6 million raised, Fight Out (FGHT) is on track to become one of the biggest crypto success stories of 2023. Investors can still buy FGHT tokens today at a discount, but the presale will close on March 31st.
In this guide, we explain how to invest in the Fight Out presale in under five minutes.
Fight Out: Key Points
Before investing in the Fight Out presale, check out our summarized overview of the project:
Fight Out is a newly launched crypto project that is developing a play-to-earn fitness game.
Users will earn rewards through a train-to-earn concept. This means that every time a workout is completed via the Fight Out app, users will receive tokenized rewards.
Rewards are paid in REPS tokens, the in-game currency of Fight Out. REPS have many use cases within the Fight Out ecosystem and can be used to buy merchandise, NFTs, rewards boosters, and more.
Users will be able to enter fitness tournaments, compete in one-on-one challenges, and complete individual tasks. All forms of exercise can be tracked in real-time, from running and boxing to weightlifting and yoga.
Fight Out is also building a metaverse that will offer immersive fitness experiences. Users will have their own avatar in the metaverse that replicates real-world fitness goals and achievements. The project will also be building Fight Out gyms in the real world.
The utility and investment token of Fight Out is FGHT. FGHT is still available to buy at presale prices before its April 5th exchange listing. Therefore, investors will need to move quickly before the presale closes.
How to Buy Fight Out Tokens: Presale Guide
To catch the Fight Out presale before it closes, follow the step-by-step guide below. It takes just minutes to buy FGHT tokens and secure the presale discount, plus a bonus of up to 67%.
Step 1: Get a Suitable Crypto Wallet
The presale is being held on the Fight Out website. This means that investors can directly buy FGHT tokens with ease.
But first, investors need to ensure they have a crypto wallet. We prefer MetaMask, which is free to download as a browser extension for Firefox, Chrome, and Edge.
MetaMask is also available as an app for iOS and Android smartphones.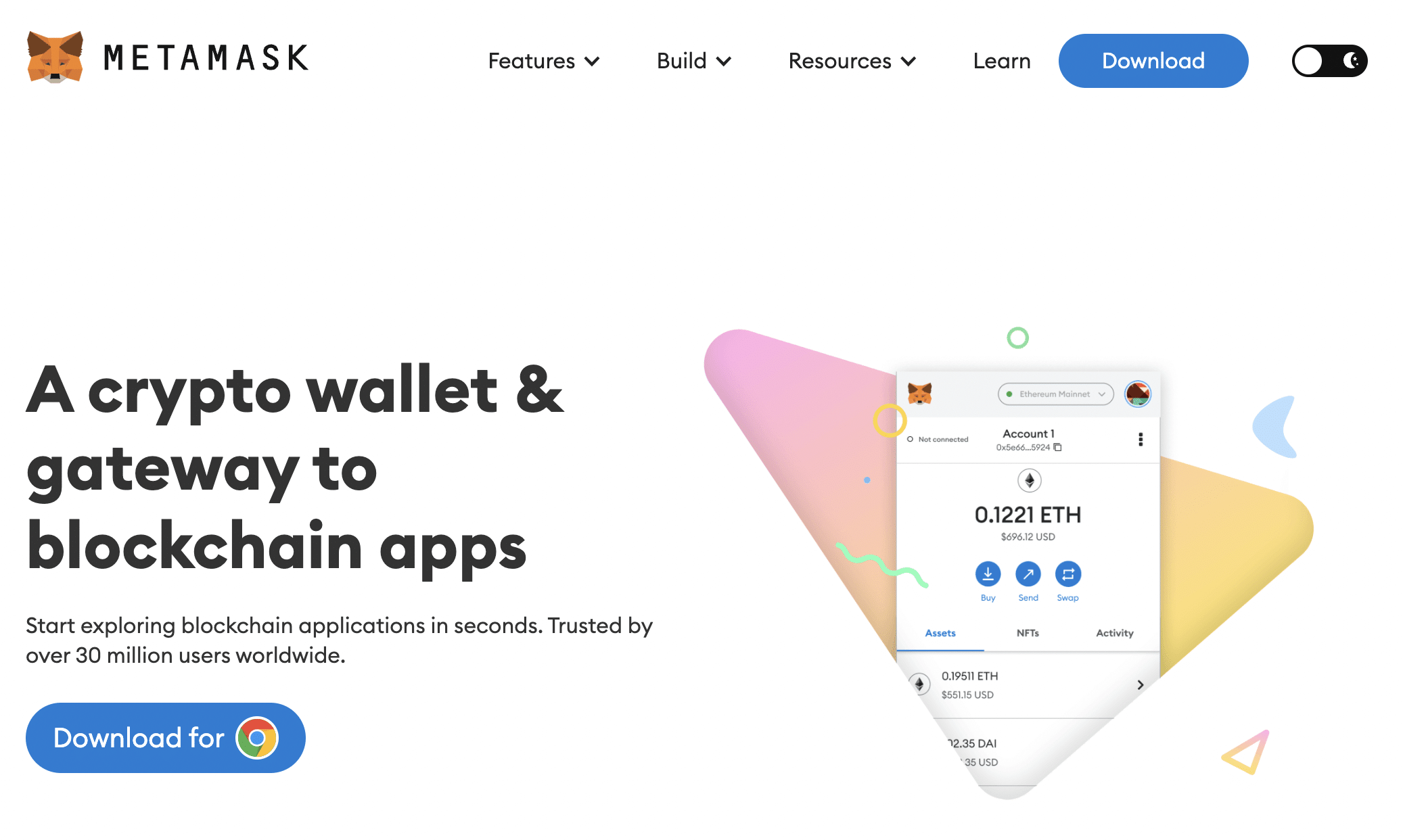 Visit the MetaMask website and choose the preferred device type. Download the wallet and open it to begin the set-up process.
This requires the investor to enter a password. Moreover, MetaMask will display the secret passphrase for the newly created wallet. This consists of 12 words, which should be written down correctly in the right order.
Step 2: Buy ETH or USDT
Investors can buy Fight Out tokens with Ethereum (ETH) or Tether (USDT).
Don't currently have any crypto? The best crypto exchange for this purpose is eToro, which enables investors to buy Ethereum from just $10 at competitive fees.
Note: The Fight Out presale also accepts debit/credit card purchases. While this will require KYC and transaction fees, this might appeal to beginners that do not currently have any crypto.
Step 3: Transfer Crypto to Wallet
Open up Metamask and copy the Ethereum wallet address displayed at the top, underneath 'Account 1'. This is also the deposit address for USDT, which operates on the Ethereum blockchain.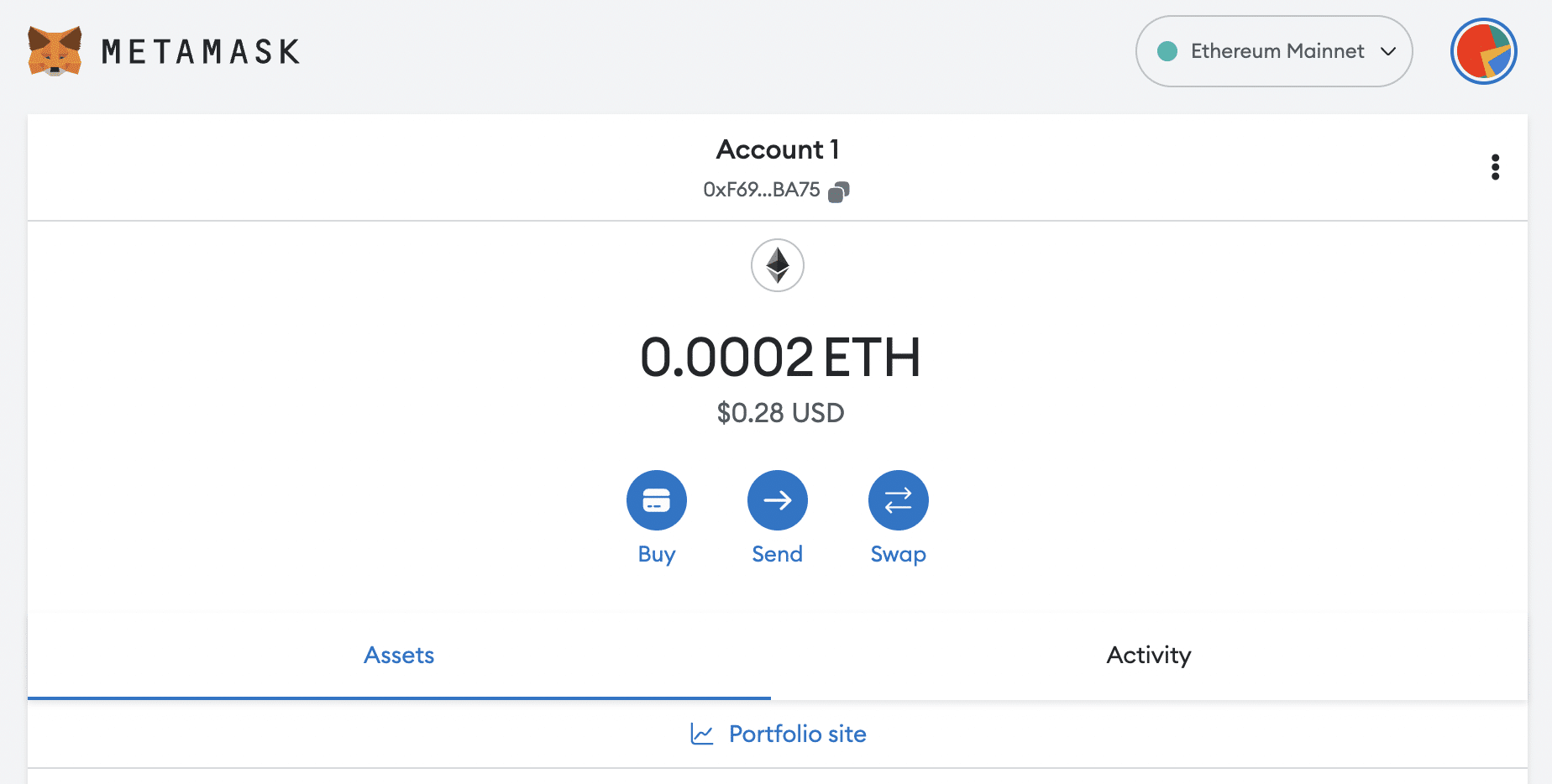 After copying the address, transfer the ETH or USDT to MetaMask. The tokens will appear in MetaMask in minutes.
Step 4: Connect Wallet to Fight Out Presale
Once the tokens land in MetaMask, visit the Fight Out presale website.
Click on 'Connect Wallet' to choose MetaMask. Those using another wallet type (like Trust Wallet) can click on 'Wallet Connect' and scan the QR code that appears.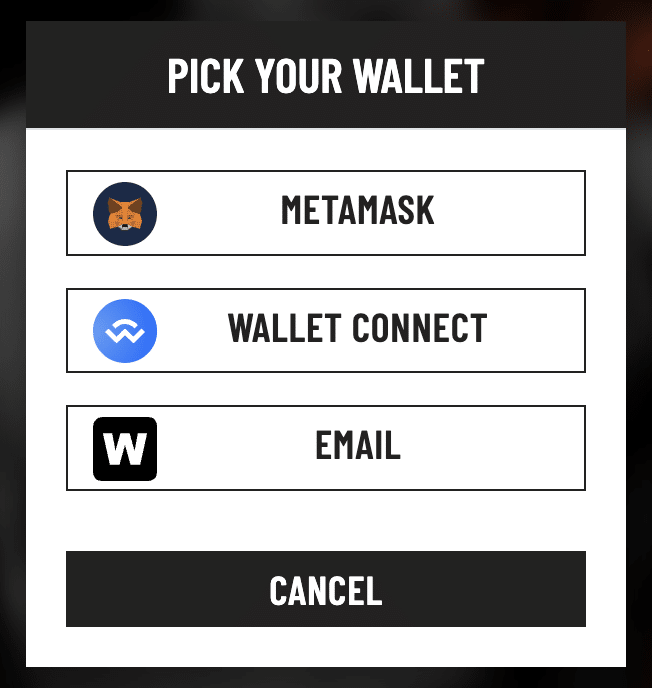 The MetaMask wallet will then display an alert asking for confirmation. This is to confirm that the owner of the wallet wishes to connect to the Fight Out presale website.
Confirm the request and proceed to the next step.
Step 5: Buy Fight Out Tokens
Select which digital currency to use for the presale investment, depending on whether ETH or USDT is in the MetaMask wallet.
Type in the number of FGHT tokens to buy, ensuring there is enough crypto in MetaMask to cover the purchase.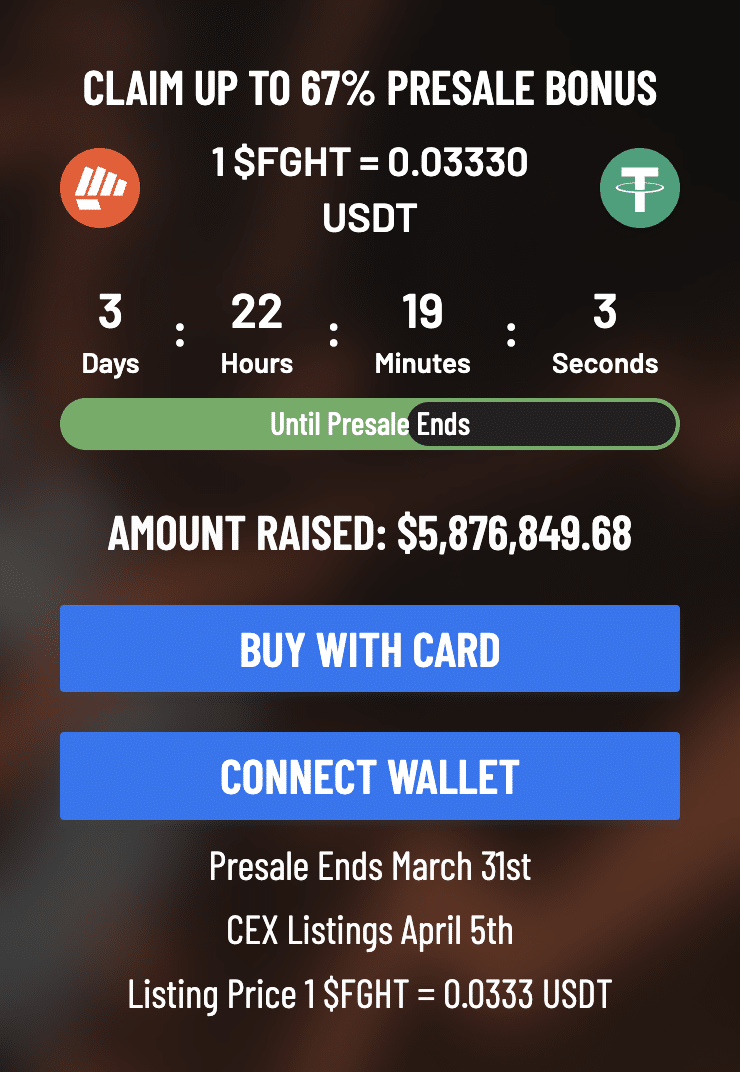 Confirm the presale investment and MetaMask will again ask for confirmation. This time, MetaMask needs to authorization to transfer ETH/USDT to the Fight Out presale wallet.
Note: The Fight Out presale is offering a bonus allocation of up to 67%. The specific amount depends on the investment size and whether the investor wished to vest the tokens. We explain this in more detail further down.
Step 6: Claim Tokens After the Presale
When the Fight Out presale ends on March 31st, the FGHT tokens purchased can be claimed.
The tokens will then be transferred to the same MetaMask wallet used for the investment.
What is Fight Out?
Fight Out is an emerging cryptocurrency project that is revolutionizing the fitness industry. As the fitness industry is worth a reported $100 billion, Fight Out is bringing the global fitness arena to web3. Through blockchain and smart contracts, the Fight Out ecosystem enables users to earn rewards for playing fitness-centric games. This is known as train-to-earn and there are no limitations in the exercise movements that can be tracked.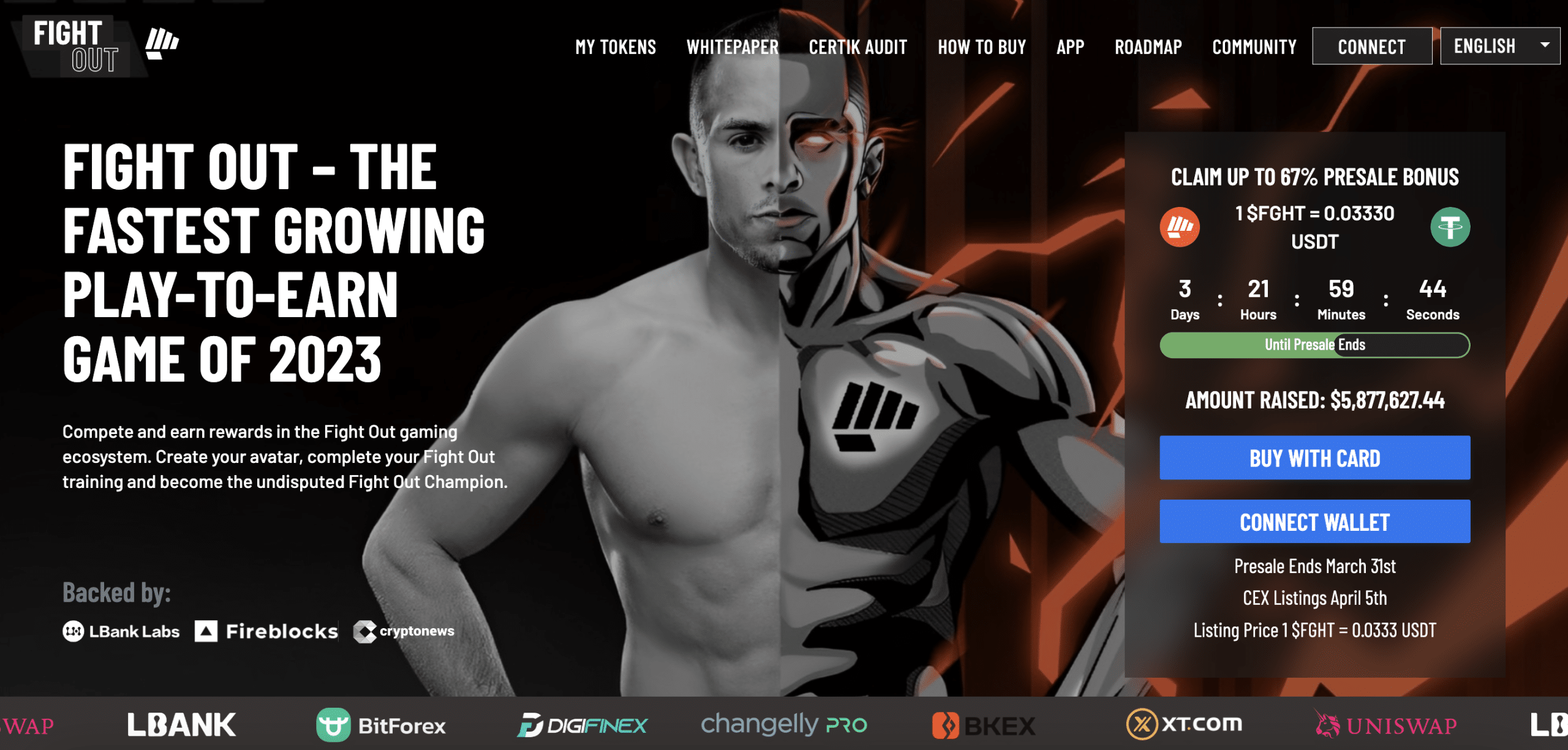 Tracking movements are conducted by the Fight Out app for iOS and Android. For example, if a user lifts weights, the app will be able to track this in real-time and distribute tokenized rewards accordingly. This is also the case with cardio exercises, such as running and cycling. Another thing to note is that Fight Out users will have access to a metaverse world. Not only will the Fight Out metaverse offer immersive exercise experiences, but users will be represented by a Soulbound avatar.
The Soulbound avatar is backed by an NFT and tracks the user's real-world fitness goals and achievements. For instance, if the user regularly runs 10km on a treadmill to lose weight, their physical improvements will be mirrored by the virtual avatar. The Fight Out metaverse is also where users can earn fitness rewards through tournaments and competitions. This will consist of PvP (player-to-player) tasks, such as a weightlifting or sprinting challenge. Once again, users will earn tokens for successfully defeating other players.
In terms of its economic framework, Fight Out has two native crypto tokens. First, there is REPS, which is the in-game rewards currency. Users will earn REPS for completing play-to-earn fitness games and completing exercise challenges. REPS can be used to enter tournaments and buy in-game boosters and even merchandise. Second, there is FGHT. This is both the investment and utility token of Fight Out. FGHT is being sold during the presale and is required to access the Fight Out app and metaverse. This is achieved through a stake-to-play concept.
As such, Fight Out users will also earn passive rewards while staking their FGHT tokens.
With almost $6 million raised in the presale, Fight Out has every chance of being the next crypto to explode.
There is much anticipation about its exchange listing on April 5th, with FHGT more than capable of generating parabolic returns.
| | |
| --- | --- |
| Presale Started | December 14, 2022 |
| Purchase Methods | ETH, USDT, Debit/Credit Card via Transak |
| Chain | Ethereum |
| Min Investment | N/A |
| Max Investment | N/A |
The Role of Fight Out Tokens
As noted above, Fight Out is backed by two proprietary tokens – REPS and FGHT.
Here's what investors need to know about the role of each token.
REPS
REPS is the in-game rewards currency. Therefore, all play-to-earn and train-to-earn rewards are distributed in REPS. This is an ERC-20 token so REPS are credited to the user's account in seconds. While REPS is an in-game currency it still has plenty of use cases.
For example, REPS can be used to upgrade the user's Soulbound avatar.
This means that progress in the Fight Out metaverse can be achieved quicker, and thus, users can amplify the number of REPS being earned.
REPS can also be used to customize a user's avatar, such as clothing or tattoos.
And perhaps most importantly, REPS can be swapped for FGHT tokens. This means that REPS can be converted into real-world money by completing a few basic steps at a crypto exchange.
FGHT
FGHT is the main utility token of the Fight Out ecosystem and it serves many purposes.
For example, users will need to buy and stake FGHT to access Fight Out games and challenges. In other words, without staking FGHT, users will not be able to earn REPS.
FGHT can also be used to buy REPS, should a user wish to purchase in-game boosters or NFTs. In fact, when swapping FGHT for REPS, a 25% bonus is applied to the exchange.
Furthermore, we like that FGHT can be used as a 'wagering currency' against other users.
For example, the Fight Out algorithm will match two users together to enter a 5km treadmill race.
Both users will be of a similar fitness level
Users will wager a certain number of FGHT tokens
The winner of the 5km race will win the FGHT tokens wagered
Most importantly, FGHT is also the investment currency of Fight Out. Not only is FGHT required to gain exposure to its future growth, but it will trade on crypto exchanges.
This means that users can earn REPS for playing fitness games, exchange them for FGHT, and finally – swap FGHT for fiat money. Ultimately, with users able to earn real-world money for completing train-to-earn challenges, FGHT is the best gaming coin in the market.
Reasons to Invest in Fight Out
Below, we discuss why Fight Out is the best presale to invest in:
Invest in the Future of Fitness and Web3
Fight Out is a brand new project that offers unrivaled entry into two growing marketplaces – fitness and web3. By combining blockchain, smart contracts, staking, NFTs, and the metaverse – Fight Out will bring health and fitness to the modern era.
From an upside perspective, FGHT tokens enable investors to gain exposure to this phenomenon from the earliest stage possible. This is because the presale offers the lowest entry price before FGHT is listed on exchanges.
Considering its small valuation, Fight Out could be the best low-cap crypto to buy. As its play-to-earn and train-to-earn concepts become more mainstream, there is no reason why Fight Out can't become the next billion-dollar crypto.
Although growth projects like Fight Out are riskier than established tokens, the upside on offer is significantly higher.
Bonus of up to 67% for Presale Investors
Investing in the Fight Out presale before it concludes on March 31st will yield a bonus of up to 67%. This means that investors can secure an upside in advance of the exchange listing.
The bonus percentage will be determined by two factors. First, a bonus of up to 25% will be applied when a minimum presale investment is reached. For example, investing at least $500 will yield a bonus of 10%. While an investment of $3,000 secures a 16% bonus. The maximum bonus of 25% requires an investment of $50,000 or more.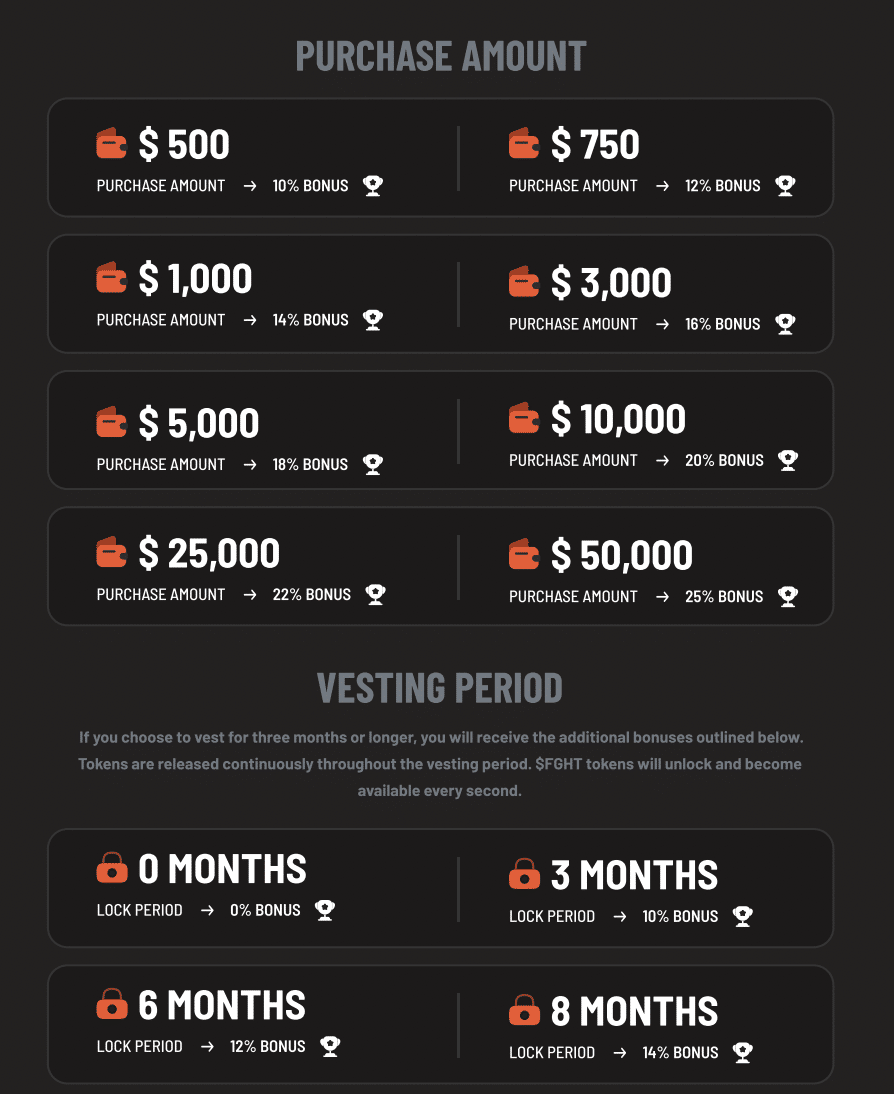 To increase the bonus percentage further, investors can decide to vest their tokens. Vesting means that presale investors will need to lock their tokens for a specified period of time.
There is no requirement for Fight Out investors to vest their tokens. But if they do, a bonus of up to 42% can be secured. This requires the tokens to be locked for 36 months. Much shorter vesting periods are supported too. For example, vesting for just three months secures an additional 10%.
FGHT has Real-World Utility
The best altcoins to have generated huge returns in recent years are those that have real-world use cases. In this regard, Fight Out is no different.
As we explained earlier, its utility token, FGHT, is required to earn rewards. As such, users will need to buy FGHT tokens to use the Fight Out app and metaverse.
Not only that, but Fight Out uses a stake-for-membership model. Put simply, the FGHT tokens will be locked for 12 months after confirming the subscription.
This is a win-win for all parties. For instance, users will have access to the Fight Out app and earn staking rewards passively. After the 12-month lock-up period, the user will receive their FGHT tokens back.
From the perspective of investors, the stake-for-membership model prevents users from dumping their FGHT tokens.
Roadmap Targets
Fight Out has some highly unique and ambitious roadmap targets lined up for the next 24 months. As the project completes each target, this is likely to have a positive impact on the value of FGHT.
For example, Fight Out will be opening a chain of gyms in the real world. Users will be able to earn rewards via specialist train-to-earn equipment. Moreover, the physical gyms will connect to the broader Fight Out metaverse.
Fight Out will also offer personalized training sessions. Once the metaverse is built, this will allow users to receive coaching in an immersive environment. The Fight Out roadmap also states that the team is working on global fitness tournaments and challenges, where users can compete with each other remotely.
Fight Out Tokenomics
The Fight Out ecosystem will be backed by 10 billion FGHT tokens. This is the maximum supply, so no new FGHT will enter circulation.
13.5% of the total supply has been allocated for the presale campaign.
This consists of 9% for standard presale investments and 4.5% for bonuses.
10%, or 1 billion FGHT, will be used for providing exchanges with liquidity.
This will ensure that FGHT tokens operate in a seamless trading environment for buyers and sellers.
The remaining 76.5% or 76.5 billion will be vested over five years. This will cover operational costs, such as product development and marketing.
Most importantly, the tokens will be released in small increments as determined by the smart contract. As such, this removes a huge number of FGHT tokens from the initial circulating supply.
FGHT Price Prediction: How Big Can Fight Out Get?
Price predictions on new cryptocurrency projects like Fight Out should be taken with a grain of salt. Nonetheless, investors should always have an exit strategy in place, whether that's on a short or long-term basis.
To offer some insight into recent successful presales, Tamadoge was sold to early investors at just $0.01 per token.
After the presale, Tamadoge was listed on an exchange at $0.02 per token.
This means that presale investors secured an immediate upside of 100% as soon as Tamadoge hit the markets.
But what's more, Tamadoge hit highs of $0.20 in just a week after being listed.
Compared to the presale price, that's an upside of 10x.
The size of the global fitness market can also be used to assess the long-term upside of Fight Out. As noted earlier, this is estimated at almost $100 billion. Year-on-year growth is expected with society becoming more health-conscious.
Ultimately, Fight Out will be listed as a micro-cap token when it hits exchanges on April 5th. Therefore, it won't take a lot of buying pressure for early investors to witness notable growth.
How Crypto Analysts View Fight Out
Considering that Fight Out has raised almost $6 million in presale funding, it goes without saying that the project has attracted a lot of interest from analysts.
For example, popular YouTube and Discord analyst Jacob Bury has documented several times how bullish he is on FGHT. In fact, Bury believes that FGHT has every chance of generating growth of 100x after the presale concludes.
There is also a lot of bullish sentiment on social media, especially on Reddit. Crucially, hype is one of the most effective ways for new projects to get global attention, so this is super-positive for Fight Out.
Conclusion
Fight Out is set to take the global fitness industry by storm through its train-to-earn concept. Users will not only earn tokenized rewards for exercising but entering fitness challenges and tournaments.
The project's native token, FGHT, is still available to buy at presale prices. But only a few days are left, with the presale ending on March 31st. As such, investors will need to hurry to secure the lowest price possible before the April 1st exchange listing.
Do note that while the Fight Out presale is still active, investors can secure a bonus of up to 67%.
FAQs
How to Buy Fight Out Tokens?
How many FGHT tokens are there?
What is the market cap of Fight Out?