IOTA20 is an emerging crypto that seeks to address critical issues with the original IOTA Coin. Its Ethereum-based token is currently on presale for only $0.00145 and is ready for a potential DEX listing soon.
This article outlines a few easy-to-follow steps for buying the $IOTA20 token, examines its utility, and looks ahead to its future potential.
IOTA20 Presale Key Points:
Below is a quick summary of the IOTA20 presale;
IOTA20 is an improved version of the original IOTA coin, aiming to offer better security, user-friendliness, and transparency. The project uses the Ethereum network to overcome the challenges faced by its predecessor.
The token supply of IOTA20 mirrors the original MIOTA, with 2,779,530,283 tokens in circulation. This supply is divided into three parts: 50% presale, 40% staking rewards, and 10% for Uniswap liquidity (locked for three months).
The initial market cap of IOTA20 is a mere $4.03M, providing a lower-cost entry point for potential investors.
The presale of IOTA20 raised over $32K within the first day of its official launch. This initial success indicates growing investor interest, suggesting a positive trajectory for the project.
How to Buy IOTA20 ($IOTA20) Tokens – A Beginner's Guide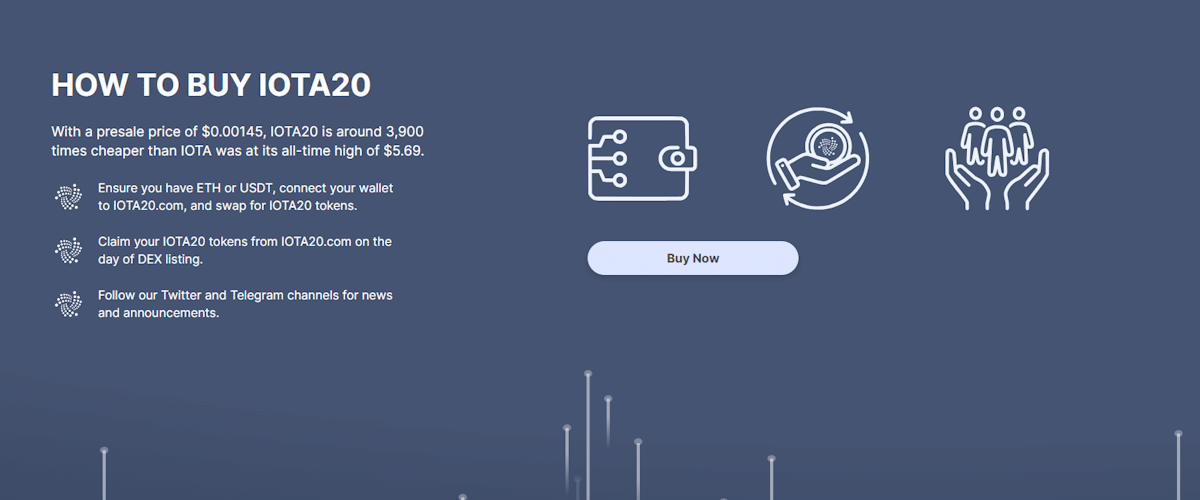 IOTA20 is a newer, more affordable version of the original IOTA coin. When IOTA reached its highest value of $5.69, it was roughly 3,900 times more expensive than the presale price of IOTA20, which was only $0.00145.
While the IOTA price prediction hints at an upside for the coin, the affordability of IOTA20 makes it more accessible to a large group of investors. Here's a simplified five-step guide to buying the IOTA20 tokens;
Step 1: Set Up Your Crypto Wallet
To get $IOTA20 tokens, create a digital wallet compatible with the IOTA20 presale website. MetaMask is a favored choice with its user-friendly app and browser extension.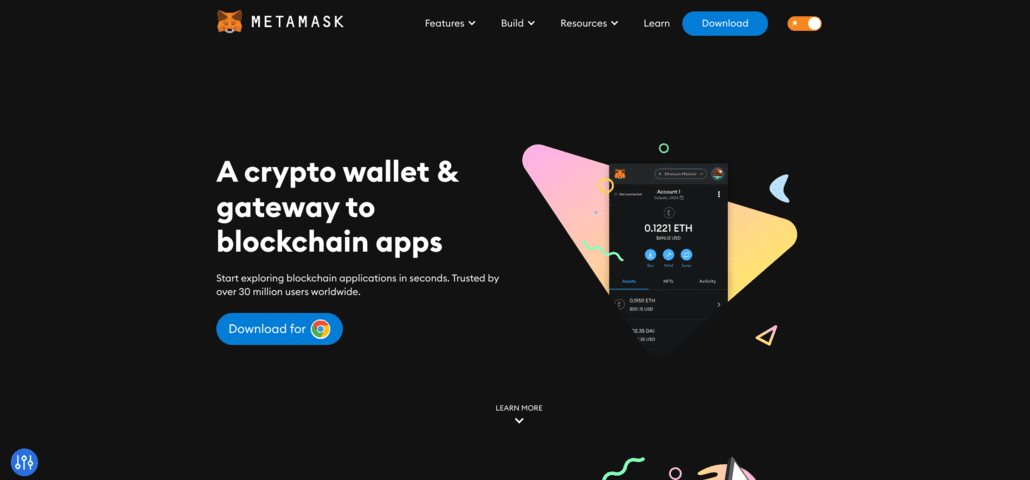 Other wallet options, such as Ledger or Trust Wallet, can be selected via the WalletConnect Widget on the platform.
Step 2: Purchase ETH/USDT
To buy $IOTA20, you'll need ETH or USDT, as these are the accepted cryptos on the platform. These tokens can be purchased on any crypto exchange, then transferred to your digital wallet.
Alternatively, you can buy ETH/USDT from your chosen wallet, provided the feature is available.
Step 3: Connect Your Wallet
Connect your wallet to the presale page on the IOTA20 platform. Click on the 'connect wallet' option, then select MetaMask or any other wallet you've set up. After connection, choose the crypto you wish to exchange for $IOTA20 tokens.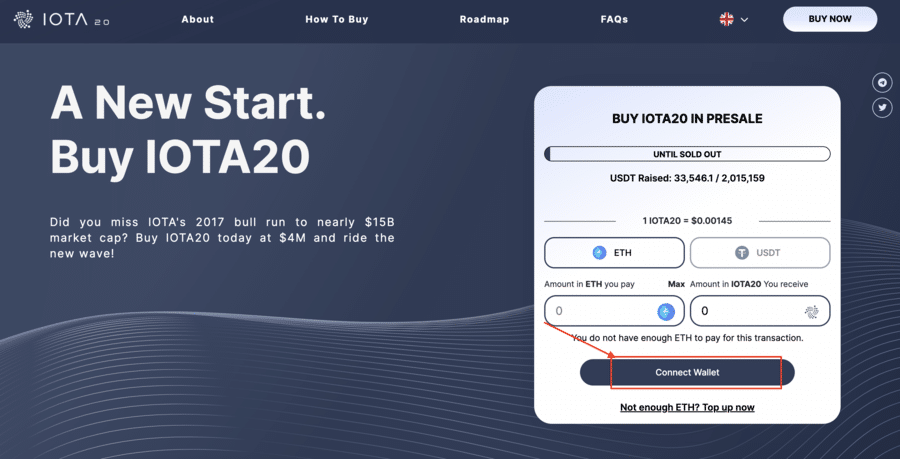 Step 4: Buy $IOTA20
Once your wallet is connected, input the amount of ETH or USDT you wish to exchange for $IOTA20. After confirming the details, click 'Buy $IOTA20 Tokens'. Follow the ensuing prompts to authorize the transaction.
Step 5: Claim Your $IOTA20 Tokens
Following the presale, your $IOTA20 tokens can be claimed on the project's website when the token is listed on the DEX. Navigate to the site, click 'Claim,' and approve the transaction (note: gas fees may apply).
For the latest news and updates, including the exact dates to claim and launch, stay tuned to the IOTA20 Twitter page.
What is IOTA20?
Launched on July 11, 2016, the original IOTA coin was an open-source distributed ledger and crypto built for the Internet of Things (IoT). Unlike typical blockchain ledgers, it used a Directed Acyclic Graph for its ledger, ensuring scalability.
Its key aim was to facilitate low-cost microtransactions by distributing them across nodes, reducing mining reliance. The IOTA token was the network's value unit, with a fixed supply of 2,779,530,283 tokens.
Over time, despite its 2017 peak market cap of $15B, multiple issues, including market fluctuations, security glitches, and rising rivals like Ethereum, resulted in a drastic fall in its market cap, down to nearly $0.5B.
To overcome these challenges, IOTA20 was born. IOTA20 seeks to be a superior version of the IOTA token, structured in the versatile ERC-20 form. The platform aims to fix the past failures of IOTA and leverage the Ethereum network's benefits, making it one of the top cryptos to watch.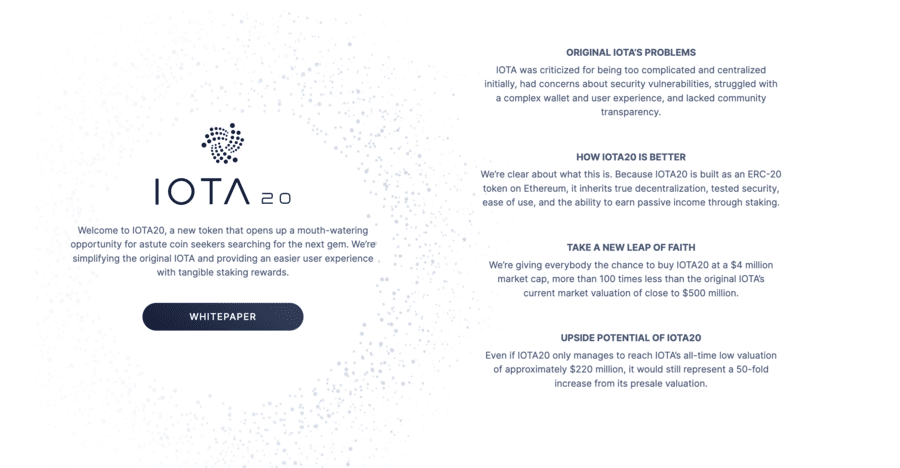 As per the IOTA20 whitepaper, its native token mirrors the IOTA token supply with 2,779,530,283 tokens in circulation. The supply includes 50% presale at a set price of $0.00145, 40% for staking rewards, and the rest 10% for Uniswap liquidity, locked for three months.
Initially, the IOTA20 market cap is a mere $4.03M, giving investors a lower-cost entry. If IOTA20 achieves IOTA's lowest valuation of about $220M, presale investors could see a 50x gain. If it reaches IOTA's peak market cap of $15B, this could mean a whopping 3900x increase.
Where IOTA struggled with complexity, centralization, security issues, and opacity, IOTA20 aims to address these concerns. Being built on the Ethereum network, it enjoys decentralization, better security, a user-friendly interface, and complete transparency. To stay updated on the latest developments, you can enter the IOTA20 Telegram channel.
| | |
| --- | --- |
| Presale Started | July 2023 |
| Purchase Methods | ETH, USDT |
| Chain | Ethereum |
| Hard Cap | $2,015,159 |
| Min Investment | 10 Tokens |
| Max Investment | None |
Why Buy IOTA20 In Presale?
Buyers are seeking the next crypto to explode as the present market shows indications of recovery at the time of writing. Let's look at some reasons why IOTA20 could surge during the next market boom;
Discounted Presale Price

: Presales offer potential investors an affordable entry point with a promising return. Should the IOTA20 token mirror even IOTA's smallest market cap of around $220M, presale participants could see a 50x return.

Incentives through Staking Rewards

: IOTA20 will utilize a Proof-of-Stake model, with less than half the total supply for staking rewards. This strategy encourages token holders to stake their assets and strengthens the network's stability and security. By offering high staking rewards, IOTA20 incentivizes long-term holding and loyalty among its investors, which can create long-term value.

An Ambitious Roadmap

: The platform outlines a four-step plan, showing a well-considered growth trajectory. Their roadmap – beginning with a discounted presale, leading to a Uniswap launch, followed by strong marketing and an appealing staking rewards system – reaffirms their commitment to long-term sustainability. This strategic roadmap instills confidence in investors about the project's potential.
Tokenomics and Presale Information – A Quick Summary
The total supply of 2,779,530,283 tokens is split into three parts:
Presale

(50%): Half of the supply is available for public purchase at a fixed price of $0.00145 during the presale, which was recently launched.

Staking

(40%): To reward long-term holding, 40% of the IOTA20 token supply is set for staking rewards, distributed via the Proof-of-Stake model.

DEX Liquidity Lock

(10%): To ensure liquidity and stability, 10% of the total tokens will be set aside or locked in the Uniswap liquidity pool for three months.
| | | | | |
| --- | --- | --- | --- | --- |
| Stage | Token Price | Percentage (Of Presale Tokens) | Amount of Tokens | USD Value |
| 1 | $0.00145 | 100% | 1,389,765,142 | 1,389,765,142 |
IOTA20 Price Forecast – What is the Potential of $IOTA20?
IOTA20 has already kickstarted by attracting over $32K in less than a day since its official launch. This powerful start reflects the growing interest from investors and users, signaling a promising trajectory ahead.
Learning from the original IOTA's flaws around centralization and security, IOTA20 utilizes the proven Ethereum network, enhancing scalability, security, transparency, and user experience. This could instill investor confidence, possibly leading to higher demand and price for IOTA20.
The project's investor-friendly approach, starting with a low-cost presale, a potential DEX listing, and a rewarding staking mechanism, could make it an attractive investment option in the coming quarters.
However, investors should consider Bitcoin sentiment and broader economic conditions that impact the crypto market when looking for the best long-term investment options.
Conclusion
IOTA20 seeks to be an upgraded version of the original IOTA coin that offers an exciting prospect for early investors, especially those taking part in the presale.
Addressing previous hurdles and building on the Ethereum platform, IOTA20 emphasizes four core pillars – decentralization, improved security, user-friendly design, and transparency. These attributes and a strategic roadmap highlight a strong foundation for the project.
References:
FAQs
What is the market cap of IOTA20?