While the crypto market provides plenty of opportunities to make money in both bull and bear markets, making consistent gains is no easy feat. That's where Launchpad XYZ comes in.
This newly launched blockchain project offers real-time market insights, analytics, sentiment, and an all-in-one web 3.0 dashboard. Read on to learn about Launchpad XYZ and how to buy its native token LPX at presale prices.
Launchpad XYZ: Key Points
Here's some key information about the Launchpad XYZ project and its recently launched presale:
Launchpad XYZ has built a cutting-edge analytics dashboard that enables users to make informed decisions in the Web 3.0 marketplace.
Users have access to crypto market insights, sentiment, analytics, and real-time data through a single, user-friendly hub. This removes the need to 'second-guess' whether specific coins are likely to rise or fall in the coming hours, days, and weeks.
Launchpad XYZ simplifies the methods and strategies required to find the next 100x crypto, removing the need to rely on third-party providers.
The project's Launchpad XYZ Quotient tool shows users which coins are trending at any given time, enabling investors to catch bullish projects before they moon. This is in addition to a presale directory with core information on newly launched coins and real-time information on upcoming NFT mints.
Launchpad XYZ is also developing a Web 3.0 exchange that enables users to buy, sell, and trade the hottest coins without going through a centralized platform.
The project is fueled by its native crypto token, LPX. Users that buy and stake LPX tokens will have access to the full suite of premium features developed by Launchpad XYZ. This includes discounted trading fees and guaranteed access to new presales and NFT mints.
LPX tokens are now available to buy at presale prices. Currently, early investors will pay just $0.035 per token. This rises throughout the presale, so early investors receive the lowest price. LPX token will be listed on the Launchpad XYZ exchange at $0.07 after the presale – a 100% upside from current prices.
How to Buy Launchpad XYZ Tokens: Presale Guide
Now let's explore how to buy Launchpad XYZ tokens via the presale to secure the lowest price possible.
Step 1: Get a Crypto Wallet
First, investors will need to download and install a crypto wallet that is compatible with the Launchpad XYZ presale. MetaMask is a suitable option, but other wallets are also supported via the Wallet Connect integration.
In this walkthrough, we'll opt for the user-friendly MetaMask wallet. Investors can download MetaMask via a browser extension for Firefox, Chrome, and Edge. Alternatively, there is also a MetaMask app for iOS and Android.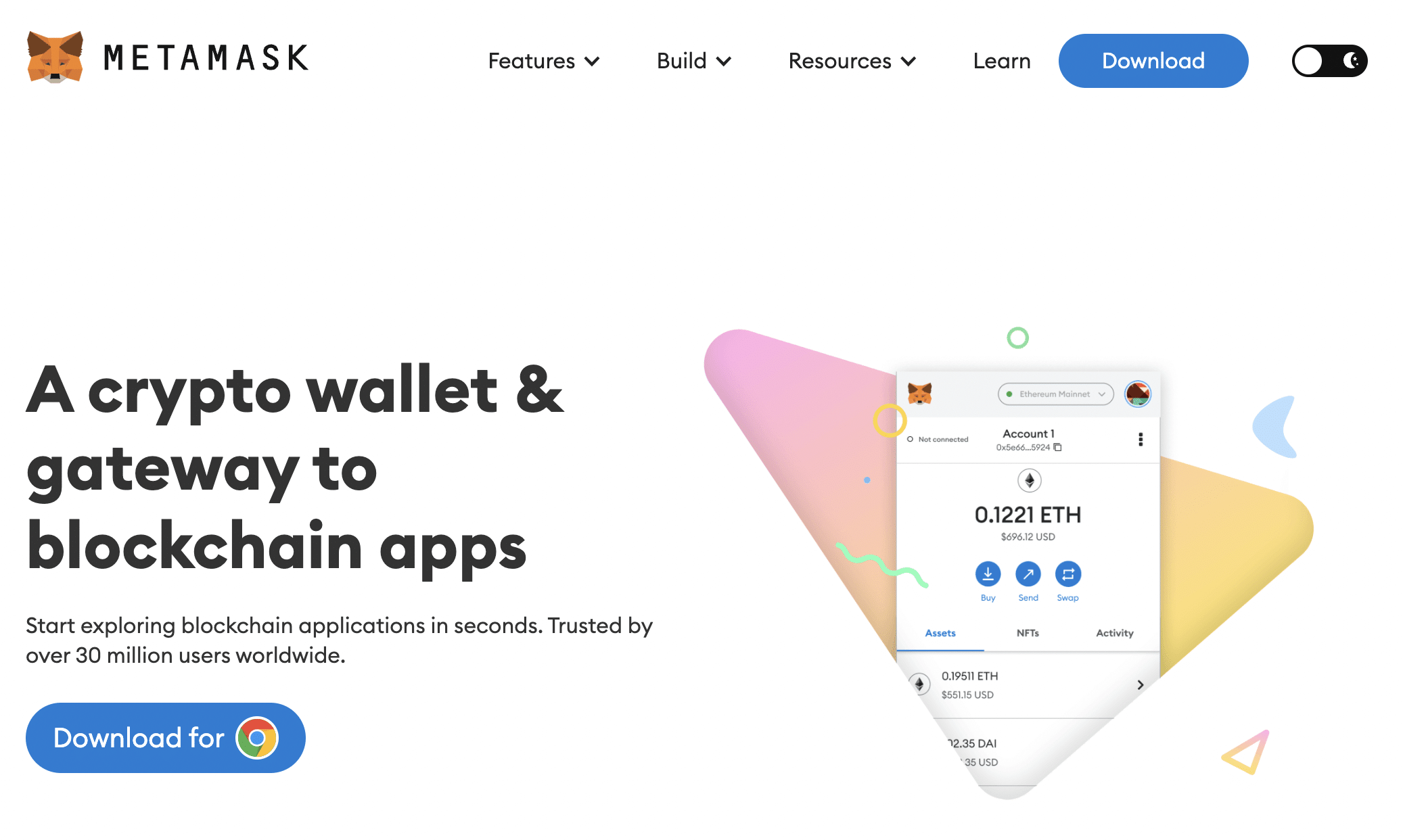 Download MetaMask and set the wallet up. Make sure a strong password is used to secure the wallet. Also, ensure that the backup passphrase is written down in the correct order that the words are displayed.
Step 2: Add Crypto to Wallet
Next, presale investors will need to add some crypto tokens to their wallet. This will enable investors to swap the tokens for Launchpad XYZ. The presale supports two ERC-20 tokens, Ethereum (ETH) and Tether (USDT).
The tokens will need to be transferred to the wallet address provided by MetaMask. This is unique to the wallet and can be found beneath the 'Account 1' tab.
Step 3: Connect Wallet to Launchpad XYZ Presale
Those with ETH or USDT in their wallet can now visit the Launchpad XYZ presale website.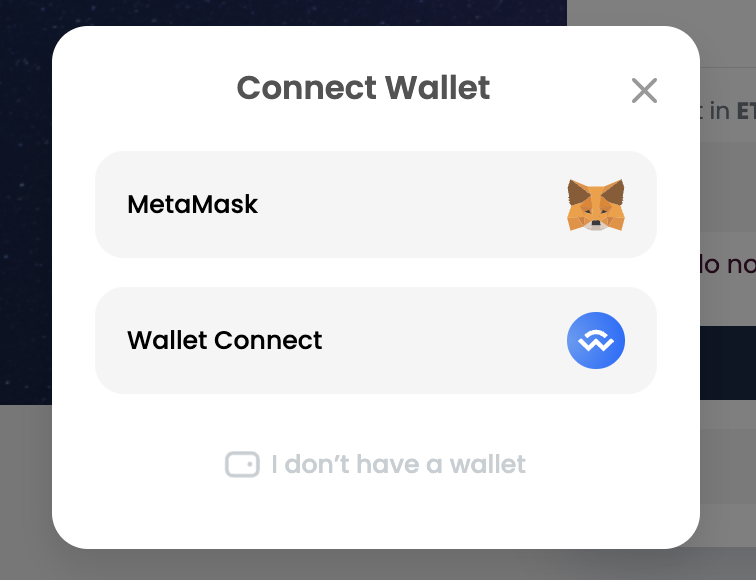 Click on the 'Connect Wallet' button and choose Metamask. Those using another wallet can select 'Wallet Connect' and scan the QR code displayed by Launchpad XYZ.
Step 4: Fill Out Presale Order Box
Next, choose between 'ETH' or 'USDT' depending on the preferred payment currency. Then type in the number of ETH or USDT tokens to swap for Launchpad XYZ tokens.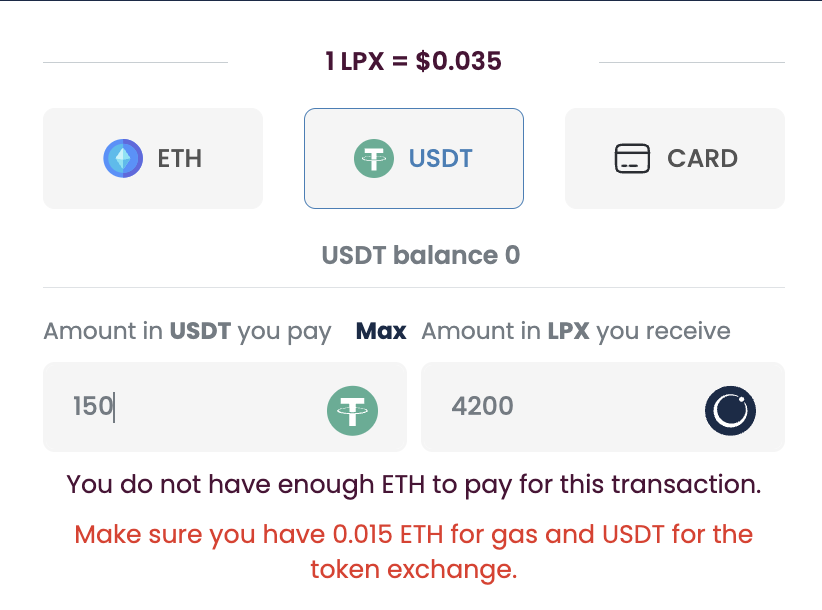 In our example above, we are swapping 150 USDT, which gives us 4,200 LPX.
Step 5: Confirm Order and Buy Launchpad XYZ Tokens
The final step will require the investor to confirm the presale purchase via their wallet.
A notification will appear from MetaMask asking for authorization to transfer the funds. Confirm, and MetaMask will complete the presale purchase.
After the presale has finished, go back to the Launchpad XYZ website and claim the tokens. This will be possible within seven days of the presale finishing.
What is Launchpad XYZ?
Launchpad XYZ has developed a cutting-edge Web 3.0 dashboard to help investors seamlessly navigate the crypto trading markets.
From market insights and sentiment to presale and NFT minting alerts – Launchpad XYZ gives crypto traders the best chance possible of making consistent gains in both bull and bear markets.
Founded in early 2023, Launchpad XYZ has a simple yet important goal – to help crypto investors make informed investment decisions in the world of Web 3.0. The project will achieve this goal through its cutting-edge dashboard, providing users with unparalleled data. This includes market sentiments on a range of coins, enabling investors to source the best crypto to buy right now.
For instance, Launchpad XYZ incorporates market viewpoints from leading crypto investors and analysts. This allows users to assess where the 'smart money' is going. Moreover, Launchpad XYZ also teaches its users how to make their own informed trading decisions. This ensures traders avoid buying and selling coins based on third-party information. We also found that Launchpad XYZ offers access to the best emerging cryptocurrencies.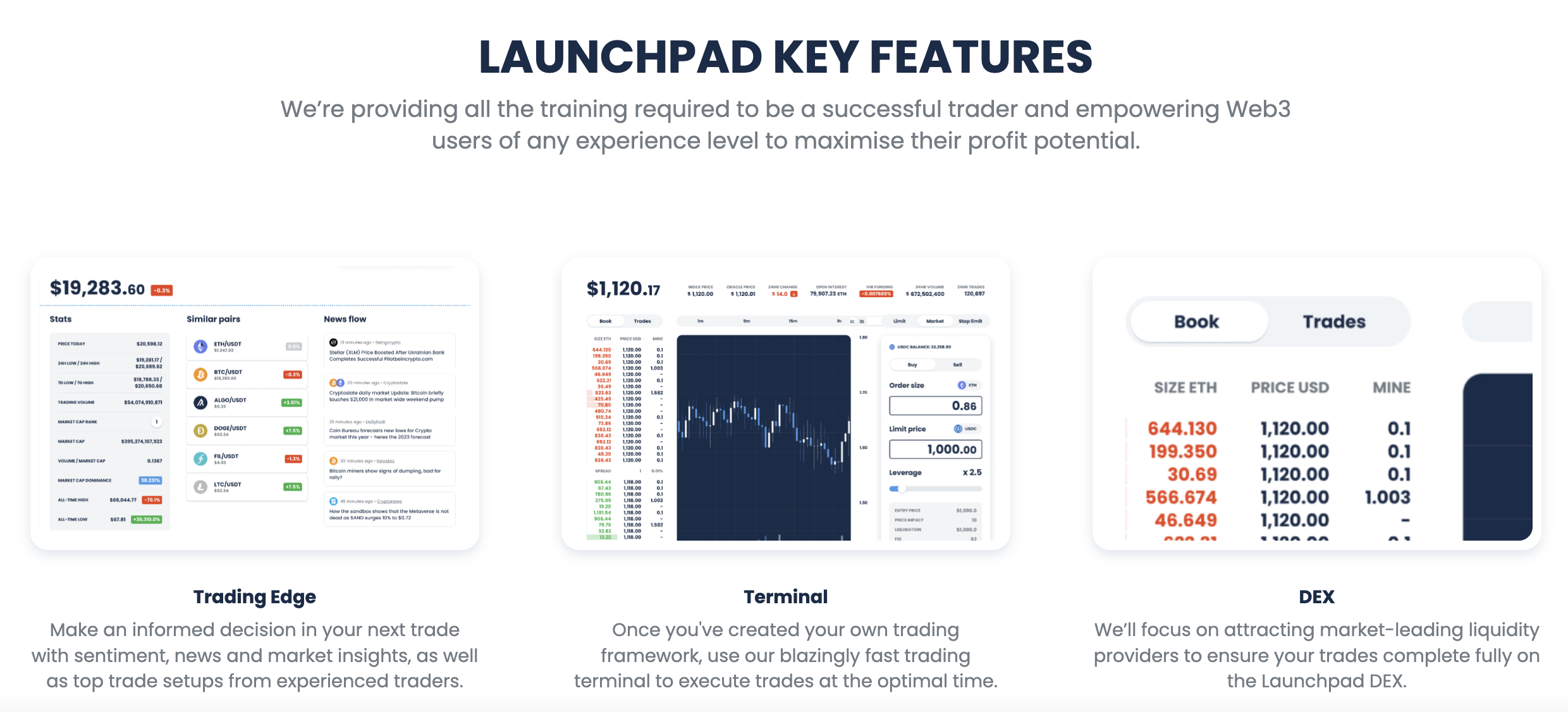 It does this by alerting users of upcoming crypto presales, alongside core information about the project, whitepaper, roadmap objectives, and core team. This is in addition to alerts on upcoming NFT mints and play-to-earn game releases. Not only that, but Launchpad XYZ is also developing a decentralized exchange. This means that users can take the insights and strategies they have discovered on Launchpad XYZ and enter trades without leaving the dashboard. Ultimately, Launchpad XYZ aims to become the go-to hub for all Web 3.0 trading requirements.
The Role of LPX Tokens
LPX is the native token of the Launchpad XYZ ecosystem. In addition to offering investors exposure to the project's growth, LPX token has many use cases.
For example, those staking at least 10,000 LPX tokens will have access to the following premium features:
Reduced trading commissions on the Launchpad XYZ DEX
Guaranteed access to new NFT mints, enabling investors to purchase new collections at the lowest price possible
Guaranteed access to the hottest presales that are only open to private investors. This means investors can buy presale tokens before they are sold to the public.
Access to discounts for products and services offered by Launchpad XYZ partners – more information on this program is to follow.
Early-bird access to the best play-to-earn games that are currently in beta mode. This enables users to track the game's development and make an informed decision on whether to buy its in-game crypto token.
The above features enable LPX token holders to take their trading goals to the next level. In order to access these premium features, holders must stake at least 10,000 LPX tokens over 90 days. This means that LPX token has real-world utility, a crucial component for crypto tokens to thrive.
Reasons to Invest in Launchpad XYZ
Launchpad XYZ is a crypto presale token meaning it gives crypto enthusiasts the chance to invest at a discount price before the LPX token is listed on public DEXs and CEXs.
Despite the fact that crypto presales aren't exempt from risk, some altcoins such as Tamadoge have generated huge ROIs for investors, which is why they can be worth considering when it comes to building a diversified crypto portfolio.
Still not sure if Launchpad XYZ could be the best next crypto to explode?
Let's take a closer look at the project's investment thesis.
The Need for Simplified Web 3.0 Insights
Web 3.0 refers to the next generation of the internet. In addition to 5g technology and the 'Internet of Things', this includes decentralized finance, blockchain, and crypto. There are many ways to invest in Web 3.0 projects, with thousands of cryptocurrencies offering innovative solutions to real-world problems. But knowing which Web 3.0 tokens to buy can be a daunting task.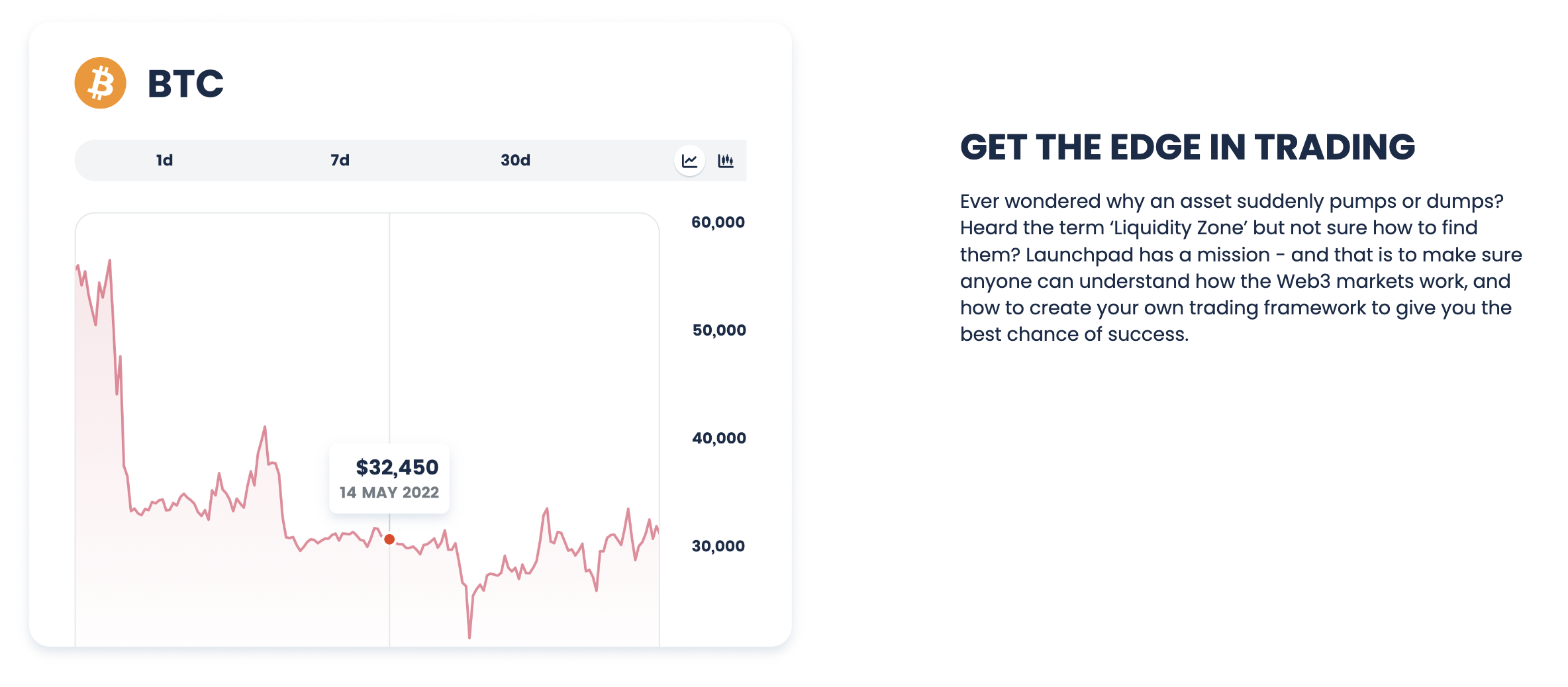 This is where Launchpad XYZ comes in. Its Web 3.0 dashboard enables beginners and seasoned investors to make informed trading decisions. Whether that's through insights, reliable data, or market sentiment – traders will have all the required tools to navigate the complexity of the Web 3.0 investment scene.
Additionally, Launchpad XYZ provides in-depth data on hundreds of utility tokens, covering key metrics surrounding liquidity, analyst insights, bespoke indicators, and opportunities for arbitrage.
A Decentralized Hub for Upcoming Web 3.0 Investments
Launchpad XYZ also provides users with real-time information on upcoming Web 3.0 investments. Enabling investors to find brand-new projects and concepts before they hit the market.
For example, Launchpad XYZ notifies users of upcoming crypto presales that are only being sold to a limited number of private investors. Launchpad XYZ will secure an allocation of presale tokens that can be purchased by its users. Only those that stake at least 10,000 LPX tokens for 90 days will be entitled to a share of the presale allocation.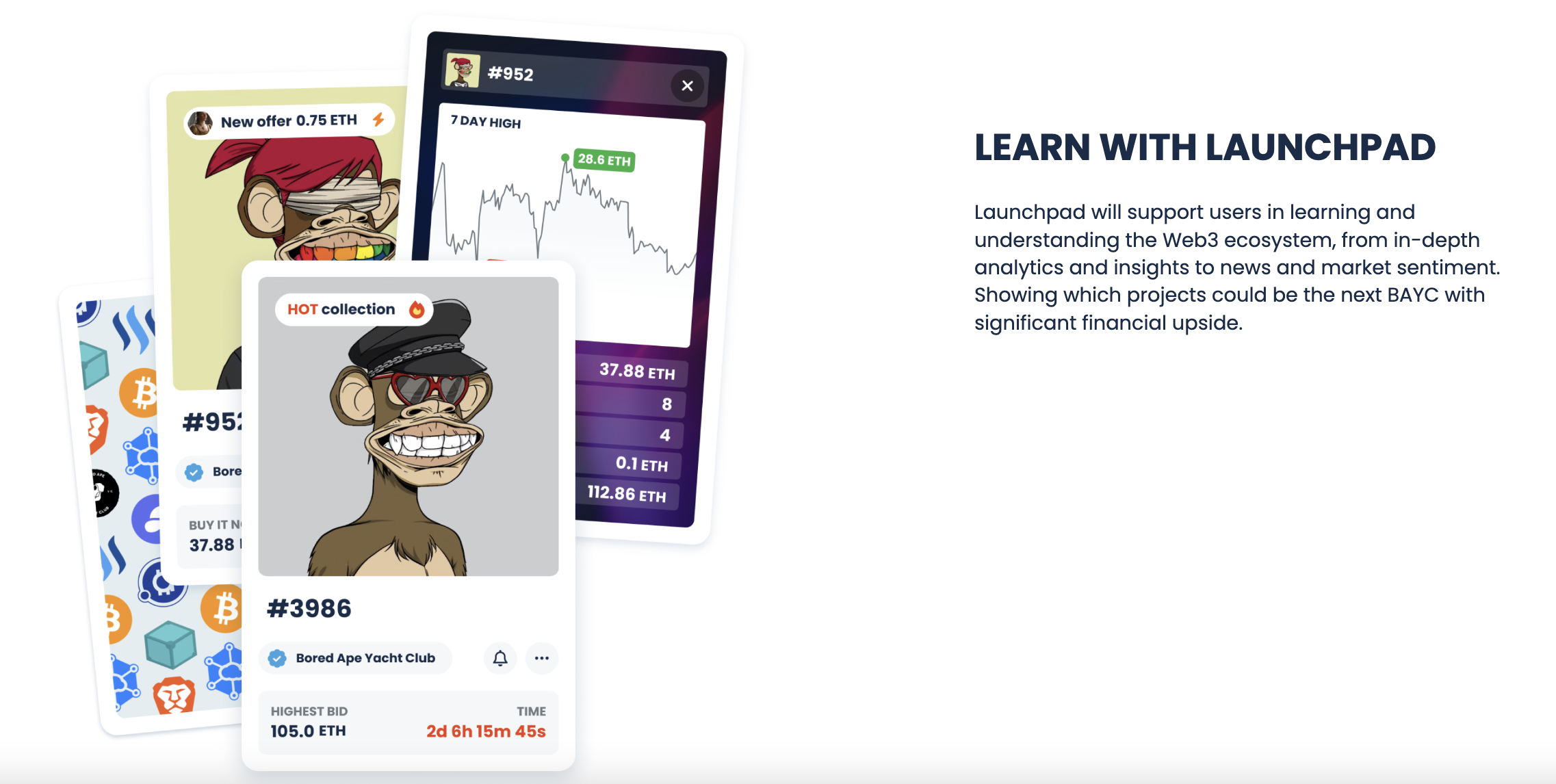 Likewise, those staking LPX tokens will also have access to upcoming NFT mints that Launchpad XYZ believes could be the next Bored Ape Yacht Club (BAYC). After all, when BAYC NFTs were first minted, initial investors paid under $200. Some BAYC NFTs have since sold for over a million dollars. With this in mind, having access to NFT mint whitelists will appeal to many Launchpad XYZ users.
Another core feature available to LPX token stakers is access to beat play-to-earn game releases. This is yet another growing market, with play-to-earn games like Axie Infinity and Decentraland hitting multi-billion market capitalizations at their peak.
Decentralized Exchange
Launchpad XYZ is also developing a decentralized exchange that will enable users to buy and sell hundreds of asset pairs. This is in addition to select perpetual contracts.
These are derivatives that enable traders to speculate on cryptocurrencies with leverage and short-selling capabilities. Those staking LPX tokens will have access to reduced trading fees on the Launchpad XYZ exchange. This is yet another reason why LPX tokens have real-world utility.
Presale Discount Offers an Immediate Upside
While LPX tokens are primarily used within the Launchpad XYZ ecosystem, they also offer exposure to the project's success. This is because LPX tokens will trade on the Launchpad XYZ DEX after the presale. Centralized exchange listings will also be in the pipeline.
Crucially, the Launchpad XYZ presale offers the lowest entry price for growth investors. Stage one, for example, prices LPX tokens at just $0.035. After that, the second stage increases the price to $0.0375. The price will continue to rise as each stage sells. After the presale, LPX tokens will be listed on the Launchpad XYZ DEX at $0.07. When compared to stage one prices this offers an upside of 100%.
Launchpad XYZ Presale Details and Tokenomics
Crypto presales are similar to initial public offerings (IPOs), where investors buy a stock before it is listed on an exchange.
Similarly, presale investors often get a discounted price before the tokens are listed on a crypto exchange.
This incentivizes investors to help fund the crypto startup.
The Launchpad XYZ presale will have 10 stages. As per the table below, each stage will sell 25 million LPX tokens. Moreover, each stage increases the price. This incentivizes investors to buy LPX tokens at the earliest stage possible.
| | | | |
| --- | --- | --- | --- |
| Phase | Token Price | Amount of Tokens | USD Value |
| Stage 1 Price | $0.035000 | 25,000,000 | $875,000 |
| Stage 2 Price | $0.037500 | 25,000,000 | $937,500 |
| Stage 3 Price | $0.040000 | 25,000,000 | $1,000,000 |
| Stage 4 Price | $0.042500 | 25,000,000 | $1,062,500 |
| Stage 5 Price | $0.045000 | 25,000,000 | $1,125,000 |
| Stage 6 Price | $0.050000 | 25,000,000 | $1,250,000 |
| Stage 7 Price | $0.055000 | 25,000,000 | $1,375,000 |
| Stage 8 Price | $0.060000 | 25,000,000 | $1,500,000 |
| Stage 9 Price | $0.065000 | 25,000,000 | $1,625,000 |
| Stage 10 Price | $0.070000 | 25,000,000 | $1,750,000 |
For instance, buying LPX tokens in stage one will yield an upside of 100%. Investors could see the value of LPX tokens increases once they are listed on the Launchpad XYZ exchange. Albeit, investors should remember there are no guarantees that the price of LPX tokens will rise.
The Launchpad XYZ presale accepts ETH and USDT. Either of these tokens can be swapped for LPX on the Launchpad XYZ website. Investors will be able to claim their LPX tokens after the presale finishes.
LPX Price Prediction: How Big Can Launchpad XYZ Get?
Making a price prediction on new cryptocurrencies like Launchpad XYZ is challenging. After all, there are thousands of tokens in this space and price action is often determined by broader market sentiment. Nonetheless, those investing in the Launchpad XYZ presale might be wondering what trajectory lies ahead for LPX tokens.
First and foremost, anyone investing in the Launchpad XYZ presale prior to stage 10 will see an immediate upside. As noted above stage-one investors will secure the biggest upside at 100%. Those entering at later stages will also secure an upside but at a lower amount.
After the presale, LPX tokens will be listed on the Launchpad XYZ DEX. This will enable those that missed out on the presale to buy LPX tokens from the open market. If buying pressure is strong, this could result in price appreciation.
Another factor to consider when assessing the potential of Launchpad XYZ is its market capitalization. In this regard, The presale has a soft and hard cap target of $5 million and $12.5 million. Considering that 25% of the total LPX token supply is being sold during the presale, Launchpad XYZ will have a market capitalization of between $20 million and $50 million. This gives LPX tokens plenty of upside potential once it hits exchanges.
Conclusion
In summary, Launchpad XYZ will provide investors with the necessary tools to navigate the complex and volatile crypto trading markets. Through sentiment, insights, analysis, and access to exclusive presales and NFT mints – Launchpad XYZ will enable investors to take their trading goals to the next level.
Its utility token, LPX, is now available to buy via the Launchpad XYZ presale. The presale offers LPX tokens at discounted prices, with an upside of up to 100% available. Those wishing to buy LPX tokens at presale prices can do so with ETH, USDT, or a credit card.
FAQs
How to buy Launchpad XYZ tokens?
How many Launchpad XYZ tokens are there?