Love Hate Inu is a trending crypto project that is building a vote-to-earn ecosystem. Its native token, LHINU, is currently available to buy at presale prices.
In this guide, we explain how to invest in the Love Hate Inu presale today to secure the best price possible.
Love Hate Inu: Key Points
Before buying LHINU tokens, here's a quick overview of the Love Hate Inu project:
Love Hate Inu is developing a vote-to-earn ecosystem. This means that users will earn LHINU tokens for casting votes.
Users must stake LHINU tokens to vote. This yields additional rewards for as long as the tokens are staked.
The project ensures voting legitimacy through the blockchain. This means that voter fraud and manipulation are no longer an issue. Moreover, votes are conducted anonymously.
Users that have staked LHINU can create their own voting polls. There will also be a collaboration with third parties, who can pay to create a survey on the Love Hate Inu platform.
Love Hate Inu is currently offering its LHINU tokens at presale prices. This offers the lowest entry price for investors.
90% of LHINU tokens will be sold during the presale. This removes the threat of a rugpull. It also ensures that the community holds the majority of LHINU.
How to Buy Love Hate Inu Tokens: Presale Guide
Investors can buy Love Hate Inu tokens during the presale in under five minutes. It's just a case of connecting a wallet to the presale and swapping ETH or USDT for LHINU.
Read on for a step-by-step walkthrough on how to invest in Love Hate Inu right now.
Step 1: Get a Suitable Crypto Wallet
Love Hate Inu is hosting its presale directly on its website. This means that there is no requirement to invest via an exchange or ICO launchpad.
Investors will need to have a suitable wallet before proceeding. Love Hate Inu accepts MetaMask and WalletConnect. The latter is suitable for those that wish to use Trust Wallet or any other crypto wallet.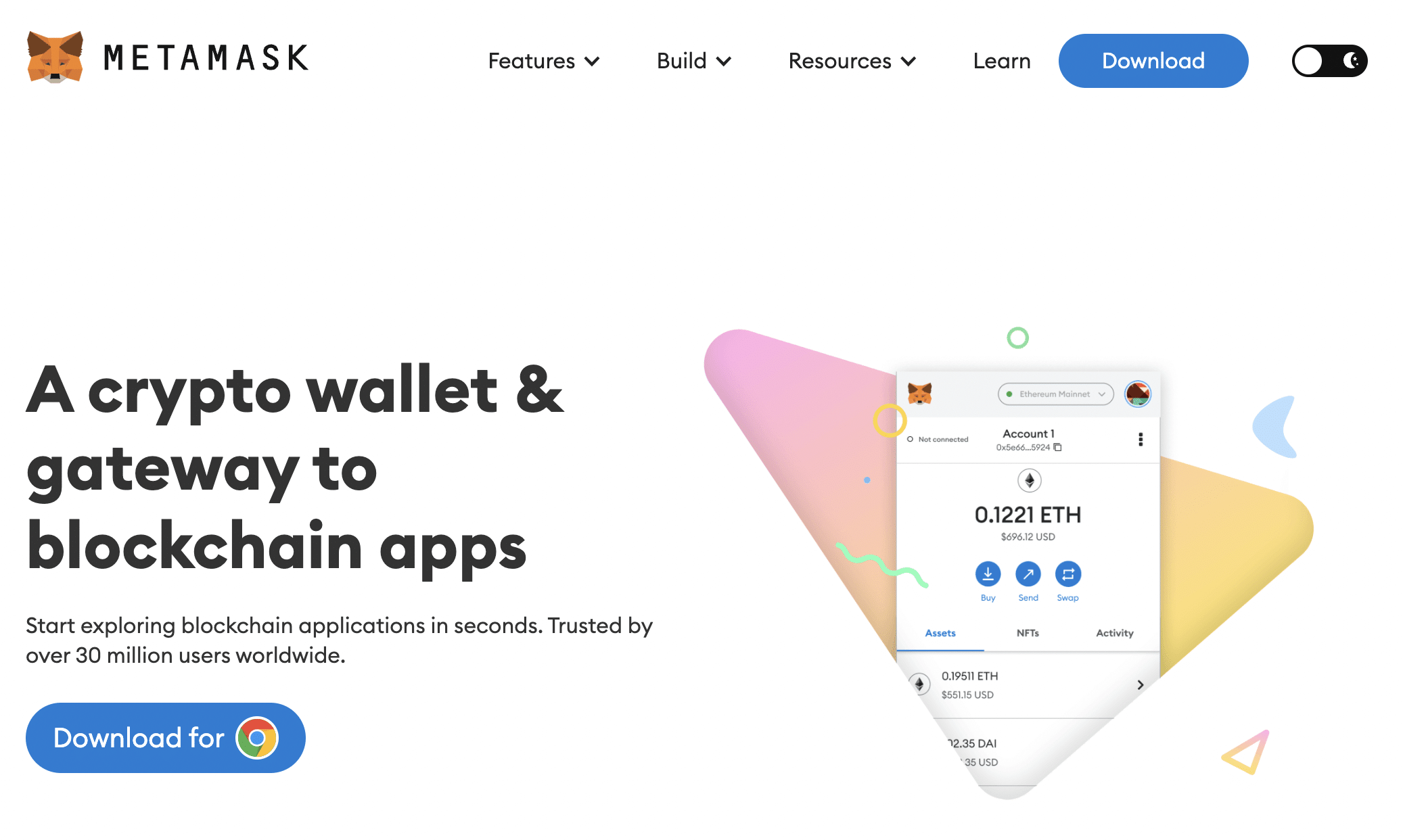 For this tutorial, we will be using MetaMask, which is available as a browser extension (Chrome, Firefox, Edge) and a mobile app (iOS, Android).
After installing MetaMask, enter a strong password when prompted. Next, write down the 12-word passphrase and keep this somewhere safe.
Step 2: Buy ETH or USDT
As noted above, the Love Hate Inu presale accepts ETH and USDT. Those that already have one of these crypto tokens can proceed to the next step.
If not, most crypto exchanges support ETH and USDT. eToro is a great option, as the broker is regulated and offers low fees.
Step 3: Transfer Crypto to Wallet
The ETH or USDT tokens need to be transferred to MetaMask (or whichever wallet is preferred).
Both tokens operate on the Ethereum blockchain, so will have the same wallet address. In MetaMask, the wallet address is displayed at the top of the interface beneath 'Account 1'.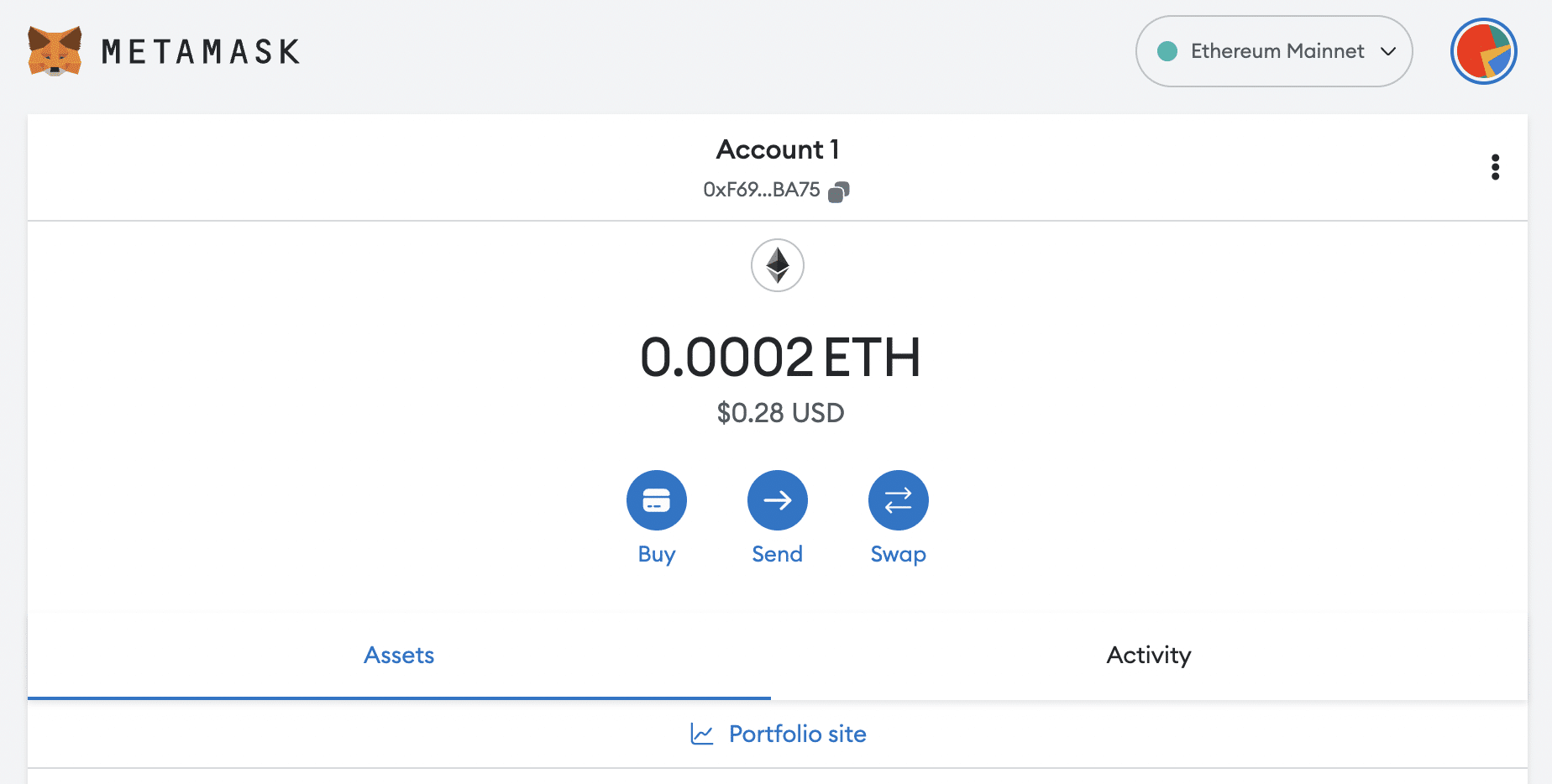 Copy the deposit address and head to the exchange where ETH or USDT was purchased. Withdraw the tokens to MetaMask by pasting in the copied wallet address.
Once the exchange approves the withdrawal, the tokens should arrive in the MetaMask wallet in under two minutes.
Step 4: Connect Wallet to Love Hate Inu
When the wallet is funded with ETH or USDT, head over to the Love Hate Inu presale.
Click on 'Buy Now' and a pop-up box will appear asking which wallet to use. Choose MetaMask.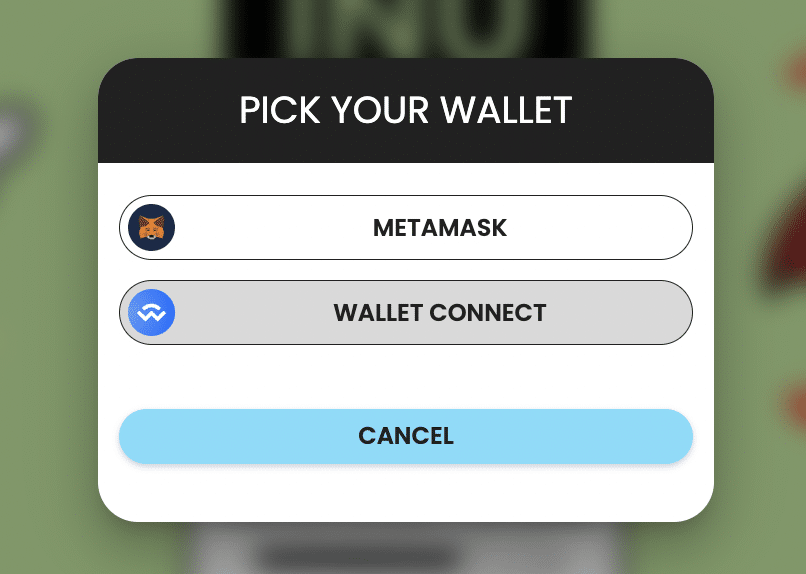 Before the wallet is connected to the Love Hate Inu presale, MetaMask will ask for confirmation.
Step 5: Buy Love Hate Inu Tokens
After providing authorization, the final step is to buy Love Hate Inu tokens.
Choose between ETH and USDT as the payment currency and type in the number of tokens to swap.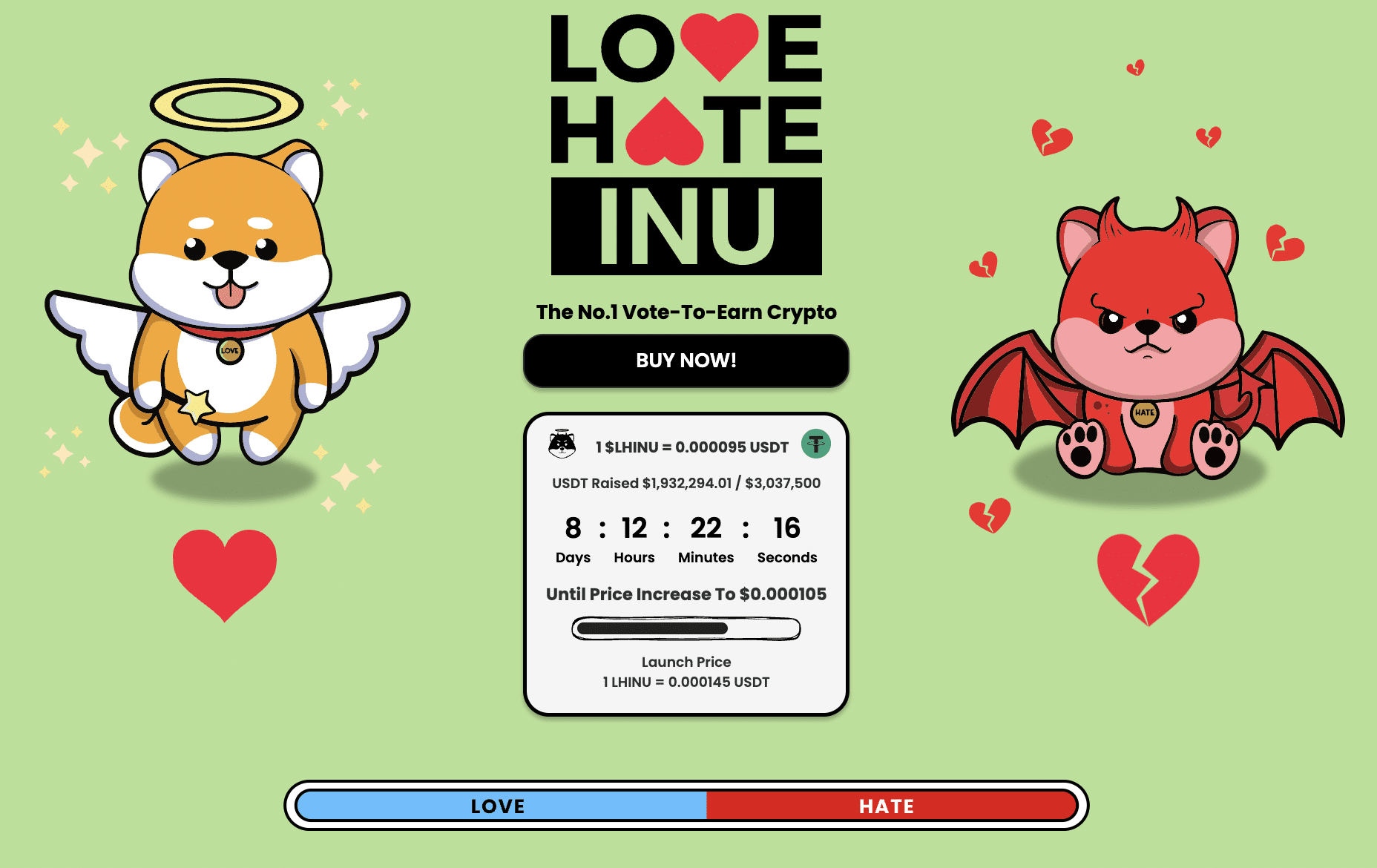 The corresponding number of LHINU tokens will update. After confirming the investment, one final authorization is required in MetaMask.
Confirm the transfer of tokens to Love Hate Inu and the presale investment is complete.
Step 6: Claim Tokens After the Presale
The Love Hate Inu tokens will need to be claimed after the presale has finished. This is to prevent people from listing LHINU on decentralized exchanges.
After the presale, head back to the Love Hate Inu website and click the 'Claim' button. Connect the same MetaMask wallet to the presale website and confirm.
The LHINU tokens will then be transferred to MetaMask.
What is Love Hate Inu?
Love Hate Inu is a new cryptocurrency project that is revolutionizing the global voting industry. Whether it's surrounding politics, social issues, or celebrity events, Love Hate Inu solves many real-world voting issues. For instance, users can only vote on Love Hate Inu when LHINU tokens are staked. This ensures that only legitimate people are voting, rather than bad actors and bots.
Moreover, Love Hate Inu uses blockchain technology and smart contracts. Thus, votes are conducted anonymously. This removes the risk of voter intimidation. The immutability of the blockchain also ensures that Love Hate Inu prevents fraud and manipulation. These are issues that remain present in many political events around the world even today.
But best of all, Love Hate Inu has built a vote-to-earn concept that actually rewards people for voting. Rewards are distributed in LHINU and voting power is determined by how many tokens have been staked. Users can assess how much they are earning via their Love Hate Inu dashboard. As per the image below, the dashboard shows recent votes, the amount of LHINU being staked, current rewards, and tools to create a new poll.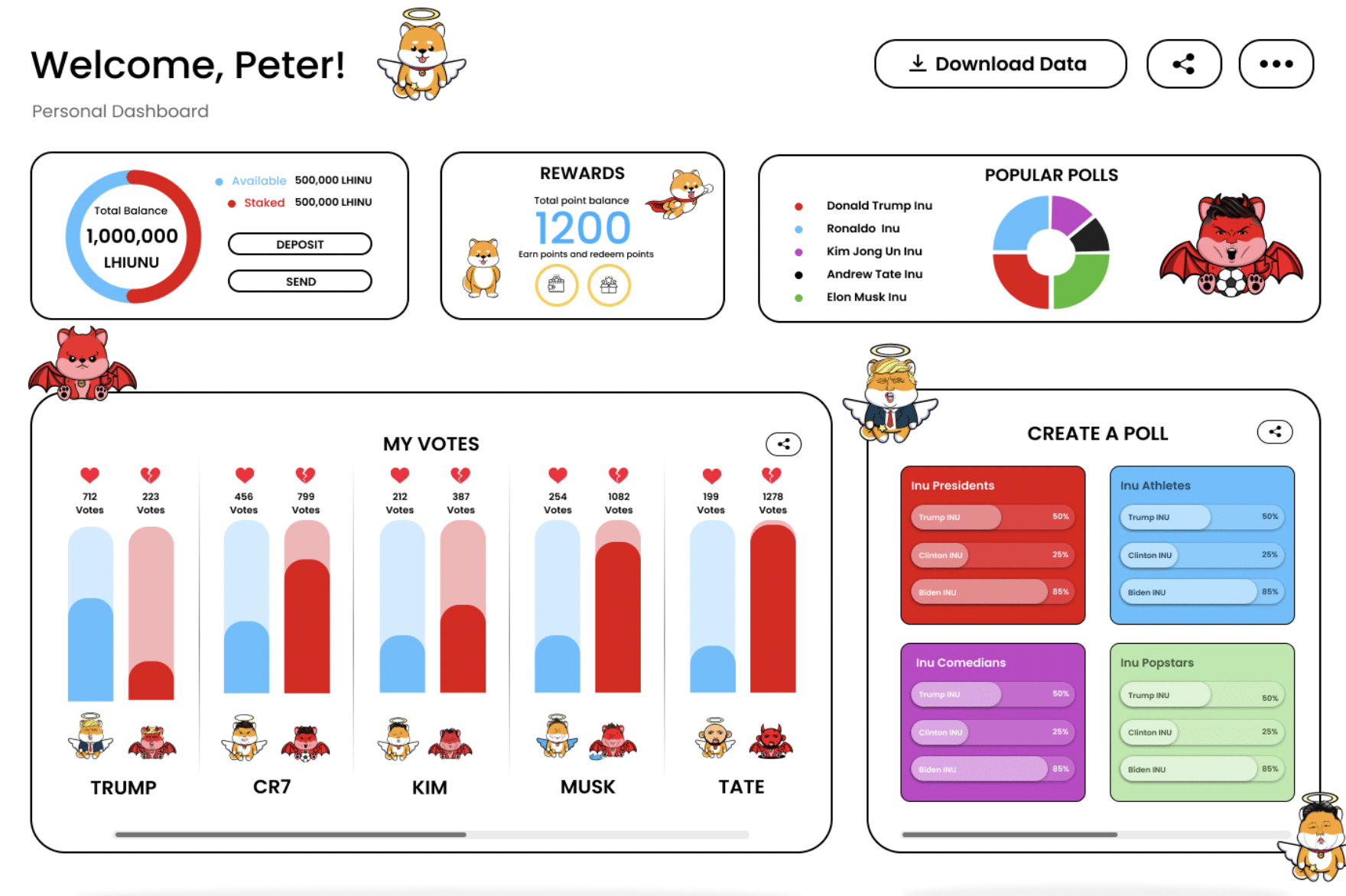 We also like that Love Hate Inu is a sustainable crypto project. After all, no project can survive long-term by distributing rewards without generating income. Love Hate Inu will achieve this through brand partnerships and sponsored polls. For example, a blue-chip company wishing to gauge the sentiment of Love Hate Inu voters can create a poll on their products.
The company will need to acquire LHINU tokens to create a poll, which ensures that there is a constant demand. Love Hate Inu is also set to become one of the best metaverse coins. This is because further down the line, users will be able to cast votes in an immersive metaverse world.
Another reason why this could be the best cryptocurrency to buy is LHINU's token supply.
Unlike many projects, Love Hate Inu will retain just 10% of LHINU tokens. The balance will be sold during the presale, meaning that the community has a significant stake in the project. Ultimately, considering that Love Hate Inu has already raised close to $2 million in just two weeks, this could be one of the best ICOs of the year.
| | |
| --- | --- |
| Presale Started | 8 March 2023 |
| Purchase Methods | ETH, USDT, Credit Card |
| Chain | Ethereum |
| Hard Cap | $10,068,750 |
| Min Investment | 10 $LHINU |
| Max Investment | None |
The Role of LHINU Tokens
LHINU is the primary utility token backing the Love Hate Inu project. It has many roles within the Love Hate Inu ecosystem, ensuring that demand remains strong long-term. For example, the only way to cast votes on Love Hate Inu is to stake LHINU.
From the perspective of the project, this guarantees that only legitimate people are casting votes.
On the other hand, those staking LHINU will benefit from passive rewards.
APYs are yet to be confirmed, but additional LHINU will be earned for as long as tokens are staked.
Moreover, LHINU is also used to distribute vote-to-earn rewards.
The amount of LHINU earned will depend on the voting power of the user.
As noted earlier, voting power is determined by the amount of LHINU being staked.
LHINU is also required to create polls. In particular, brands will need to buy LHINU to generate surveys. This creates demand for LHINU over time. And, as the total supply is capped at 100 billion, LHINU is a deflationary cryptocurrency. This can only benefit the value of LHINU long-term.
After the Love Hate Inu presale has concluded, LHINU will be listed on an exchange. This will allow those that missed the presale to buy LHINU from the open market. Love Hate Inu is expected to conduct a major marketing campaign in the lead-up to the launch, creating FOMO (fear of missing out) along the way.
Reasons to Invest in Love Hate Inu
Read on to discover why analysts believe Love Hate Inu is one of the best emerging cryptocurrencies to buy.
Invest From the Ground Up
The first-mover advantage is a strategy used by some of the most successful investors globally. Think along the lines of investing in Tesla during its 2010 IPO.
Similarly, the Love Hate Inu presale is offering LHINU at the lowest price possible. Early investors are rewarded with a discounted price for funding the project.
This results in a beneficial entry price before LHINU is listed on an exchange. Moreover, Love Hate Inu will enter the crypto exchange arena with a micro-cap valuation.
This offers plenty of upside to target in the coming months.
Prepare for the Next Bull Run
Many analysts believe that the next crypto bull run is imminent. This is because historically, the bull run starts in the lead-up to Bitcoin's next halving. This is set to happen in April 2024.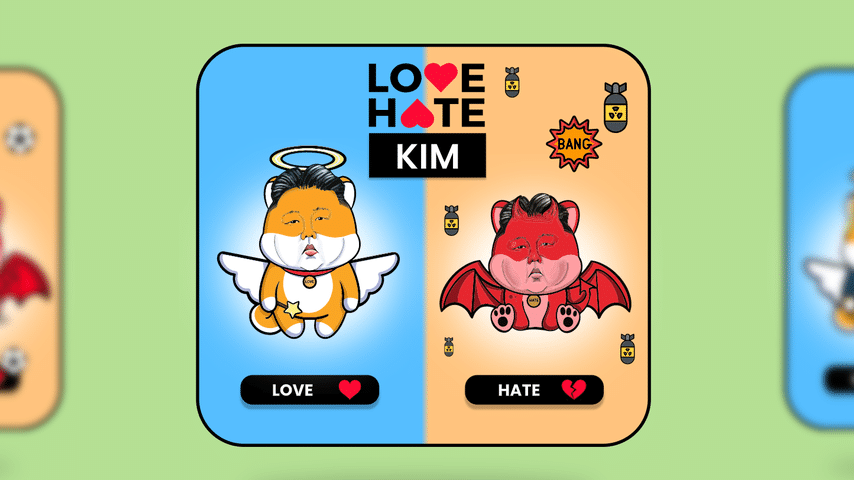 As such, buying LHINU during the presale will prepare investors nicely for an extended bullish period. After all, bull markets often result in micro-cap tokens like LHINU generating sizable growth.
Secure an Immediate Upside
The Love Hate Inu presale is structured to reward those investing early. As we cover in more detail shortly, each stage of the presale lasts for 7.5 days. As each stage passes, the presale price increase. This means that Love Hate Inu investors can secure an immediate upside.
For example, the presale is currently in stage three, which prices LHINU at $0.000095.
The eighth and final stage prices LHINU at $0.000145.
This means that investing in stage three offers an upside of 52%
Further gains are then possible once LHINU is listed on a crypto exchange.
Real-World Utility
The best altcoins to buy are those that have real-world use cases. Love Hate Inu is a great example of this, as its LHINU is required to engage with the ecosystem.
As noted earlier, this includes:
Staking rewards for securing the voting protocol

Paying rewards to those that vote

Payable currency for creating polls and surveys
This ensures that Love Hate Inu remains self-sufficient in the long run.
LHINU is Trending
It comes as no surprise that the Love Hate Inu presale has already raised $2 million in just two weeks. This is because LHINU is already trending in the crypto community.
Its vote-to-earn concept and shareable voting cards are proving to be a major hit with social platforms like Reddit. This ability to create hype so early has only been mirrored by a selection of other crypto launches.
For example, Shiba Inu went from a new meme coin to a multi-billion dollar crypto in just a year. This is because of the amount of hype and FOMO circulating in crypto circles.
If Love Hate Inu is able to follow a similar trajectory, combined with an impending bull market; presale investors could do very well.
Love Hate Inu Presale Details and Tokenomics
100 billion LHINU tokens have been created. 90 billion, or 90% will be sold during the presale campaign. 10 billion, or 10%, will be retained by Love Hate Inu for liquidity, exchange listings, and vote-to-earn rewards.
With 90% of the supply owned by investors and voters, this keeps the project sustainable. It also ensures that the Love Hate Inu community dictates how the project is run. In theory, if a change to the ecosystem is to be made, this should first go to a poll. And of course, only those staking LHINU will be able to vote.
| | | | | | |
| --- | --- | --- | --- | --- | --- |
| Presale Stage | Token Price | Amount of Tokens | Token Percent | Total Raise | Stage End Date |
| 1 | $0.000085 | 11,250,000,000 | 12.5% | $956,250 | (Soft launch) + 7.5 days |
| 2 | $0.000090 | 11,250,000,000 | 12.5% | $1,012,500 | 7.5 days |
| 3 | $0.000095 | 11,250,000,000 | 12.5% | $1,068,750 | 7.5 days |
| 4 | $0.000105 | 11,250,000,000 | 12.5% | $1,181,250 | 7.5 days |
| 5 | $0.000115 | 11,250,000,000 | 12.5% | $1,293,750 | 7.5 days |
| 6 | $0.000125 | 11,250,000,000 | 12.5% | $1,406,250 | 7.5 days |
| 7 | $0.000135 | 11,250,000,000 | 12.5% | $1,518,750 | 7.5 days |
| 8 | $0.000145 | 11,250,000,000 | 12.5% | $1,631,250 | 7.5 days |
| Total | | 90,000,000,000 | 100% | $10,068,750 | |
As per the table above, Love Hate Inu is looking to raise just over $10 million during the presale. Based on 90% of the tokens being in circulation, this means that LHINU will list on an exchange with a market capitalization of approximately $9 million.
This offers an attractive entry price for future growth. With that said, if an entire batch of LHINU isn't sold during a particular stage, the price will increase after 7.5 days nonetheless.
Just remember that stage eight investors will pay 52% more than the current presale round. Therefore, the earlier the investment, the greater the upside.
LHINU Price Prediction: How Big Can Love Hate Inu Get?
While price predictions are often sought-after by investors, knowing the future value of a specific token can be challenging. This is because crypto token prices are usually dictated by the broader market. For instance, when Bitcoin goes on a prolonged bull run, altcoins usually follow suit.
Nonetheless, based on its innovative vote-to-earn concept and the amount of hype already created, Love Hate Inu could follow a similar path to Shiba Inu. Here's our Love Hate Inu price forecast:
For example, CoinMarketCap states that Shiba Inu was initially trading at just $0.0000000000134 in mid-2020.
12 months later, Shiba Inu was priced at $0.00000801
This represents 12-month gains of 59 million percent
At its peak in November 2021, Shiba Inu hit a price of $0.0000792
Compared to its initial listing price, this represents growth of over 589 million percent
Returns of this nature are unprecedented but are reflective of what's possible when investing in a project at the earliest stage possible.
As noted above, the projected market capitalization of LHINU after the presale is approximately $9 million. If LHINU is able to replicate Shiba Inu's $40 billion valuation, this would generate gains of over 440,000 percent once LHINU is listed. Gains would be even higher for current presale investors, considering the discount on offer.
However, whether or not Love Hate Inu can mirror the same growth journey as Shiba Inu remains to be seen. Crypto assets are volatile and unpredictable, so do consider the risks before proceeding.
To diversify and reduce the risk, consider reading our guide on the best low-cap coins to buy.
How Crypto Analysts View Love Hate Inu
One of the most effective ways to find 100x gems is through respected crypto analysts.
We found an in-depth evaluation of Love Hate Inu via Jacob Bury, which is home to one of the best crypto Discord groups.
As per the above video analysis, Jacob Bury believes that Love Hate Inu could go on to become the most profitable crypto to buy in 2023. This sentiment is shared by many other crypto investors in this space.
Conclusion
Love Hate Inu has the required tools to become the next crypto success story. Its utility token, LHINU, fuels the project's vote-to-earn and stake-to-vote mechanisms.
90% of the total supply will be sold during the Love Hate Inu presale, so most tokens will be held by investors and voters.
Best of all, early investors can secure a first-mover advantage today, with a presale discount of over 50% on offer.
FAQs
How to Buy Love Hate Inu Tokens?
How many LHINU tokens are there?
What is the market cap of Love Hate Inu?