RenQ Finance is an upcoming crypto project that envisions providing a decentralized, multi-chain DeFi platform that covers most things concerned with DeFi and NFTs. The project is in the last phase of the presale, which will likely push many to act out of FOMO – Fear of Missing Out.  But is RENQ coin a good investment?
This guide assesses how to buy RenQ Finance tokens and whether it is a good investment for DeFi enthusiasts in the current ecosystem, which is regulatorily ambiguous.
RenQ Finance – Key Points
RenQ Finance claims to be the one project that will make DeFi truly accessible and decentralized.
That has been partly the reason behind the success of this presale as of now. But thorough research is still necessary, especially in the crypto space where the promises hardly match the end results. With that in mind, here are the key points of this project.
A DeFi token, RenQ Finance aims to bring together all the isolated blockchains and establish a cross-chain asset exchange network.
It is attempting to bring security, transparency, and accessibility to the blockchain, which is a DeFi-specific trilemma that the crypto ecosystem hasn't been able to solve yet.
RenQ Finance covers a multitude of elements, including wallet, exchange, bridge, farms, vault, pools, perpetual, options, DeFi Launchpad, NFT Launchpad, and more.
50% of all the native tokens of this platform – RENQ – have been dedicated to the presale.
According to the roadmap, RenQ Finance is poised to launch the testnet by the third quarter of 2023.
How to Buy RenQ Finance – Quick Guide
RenQ Finance is on the last round of its presale, where the price of the token is $0.055. With the listing price set at $0.07, people have a chance to make gains even though it is the last stage. Here is a quick guide on how to buy RenQ Finance during the presale.
Visit the official website, renq.io.
Connect your wallet.
Swap your ETH/USDT to buy RenQ Finance tokens.
Claim your tokens during the token generation event (TGE) once the RenQ Finance presale ends.
What is RenQ Finance?
RenQ Finance aims to homogenize DeFi by making cross-chain asset exchange possible.
While RenQ Finance's primary focus is on DeFi, aspects like NFTs are also covered – which may be why this project is trying to stretch too much – according to some experts.
RenQ Finance is a crypto project that aims to provide an all-in-one solution for all crypto trading requirements. According to the official whitepaper, the aggregation protocol, which allows RenQ to interact with other DEXs, allows the platform to have limitless liquidity.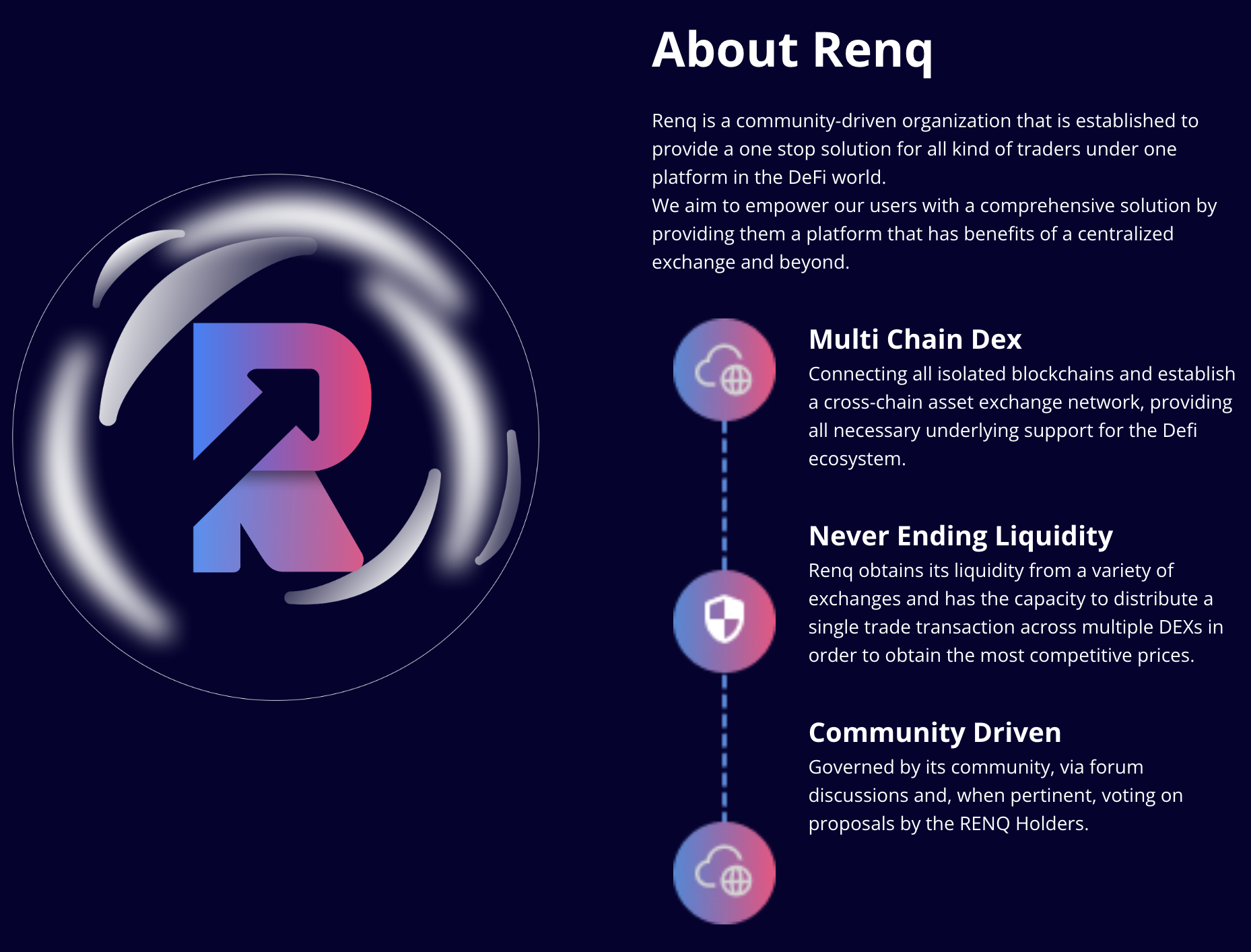 Users may be able to use an order book to reduce the spread. The platform also says that users will get access to high leverage. These features would be underpinned by a security feature that doesn't store any user information and offers 2FA modules.
RenQ Finance's ecosystem covers the following aspects:
DeFi Wallet uses AI-driven mechanics to keep the user's assets secure. Investors may use the wallet to access DEX and CEX.
Cross-Chain Swap is RenQ Finance's main USP. It allows users to trade all types of digital assets on one platform.
Decentralized Exchange with the user-interactivity common in centralized exchanges. The module promotes transparency on a "price-time-priority" basis.
Aggregation protocol that allows RenQ Finance to get liquidity from other decentralized exchanges.
Farms that will allow users to stake LP (Liquidity Pool) tokens and earn rewards.
RenQ pools to distribute to RenQ tokens.
The RenQ Vault, which is a multichain yield optimizer, allows users to compound their interest in their crypto holdings.
The lending protocol allows users to lend and borrow assets such as cryptocurrencies and NFTs.
Other features include perpetuals, options, DeFi Launchpad and NFT Launchpad. These disparate attributes can enhance DeFi participation, but if the project doesn't deliver the promises mentioned in the roadmap, the same attributes can be the project's undoing. This is why it is a good idea to check out the project's social media handles from time to time.
The ecosystem is powered by RENQ tokens. It is an ERC-20 token with a total supply of 1 billion. 500 million of all the RENQ tokens are available to buy on presale.
The Role of RenQ Tokens
RENQ tokens have multiple utilities. But their core functionality, other than being a tradable asset, is divided into two parts.
Governance
RenQ Finance says that it's a community-centric token. That means RENQ holders are allowed to become a part of RenQ Finance's governance. Holders will get to decide on the governance model while the project is still in development.
Proposal and Voting on Forums
RenQ Finance allows the community members to submit ideas on the forms in an effort to decide the project's progress. Proposals will be created based on RENQPOWER. And while it is not clearly stated, the number of tokens might dictate a person's RENQPOWER.
What is RENQPOWER?
RENQPOWER has not been given a specific definition in the official whitepaper. But at first glance, it can be equated to the say people will have in deciding the future of RenQ Finance.
Reasons to Invest in RenQ Finance
RenQ Finance's native crypto – RENQ – is currently available as a presale. By virtue of being a presale asset alone, it is a good investment for those who want to become early movers. But at the moment, the only growth driver for it would be the listing anticipation. The listing price has been set at $0.070. Since that price is more than the final-stage price of the RENQ token, a post-ICO dumping event may happen. But that could also be after a brief pump, which may push the RENQ price up 5 to 6x.
So for that small window of opportunity, RenQ Finance might be a good investment for those who can act early – crypto ICOs are often very volatile.
But the token's long-term benefits are also prevalent. However, when we checked the channel's official Twitter account, most tweets were about the token hitting the presale milestone. There was no mention of any substantial development for this project's ecosystem.
Therefore, long-term investors might want to hold off until they see a significant platform-related development discussed on social media platforms.
RenQ Finance Presale Details and Tokenomics
As we mentioned earlier, RenQ Finance has a total supply of 1 billion tokens. And 50% of it has been dedicated to the presale. Here are details different stages RenQ Finance went through till this stage.
| | | |
| --- | --- | --- |
| Stage | RenQ Finance Price | Cumulative Raise |
| 1 | $0.02 | $690k |
| 2 | $0.025 | $1.662M |
| 3 | $0.003 | $1.996M |
| 4 | $0.035 | $2.327M |
| 5 | $0.04 | $2.660M |
| 6 | $0.045 | $2.992M |
| 7 | $0.05 | $3.325M |
| 8 | $0.055 | $3.657M |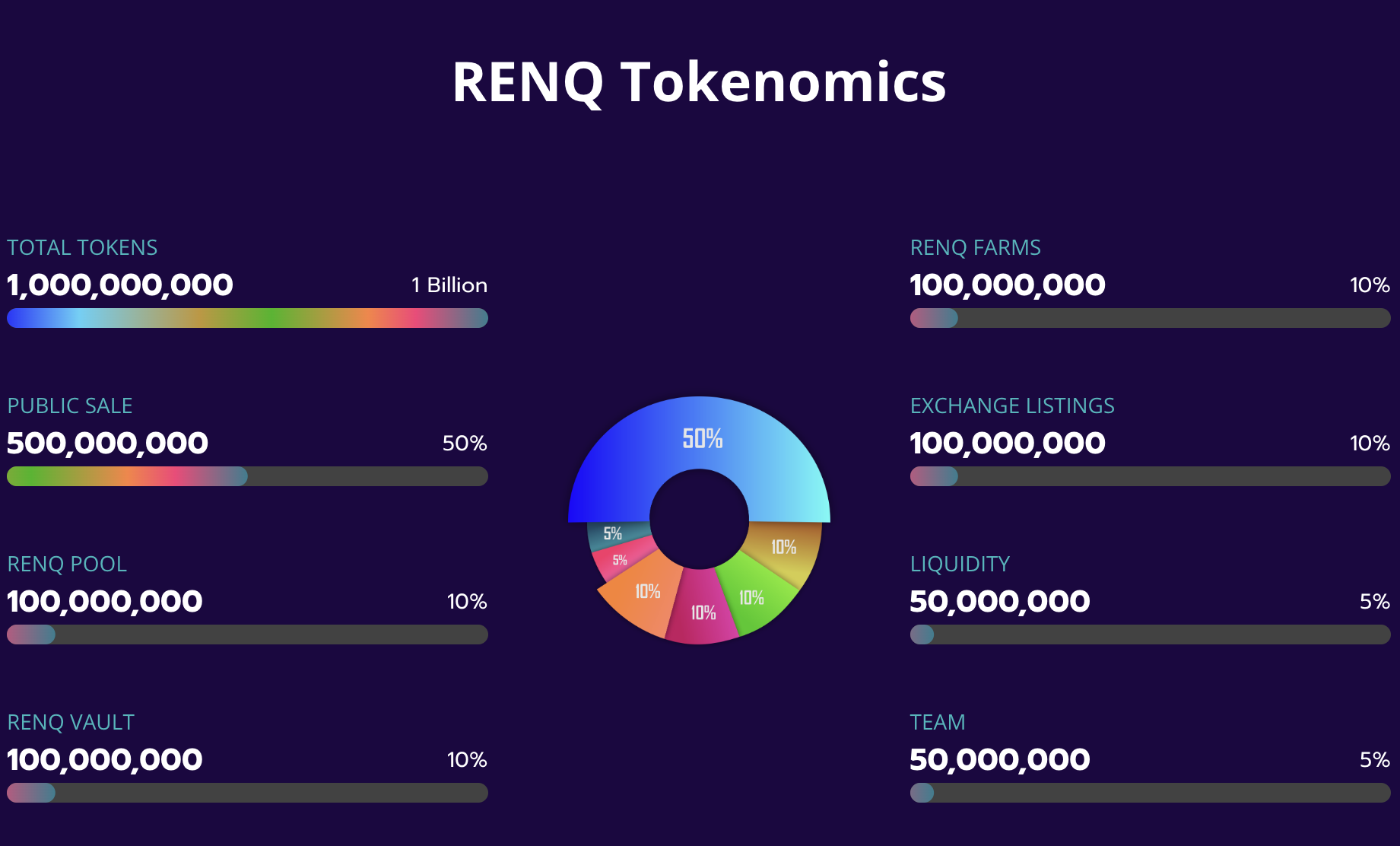 The remaining 500 million tokens are divided among the following elements.
RenQ Pool – 100 million
RenQ Vault – 100 million
RenQ Farms – 100 million
Exchange listing – 100 million
Liquidity – 100 million
Team – 50 million
RenQ Finance Price Prediction: How Big Can RenQ Finance Get?
RenQ Finance is currently in the presale, and when the listing day arrives, the token is going to go through a pump before a correction. It can peak at $0.1 during the first few weeks of listing and may then retrace to early presale levels.
And once people start to see major development happening in the ecosystem, bullish investors might come to rally again. Crypto regulations, however, will also play an important part since it is a DeFi token. If the regulations are progressive, we may see a major rally, but with regressive regulations – which may be likely the case – people may consider selling off their holdings.
Check out our RenQ price prediction article for more information.
Conclusion
RenQ Finance is an interesting crypto project that is trying to unify all the disparate concepts of DeFi and make it more accessible. The project has a robust roadmap, but so far, we couldn't find anything in its social media accounts that can give us a hint about its progress.
So, while the token will make definite gains after the first listing, investors must only consider buying RenQ Finance after they have seen significant development in RenQ's ecosystem.
Meanwhile, other alternative presales with an accessible roadmap might be better options for early movers.
FAQs
How to buy RenQ Finance tokens?