In today's ever-changing world, crypto has become more than just an investment opportunity but also a way to make payments online and in person. Crypto is now broadly accepted in the luxury market, allowing shoppers to purchase high-end products like Rolexes.
This article will discuss how to buy a Rolex with Bitcoin in detail, covering all of the necessary steps to acquire one of these premium timepieces safely, before highlighting some key reasons why using BTC to fund a Rolex purchase could be advantageous to shoppers.
How to Buy Rolex with Crypto – Quick-Step Guide
Before we discuss where to buy a Rolex with Bitcoin, here's a brief overview of the purchasing process, which should take buyers around 15 minutes to complete:
Step 1 – Set Up a Crypto Wallet: Set up a crypto wallet from a reputable provider; for example, MetaMask or Trust Wallet.
Step 2 – Acquire Bitcoin: Buy Bitcoin from a secure cryptocurrency exchange.
Step 3 – Choose a Marketplace to Buy a Rolex: Decide which marketplace to purchase a Rolex from – Crypto Emporium is an excellent option due to its vast product range and 24/7 customer support.
Step 4 – Decide Which Rolex to Purchase: Browse the massive selection of Rolexes at Crypto Emporium, add one to the shopping cart, then proceed to checkout.
Step 5 – Buy a Rolex with Bitcoin: Input the relevant delivery details, then transfer the necessary amount of Bitcoin to the wallet address displayed on-screen. Once the transfer is complete, the order will be confirmed via email.
The 9 Best Places to Buy a Rolex with Bitcoin
More shoppers than ever are looking to discover how to pay with Bitcoin when purchasing items online – mainly due to the low fees and speedy transactions it offers. This has prompted thousands of merchants to begin accepting BTC (and other cryptos) as a payment method.
For those that wish to buy a Rolex with cryptocurrency, it's vital that the chosen merchant is safe and secure and offers these timepieces at an acceptable price point. With that in mind, listed below are 9 highly-respected marketplaces where shoppers can purchase Rolexes with Bitcoin today:
1. Crypto Emporium – Overall Best Place to Buy a Rolex with Cryptocurrency
When it comes to where to buy a Rolex with Bitcoin, one marketplace stands out from the rest – Crypto Emporium. Crypto Emporium is a popular online marketplace that specializes in accepting crypto payments. At the time of writing, the marketplace supports seven different coins, including Bitcoin, Ethereum, Dogecoin, and Litecoin.
This e-commerce platform mainly excels due to its diverse product range. Products available on Crypto Emporium include designer clothing, game consoles, jewelry, electronics, home accessories, and much more. Excitingly, Crypto Emporium even lists a selection of luxury properties located in places like Italy, Greece, and the US.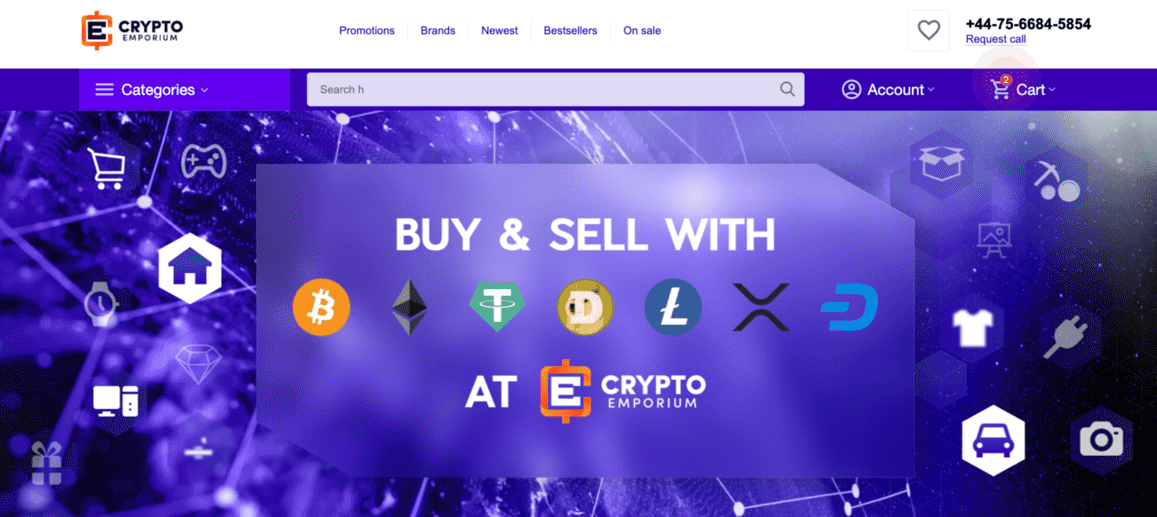 However, those wondering how to buy a Rolex with crypto will be glad to know that the marketplace has a vast range of high-end timepieces. Shoppers can easily filter the timepiece range to only show Rolexes, priced from 0.61 BTC up to 36.10 BTC for the "Rolex Daytona Rainbow Pave Factory."
To buy a watch with Bitcoin, shoppers must simply add the desired timepiece to their cart, head to checkout, and input the relevant delivery details. Crypto Emporium will then provide a unique wallet address – shoppers need to make a transfer to this address to confirm the purchase. Once approved, Crypto Emporium will get to work on shipping the item.
Aside from Rolexes, Crypto Emporium also stocks a diverse selection of high-end brands. These brands include Audemars Piguet, Hublot, TAG Heuer, Patek Philippe, Richard Mille, and many more.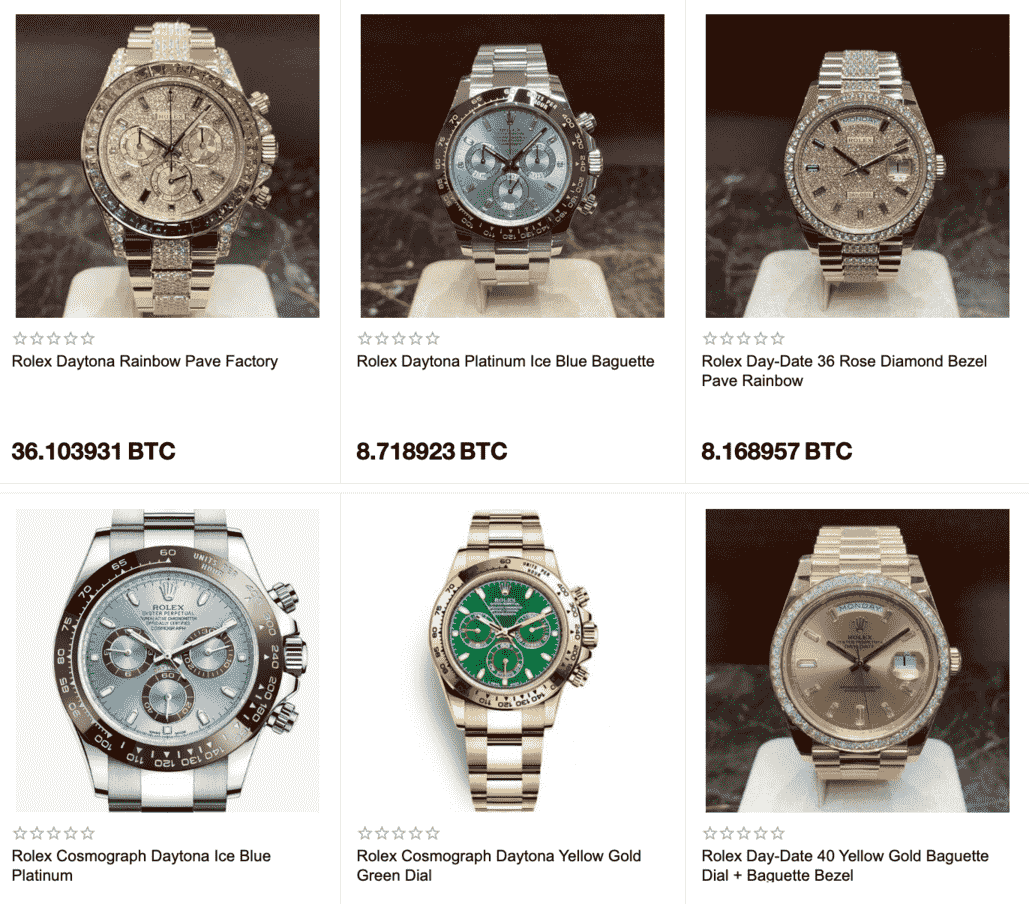 Another great feature offered by Crypto Emporium is the marketplace's cashback setup. Shoppers will receive 4% back on all purchases made on the platform, provided in "Rewards Points." So, if a shopper buys a Rolex worth $20,000, they'll be given $800 in Rewards Points, which can be converted into crypto after 30 days.
Crypto Emporium even has a handy referral program whereby shoppers will receive a unique link to distribute to friends and family. Whenever someone purchases using this link, the shopper will receive a commission. This commission is uncapped – the more people they bring to the marketplace, the more money they'll earn.
Those looking to learn more can check out our in-depth Crypto Emporium review, where we dive into everything shoppers need to know about this marketplace.
2. BitDials – Luxury Marketplace Offering 100+ Rolexes Denominated in BTC
Another excellent place to buy a Rolex with cryptocurrency is BitDials. BitDials is a unique online marketplace that has been in operation since 2016. As one of the world's premier "cryptocurrency boutiques," BitDials offers a massive selection of watches, jewelry, and cars that shoppers can check out.
One of the most appealing facets of BitDials' platform is its transparent pricing setup. All watches are listed with their price denominated in Bitcoin, making it easy for shoppers to know exactly how much they need to pay. However, BitDials doesn't just accept BTC – the marketplace also accepts many of the best altcoins on the market.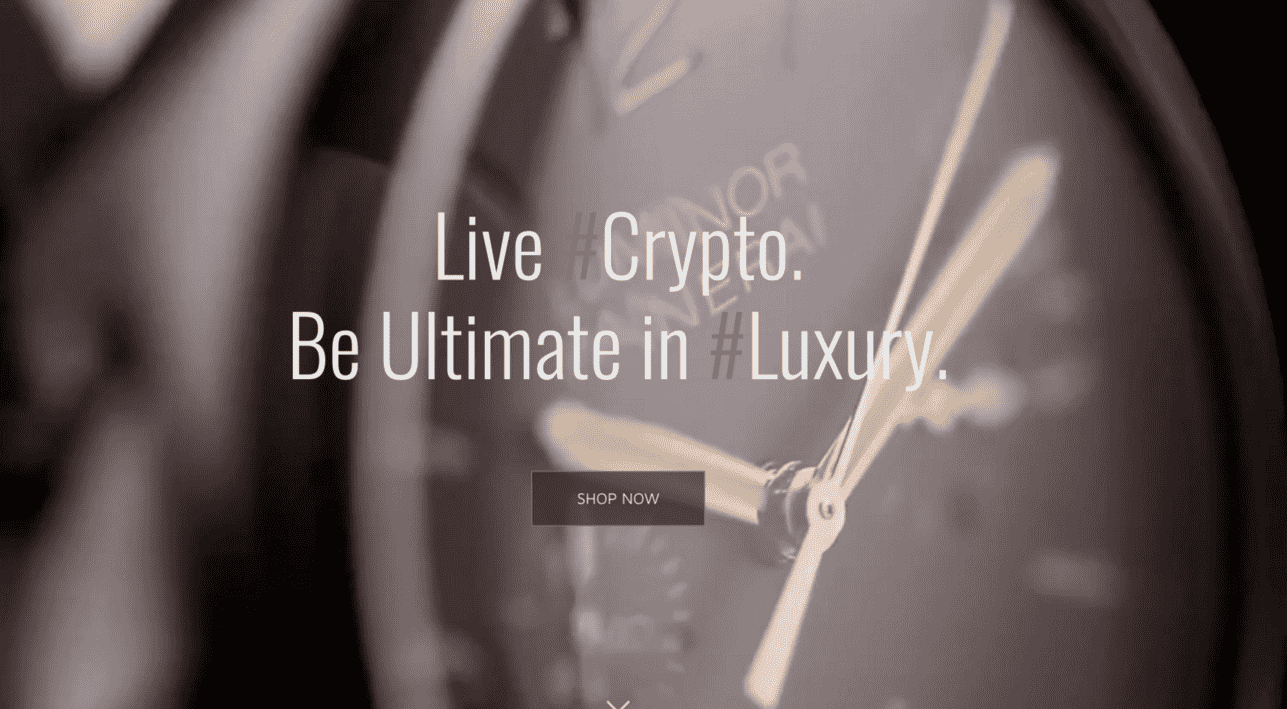 Much like Crypto Emporium, BitDials has a diverse selection of Rolexes for shoppers to consider. Some models listed by BitDials include the Yacht-Master II, Submariner "Hulk," and the Sky-Dweller.
When it comes to where to buy a Rolex with crypto, credibility is undoubtedly a key factor to consider – and BitDials has this in abundance. The marketplace has been featured in many well-known media outlets and boasts a 4.8/5 rating on Trustpilot.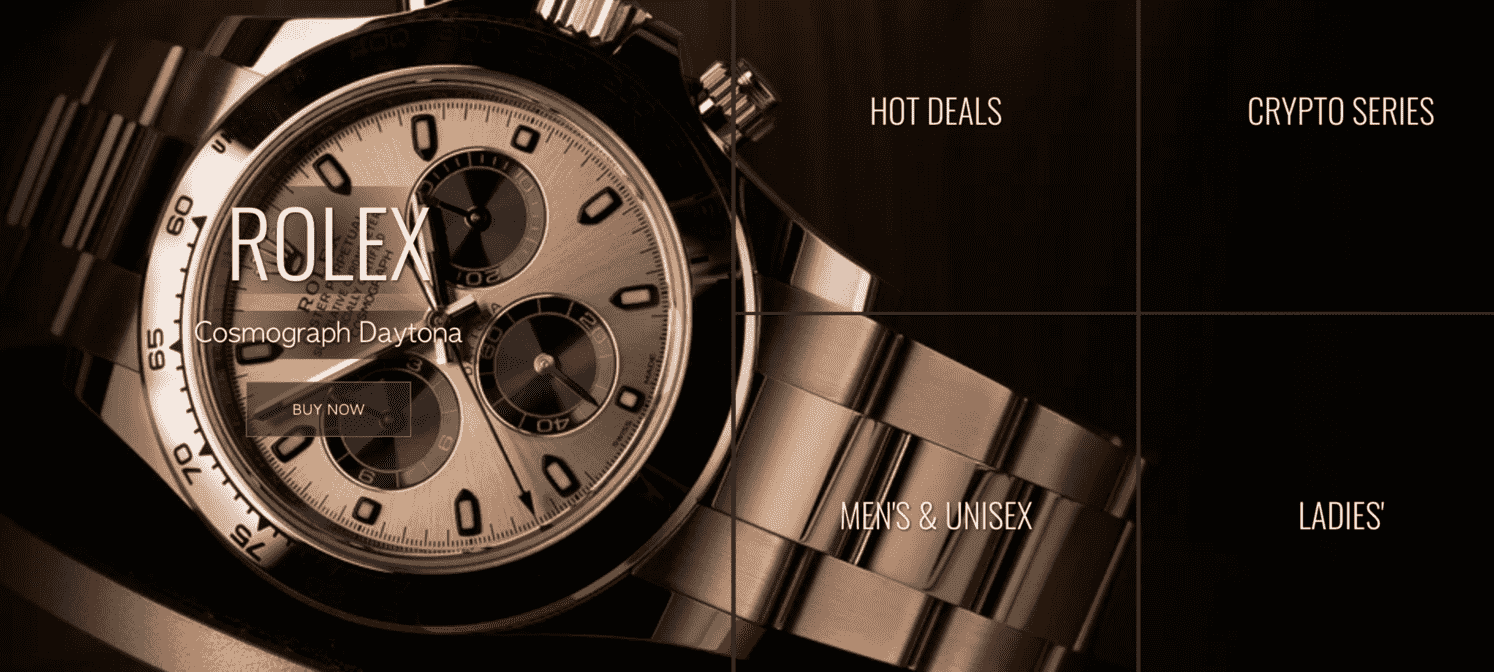 Another great feature of the BitDials marketplace is that it offers everyone a sort of "personal shopper" experience. Shoppers can click the "Send Enquiry" button to enquire about purchasing a specific watch or piece of jewelry. The BitDials team will then contact their extensive network of suppliers and provide a reply within 24 hours detailing the cost and estimated delivery time.
Ultimately, those wondering what can you buy with Bitcoin will surely find a product that meets their needs by partnering with BitDials. The marketplace even allows shoppers to purchase gold bullion and gold coins – ideal for investors looking to diversify their portfolios.
3. Swiss Watch Trader
Shoppers researching where to buy a Rolex with Bitcoin may also consider checking out Swiss Watch Trader. This safe and reliable platform specializes in selling (or buying) pre-owned watches and has been doing so for over 13 years. Importantly, all watches offered by Swiss Watch Trader are certified as authentic and come in their original boxes.
A glance at the marketplace's product range will highlight just how many Rolexes are for sale. Almost every model is available, ranging from Submariners to Daytonas – and even a selection of vintage Rolex timepieces.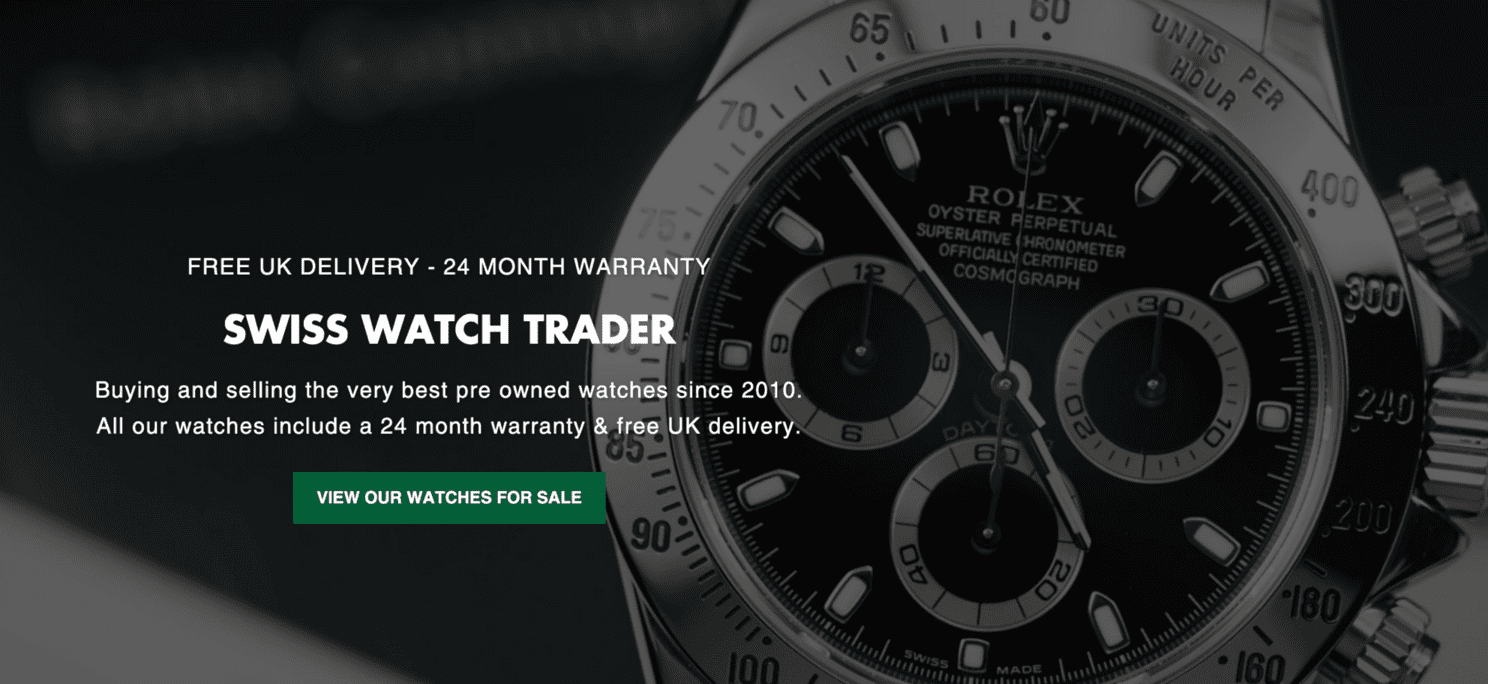 The Swiss Watch Trader website is user-friendly and ideal for those making an online crypto payment for the first time. Shoppers can easily filter the watch selection by brand or model number. However, all watches will be denominated in either USD, EUR, or GBP, so shoppers must manually convert the price into BTC.
Those already owning a Rolex can also sell their timepiece directly to Swiss Watch Trader. Notably, only watch purchases can be made using Bitcoin – sales will be finalized via a FIAT transaction.
4. Jura Watches
Jura Watches has a stellar reputation amongst watch enthusiasts, mainly due to the unparalleled selection of products on offer. Those involved in tax-loss harvesting to avoid crypto taxes may be interested in purchasing some luxury items with the proceeds – and Jura Watches is one of the top places to do so.
This marketplace offers pretty much every watch brand that there is for both men and women. With extensive filtering options, shoppers can narrow the product range based on brand, dial color, movement type, case size, and case material.

Jura Watches offers free next-day delivery (for UK-based shoppers) and a 30-day money-back guarantee. This is ideal for those wondering how to buy a Rolex with Bitcoin since Jura Watches has a "no questions asked" policy regarding returns.
Aside from new watches, Jura Watches also stocks an array of pre-owned timepieces. Shoppers can even check out the platform's range of gifts and accessories, including watch straps, travel cases, watch winders, and more.
5. Prestige Time
No discussion of where to buy a Rolex with Bitcoin would be complete without mentioning Prestige Time. Prestige Time is a well-established online luxury watch retailer offering new and pre-owned timepieces from the world's top brands.
Brands on offer at Prestige Time include Rolex, Tudor, TAG Heuer, Breitling, and many more. Not only does Prestige Time offer competitive pricing relative to the other entries on our list, but the marketplace also focuses on customer service by enabling shoppers to contact them via email, telephone, fax, or in person.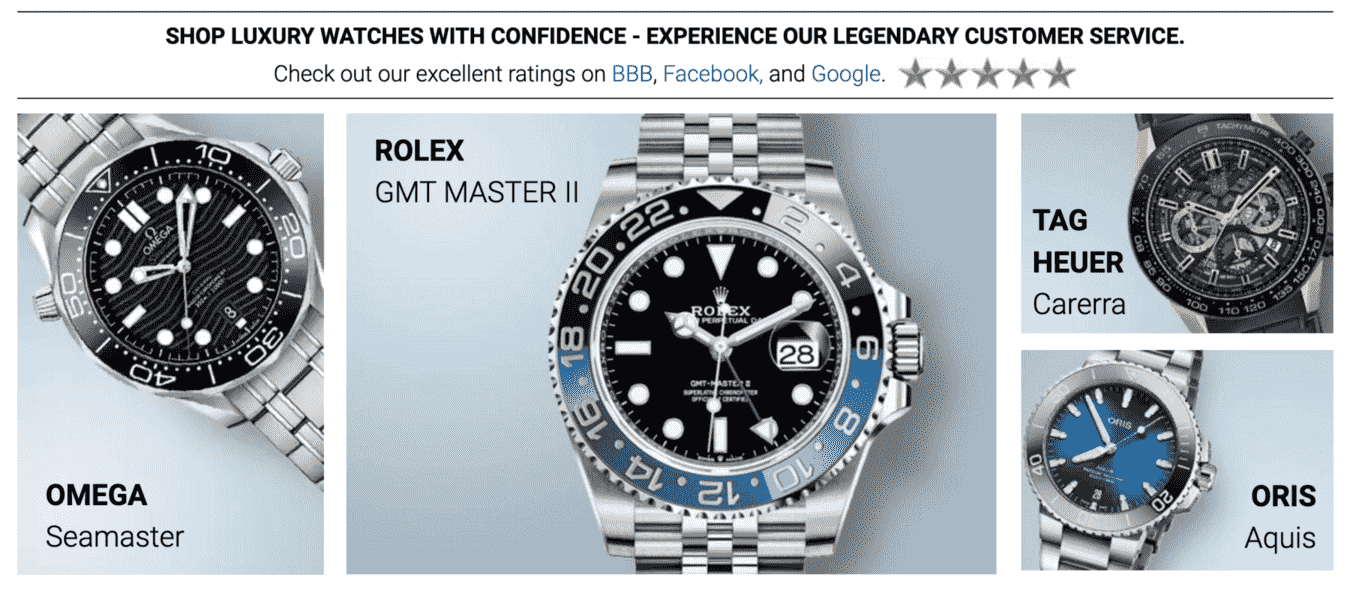 All of the products on Prestige Time's website feature high-quality images and in-depth descriptions, which is crucial for those purchasing a Rolex for the first time. The Prestige Time team inspects all watches for authenticity and even allows shoppers to trade in their own timepieces.
At the time of writing, Prestige Time accepts various cryptos, such as BTC, BCH, LTC, and XRP. Importantly, Prestige Time uses a payment gateway to accept crypto payments – meaning those who ask for a refund will only be reimbursed in FIAT.
6. Bitrefill
Bitrefill occupies a unique spot on our list of the best places to buy a Rolex with Bitcoin. Instead of offering Rolexes directly, Bitrefill actually sells over 5,000 gift cards for the world's top brands – with many of them specializing in premium timepieces.
For example, shoppers wondering how to buy a Rolex with Bitcoin can use Bitrefill to acquire gift cards for well-known marketplaces like Watch Direct, Al Shaya Watches, and Watch Depot. These gift cards can then be used to supplement purchases made through these marketplaces.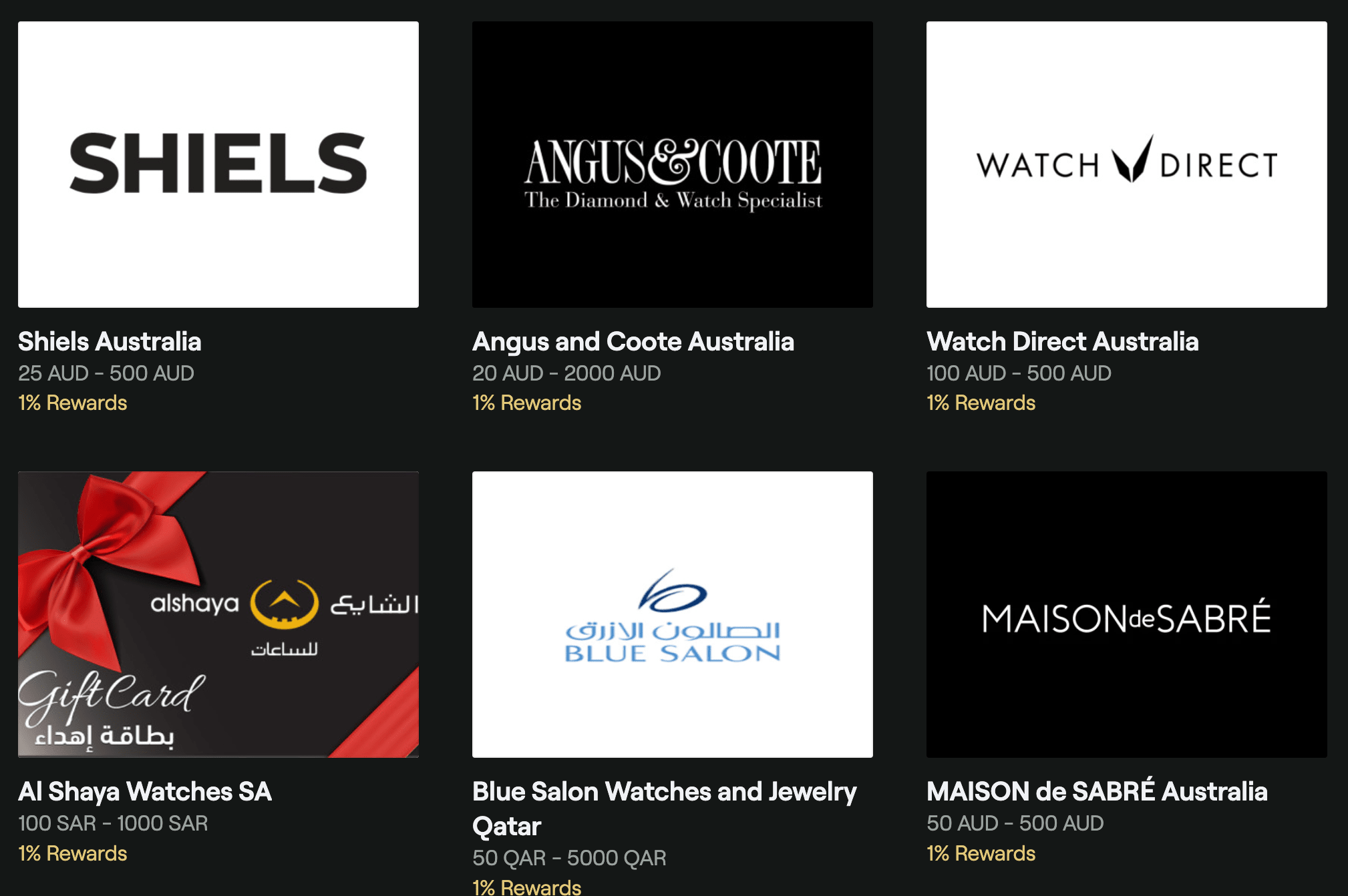 Bitrefill is one of the few e-commerce sites accepting lesser-known cryptocurrencies. Due to this, those seeking out who accepts Dogecoin will likely gravitate to this site since it permits payments made directly or through Binance Pay.
Once the payment has been received, Bitrefill will instantly send over the gift card via email, which is redeemable immediately. Bitrefill even has a "Refer-a-Friend" program that gifts $5 to shoppers and their friends after they've both spent $50 each on the platform.
7. Timepiece Bank
Timepiece Bank is another well-known online retailer specializing in selling luxury watches. This retailer has been in operation since 2004 and has an extensive network of connections, meaning many watches are on sale at a discount.
For example, some of Timepiece Bank's major brands can be acquired for up to 20% off their recommended listing price. Moreover, Timepiece Bank's team can source niche timepieces from their supplier network – shoppers simply need to use the "Contact Us" feature.

Like many retailers, Timepiece Bank has partnered with BitPay to facilitate crypto transactions online. Through BitPay, shoppers can buy watches using well-known cryptos like Bitcoin, Ethereum, Dogecoin, and Gemini Dollar.
The process of purchasing from Timepiece Bank using crypto is exceptionally straightforward. Shoppers simply need to select BitPay at checkout, choose their preferred crypto asset, then scan the generated QR code to facilitate a transfer from their crypto wallet.
8. Banks Lyon
Regarding where to buy a Rolex with crypto, Banks Lyon is perhaps the most "exclusive" entry on our list. This award-winning UK-based jeweler has been around since 1985 and focuses solely on the more expensive timepieces available.
Banks Lyon's product range includes numerous Rolexes, including Yacht-Masters and Datejusts. All watches on Banks Lyon's site will be denominated in FIAT, although shoppers can easily pay for them using BTC.

The payment process works through Banks Lyon's partnership with Utrust, which means shoppers can purchase using many of the best cryptocurrencies. Unfortunately, the process isn't as streamlined as most other retailers – shoppers must manually contact the Banks Lyon team to pay using crypto.
However, Banks Lyon makes up for this by offering a range of rarely-seen services. These services include 0% finance on watch purchases, a price-match promise, and even watch servicing/repairs.
9. CryptoExchange.com
Rounding off our discussion of where to buy a Rolex with Bitcoin is CryptoExchange.com. Although its name may not evoke luxury, CryptoExchange.com is actually one of the most popular e-commerce sites for those looking to buy items using BTC.
At CryptoExchange.com, shoppers can purchase domains, gift cards, cars, real estate, and high-end watches. Some of the watches offered by CryptoExchange.com are reserved for the ultra-wealthy – and are priced at over $620,000.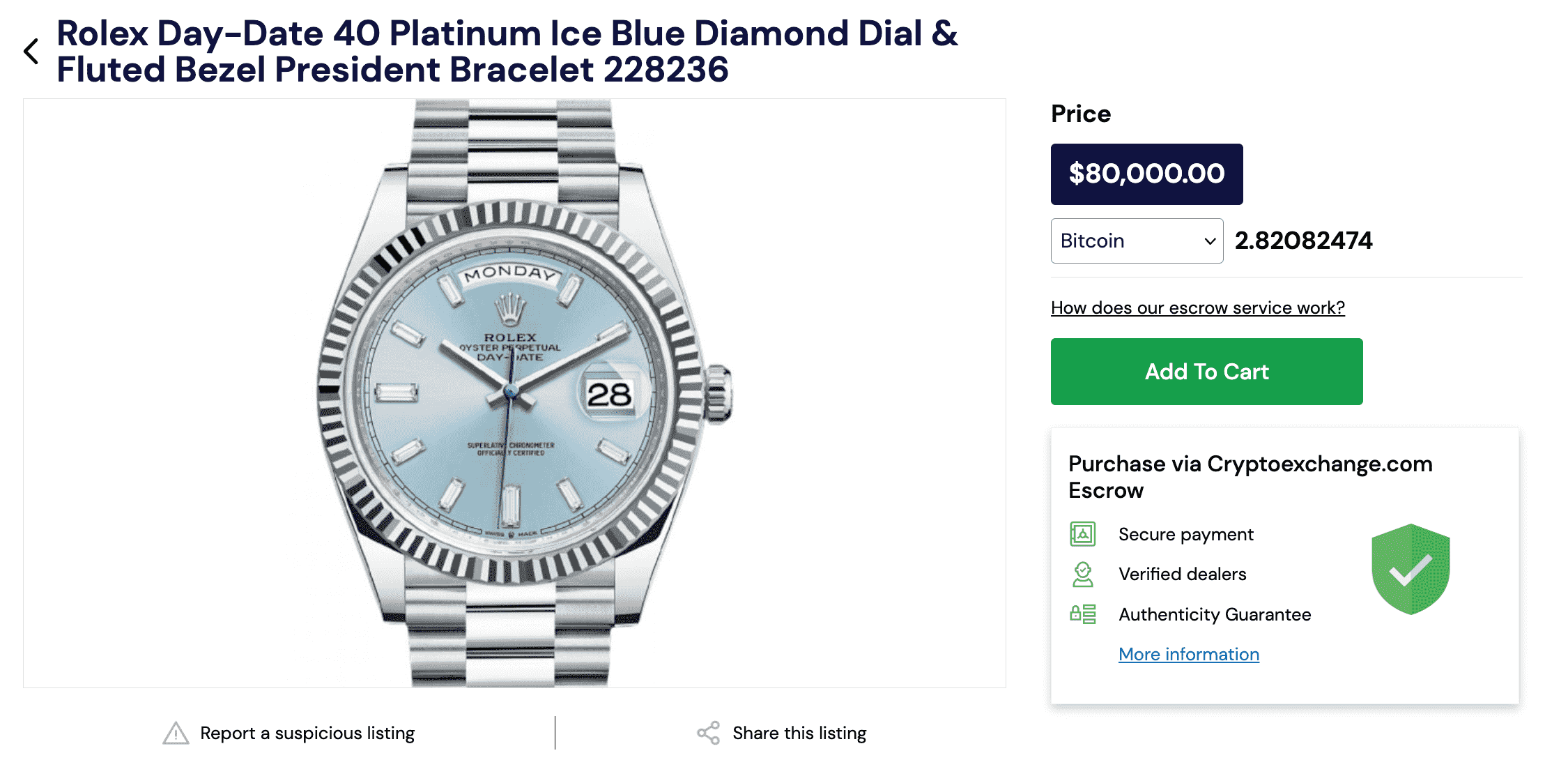 CryptoExchange.com utilizes an escrow service to protect buyers, which means that the seller only receives payment when the buyer has received the item and is happy with it. The marketplace also guarantees authenticity to add even more credibility to the process.
Finally, this platform even has a built-in exchange service to complement its luxury marketplace. This means shoppers can buy new cryptocurrencies while shopping for exclusive products – providing a truly "all-in-one" experience.
Key Reasons to Buy a Rolex with Bitcoin
The section above has discussed where to buy a Rolex with Bitcoin – but now let's focus on why a shopper may wish to use BTC instead of FIAT currencies. Listed below are five key advantages of making online payments using crypto:
Lower Fees
Shoppers wondering how to buy a Rolex with Bitcoin will be glad to know that the fees associated with making the final payment are usually much less than when using FIAT currency. This is because Bitcoin is inherently decentralized, so no intermediaries will take a "cut" of the transaction.
The lack of fees is even more apparent for shoppers making international transactions. Banks usually charge hefty fees for these transactions and may even add a markup to the currency conversion process. This isn't the case with crypto transactions, meaning it can be used as a cost-effective alternative.
Buyers Can Maintain Anonymity
Another critical reason why shoppers may wish to use BTC to purchase a Rolex is that they can maintain a degree of anonymity. As noted in a recent article by CNBC, the transactions on the blockchain can only be identified by a string of alphanumerical characters called a "public key."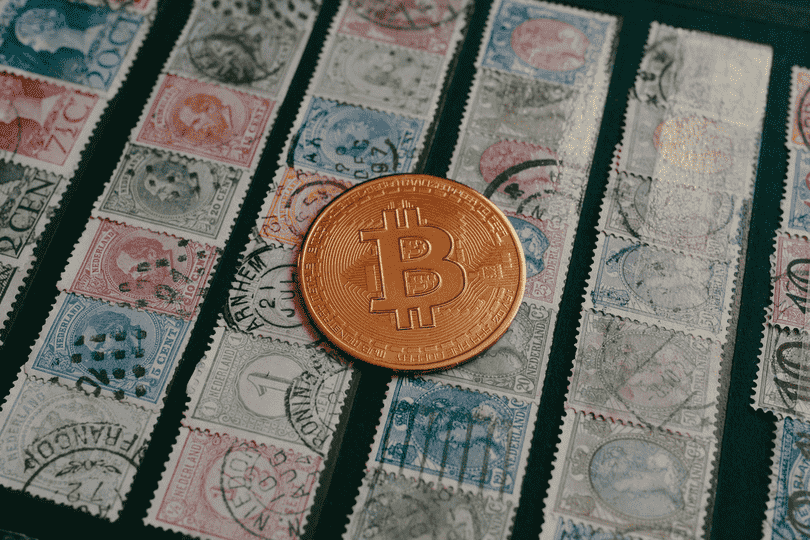 This means that buyers can make Rolex purchases without revealing their identity. For those who value privacy, using Bitcoin can be a great way to remain anonymous – which is something that isn't possible with FIAT transactions.
Increased Accessibility
Another benefit of using Bitcoin to buy a Rolex is that the process is much more accessible than the "traditional" buying process. Anyone with an internet connection can access the Bitcoin network, meaning populations of "unbanked" people can buy Rolexes without having to be involved in the banking network.
This is also great news for Rolex sellers since they can tap into a vast market of potential customers simply by accepting crypto as a payment method.
Safer Than FIAT Transactions
Finally, using Bitcoin or one of the best Reddit cryptos to make a Rolex purchase can often be safer than paying in USD, GBP, or EUR. The Bitcoin network is underpinned by advanced cryptography, meaning that transactions are incredibly secure and less vulnerable to fraud.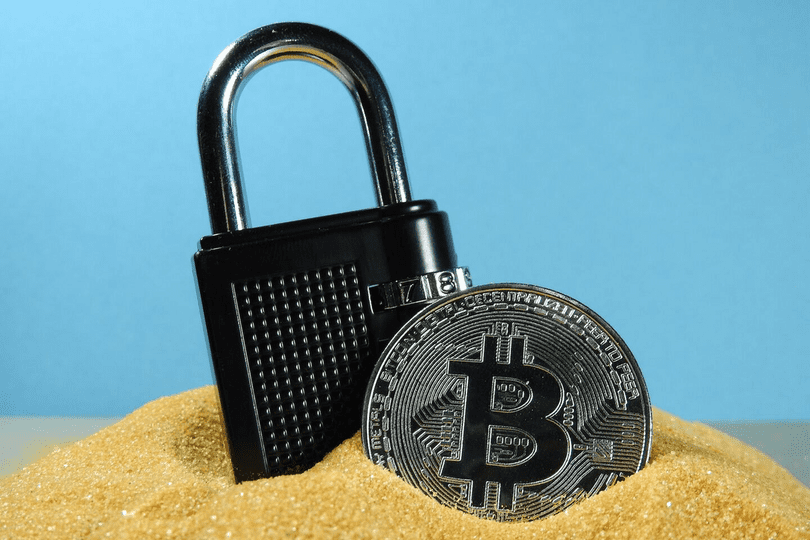 Moreover, since Bitcoin is decentralized, there's no centralized intermediary (e.g., a bank) that could potentially be hacked. In turn, this increases the safety level even further.
Super-Quick Settlements
Finally, buying a Rolex with Bitcoin is often considered faster than using FIAT. As noted by CoinMarketCap, the average confirmation time for a BTC payment is around 10 minutes. This is in stark contrast to traditional payment approaches, which can take hours (or even days) to settle, depending on the method used and whether it is an international transaction.
Can You Buy Rolex with Bitcoin Safely?
According to Statista, there are now over 9,000 cryptocurrencies available globally – with new ones springing up every week. However, Bitcoin remains the most well-respected out of all these coins, mainly due to its "first-mover" status.
Given this factor: is it safe to buy a Rolex with Bitcoin? Ultimately, the answer to this question will depend on various factors. These factors include:
The reputation of the chosen marketplace
Whether authenticity can be verified or not
The security of the purchasing process
The level of volatility in the BTC price
The first factor is undoubtedly the most important since this can be the difference between a safe purchasing process and a fraudulent one. This is why we recommend using marketplaces like Crypto Emporium and BitDials since both have been in operation for years and employ extensive security measures.
Overall, buying a Rolex with Bitcoin is akin to investing in the top trending cryptos because it's the shopper's responsibility to take the necessary safety precautions. This includes verifying the seller's reputation, checking the authenticity of the Rolex, and ensuring that a secure crypto wallet is being used.
How to Buy a Rolex with Crypto – Full Tutorial
At the start of the guide, we presented a brief overview of how to buy a Rolex with Bitcoin. Now, let's take a more in-depth look at this process since it differs significantly from using "traditional" FIAT currencies like USD and GBP:
Step 1 – Set Up a Crypto Wallet
The first step in how to buy a Rolex with crypto is to set up a crypto wallet. There are several options available, such as hardware wallets and software wallets. However, the most crucial factor to consider is the provider's credibility – that's why we recommend using either MetaMask or Trust Wallet, both of which are free to download and set up.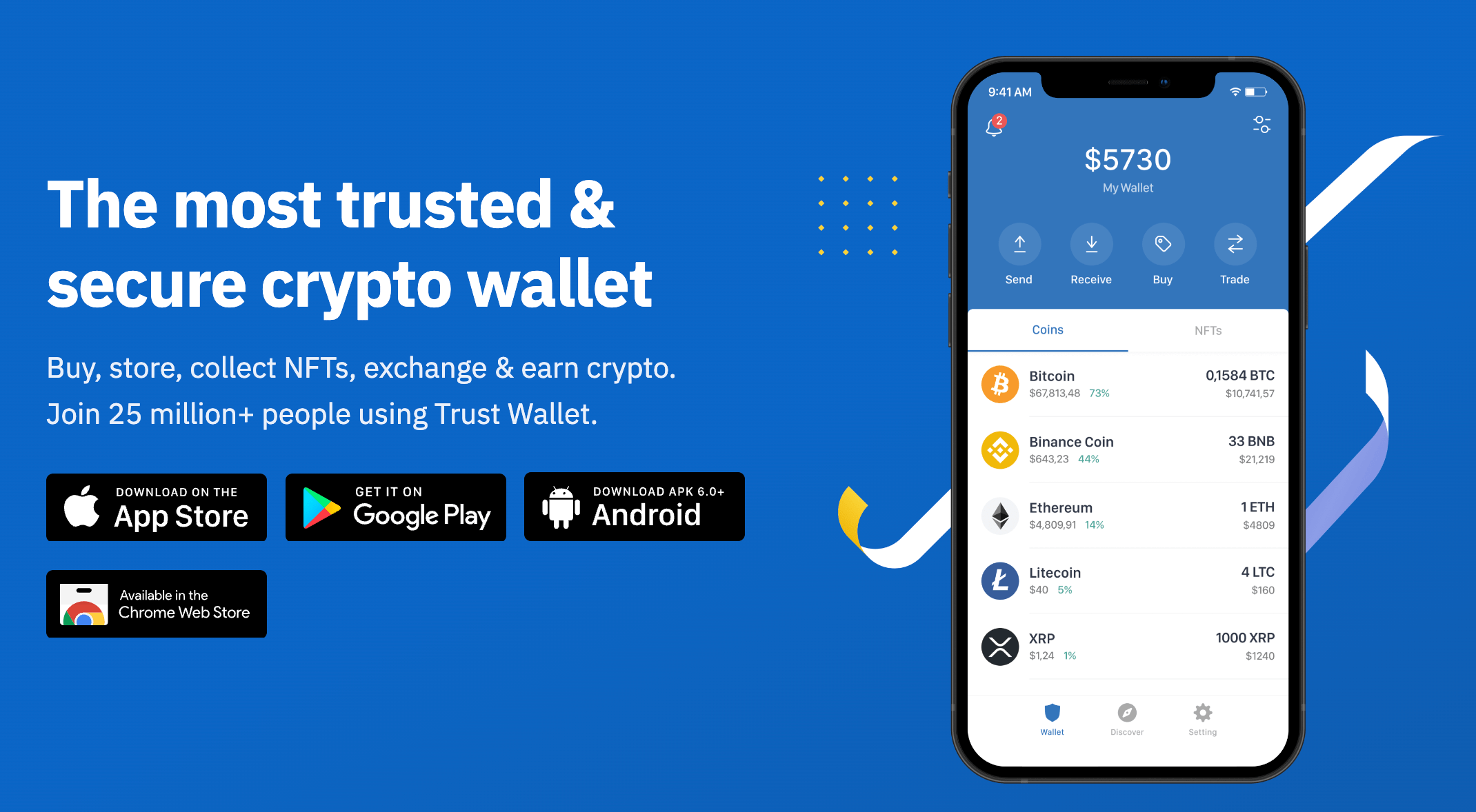 Step 2 – Purchase Bitcoin
Next, link the wallet to a reputable crypto exchange and buy some Bitcoin to fund the Rolex purchase. All top exchanges will offer Bitcoin as a tradable asset, so shoppers should choose one they feel comfortable using. It's crucial to buy a little more Bitcoin than is needed to cover associated network fees.
Step 3 – Choose a Rolex Marketplace
Several online marketplaces accept Bitcoin as payment for Rolexes. However, we recommend using Crypto Emporium since it's been around for over five years and offers shipping to 125+ countries globally. Those who use Crypto Emporium can register an account in minutes by providing personal details and creating a strong password.

Step 4 – Decide Which Rolex to Buy
Shoppers can then browse the selection of Rolexes on Crypto Emporium, filtering by name or price. Once an appropriate Rolex has been found, all left to do is add it to the cart and click the "Checkout" button.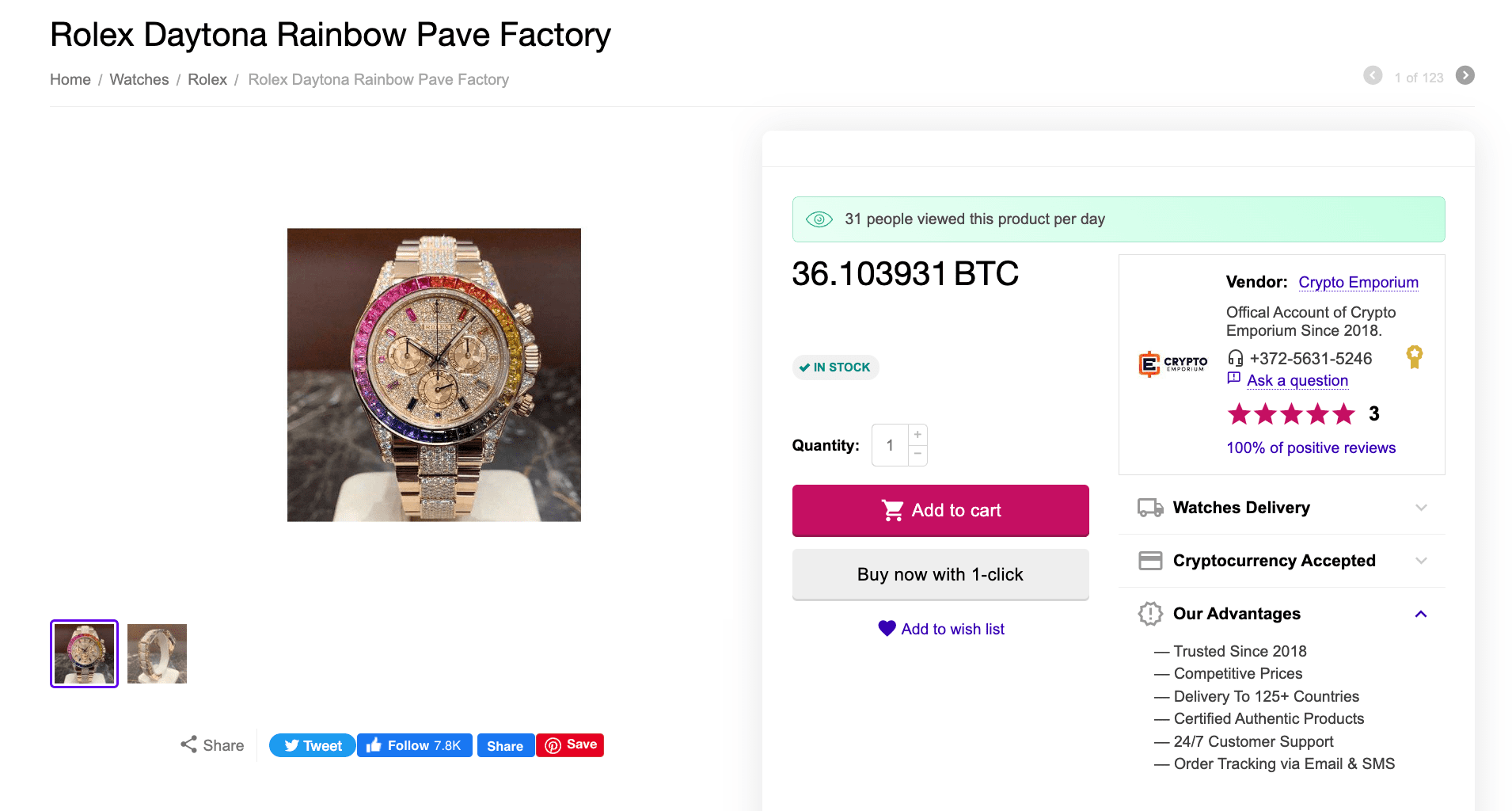 Step 5 – Send Payment & Wait for Delivery
On the checkout page, shoppers must provide additional personal details, choose Bitcoin from the drop-down menu, and input their delivery address. Crypto Emporium will update the order total to reflect the associated delivery fees.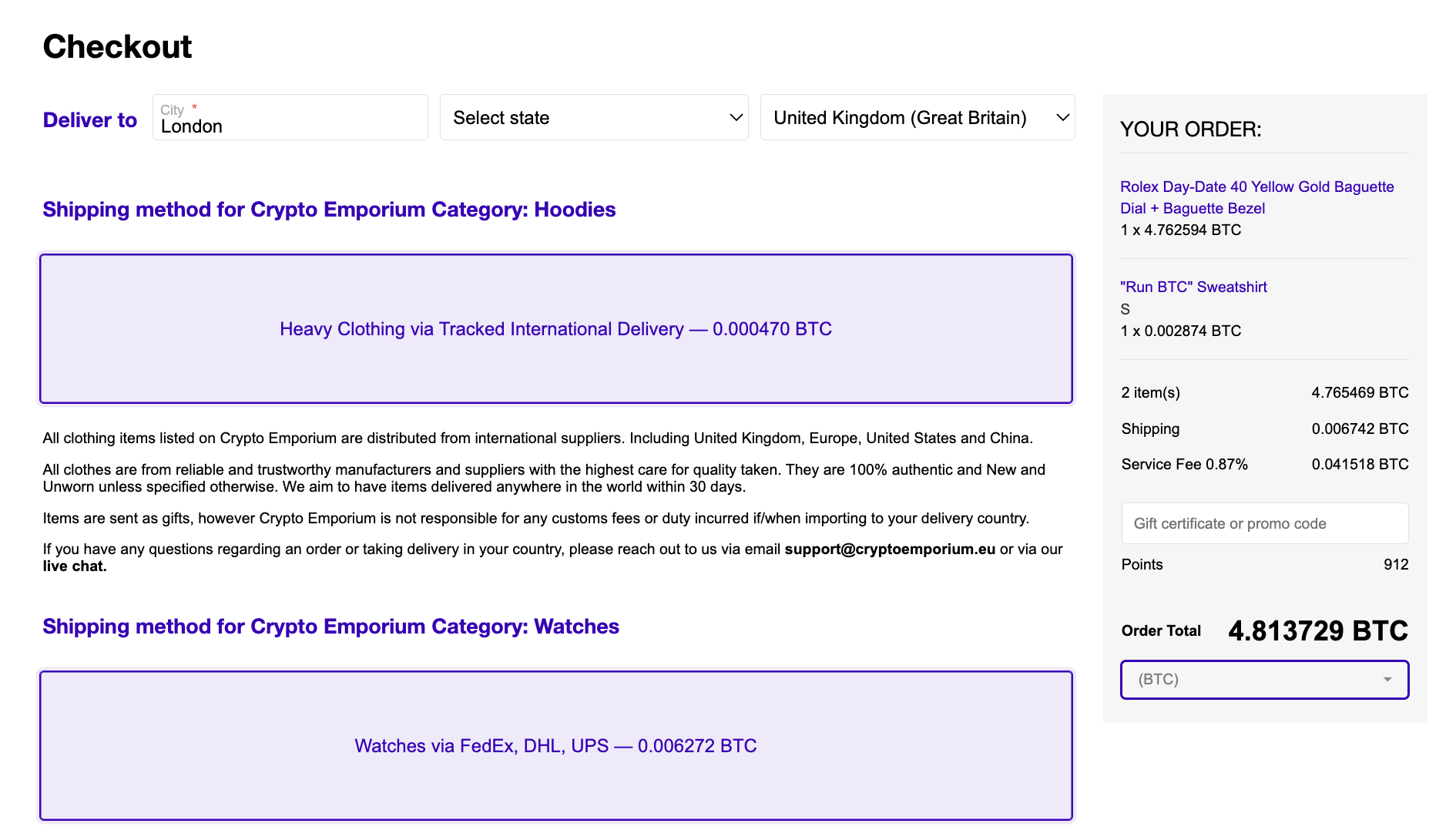 Once the order has been confirmed, shoppers must transfer crypto from their wallet to the address presented on-screen. After the transaction has gone through, Crypto Emporium will send over an email confirmation and then begin the shipping process.
How to Buy a Rolex with Bitcoin – Conclusion
In conclusion, this guide has discussed how to buy a Rolex with Bitcoin in great detail, reviewing 9 highly-respected marketplaces that permit crypto purchases, before detailing some of the key benefits of this approach.
Crypto Emporium, a leading online luxury marketplace, stands out as the premier destination for those looking to buy a Rolex with Bitcoin. This marketplace offers a diverse selection of timepieces, ensuring an enjoyable shopping experience for watch enthusiasts.
Shoppers will also benefit from 24/7 customer support and real-time order tracking via email/SMS. Moreover, Crypto Emporium's handy cashback feature will see shoppers receive 4% back on their Rolex purchase – which can be used to supplement additional purchases in the future.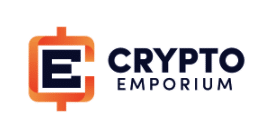 FAQs
Is it possible to buy a Rolex with BTC?