Shibie Coin ($SHIBIE) is a new meme cryptocurrency that has just been released on presale. The token is based on two pop-culture characters, Shiba Inu and Barbie.
This guide will show readers how to buy Shibie Coin on presale and talk about this meme coin's tokenomics and key features.
Shibie Coin Presale: Key Points
Before we look at how to purchase $SHIBIE on presale, here are a few key pointers about this new cryptocurrency project.
Shibie Coin is a meme token that is a playful fusion of two pop-culture icons, Barbie and Shiba Inu.
The $SHIBIE token does not offer any real utility, instead aims to attract a viral following that can help push the price upwards.
$SHIBIE is priced at $0.000167 per token for the ongoing presale. From a total token supply of 10 billion, 6 billion tokens have been allocated for the presale.
This meme coin aims to raise a hard cap of $999,999 on presale before being launched on cryptocurrency exchanges.
How to Buy Shibie Coin: An Easy Guide
The sections below show investors how to purchase Shibie Coin on presale:
Step 1: Download a Cryptocurrency Wallet
The Shibie Coin presale can be accessed after investors create a suitable cryptocurrency wallet such as MetaMask or Trust Wallet. Shibie Coin is based on the Ethereum network, which is compatible with a MetaMask wallet. When setting up a MetaMask wallet, the process can be completed on the mobile app or a browser.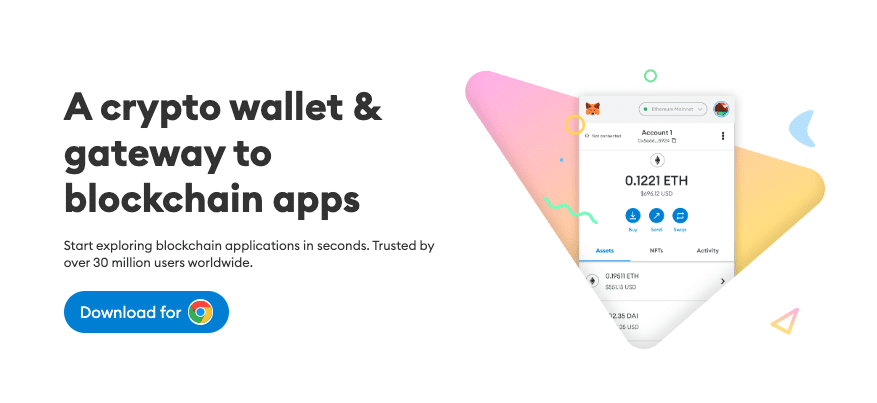 Download the extension via Chrome or Firefox on your browser. Alternatively, one can download the MetaMask app when using their mobile devices.
Step 2: Set Up the Wallet
Once the MetaMask wallet has been downloaded on your extension, click the 'Create Wallet' option. Users must now create a complex and alphanumeric password for the site. The wallet will provide each user with a recovery phase consisting of 12 words.
The user should safely store the recovery phase since this will give you access to the cryptocurrency wallet. One should never share their recovery phase with anyone else.
Step 3: Import Shibie Coin
The final step is to import the $SHIBIE token into their MetaMask wallet. Click on 'Import Tokens' and add the Shibie Coin contact address after it has been announced. To get more information related to the contact address, join the Shibie Coin Telegram channel.

After the token import process has been completed, investors can view their $SHIBIE tokens on the MetaMask wallet.
What is Shibie Coin?
Shibie Coin ($SHIBIE) aims to be the next best meme cryptocurrency, as it looks to soar during the ongoing token presale and beyond. The newest dog-inspired token on the block, Shibie Coin hopes to go viral in the crypto space very soon.
The project's name combines two iconic characters, Shiba Inu and Barbie. The platform will look to benefit from the current popularity of the Barbie character, with the recent release of the hugely popular Barbie film.

2023 has been the year for meme coins, as new projects have experienced massive price jumps. Pepe Coin ($PEPE) was one of the biggest meme coins of the year, enjoying a sensational 900% increase in value within two days of its debut.
According to the Shibie Coin whitepaper, the platform is for bold and risk-taking investors looking to take on the volatility prevalent in the crypto space. This engaging cryptocurrency is looking to introduce a unique experience for investors since it provides a fresh outlook compared to the standardized tokens prevalent in the markets.
Since the $SHIBIE token has recently started its presale, investors can enter this project for the lowest price possible and potentially receive a return on investment.
| | |
| --- | --- |
| Hard Cap | $999,999 |
| Total Tokens | 10,000,000,000 |
| Tokens available in presale | 6,000,000,000 |
| Blockchain | Ethereum Network |
| Token type | ERC-20 |
| Minimum Purchase | 100 $SHIBIE |
| Purchase with | USDT, ETH, BNB |
Reasons to Buy Shibie Coin on Presale
With the recent release of the $SHIBIE token, Shibie Coin wants to conduct one of the best crypto presales of the year. But should you invest in this token's presale? We discuss some of the reasons for doing so below:
High-Risk High-Reward Token

– The cryptocurrency platform has made it evidently clear that $SHIBIE does not offer intrinsic value to token holders. While this cryptocurrency may be purely speculative,

meme coins thrive on the power of a community

. Therefore, this fun and light-hearted project wants to build a diverse and engaging community of token holders. Since the token is brand new, there is no guarantee for returns. However, the creative theme and engaging tokenomics could make it the next viral cryptocurrency in the coming months.

Available at a Low Price

– The $SHIBIE presale allocates 60% of the token supply through a one-stage presale. Interested investors can buy $SHIBIE for only $0.000167 per token. The price could potentially pump with the upcoming exchange listings, offering massive upside for early presale investors.

Explosive DEX Listing Imminent – Planning to debut on DEXs, $SHIBIE has made its mark with an ambitious crypto-centric plan. This shitcoin aims to go beyond DEX listings, extending its audience reach with possible strategic CEX listings.
Shibie Coin Tokenomics and Presale Information
As mentioned above, Shibie Coin has a total supply of 10 billion tokens. To foster a sense of community and unity, most of the tokens have been allocated to the public.
60% of the 10 billion token supply has been allocated for the one-round presale, allowing all early investors to purchase $SHIBIE for only $0.000167 per token. The minimum investment for the presale is set at 100 $SHIBIE, equating to only $0.0167. Thus, this could be a suitable investment opportunity for traders with a low budget as well.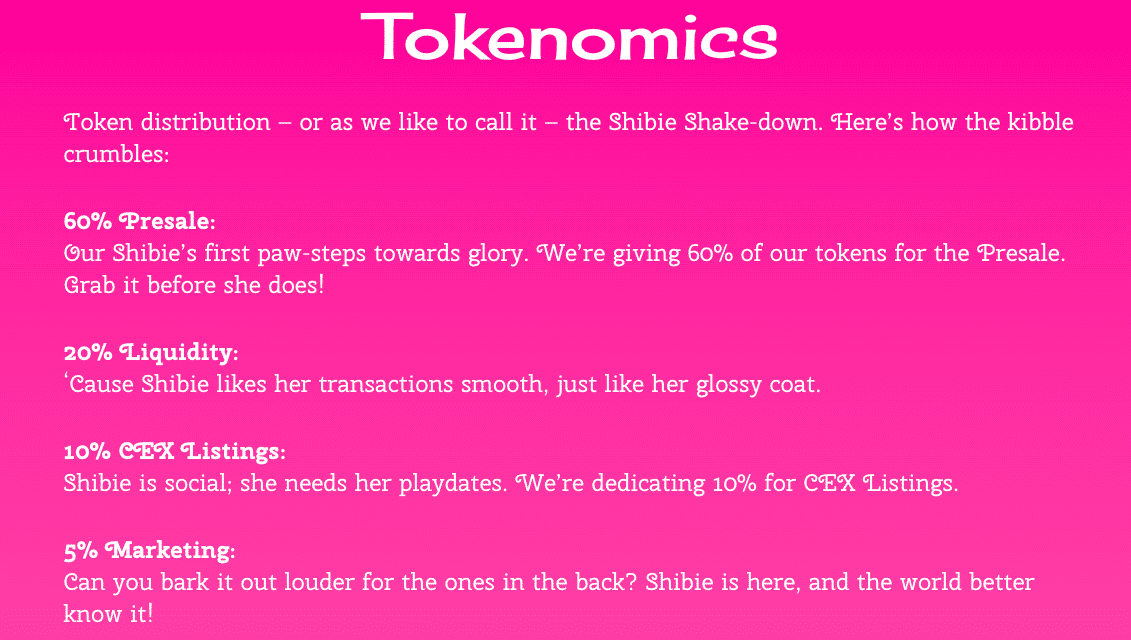 Through the token presale, Shibie Coin aims to raise a hard cap of $999,999. Right after the presale, $SHIBIE will conduct its decentralized exchange (DEX) launch. According to the project roadmap, the token will then look to be listed on major centralized crypto exchanges (CEXs), which can help push the trading volume. 10% of the token supply has been reserved for upcoming CEX listings.
By spending 5% of the token supply on marketing, the Shibie Coin creators hope to build the brand and attract new investors to the project. A further 20% of the 10 billion supply will be used to maintain liquidity and stabilize the project. The team creators have allocated only 5% of the token supply for themselves, ensuring that interested investors have an ample opportunity to hold $SHIBIE.
| | | | |
| --- | --- | --- | --- |
| Presale Stage | Price | Number of Tokens | % of Overall Supply |
| 1 | $0.000167 | 6,000,000,000 | 60 |
Shibie Coin Price Prediction – What is the Potential of $SHIBIE?
By focusing on marketing this new project and offering a majority of the tokens on presale, Shibie Coin aims to generate huge buzz in the cryptocurrency markets.
If $SHIBIE manages to undergo a successful presale, it could become one of the top cryptos to watch in 2023. Soon after the presale ends, the Shibie Coin creators plan to launch the token on various exchanges. With the increased trading volume, the token could potentially receive upwards movement and increase in price.
Meme coins can be among the most profitable investments post their exchange listing. For instance, Tamadoge (TAMA) surged by over 200% after conducting its initial exchange offering. If Shibie Coin manages to launch on some of the top crypto exchanges, it could achieve a similar feat.
It is also important to note that this token could attract large amounts of volatility. Since meme tokens face regular price fluctuations, an investment via the presale could allow one to capitalize on any positive price movements. Similarly, there is a chance for a price dip right after the presale. Thus, investors should research the project and make an investment decision based on their risk tolerance.
Conclusion
Our how to buy Shibie Coin guide has shown readers how to join the $SHIBIE token presale in a few simple steps. This light-hearted meme coin has allocated 6 billion tokens on presale, aiming to raise $999,999.
All the tokens are available at the low price of $0.000167 throughout the presale. Create a MetaMask or Trust Wallet account, and join the presale after making a minimum investment of just $0.0167.
References
FAQs
What is the price of Shibie Coin?