Thug Life is one of the newest meme coins to hit the crypto market. It's designed to create community for traders and investors who were left behind by meme season and give them another chance at profit.
The presale for Thug Life's $THUG token sold out in under three weeks, and investors will be able to buy on Uniswap during the IDO, which is scheduled for 18:00 CET on July 17.
Thug Life Presale Key Points:
Thug Life is a new meme coin project that encourages investors to 'thug up' and hold $THUG.
The project's presale began on June 28 and hit its $2.058 million hard cap earlier than expected.
The Thug Life listing price on Uniswap will be $0.007. View the DEXTools page here.
The team will hold a live stream of the launch on their official Telegram.
What is Thug Life?
Thug Life is a meme coin project designed to bring together investors who missed out on meme season.
The project aims to list on a variety of centralized and decentralized exchanges.
Thug Life's initial goal is to achieve a $100 million market cap.
The team behind $SPONGE token are rumored to have developed $THUG
Thug Life is a meme coin project that aims to build on the trendiness of meme coins in 2023.
The project features images of several popular memes, including a shiba inu, Pepe the Frog, and fist pump baby. It encourages investors to 'thug up' and hold crypto through the market's ups and downs.
Thug Life is creating a welcoming community for investors and traders who missed out on tokens like Pepe or who were left holding the bag from another meme coin that fell from its peak. It's light-hearted and encourages laughter in the face of losses.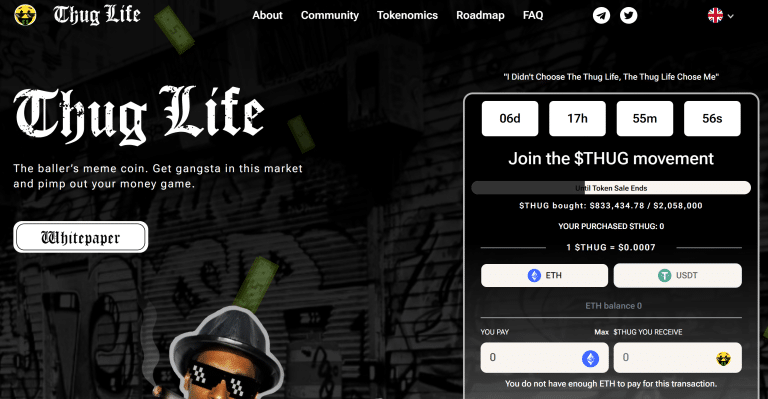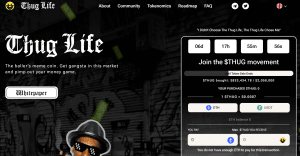 Thug Life is entirely a meme coin project and has no utility as yet. However, the recent success of meme coins bodes well for this token.
In the past few months, meme coins like Pepe soared 10,000% from launch and Sponge token – whose team has an overlap with Thug Life, according to sources – soared more than 3,500%. More recently, v2 meme coins like Pepe 2.0 are skyrocketing.
Thug Life has the potential to catch investors' attention and become the next meme coin to explode. The project has already gained more than 4,500 followers on Twitter and built a Telegram community of more than 3,000 subscribers.
The Purpose of the $THUG Token
$THUG is a meme coin with no utility, but it has appreciation potential.
The $THUG token is a meme coin with no utility aside from speculation, and ownership of the $THUG token signals inclusion in the Thug Life community.
The $THUG token also has growth potential – many meme coins have shot up in value after launch in recent weeks and it's possible that $THUG could do the same after hitting exchanges.
Thug Life does not currently have plans to offer rewards, giveaways, or other unique events for token holders in its roadmap. However, it's possible that the project will offer exclusives to $THUG owners in the future.
Reasons to Invest in Thug Life
While nothing is guaranteed about Thug Life's potential, many investors are eyeing this project as the next meme coin to explode. Let's take a closer look at why investors may want to buy $THUG during the presale.
Price Speculation
One of the main reasons investors may want to buy $THUG during the presale is that it offers a potential opportunity for price gains. Meme coins have been red-hot lately, and Thug Life could shoot up in price after launch—similar to Pepe, Sponge, ArbDoge AI, and other meme coins.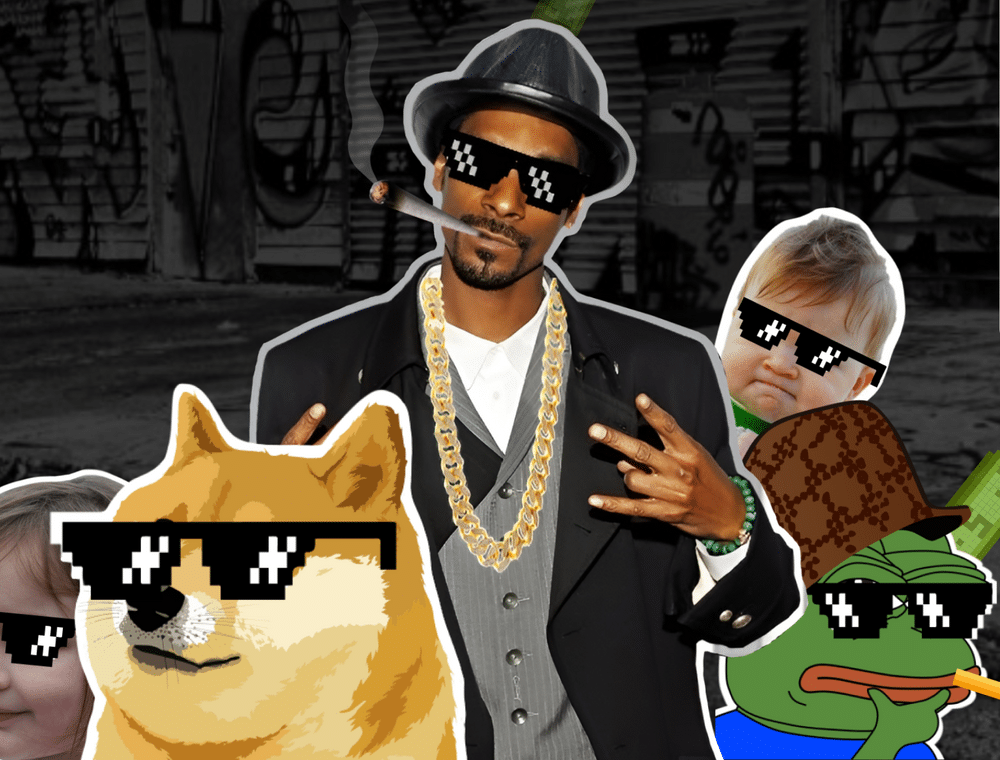 Meme Community
While $THUG doesn't offer any utility, it does represent inclusion in a community of like-minded meme coin investors and traders. Thug Life community members are told to 'thug up' and hold onto tokens, laugh off losses, and stick together through the ups and downs of the crypto market.
Thug Life Tokenomics and Presale Information
$THUG is an ERC-20 token with a total supply of 4.2 billion coins. 70% of the total supply (2.94 billion $THUG) were allocated for the presale.
The presale set a hard cap of $2,058,000and only one price stage of $0.0007.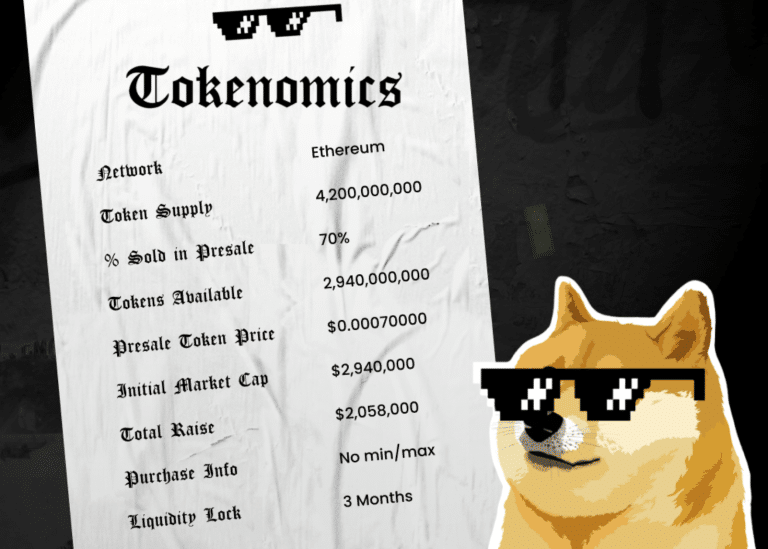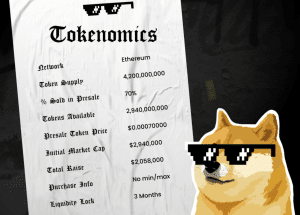 The project's liquidity is locked for 3 months after launch, limiting the potential for a rug pull. $THUG will launch on Uniswap with an initial market cap of $2,940,000.
The team behind Thug Life has scheduled a burn of $THUG tokens for the third phase of the project's roadmap. This will come after listing the token on decentralized and centralized exchanges. The amount of $THUG tokens to be burned has not yet been specified.
Thug Life Price Prediction – What Is the Potential of $THUG?
It's difficult to accurately predict a price for the $THUG token since it has no price action up to this point. The token has only been offered at a single presale price – $0.0007.
That said, investors have proven enthusiastic about $THUG as the presale sold out in approximately 20 days.
Importantly for $THUG, enthusiasm for meme coins has remained high during the summer. Investors have jumped on meme projects like Pepe 2.0, Wall Street Memes, and Shiba Inu 2.0.
That suggests that $THUG could see a surge of buying activity when it launches on exchanges. The supply of $THUG is fixed, so a spike in demand could send the price higher. Crypto analysts like Jacob Crypto Bury have suggested that $THUG could jump 10X after launch.
Our analysis suggests that $THUG could reach $0.0025 by the end of 2023. That represents a gain of more than 250% for presale investors. Check out our full Thug Life price prediction for more details.
There are no guarantees that $THUG will gain value and the long-term potential of the token remains unclear. However, early investors who hold $THUG since its presale or from shortly after its IDO have the best chance of capitalizing on any gains once trading begins.
Closing Thoughts
Thug Life is the newest meme coin making waves in the crypto market. This coin builds on the popularity of tokens like Pepe and Shiba Inu while bringing together investors who missed out on earlier meme coin runs.
Investors can buy $THUG tokens on Uniswap at 18:00 CET on July 17. The addition of liquidity and the token claim for presale investors are set to take place at the same time, to ensure a fair launch.
The Telegram live stream is also being made available to assist beginner traders – admins will not DM you first, beware of impersonators.
FAQs
How to invest in Thug Life?
What is the market cap of Thug Life?
What exchanges does Thug Life trade on?