A nice watch is a luxury item that keeps its value and an instant status symbol. It's long been possible to buy watches from Rolex, Omega, TAG Heuer and others online. Now, anyone can learn how to buy watches with Bitcoin.
In this guide, we'll walk throuhow tgh the process of buying a watch online with crypto. We'll also highlight the 8 best places to buy watches with Bitcoin.
How to Buy a Watch with Bitcoin in 5 Easy Steps
We'll briefly walk readers through how to buy watches with Bitcoin in just 5 simple steps.
Step 1: Choose a watch shop that accepts Bitcoin. We recommend Crypto Emporium, which offers a huge range of luxury watches from major brands.
Step 2: Create an account. New shoppers can create an account with Crypto Emporium in less than a minute.
Step 3: Choose a watch to buy. Shoppers can browse by brand, price, and condition to find the perfect watch at Crypto Emporium.
Step 4: Add a shipping address. Enter the destination where the watch should be shipped to. Crypto Emporium can ship to more than 120 countries around the world.
Step 5: Pay with Bitcoin. Select Bitcoin as the payment method and then send tokens to the provided wallet address to complete the purchase.
Keep reading to learn about more places to buy luxury watches with Bitcoin and for a more in-depth tutorial on the purchase process.
The Best Online Stores to Buy a Watch with Crypto
A growing number of online stores make it easy to buy watches with crypto. Let's take a closer look at where to buy watches with Bitcoin today.
1. Crypto Emporium – Top Crypto Store Online with 17 Luxury Watch Brands
Crypto Emporium is an online store with an enormous selection of luxury watches. The site sells timepieces ranging in price from a few hundred dollars to more than half a million dollars.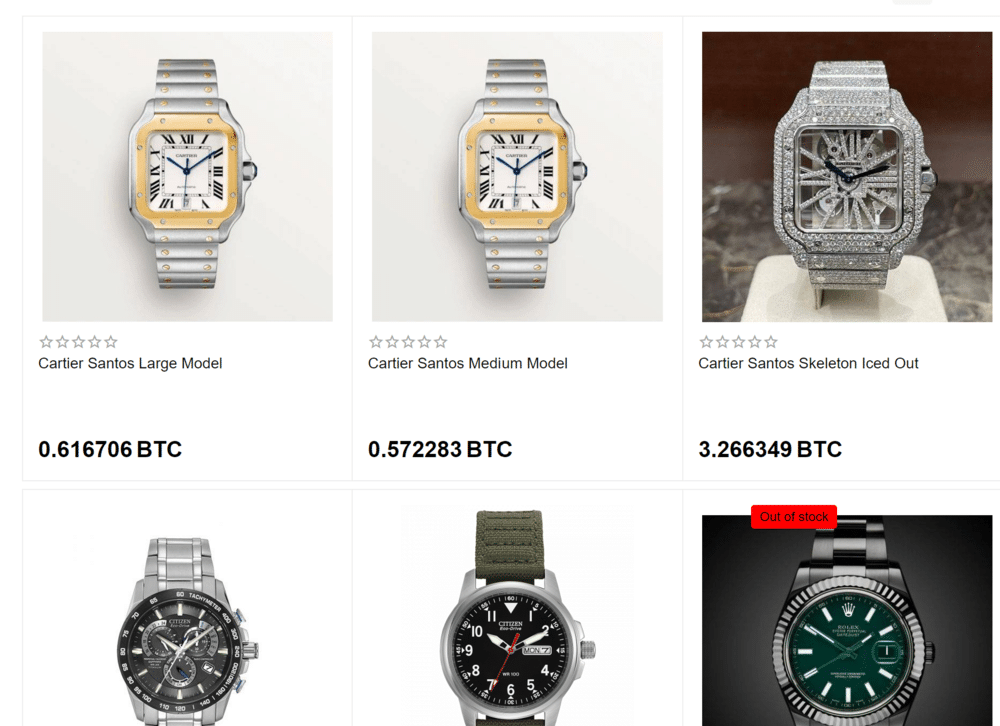 Crypto Emporium's selection includes 17 watch brands, including household names like Rolex, Gucci, Cartier, and Omega. There are thousands of individual watches to choose from so there's sure to be something for every style and price point.
Helpfully, Crypto Emporium makes it easy to filter the enormous collection of watches by brand, price, and country of origin. Shoppers can also limit their search only to watches that are new, unworn, and come with their original packaging.
Shoppers can click on a watch to learn more about its features and view close-up photos. Crypto Emporium also shows whether a watch is in stock and how many people have viewed it, which is helpful for predicting if a watch might sell out.
Some watches are available in multiple variations, and Crypto Emporium makes it easy to see the different options.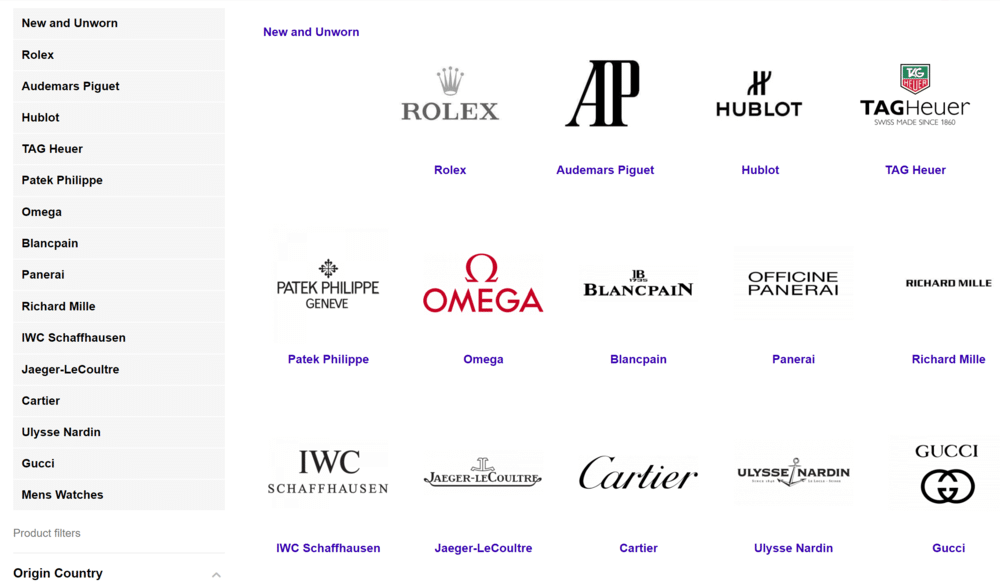 When shoppers are ready to check out, they can enter their shipping information and see how much it will cost to have their new watch delivered. Crypto Emporium ships to more than 120 countries around the world. Shipping fees vary based on the origin and destination countries for each sale.
Crypto Emporium accepts not only Bitcoin, but also Ethereum, Litecoin, Ripple, Dash, Dogecoin, and Tether. The site does not accept fiat.
Another thing to love about Crypto Emporium is that this online store offers frequent promotions. Past promotions include 1% off any purchase when a new shopper created an account. Crypto Emporium also offered a 20% rewards points boost for Rolex watch purchases.
Points at Crypto Emporium can be redeemed for crypto, so they're essentially like receiving cashback. Even without a promotion, all purchases at Crypto Emporium earn 4% points.
The site also offers a range of other products that shoppers can buy with Bitcoin, including smartphones, laptops cars and even real estate.
2. BitDials – Luxury Marketplace Priced in BTC
BitDials is an online luxury store established in 2016 that accepts Bitcoin and a variety of altcoins, with a focus on anonymity during payment.
Notably, one of the altcoins BitDials accepts is Monero (XMR), which is known for being difficult to trace.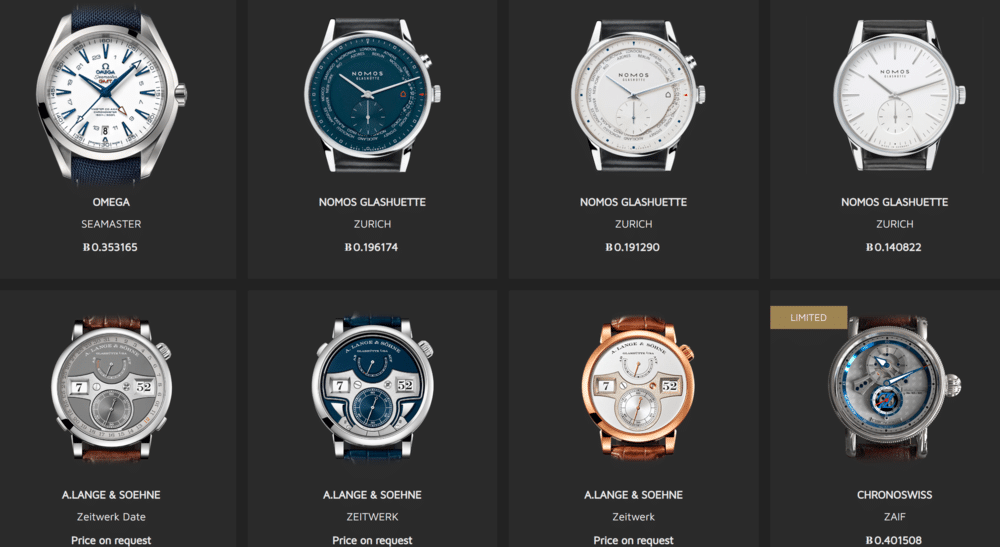 The site has luxury watches from more than 40 brands. The overall selection includes more than 800 watch models. The site lets you filter and sort watches by brand, price, and listing date, but not according to features. So, you'll have to spend some time browsing BitDials' selection in order to find the perfect watch.
BitDials stands out for injecting some fun into the luxury lifestyle. Buyers who take a photo or video with their new watch and post it to social media can earn up to $400 off a future watch purchase.
It also promises 24-hour shipping and delivery within two days, as well as an affiliate program where buyers can earn free crypto – 250 EUR, paid in BTC – for referring a new buyer.
As well as watches, BitDials also allows shoppers to purchase a range of other luxury items. That includes a wide range of jewelry including cufflinks, rings, necklaces and bracelets, as well as bags and belts and luxury pens.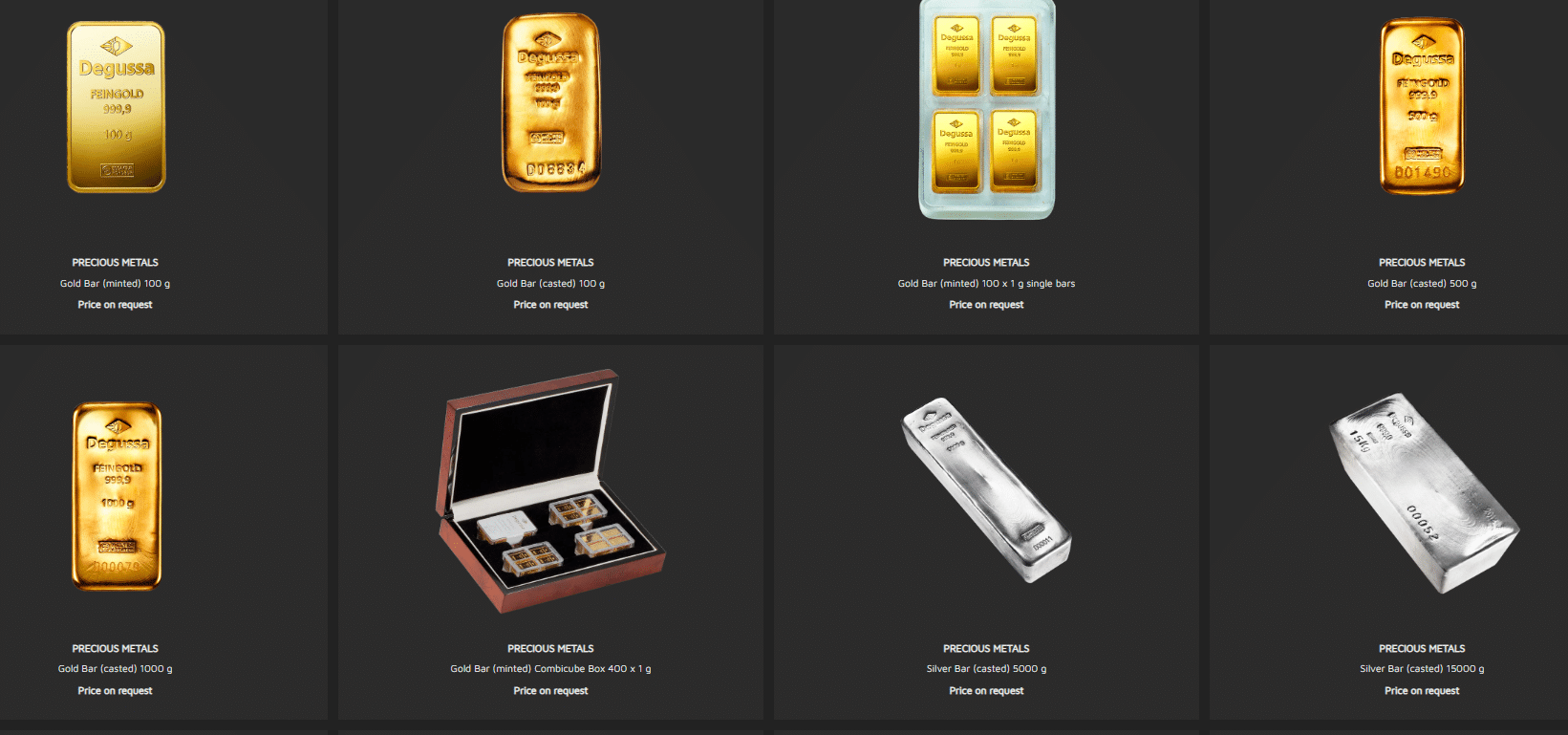 There is also luxury whiskey – including a 52-year-old Macallan costing 4 BTC ( approx. $155,000) as well as cars and even private jet travel through a partnership with BitSky.
BitDials also allows shoppers to purchase gold bullion and other precious metals with Bitcoin upon request.
The website is also highly trusted in the crypto community and boasts a 4.8-star rating from peer review rating website Trust Pilot and has an AI-powered customer service and FAQs section via ChatGPT.
3. Breitling – Luxury Watchmaker Offering NFTs with Every New Watch
Breitling is a world-renowned luxury watchmaker that's been far ahead of its peers when it comes to embracing blockchain technology.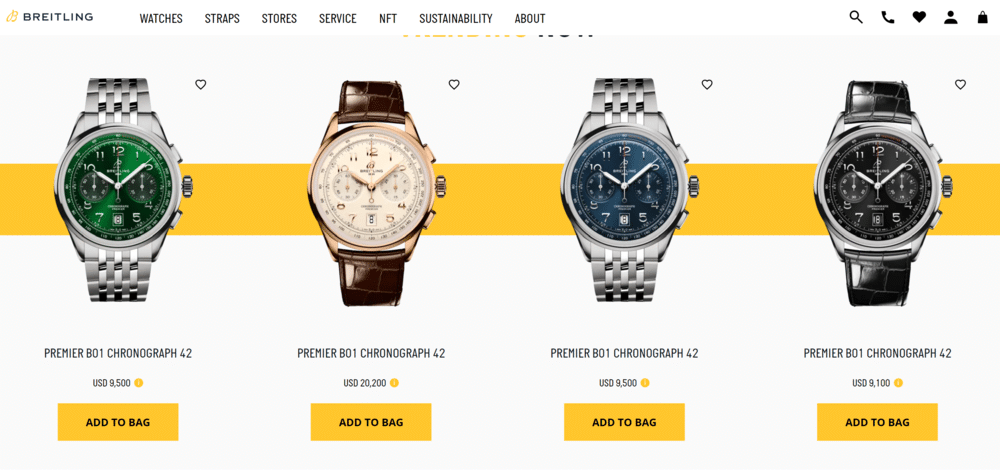 It's one of the first watch manufacturers to accept crypto payments through its direct-to-consumer website. Breitling uses BitPay, which supports Bitcoin, Ethereum, Litecoin, Dogecoin, Bitcoin Cash, and several stablecoins.
In addition, every new watch comes with an NFT that signifies ownership of one of the company's unique timepieces. Buyers simply need to scan a QR code that comes with their timepiece to claim the NFT. Going forward, these ownership NFTs will provide a way to track the history of every Breitling watch.
Breitling watches start at $3,300 and range up to $67,000 in price. These are statement timepieces that will last a lifetime. Of course, Breitling's website only lists the manufacturer's own watches, not models from other brands.
4. Timepiece Bank – Pre-owned Watches from 40+ Luxury Brands
Timepiece Bank is an online watch marketplace with models from more than 40 luxury brands. This site has been online since 2004, so it's a trusted place for shoppers to buy luxury watches with crypto.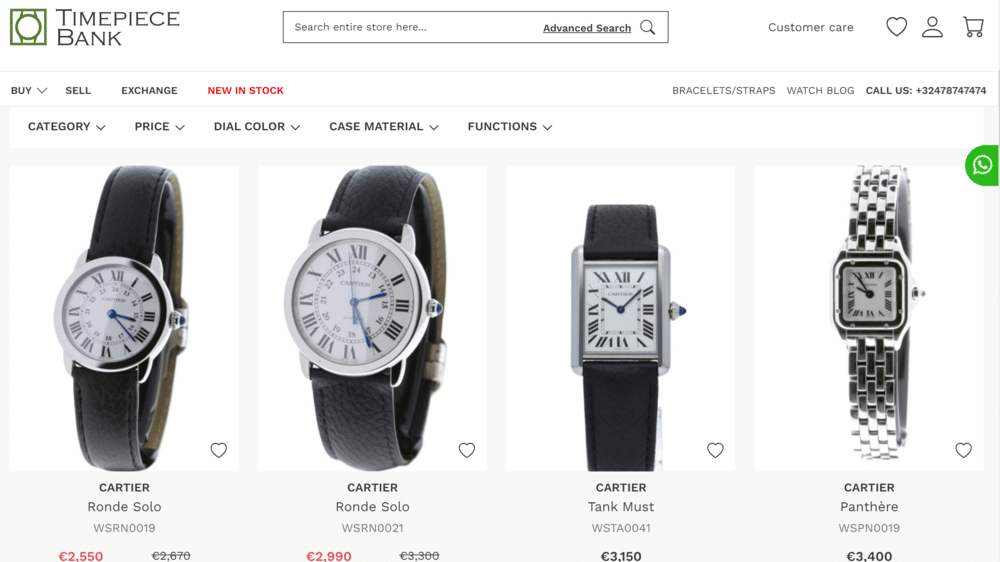 Brands available at Timepiece Bank include Ball, Bulgari, Cartier, Omega, Tudor, Zenith, and more. There are both men's and women's watches and it's easy to browse the collection by price range. Shoppers in search of a specific watch can contact the site's support team to be notified when it becomes available.
Timepiece Bank accepts crypto payments in Bitcoin and some of the best altcoins through BitPay. Current watch owners can also sell their watch to the site or exchange their current watch for another model available at Timepiece Bank. There are frequent sales and price markdowns, so it pays to keep a close eye on the site.
5. Newegg – Online Tech Shop to Buy Smartwatches with Bitcoin
Newegg is best known for its selection of computers and gaming devices, but this online emporium also has a selection of watches that are worth checking out. The options are mainly limited to smartwatches from brands like Garmin, Samsung, Casio, and Asus. Prices range from around $40 to $400.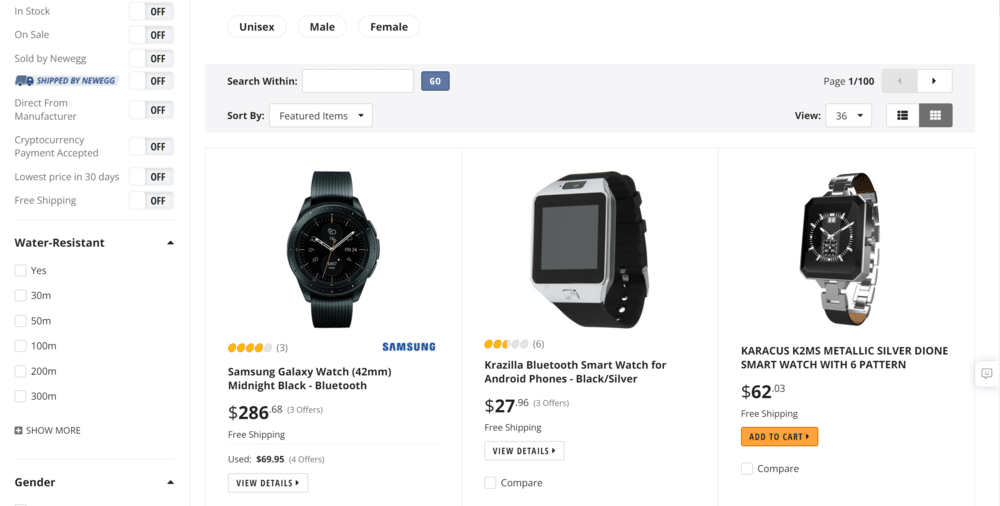 What's nice about Newegg's site is that there are tons of filters to help shoppers find the watch that meets their exact specifications. Shoppers can filter watches by price, brand, and condition as well as based on alarm features, water resistance, display style, app compatibility, and more.
Many watches come with free shipping for customers in the US. Newegg accepts Shiba Inu and 12 other popular cryptocurrencies including Ethereum, Bitcoin, Tether, and USD Coin.
6. CRM Jewelers – Trusted Shop for Limited Edition Watches
CRM Jewelers is a physical store in Miami's jewelry district with a strong online presence. The family-owned shop not only lists all of its watches for sale online, but also accepts several popular cryptocurrencies for payment.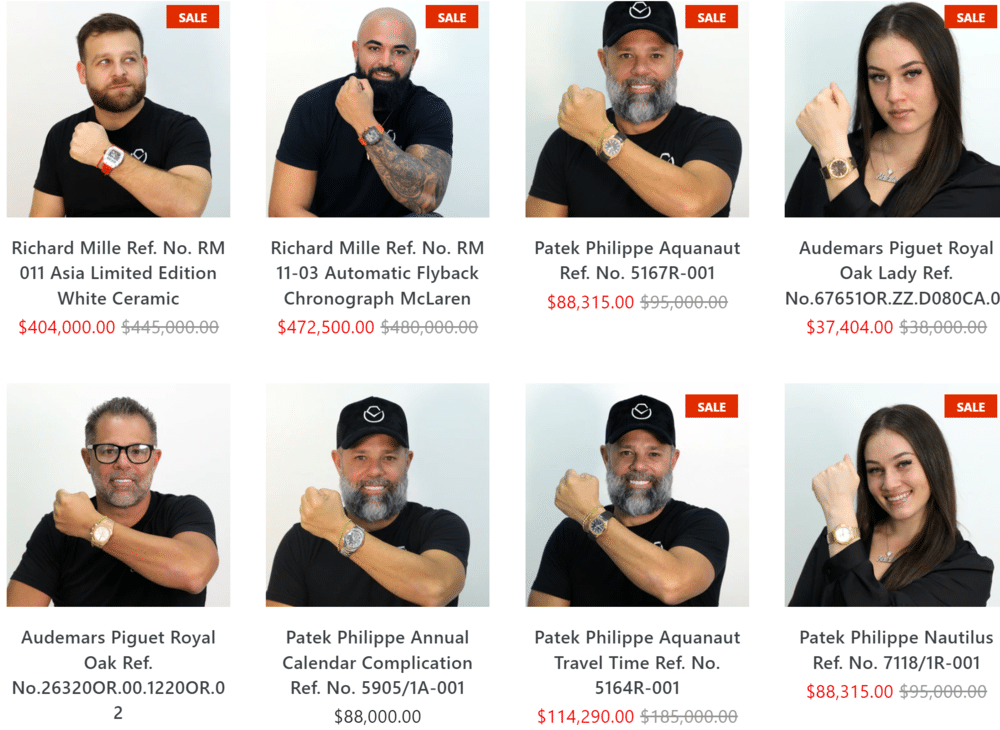 CRM Jewelers specializes in finding and selling limited-edition watches. Some of the watches on the site, like the Richard Mille Ref. No. RM 011 Asia Limited Edition White Ceramic, sell for more than $400,000. Of course, there are more affordable options starting as low as $6,800.
The selection of brands and filter options on CRM Jewelers' online store is somewhat limited. However, the site has watch models that luxury shoppers will have a hard time finding anywhere else. CRM Jewelers also offers accessories like watch cases and safes.
7. Jomashop – Weekly Deals on Luxury Watches
Luxury shoppers looking for a deal will want to check out Jomashop. This massive online store offers daily and weekly deals on watches from widely respected brands like Invicta, Longines, Bulova, Breitling, and more. We've seen watches discounted as much as 92% on the site.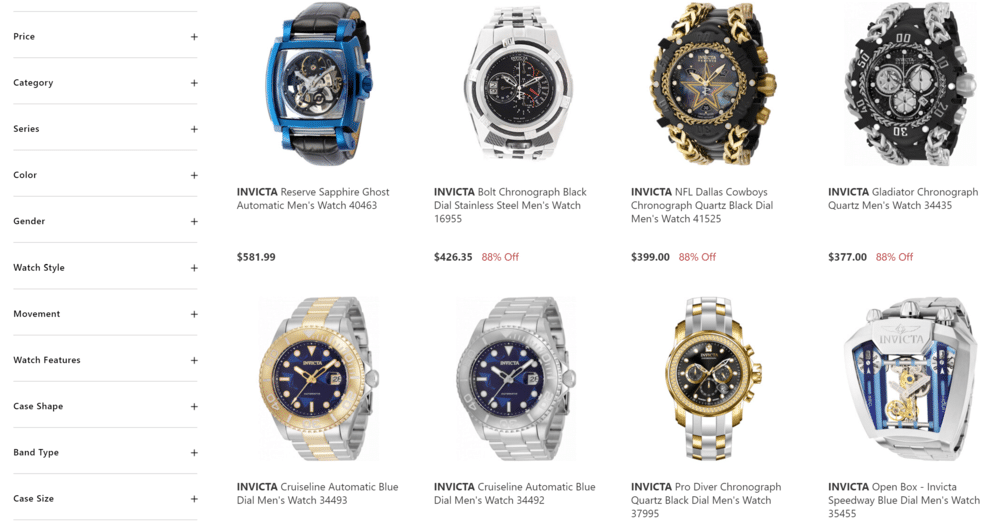 Jomashop's selection is huge and constantly changing. The site sells both new and pre-owned watches, so shoppers who keep an eye on the site are likely to find a deal on a brand they love. It's easy to browse new arrivals or search the entire collection by brand, watch style, features, price, and more.
Another nice thing about Jomashop is that the site offers some nice-looking watches that won't break the bank. Prices start at only $30 for some reliable and fashionable timepieces.
Swiss Watch Trader is a UK-based watch shop that deals in luxury Swiss watches. Brands the company carries include Breitling, Omega, Rolex, Tag Heuer, Cartier, Tudor, and more. All of the watches are pre-owned, which helps to keep prices reasonable. Still, these are extremely high-end watches, so plan to spend at least $20,000 at Swiss Watch Trader.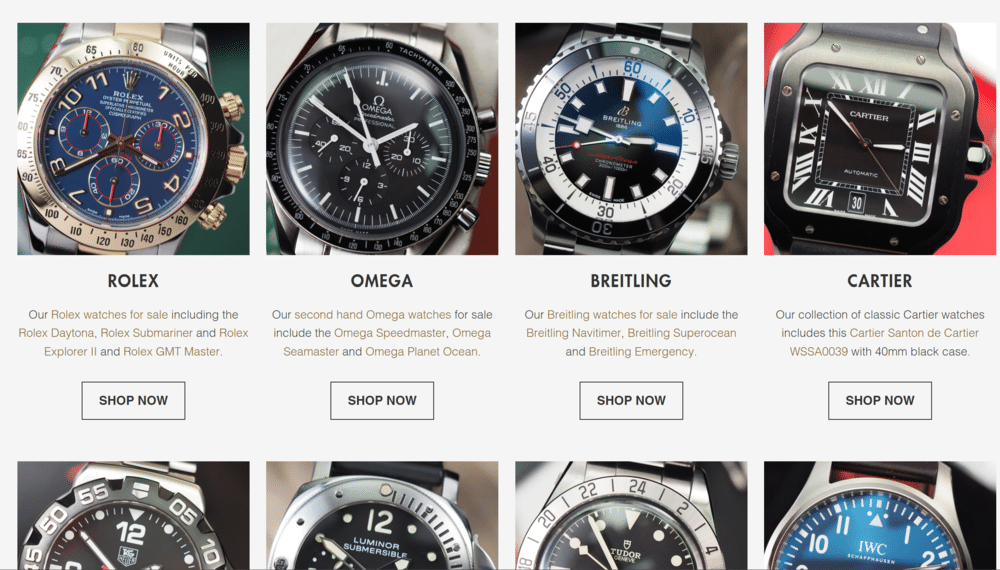 One of the nice things about this shop is that it offers a 2-year warranty on every purchase. In addition, Swiss Watch Trader includes free shipping within the UK. International buyers will pay a small shipping fee that includes shipping insurance.
Swiss Watch Trader is one of a number of sites that accepts Bitcoin and Ethereum for payment alongside fiat. Buyers who are making a big purchase also have the option to buy now and pay later using a combination of crypto and Klarna.
Why Use Bitcoin to Buy a Watch?
Now that shoppers know where to buy watches with crypto, it's worth taking a minute to explain the benefits of buying a watch with Bitcoin or other digital currencies.
Reduced Transaction Fees
One of the biggest benefits is that crypto transactions are often cheaper than fiat transactions. Many online watch stores are located overseas, so buying from them requires a currency conversion. That incurs pricey foreign transaction fees, which can add up to thousands of dollars for an expensive watch.
Crypto avoids these fees entirely. Buyers only have to pay the blockchain fee, which is usually a few dollars for Bitcoin transactions.
No Transaction Limits
Another benefit to buying a watch with Bitcoin is that there are no transaction limits to worry about. Many people might run into issues trying to buy a $50,000 watch online with a credit card. Either their credit card company will decline the purchase or it will exceed their credit limit. Many banks will also decline a transaction of that size, even if the buyer has enough funds in their account.
With crypto, there are no hold-ups on a purchase just because it's large. When a buyer goes to purchase a watch, they can be certain their transaction will go through immediately.
Anonymity
In some cases, shoppers can even buy a Rolex with Bitcoin anonymously. This is a huge advantage for buyers who don't want to be identified for privacy reasons. Most shops require some personal information to comply with anti-money laundering rules, but some do not.
Is it Safe to Buy Watches with Bitcoin?
It is generally safe to buy watches online with Bitcoin or other cryptocurrencies.
One of the key advantages to buying anything with Bitcoin is that all transactions are visible on the blockchain. So, both the buyer and the merchant can see all of the transaction details to verify a purchase.
In addition, buyers don't need to give up any private or sensitive information when buying a watch with crypto. The merchant will receive their public wallet address, which is already visible to anyone on the blockchain. Shoppers never share their private wallet keys.
One thing to keep in mind when buying watches with Bitcoin or other cryptocurrencies is that there is no purchase protection. If a buyer pays for a watch in BTC and the merchant doesn't send it, there is no way for the buyer to rescind their payment, so those interested should learn how to pay with Bitcoin or other cryptos.
So, it's very important to only make purchases from trusted shops. Many of the best places to buy watches with Bitcoin have been operating for years, and some even have physical storefronts.
How to Buy a Watch with Bitcoin – Detailed Tutorial
We briefly covered how to buy watches with crypto through Crypto Emporium above. Now, let's dive into a more detailed step-by-step tutorial that breaks down the process from start to finish.
Step 1: Create a Crypto Emporium Account
Visit Crypto Emporium's online store and click Account, then Register. Shoppers must enter their name, phone number, email, and a password. Then click Register.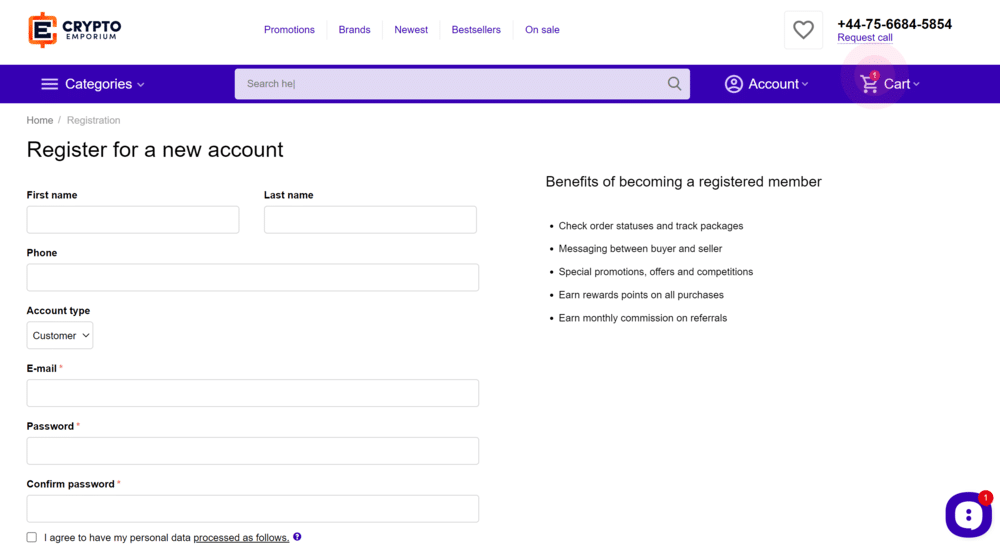 Crypto Emporium will send a verification email. Click the link inside to complete the registration process.
Step 2: Choose a Watch to Buy
Crypto Emporium has hundreds of watches to choose from. Click Categories, then Watches to see a list of available brands. Shoppers can also sort by popularity, price, country of origin, and condition. Click on any watch to see more details and add to the cart.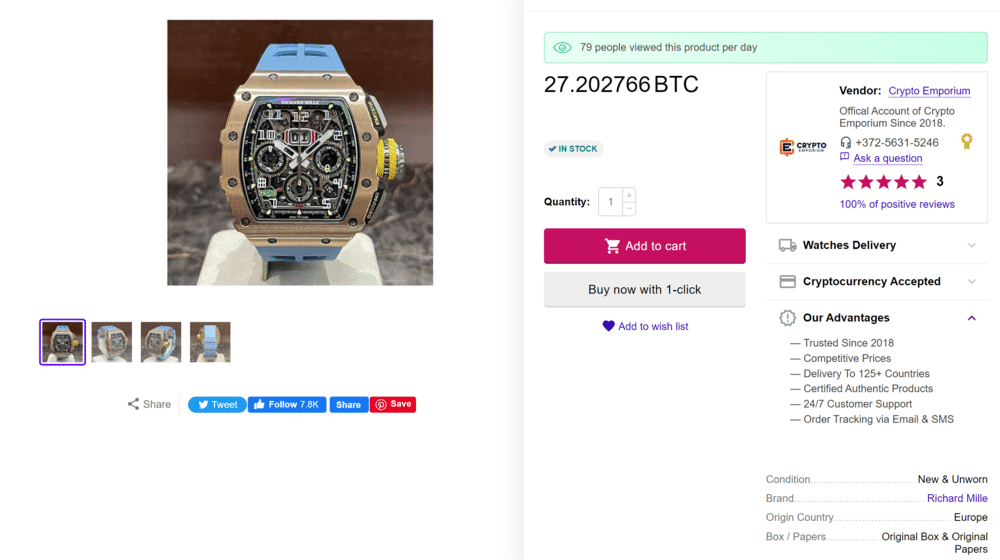 Step 3: Add Shipping Information
Go to the cart and click Checkout. Then enter the address where Crypto Emporium should send the watch. Crypto Emporium can deliver to more than 120 countries including the US, UK, most European countries, and most countries in Asia.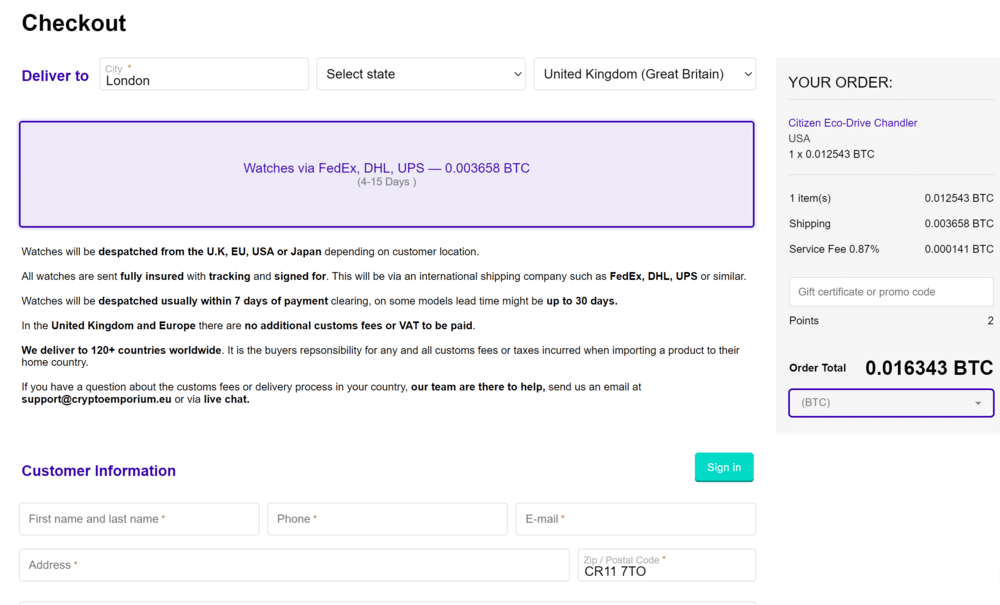 Step 4: Checkout with Bitcoin
Select BTC as the cryptocurrency to pay with. Crypto Emporium also accepts some of the best cryptos around such as ETH, LTC, DOGE, XRP, DASH, and USDT.
Click Checkout and the site will display a wallet address and QR code. Send payment in Bitcoin to this address.
Step 5: Track the Watch
Crypto Emporium will typically ship watches within 7 days of payment. Buyers can track the status of their shipment from their Crypto Emporium account.
We have also produced a full Crypto Emporium review to show shoppers the range of products they can buy with Bitcoin and some of the other top coins on the market.
Conclusion
In this guide, we've covered where to buy watches with Bitcoin and walked through the process at Crypto Emporium.
Crypto Emporium offers new and pre-owned watches from luxury brands like Rolex, Cartier, Omega, and more. The site accepts several popular cryptocurrencies and ships to more than 120 countries. Even better, every purchase at Crypto Emporium qualifies for 4% cashback in crypto.
FAQs
Can I buy a watch online using Bitcoin?
Can I buy a Rolex with crypto?
Where can I buy a watch with Bitcoin?