Want to know how to buy XRP in the UK? After its partial victory over the SEC, XRP has become a central talking in the crypto industry.
However, its price has not reacted as many analysts predicted – still trading under $1. Therefore, this may be the perfect time to scoop up some XRP at a bargain price. This beginner's guide breaks down everything you need to know to buy XRP for the first time, considering factors like fees, security, complexity and much more.
How to Buy XRP for Beginners
If you are pressed for time, here is the TL;DR on how to buy Ripple for beginners.
Choose a crypto exchange or broker.
First, decide on the broker or exchange you want to use. Our recommendation is eToro, due to its low fees, great UI and fantastic copy trading tools, but if you are to do your own due diligence, consider factors like ease of use, fees, features, regulatory compliance and security.
Open an account
Next, visit the exchange's and create an account. This step will only take a few minutes; enter some personal details and verify your ID to get started.
Decide how much you want to invest
Consider the amount of XRP you want to buy. Once you have a figure in mind, move on to the next step.
Deposit Funds to eToro
Hit Deposit Funds in the bottom left of the eToro dashboard. From there, choose your preferred payment method and complete the deposit.
Buy XRP
Finally, search XRP in the search bar at the top of the screen. Once it appears, select Trade, input the amount you want to buy and click Open Trade to complete the order.
Where to Buy XRP in the UK – Best Exchanges Reviewed
Now that you know how to invest in XRP in the UK, let's look at where to buy XRP in the UK. We will compare the top exchanges where you can buy XRP based on factors like pricing, fees, features, security, etc.
1. eToro – User-friendly Platform With Low Fees, Copy Trading and CopyPortfolios

Overall, eToro is the best place to buy XRP in the UK. Its seamless user experience, including an array of intuitive features, makes eToro a treat to use, whether it is your first time buying crypto or if you are an avid investor.
Immediately once you sign up, you are greeted with a simplistic user interface that needs little explanation since everything is clearly laid out. However, eToro does a masterful job at jam-packing the platform with all the features you need to buy XRP.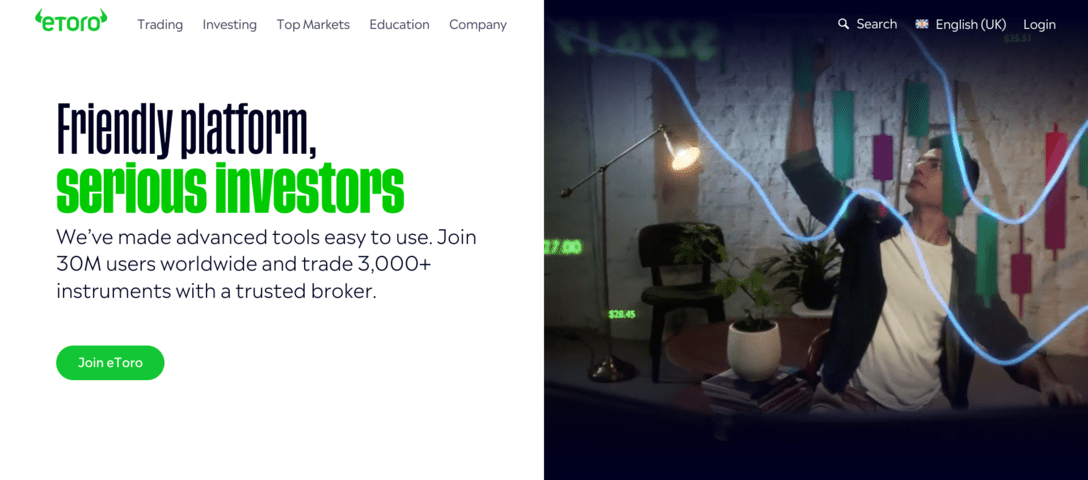 eToro makes it easy for beginner traders to get set up. Once you have opened an account, you can deposit as little as £8. eToro's payment options in the UK are bank transfer and paying with a credit/debit card. Furthermore, eToro is the cheapest way to buy XRP, with no deposit fee. In comparison, Coinbase charges a whopping 3.99% fee on credit/debit card deposits.
It also boasts just a 1% spread on all cryptocurrencies. On top of that, if you are making a crypto-to-crypto transaction, fees are just 0.1%. This makes it very affordable to swap between cryptocurrencies, for example, swapping Bitcoin to XRP.
Besides its low fees and industry-leading user experience, one of the factors pushing eToro to the top of our list is its social trading. With social trading, users can connect with over 30 million other traders and copy the trades of the platform's best performers.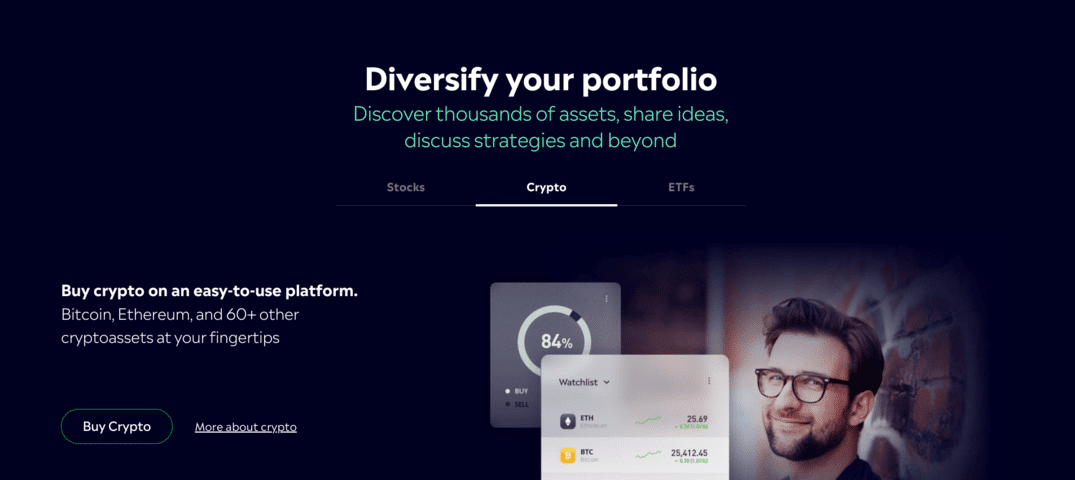 Furthermore, eToro offers another feature called Smart Portfolio. This is ideal for beginners looking to diversify their portfolio, as Smart Portfolio enables investors to buy a diversified portfolio of investments in one trade. The portfolios are curated by eToro experts and carefully designed for long-term diversification.
You can also find over 80 other top cryptos on the platform, such as Bitcoin, Ethereum, Cardano, Dogecoin, and more exotic projects too.
Another benefit of eToro is that it is regulated by the Financial Conduct Authority (FCA) to sell crypto assets in the UK. It is one of only a couple of exchanges currently compliant with the FCA, making it one of the more secure places to buy XRP.
| | | | | |
| --- | --- | --- | --- | --- |
| Fee Structure | Fee to Buy XRP | FCA Regulated | Top Features | Number of Cryptos |
| Free deposits and a 0.5% conversion fee to convert to USD | 1% of the purchase amount | Yes | Social trading and smart portfolios | 80 + |
Pros
The most straightforward and intuitive user experience
Free credit/debit card deposits
Low trading fees
Offers unique features like social trading and Smart Portfolio.
Users can buy over 80 cryptocurrencies
Regulated by the FCA
Cons
Currently, it does not offer a non-custodial wallet
Cryptoassets are highly volatile and unregulated in most countries. No consumer protection. Tax on profits may apply. Your capital is at risk.
2. Coinbase – Over 250 Cryptocurrencies and Education Platform

Next on our list of where to invest in XRP in the UK is Coinbase.
Only recently, Coinbase listed XRP following its partial victory over the SEC.
As mentioned, its fee structure falls short of that of eToro. However, the platform aims to make up for this with its own plethora of unique features and seamless user experience.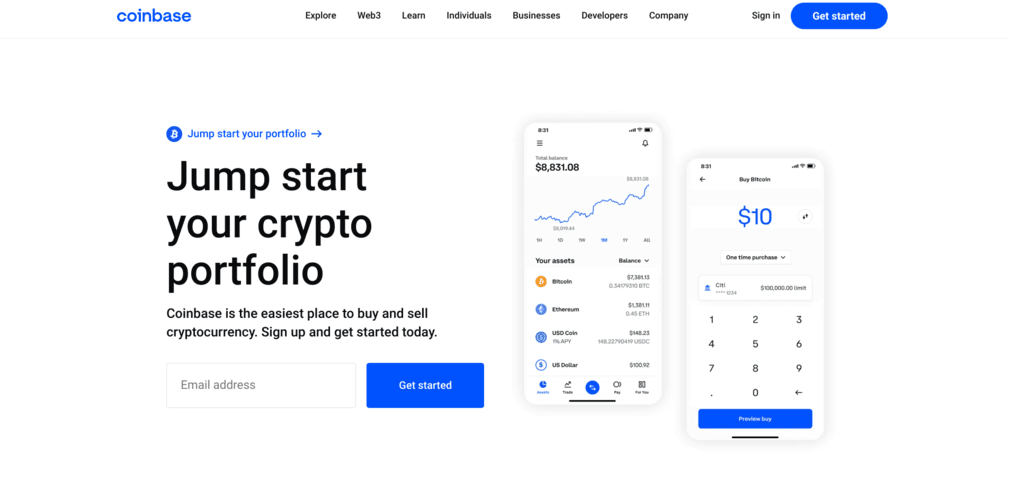 The platform offers over 250 cryptocurrencies, comprising many blue chips and countless top emerging cryptos.
It also features a robust staking program, Coinbase Earn. With this feature, users can earn a yield on many top coins. However, XRP is not currently supported.
A feature ideal for beginners is its Coinbase Learn platform, enabling users to earn small rewards for learning about cryptocurrencies.
It is also supported by robust security mechanics, such as storing 98% of crypto in air-gapped cold storage. These air-gapped wallets store the private keys entirely offline, bolstering security.
However, the primary consideration regarding Coinbase is its fees. The platform charges a 3.99% fee for credit/debit card deposits, a 1% fee on all crypto transactions and a 0.5% spread fee.
This means it would cost £39.99 to deposit £1,000 into Coinbase, leaving you with £960.01. Then, if you bought XRP with this, the 1.5% of additional fees would cost a further £14.4, bringing the total fees to over £54.
| | | | |
| --- | --- | --- | --- |
| Fee Structure | Fee to Buy XRP | FCA Regulated | Top Features |
| 3.99% fee on card deposits and 1.49% for bank transfers over £200 | 1% crypto trading fees | Yes | Coinbase Learn and Coinbase Earn |
Pros
User-friendly platform
Over 250 cryptocurrencies
Several useful features
Cons
3.99% deposit fees
A combined total of 1.5% trading fees
3. Crypto.com – Feature-packed Exchange Providing a Cheap Way to Buy XRP

Crypto.com is a one-stop-shop for everything crypto, featuring an NFT marketplace, a crypto bank card, staking, and a brilliant way to buy XRP.
While crypto.com does charge a 2.99% fee on credit/debit card deposits, you can make cheaper deposits using bank transfer.
As well as XRP, the platform offers over 250 other cryptocurrencies, including Bitcoin, Ethereum, Litecoin, Crypto.com and many more. On top of that, Crypto.com features leveraged trading and several DeFi tools like crypto loans, a decentralised wallet, a payment app and more.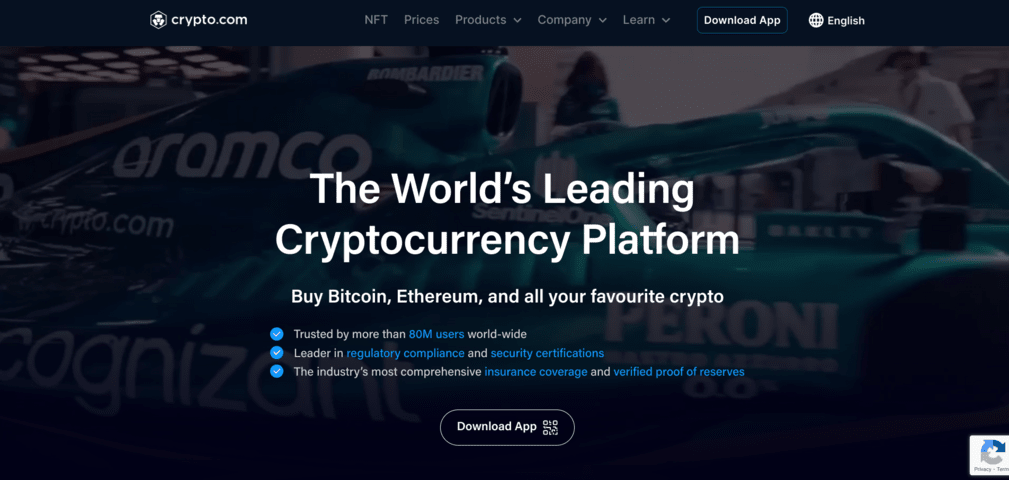 One thing worth considering regarding Crypto.com is that there are more user-friendly alternatives on the market. Beginners may be overwhelmed when they first sign up for the site due to its complexity and the number of buttons on the screen. This can take a while to get used to. Therefore, we recommend eToro if ease of use is a priority,
Also, if you plan to withdraw via bank transfer, Crypto.com has a minimum withdrawal limit of $80 (or the GBP equivalent).
Still, it offers a great fee structure, enabling investors to buy XRP with fees of just 0.075%, or even lower for high-volume traders.
| | | | |
| --- | --- | --- | --- |
| Fee Structure | Fee to Buy XRP | FCA Regulated | Top Features |
| 2.99% fee on card deposits | 0.075% of the purchase amount | Yes | NFT marketplace, crypto bank card and staking |
Pros
Reasonable fee structure, charging 0.075% or less per trade
Over 250 cryptocurrencies
Many features, including a crypto bank card
Cons
Complex user experience for newer users
Charges a 2.99% fee for card deposits
4. SwissBorg – Seamless UI With Smart Yield and Crypto Portfolio Bundles

SwissBorg is a European crypto exchange with high regulatory compliance and a solid user experience. Like eToro, the app is seamless and easy to use, even for a beginner trader.
There are 54 cryptos on SwissBorg, but they continue to add new ones.
One of its main features is Smart Yield, a passive way to earn income from DeFi without using the DeFi protocols yourself. Instead, you deposit funds to a SwissBorg Smart Yield Account, and the yield farming is automatically managed.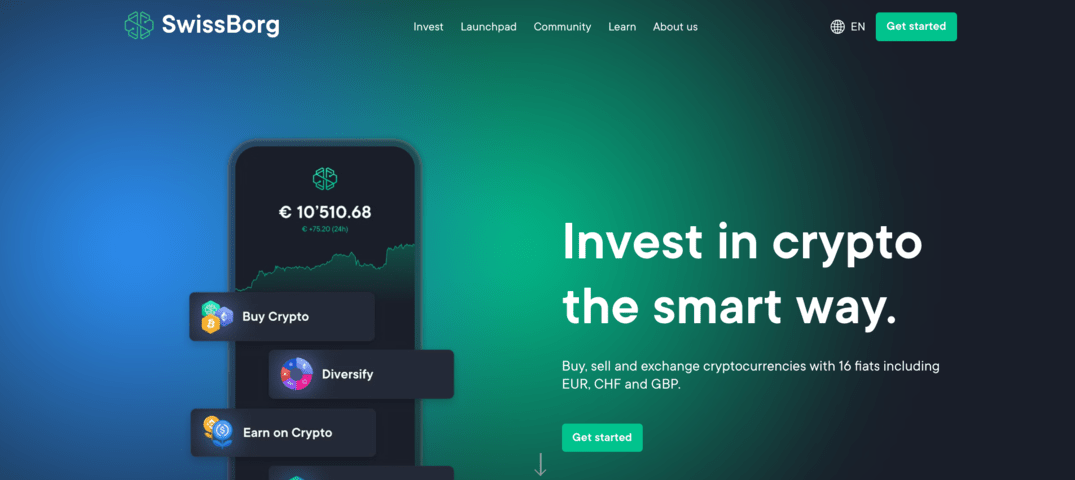 It also offers crypto portfolio bundles known as Thematics. These are diversified bundles of cryptos that you can buy in one trade. Currently, it offers a bundle called web3, which includes 13 cryptos, including Cosmos, Ethereum, Polkadot, Polygon and more.
SwissBorg charges a flat 1% trading fee, and there are no deposit fees for bank transfers.
However, one of the main issues regarding SwissBorg is its limited functionality. We found issues like being unable to set limit/stop orders, a limited selection of currencies and that users who want to earn a high yield on staking must hold significant amounts of the platform's native token ($CHSB).
| | | |
| --- | --- | --- |
| Fee Structure | Fee to Buy XRP | FCA Regulated |
| 2.25% fee on card deposits and free bank transfers | 1% of the purchase amount | No |
Pros
Seamless UI
Includes several beginner-friendly features for diversifying and earning yield
Clear fee structure
Cons
No ability to set limit/stop orders
A limited selection of cryptocurrencies
Users must hold significant amounts of $CHSB to maximise their staking yield
What is XRP?
In simple terms, XRP is the cryptocurrency used to transact on the XRP Ledger.
The XRP Ledger is a public blockchain created by the tech company Ripple Labs to facilitate international, cross-border payments.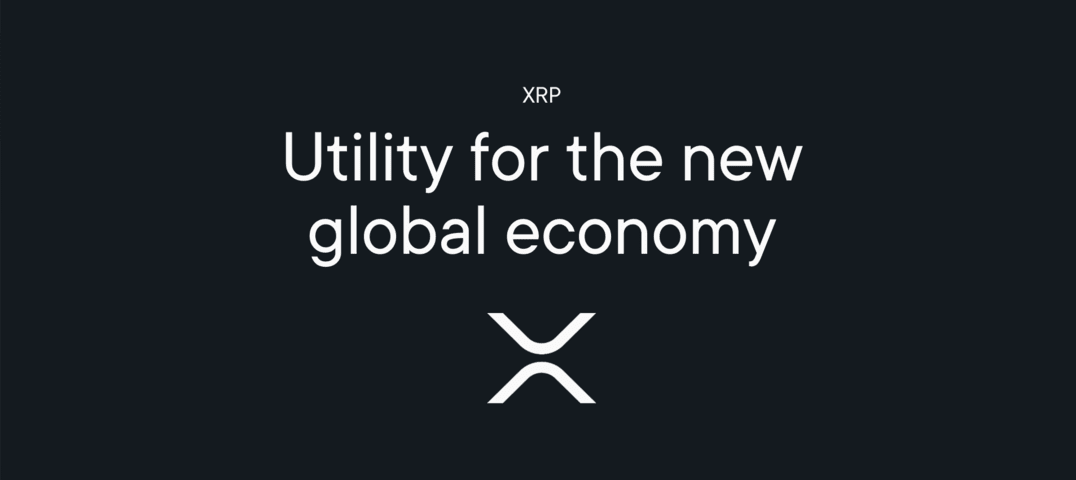 Ripple created the XRP Ledger because, as it currently stands, international payments can take hours, days or even weeks to process. They also cost high fees and require pre-funded accounts for exchanging foreign currencies on the foreign exchange market. This complicates the process and can add even more delays.
On the other hand, through XRP and the XRP ledger, transactions can be completed in seconds for a fraction of the cost, with XRP used for liquidity, so there is no need for pre-funded accounts.
According to a Bank for International Settlements study, over-the-counter (OTC) foreign exchange markets reached $7.5 trillion in daily volume in April 2022. The goal of XRP is to process much of this activity through its network.
Key Advantages of XRP
XRP is a faster and more cost-effective option for settling international payments for banks.
The blockchain is highly scalable, capable of processing up to 1,500 transactions per second (TPS)
It is energy efficient, using only 0.0079 kWh of energy per transaction, 100,000 times less than Bitcoin's energy consumption.
Ripple Labs recently gained a landmark partial victory over the SEC in its ongoing case, providing confidence and regulatory certainty to institutions in the US seeking to use the blockchain.
There are 100,000,000,000 XRP coins, and 52.84% of them are circulating. Most of the remaining tokens are currently held by Ripple Labs, and one billion are unlocked monthly. Generally, if Ripple sells the unlocked tokens, it does it OTC to prevent price impact.
However, Ripple Labs often does not sell the unlocked tokens, instead putting them back in escrow.
One of XRP's main draws is that Ripple Labs has partnered with some of the world's most prominent financial institutions, including Bank of America, Standard Chartered, Santander and many more.
This means that a long queue of prevalent buyers awaits to acquire any XRP Ripple Labs wants to sell.
Is XRP a Good Investment? Key Points to Consider
The next important consideration is whether XRP is one of the best cryptos to buy. To answer this question, we have broken it down into four key areas: partnerships, regulation, price and tokenomics. Let's look at each below.
Partnerships With Global Banks
As mentioned, XRP has already secured partnerships with leading global banks, including Bank of America, Standard Chartered, and Santander. These banks utilise XRP for global international settlements.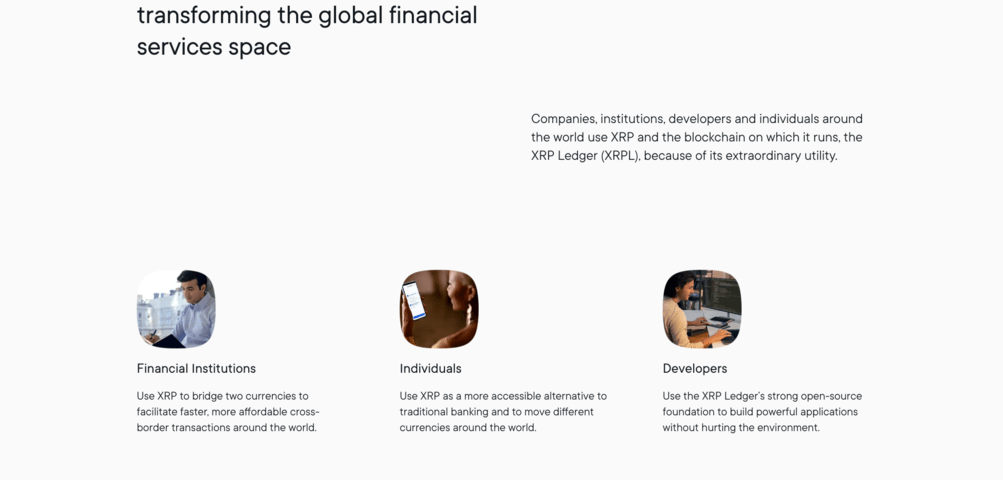 If XRP adoption for international settlements continues to grow, particularly with the emergence of CBDCs, the volume of daily transactions that the XRP ledger will process could reach trillions of dollars.
The exciting thing about this would be that all these transactions would be settled in the XRP token, providing it with vast utility and unprecedented demand.
On top of that, XRP is one of only seven ISO 20022-compliant cryptos. ISO 20022 is an international standard for communicating data between financial institutions like banks and payment networks.
It is expected that 63% of banks will be ready to adopt ISO 20022 by 2025. Considering XRP is one of only a few compliant cryptocurrencies, it is well-positioned to tap into colossal amounts of new liquidity.
Regulatory Certainty
XRP's recent partial victory over the SEC puts it in the unprecedented position of the first cryptocurrency ever to be ruled not a security in a court of law.
While this may sound trivial, it carries enormous importance for banks, institutions and enterprises who want to adopt cryptocurrency but require regulatory certainty.
If XRP continues to succeed in its case against the SEC, it could become a pioneering crypto regarding regulatory clarity, leading to mass adoption from leading global entities.
While Ripple Labs' lawsuit may have initially seemed bad, it could be the pressure test needed to solidify its position ahead of the emergence of CBDCs. If XRP is proven not a security, there is nothing in the way of becoming the global bridge currency for cross-border payments.
Buying the Dip
Despite significant progress in its case against the SEC, the XRP price is yet to break above $1. XRP's all-time high (ATH) was $3.84 in January 2018. Today, XRP is priced at $0.5187, 86.1% lower than its ATH, but in an arguably better position considering it has been ruled not a security.
Furthermore, around XRP's ATH, there was far less talk of CBDCs, significantly strengthening its use case.
Therefore, the current price of XRP may represent a unique opportunity to buy a massively undervalued crypto on a dip.
Tokenomics
XRP has a max supply of 100,000,000,000 with 52% circulating and one billion tokens unlocked monthly until the max supply is circulating. This provides a predictable supply of XRP, mitigating some of the price volatility risks of cryptocurrency. This is crucial for large financial institutions that are used to settling international trade in the stable USD.
Another exciting factor of XRP is that it features a burn mechanism, where a small amount of each XRP transaction is removed from circulation. While it is only a small amount, a reduced supply could help bolster its price, particularly if demand increases simultaneously.
Moreover, we should consider XRP's utility. The token is essential to use the XRP ledger, so providing there is demand to use the ledger (which is evident in Ripple's partnerships), there will be demand for the XRP token.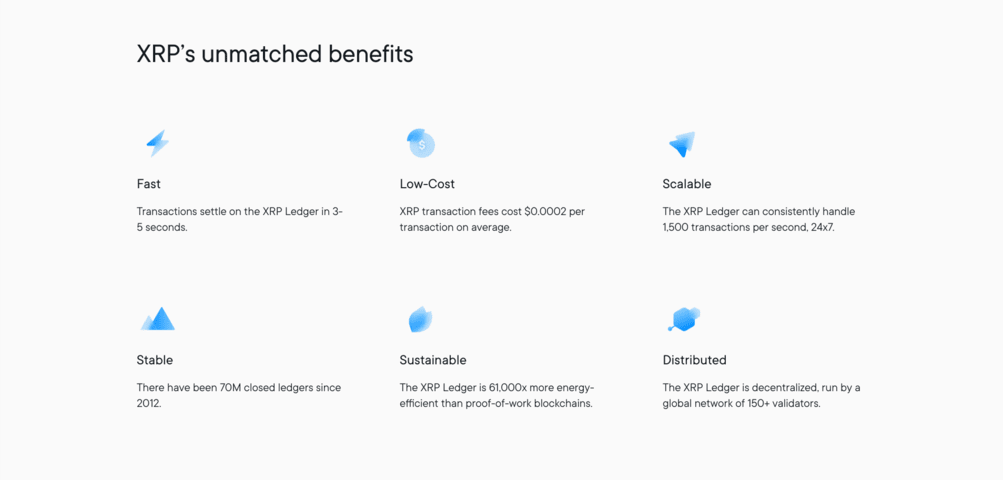 Overall, while every crypto carries risk, XRP presents one of the most robust use cases in the crypto space. Furthermore, its current price is significantly less than its 2018 ATH despite being in a much stronger position, both from a regulatory and utility standpoint.
XRP Price History
XRP has one of the longest price histories in crypto, dating back to 2013. In its early years, the token traded at a fraction of what it does today, only breaking above $0.1 in May 2017. Following this, the price began a parabolic run to its 4 January 2018 ATH of $3.84.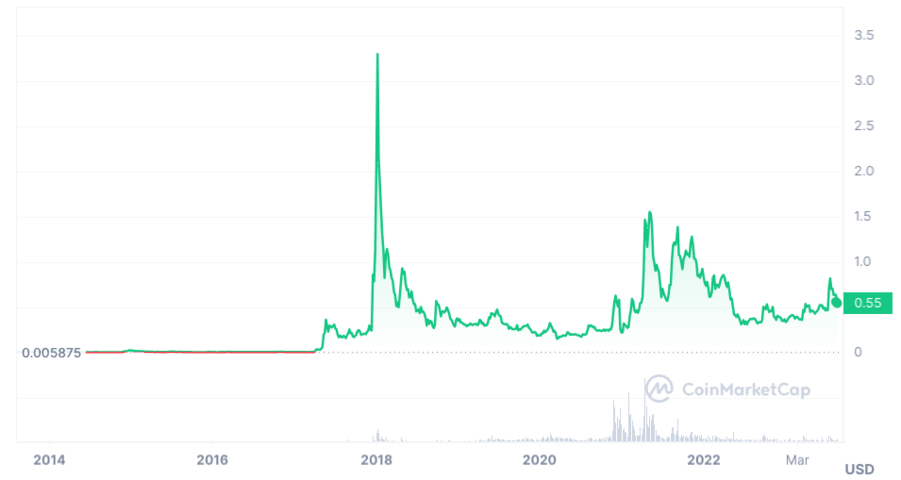 However, as quickly as the price peaked, it sold off, dropping to $0.27 by September 2018. Yet things then got worse for XRP, trending downwards throughout the crypto winter to lows of around $0.15 in March 2020.
Then, in anticipation of the Bitcoin halving, the price slowly recovered, reaching $0.63 in December 2020. However, this was when the SEC sued Ripple Labs for raising funds by selling an unregistered security in the form of XRP.
Once again, the price cascaded to lows of $0.22 but began recovering as the market picked up and Ripple Labs built a legal defence.
Throughout the 2021 crypto bull run, XRP could not reclaim its 2018 ATH due to the looming threat of the SEC. Instead, it peaked at $1.55 in May 2021. XRP followed a bearish trajectory, finding a bear market support of around $0.32 in June 2022.
Then, in July 2023, Judge Torres of the SEC vs. Ripple Labs case ruled that while some institutional sales of XRP may have warranted sales of unregistered securities, the XRP token itself is not a security.
Immediately, the XRP token soared 90%, reaching $0.82 the same day. However, the price did not sustain its bullish momentum, as it sold off and is currently trading at $0.52.
The lack of bullish momentum is ultimately due to the SEC continuing to battle Ripple Labs in court.
XRP Price History Key Points
XRP was launched in 2013.
It reached an ATH of $3.84 in 2018.
Ripple Labs was sued by the SEC in 2018.
XRP was unable to reclaim its ATH in the 2021 bull market.
Its current price is $0.52.
Future Outlook – XRP Price Prediction
With the Bitcoin halving and potential crypto bull market looming, coupled with XRP's growing notoriety and regulatory certainty, the fundamentals of XRP all point to a successful future for the project. However, what do the charts say? Let's take a look.
The recent XRP pump has created a compressing channel on the long-term XRP price chart.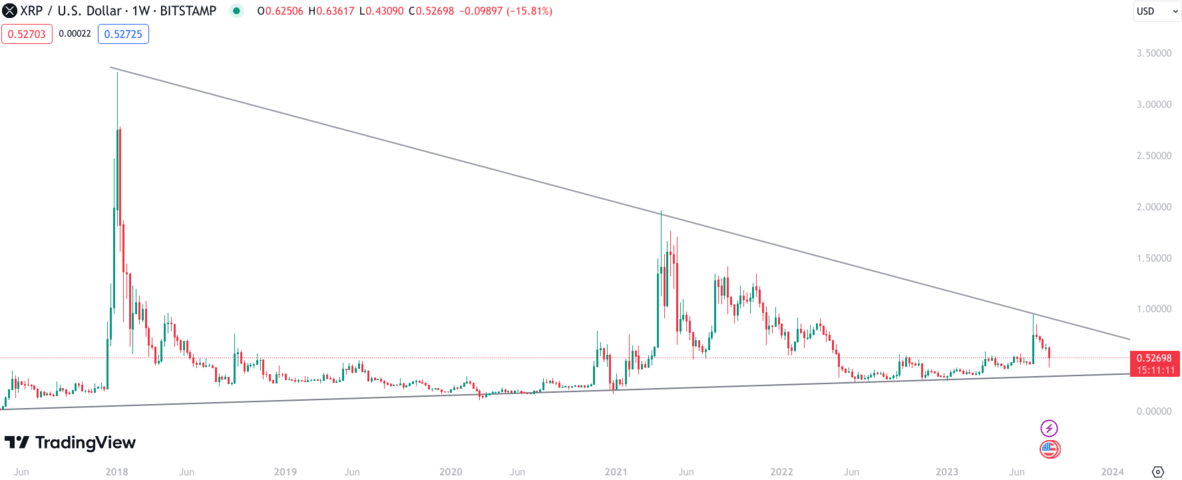 Generally, a period of compression is followed by expansion. Considering this compression zone spans five years, we can expect a significant expansion when XRP does break this zone.
With the crypto bull run expected in 2024, XRP will likely break this zone to the upside. With this in mind, we have applied the Fibonacci Retracement tool to the XRP chart to gain some potential price targets.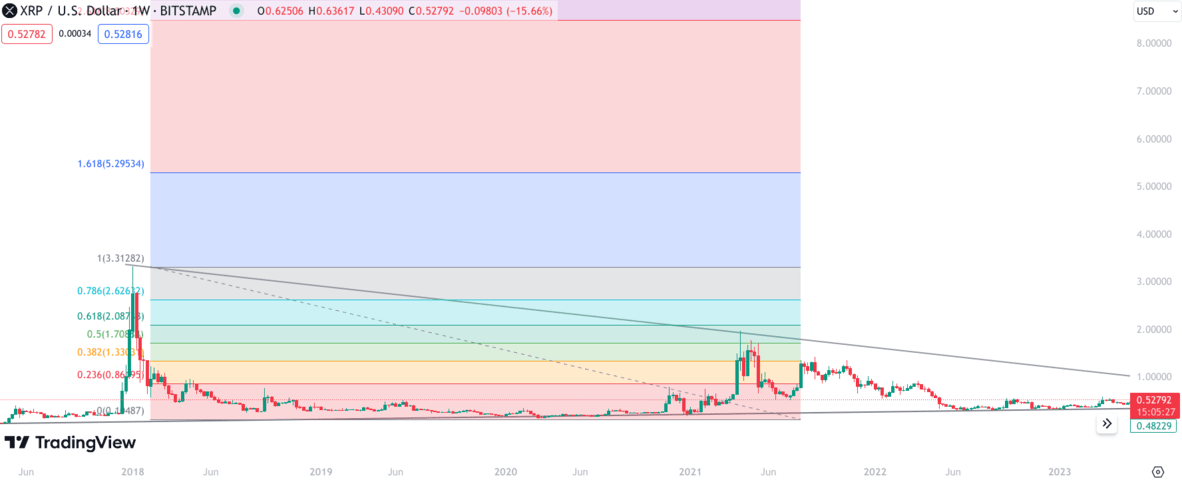 The chart above shows that the first significant resistance level may come around the $5 level, with the next around $8. However, it is important to consider these targets may not be hit in the next cycle; it may be between 4-8 years.
Interestingly, many analysts predict even greater returns for XRP. Esteemed Wells Fargo Analyst Shannon Thorpe predicted XRP could reach anywhere between $100-$500.
Meanwhile, a popular forecast by market analyst @johnaldinioh89 predicts XRP will soon pump to $18. The analysis racked up almost 400K views on Twitter, with thousands of likes, but also split opinions on whether it could reach that high.
Another prominent XRP analysis by hedge fund manager Thomas Kralow estimated that XRP will reach $10-30 in the long term.
Can You Buy XRP with PayPal in the UK?
The PayPal app currently does not support buying cryptocurrencies in the UK, although it plans to add the service in 2024.
You can use the eToro app to buy XRP with PayPal in some countries. However, this feature is also not supported in the UK. As such, the most straightforward way to buy XRP with PayPal in the UK is to transfer your funds to your bank and deposit them into eToro.
Cheapest Way to Invest in XRP in the UK – Exchange Prices Explained
Different exchanges have different prices and fee structures for cryptos, so you can get more for your money if you choose the right one.
One of the most important considerations is credit/debit card fees. Indeed, credit/debit card deposits are often the fastest and most convenient way to buy XRP. However, many exchanges charge exorbitant fees of up to 4% for these deposits.
One of the best exchanges for credit/debit card deposits is eToro, where no fee is involved.
Meanwhile, centralized exchanges often charge trading fees, too. Some platforms like Coinbase charge 1.5% trading fees. On the other hand, Crypto.com offers more competitive fees at 0.075% per trade.
You can also use a decentralised exchange to buy XRP. Still, because it is on an independent blockchain, many users prefer to buy it via a centralised exchange since they do not need to manage it in an XRP Ledger-compatible wallet.
Overall, we found that eToro offers the best value when buying XRP, all while providing a leading user experience, perfect for beginners to advanced traders.
Cryptoassets are highly volatile and unregulated in most countries. No consumer protection. Tax on profits may apply. Your capital is at risk.
Things to Consider Before Investing in XRP
While we have identified that XRP is one of the most promising cryptos, it is also essential to be aware of the risks before investing.
Regulatory Risk
Despite its landmark partial victory, the SEC is proving relentless in its pursuit of Ripple Labs, recently appealing the verdict that XRP is not a security.
This is likely the main factor suppressing the XRP price since the announcement, and there is a risk that the legal battle could continue throughout the next bull market, limiting XRP's upside potential.
Centralization Risk
Another concern regarding XRP is the risk of centralization. Almost 50% of tokens are locked in smart contract escrows controlled by Ripple Labs. While it is unlikely, Ripple Labs could significantly damage the XRP price by mishandling these funds.
One of the core values of cryptocurrency is decentralization so that one entity does not hold the power of an entire financial system within its hands. However, Ripple Labs focuses more on the technological benefits of blockchain rather than its decentralization properties.
Competition
Foreign exchange is the world's largest financial market. As such, there are bound to be many companies competing to provide infrastructure to increase speed, reduce fees and facilitate trillions in daily trading volume.
Therefore, XRP faces stark competition. It also threatens the US Dollar since that is typically used to settle international payments. This is a crucial consideration because if the US government sees it as a threat, it could attempt to prevent XRP from reaching its potential.
On top of that, while providing a slightly different use case, other cryptos like Steller still present a competitive risk to XRP.
Nevertheless, all assets carry risk, and XRP is no different. However, its cutting-edge use case, partnerships with leading global financial institutions, ISO 20022 compliance and recent partial victory against the SEC all point to a bright future.
How to Buy XRP in the UK Detailed Step-by-Step
So now we have established the benefits and risks of buying XRP and where to buy it; let's expand further on how to buy XRP step by step. Following these steps should take around ten minutes.
Step One: Open an eToro Account
First, visit the eToro website, then click the Join eToro button on the bottom left of the screen. You can either complete the sign-up with a username, email address and password or use a social sign-up option, joining by connecting eToro to your Facebook or Google account.
After you create an account, you must verify your ID using a government-issued document such as your passport or driver's licence. Once verified, move on to the next step.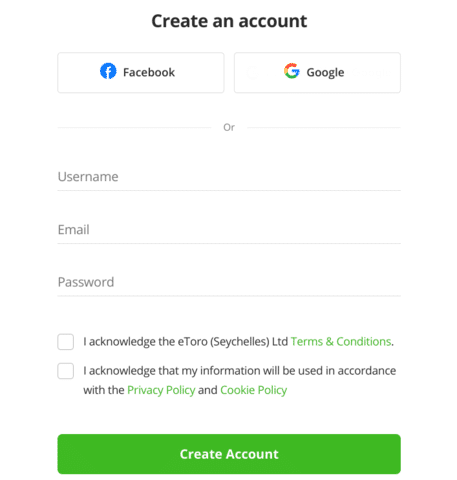 Step Two: Deposit Funds to eToro
Next, visit the eToro dashboard and select the Deposit Funds option. Choose the amount you wish to fund your account and the preferred payment method. For those in the UK, you can deposit to eToro using either a credit/debit card (£8 minimum deposit) or bank transfer (£500 minimum deposit).
Once you have chosen your payment method, fill out the necessary fields and hit the Deposit button. If you deposit with a card, your funds should arrive within a few minutes.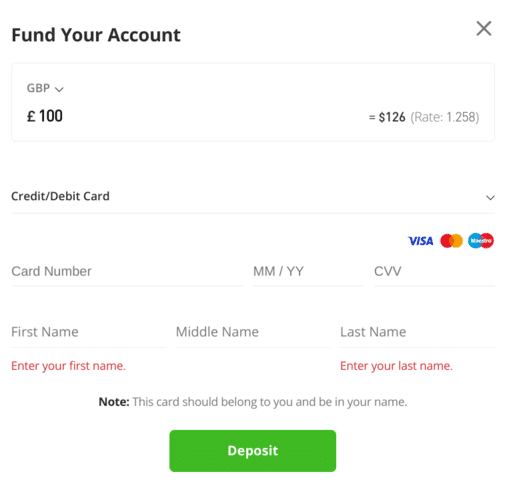 Step Three: Search for XRP
When the funds land in your eToro account, you can move on to the next step and buy XRP. Go to the search bar at the top of the screen and search XRP. Then click the Trade button when XRP appears.

Step Four: Complete Your XRP Purchase
Finally, you can complete the purchase. Select the amount of XRP you want to buy (either in USD value or click the units button to switch to XRP value), then click Open Trade.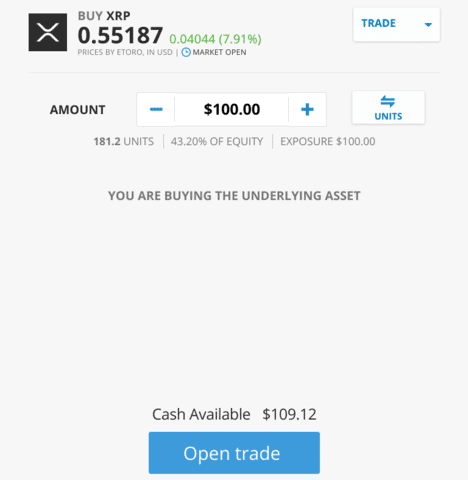 Conclusion
While there are several viable ways to buy Ripple in the UK, our guide found that the most straightforward, cost-effective and user-friendly method is eToro.
However, with XRP's lawsuit coming to a close, time may be running out to buy it at the current low price. Click below to buy XRP on eToro today.
Cryptoassets are highly volatile and unregulated in most countries. No consumer protection. Tax on profits may apply. Your capital is at risk.
References
https://www.reuters.com/legal/us-judge-says-sec-lawsuit-vs-ripple-labs-can-proceed-trial-some-claims-2023-07-13/
https://www.coindesk.com/markets/2023/07/13/crypto-exchange-gemini-may-relist-xrp-token-after-court-ruling/
https://www.csoonline.com/award/642551/us-cso-50-award-8-2022.html
https://www.imf.org/en/Publications/fandd/issues/2022/09/Picture-this-The-ascent-of-CBDCs
https://www.sec.gov/news/press-release/2020-338
https://www.cnbc.com/2022/02/21/bitcoin-btc-bull-market-may-not-return-until-2024-huobi-co-founder.html
https://www.bloomberg.com/news/articles/2023-08-18/sec-moves-to-appeal-ripple-ruling-that-crypto-is-not-a-security
FAQs
How can I buy XRP in the UK?
Can I buy XRP on eToro in the UK?
What is the best place to buy XRP in the UK?
Is it worth investing in XRP?