XRP20 is a hot new crypto presale that aims to offer the early investment benefits of XRP on Ethereum's user-friendly platform. Building on Ripple XRP's base, the platform aims to attract a wider audience via its one-stage community-focused presale that offers 40% of its 100 billion token supply.
It aims to be a 'next-gen XRP,' using a more community-centric and inclusive approach. This article will guide you on how to buy the $XRP20 token, explain its use cases, and discuss its potential future.
XRP20 Presale Key Points
The following is a summary of the XRP20 presale;
XRP20 is an exciting new crypto project aiming to extend the benefits of XRP on Ethereum and is currently in presale.
It is community-focused, with 40% of its 100 billion token supply offered in the presale. The token's price during presale is 30 times lower than XRP's all-time low.
The project offers a unique staking concept, enabling early investors to earn passive income from their holdings.
The token is not classified as a security, making it legally compliant and accessible to a broader audience.
XRP20's deflationary model ensures increased scarcity over time through a buy-and-burn mechanism, contributing to potential value growth.
The platform has already exhibited strong momentum, raising over $82K within the first 48 hours of the presale.
How to Buy XRP20 ($XRP20) Tokens – A Five-Step Beginner's Guide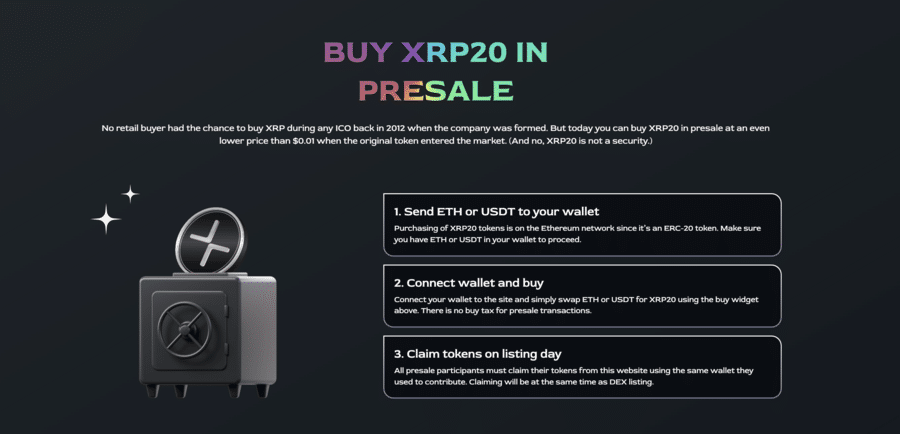 The $XRP20 tokens are available for presale at a price lower than $0.01, the entry point for the original XRP token.
Importantly, XRP20 isn't classified as a security, making it legally compliant and accessible to a broader pool of investors. Here are the simple steps to buy XRP20:
Step 1: Create a Crypto Wallet
First, you need a digital wallet compatible with the XRP20 presale platform. MetaMask is a popular option, providing a user-friendly app and a browser extension.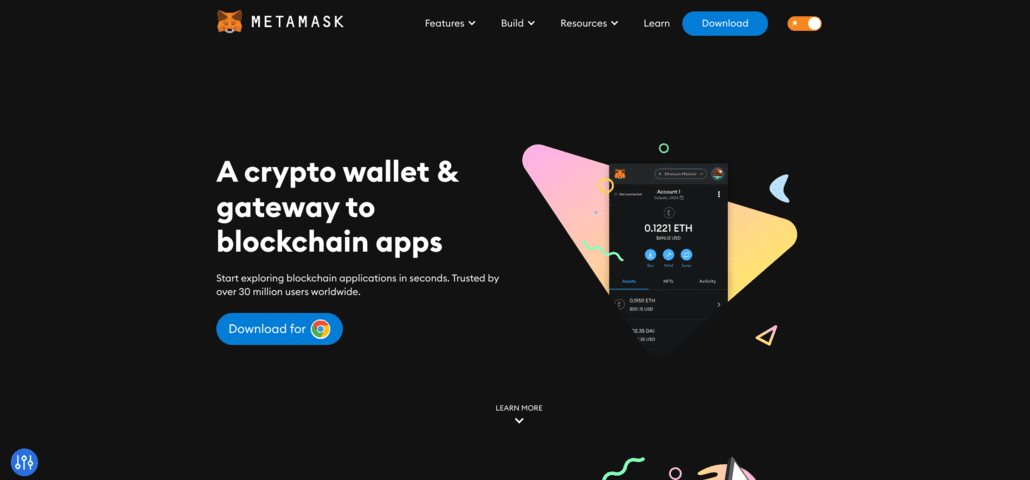 Alternatively, XRP20's presale website offers various choices like Trust Wallet, which you can access via the WalletConnect Widget.
Step 2: Get ETH/USDT
XRP20 accepts either ETH or USDT for payment. To buy XRP20, you'll need these tokens. You can get them from any crypto exchange and transfer them to your selected wallet. Alternatively, some wallets offer a direct purchase option.
Step 3: Link the Wallet
Next, connect your wallet to the XRP20 platform's presale page. Click 'connect wallet,' pick MetaMask or your preferred wallet, and link your wallet. Once connected, you can choose ETH or USDT to swap for $XRP20 tokens.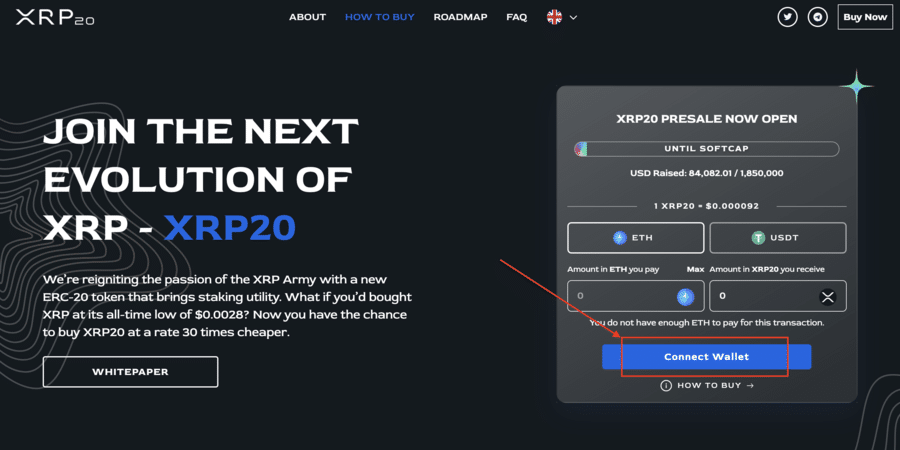 Step 4: Buy $XRP20
Now you're all set to buy $XRP20. With a minimum purchase of 100 tokens enter how much ETH or USDT you'd like to trade, then click 'Buy $XRP20 Tokens.' Follow the instructions to authorize the transaction.
Step 5: Claiming $XRP20 Tokens
After buying, presale participants must use the same wallet to claim their tokens from the XRP20 presale site. To collect your XRP20 tokens, visit the website, hit 'Claim,' and confirm the transaction. Remember, confirming transactions might attract some gas fees.
Stay tuned to XRP20's Twitter channel for live updates and news. Details about the token claim and official launch dates will be announced soon.
What is XRP20?
XRP20 ($XRP20) is a trending new crypto presale that aims to provide the early investment benefits of the original XRP token while leveraging the utility of the Ethereum blockchain.
This crypto platform introduces an innovative staking concept, allowing early investors to tap its upside potential via its presale. $XRP20's current price is 30 times less than XRP's all-time low.
Plus, it allows buyers to leverage the recent 2x price surge of XRP following its return to Coinbase and the recent win against the U.S. Securities and Exchange Commission (SEC) in the securities case.
A Brief History of the Original XRP Token
Before exploring XRP20, let's look into XRP's background, which is the building block for XRP20. Ripple's token, XRP, was created in 2011 by Jed McCaleb and Chris Larsen.
This crypto is known for being cheaper, quicker, and more eco-friendly than Bitcoin, and it has a massive pool of 100 billion pre-mined tokens.
The distribution of XRP was three-fold:
The parent company Ripple received 80 billion XRP tokens, with 55 billion locked in escrow to ensure a stable supply.

The remaining 20 billion tokens were split among Ripple's co-founders and key team members.

The leftover tokens are being released at less than 1 billion per month, initially lasting 55 months.

In its 2012 ICO, XRP was unavailable to retail investors, with its lowest price at $0.0028 in 2014. Since then, XRP's price has skyrocketed, reaching a peak of $3.84 in January 2018. Despite a subsequent drop, it remains the

fifth-largest crypto

in market cap.
Yet, XRP's journey has had hurdles. In 2020, Ripple faced a lawsuit from the SEC, accused of distributing $1.3 billion of unregistered tokens, causing a debate on whether XRP is a crypto or a security.
The Rise of XRP20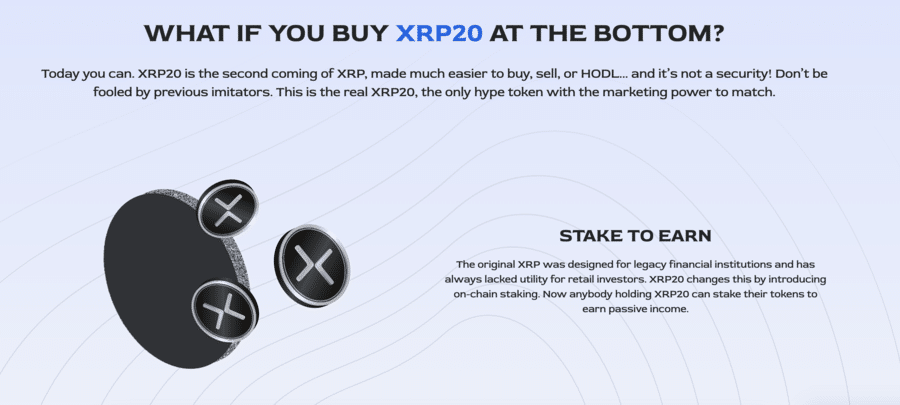 Built as an ERC20 token on Ethereum, XRP20 offers a user-friendly, secure token with a staking feature and a deflationary burn system. Its migration to Ethereum provides a simple way for users to store, monitor, and trade $XRP20.
Moreover, XRP20 uses a deflationary model via a buy-and-burn mechanism, automatically sending 0.1% of each transaction to a burn address, set to burn 10% of the total tokens, making the token progressively scarce.
XRP20 depends on a strong community that supports Ripple's vision and its ongoing legal battle with the SEC. This new token can strengthen the ecosystem and reinforce the community's resilience, making it one of the top cryptos to watch.
| | |
| --- | --- |
| Presale Started | July 2023 |
| Purchase Methods | ETH, USDT |
| Chain | Ethereum |
| Hard Cap | $3,680,000 |
| Min Investment | 100 Tokens |
| Max Investment | None |
XRP20 Tokenomics & Presale
The platform has community-focused tokenomics, with 40% tokens presale, 40% for staking, 10% for liquidity, and 10% for token burn. The project has a total supply of 100,000,000,000.
This approach appears more attractive than XRP, as the founders have no token allocation. XRP20 brings a significant change, enabling staking. This allows any XRP20 owner to stake their tokens for passive income, fixing a gap in the original XRP.
You can enter the XRP20 Telegram channel to get the latest updates.
| | | | | |
| --- | --- | --- | --- | --- |
| Stage | Token Price | Percentage (Of Presale Tokens) | Number of Tokens | USD |
| 1 | $0.000092 | 100% | 40,000,000,000 | $3,680,000 |
The Future of XRP20: The Roadmap
Usually, the best long-term investment projects have a clear roadmap that outlines the platform's growth plans in the future. XRP20 has a four-phased roadmap, as discussed below;
Presale: XRP20's journey begins by increasing awareness and offering a level playing field for new crypto enthusiasts. An open, fair presale can help create a strong community.
Marketing: In the initial phase, XRP20 will focus on promoting its ease of purchase and unique position as the new version of XRP through a comprehensive marketing strategy.
Burn Activation: Another critical move is to activate a token-burning mechanism after a successful DEX launch. This process will automatically decrease token supply per transaction, increasing scarcity.
Community Staking: Creating a vibrant community that actively interacts with XRP20 is pivotal. Post-launch, staking takes center stage, aiming to reward community members for their commitment to supply lock-up.
Why Buy XRP20 In Presale?
Investors are looking for the next crypto to explode, especially as the market shows signs of recovery. Let's see why XRP20 has the potential to soar in the upcoming market recovery;
High Potential for Returns: XRP20's early sale price is 30 times below XRP's lowest, making it an ideal entry point for investors. To highlight, XRP soared to a value 137,000% above its lowest – a marker of what XRP20 could achieve. The lower cost of entry means lesser risk and more chances for high gains for early buyers.
Unique Staking Rewards: the platform introduces a new staking system that provides passive earnings, thus encouraging long-term investment. This feature enables small-scale investors to contribute to the project's growth, thereby boosting the token's value.
Increased Scarcity through Token Burns: The planned burn mechanism of XRP20 is set to increase the token's scarcity over time, potentially raising its value. With 10% of the total supply allocated for burning, early investors stand to benefit from this deflationary measure.
Community-Driven Development: XRP20 focuses on community-led development, an attractive prospect for potential investors. With a fairer token distribution approach, the project steers clear of the controversies that hit XRP. XRP20 combines XRP's strong community connections with new improvements while avoiding legal complications.
XRP20 Price Prediction – What is $XRP20's Potential?
XRP20's innovative features, community-led development, and strong roadmap make this project stand out as one of the most promising cryptos.
The future of XRP20 looks bright, considering its early feat of raising over $90K in under 48 hours, showing robust community backing. These early wins indicate a strong momentum for XRP20, which could yield high returns for early investors.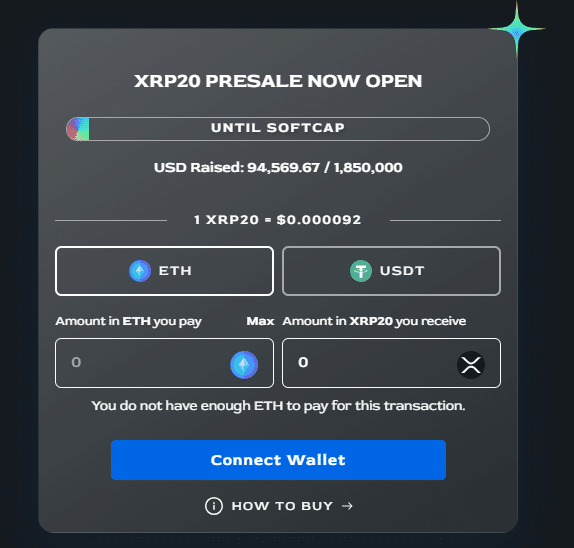 The new stake-to-earn model offers a passive income stream, which could lead to a consistent rise in XRP20's value. Coupled with a burn mechanism set to eliminate 10% of the total supply, the token's growing rarity could push prices higher over time.
Also, XRP20's legal standing as a non-security token, its superior accessibility on the Ethereum blockchain, and its fair token distribution scheme lay a solid groundwork for significant growth.
However, despite XRP20's massive potential, any crypto's success depends on the overall market sentiment towards cryptos, Bitcoin's movements, and broader economic conditions. Thus, a prudent approach alongside due diligence is vital before making investment decisions.
Conclusion
XRP20's presale price is 30 times less than the original XRP's all-time low, offering an exciting opportunity for early investors to buy at a presale price of $0.000092 USDT. With XRP's past performance witnessing a whopping 137,000% surge, we can imagine a comparable, or even better, path for XRP20, especially with its advanced features and community-first approach.
To purchase XRP20 tokens during the presale at a discounted price, link your crypto wallet to the official website and trade your ETH or USDT. Although new, XRP20 has already captured market interest with over $90k raised in less than 48 hours of its launch.
Ensure you double-check all information and only use verified links for transactions. Visit XRP20coin.com, the official website, to buy XRP20 tokens before it lists on DEXs later this year.
References
https://finance.yahoo.com/news/coinbase-restart-xrp-trading-judges-200352303.html
https://www.ft.com/content/2d2317ab-2fe8-4db6-8f3e-30acfea25c28
https://coinmarketcap.com/currencies/xrp/
https://www.coingecko.com/en/coins/xrp
https://alternative.me/crypto/fear-and-greed-index/
FAQs
What is the market cap of XRP20?