With AI continuing to make headlines, crypto projects leveraging the technology have amassed huge hype and popularity in recent months.
This guide showprs how to invest in yPredict at the best possible price and explains why it is one of the best coins to watch this year.
yPredict Key Points
Before we dive into the guide, here is a summary of the key points.
yPredict is a predictive AI project where traders can purchase AI-powered trading signals with the native $YPRED token.
$YPRED holders can stake their tokens to receive a share of 10% of marketplace fees that the project generates.
The project aims to 'level the playing field' by providing traders access to data-driven AI and machine learning predictive modelling designed by data scientists.
The $YPRED coin is in its presale, currently available at a discount from its exchange launch price.
$YPRED has a 100M total supply, with 28% allocated to the private, pre and public sales and the rest allocated for the project's development.
How to Buy yPredict Tokens at Presale
Purchasing $YPRED tokens at the presale takes less than ten minutes. Find out how to secure your tokens in just five simple steps below.
Step 1: Create a Crypto Wallet
The first step is to create a wallet compatible with the yPredict token. $YPRED is an ERC-20 token, so you will need an EVM-compatible wallet. MetamMsk is best for desktop and TrustWallet for mobile.
To get started, download the software wallet to your device, then create an account, ensuring you store your seed phrase in a safe and private location.
For the $YPRED presale, you can pay directly from your centralized exchange account. That said, you will still need a software wallet to claim your tokens.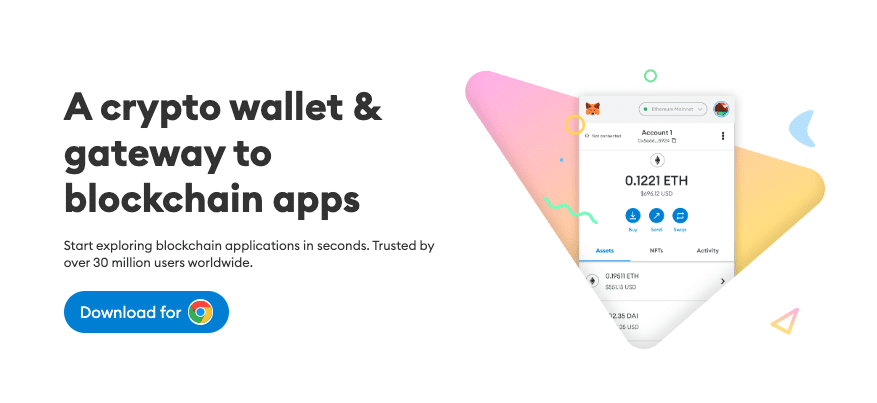 Step 2: Purchase Crypto to Swap For $YPRED
Next, load your wallet up with crypto to swap for the yPredict coin. You can either pay with USDT, ETH, MATIC or BNB.
If you use a software wallet, you must transfer crypto from a CEX or buy crypto with a card directly in your wallet.
On the other hand, if you buy $YPRED using a CEX, ensure you have either a balance of USDT, ETH, MATIC or BNB first. You can do this by sending fiat to the exchange and then swapping it for crypto.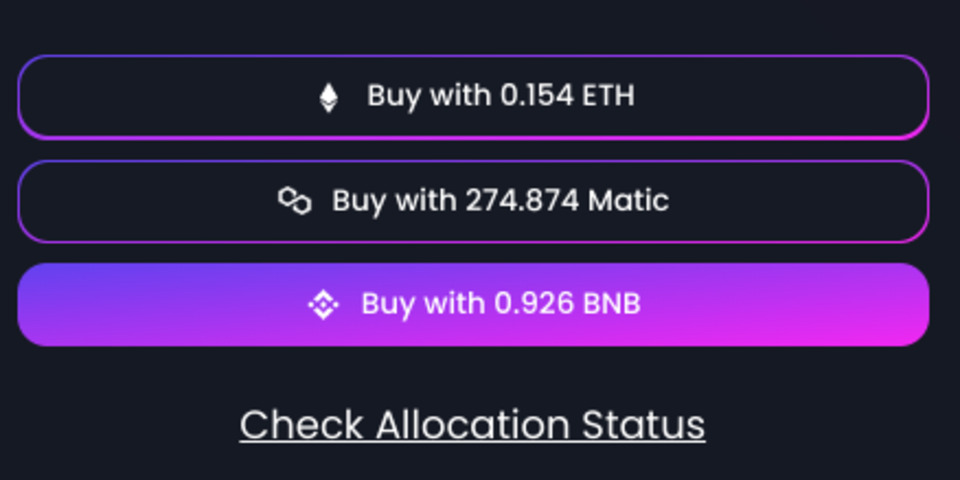 Step 3: Get the yPredict Wallet Address
Visit the yPredict website, then select the crypto you wish to pay with. Next, the site asks you to input your email and then provides you with a wallet address to send the payment to.
Copy the address, head to your wallet, click send, choose the crypto you are paying with and paste the wallet address. Also, ensure you send it via the correct blockchain. For example, send Ethereum on the Ethereum chain or BNB on the Binance Smart Chain.
Step 4: Confirm Your Address
Once you have paid, you must confirm the address where you will receive the $YPRED crypto. Revisit your wallet and click 'receive', select Polygon or MATIC and copy the wallet address.
Alternatively, you can set your wallet to the MATIC network and copy the wallet address from your wallet dashboard.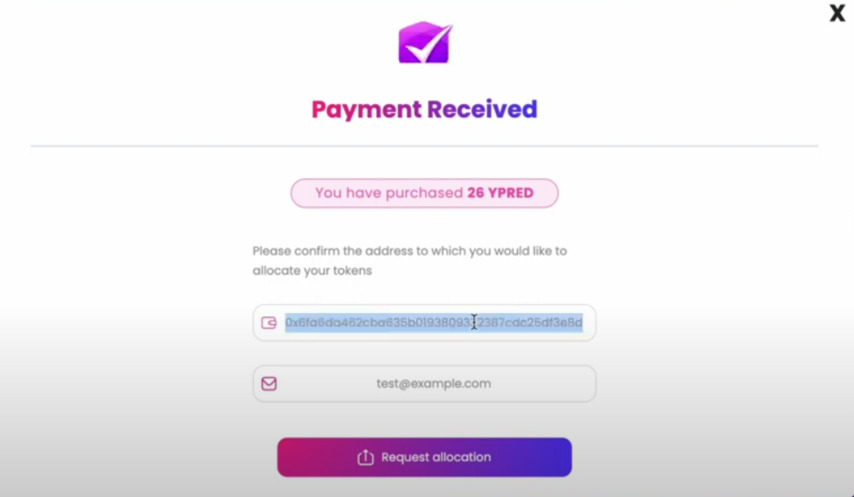 Once you copy your wallet address, return to the yPredict website and paste it into the address box.
Note that you must input a software wallet address, not a CEX wallet, as you must connect your wallet to the yPredict app to claim your tokens.
Step 5: Claim Your Tokens
At the end of the presale, visit the yPredict app, select claim and connect your wallet to receive your tokens.
What is yPredict?
yPredict is a new cryptocurrency that provides retail and institutional traders with AI-powered predictive analysis tools and signals. Data scientists and quant traders design these tools, and users can buy the tools on a monthly subscription basis using $YPRED.
As the generative AI market forecasted to reach $51 billion by 2028, investors are cashing in on AI-related cryptos. That said, yPredict stands out from other AI coins for a number of reasons.
The reason yPredict is so promising is that it fills the need for more transparency and honesty across the trading signal-providing industry. We believe its problem-solving approach gives it the potential to become one of the best long-term cryptocurrencies.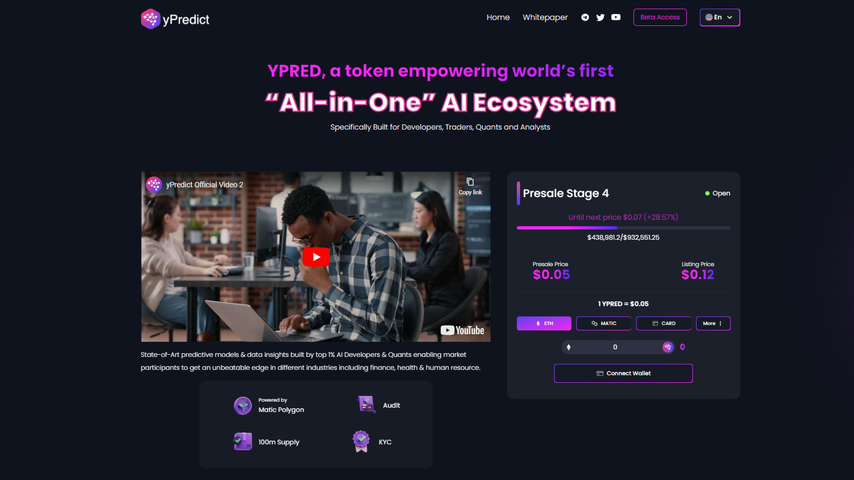 The yPredict litepaper claims many signal groups lack profitability. It is well known that some group owners only profit from memberships and exchange referrals rather than from actual trading.
In contrast, yPredict will leverage machine learning technology to provide accurate signals. Moreover, it will decentralize the industry, removing the need to trust signal providers by utilizing a DAO to quality-test every predictive model before its released to the app's marketplace.
The project's DAO consists of $YPRED coin holders, who can verify each model prediction via a trial. As a result, this reduces the likelihood of low-quality or unprofitable models being released to the community.
There are four fundamental components that power the yPredict ecosystem:
yPredict Predictions
This is a 'free-forever' platform that showcases the power of AI and ML-aided predictive modelling. Consequently, yPredict Predictions is a great way to attract new users into the ecosystem, thus making the project more well-known and increasing the token's demand.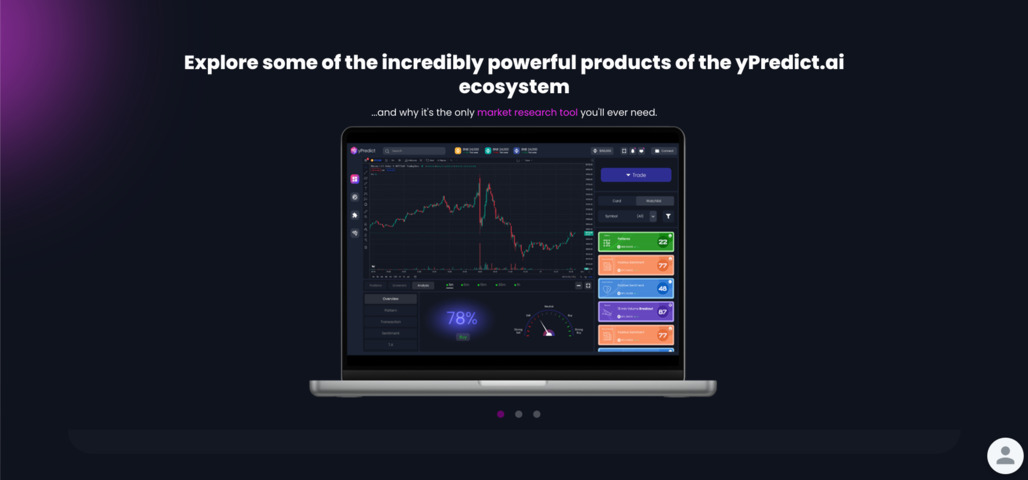 yPredict Analytics
yPredict Analytics aims to overcome the obstacles traders face when trading against algorithmic bots by analyzing a massive dataset of technical indicators, social sentiment and trading patterns. By doing so, the analytics software will determine which tools are effective in various market conditions.
AI can process data far better than a trader ever could manually, levelling the playing field for retail traders against trading bots.
yPredict Marketplace
The yPredict Marketplace is what gives the coin potential to explode and makes it one of the best cryptos to buy right now.
AI and ML developers can sell their predictive models on monthly subscription bases to traders via the yPredict Marketplace. yPredict will charge a 20% marketplace fee, of which $YPRED holders will get 10%.
The marketplace enables developers to earn passive income, but the trading fees also mean token holders can earn passive income by staking too. Moreover, the fact that staking rewards come from fees rather than token emissions means $YPRED does not need to be inflationary, making it sustainable long-term.
yPredict Terminal
yPredict Terminal is a powerful trading platform that integrates with the app's other services, enabling instant order execution based on signal alerts.
| | |
| --- | --- |
| Presale Started | 13 February 2023 |
| Purchase Methods | ETH, BNB, MATIC |
| Chain | POLYGON |
| Hard Cap | $2,072,000 |
| Min Investment | 25 $YPRED |
| Max Investment | None |
What Will the yPredict Token Be Used For?
Key Points on yPredict
YPRED token holders can access the yPredict analytics platform for free.
YPRED tokens can be used to pay for predictive model subscriptions on the yPredict Marketplace.
Token holders can earn incentives for voting on the marketplace.
Staking YPRED tokens can lead to earning attractive APYs.
To understand whether the $YPRED token is one of the best presales, it is important to consider its utility.
$YPRED will be the primary utility token that powers all elements of the yPredict ecosystem. Check out its primary uses below.
Traders and investors will use the token to buy services on the yPredict application.
Investors can stake their coins and earn staking rewards in the form of the $YPRED token.
Developers who sell their services on the application will earn passive income with the $YPRED crypto.
Holders can partake in the DAO, which votes on important matters relating to the project. This includes reviewing prediction models to ensure the marketplace only allows the best trading signals.
The main factors driving demand for the coin are traders using it to buy services and investors speculating the price will go up. Moreover, the 'real yield' that the project generates means there is sustainable demand for $YPRED, which can positively impact its price in the years ahead.
With a total supply of 100 million tokens, the coin will eventually become deflationary, making the coin scarce, which will naturally boost its price over time.
The coin is currently in the last presale round. Following this, the price is set to increase for its exchange launch, providing a 15% ROI from its current price.
That said, leading up to the IEO, the coin will likely receive much more media coverage, generating fear of missing out for investors who missed the presale. This could cause the price to shoot up following the IEO.
Reasons to Buy yPredict
yPredict is currently a presale token, and therefore offers users a unique opportunity to get involved in a project at a discount price. While some crypto presales in the past have generated big ROIs for investors, all investing comes with risks and cryptos are no exception especially given the volatile nature of the market.
Some projects such as Tamadoge and Lucky Block have yielded large returns after completing successful presales. For this reason some crypto enthusiasts choose to add presale tokens to their portfolios.
We have established how to buy $YPRED, how the platform works and what value the coin brings. Next, let's check out why yPredict could be one of the next cryptocurrencies to explode.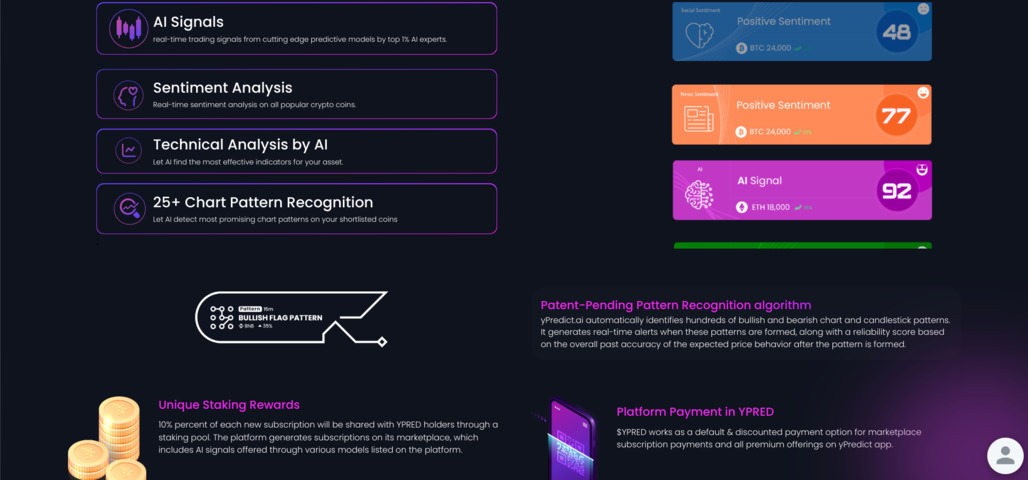 Solves a Real-World Issue
Many of the most successful cryptocurrencies, like Bitcoin and Ethereum, solve real-world issues. While JPEG NFTs and meme coins can surge in price quickly, they are less sustainable than problem-solving cryptos. With that in mind, its approach to fixing the trading signals industry gives yPredict long-term growth potential.
Leverages a Growing Trend
Nowadays, opening social media without seeing the term 'AI' is almost impossible. Therefore, the project's ability to incorporate this trending technology means it could gain massive traction as more people catch on.
Last Chance to Get Buy at a Discounted Rate
$YPRED is currently available at a 15% discount from its IEO price. Moreover, once it goes live on exchanges, the price will be determined by demand. With this in mind, the presale could be the last chance to buy the crypto at a low price.
Get in Early
Since the project is still in its presale, there are many developments that the team are still rolling out.
The current market cap sits around $1.4 million, but following the completion of the roadmap, the earlier investors will be rewarded as new investors drive the market cap and price up.
Access to Free Predictions
$YPRED holders get access to the yPredict Analytics base model for free. A team of expert quants and data scientists created the software, which they claim is superior to any publicly available market prediction model.
The predictive model can provide signals on various cryptos, including Bitcoin, Ethereum and Shiba Inu.
Earn Passive Income
yPredict is one of the best ways to earn free crypto. By staking your $YPRED tokens, you will receive a share of the transaction fees that the marketplace generates. The yPredict website claims that these rewards can reach as high as 45% quarterly returns.
The 45% quarterly returns signify a massive improvement from the industry average of 5-10% annual returns.
Because the staking returns are generated from marketplace fees and not token emissions, they will cause less sell pressure and instead contribute to a more sustainable long-term ecosystem.
yPredict Tokenomics and Presale Details
The yPredict crypto has a total supply of 100 million. The team allocated 28% of the coins to the presale, with the rest to marketing, application development, and exchange liquidity.
The project also has a vesting schedule, with some coins locked for as long as 36 months; this will reduce the initial sell pressure after the IEO, enabling organic price action.
Presale Stage
Token Price
Amount of Tokens
Token Percent
Total Raise
Minimum

Appreciation %

at IEO

Private Sale
$0.036
2,000,000
2%
$72K
25%
Presale
$0.037
8,000,000
8%
$300K
20%
Public Sale
$0.038
18,000,000
18%
$700K
15%
Total
28,000,000
28%
$1,400,000
$YPRED Price Prediction: How Far Can yPredict Go?
If you want to invest in one of the top trending cryptocurrencies, then yPredict is worth checking out! This section breaks down the main $YPRED price considerations.
Many variables can affect a coin's price, such as demand, vesting schedule and tokenomics; these factors can cause massive price changes, with newer coins being the most volatile cryptos.
But with that said, comparing a coin to similar projects via market cap can provide a more accurate prediction.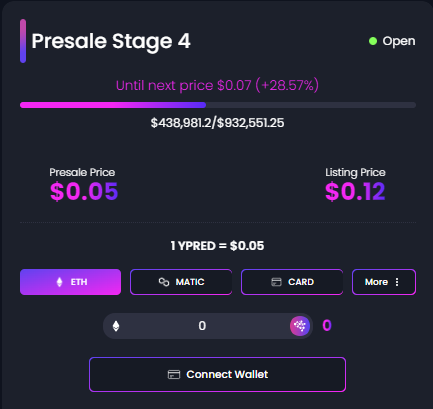 The main competitors to yPredict include Defy Trends, Dash2Trade and LunarCrush. Each aims to equip traders with advanced software enabling more accurate and seamless trading.
That said, yPredict stands out for several reasons. Besides being the newest coin with the lowest market cap, the project is also the only one that offers auto indicator, a prediction marketplace, free predictions and chart trading.
Moreover, Dash2Trade is the only other app that provides AI indicators.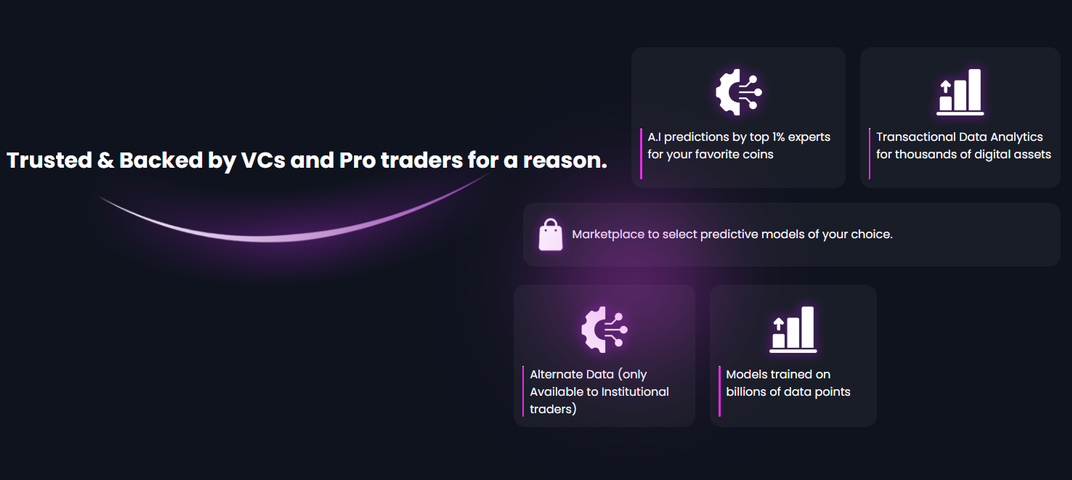 With that in mind, comparing the market cap of $YPRED to the other projects could give us a reasonable estimation of its potential.
Currently, Dash2Trade sits at a $5 million market cap and LunarCrush at $14 million. Consequently, we can expect a 3-10X price increase following its IEO, provided the app development runs smoothly.
Despite this, it is important to remember that newer cryptos are higher risk than blue-chip coins like Bitcoin and Ethereum, particularly projects experimenting with new technology like AI and machine learning. Therefore, it is important to consider the risks when researching new coins.
Overall, yPredict is positioned nicely to be one of the best presales with 10X potential.
At a time when meme coins are exploding, yPredict's aim to tackle issues that crypto traders face with AI technology is refreshing and could drive a lot of new attention as investors begin to look for coins with utility. This could explain the bullish nature of the yPredict price predictions.
Conclusion
yPredict provides a powerful solution that enables investors, traders and AI and ML developers to all benefit thanks to blockchain tech. Moreover, since it is in its final presale round, we expect hype for the coin to pick up massively with the project's IEO around the corner.
Therefore, this might be the last chance for investors to buy the coin at a discount before the masses learn about it and the price explodes.
FAQs
How to buy yPredict tokens?
What is the yPredict market cap?
How many yPredict tokens are there?