Cardano is a "third-generation" cryptocurrency created by Ethereum co-founder Charles Hoskinson. It aims to solve several issues Ethereum faces, such as scalability, interoperability and improving decentralisation.
With that said, many Cardano proponents believe ADA could one day flip ETH, although it has been hit hard recently after the SEC labelled Cardano and several other major tokens as securities.
This article provides our Cardano price prediction, dissecting its long and short-term potential and whether it could overtake Ethereum.
Cardano Price Prediction Summary
Cardano's price is $0.2556, down 21% in 7 days after being labelled a security by the SEC.
ADA is 91% down from its September 2022 all-time high (ATH) of $3.10.
Our ADA price prediction forecasts an average price of $0.2829 by the end of 2023.
According to our 2025 Cardano price prediction, the price could break out to the upside reaching $3.50.
| | | | |
| --- | --- | --- | --- |
| Year | Minimum Price | Average Price | Maximum Price |
| 2023 | $0.1123 | $0.2829 | $0.4535 |
| 2024 | $0.35 | $0.95 | $1.55 |
| 2025 | $2.10 | $2.80 | $3.50 |
| 2030 | $2.80 | $4.40 | $6 |
Cardano Price History
Founded in 2015, Cardano was launched in 2017. According to CoinMarketCap, the Cardano's initial coin price was $0.02461.
Thanks to Charles Hoskinson's track record, the coin quickly gained momentum, with the community calling it an "ETH killer" and the next crypto to explode. The price surged during the 2018 bull run, establishing a new ATH of $0.997.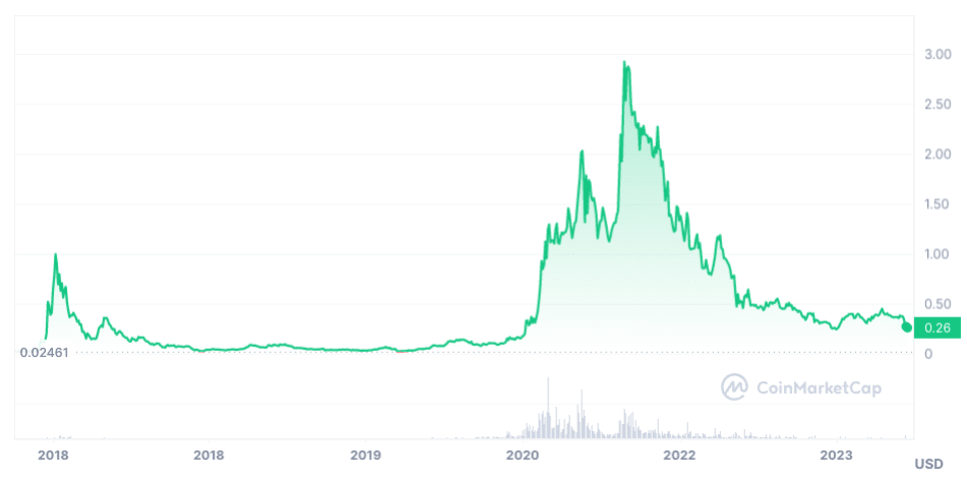 Following the 2018 bull run, the price decreased again and traded below $0.10 for most of 2019.
By 2021, the Cardano price began to explode with the rest of the market, eventually reaching an ATH of $3.10 in September 2021.
However, the price has now collapsed 91% from its ATH. In comparison, Ethereum has only collapsed 66% from its ATH.
One reason for this is that the Cardano network's Alonzo hard fork failed to live up to expectations in 2021, leading to criticism and FUD. However, its September 2022 Vasil upgrade has seemingly made up for it, increasing Cardano's scalability and reducing network transaction fees.
Adding fuel to the fire, the SEC recently sued Binance and Coinbase, alleging that they had sold unregistered securities. Within the SEC's allegations, Cardano was listed as a security.
This has caused a significant decrease in the ADA price recently, which is currently down 31% since the lawsuit was issued on 5 June.
Cardano price history key points:
Cardano launched in 2017 with an initial price of $0.02461.
Following its launch, the Cardano price peaked at $0.997 before entering a bear market in 2019.
ADA created a new ATH of $3.10 in 2021.
The current price is $0.2556, down 91.74% from its ATH.
Since the SEC called Cardano a security, it is down 31%.
Cardano Price Prediction 2023
The Cardano price is currently amid a long-term downtrend since 2021. The price is currently trading at its bear market support, so Q3 will play a key role in dictating whether ADA can hold or if it will see new lows in 2023.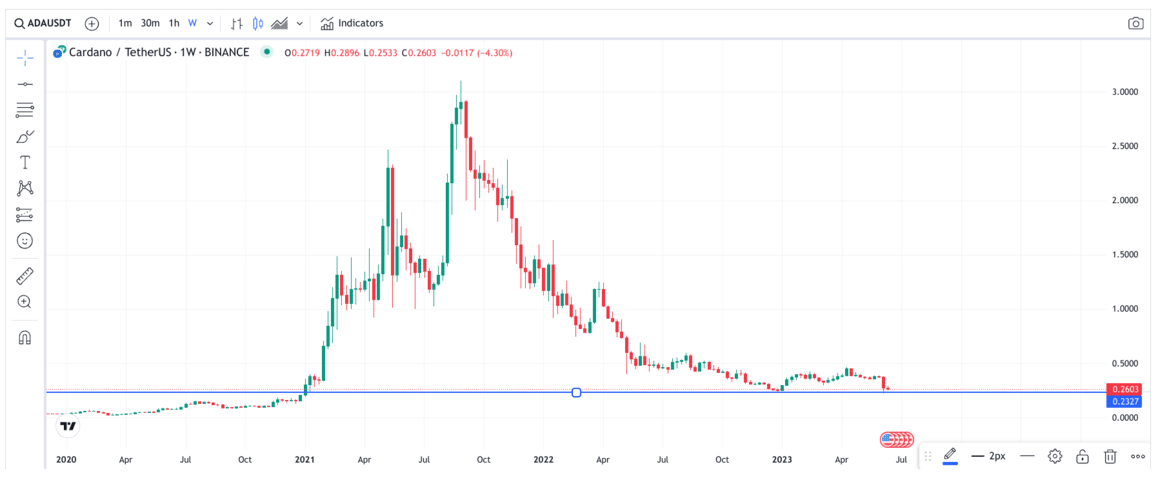 Currently, there are two concerning fundamental factors for the Cardano price. First, the SEC labelling it as a security has created a lot of uncertainty, with the market shifting bearish this month.
Considering the length of the SEC Vs Rippe case, this narrative could continue for years, potentially preventing new investors from buying ADA.
Secondly, despite interest rate hikes halting in June, the Federal Reserve says it sees two more rate hikes occurring this year.
Increasing interest rates causes consumers and businesses to cut back on spending, which has a knock-on effect on financial markets. For Cardano, rate hikes mean investors will be more reluctant to purchase ADA, causing adverse price action.
Considering the bearish fundamentals, it is unlikely that ADA will hold its current support level. Therefore, as seen on the Cardano price chart below, ADA could be headed towards its previous bear market resistance of $0.1123.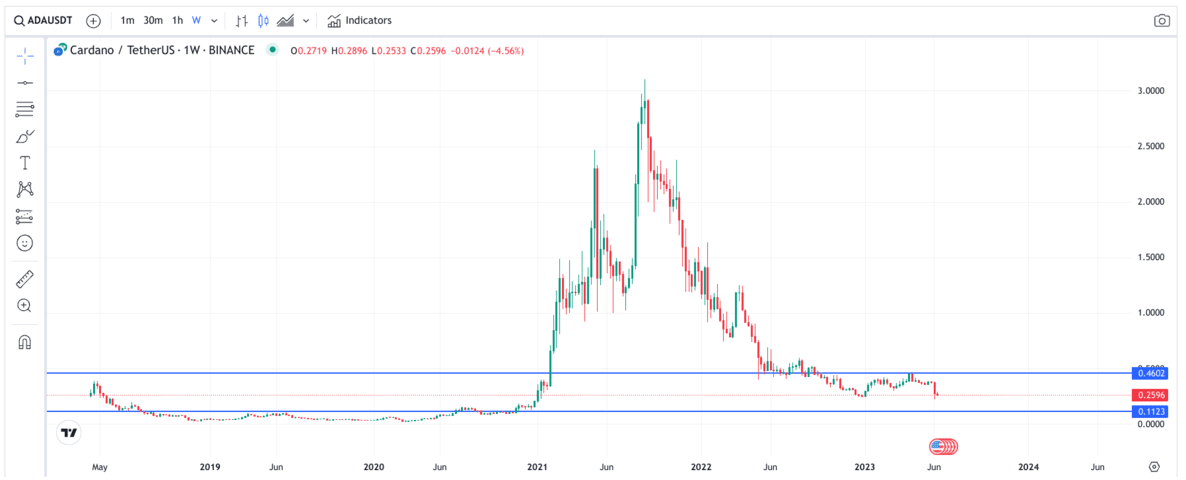 However, if the Fed cuts interest rates or if the SEC retract its allegations about Cardano being a security, we may see potential highs of $0.4535. Considering this, our Cardano price prediction expects an average price of $0.2829 by the end of 2023.
| | | | |
| --- | --- | --- | --- |
| Month | Potential Low | Average Price | Potential High |
| July 2023 | $0.25 | $0.3 | $0.35 |
| August 2023 | $0.18 | $0.26 | $0.34 |
| September 2023 | $0.25 | $0.35 | $0.45 |
| October 2023 | $0.15 | $0.3 | $0.45 |
| November 2023 | $0.13 | $0.28 | $0.43 |
| December 2023 | $0.1123 | $0.2829 | $0.4535 |
ADA Price Prediction 2024
XRP has already proven that coins can still rally while being in a legal battle with the SEC. Still, XRP has been unable to attain a new ATH since its lawsuit.
Also, if the XRP lawsuit is decided in the SEC's favour, this will set a dangerous precedent in the industry and will cause cryptos targeted by the SEC to plummet. It is important to consider that the saga between the SEC and crypto is ongoing, and anything could happen.
That said, crypto is decentralised and global. Many other countries, like the United Arab Emirates, remain open to crypto adoption, even if the United States is against it.
In recent months, we have also seen the UK open the door to crypto adoption, with leading venture-capitalist firm Andreessen Horowitz announcing plans to open an office in London.
This is just the tip of the iceberg for global crypto adoption. Hong Kong recently created new rules to enable retail investors to buy crypto, and the EU is moving ahead with its Markets in Crypto Assets regulatory framework.
The entire purpose of crypto is that it is decentralised, and one single government or entity cannot control its fate. With this in mind, we remain optimistic, forecasting Cardano will reverse in 2024. However, it is also important to consider a total crackdown on crypto in the US could have catastrophic impacts on the ADA price.
With this in mind, our Cardano price prediction estimates a price of $0.95 by the end of 2024. Our ADA forecast also predicts a maximum price of $1.55 and a minimum price of $0.35.
Cardano Price Prediction 2025
Looking ahead to 2025, the Cardano ecosystem may flourish. So far, Cardano has received criticism since there are less dApps and TVL than on Ethereum, and its network development has been much slower.
By design, Cardano is less interoperable than Ethereum; this has stunted its growth so far. However, in the longer term, this may benefit users since Cardano is designed to meet specific criteria of being decentralised, scalable and secure.
According to research company Input Output Hong Kong (IOHK), Cardano aims to develop "RealFi".
The term "RealFi" refers to bringing DeFi to the real world since DeFi is currently inaccessible to many of the people it could benefit most. Cardano aims to provide a borderless, frictionless and low fees system to transfer value worldwide.
Cardano has already secured partnerships with entities like the Ethiopian Ministry for Education. Charles Hoskinson has stated Cardano aims to implement RealFi into DeFi protocols by the end of 2023. This will involve adding real-world data and real-world assets (RWAs) to the Cardano blockchain to make it more accessible to everyone.
If the implementation succeeds, the 2025 ADA price will likely reflect it. Therefore, our ADA price prediction estimates a price of $2.80 by the end of 2025. We also predict potential highs of $3.50 and lows of $2.10 in 2025, depending on the ecosystem's development and the outcome of recent SEC allegations.
Cardano Price Prediction 2030
Cardano presents one of the most ambitious and intriguing use cases of all layer-one blockchains. Its focus on global mass adoption gives it significant potential if successful. It also helps derisk the issues surrounding the SEC classing it as a security.
Developers are working on adding centralised and decentralised stablecoins to Cardano, bringing real-world assets to the chain and introducing new lending and borrowing protocols.
Also, according to the Cardano roadmap, the network's governance system will be upgraded to implement on-chain voting.
One of the advantages of Cardano being created later than Ethereum is that it can build on Ethereum's shortcomings. According to founder Charles Hoskinson, most dApps will be chain-agnostic in the future, deploying on blockchains with the best infrastructure.
Cardano aims to be the more secure, decentralised and scalable version of Ethereum. While it remains to be seen whether it will be successful, it has begun making notable progress recently.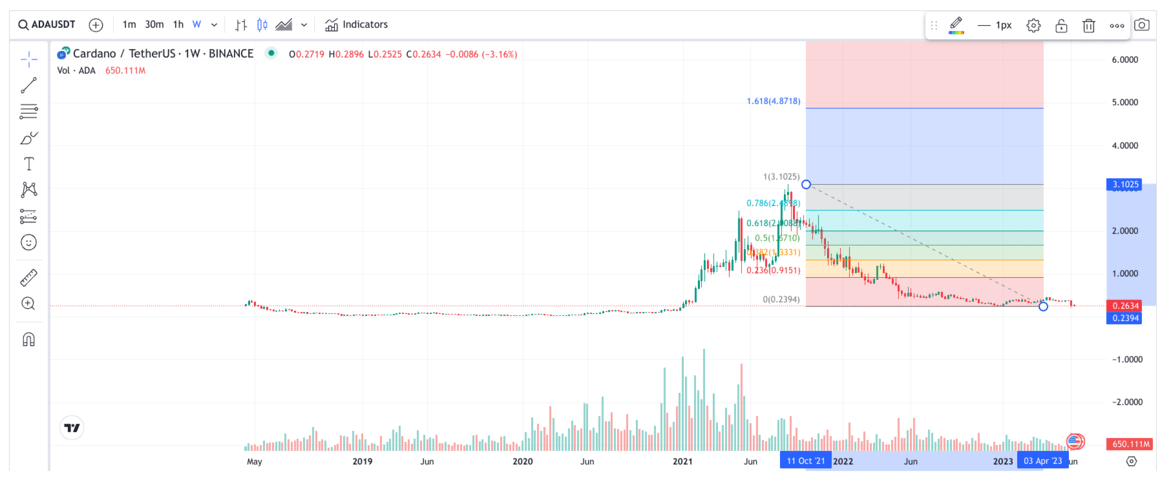 With this in mind, our Cardano price prediction forecasts a price of $4.40 by the end of 2030. ADA has the potential to climb higher, reaching a maximum price of $6. However, Cardano's slow development and recent regulatory scrutiny could stunt its long-term growth, leading to potential lows of $2.80.
Possible Highs and Lows of Cardano
Despite its limitations, Cardano is one of the best altcoins with plenty of potential. The table below shows the coin's predicted highs and lows from 2023-2030.
| | | |
| --- | --- | --- |
| Year | Minimum Price | Maximum Price |
| 2023 | $0.1123 | $0.2829 |
| 2024 | $0.35 | $1.55 |
| 2025 | $2.1 | $3.50 |
| 2030 | $2.80 | $6 |
What do Other Analysts Predict for Cardano
The best way to determine the future price of Cardano is by combining multiple analysts' predictions. We have compiled the opinions of different experts and media outlets below.
Azzam Sheikh, Digital Strategist at Money Advisor, recently predicted that ADA could range between $0.472 and $0.716 with an average price of $0.552 by the end of 2023.
According to the CryptoNewZ ADA price prediction, the price could reach possible highs of $0.88 and lows of $0.36 by the end of 2023.
Coinpedia forecasts a Cardano recovery this year, predicting an average price of $0.552 with potential highs of $0.716 and lows of $0.472 by the end of 2023.
Based on Changelly's Cardano price forecast, the 2023 Cardano price will be $0.298, with lows of $0.239 and highs of $0.356.
Bitnation's prediction estimates an ADA price of $0.396096 with a minimum price of $0.316877 and a maximum price of $0.475315 by the end of 2023.
What is Cardano and What is it Used For?
Cardano is a layer-one blockchain focusing on scalability, decentralisation and security. It is open-source and uses a Proof-of-Stake consensus mechanism.
The native utility coin to Cardano, ADA, is used to pay gas fees and is also staked by validators to secure the network.
To anyone who has read our Ethereum price prediction, it may seem the two cryptos are indifferent except for the number of dApps, users and volume. However, there are several important distinctions between the two.
The main difference is how the consensus mechanism works. For Ethereum, validating nodes process transactions and smart contracts at once. On Cardano, transaction and smart contract data are split between two layers and computed separately. Theoretically, this means Cardano can compute more data and therefore, is more scalable.
Cardano Overview
During the last bull market, ADA was one of the best altcoin season cryptos. However, the price has since plunged, and it remains to be seen if it will recover. Below we have summarised Carado's current price metrics.
| | |
| --- | --- |
| Cryptocurrency | Cardano |
| Ticker Symbol | ADA |
| Rank | 7 |
| Price | $0.2622 |
| Price Change 24H | 0.18% |
| Market Cap | $11,842,613,765 |
| Circulating Supply | 34,914,552,506.15 ADA |
| Trading Volume 24H | $259M |
| All Time High | $3.10 |
| All Time Low | $0.01735 |
What Influences Cardano's Price?
Following its launch, Cardano quickly rose to notoriety in the crypto community, thanks to Charles Hoskinson's background and Cardano's perceived potential.
Compared to other blockchains, Cardano's price has been influenced by speculation, with investors hoping it may one day flip Ethereum.
However, looking ahead, adoption and ecosystem development will increasingly affect Cardano's price. If Cardano proves a more user-friendly and decentralised option than Ethereum, we could certainly see ADA capture some of ETH's liquidity.
Another influence is the SEC's ongoing lawsuits with XRP, Coinbase and Binance. Victories for the SEC in any of these cases could jeopardise ADA's price. However, the SEC losing its lawsuits could bolster the price of Cardano.
The final influence on the price of ADA will be as it integrates with the rest of crypto. Cardano is mostly closed off to other blockchains, making moving crypto in and out of the chain difficult.
In the future, we expect developers to create more bridges, cross-chain swap protocols, and potentially side chains to port Ethereum dApps to Cardano. Once this occurs, we could see liquidity flow into the Cardano, boosting the ADA price.
Is Cardano a Buy?
Ethereum has been the prominent blockchain for layer three innovation, being the home of everything from NFTs and metaverses to DeFi. However, there are over 1,000 dApps in development on the Cardano blockchain, and Cardano founding member Emurgo announced in 2022 that it will invest $200 to boost the Cardano ecosystem.
Overall, the Cardano ecosystem looks ready to flourish, potentially making ADA one of the top crypto to buy. Still, the recent SEC allegations must be considered since they could set back the price of Cardano significantly.
Conclusion
Cardano has a strong community that believes in the project's potential. Still, Cardano has plummeted over 90% since its ATH, and the ongoing FUD could cause it to dive further.
However, we have created a list of our top picks for the best cryptos to buy today. Click the button below to check them out now.
References
https://www.npr.org/2023/06/10/1181242780/sec-gary-gensler-binance-coinbase-crypto-lawsuits-battle
https://www.sec.gov/news/press-release/2020-338
https://www.cnbc.com/amp/2023/06/14/fed-rate-decision-june-2023.html
https://www.coinbase.com/blog/the-uae-recognising-the-transformative-potential-of-the-cryptoeconomy
https://www.theguardian.com/business/2023/jun/12/us-tech-investment-firm-andreesen-horowitz-tnew-london-office-cryptocurrencies
https://www.reuters.com/technology/eu-council-adopts-first-legal-framework-regulate-crypto-sector-2023-05-16/
https://iohk.io/en/blog/posts/2021/11/25/welcome-to-the-age-of-realfi/
FAQs
What will Cardano be worth in 2025?
How much will $1000 Cardano be worth in 2025?
What will ADA be worth in 2030?