Staking Chainlink has emerged as a popular method for supporting the blockchain network, earning staking rewards, and generating a passive income.
In this guide, we delve into the 6 best Chainlink staking platforms in 2023, highlighting their distinctive features, APRs, potential returns, lockup periods and much more. Let's begin.
Top 6 Chainlink Staking Platforms Ranked
The section below shows the 6 top Chainlink staking platforms in 2023.
Wall Street Memes – This meme coin project is our best overall staking platform, even though it doesn't offer Chainlink. At the time of writing, Wall Street Memes is offering a whopping 80% APY – way higher than any other platform on this list. It also has huge potential for growth as a meme coin, with more than $25 million raised in its presale since launch and an IEO set for late September.
Nexo – One of the more popular staking platforms with a built-in crypto wallet. Nexo's Chainlink staking APY are among the highest at up to 7% with a fixed staking period and earning through its native token, NEXO.
Binance – Top crypto exchange and staking platform with 128 million registered users. Binance's earning wallet service lets users earn passively from hundreds of cryptocurrencies including LINK with flexible staking terms.
OKX – All-in-one crypto crypto platform that offers trading, Web 3 capabilities, and DeFi services. OKX gives a 1% APR for users staking Chainlink with rewards paid out every 24 hours.
Nebeus – Leading European crypto trading and staking app with modest LINK rewards at 3.5% RPY. Nebeus is also a financial app for crypto investors and provides 0% fees on many of its payment methods.
KuCoin – Established crypto exchange and trading app covering more than 200 countries. KuCoin offers simple LINK staking, live price analysis, and quick crypto to crypto conversions on both desktop and mobile platforms.
Reviewing the Best LINK Staking Platforms
Now that we've gotten a brief overview of the different Chainlink staking platforms, let's look at deeper reviews of each option below.
1. Wall Street Memes – Leading Staking Platform Offering 80% APY and Huge Meme Coin Potential
Wall Street Memes is the top alternative to the best Chainlink staking platforms as it offers huge potential as a meme coin as well as staking yields way higher than any other on this list.
At the time of writing, WSM is offering an estimated annualized percentage yield (APY) of 80% – a huge figure that dwarfs Chainlink staking.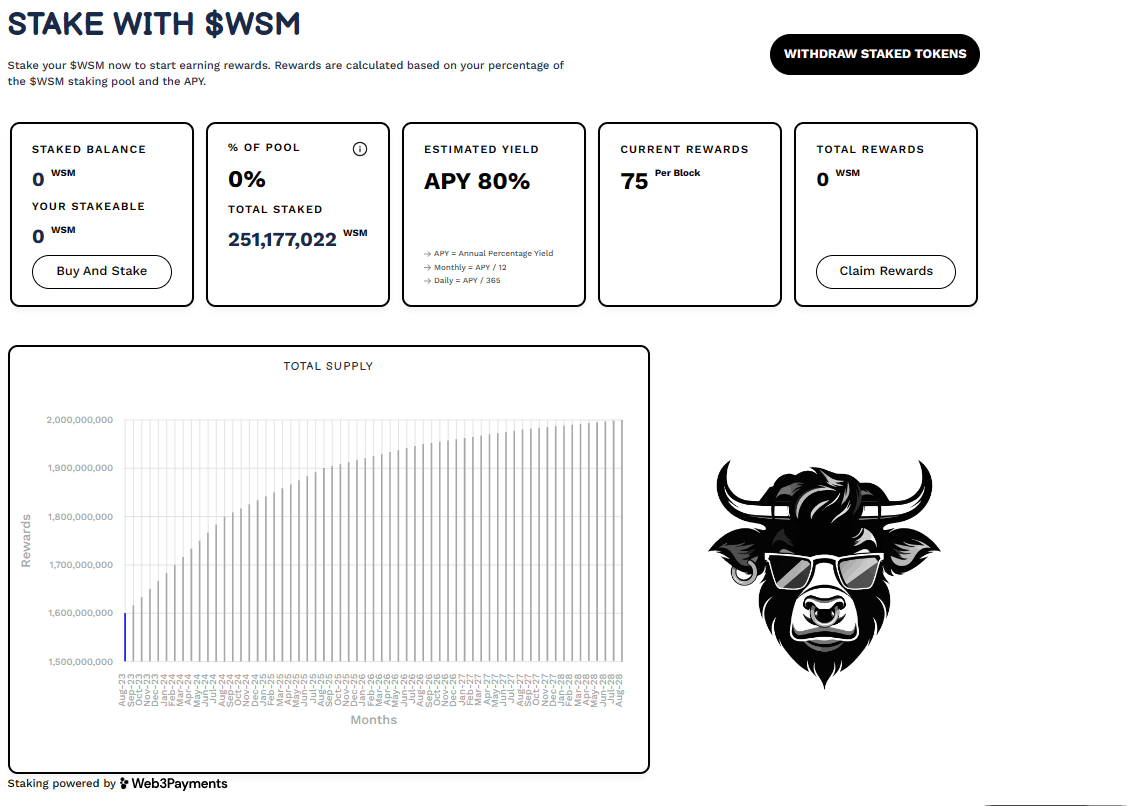 More than 250 million tokens have been locked into the staking pool and although the figure will decrease as more tokens are staked, it is still expected to be significantly higher than what can be earned with LINK.
Wall Street Memes also has huge growth potential as a brand new meme coin that has been a roaring success in its presale – more than $25 million has now been raised with buyers buoyed by its huge social media following and developers with a track record of Web3 success.
Borne out of the Wall Street Bets phenomenon, Wall Street Memes has over a million social media followers across various platforms and has even caught the attention of Elon Musk on several occasions.
The billionaire, who is CEO of X and Tesla, has interacted with the Wall Street Memes account on multiple occasions. In fact, rumors have spread that he was even behind a recent influx of purchases, found on Etherscan, that saw one crypto whale spend more than $1 million on $WSM tokens across six transactions in just a couple of weeks.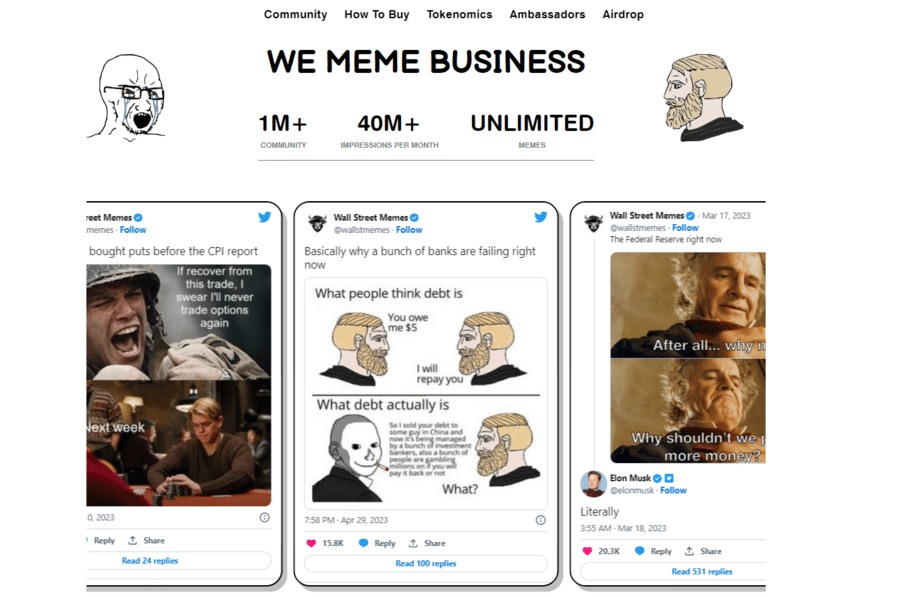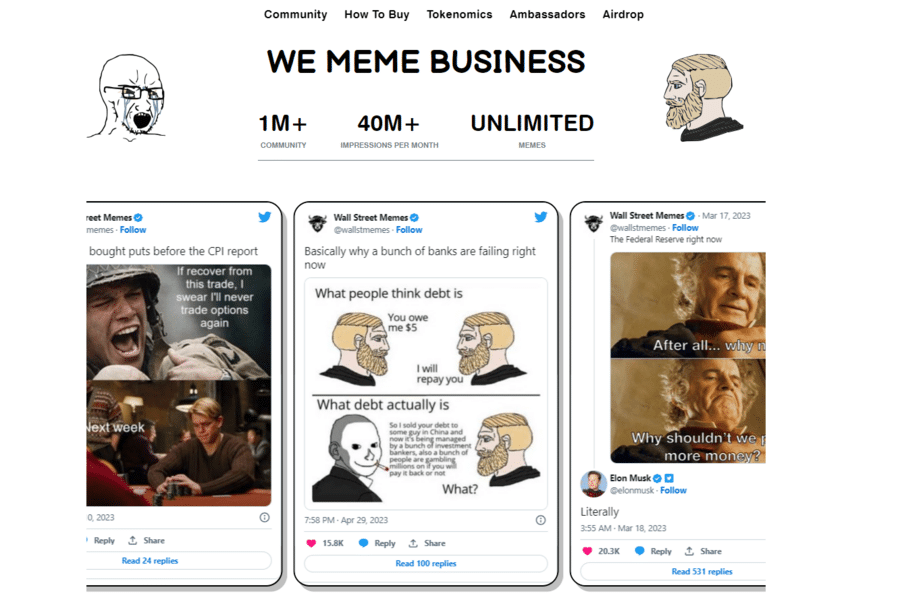 Although the founders are anonymous, they have enjoyed previous success in the space with the Wall Street Bulls NFT collection – which sold out and raised $3 million in just 30 minutes – as well as a Bitcoin Ordinals collection. An audit has also been completed and made public to avoid any worries over a scam.
Wall Street Memes has huge potential not only because of its staking rewards but as a meme coin but potential buyers will need to move quickly to secure tokens, with the presale to close in the coming weeks.
An IEO is scheduled for late September, with WSM to launch on Uniswap and tier-1 centralized exchanges. For more information and the latest news on the project visit the Wall Street Memes Linktree.
Pros
Huge staking rewards with current APY of 80%
Major potential for growth as a meme coin
$25 million raised in its presale
1 million-plus social media following
Experienced developers with track record of success
Cons
| | |
| --- | --- |
| Interest Rate | Current 80% APY |
| Lock Up Period | 7 days |
| Payout Frequency | 7 days |
2. Nexo – High Chainlink Staking Yield of up to 7% with Multiple Staking Mechanics
The Nexo crypto exchange and wallet finds itself as one of the best Chainlink staking platform options out there. Known for its high APYs for stablecoins like USDT and USDC, the Nexo platform also provides a yield of up to 7% for staking LINK.
The LINK staking rewards vary depending on the different staking settings that the wallet holder sets. These settings will affect not only how much yield will be given, but also how the rewards will be paid out to the stakers.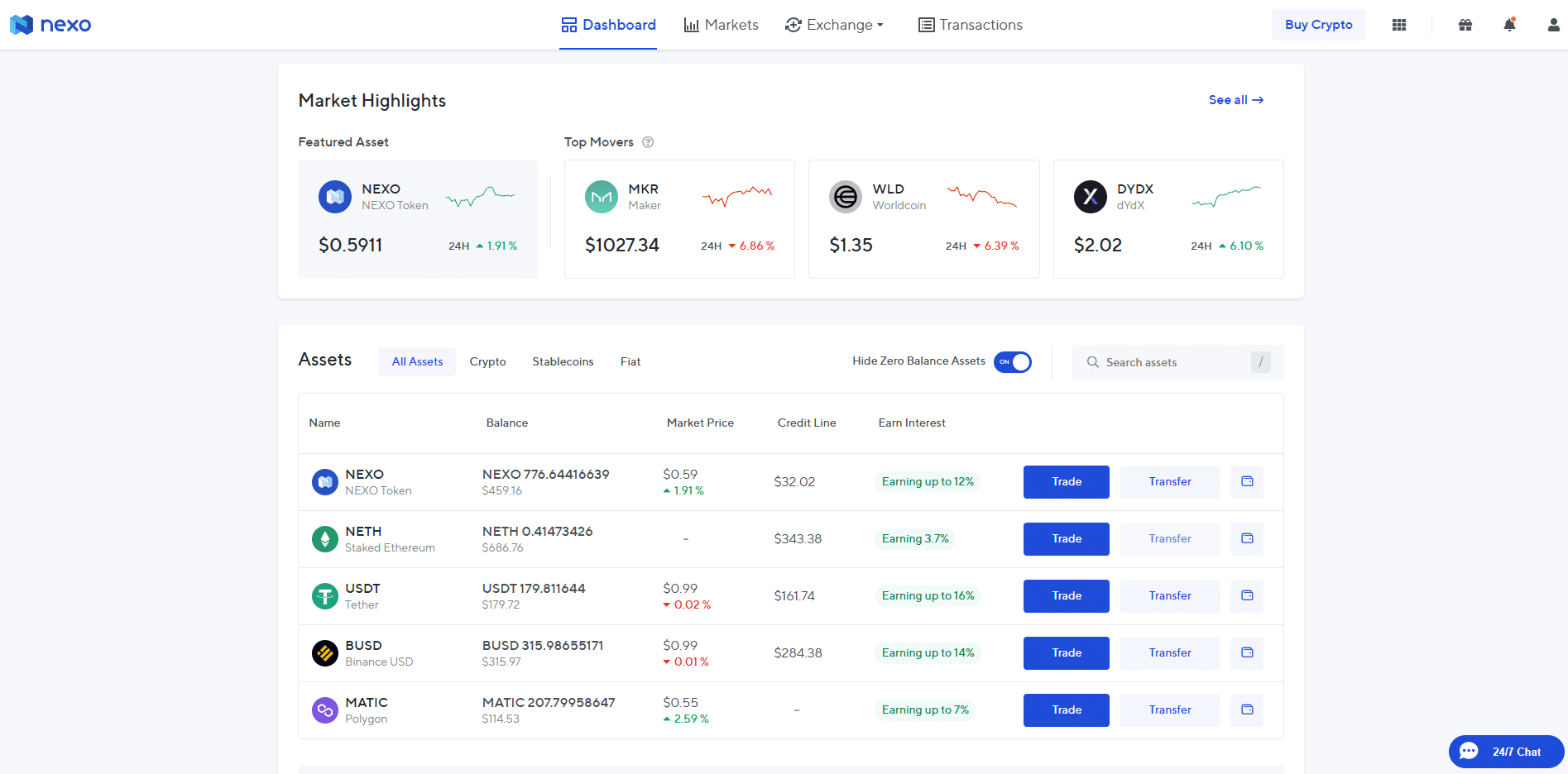 There are four distinct loyalty levels, determined by the percentage of NEXO tokens in a holder's wallet. The top level is reserved for those with 10% or more of their assets in NEXO. For Chainlink staking, a loyalty tier can affect a LINK staker's maximum interest by up to 3%.
On the platform, another blockchain staking configuration lets users select the cryptocurrency in which they want to receive their interest. There are only two choices for this when staking Chainlink: earn in LINK tokens (the default), or earn in NEXO tokens that give up to 2% more yield.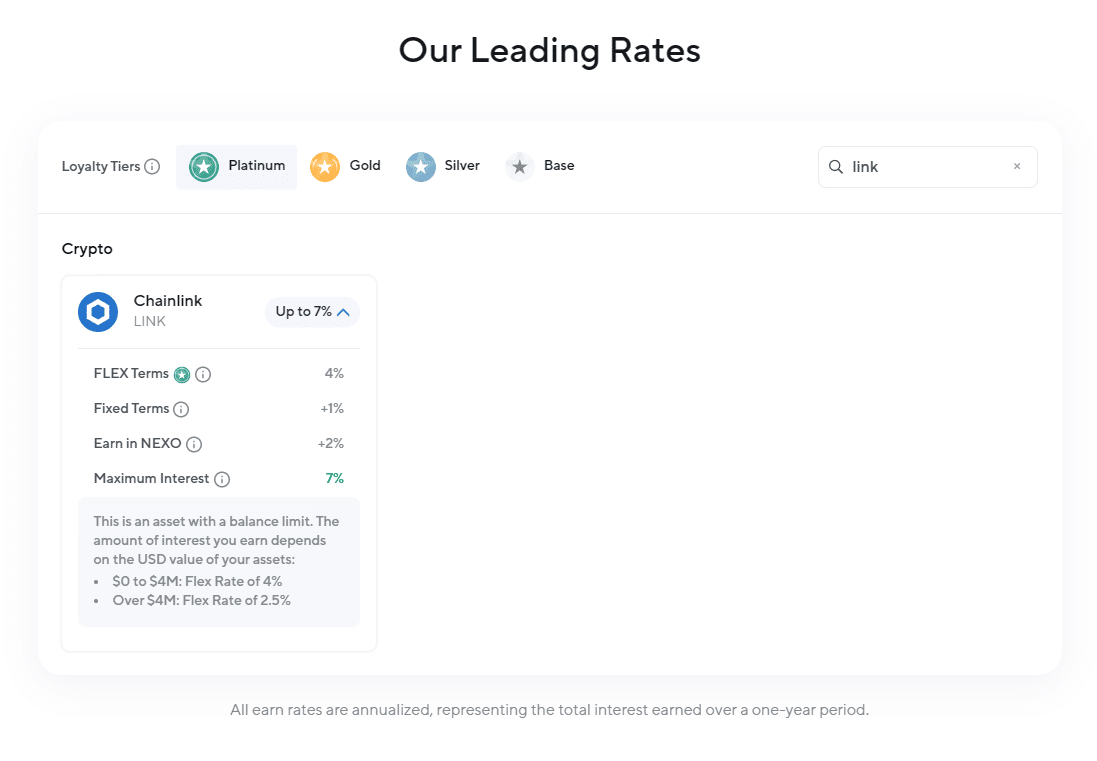 Finally, LINK stakers on the Nexo platform will have to choose between flexible staking terms and a fixed staking term of one month. Flexible staking lets users withdraw LINK anytime without forfeiting rewards, while fixed staking offers a 1% higher yield but locks rewards until the period's end.
In the end, the Nexo platform demonstrates a high LINK staking yield, offers different staking mechanics, and support for its own community token for more rewards.
Pros
High LINK staking yield of up to 7%
Fixed and flexible staking periods for Chainlink
Short 1 month lock up period for LINK
Rewards distributed every 24 hours
Accessible via desktop and mobile
Cons
Requires earning via NEXO tokens for higher yields
| | |
| --- | --- |
| Interest Rate | Up to 7% |
| Lock Up Period | Max lock up period at 1 month |
| Payout Frequency | Every 24 hours |
3. Binance – Leading Chainlink Staking Platform Featuring Over 500 Other Cryptocurrencies
Binance has long held its position as one of the largest cryptocurrency exchanges in the world. Unlike some platforms that distribute rewards weekly or monthly, Binance ensures that users receive their Chainlink staking rewards daily, ensuring a consistent and predictable income stream.
Over the years, Binance's blockchain offerings have expanded and it now stands as a leading staking platform for some of the best altcoins aside from Chainlink. Additionally, the app's users have the added flexibility of Binance's Peer-to-Peer trading, allowing them to easily buy and sell their LINK tokens.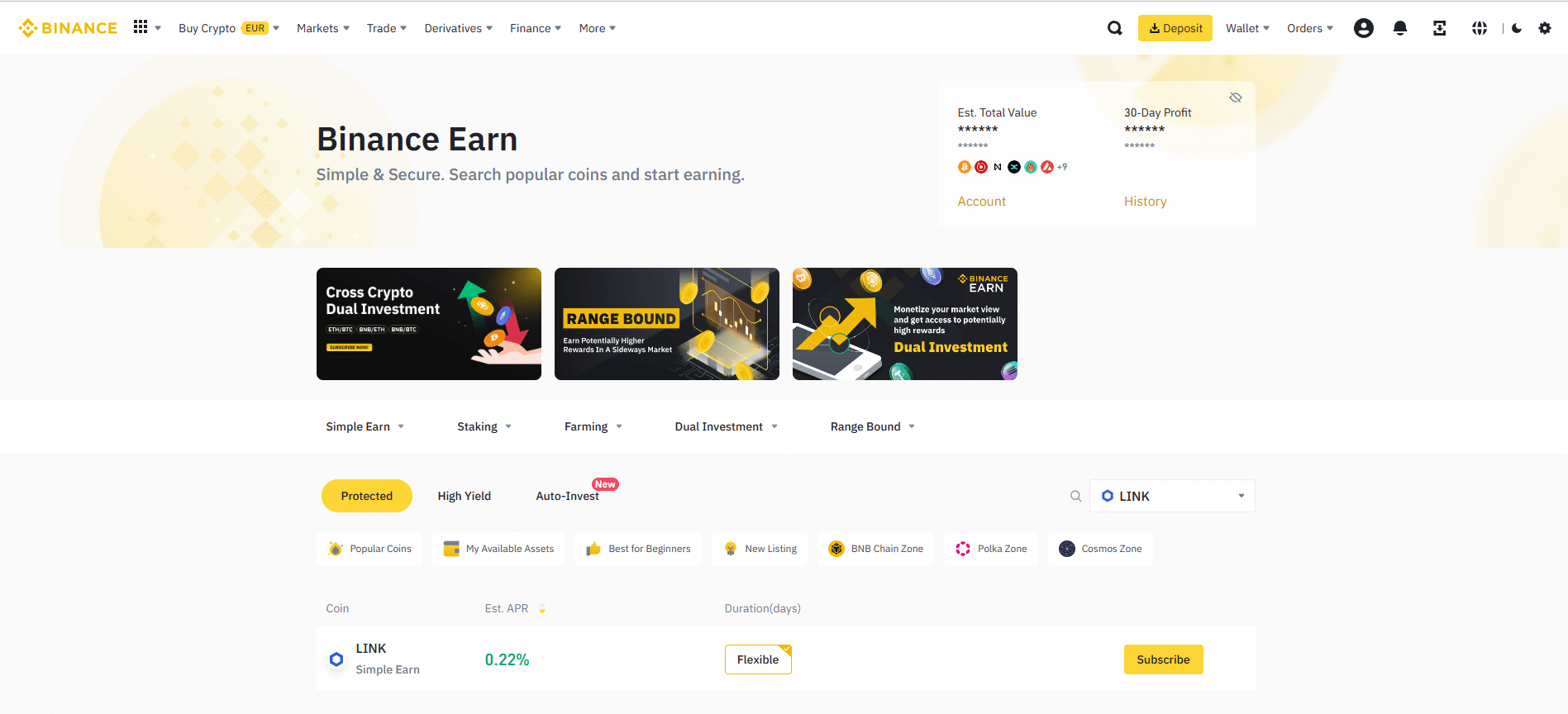 After redeeming their LINK staking rewards, Binance users can easily transfer their earnings between the different wallet types the platform provides for every account. From the Earn wallet where crypto interest is held, users can instantly deposit LINK into their Spot or Margin wallets to use for crypto exchanges.
Binance's dependable infrastructure and innovative platform continuously provide an optimized staking process. This allows for favorable payment terms and timely staking periods that every crypto holder can enjoy. In the safety department, each account must be verified to access certain features and a secure two-factor authentication (2FA) is required for logging in.
Binance boasts an ever-expanding array of crypto services, maintaining its position among the top crypto staking and exchange platforms. If the platform can address its primary shortcoming, which is low LINK rewards, it stands a good chance of surpassing many of its rivals. Nevertheless, both novice and experienced crypto investors can benefit greatly from Binance's myriad trading tools and features.
Pros
LINK staking rewards given everyday
P2P trading and third party crypto withdrawal methods
User-friendly mobile platform
Easily transfer from staking wallet to other wallets
Secured with 2FA
Cons
Just ~0.22% APR Chainlink staking
No LINK fixed staking
| | |
| --- | --- |
| Interest Rate | ~0.22% APR |
| Lock Up Period | No lock up period |
| Payout Frequency | Every 24 hours |
4. OKX – Advanced Chainlink Staking Platform with DeFi Services
An innovator among crypto platforms, OKX stands out not just as a cryptocurrency exchange, but an entire digital asset and advanced finances hub. As such, the platform provides users the opportunity to maximize Chainlink staking gains alongside over 100 other tokens.
Users on OKX enjoy daily Chainlink staking rewards at about 1% APY, an acceptable rate given that most platforms do not offer LINK rewards. After subscribing to the OKX Earn service, the staking interest is distributed on a daily basis.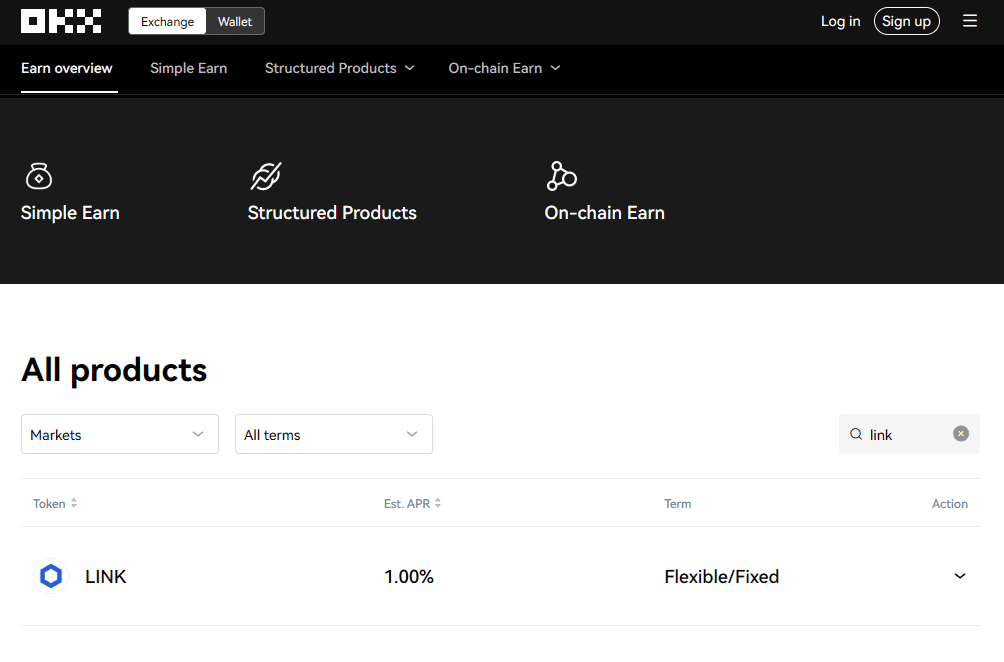 OKX also offers crypto interest through their structured products and on-chain staking. Although Chainlink staking is only available off-chain, OKX streamlines the staking process for popular tokens such as ETH, DAI, and USDT.
Additionally, 24/7 multilingual support ensures that OKX users around the globe are catered to. Other quality features of the platform include 1:1 backing of funds and a range of payment methods for more flexible transactions.
As a reliable platform with fully-fledged features, there isn't much to complain about for Chainlink staking on OKX. Despite the somewhat mediocre LINK rewards rate, the platform more than makes up for it with a myriad of payment options and accessibility features.
Pros
Chainlink staking rewards given everyday
Purchase LINK and other cryptos via P2P trading
24/7 live chat available in 13 different languages
Funds backed 1:1 at OKX
Over 100 different payment methods available
Cons
Somewhat low Chailink staking APY at 1.00%
Fixed LINK staking option not offered
| | |
| --- | --- |
| Interest Rate | 1.00% APR |
| Lock Up Period | No lock up period |
| Payout Frequency | Every 24 hours |
5. Nebeus – Top-Rated Chainlink Staking Platform and Crypto Service Provider
Founded in 2014, Nebeus started as one of the world's premier crypto P2P platforms and has continued to expand its crypto products. Today, the platform boasts high ratings as a virtual asset service provider with Chainlink staking capabilities.
Nebeus users can avail of up to 3.5% rewards per year (RPY) when staking LINK with no lock-up periods and no minimum deposits. Furthermore, the crypto provider guarantees that the stakers will always receive exactly the posted reward rate, meaning no approximations.

Additional benefits to using the Nebeus platform are 0% deposit fees for EUR, SEPA, GBP, and bank wire transfers. Currently, there also aren't any platform fees for staking on Nebeus.
Being a validator on the Chainlink staking pool might offer the most returns, but Nebeus makes staking a simple and easy task for its users. . One of the only things that LINK stakers should look out for is the 30-day payout frequency, one of the longest among other platforms. Since Nebeus balances that out with an above-average LINK APY and lower fees, it remains a top-rated choice for crypto stakers.
Pros
0% deposit fees for EUR, SEPA, GBP, and Bank Wire transfer
Low initial deposit of 10 USDT or other crypto equivalent
Decent LINK staking rewards at 3.5% RPY
On-chain and off-chain staking methods available
No platform fees for staking
Cons
No LINK lock-in staking option
Slower payout frequency at 30 days
| | |
| --- | --- |
| Interest Rate | Up to 3.5% Rewards per Year (RPY) |
| Lock Up Period | No lock up period |
| Payout Frequency | Every 30 days |
6. KuCoin – Global Chainlink Staking Platform with Decentralized Trading and 0.23% LINK APR
KuCoin emerges as another globally recognized platform that seamlessly integrates DeFi services with Chainlink staking. Serving over 200 different countries, LINK stakers can access and benefit from the platform's competitive offers.
One of the notable features of KuCoin is providing a built-in crypto conversion service. This allows for faster transactions and a wider variety of coins that users can convert into LINK for staking purposes.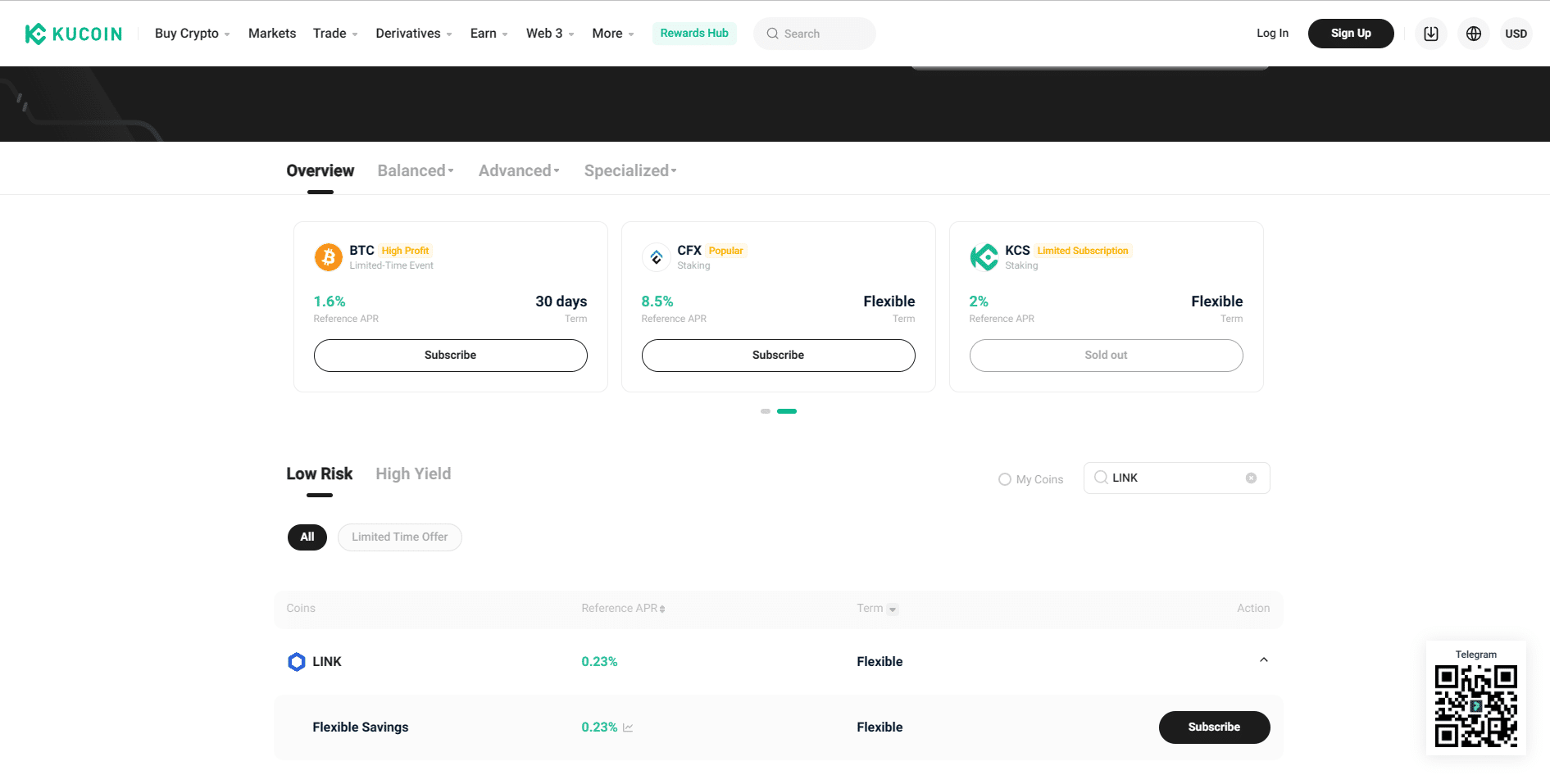 KuCoin also showcases live token prices and price analysis for investors looking for a trading edge. Coupled with multiple crypto educational content, an active community, and 24/7 customer service, both crypto newcomers and veterans stand to benefit from the platform.
However, potential stakers on KuCoin should be aware of the relatively low LINK staking APY of around 0.23% at the time of writing. As there are no lock-up options of staking Chainlink on the platform, there aren't any other ways to increase the earnings from the base rate.
To summarize, KuCoin brings a holistic Chainlink staking experience by offering DeFi services, and easy crypto conversions.
Pros
Coverage of over 200 different countries
Flexible LINK staking available
Built-in crypto to crypto conversion
Live LINK price analysis
Learn more about Chainlink via the educational blog
Cons
Low LINK staking APY
No lock up period for LINK
| | |
| --- | --- |
| Interest Rate | ~0.23% APR |
| Lock Up Period | No lock up period |
| Payout Frequency | Every 24 hours |
What is Chainlink Staking?
Chainlink staking occurs when crypto investors volunteer to participate in validating transactions on the blockchain – put simply, assessing that the ledger adds up to the correct amount.
The validation process is not done by the crypto holders but by sophisticated computers in the blockchain network.
LINK is the ERC-20 token used within the Chainlink network and doubles as a medium of exchange. Holders of the token can stake LINK mainly as a means to earn income. According to Chainlink's website, the yield for staking LINK tokens directly from the main protocol is fixed at 4.75% APY.
One of the main drivers to staking Chainlink is the growing adoption of the network and its use for Web 3.0. With a core purpose of using smart contracts to connect real-world data for other decentralized apps (dApps), Chainlink continues to grow and add new features in its protocol.
So Chainlink staking gives an economic incentive for crypto investors to hold LINK tokens. The price of LINK, fluctuates based on its tokenomics, distribution, and market volatility. Crucially, the network's revenue model derives value from payments made by its clients and can also determine its overall value.
How Does Staking Chainlink Work?
Staking Chainlink happens when LINK tokens are used as collateral by a node or data provider to secure transactions on the network. As staking the token operates on a principle of rewards and penalties, the staked amount acts as a guarantee of the quality of data provided by the node.
On the back end, Chainlink's decentralized oracle network pulls data from various sources off-chain. Smart contracts are what drive these processes and staked LINK tokens act as a guarantee for the accuracy and reliability of the pulled data. Nodes are then rewarded with LINK tokens for providing the proper information.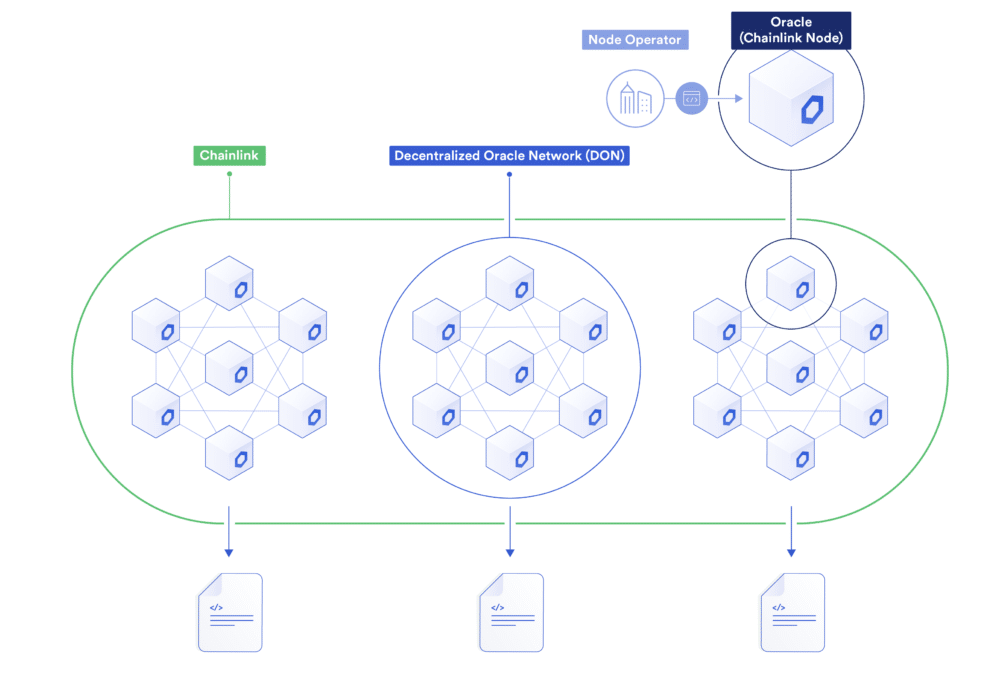 Based on Chainlink's documents, the current model of Chainlink staking, v0.1, is capped at 25M LINK which is around 5% of the circulating supply. On-chain staking has only two types of stakers: node operators and community stakers. Effectively, community stakers are rewarded 4.75% APY which would be distributed when the Chainlink v0.2 staking is released in the coming months.
Beginner stakers who want to get started staking Chainlink will first need to find a reputable platform or wallet that supports the token. After understanding how the Chainlink network operates as well as the risks involved, the stakers simply need to follow the platform's instructions to stake their LINK tokens.
The costs involved in staking Chainlink will vary, and there may be extra fees involved depending on the platform the investor chooses for staking the token. Usually, the advertised APY given for the token is exactly what the platform will reward its user. The only other fees to worry about are when converting tokens, fiat currency, and transferring funds.
Benefits of Staking Chainlink
There are plenty of benefits for crypto investors when staking Chainlink, ranging from potential earnings to having an active role in supporting the Chainlink network. Here are some of the primary benefits.
Potential Earnings from Chainlink Staking
Perhaps the most enticing reason to stake Chainlink is the potential earnings. While the staking service mentioned previously marks a fixed 4.75% APY, other platforms offer higher returns.
Once an investor's LINK tokens are locked up and staked, they start generating rewards over time. No further action is required from the holder.
This kind of passive income potential appeals to those looking to grow their assets in a set-it-and-forget-it manner. Also, as rewards are accrued over time, investors can then use those rewards to earn even more LINK as the earnings compound.
This allows them to maximize their crypto earning potential as not only are they holding the cryptocurrencies for potential price increases in the future, but also making a consistent percentage return on their LINK coins.
All of this makes Chainlink staking an attractive proposition for those looking for a steady income stream from their crypto investments.
Supporting the Chainlink Network
Going further than financial incentives, staking LINK tokens plays a fundamental role in supporting the entire Chainlink ecosystem. Stakers get to contribute to the network's security so that nodes provide the right data used in smart contracts across different blockchains.
As Chainlink continues to partner with other blockchain companies, the more appealing it becomes to stake and support the network. Since it is the backbone for the Web 3.0 industry, it continues to offer new DeFi solutions that help it grow alongside other platforms.
Investors are actively participating in Chainlink by staking their tokens, which ensures robustness and reliability for all users. Not only does this help Chainlink grow and continue serving everyone that's part of it, but also increases the overall utility and value of the LINK token.
Participation in Future Governance
In the future, there is potential for Chainlink to introduce governance tokens. These are special tokens that give its holder voting power for any future changes in the protocol.
Just like how owning shares of a company allows the shareholders to vote on new decisions for the corporation, LINK token holders have a say in advances in the Chainlink ecosystem.
Examples of potential advancements to the Chainlink include features such as protocol upgrades, changes to staking rewards, and new crypto products and services.
Is Chainlink Staking Worth it?
With so many PoS coins to choose from what makes staking Chainlink so appealing? Let's explore some of the reasons why stakers opt for LINK in 2023.
For one, Chainlink offers a 4.75% APY for staking directly with their network, a yield rate that can also vary depending on how the investor chooses to use their tokens. However, the best Chainlink staking platforms would usually offer competitive rates that closely match or even exceed this crypto interest rate.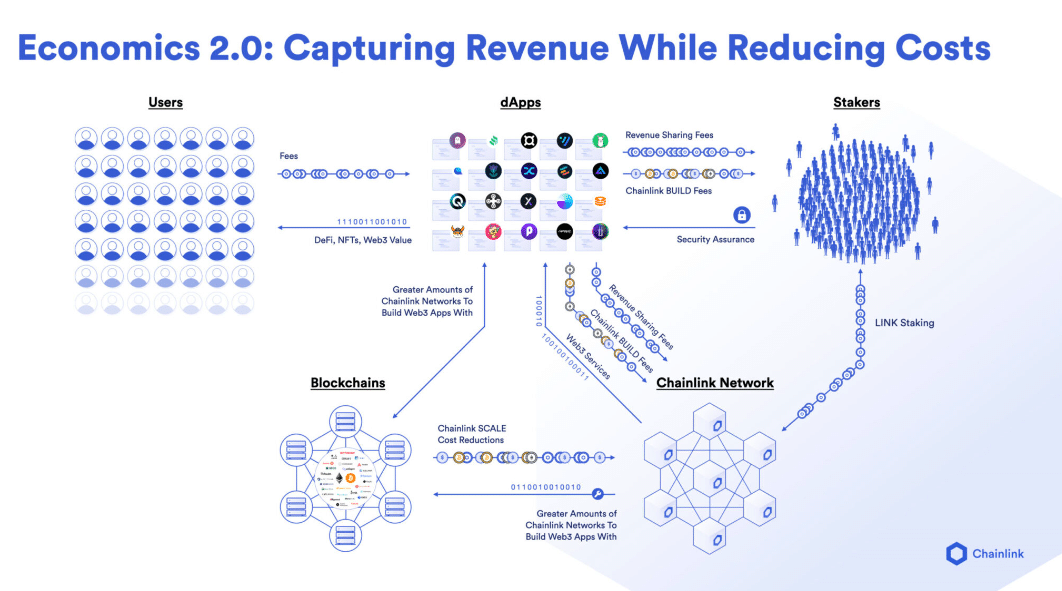 In addition to the rewards that community stakers would enjoy, there are other additional incentives for Chainlink staking. Chainlink BUILD is a program would provide projects within the ecosystem an enhanced access to Chainlink services in exchange for network fees. Eventually, stakers could receive Chainlink BUILD rewards for continuing to support the network.
Another reason for staking Chainlink is because it helps improve the cryptoeconomic security of the entire ecosystem. Chainlink's unique proposition as a trusted source of off-chain data for other blockchains makes it a valuable oracle network for the crypto space.
With that in mind, it's also important to understand the volatility of the LINK token. The live price of LINK tends to fluctuate with the market, often following the price movements of the crypto industry as a whole. Like all investments, staking and holding LINK comes with risks.
Whether Chainlink staking is worth it will mostly depend on the individual's investment goals, risk tolerance, and support for the project's future. Although many crypto enthusiasts can stand to benefit from staking LINK, it's always recommended to conduct proper research and stay informed before making a decision.
Do You Pay Tax on Chainlink Staking?
Taxation of cryptocurrencies, including rewards from crypto staking, will vary from jurisdiction and continues to be a topic of clarification globally. However, many countries consider earnings from things like Chainlink staking rewards as a taxable transaction.
When staking Chainlink directly on-chain, taxes are not deducted from the rewards received by the investor who staked the tokens. However, it might be possible that when staking Chainlink off-chain, certain platforms could include tax payments from earnings.
If your jurisdiction considers this as a taxable event, it is important to check with the platform if they already include tax payments.
Paying taxes on any investment is a responsible trading practice that goes even beyond staking LINK tokens. Being proactive in understanding and fulfilling tax obligations will help investors avoid any future penalties.
Is Chainlink Staking Safe?
As one of the leading decentralized oracle networks, Chainlink implements various measures to ensure the safety of its protocol. But even with this, understanding the risks and considerations of Chainlink staking are necessary steps in making safer crypto staking decisions.
Chainlink operates on the Ethereum blockchain, known for a robust number of security features. Without a single point of failure both on Ethereum and the Chainlink oracle network, risk of network-wide issues are reduced.
Despite many other potential risks to staking Chainlink such as market volatility, liquidity concerns, and new regulatory implementations, LINK staking can be safe when holders stay informed, abide by safe trading practices.
Conclusion
Chainlink, the pioneer decentralized network, keeps its status as the infrastructure standard for Web 3.0 and off-chain data transfers. Although staking Chainlink comes with its own set of rewards and challenges, the potential for earning a passive income remains one of the most appealing factors for crypto stakers in 2023.
If you're still not sure which Chainlink staking platform suits your needs, consider Wall Street Memes as a better alternative.
Although it doesn't offer LINK staking, Wall Street Memes has much higher staking rewards than any other platform on this list, currently offering an estimated 80% APY.
The project, which is currently in its presale, also has huge potential as a meme coin with a social media following of more than a million and experienced developers.
THe $WSM token presale has so far raised more than $25 million but is set to end in the next couple of weeks ahead of its IEO in late September.
References
FAQs
Is Chainlink worth staking?
How much can you make staking Chainlink?
Is Chainlink staking profitable?
What are the best Chainlink staking platforms?