Cheap cryptocurrencies refer to digital tokens that trade for a small fraction of a dollar. This means that investors can often buy thousands of tokens with a small investment.
In this guide, we discuss the best cheap crypto to buy. We cover 12 projects of various market capitalizations and upside potentials – so read on to discover the top cheap crypto projects in 2023.
The Top 14 Cheapest Cryptos to Buy in 2023
The 14 projects below represent the overall best cheap crypto to buy right now:
Wall Street Memes (WSM) – Emerging meme coin among the cheapest crypto projects leveraging its extensive online presence and community support. The platform has already raised over $25 million in just over three months. Its impressive social media presence has captured the attention of famous personalities like Elon Musk.
Sonik (SONIK) – ERC20 degen crypto priced at just $0.000014 with giant APY yields and a small $2 million hard cap. The project has already raised $1.3 million in its presale in just 3 weeks. This is a one stage presale with no tiered pricing structure.
Launchpad XYZ (LPX) – Web 3.0 coins are all the rage at the moment, so Launchpad XYZ is well worth considering. The project simplifies the world of Web 3.0 investing through a consumer-based platform. Launchpad XYZ users can access everything from exclusive NFTs and private ICOs to unreleased play-to-earn games and fractionalized assets. This presale project is offering LPX tokens at just $0.0445.
yPredict (YPRED) – This project is building a predictive model marketplace, enabling users to automate the crypto analysis process. This covers trading signals, chart recognition patterns, and trending cryptocurrencies. yPredict is also in the midst of its presale, with YPRED tokens selling for just $0.1. Do note that after the presale, YPRED will be listed on an exchange at $0.12.
Chimpzee (CHMPZ) – Sustainability token that proves multiple revenue streams for investors and a proactive attitude, with $15k already donated to wildlife conservation. $1.3 million was raised throughout its presale priced at $0.001 per token.
eTukTuk (TUK) – Eco token with 40% discount for early bird investors and just $

0.028

per TUK token. The main project aims are financial inclusivity and a reduction in CO2 emissions in poorer regions.
Scorpion Casino (SCORP) – New model allowing investors to take part in casino ownership with up to $10,000 daily staking rewards, presale is 98% complete with $980,000 raised.
Anarchy (ANA)

— A meme coin dedicated to fighting against unfair practices in the modern socio-economic landscape. Its increasingly popular native token currently goes for only $0.00027, a discounted presale stage 3 price.

Aleph Zero (AZERO) – Layer 1 blockchain focused on enterprises and institutions with directed acyclic graph technology and private smart contract functionality. Scalable, private, customizable, and secure, with lightning fast transaction finality. $0.077 per token.
Ripple (XRP) – While Ripple is a large-cap project, it is still one of the cheapest crypto to buy. Currently trading at around $0.50 per XRP, Ripple enables banks and financial institutions to conduct cross-border payments. In terms of use cases, XRP allows senders and receivers to form a temporary bridge of liquidity for cross-currency transfers.
Shiba Inu (SHIB) – Another large-cap token, Shiba Inu, is one of the best meme coins to buy. This cheap cryptocurrency has a huge supply of one quadrillion, so its native token trades for just $0.0000012. This yields over 11 million SHIB tokens for an investment of just $100.
Stellar (XLM) – This established cryptocurrency enables consumers and businesses to conduct super cheap, fast, and scalable transactions on the blockchain. Some of its biggest partnerships to date include IBM and MoneyGram. This cheap cryptocurrency is currently trading for about $0.12.
Sushiswap (SUSHI) – SushiSwap is a decentralized exchange built on the Ethereum network. It has cross-chain functionality, including support for Arbitrum, Binance Smart Chain, and Fantom. SushiSwap is also an aggregator, meaning it secures the best exchange rates in the market.
Gala (GALA) – This project has developed a gaming ecosystem for blockchain-based games. All games follow the play-to-earn model, enabling players to earn crypto rewards. Moreover, Gala games also provide ownership of in-game assets, backed by NFTs on the Ethereum blockchain.
A Closer Look at the Cheapest Cryptocurrencies to Invest in
On the one hand, cheap cryptocurrencies enable investors to buy a huge allocation of tokens with a small investment. However, this shouldn't be the sole reason to invest in a project.
Instead, investors should consider the long-term upside potential of the cryptocurrency by exploring its fundamentals and price performance.
Below, we help clear the mist by analyzing the best cheap crypto to buy in 2023.
1. Wall Street Memes (WSM) – Meme Token With Strong Community Backing
With the rise of meme coins in 2023, Wall Street Memes (WSM) has launched the presale of its $WSM token, an affordable entry into the crypto market. Trading at $0.0337 in its current presale round, the $WSM token sale, launched on May 26, has already raised over $25 million in just over 13 weeks.
Well-known for its high-engagement NFTs and robust internet community, the platform has a foothold in the digital space, with over a million followers on platforms like Twitter, Instagram, and Discord. The project seeks to capitalize on this support as it steps into the crypto space.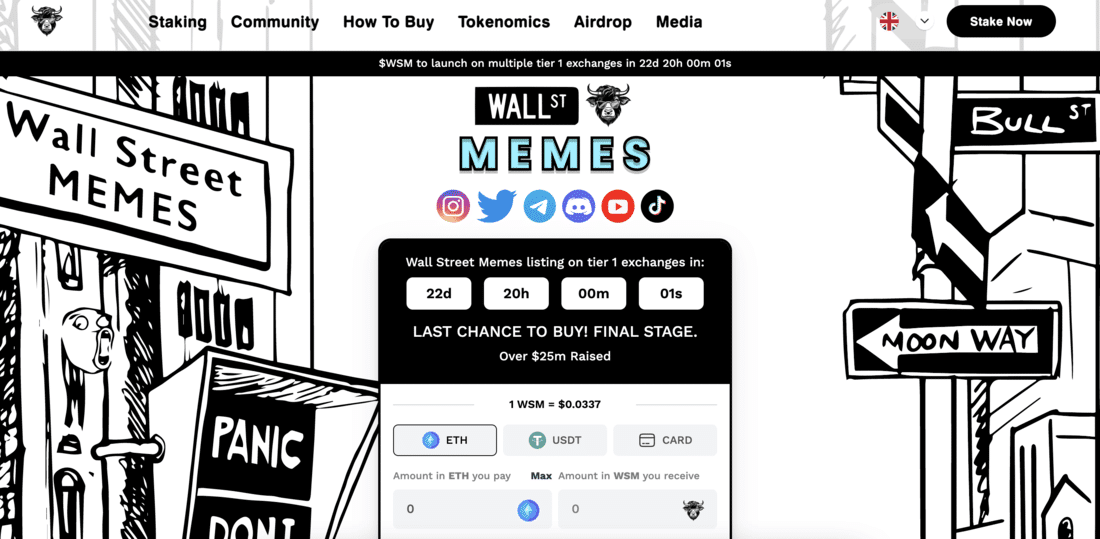 Being a product of internet meme culture, Wall Street Memes aspires to make $WSM a viable player in the meme coin market. The brand's agility to keep up with the latest trends, including Bitcoin NFTs, shows promise, a trait reflected in their Ethereum NFT collection, which sold out within minutes in 2021.
Wall Street Memes' vast social media influence has garnered interactions from notable figures like Elon Musk. This social media traction could be a launchpad for high-tier exchange listings on Binance or Coinbase.

To celebrate the $WSM crypto presale kickoff, there's a $50,000 airdrop in the offing. For more project details, you can visit their Linktree.
The entire $WSM token supply, capped at 2 billion, is allocated to the community. Of this, 50% is up for grabs in the presale, with the remainder divided between community rewards and liquidity.
Keep track of the latest developments of this upcoming initial coin offering via the Wall Street Memes Telegram.
| | |
| --- | --- |
| Hard Cap | $30,577,000 |
| Total Tokens | 2,000,000,000 |
| Tokens available in presale | 1,000,000,000 |
| Blockchain | Ethereum Network |
| Token type | ERC-20 |
| Minimum Purchase | 100 tokens |
| Purchase with | USDT, ETH, BNB, Bank Card |
2. Sonik – ERC20 Meme Token With Huge Staking Rewards, Priced at just $0.000014 In One Stage Presale
Sonik (SONIK) is a new degen coin with an irreverent attitude and high aspirations. It seeks to hit a $100 million market capitalization and rewards users with a new stake-to-speed model, which previously offered rewards up to 26,648%.
However, this figure is currently much more moderate as increasing numbers of users staked their coins. As stated in the website disclaimer, Sonik is a meme con meant primarily for entertainment purposes. It has no affiliation with the Sonic the Hedgehog franchise or Sega.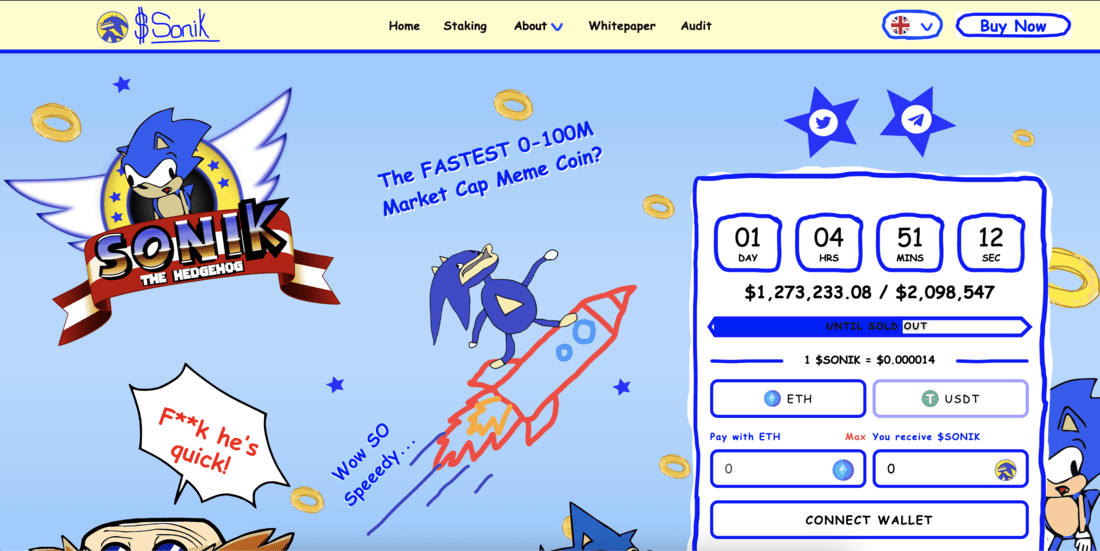 The Sonik roadmap expands in three distinct phases. During the first phase, concept art and token deployment take place, along with the current presale. In stage two, the market initiative will take place alongside the staking deployment and the launch on the Uniswap decentralized exchange.
In stage three, the iconic token aims to hit a $100 million market capitalization through community engagement, staking rewards, and ongoing initiatives. More information on these stages is outlined in the whitepaper. The campaign has further undergone a security audit with no severe issues found within the code.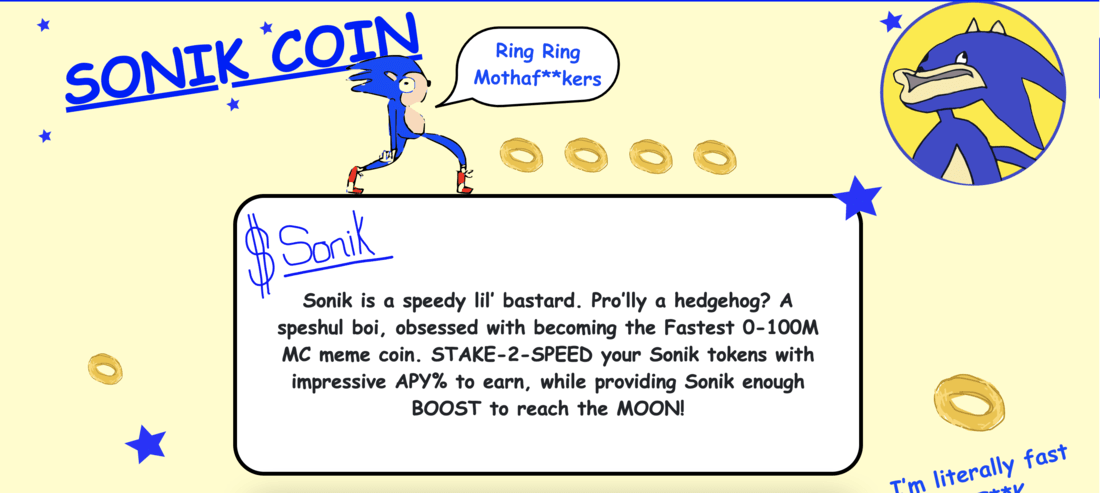 In total, there are 299,792,458,000 SONIK tokens with 50% allocated to the presale. Of the remainder, 40% are allocated to staking and 10% to DEX liquidity. The price per entry is just $0.000014, which is ultra low. This is also a one stage presale, so it does not matter if you get in late or early, as long as you get in before exchange listing, where the price could increase.
ETH and USDT are the only acceptable means of accessing this low priced token. At the current time, MetaMask and Wallet Connect are the only acceptable Web3 wallets to take part in the presale.
More information can be obtained from the project socials, such as the Twitter and Telegram accounts.
| | |
| --- | --- |
| Hard Cap | $2,098,547 |
| Total Tokens | 299,792,458,000 |
| Tokens available in presale | 149,896,229,000 |
| Blockchain | Ethereum Network |
| Token type | ERC-20 |
| Minimum Purchase | 1000 tokens |
| Purchase with | USDT, ETH |
3. Launchpad (LPX) – Web 3.0 Investments Simplified for the Average Consumer
Launchpad XYZ is revolutionizing the Web 3.0 investment space, enabling the average consumer to build a portfolio without any prior experience. The platform simplifies complex investment products and provides real-time insights into the most trending Web 3.0 technologies and niches. For example, Launchpad XYZ is building a scoring system that rates cryptocurrencies based on a risk and reward ratio.
This enables novice traders to assess which cryptocurrencies are worth buying. Moreover, Launchpad XYZ will also provide access to ICO campaigns that are only available to private investors. This is in addition to exclusive NFT launches and play-to-earn games that are yet to launch to the public. Other features being developed include fractionalized assets, metaverse experiences, and a decentralized NFT exchange.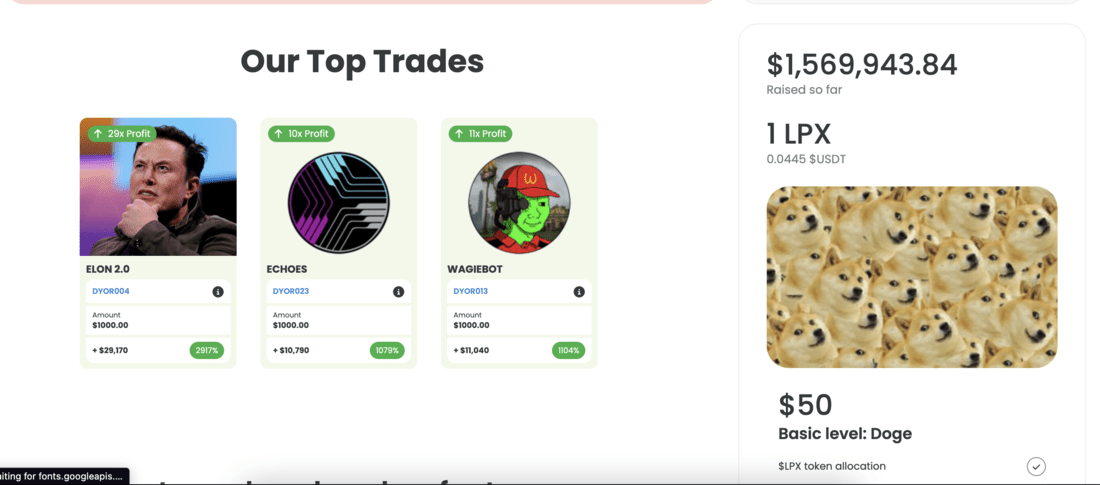 Some of these features can only be accessed by staking LPX tokens. This ensures that the Launchpad XYZ ecosystem is sustainable in the long run. LPX tokens also provide investors with discounted trading fees and other exclusive perks. LPX tokens are currently being sold at presale prices, with over $1.5 million already raised. The current presale price is just $0.0445 per token. That's over 2,200 LPX for every $100 invested.
| | |
| --- | --- |
| Hard Cap | $12.5 million |
| Total Tokens | 1 billion |
| Tokens available in presale | 250 million |
| Blockchain | Ethereum Network |
| Token type | ERC-20 |
| Minimum Purchase | 100 LPX |
| Purchase with | USDT, ETH, BNB, Bank Card |
4. yPredict (YPRED) – Blockchain-Based Ecosystem for Buying and Selling Predictive Models
yPredict is building a blockchain-based ecosystem that enables users to buy and sell predictive models. The platform hosts models that are developed by data scientists, crypto analysts, and quant traders. Each predictive model will focus on a specific niche of the crypto trading industry and enable users to make smart and efficient decisions.
For example, some predictive models will simplify the technical analysis and research processes. This includes providing automated chart recognition patterns, enabling users to streamline their data insights. Some yPredict models will provide trading signals. Not only does this remove the need to conduct technical analysis, but determines suitable entry and exit prices.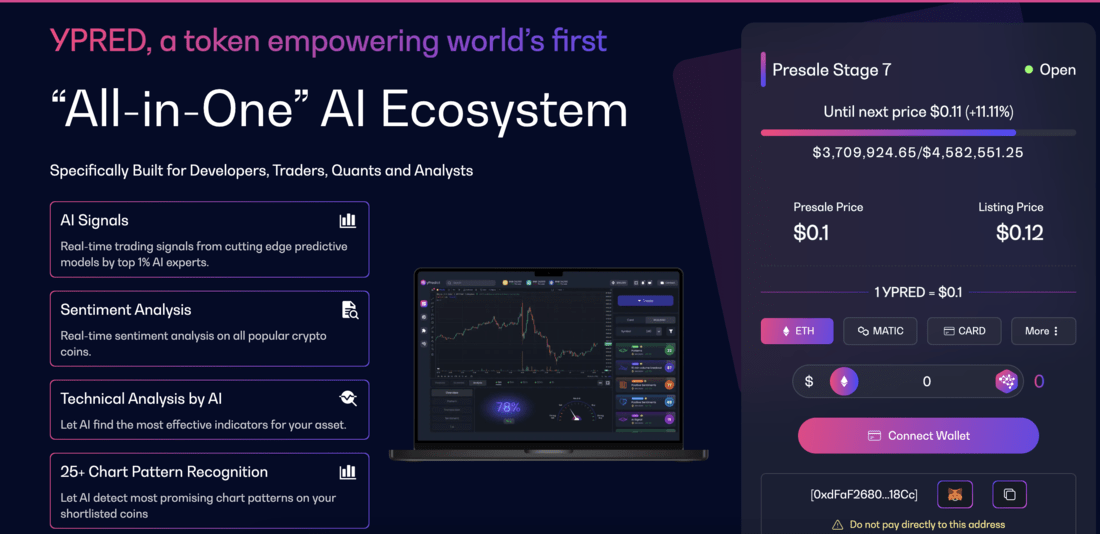 For example, the yPredict predictive model might suggest short-selling BNB if it hits $380 per token. Additionally, the model might also suggest entering a stop-loss and take-profit order of $320 and $390, respectively. Before predictive models are listed on the yPredict marketplace, they are tested by the project's DAO. The DAO will assess the capabilities of the model in live market conditions.
The results of the testing period are published to the yPredict community for complete transparency. Once a predictive model has been approved, it is listed for sale. The transactional currency to buy predictive models is YPRED, the native token of yPredict. YPRED is currently being sold at presale prices. More than $1.7 million has been raised, and currently, each YPRED costs just $0.1.
The price will increase to $0.10 and $0.11 over the next two presale stages. Then, after the presale finishes, YPRED will be listed on exchanges at $0.12. This offers an attractive discount for those investing today. Before proceeding, do remember that YPRED is an unproven cryptocurrency, and the project is still in development. This means that investors might need to hold onto their YPRED tokens long-term before seeing notable growth.
| | |
| --- | --- |
| Hard Cap | $6.5 million |
| Total Tokens | 1 billion |
| Tokens available in presale | 800 million |
| Blockchain | Polygon |
| Token type | ERC-20 |
| Minimum Purchase | 200 YPRED |
| Purchase with | MATIC, USDT, ETH, BNB, Bank Card |
5. Chimpzee – Eco Friendly Project With 20,000 Trees Planted And $15k Wildlife Donation, 50% of Hard Cap Raised
Chimpzee (CHMPZ) is an iconic monkey, on a mission to save the planet and help people make an income for helping out. It has already planted over 20,000 trees in Guatemala as well as 1,200 trees in Brazil. Its primary aims are the protection of endangered species and to prevent deforestation.
The fact that it has already made contributions before its presale has even finished is testimony to the integrity of the project and its intentions. It has further undergone a third party smart contract audit as well as attained a KYC certificate from Coinscope – powerful signals that Chimpzee is going through the proper channels.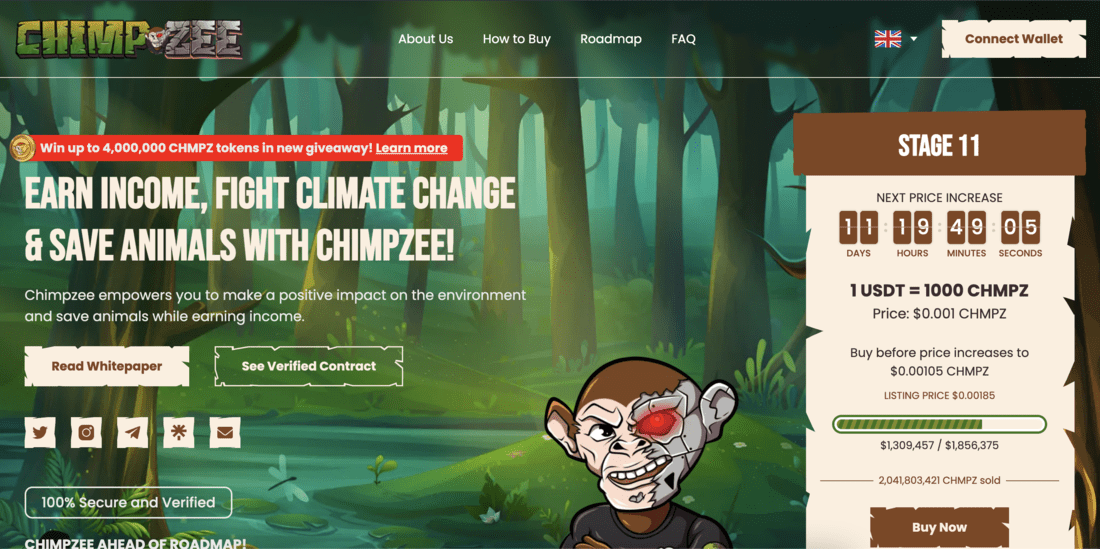 It also takes care of its investors. There are three ways to make an income through Chimpzee – Play-To-Earn, Trade-To-Earn, and Shop-To-Earn.
However, Buying a Diamond NFT is the best way to earn through this platform and confers the most privileges. It means that investors can benefit from a 20% APY as opposed to a 10% APY offered by less prestigious NFTs, such as the Bronze NFT.
The tokenomics are another reason to purchase this cheap token, currently priced at $0.001 per CHMPZ. Only 5% is allocated to the core team, and this is locked for 2 years, with 45% of the supply going towards the presale.
The project deploys a robust token burning mechanism. At the time of this writing, over a 100 billion tokens have been burned with another 50 billion set to be burned in the near future, and another 15 billion burned upon launch. Ultimately, the supply will be set to below 50 billion tokens, which could help with price appreciation. This is a very aggressive token burning strategy by presale standards.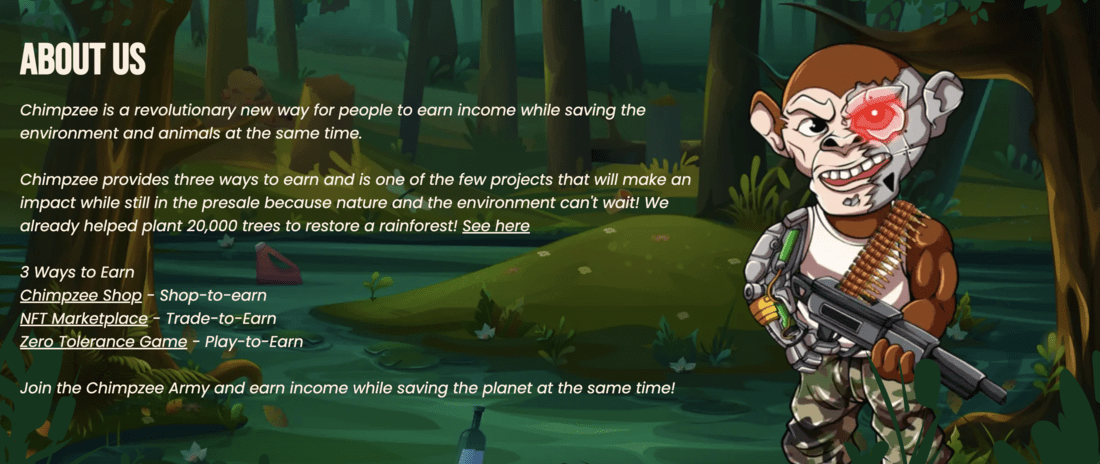 The final listing price is $0.00185 as opposed to the current $0.001. This is an 85% difference – all else remaining equal, a $1,000 investment could return $1,850, though nothing is guaranteed and every investment carries its own set of risks.
To take part in the presale, users can pay with ETH, USDT, or Credit Card. Chimpzee supports a large variety of Web3 wallets.
More info can be found on Twitter and Telegram.
| | |
| --- | --- |
| Token symbol | CHMPZ |
| Total supply | 200 Billion |
| Presale supply | 40 Billion |
| Network | Ethereum (ERC20) |
| Purchase methods | ETH, USDT, Credit Card |
6. eTukTuk – Project Seeking to Help Reduce Socio-Economic Barriers and Assist the Environment, $50k Raised With 40% Discount For New Participants
eTukTuk (TUK) is a niche campaign that specifically targets transport in underprivileged economic regions. It has two primary objectives – to achieve financial inclusion and to help the environment. The project was launched out of Sri Lanka, an area known for high levels of pollution and CO2 emissions.
eTukTuk is specifically concerned with TukTuks, a form of 3-wheeled vehicle found in Asia that are more environmentally damaging in comparison to regular vehicles. eTukTuk aims to replace these with Electric Vehicles (EVs) with dedicated charging stations maintained by Territory partners. These EVs are substantially more eco friendly and can drastically reduce fuel costs.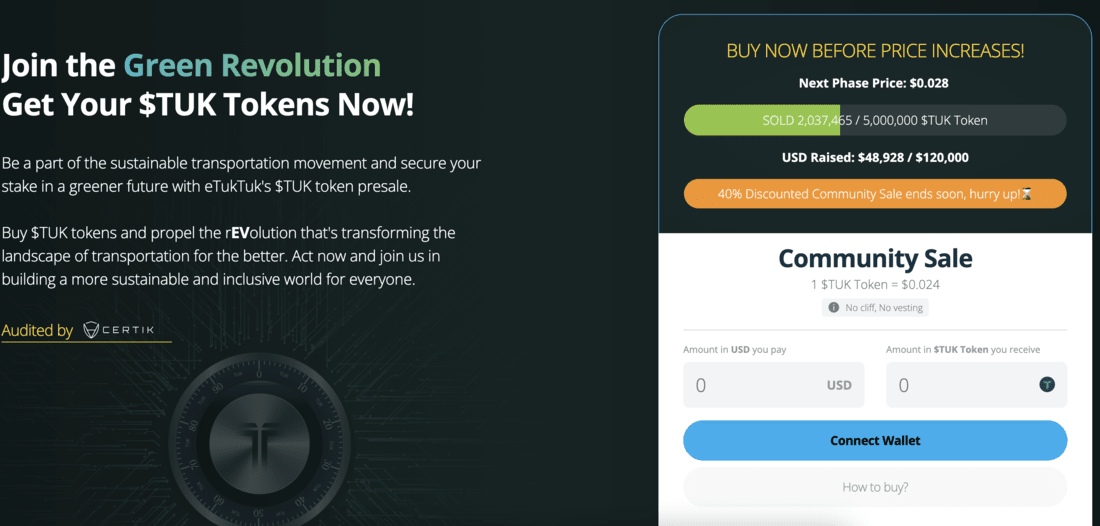 eTukTuk aims to become fully self-sufficient from local power grids. Solar-powered charging stations will ultimately provide a permanent solution that underpins a sustainable charging network and reduces costs to the ecosystem. The vehicles will be zero-emission with 85% of the parts locally sourced.
TukTuk drivers do not earn much money and spend a disproportionate amount of fuel. The TUK token can also be used within the application to earn rewards for drivers who can also stake their coins. eTukTuk is a socio-economic initiative that aims to help the environment and increase the levels of economic prosperity in the region. This solution also hopes to bring countries like Sri Lanka closer to first-world countries and to empower business owners to choose sustainable futures.

During the community sale, investors can take advantage of a 40% bonus on a token that is priced at just $0.024, with no vesting period. The project is compatible with a wide variety of cryptos (ETH, BNB, USDC, USDT, or ADA) as well as many Web3 wallets. This community sale has a small hard cap of $120,000 and represents the lowest price before the other fundraising events take place.
More details can be found on the whitepaper, Twitter, and Telegram accounts.
| | |
| --- | --- |
| Hard Cap | $120,000 |
| Total Tokens | 2 billion |
| Tokens available in presale | 5,000,000 |
| Blockchain | Binance |
| Token type | BEP20 |
| Minimum Purchase | 1000 TUK |
| Purchase with | ETH, BNB, USDC, USDT or ADA |
7. Scorpion Casino – Affordably Priced SCORP Token Allows for Casino Ownership and Up to $10,000 Staking Rewards, Presale 98% Finished At Just $0.017 Per Token
Scorpion Casio (SCORP) is an online casino with a presale that is very nearly finished. This could be the last chance to take part before it wraps up for good. The SCORP token allows them to become indirect casino owners, where they can take part in casino rewards depending on how much revenue the casino brings in. In total, up to $10,000 can be earned in staking rewards, paid in USDT.
Scorpion Casino aims to break down the barriers to casino exclusivity so all people can become involved and take part. Scorpion Casino provides 30,000 betting opportunities monthly, 210 casino games, and 160 live games.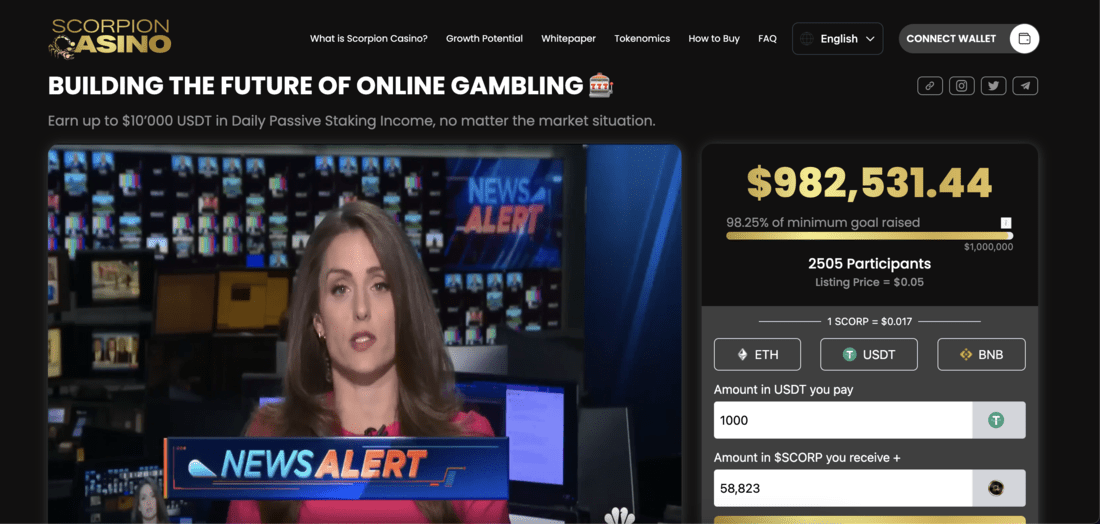 Over 35 different sports are integrated into the casino. It's also highly secure and regulated. The platform is regulated and licensed by the Curacao eGaming Authority. The team has been KYC verified by Assure DeFi and also audited by SolidProot.
Currently, the BEP20 token is priced at just $0.017, about 33% of the final listing price of $0.05. This is a powerful incentive for rapid investment, especially as it is nearly sold out. Presale investors can also benefit from 40% in credits to play, as an additional bonus. Tokens can be purchased using MetaMask or Wallet Connect, paid in USDT, BNB, or ETH.

The Scorpion Casino whitepaper should be looked at prior to investment, where it outlines the risks and provides an overview of the wider gambling industry and how it plans to disrupt it.
It claims that it is almost impossible to profit from the gambling industry as an outsider which is why this presale is a systems buster in terms that inverts the existing model. It removes barriers to entry and provides users with a means of earning an income.
More details can be found on the dedicated Telegram account.
| | |
| --- | --- |
| Token symbol | SCORP |
| Presale supply | 200,000,000 SCORP |
| Token type | BEP-20 |
| Payment methods | ETH, USDT, BNB |
| Listing price | $0.05 |
8. Anarchy (ANA) — Meme Coin-Backed Ecosystem Designed to Empower Individual Investors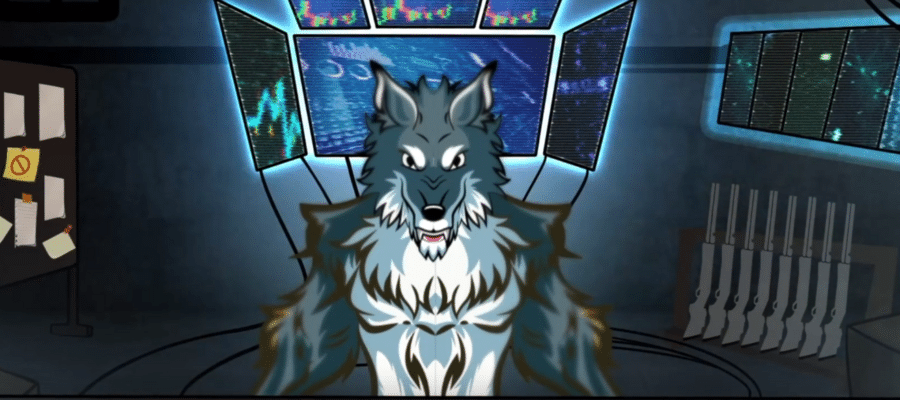 As we continue our curated best cheap crypto to buy list, we turn our attention to Anarchy. This blockchain-based network is one of the newest meme coin-backed systems to appear on the crypto market. While the project is still developing a roadmap, its objective has been gathering steam among crypto enthusiasts.
Anarchy is committed to confronting long-standing injustices that have governed the financial system for years. Its lengthy mission statement highlights numerous issues that the global market has experienced, from the 2008 crisis to the 2023 economic recession. It details the problems the "little guy" encounters daily and proposes an initiative against these forms of misconduct.
This Ethereum-powered project is building a community that uses memes to raise awareness and criticize the system while also entertaining users in the process. On top of that, it supports individual investors through its DAO approach to authority distribution. Rather than giving power to a small group of persons, Anarchy uses blockchain technology to distribute governing rights across all users.
Developers have allocated 80% of the total supply for public sale, 20% for liquidity, and 4.5% of every sale and transaction for the DAO wallet. By holding its native token, Anarchy holders can vote on the best ways to invest these funds each month. This structure offers them more control over invested capital and a say in the project's future.
Anarchy's presale is already underway, so you can reserve your spot early. Check the project's Telegram and other socials, visit its official website, and buy your first ANA token with a discount. You'll be able to claim these reserves as soon as the ICO completes.
| | |
| --- | --- |
| Hard Cap | N/A |
| Total Tokens | 69,420 billion |
| Tokens available in presale | N/A |
| Blockchain | Ethereum |
| Token type | ERC-20 |
| Minimum Purchase | N/A |
| Purchase with | ETH, USDT, BNB, credit card |
9. Aleph Zero – New, Secure, Hyper Fast, Low Cost Blockchain With DAG Technology
Aleph Zero (AZERO) is an enterprise-level public blockchain with private contract functionality. This allows it a large degree of versatility in what it can achieve, being suitable for a large number of customizable, large scale projects.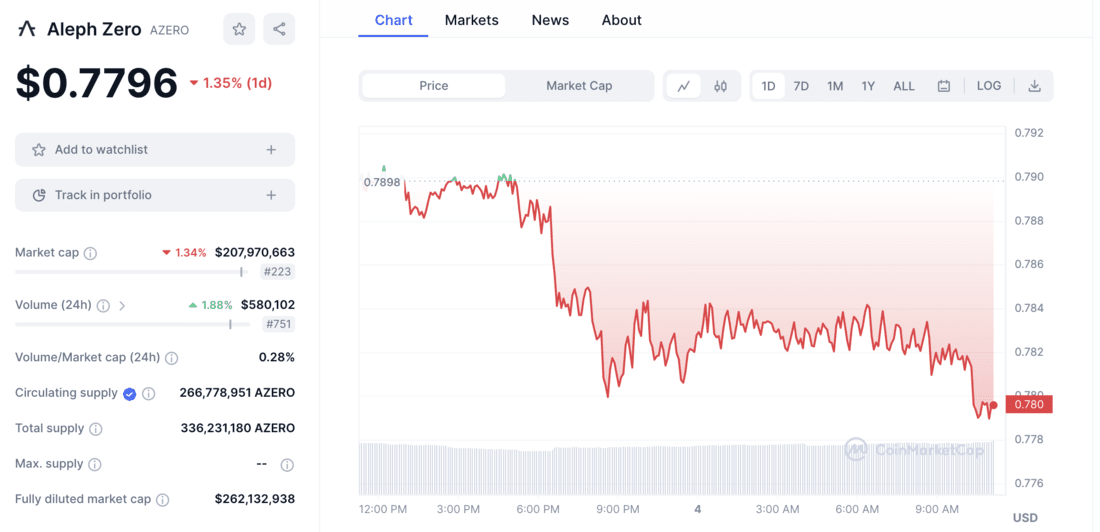 Aleph Zero is very fast (0.9-sec transaction finality) and low cost (0.0003 AZERO per transaction). But what makes it particularly suitable to government and enterprises is that it scales well without compromising on speed, cost, or security. This is a rarity in blockchain technology as most often there is a drawback in some areas. Further more, Aleph Zero is decentralized and leaderless, in line with the original ethos of distributed ledger technology.
AZERO currently trades at $0.77. It's also available at a steep discount compared to its February price of $1.70 and its all-time high in April 2022 of $3.09. This token could be a favorite among large institutions in 2023. At the time of this writing, this token is #223 by market capitalization, a figure which could improve if it sees traction moving forward.
10. Ripple (XRP) – Cross-Border Payments on the Blockchain for Banks and Financial Institutions
While Ripple is an established large-cap project, it is also one of the best cheapest crypto to buy now. Founded in 2012, Ripple facilitates cross-border payments for banks and financial institutions. Hundreds of institutions are already trialing Ripple, including Siam Commercial Bank, JPMorgan Chase, Standard Chartered, and Santander.
Put simply, Ripple enables banks to streamline cross-border payments, even when two different currencies are being used. The technology supports payment times of just 3-5 seconds, and each transaction costs a micro fraction of one cent. XRP fuels the Ripple network by providing liquidity for cross-currency payments.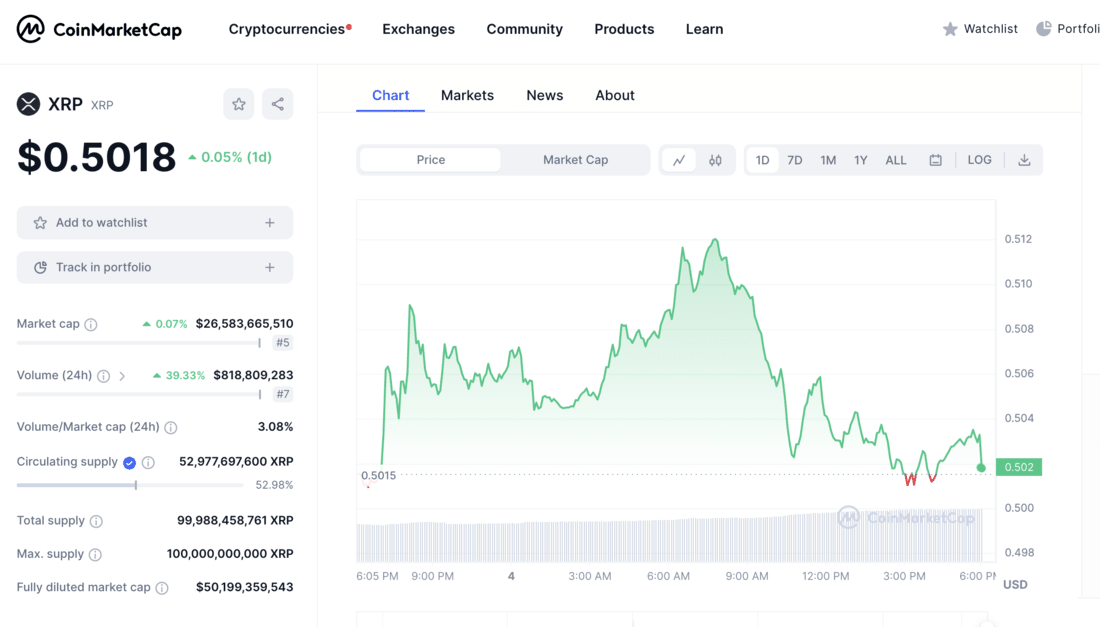 XRP currently has a market capitalization of over $26 billion. This prices XRP at just $0.50 per token. That said, XRP was valued at over $120 billion during the 2017 crypto bull market. This priced XRP at an all-time high of $3.84. As such, XRP is still trading at unprecedented discounts.
Cryptoassets are a highly volatile unregulated investment product.
11. Shiba Inu (SHIB) – Cheap Meme Coin Project With Growing Use Cases
Founded in 2020, Shiba Inu is a meme coin that became a multi-billion dollar project within a year of its launch. The project uses the Shiba Inu dog breed as its logo. Shiba Inu has one of the largest communities in the crypto space, which enabled the project to surpass a valuation of $40 billion during the last bull market.
Shiba Inu has a total supply of one quadrillion tokens. In turn, this is the cheapest cryptocurrency to buy in 2023. For instance, SHIB is currently trading at just $0.000007663. This means that a small investment of just $100 would yield over 11 million tokens. Although Shiba Inu is currently valued at over $4.5 billion, this represents a decline of 90% from its 2021 peak.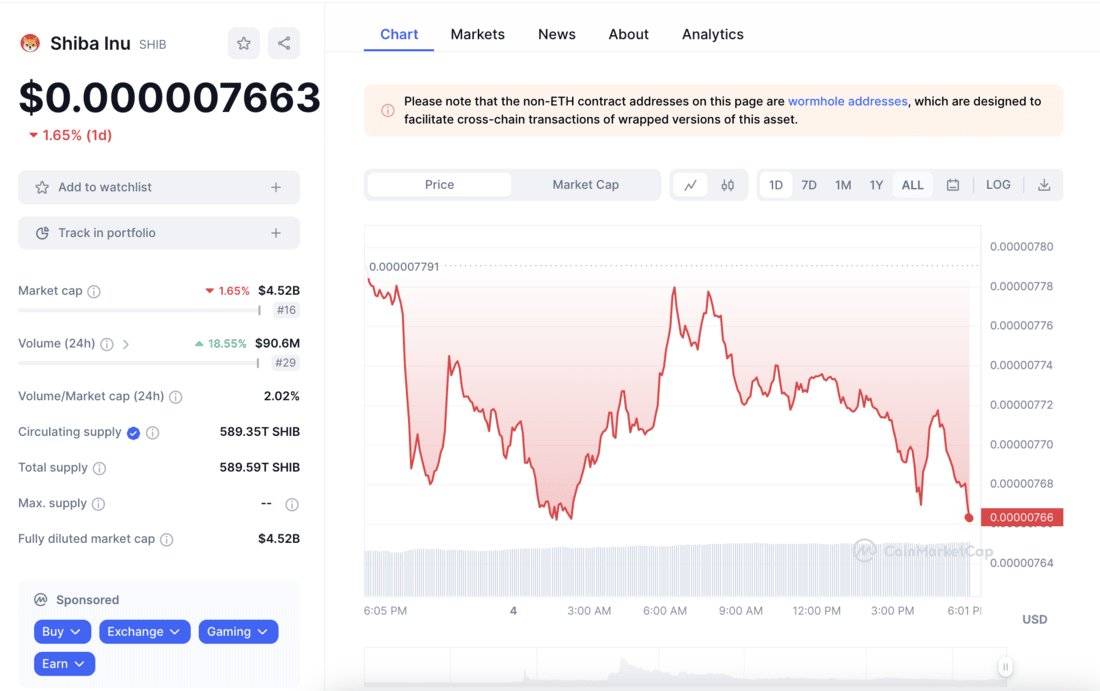 Nonetheless, those looking to buy Shiba Inu at discounted prices can now do just that. Moreover, Shiba Inu is developing a range of features that will enable it to transition from a meme coin to a utility token. This includes a decentralized metaverse that will allow SHIB holders to buy virtual plots of land. Shiba Inu has also launched a decentralized exchange – ShibSwap.
Cryptoassets are a highly volatile unregulated investment product.
12. Stellar (XLM) – Fast and Scalable Payments System for Consumers and Businesses
Stellar is an established blockchain project with one of the most efficient payment networks in the industry. Serving both consumers and businesses alike, Stellar transactions take seconds to process and at a fee of just 0.00001 XLM. Based on current market prices of $0.012, this means Stellar transactions cost micro pennies. This is the case regardless of how much is being transferred.
What's more, Stellar enables users to transfer fiat currencies via its network. XLM acts as a bridge of liquidity, keeping transactions cheap and fast. The Stellar framework continues to attract attention from major organizations, with partnerships already secured with IBM and MoneyGram. The latter enables users to remit money to developing countries without being hit with unethical fees.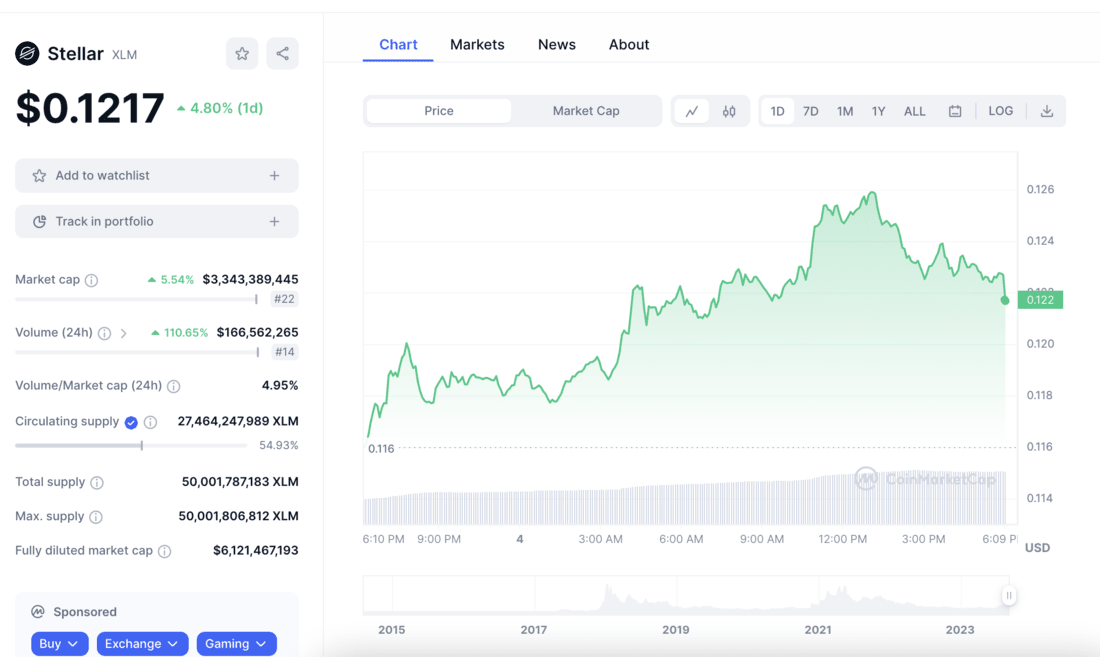 Currently, Stellar has a market capitalization of just over $2 billion. When compared to its 2021 all-time high of over $17 billion, this offers investors a discount of almost 90%. The total supply of XLM is just over 50 billion. Of this figure, almost 27 billion XLM are currently in circulation.
Cryptoassets are a highly volatile unregulated investment product.
13. SushiSwap (SUSHI) – Decentralized Exchange Aggregator Supporting Token Swaps and Lending Yields
SushiSwap is a decentralized exchange that was launched in 2020. It enables users to swap cryptocurrencies on a cross-chain basis without going through third parties. Instead, all SushiSwap transactions are conducted via liquidity pools. SushiSwap supports more than a dozen blockchain standards, including Ethereum, Fantom, Binance Smart Chain, Arbitrum, and Polygon.
SushiSwap has also launched an aggregator protocol. This means that SushiSwap will secure the best rates in the market from a variety of decentralized exchanges. Users simply need to decide which tokens they want to swap, and SushiSwap will display the most competitive prices.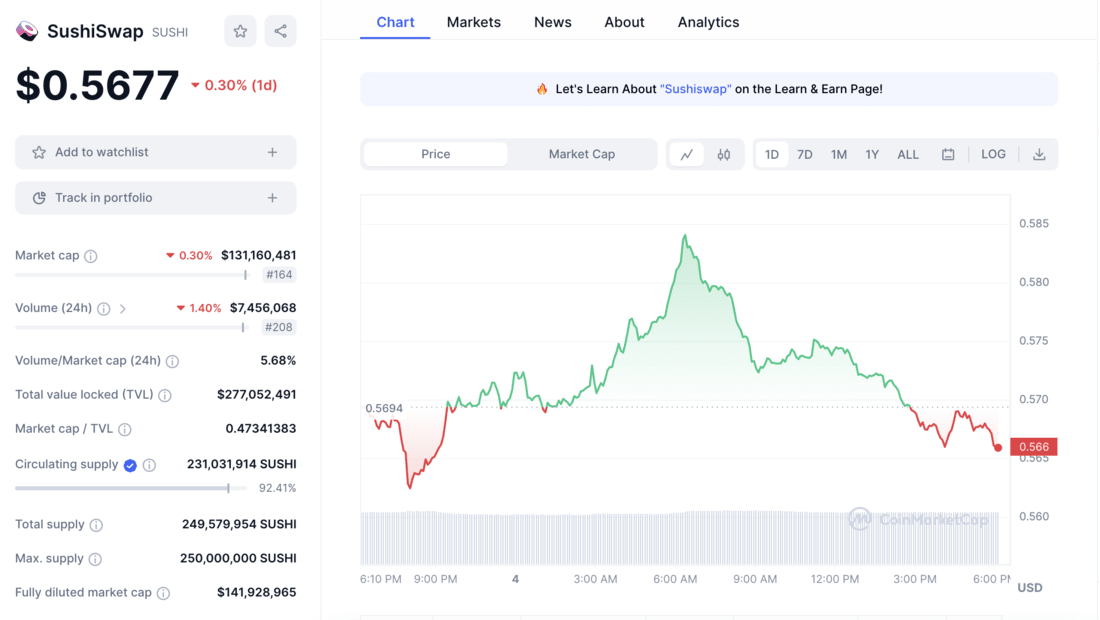 SushiSwap is also ideal for earning interest on idle crypto tokens. For example, those funding the USDC/ETH liquidity poll will currently earn a yield of 5.47%. SUSHI tokens fuel the SushiSwap ecosystem, enabling holders to make governance decisions. SUSHI is also the investment token offering exposure to the project. Currently, SUSHI trades at just $0.056, yielding a market capitalization of $131 million.
Cryptoassets are a highly volatile unregulated investment product.
14. Gala (GALA) – Blockchain Ecosystem for Play-to-Earn Games and Tokenized Ownership
Founded in 2018, Gala has developed a blockchain-based ecosystem for games. Currently, 28 games are supported across a variety of genres. All Gala games follow the play-to-earn concept, meaning players can earn rewards for their efforts. Rewards are paid in the project's native token, GALA.
This promising crypto project also enables players to own the in-game assets they buy or earn. This is because in-game assets are backed by NFTs on the Ethereum blockchain. According to Gala, more than $2.2 billion worth of GALA token rewards have been distributed to date.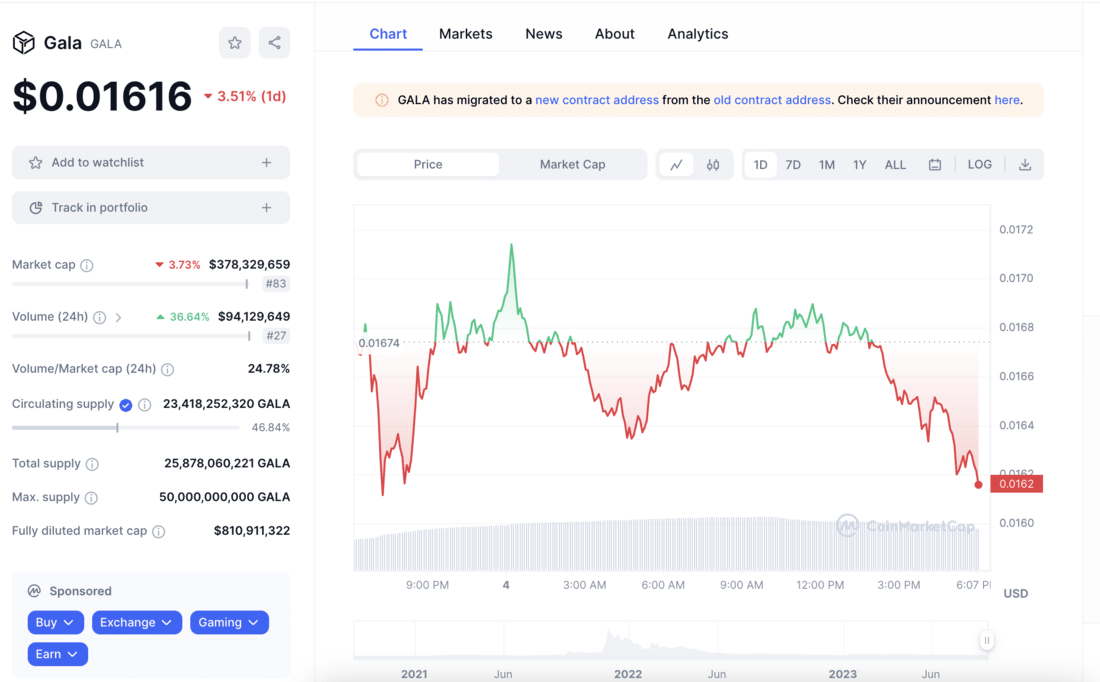 In terms of valuation, Gala currently has a market capitalization of over $378 million. This small-cap project has generated growth of almost 2,000% since 2020. That said, Gala is trading at a fraction of its former $5 billion valuation, which it achieved during the prior bull market. As such, those investing today will secure a discount of over 95%.
Cryptoassets are a highly volatile unregulated investment product.
What is a Cheap Crypto?
Cheap cryptocurrencies generally trade at a low market value, often a fraction of a dollar. This is in contrast to expensive cryptocurrencies like Bitcoin and Ethereum. After all, a huge upfront investment is required just to buy one BTC or ETH token.
The term 'cheap crypto' can refer to various types of digital currencies. In most cases, cheap cryptocurrencies have a low token price, making them attractive to casual investors. This is because investors can outlay a small amount of capital but still secure a huge number of tokens.
That said, cheap cryptocurrencies can also refer to projects that trade at huge declines from their prior highs. This is usually due to broader bear market cycles. For example, we mentioned earlier that Gala is trading at over 95% below its former $5 billion transaction. Due to the discount on offer, Gala could be considered a cheap crypto to buy.
Cheap cryptocurrencies can also be found in presale campaigns. Similar to stock IPOs, crypto presales sell their native tokens to early investors at a discounted price. This incentives investors to enter the presale early. For example, the Wall Street Memes presale has already raised over $6 million.
Are Cheap Cryptos a Good Investment?
The main benefit of buying cheap cryptocurrencies is that they enable budget-conscious investors to secure a large number of tokens. For instance, while Bitcoin trades at tens of thousands of dollars, some of the best cheap cryptocurrencies are valued at a fraction of a cent.
Let's explore whether or not cheap cryptocurrencies represent a viable long-term investment.
Higher Token Allocation
Cheap cryptocurrencies enable casual investors to secure a large number of tokens. This is especially the case when compared to cryptocurrencies like Bitcoin, which trade at tens of thousands of dollars.
For instance, consider that investing $100 in Bitcoin today would yield just 0.003 of 1 BTC.
The same $100 investment in the yPredict presale would yield over 1,000 YPRED tokens.
While a $100 investment in the Ecoterra presale would secure over 11,000 ECOTERRA tokens.
Ultimately, there is little motivation for owning a tiny fraction of one crypto token. This is why cheap cryptocurrencies remain a popular alternative for casual investors.
Undervalued Crypto Projects
Cheap cryptocurrencies also enable investors to buy tokens at undervalued prices. This is often because of bear market conditions that result in projects losing significant amounts of value.
For example, during the 2021 bull market, Shiba Inu surpassed a market capitalization of over $40 billion. But today, the same cryptocurrency is valued at $5 billion. In turn, investing in Shiba Inu today secures an 87% discount from its bull market highs.
There is no guarantee that Shiba Inu will regain its former peak. But history suggests that many cryptocurrencies recover once the next bull market arrives.
As such, cheap cryptocurrencies offer an attractive entry point in anticipation of the next bullish trend.
Invest in New Projects From the Ground Up
Cheap cryptocurrencies are often tied to brand-new projects that have just been launched into the market. This is also the case with presale projects that are yet to list on exchanges.
For example, we mentioned earlier that Wall Street Memes and AiDoge could be two of the best crypto presales in 2023. Both projects are offering their native tokens at a discounted entry price before the exchange listing.
Moreover, they have small market capitalizations, offering long-term investors plenty of upside to target.
Diversification Strategy
Cheap cryptocurrencies are also ideal for diversified strategies. This is because of the low token price on offer.
For example, we discussed 12 of the best cheap crypto to buy across multiple niches and use cases. From Wall Street Memes and AiDoge to Anarchy and Shiba Inu – cheap cryptocurrencies support diversification without needing to break the bank.
This helps mitigate the risk and increases the chances of selecting the next crypto to explode.
How to Buy the Best Cheap Crypto – Wall Street Memes Tutorial
There are two different ways to buy cheap cryptocurrencies. Tokens that are already trading in the market can be bought on crypto exchanges. While presale tokens can be purchased directly from the project.
In this section, we explain how to invest in the Wall Street Memes presale, which is the best cheap crypto to buy now.
Step 1: Download Metamask Wallet
The Wall Street Memes presale requires investors to connect their crypto wallet to complete the purchase.
While many wallets are supported, we prefer MetaMask. This wallet will appeal to beginners and seasoned traders alike. It's free to download and use, and is supported by an iOS/Android app and web browser extension.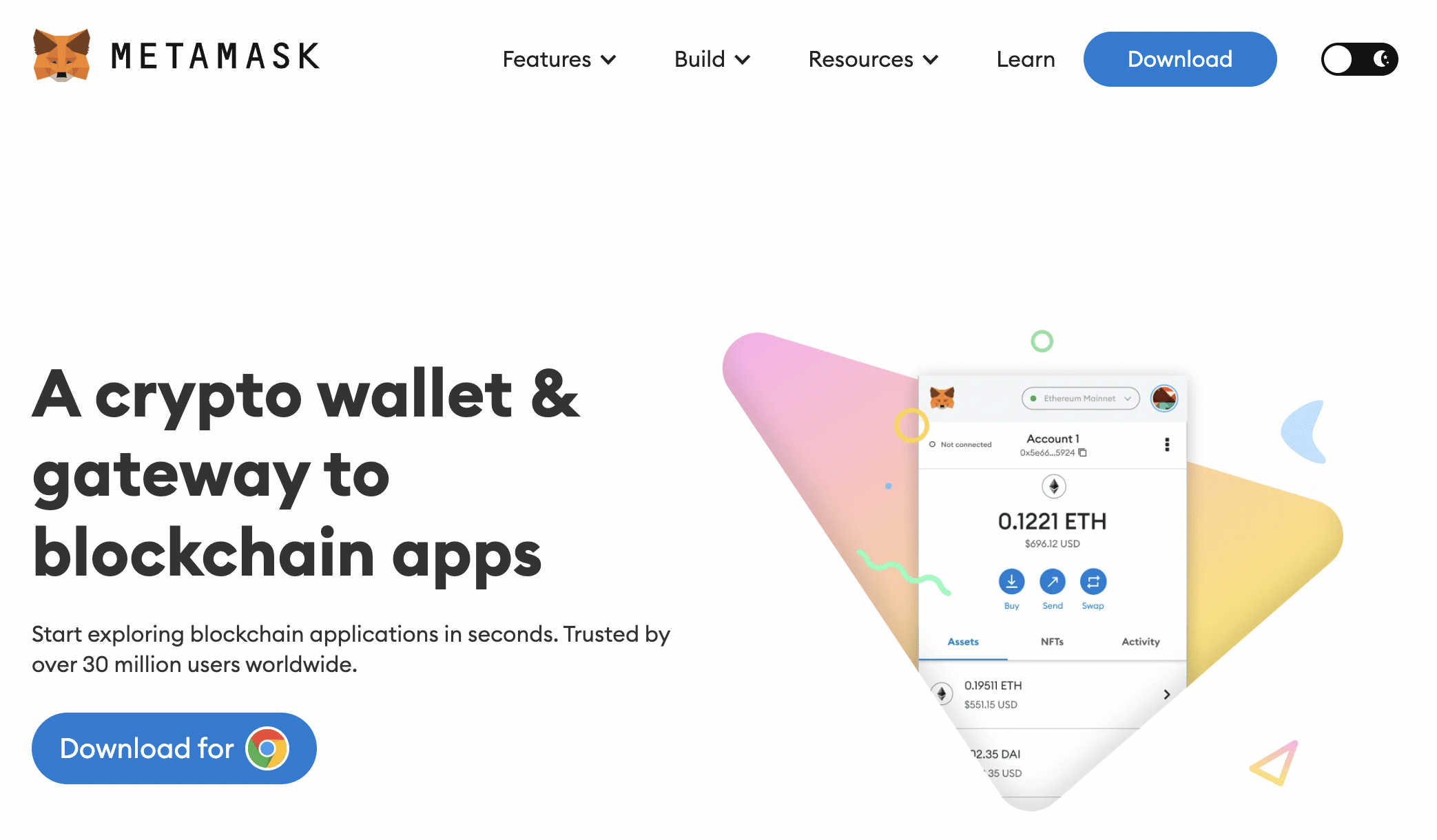 Download the preferred wallet type from the MetaMask website. Open the wallet and create a password. Finally, write down the backup passphrase displayed.
Step 2: Add Ethereum/USDT/BNB to MetaMask
Next, add some crypto tokens to the MetaMask wallet. The Wall Street Memes presale accepts ETH, BNB, and USDT. We'll be using ETH for this tutorial.
Those needing to buy some ETH can do so at any crypto exchange, although we prefer regulated platforms like eToro.
Either way, after buying ETH, open MetaMask and copy the wallet address. Request a withdrawal from the exchange where ETH was purchased. Paste in the MetaMask wallet address and confirm the withdrawal.
The ETH will then be transferred to the MetaMask wallet.
Step 3: Set up the Presale Order
Next, head over to the Wall Street Memes presale page and choose the payment currency.
Then, type in the number of tokens (ETH/BNB/USDT) that you wish to swap for $WSM. The equivalent number of $WSM tokens will update on the order form.
Step 4: Buy Wall Street Memes Tokens
Click on the 'Buy Now' button and select MetaMask as the preferred wallet.
In doing so, a MetaMask notification will appear on the device. Click it and review the transaction details.
This should mirror the order form that was filled out in the previous step.
After confirming the transaction, the crypto will be transferred. This means the Wall Street Memes presale investment was successful.
Return to the Wall Street Memes website after the presale finishes, and claim the tokens.
Where to Buy Other Cheap Cryptocurrencies
To ensure that portfolios are diversified, seasoned investors will also consider cheap cryptocurrencies that are established. This means the tokens already trade on major exchanges.
We found that eToro is one of the best crypto exchanges for buying cheap cryptocurrencies – and here's why:
eToro – Overall Best Place to Buy Cheap Cryptocurrencies

eToro was launched in 2007 and now serves more than 30 million crypto investors. In addition to low fees and support for plenty of cheap cryptocurrencies, eToro is favored for its commitment to regulation. The platform holds licenses with ASIC, FINRA, FCA, and CySEC.
Therefore, unlike many crypto exchanges, eToro enables investors to buy and sell crypto in a secure environment. In terms of supported markets, many of the cheap cryptocurrencies discussed today are available. This includes Shiba Inu, Stellar, SushiSwap, Gala, and XRP. Other cheap cryptocurrencies trading for pennies include Fetch.ai, Ankr, Celo, Cardano, Ren, Enjin, and many others.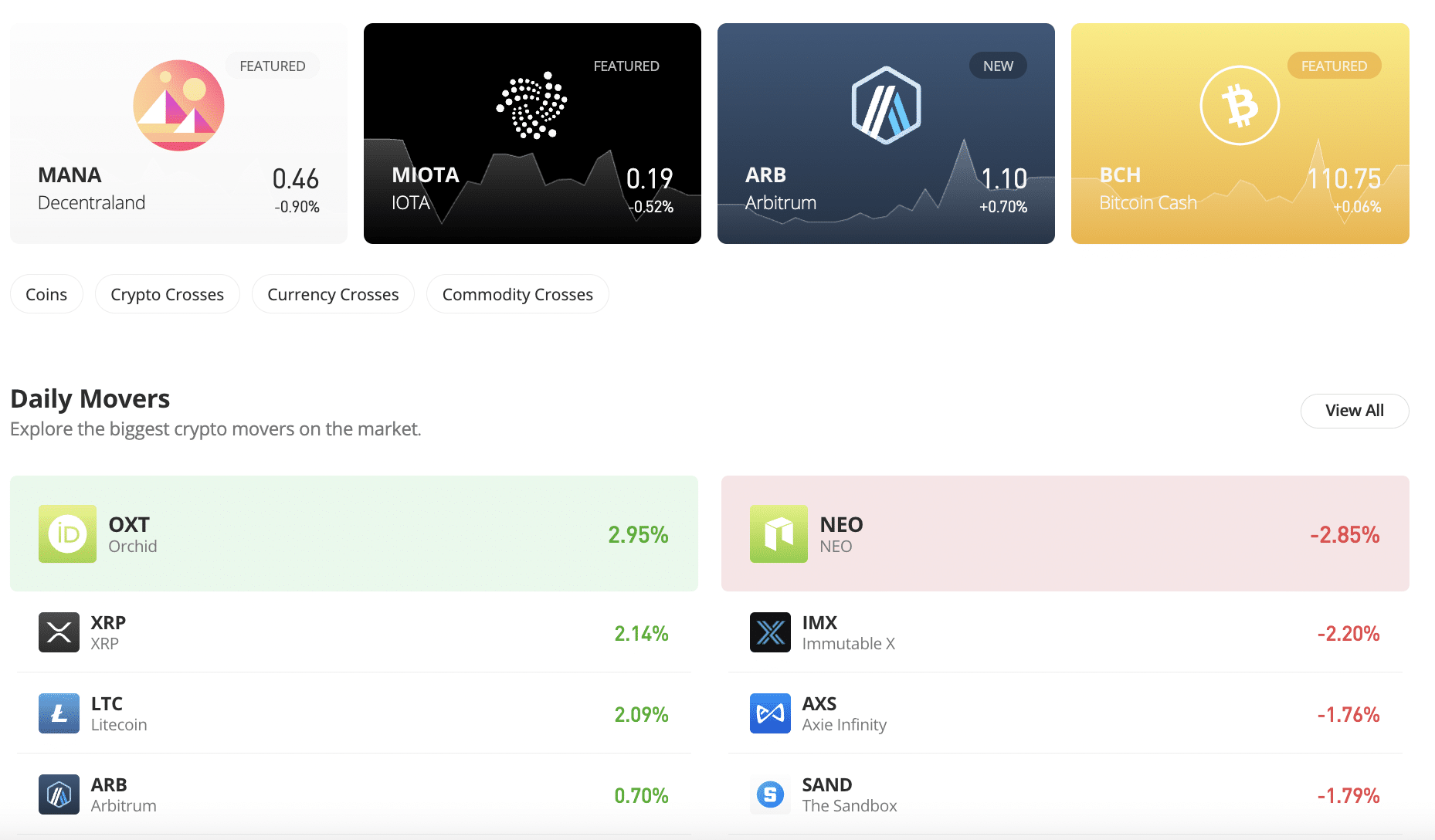 All of the 90+ supported cryptocurrencies can be purchased with fiat money. Accepted payment types include e-wallets, bank wires, and debit/credit cards. US investors will not pay any deposit fees. Those from other countries will pay a small deposit fee of 0.5%. The minimum deposit starts from just $10. Moreover, $10 is the minimum trade size when buying and selling cryptocurrencies.
Commissions are competitive and transparent at eToro. All supported markets can be traded at just 1% of the transaction amount. There are no fees to store the purchased cryptocurrencies in the eToro wallet. This can be accessed via the main eToro website or its native app for iOS and Android. eToro is also a great place for passive crypto trading.

Its copy trading tool enables investors to mirror the buy and sell orders of an experienced pro. No additional fees are charged, and the minimum investment is just $200. eToro also offered managed portfolios. These target specific markets within the crypto space, such as DeFi and the metaverse.
Pros
Cheapest way to buy crypto in a regulated environment
Instant deposits with debit/credit cards and multiple e-wallets
Small minimum trade size of $10 is ideal for diversification
In-built wallet for storing cryptocurrencies safely
Trade cryptocurrencies passively via smart portfolios and copy trading
Cons
Some cryptocurrencies are not supported in certain regions
Cryptoassets are a highly volatile unregulated investment product.
Conclusion
Cheap cryptocurrencies come with many benefits, including access to undervalued projects and those with a small token price. Diversification is also simple when buying cryptocurrencies – especially for those on a budget.
Overall, we rank Wall Street Memes as one of the best cheap cryptocurrencies to buy.
It is a new community-focused meme coin designed to provide investors with upside potential with a low presale price of only $0.0337 USDT. As investors rush to the presale, the platform has raised over $25 million in just over 13 weeks.
References:
FAQs
Which cheap crypto will explode in 2023?
What is the cheapest cryptocurrency?
Which crypto can give 1000X in 2023?