Meme coins have taken center stage this year as coins like Pepe, Turbo and Sponge have surged in price.
Due to the recent success, many newer coins look to capitalize on the attention, hoping to be the next meme coin to explode – although with dozens released every day, many never reach those heights.
One token that has recently burst onto the scene looking to do just that is the Copium token ($COPIUM), a brand new meme coin based on coping with missing out on meme coin opportunities.
The project has quickly gained huge attention from the crypto community, racing to $45 million of volume in the first 24 hours and a market cap of $10 million.
Investors Already Coping as $COPIUM Surges 1,000% In Hours
The meme coin market has slowed down recently, with Pepe currently down 63% from its May 5 all-time high and other coins like Dogecoin and Shiba Inu remaining relatively flat.
However, this has opened the door for other cryptos to enter the market and capture the community's attention – this is likely why Copium's launch has proven so popular thus far.

Following its launch on May 18, Copium managed to surge 1,000% in its first three hours on the market, quickly reaching a market cap of $10 million and becoming a top trending coin on DEXTools.
According to Etherscan, Copium already has a staggering 2,000+ holders, despite being less than a day old. $COPIUM also saw more than 10,000 transactions in its first 24 hours and volume just shy of $45 million.
Now set for listing on three major centralized exchanges – LBank, Poloniex and MEXC – the price of Copium could surge even higher in the coming days and weeks.
Copium Price Prediction – How Far Can $COPIUM Go?
With the Copium price exploding in recent hours, investors want to know what they can expect from the coin looking ahead.
As we have seen with the pumps from tokens like Pepe and Sponge, meme coin pumps can continue climbing even after already gaining multiple Xs. This often comes as a surprise since these coins offer no utility, leading to many investors missing the opportunity.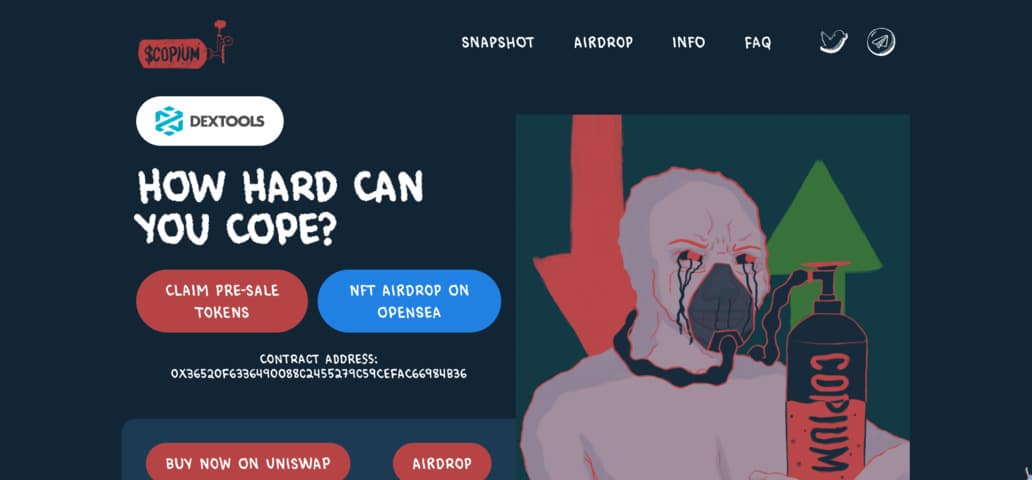 Since the Copium meme coin is built as a joke around this idea, many investors can likely relate to the coin, attributing to why it has become so popular so quickly.
Copium has also amassed more than 16.5k Twitter followers and has attracted some major influencers in the space.
Without a track record or price history, accurately predicting the Copium price is extremely difficult – however, based on the recent performance of other popular meme coins, we can expect Copium to surge in its opening days and weeks.
Having already reached a high of $0.01625 on day 1 – more than 1,000% over the launch price, it could surge to $0.025 and beyond in the coming days and weeks if momentum builds with the CEX listings.
LBank, MEXC and Poloniex are some of the biggest exchanges in the space and boast a combined daily trading volume of around $1.5 billion and almost 3 million weekly visitors.
Therefore, if the crypto community continues to rally around it and it reaches some mainstream attention, a price of $0.05 to $0.1 in the coming weeks is not unrealistic. However, we could also see a pullback at some point, providing a better price for investors to purchase the coin before it continues to climb.
Nonetheless, meme coins carry risk, so investors must be aware of the potential downside, too, as well as the upside.
Why $COPIUM Is Surging In Popularity & What Analysts Are Saying
Crypto YouTuber Jacob Bury recently stated that Copium could trend on DEX Tools and potentially 100x in the coming weeks. The main reasons for the prediction were the explosive nature of meme coins and Copium's killer meme game.
The project's first tweet came on May 14, depicting Pepe the Frog feeding the Feels Guy. The tweet was an instant hit with over 1,000 likes, and since then, the Copium team has released a series of memes which have all proven popular within its highly engaged community.
The Copium website seems to have a more Web3 native feel and although the team is anonymous (which is typical for meme coin crypto projects), it seems they are crypto-natives who truly understand the community and can speak the same language.
The invite-only presale sparked huge hype among crypto users and drew in some influential members of the community. Prominent YouTuber FaZe Banks – co-founder of FaZe Clan – was one, and he told his 3 million Instagram followers that he was holding $COPIUM for the long run having cashed out his initial stake on launch day.
Copium's robust tokenomics and fair launch have also had a hand in generating hype. There is a max supply of just 1 billion with 30% heading to presale buyers and only 0.69% to the developers.
However, unlike other projects, which often see presale investors dump losses on new buyers, the fair launch meant that they only received 10% of their tokens at launch and were only allowed to purchase 1 ETH max.
The remaining 90% of presale tokens will be unlocked linearly over three weeks and ensures the project does not just pump and dump on day one.
Furthermore, there is also huge interest in the Copium airdrop competition where the 200 holders with the most coins receive an exclusive NFT and $COPIUM tokens.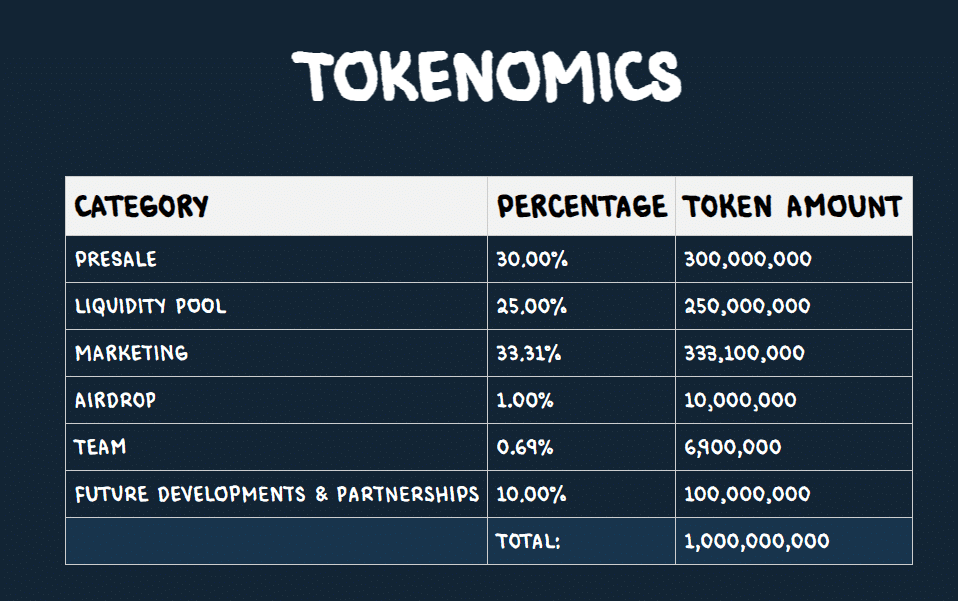 The NFT collection is already on OpenSea and has seen 30 ETH of volume, despite less than 10% of holders putting them up for sale.
Beyond that, all the team's efforts have been geared toward marketing – which has been a roaring success. Considering its initial success, if the team do add utility down the line, it could massively benefit the Copium price.
Overall, with over $45 million of volume in its first 24 hours, it is clear investors are rallying behind Copium. Considering the success of similar tokens that got off to a strong start, the future looks promising for Copium holders.