Looking to use some idle crypto tokens to buy goods online, such as watches, TVs, and mobile phones? If so, Crypto Emporium is an established online retailer that is home to thousands of products.
This Crypto Emporium review explains everything there is to know about the retailer, including supported items, security, payments, and deliveries.
What is Crypto Emporium?
If you're wondering who accepts Bitcoin as a payment method in 2023 then you've come to the right place.
Founded in 2018, Crypto Emporium is an online retailer that accepts payment in multiple cryptocurrencies. This includes Bitcoin and some of the best altcoins, like Tether, Dogecoin, Ethereum, and others.
Thousands of products are supported on Crypto Emporium, including buying watches with Bitcoin, cars and even real estate. This former includes everything from Richard Mille and Hublot to Rolex and TAG Heuer.
Popular car makers supported include Tesla, Aston Martin, Ford, Jeep, and dozens more. Crypto Emporium also supports supercars, such as Bugatti and Lamborghini. This popular retail also offers access to the real estate market, with listings priced in cryptocurrencies. Properties are available in over 40 countries, from Cambodia, Hong Kong, and Dubai to Greece, Germany, and New Zealand.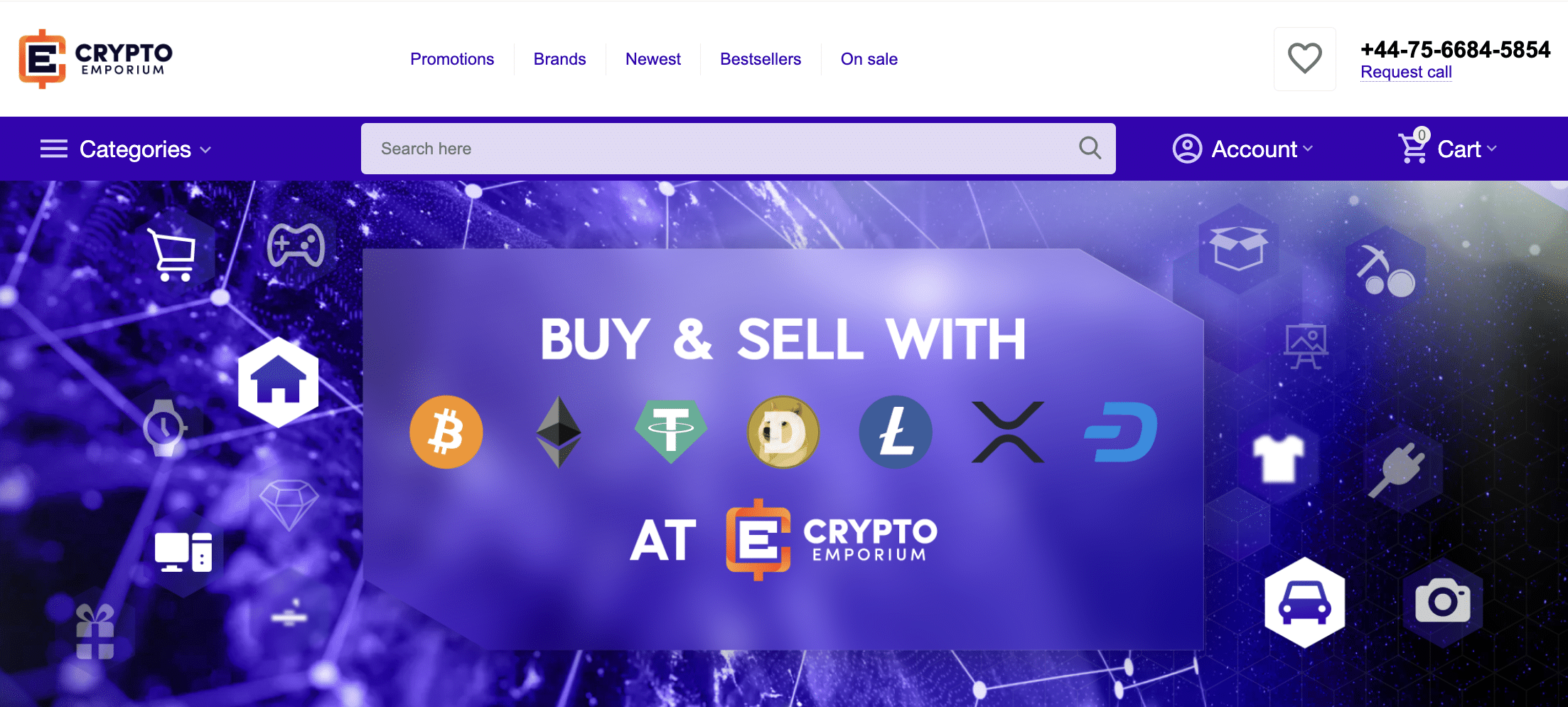 Did you know that Crypto Emporium also accepts Dogecoin? Crypto Emporium lists a range of electronic items. This includes iPhones, Samsung tablets, PlayStation 5s, smart TVs, and high-end cameras. Other popular categories include fashion, artwork, toys, and sporting equipment. The process of buying products on Crypto Emporium is very straightforward. Users simply need to open an account, choose their product, and complete payment in an accepted cryptocurrency. The product will then be shipped, with over 125 countries supported.
How Does Crypto Emporium Work?
What can you buy with Bitcoin? Something that many crypto enthusiasts ask nowadays. In many ways, Crypto Emporium works in a similar way to eBay, Amazon, and other popular retailers. This is because Crypto Emporium supports third-party merchants. Whether that's a watch dealer or a smartphone distributor, Crypto Emporium facilitates thousands of sellers. In most cases, this means that the purchased product will be shipped by the respective merchant. With that said, Crypto Emporium does ship certain items directly.
When browsing Crypto Emporium for the first time, product prices are displayed in BTC. This is based on the real-time exchange rate between BTC and USD. However, viewing prices in BTC can be difficult to know its true value, so many customers switch to USDT. Either way, once a product has been added to the customer's shopping cart, Crypto Emporium will display the wallet address to send the funds. The online retailer will also display shipping charges and service fees. The latter varies depending on the item but is usually below 1%.
Our Crypto Emporium review found that shipping charges can vary widely depending on the item and the location of the merchant and customer. For example, buying a luxury Rolex will attract higher fees, as the delivery requires premium insurance. Nevertheless, after confirming the order and transferring the crypto, the merchant will usually ship the item within a couple of business days.
What Products Does Crypto Emporium Offer?
In the section of our Crypto Emporium review, we list the main product types available:
Electronics
One of the most popular product categories at Crypto Emporium is electronics.
This includes the following:
Gaming: Buy gaming consoles such as PlayStation 5, Xbox, and Nintendo Switch. Gamers can also buy high-level gaming laptops. This includes a Razer Blade 15 Advanced RTX 3080, available at $4,075. Crypto Emporium also offers individual games and accessories, such as controllers.
Mobile Phones: Our Crypto Emporium review also found that the platform offers mobile phones. This includes the two leading brands, Samsung and iPhone. Other brands include Google, Huawei, and Xiaomi.
Cameras: Photographers will find a huge range of cameras at Crypto Emporium. Popular brands include Canon, Nikon, Olympus, Panasonic, and Sony. Camera types include DSLR, mirrorless, instant, action, video, and compact.
Desktop Devices: Looking to buy a new laptop or desktop computer? Whether it's Acer, HP, Apple, Dell, or LG, Crypto Emporium has it all. This even includes the ultra-luxury Apple Pro Display 6K XDR Nano Texture Glass, costing nearly $8,000.
Other Electronics: In addition to the above, our Crypto Emporium review also came across a huge range of speakers, headphones, turntables, drones, and TVs.
Watches
Crypto Emporium is now the go-to place to buy luxury watches. As noted above, some of the best watch brands available include Rolex, Omega, Gucci, Patek Philippe, TAG Heuer, Hublot, Richard Mille, and Blancpain. Collectors will appreciate that some watches come with the original box and papers. Given that Crypto Emporium accepts Ethereum, users can buy the latest watches with ETH.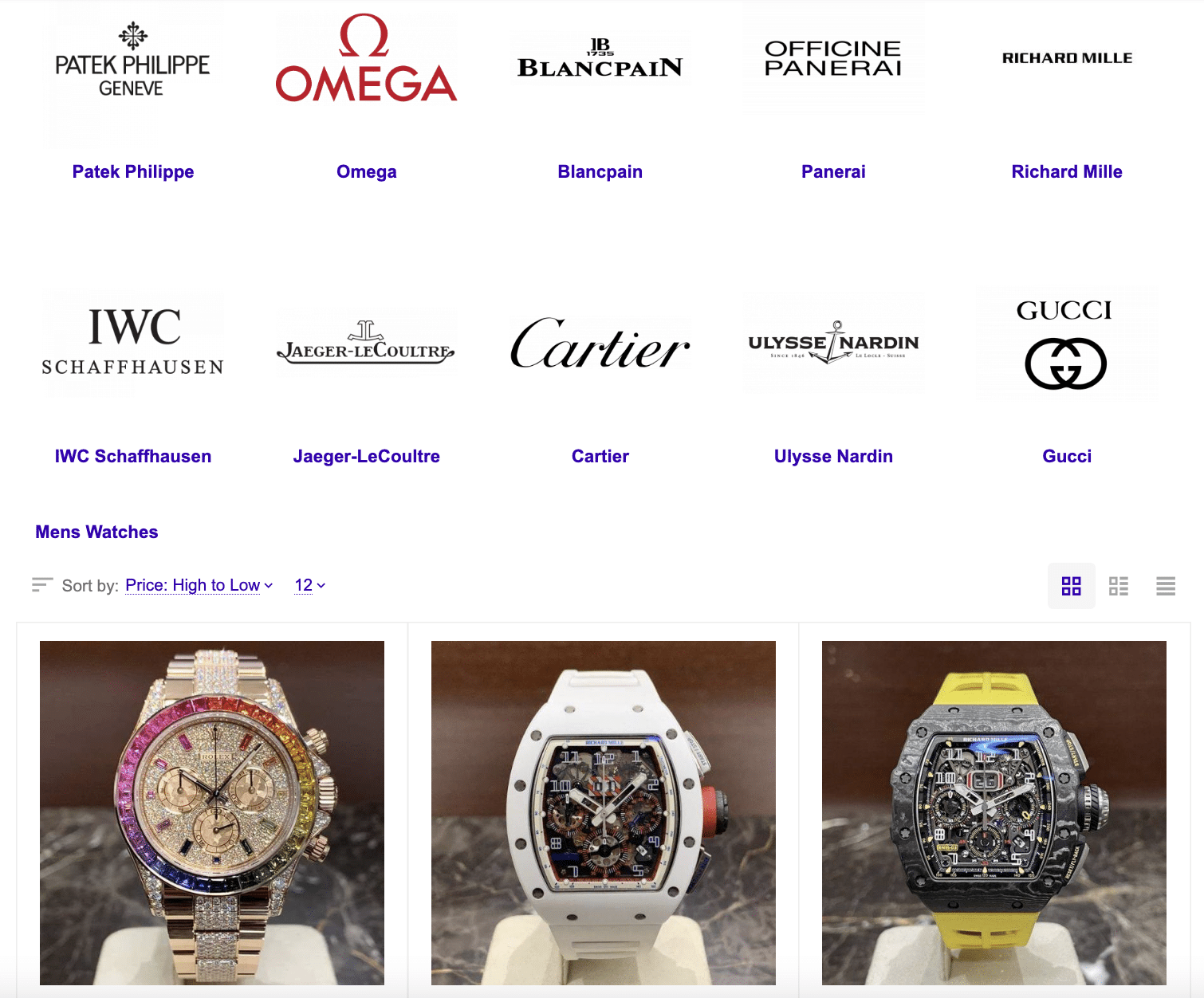 Wondering how to buy a Rolex with BTC right now? Those on a budget will also find second-hand watches. The most expensive luxury watch available on Crypto Emporium right now is the Rolex Daytona Rainbow Pave Factory; listed for nearly $700,000. Luxury watches are distributed with insurance to cover the value of the purchase. Crypto Emporium also accepts Shiba Inu as a payment method, meaning those looking to buy a watch can do so with SHIB.
Apparel
Looking to buy some new clothes with crypto? At Crypto Emporium, both men and women are catered for. This includes everything from jeans, coats, and shorts to hoodies and skirts. Most of the clothing brands available are high-end, such as Gucci, Versace, Burberry, Prada, and Alexander McQueen.
One of the most trending products right now is the Gucci Signature Horsebit Tote Bag. This is available for $2,320 and is distributed directly by Crypto Emporium.
Property
Crypto Emporium is now one of the best places to buy real estate with Bitcoin and altcoins. It lists properties of various levels in over 40 countries across Asia, Europe, North and South America, Oceania, and the Middle East. Real estate prices start from just $25,000 up to a whopping $45 million.
For example, a 57 sqm, one-bedroom apartment in Quintana Roo, Mexico is currently listed for $120,000. Higher-end investors will find plenty of options too, such as a three-bedroom farmhouse in rural England at $518,000.
Crypto Mining Setups
Those looking to get into crypto mining will find everything they need at Crypto Emporium. This includes some of the most powerful ASIC miners offered by Bitmain, Goldshell, and Innosilicon.
Do note that the setup costs are not cheap, with Goldshell KD5 Kadena Miner costing $20,000. More cost-effective GPU mining options are also supported, with suppliers including AMD, MSI, and Windforce.
Jewelry
Our Crypto Emporium review also came across a wide selection of jewelry for both men and women. This includes a Georgina GIA Oval Diamond and Platinum engagement ring for women, costing over $9,500.
Other options include earrings, bracelets, necklaces, bracelets, cufflinks, and pendants. Just like luxury watches, high-end jewelry is shipped with appropriate insurance.
Automobiles
Crypto Emporium also offers a huge range of automobiles, including cars, motorbikes, and trucks. At the lower end, this includes a Citroen Hatchback, Fiat 500, and Hyundai I20. Luxury car makers include McLaren, Aston Martin, Lamborghini, and Bugatti.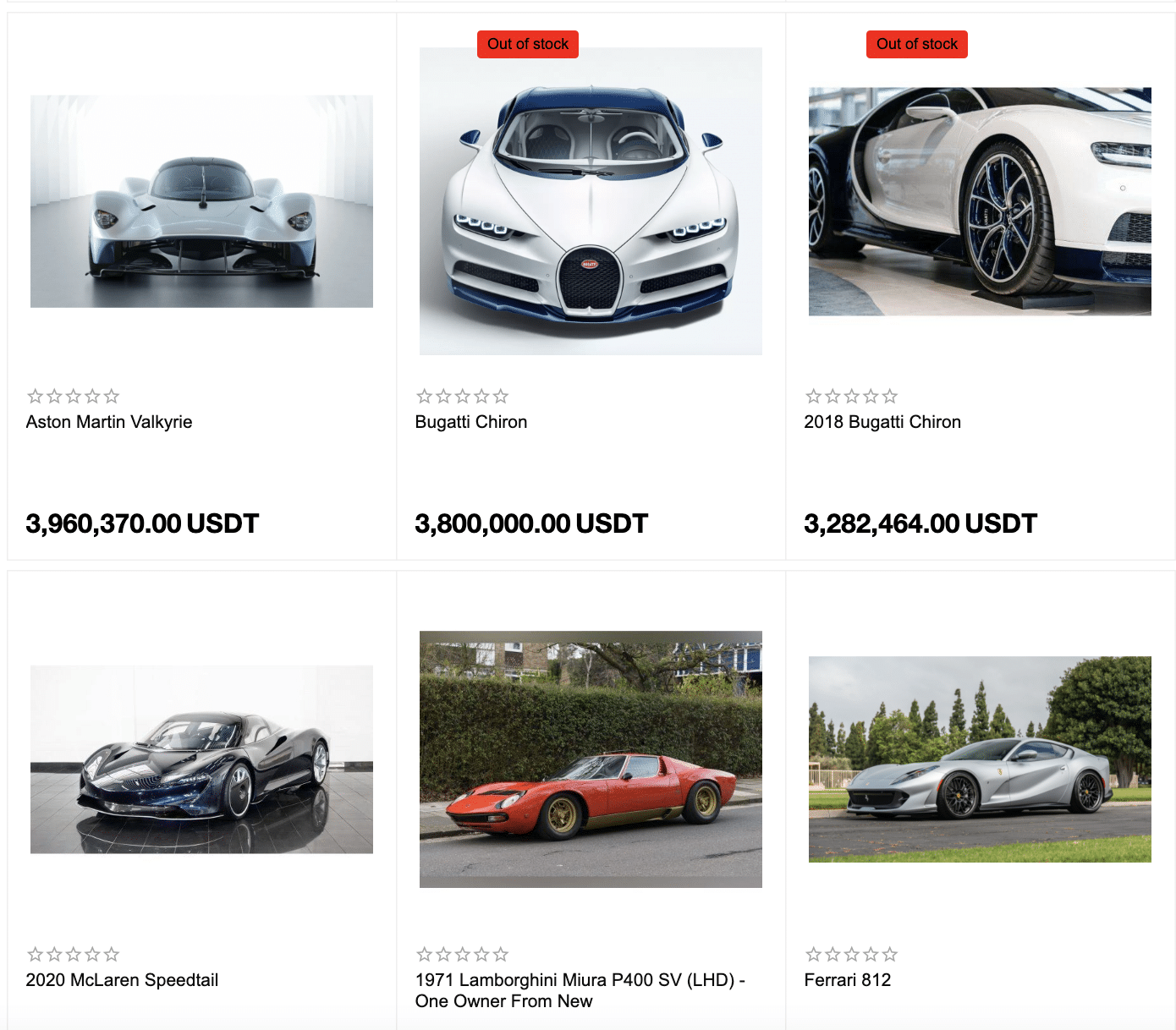 Those with a passion for motorbikes will find everything from Royal Enfield, Ducati, and Harley Davidson to BMW, Suzuki, and Triumph. Crypto Emporium recently sold a Ducati Diavel 1260 Lamborghini at just over $117,000.
Artwork
Crypto Emporium also offers some of the most sought-after artworks. This includes the Tête de Femme 1962 by Pablo Picasso, which is listed at nearly $200,000. Fine art collectors will also appreciate the Victor Vasarely Bianco 1987, which is listed at over $360,000.
Entry-level collectors on a much smaller budget are also catered for. This includes the Jordan Pankov Jesus 2020 portrait at nearly $1,400.
Other
Other product categories that our Crypto Emporium review came across include health supplements, arcade games, toys, e-bikes, home and garden products, pet accessories, and collectibles.
The latter includes an original Charizard Pokemon card from 1999, listed at $50,000.
Crypto Emporium Fees to Consider
Here's an overview of what fees to expect when using Crypto Emporium:
Fees for Buyers
All items sold on the Crypto Emporium website come with a service fee. This is payable by the buyer and usually amounts to just 0.87%. But do check this before completing the payment.
Additionally, buyers will also need to cover the shipping fees. This will vary depending on the size, weight, and value of the item – as well as the location of the buyer and seller.
For example, buying a Samsung Galaxy S21 Ultra 5G Unlocked smartphone and having it shipped to the UK will cost just $10. Buyers can enter their country of residence to get a real-time delivery fee quote.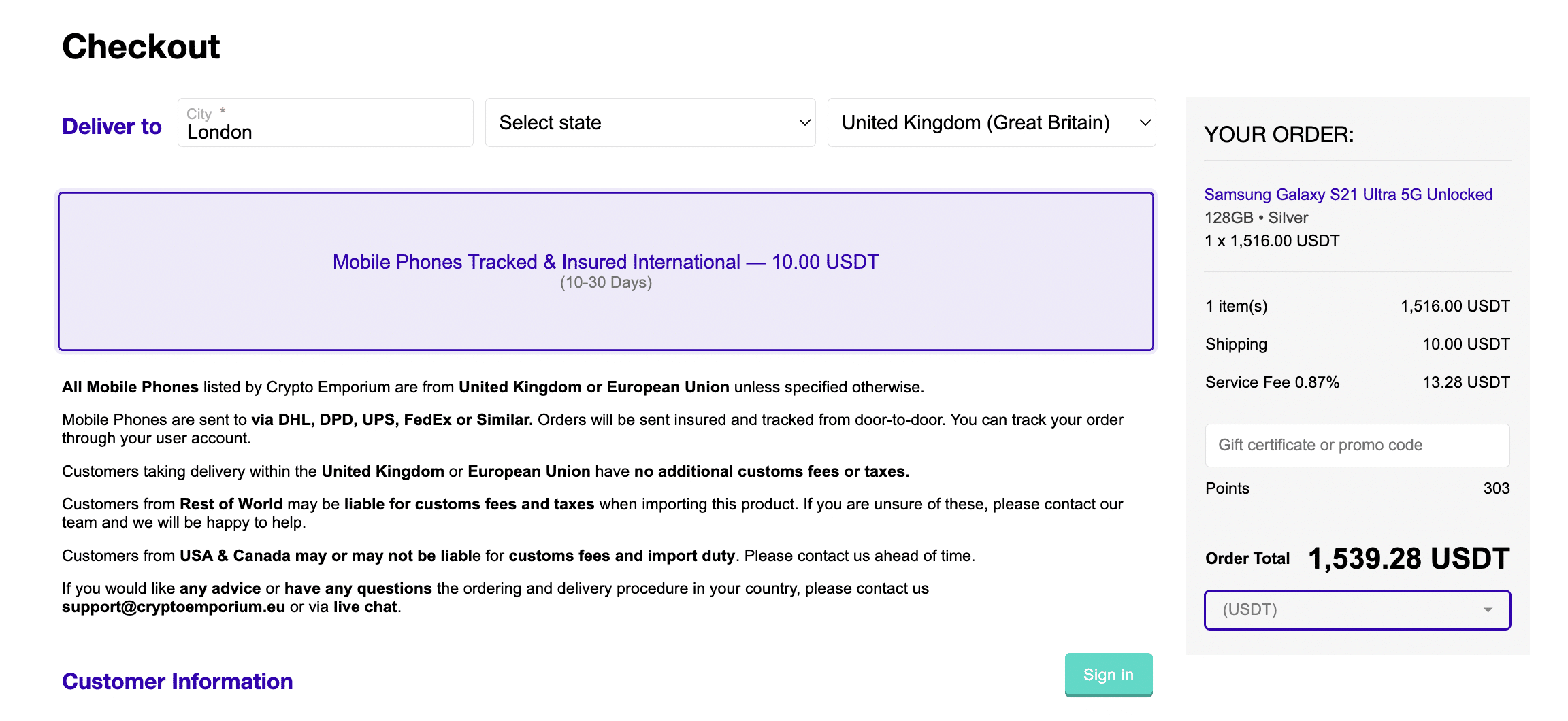 This will also display the estimated number of days the delivery is expected to require. Just like the service fee, the delivery charge is displayed in the preferred cryptocurrency. Once again, it's best to initially view prices in USDT to get an idea of the true cost.
Another fee to consider – which is out of the hands of Crypto Emporium, is linked to customs and importation taxes. This will vary from one country to the next. In the EU for example, taxes can apply if the item comes from outside of the Single Market region. Did you know that you can avoid crypto taxes in 2023?
Fees for Sellers
Sellers can list their products on Crypto Emporium without paying any fees. But membership fees will need to be paid to register as a seller.
The first option is the basic plan, costing just $40. This will see merchants pay a 3.2% commission on products sold. The basic plan limits the merchant to just 20 active listings.
Paying $55 on the premium plan reduces the commission to 2.8%. Plus, merchants on the premium plan can list up to 10,000 products at any given time.
Both options are one-off fees, so the premium plan is the better option.
Is Crypto Emporium Legit?
Just like when choosing the best crypto exchange, it is important to conduct due diligence on Bitcoin retailers. In the case of Crypto Emporium, its platform was launched in 2018. This is a solid span that covers five years of trading.
As part of this Crypto Emporium review, we also evaluated reviews in the public domain. We found that the vast majority of customers are happy with its service, especially when it comes to delivery times and prices.
Buyers can also review merchant ratings on the Crypto Emporium website. These refer to the customer experience of the specific seller. As such, buyers are advised to only use sellers with a high rating score and positive reviews.
Ultimately, Crypto Emporium is a legit crypto retailer with an extended track record for quality and customer care.
How to Contact Crypto Emporium
Crypto Emporium offers a superb level of customer support for both registered and non-registered users. Multiple support levels are available, including a 24/7 live chat box. In most cases, expect fast response times from the supported team.
Our Crypto Emporium review also found that the platform has a telephone service. Those wishing to save on dialing fees can request a callback. This usually comes within the hour but can vary during busy times.
As such, urgent inquiries are best sent via the live chat box. Crypto Emporium can also be contacted via an online support form.
Emporium Cashback
Looking to earn free crypto online? If so, it's well worth checking out the Emporium cashback program. All buyers are automatically enrolled, and rewards are paid on each and every purchase.
This is paid at 4% of the purchase amount. For example, buying a $1,000 product will result in $40 worth of crypto. This is paid in Emporium Cash, the native utility token of the online retailer.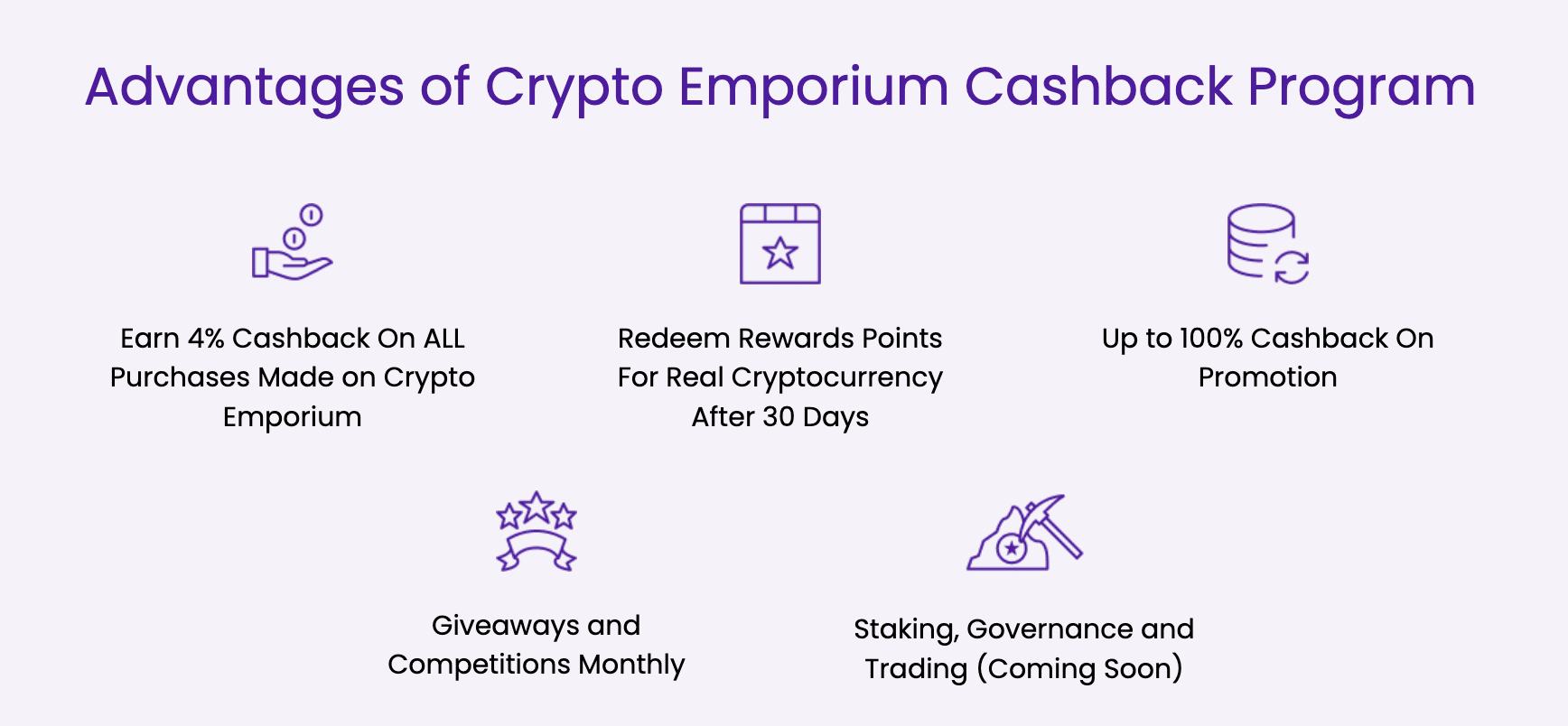 Do note that Emporium Cash has not been released to the public yet. When it is, the tokens will be listed on crypto exchanges. This means that buyers can swap their Emporium Cash tokens for other cryptocurrencies.
With that said, Emporium Cash is also one of the best DeFi coins. This is because buyers will be able to stake their tokens to earn additional rewards. Either way, Crypto Emporium will distribute cashback rewards 30 days after the purchase was made.
Those holding Emporium Cash tokens will also be able to vote on key proposals.
Crypto Emporium Affiliate Rewards
Our Crypto Emporium review also came across an affiliate program. This is well worth considering for several reasons. First, Crypto Emporium lists thousands of products, so there is a large customer base to target. Moreover, Crypto Emporium is a luxury retailer, with some of its products selling for hundreds of thousands of dollars.
Plus, many real estate listings cost several million dollars. This means that commissions can be lucrative, even on low-volume sales. Best of all, there is no limit to how much can be earned. We also like that the affiliate program is multi-tiered. This means that commissions will also be earned when referrals go on to refer other customers. Over time, this can add up to a sizable amount of passive income.

Crypto Emporium notes that affiliate rewards are paid on the same day every month. All rewards are paid in the affiliate's preferred cryptocurrency. To get started, an account will need to be opened. Crypto Emporium will then provide the affiliate with a unique referral link.
Crypto Emporium: Accepted Payment Methods
Crypto Emporium is a crypto-only online retailer that also accepts Dogecoin as a payment method.
It supports some of the best cryptocurrencies with potential, such as:
Bitcoin
Litecoin
Ethereum
Dogecoin
Dash
Tether
There is no minimum deposit amount, as payments are made when purchasing an item. Other than the blockchain network charge, there are no other payment fees. When paying for a purchase, the crypto tokens will be transferred from a private wallet.
Crypto Emporium will process the payment automatically. While Bitcoin normally takes 10 minutes to process, other supported cryptocurrencies are much faster.
Accepted Cryptos
Min Deposit
Deposit Fees
Processing Time
Bitcoin
Litecoin
Ethereum
Dogecoin
XRP
Dash
Tether
None – simply cover the order amount
Only the blockchain mining fee

As soon as the payment is confirmed by the blockchain
Crypto Emporium Safety and Security
Crypto Emporium offers a safe way to buy products online with cryptocurrencies. There is no requirement to enter any sensitive financial details when completing a purchase.
Instead, payments are made externally from a private wallet. While there is no information regarding specific security controls, reviews in the public domain suggest that orders are processed safely.
Moreover, Crypto Emporium is an established retailer, considering it was launched in 2018.
How to Use Crypto Emporium: Step-by-Step
Looking to make a purchase on Crypto Emporium but not sure where to start?
Find our step-by-step walkthrough below – which explains how to register, find a product, make a deposit, and complete payment.
Step 1: Open a Crypto Emporium Account
While there is no requirement to open an account when buying goods at Crypto Emporium, this is suggested. This allows buyers to check their order status, send messages to sellers, earn cashback rewards, and receive special promotions and offers.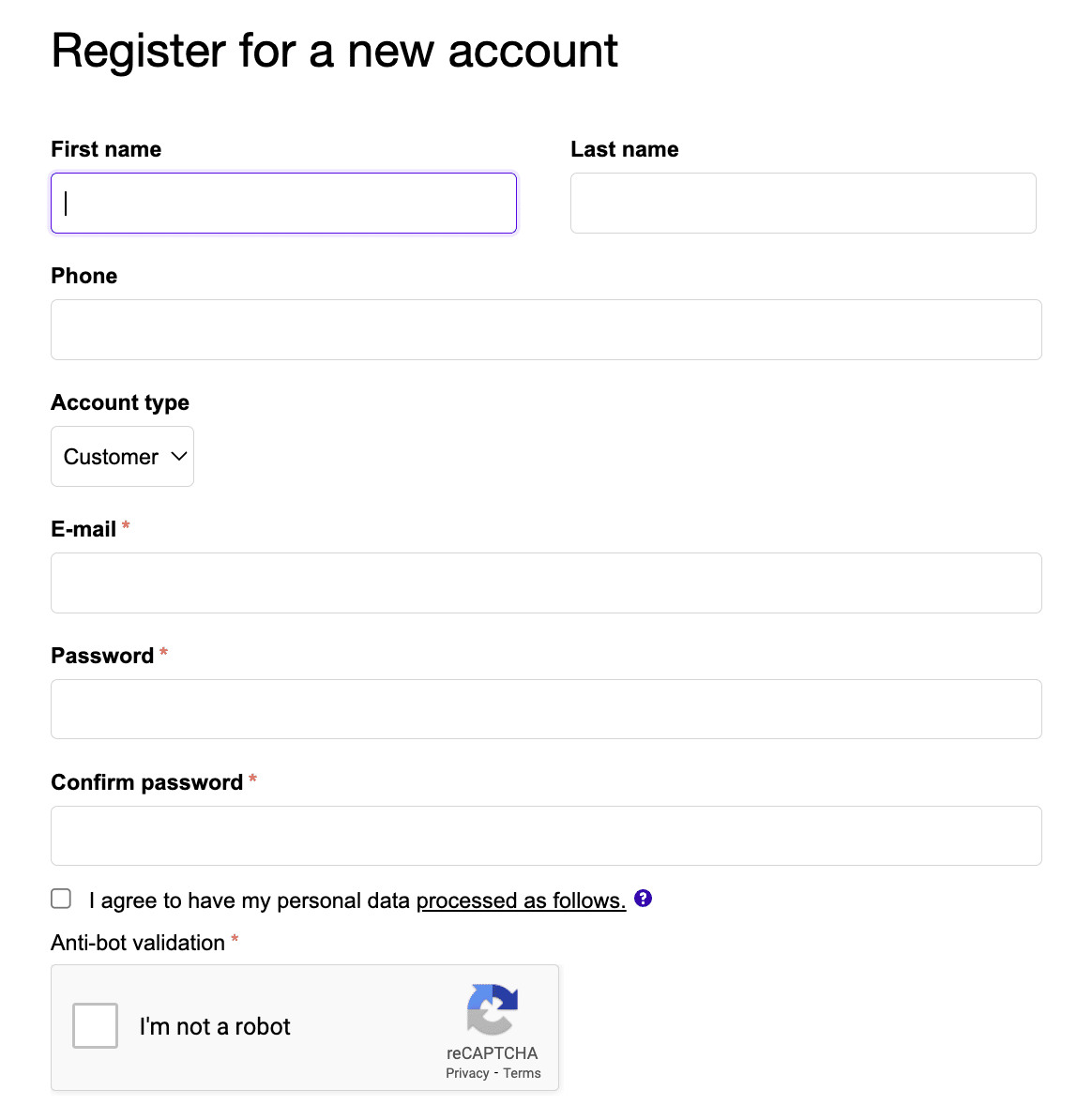 It takes just seconds to open an account. Click on the 'Create Account' button and fill out the registration form. This includes the buyer's name, email, and cell phone number. New customers also need to choose a strong password.
Step 2: Choose a Product
The next step is to choose a product. Buyers can use the search bar or the list of filters.
After finding a product, click it to reveal information posted by the seller. This should include a full product description, specification list, and additional images.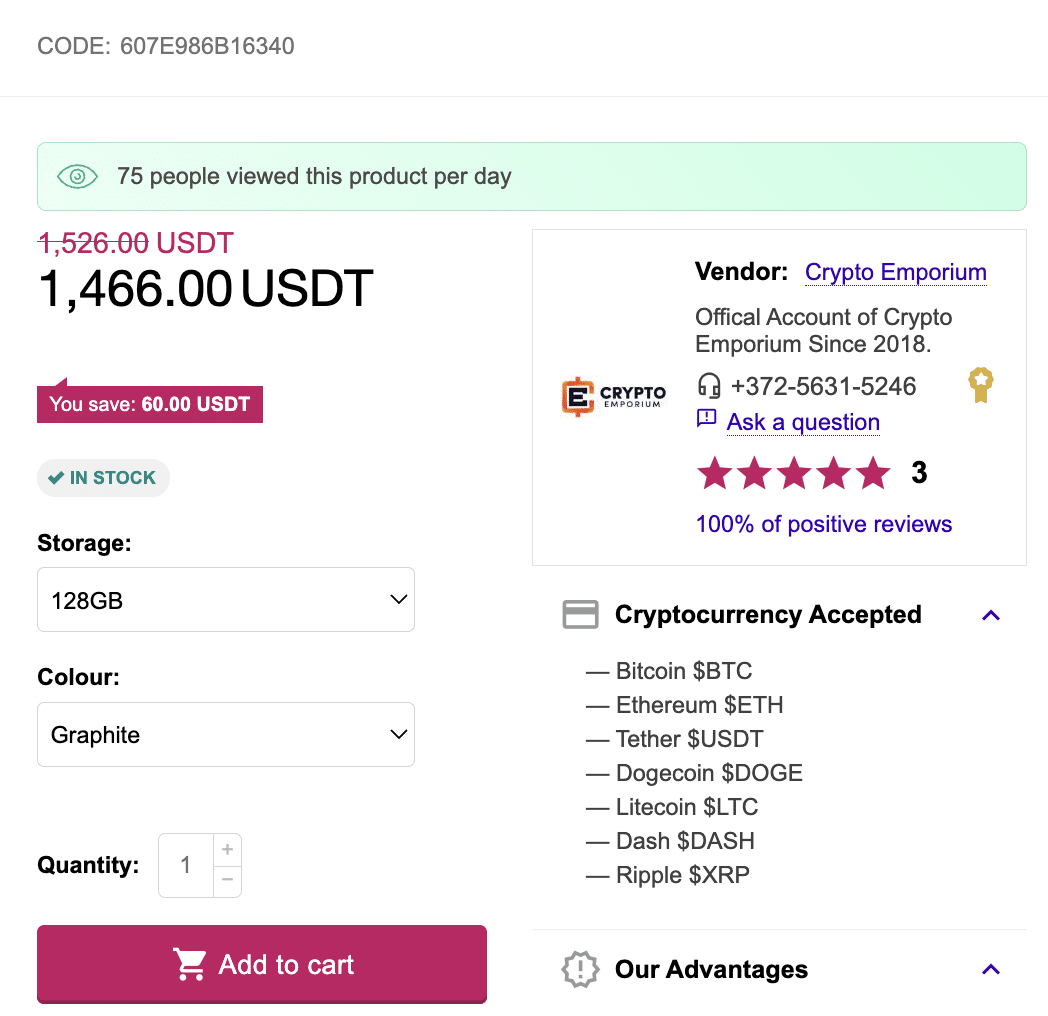 It is also important to do some checks on the seller before proceeding. Ideally, the seller will have previously sold products on Crypto Emporium.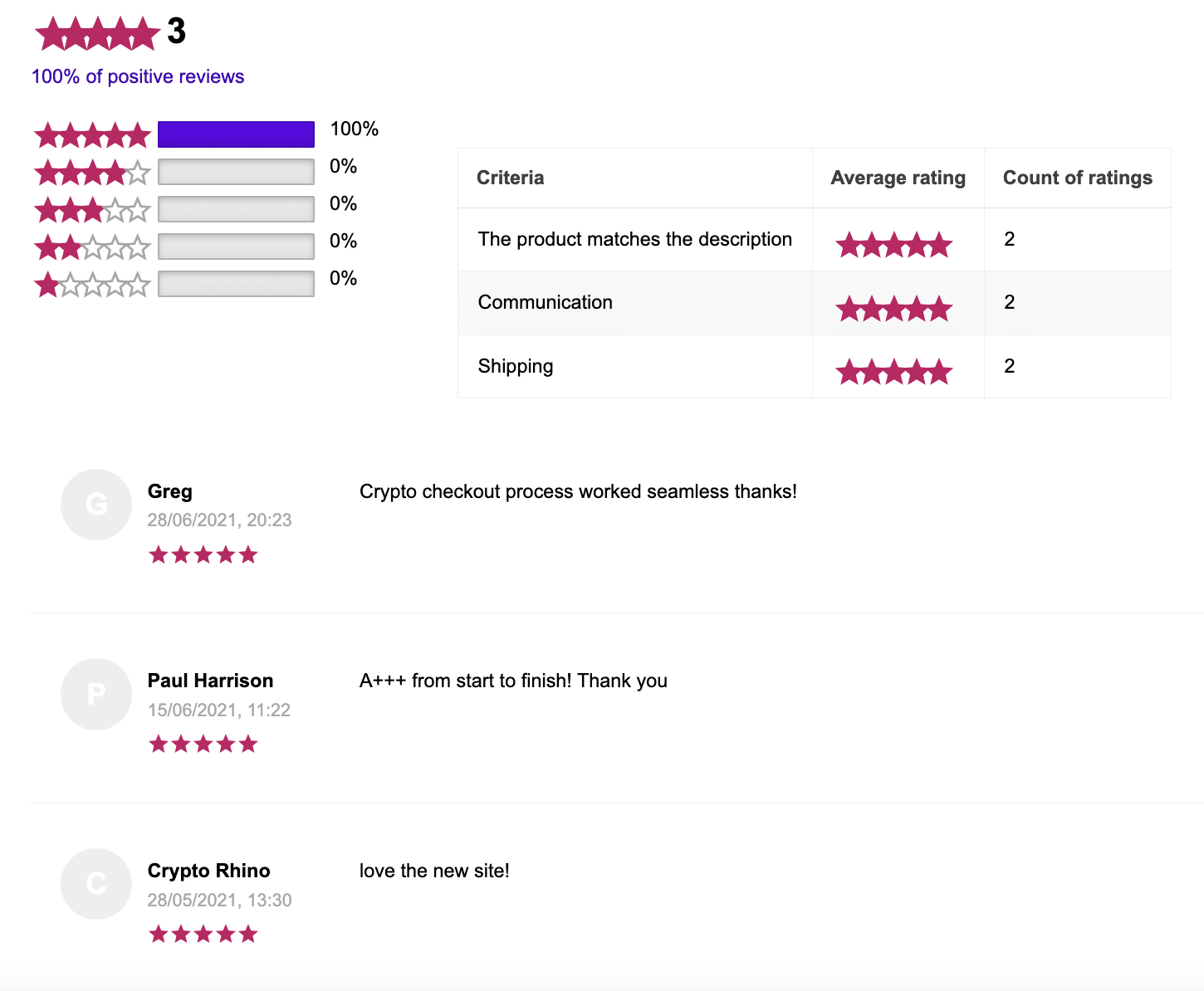 This will display ratings made by previous customers, as well as independent reviews. After doing some homework on the seller, click on 'Add to Cart'.
Step 3: Review the Order Form
On the next page, type in the city and country where the product will be shipped. This will update the shipping cost for the order.
As per the example above, delivery of an Apple iPhone 12 Pro Max Unlocked to London costs just $10. Underneath the delivery cost it will display the estimated timeframe.
Step 4: Complete the Order
Next, choose which cryptocurrency to pay with or learn how to pay with Bitcoin. Crypto Emporium will then display the wallet address to make the payment.
Proceed to transfer the funds from a private wallet. An email confirmation will be sent once the payment is processed. The status of the order will be updated in real-time. This can be viewed by logging into the account.
Conclusion
This Crypto Emporium review found that the end-to-end customer experience is positive. It takes just seconds to open an account, and buyers have access to thousands of products – from electronics, artwork, and motorbikes to luxury watches, apartments, and designer clothes.
Multiple cryptocurrencies are supported too – including Bitcoin, Dogecoin, Ethereum, and Litecoin. We also like that Crypto Emporium offers 4% cashback on all purchases – payable 30 days after completing the order. Finally, we should note that Crypto Emporium has been trading since 2018, so it has an established track record.
FAQs
What cryptos does Crypto Emporium accept?
What can you buy at Crypto Emporium?
Is it safe to use Crypto Emporium?