The world of cryptocurrency is a dynamic space that offers investors unique opportunities for incredible returns. With multiple options, navigating the crypto landscape can challenge even the most seasoned investors. Despite the market slump over the past year, new projects have cropped up to solve real-world problems.
This article explores the top cryptos to watch in 2023. From well-established projects to promising newcomers, let's look at the top cryptos to watch out for high returns in the coming times.
The Top Cryptocurrencies to Watch This Year
We've researched and enlisted the best cryptos to watch in 2023 below.
Bitcoin ETF Token – The #1 crypto campaign targets BTC ETF approval by the SEC and provides a dynamic APY above 1,000%, a presale price increase of nearly 40%, and aggressive token burn mechanisms to promote further price appreciation.
Bitcoin Minetrix – High quality crypto allows for BTC cloud mining using Ethereum smart contracts, in a world-first stake-to-mine tokenomics model. The campaign has a high PoS yield of 1,964% and raised nearly $400,000 within a week of launch.
Meme Kombat – New style of presale allowing for blockchain-enhanced meme vs. meme combat in a unified arena, with live betting options, AI-rendered visuals, decentralized processing, and a PoS APY of 112%.
Wall Street Memes – Popular cryptocurrency platform with over 1 million social media followers. This meme token has raised over $25 million in its finished presale, and is now available on T1 exchanges.
Launchpad XYZ

– New comprehensive Web3 blockchain platform that's easy to use. It comes with various features, including a DEX and Web3 wallet.

Spongebob Token – A fast-growing ERC-20 meme crypto to watch offering staking rewards of 265%, strong community engagement, and an ambitious roadmap aimed at dominating the meme coin sector.
ETHETF Token – Offers an exciting blend of speculative opportunity with the excitement surrounding Ethereum ETF approval. Its deflationary feature, combined with the strategic timing of its launch, positions it as a crypto to watch.
eTukTuk – The first-ever Cardano-based automotive project, rewarding TukTuk drivers to shift to electric vehicles.
Chimpzee – This sustainable cryptocurrency lets users contribute to the environment while earning passive income through an NFT marketplace and P2E ecosystem.
Scorpion Casino – A utility token that gives you entry to a diverse range of gambling and betting games through a licensed, transparent, and provably fair platform.
yPredict

– Top novel crypto for developers, quants, analysts, and traders. It offers a comprehensive analytics suite you can access with the native $YPRED token.

Bitcoin

– Established Crypto with Widespread Adoption

XRP

– Blue-Chip Crypto With Huge Payments Network

Ethereum

– Large Layer-1 Crypto With Strong Upside Potential

Solana

– High-Performance Blockchain with Growing Ecosystem

Polkadot

– Next-Generation Multi-Chain Platform

Cardano

– Smart Contract Platform with Sustainable Approach

Binance Coin –

Exchange-Based Crypto with Multiple Use Cases
Reviewing the Top Cryptos to Add to Your Watchlist
While evaluating the crypto space to discover the most promising new cryptos to watch, we have ensured to include established and emerging projects.
These projects have practical applications and are currently available at an attractive value, especially given the market's recent downturn.
1. Bitcoin ETF Token – Top Crypto To Watch With 1,000% APY And Substantial Presale Price Increase
Bitcoin ETF Token ($BTCETF) is our number one choice as the top crypto to look out for in 2023, and moving forward into 2024.
Its success is tied in with SEC approval of Bitcoin ETFs. This would be a landmark move if it comes to pass, potentially increasing the crypto market cap by hundreds of billions of dollars.
Bitcoin ETF Token would be poised to benefit greatly should this occur, by more than the majority of other crypto assets. It might be the best crypto asset to have at hand if the BTC ETFs are passed.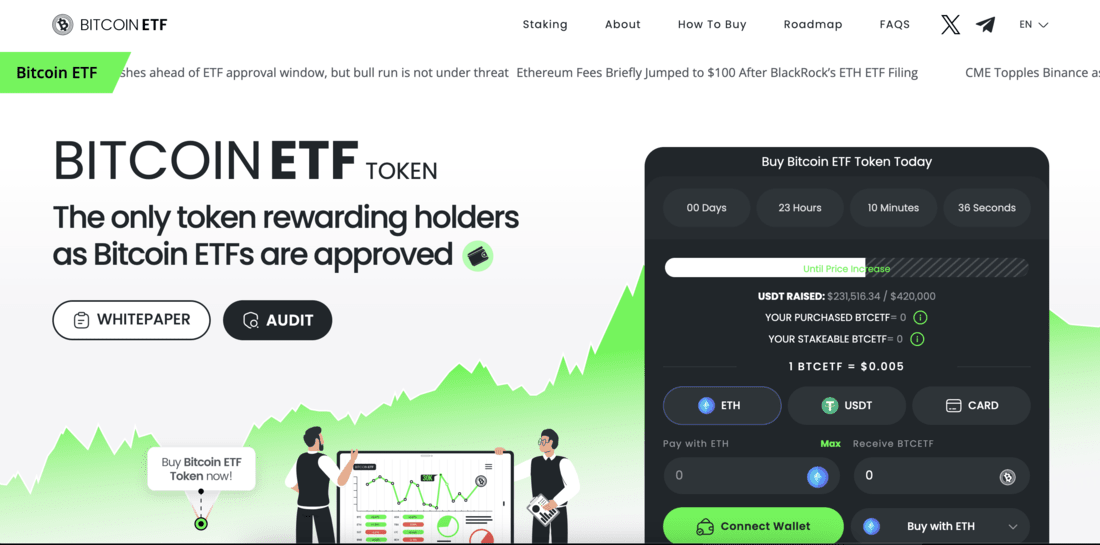 Its roadmap ties in neatly with core crypto financial events. There are five roadmap milestones, relating to the performance of Bitcoin ETFs as well as the price of Bitcoin hitting $100K. It's good to see a presale that is connected with the broader crypto markets.
At each of the roadmap milestones, 5% of the total 2.1 billion supply is burned, to help promote price appreciation. This amounts to a total token burn of 25% (525 million), which is quite a large figure by presale standards.
Aside from its aggressive deflationary mechanisms, it boasts a substantial 1,000% PoS APY and a presale price increase of nearly 40%, from $0.005 to $0.0068. These are powerful incentives for modern investors. Should the SEC greenlight BTC ETFs, this will be a token to watch out for.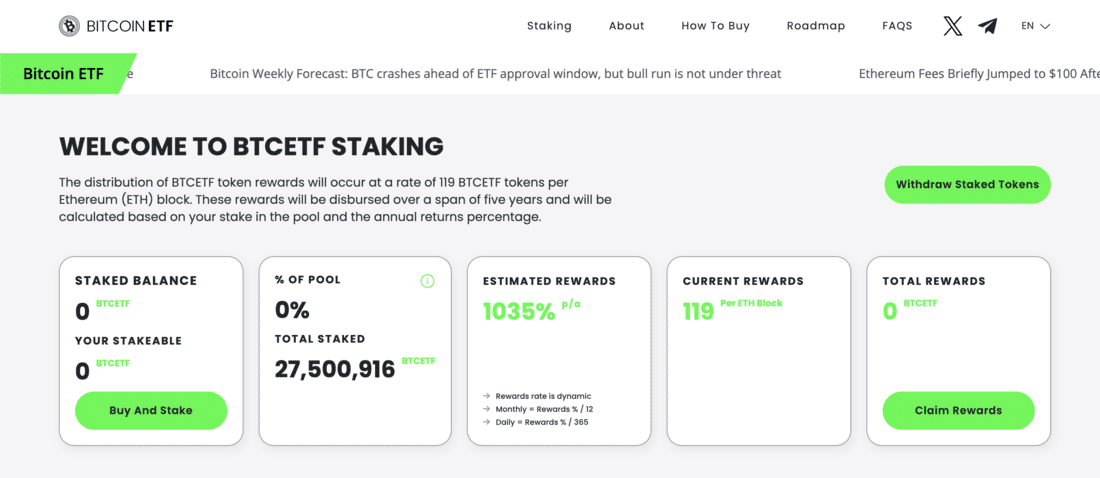 There are 10 stages in its presale and price increases at each stage, with 840 million tokens up for grabs.
Acceptable payment methods include USDT, BNB, ETH, and MATIC, as well as card payments.
Additional details can be obtained from the Bitcoin ETF Token Whitepaper along with the major social channels – Twitter and Telegram.
| | |
| --- | --- |
| Hard Cap | $4.956 Million |
| Total Tokens | 2.1 Billion |
| Tokens available in presale | 840 Million |
| Blockchain | Ethereum Network |
| Token type | ERC-20 |
| Minimum Purchase | NA |
| Purchase with | USDT, ETH, BNB, MATIC, Card |
2. Bitcoin Minetrix – Great Crypto to Watch, Allows For Effortless BTC Mining
Bitcoin Minetrix ($BTCMTX) is one of our top overall picks as a crypto to watch in 2023. This campaign enables people to easily and affordably cloud mine Bitcoin, with a $10 upfront investment and no experience required.
Presently, Bitcoin mining is damaging to the environment and requires thousands of dollars, time, dedication, and expertise. Even so, it might not turn out to be profitable.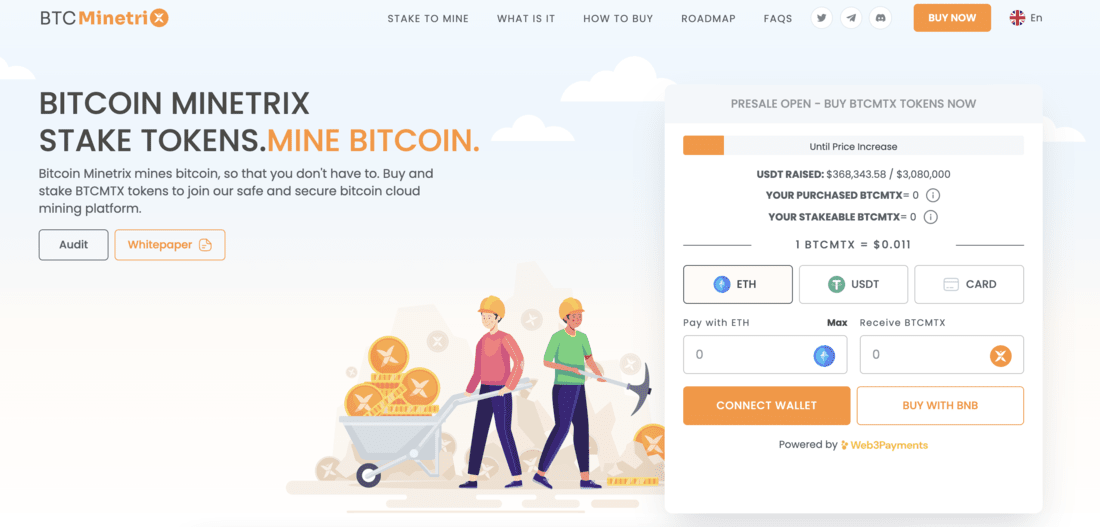 Bitcoin Minetrix provides a solution with a world-first stake-to-mine design. Users burn their ER20 tokens in return for Bitcoin mining credits. These are burned in return for BTC. All that is required is a MetaMask wallet to connect to the presale.
BTC Minetrix is not like regular cloud mining services in a few important ways. By using ERC20 tokens, no money needs to change hands to secure shares in our cloud mining platform.
Further, users decide how much BTC mining power they want to own by the number of mining credits they earn, through BTCMTX token staking.
And thanks to Ethereum smart contracts, staking allows auto-management of user allocations in a safe and decentralized manner.

This mechanism puts the power back into the hands of users. The third-party cloud mining industry is rife with hacks and scams, often coming with ever-changing terms and conditions, and a higher upfront investment cost.
The current PoS APY yield for this presale is 1,964% with over 21 million staked coins. A total of 2.8 billion tokens have been made available in the presale, at a cost of $0.011.
Staking is available immediately (even during the presale). Mining rewards will be available when the presale finishes.
Many analysts believe this presale could 10x, and it has considerable utility value, high yields, and a discounted presale price at the current time. Users can benefit from price appreciation, staking, or BTC mining.
By the final presale stage, this price will be $0.0119, and yields are likely to have dropped dramatically.
For more information, users can join the Twitter and Telegram socials, and explore the Bitcoin Minetrix Whitepaper.
| | |
| --- | --- |
| Presale Started | September 2023 |
| Purchase Methods | USDT, ETH, BNB |
| Chain | Ethereum |
| Hard Cap | $32 Million |
| Min Investment | $10 |
| Max Investment | None |
3. Meme Kombat – New Meme vs Meme Combat Format With Wagering Could Revolutionize Industry
Meme Kombat ($MK) is a new style of meme presale that provides an arena for some of the world's most well-known memes to fight against each other.
Season One is featuring 11 iconic memes – Pepe, Pepe 2, Milady, Kishu, Mong, Shiba, Sponge, Wojack, Doge, Floki, and Baby Doge. More memes and gameplay styles are likely to be added in the next season.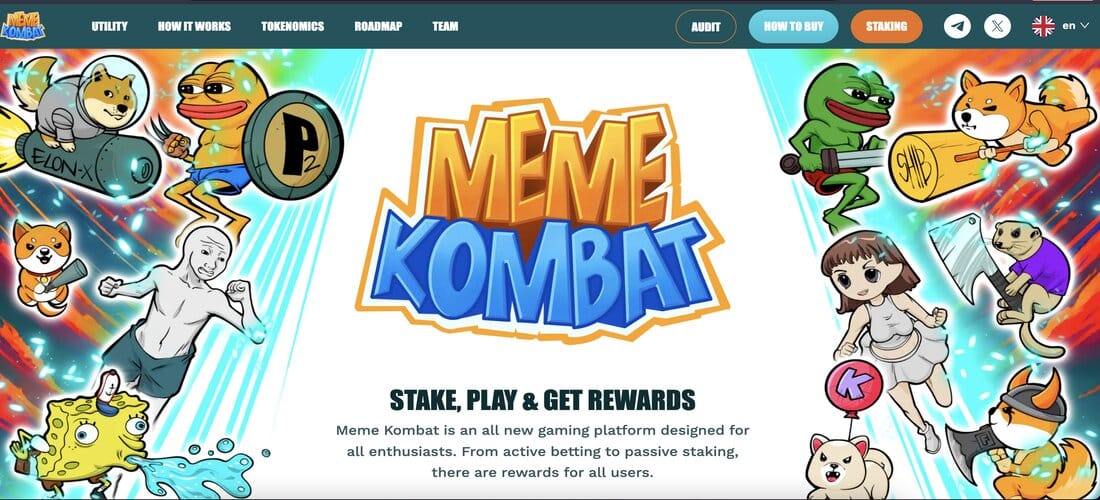 The meme combat is enhanced through state-of-the-art AI-rendered illustrations, which provide artistic visuals but stick to the core traits of the original meme tokens. Users can bet on the combat through three main methods – P v P, P v Game, and Direct.
Side betting opportunities are also incorporated into the ecosystem, for more specialized options that will result in a more interactive and dynamic betting experience.
Aside from active earning opportunities, the $MK utility token can be staked to earn 112% APY, at the present time.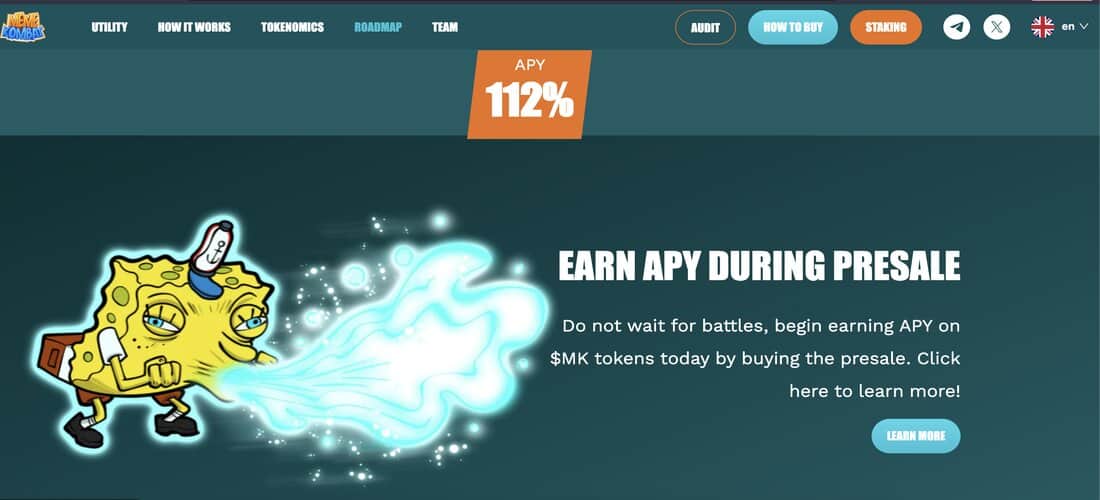 Unlike the majority of other presales, the founder (Matt Whiteman) has publicly released his identity, a huge bonus in terms of project transparency. It has also undergone a third-party smart contract audit, with largely positive results.
A total of 6 million $MK tokens are available in the presale, priced at just $1.667. No amount of tokens have been kept by the core team – 50% goes to presale, 30% to staking, 10% to DEX liquidity, and 10% to player rewards.
Again, this is rare for presale offerings, as a core team often allocates a certain percentage to themselves.
All these factors combined mean that Meme Kombat is certainly a coin to keep an eye on, with a new system of meme combat that could change the existing paradigm of single meme presales. It could experience significant price appreciation if meme followers start to gravitate to the project.
To take part in the presale, connect your Web3 wallet and ensure you have ETH, BNB, or USDT to facilitate the transaction.
For further information, consult the Whitepaper, and join the socials (Telegram and Twitter) for alerts and updates.
| | |
| --- | --- |
| Hard Cap | $10,000,000 |
| Total Tokens | 12,000,000 |
| Tokens available in presale | 6,000,000 |
| Blockchain | Ethereum Network |
| Token type | ERC-20 |
| Minimum Purchase | $5 |
| Purchase with | USDT, ETH, BNB |
4. Wall Street Memes – Overall Best Meme Cryptocurrency, Over $25M Raised During the Finished Presale
The top cryptocurrency on our list is $WSM, the native cryptocurrency of Wall Street Memes. The presale is now complete and the token is listed on major T1 exhanges.
The ongoing presale has allocated 1 billion tokens, which represents 50% of the overall token supply. While $WSM may be a new token, Wall Street Memes has existed as a meme community for several years.
In this time, the platform has managed to generate a following of over 1 million people. This loyal following played an integral role when the creators of Wall Street Memes released Wall St Bulls, their NFT project.
In 2021, the first Wall St Bulls NFT mint was launched. In just 30 minutes, 10,000 Ethereum-based NFTs were sold out. Now, the creators are looking to generate wealth for the community through the $WSM token.
A 100% community token, $WSM, will be only for the people. While half of the token supply has been allocated for the presale, 30% will be offered as community rewards. This allows loyal token holders to earn passive income on the ecosystem.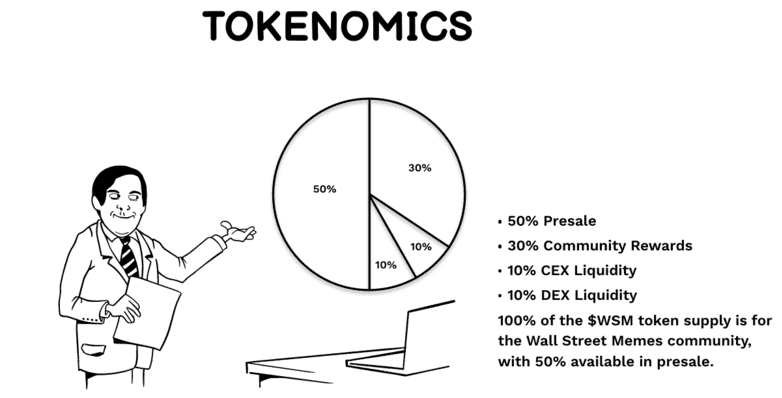 The remaining 20% of the token supply will be used to maintain CEX and DEX liquidity. Since the start of the presale, Wall Street Memes has raised more than $25 million. The project is looking to collect over $30 million by the end of the presale.
For more information on cryptocurrency, join the Wall Street Memes Telegram channel.
| | |
| --- | --- |
| Presale started | May 26, 2023 |
| Purchase methods | Credit card, ETH, USDT, BNB |
| Hard cap | $30,577,000 |
| Chain | Ethereum |
| Min investment | 100 $WSM |
| Max investment | N/A |
5. Launchpad XYZ – Best New Comprehensive and Easy-to-Use Web3 Blockchain Platform
Launchpad XYZ is a novel crypto project that wants to be the next Web3 home for anyone interested in technology and related projects.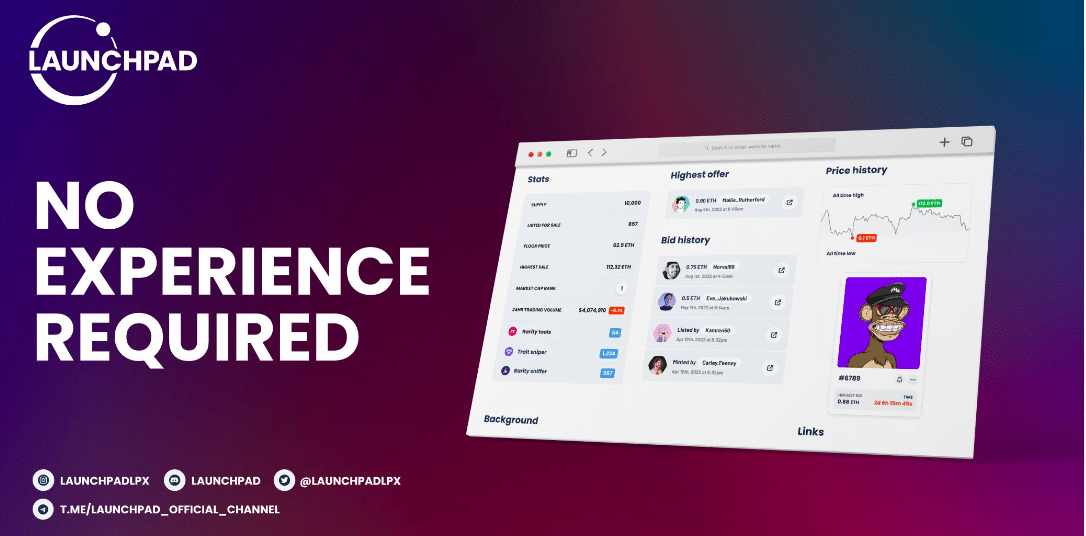 Even though there are plenty of Web3 platforms, most projects only provide partial access. Meanwhile, Launchpad XYZ aims to be the hub for all things Web3, which is why we believe it's one of the leading tokens you must watch closely now.
A dedicated team will curate everything in a single platform with an easy-to-use interface, making it ideal for beginners interested in entering the Web3 sphere.
Launchpad XYZ has a complete set of features that will appeal to many. It offers a decentralized exchange and a Web3 wallet, so trading, storing, and staking its native token, $LPX, will be easy. Other than that, it supports NFTs and will eventually launch a full NFT decentralized exchange.
This is just the tip of the iceberg, with more to come. The predetermined roadmap is quite long and goes all the way to late 2024, as you can see in the project's whitepaper.

For now, you can buy the native tokens at a discounted price. Currently, the token is priced at $0.0445 per token. Launchpad XYZ has managed to raise more than $1 million since the start of the presale.
To learn more, make sure to check the platform's Telegram channel.
| | |
| --- | --- |
| Presale Started | April 2023 |
| Purchase Methods | USDT, ETH, Transak |
| Chain | Polygon |
| Hard Cap | $12.5 million |
| Min Investment | None |
| Max Investment | None |
6. Spongebob Token – New Meme Crypto To Watch With High-Yield Staking Opportunities For Passive Income
The Spongebob Token ($SPONGE), inspired by the iconic TV character, is a decentralized meme crypto built on the Ethereum network.
It debuted on Uniswap DEX on May 4, 2023. This launch signifies a significant milestone, given its rapid listing on multiple centralized exchanges (CEXs) like Gate.io, MEXC, and Bitget, outpacing other meme tokens such as $PEPE.
$SPONGE's performance has been remarkable, witnessing a staggering 434% increase in its first 24 hours and achieving an all-time high of $0.0024, a 3,000% surge.
From November 9 to November 15, 2023, the token saw an impressive 200% growth, indicating heightened investor interest.
The token's supply structure is well thought out, with 61% circulating supply, 29% locked, and 10% reserved for CEX listings. The platform's commitment to transparency is evident in its actions: locking the liquidity, renouncing the contract, and securing the largest wallet.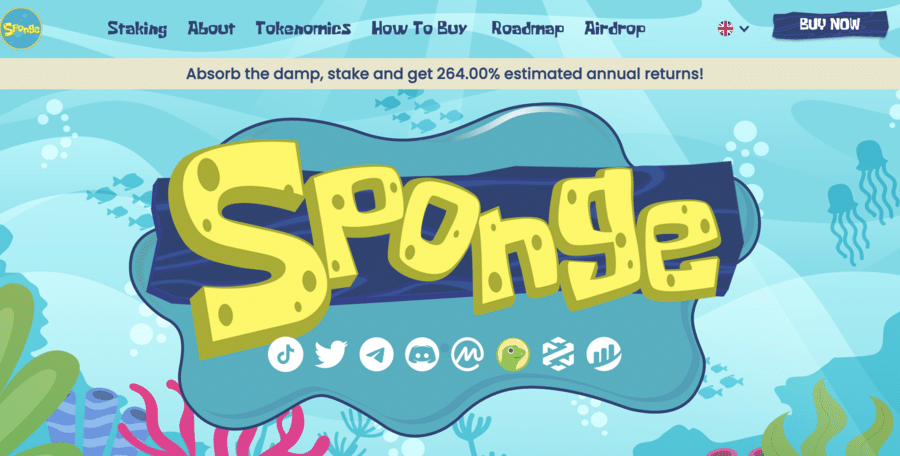 The roadmap includes ambitious goals like reaching 100,000 holders and a $1 billion market cap. Moreover, the Spongebob airdrop and staking dashboard encourage active participation and long-term holding.
Spongebob Token offers a 265% APY, allowing early stakers a huge passive income opportunity. The platform has already witnessed over $123,660 and over 326 million $SPONGE staked.
Investors can join the Spongebob Telegram channel to keep up with the recent updates.
7. ETHETF Token – Trending New Token With A Deflationary Model And Dynamic Token Burns For Long-Term Growth
ETHETF Token is another crypto to watch that offers a unique speculative opportunity tied to real-life events, specifically the regulatory progress surrounding Ethereum ETFs.
The token uses a 2% buy tax mechanism where the taxed tokens are automatically burnt, thus reducing the overall supply and potentially enhancing the value of the remaining tokens.
With the growing interest in ETFs within the crypto space, ETHETF Token aligns itself with significant market movements and investor interest, especially in light of BlackRock's filing for a Spot Ethereum ETF.
With no presale and a stealth launch, the token ensures a more equitable distribution among participants. A significant portion (95%) of the token supply is allocated to decentralized exchange (DEX) liquidity, with a smaller portion (5%) for centralized exchange (CEX) listings, improving its accessibility and market presence.
ETHETF Token's launch coincided with substantial momentum in the Ethereum and broader crypto market, reflected in its impressive initial performance, with a rapid price increase.
This surge shows the market's appetite for innovative products, bridging the gap between traditional ETFs and the crypto world.
The token's future, however, depends on the highly anticipated regulatory decisions regarding Ethereum ETFs. Investors can enter the ETHETF Token to get the latest updates.
8. eTukTuk – Sustainable Token Leveraging Blockchain Technology in the Automotives Market
eTukTuk (TUK) is a cryptocurrency project that aims to revolutionize the automotive industry. The platform aims to help TukTuk drivers from developing economies make the shift from Internal Combustion Engines (ICEs) to zero-emission vehicles (ZEVs).


According to the World Health Organization, 99% of the world breathes polluted air. Part of the reason is due to the vehicles, such as ICEs, which run purely on fossil fuels. Around 270 million ICEs release more CO2 than cars. Thus, eTukTuk has decided to launch its automotive project on the Cardano blockchain.
eTukTuk will help drivers access electric vehicles, as they reduce costs by setting up Electric Vehicle Supply Equipment (EVSE) in urban and suburban areas. $TUK, the native token, will be used to power this ecosystem.
For instance, $TUK will be rewarded to territory partners, who will play a vital role in setting up these EVSEs. Using territory partners, eTukTuk lowers the manufacturing cost and rewards them in $TUK per transaction generated.


Furthermore, token holders can stake $TUK into power nodes to maintain the ecosystem. TukTuk drivers can make payments on the EVSEs with $TUK through the Driver app. For every transaction processed, staked token holders earn rewards.
The first EVSEs will be developed in Colombo, Sri Lank, after which eTukTuk plans to expand the platform. Since Cardano is an efficient blockchain that charges low fees and processes transactions quickly, drivers will have really low costs.
$TUK has a total supply of 2 billion. Currently, interested readers can sign-up for the token whitelist, after which it will be available to purchase on presale.
Join the eTukTuk Telegram channel for more updates on this project.
9. Chimpzee – Environment-Friendly Crypto Offering Multiple Income Earning Opportunities
The next crypto to watch is $CHMPZ, the native token of the Chimpzee ecosystem. $CHMPZ can currently be purchased on presale for $0.00064 per token.


After the presale comes to an end, the token will be listed on exchanges at a price of $0.00185. This is near a 200% price increase from current levels. Investors who enter the presale right now can buy the token before the price hikes, and avail multiple income-earning opportunities on the ecosystem.
Chimpzees' main aim is to contribute to charities focusing on helping the environment and protecting wildlife. To generate revenue to contribute to these projects, Chimpzee will let users buy NFT passports with $CHMPZ.
The platform will also collect trading fees from its NFT marketplace. Those who trade on this ecosystem can make passive income since Chimpzee will offer returns from a collective pool.
NFT passports can also be staked to earn up to 20% annually. Your NFTs can be used in Chimpzee's play-to-earn game, where you can win free tokens and other prizes.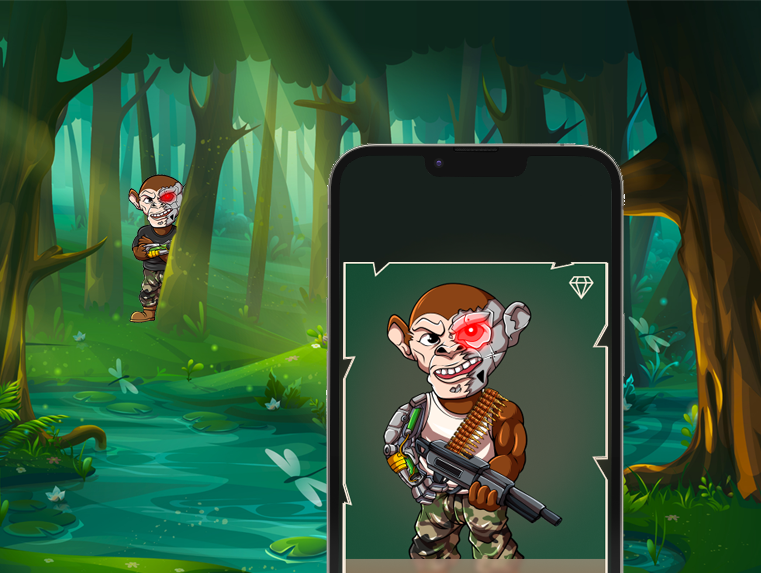 On Chimpzee's online store, users can purchase merchandise and gear. Part of the revenue collected is donated to the charities Chimpzee will partner with.
Chimpzee has already helped plant 1,200 trees around the world and will contribute 10% of its token supply to more charities. It also donates $15K to the WILD Foundation, which helps protect elephants.
The $CHMPZ presale has raised over $650 since it started. Interested investors can join the Telegram channel and go through the Chimpzee whitepaper for more information.
| | |
| --- | --- |
| Token symbol | CHMPZ |
| Total supply | 200 Billion |
| Presale supply | 40 Billion |
| Network | Ethereum (ERC20) |
| Purchase methods | ETH, USDT, Credit Card |
The online gambling and betting markets are growing, thanks to their ease of access and efficiency. But they are also riddled with scams and fraud. In fact, most gambling houses – online platforms not being an exception – are designed to be manipulative. That drives most users away from these platforms, despite their fun and vibrant streams of income.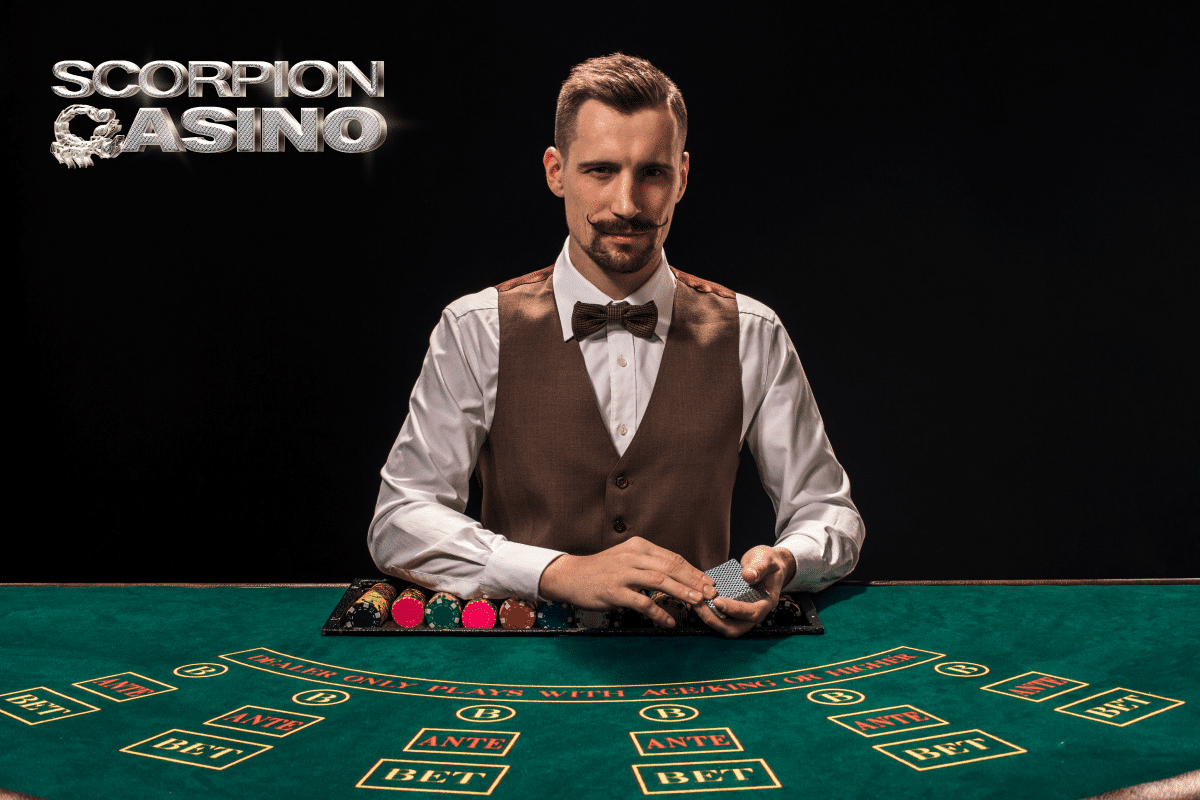 This is where Scorpion Casino steps in. It is an online social gambling platform built on a blockchain foundation, which makes it provably fair, transparent, and immune to fraud. The safe gambling environment has the potential to onboard a large user base this year. And that's the reason you should add SCORP to your crypto watchlist.
As the payment, governance, and reward token of Scorpion Casino, SCORP has excellent use cases in the multi-billion dollar online gambling and betting market. It gives you access to two sections of the ecosystem with more than 30,000 bet opportunities.
A licensed crypto casino platform that features 200+ casino games like slots, blackjack, roulette, poker, and 160 live games.
A licensed sports betting section that covers different football, tennis, American football, horse racing, basketball, golf, boxing, and MMA events.
Scorpion Casino works with credible providers like Evolution, NetEnt, Play N Go, Novomatic, EGT, and AMATIC.
A strategically designed burning mechanism sustains the healthy value of the token in the open market. But long-term value appreciation is not the only reason why you should consider holding SCORP. It also comes with up to $10,000 in daily passive income, facilitated by an integrated re-distribution system.
Due to its unique offerings, Scorpion Casino has secured a top-tier CEX listing. (To find out more about the platform development and upcoming exchange listings, follow the community on Telegram and Twitter.)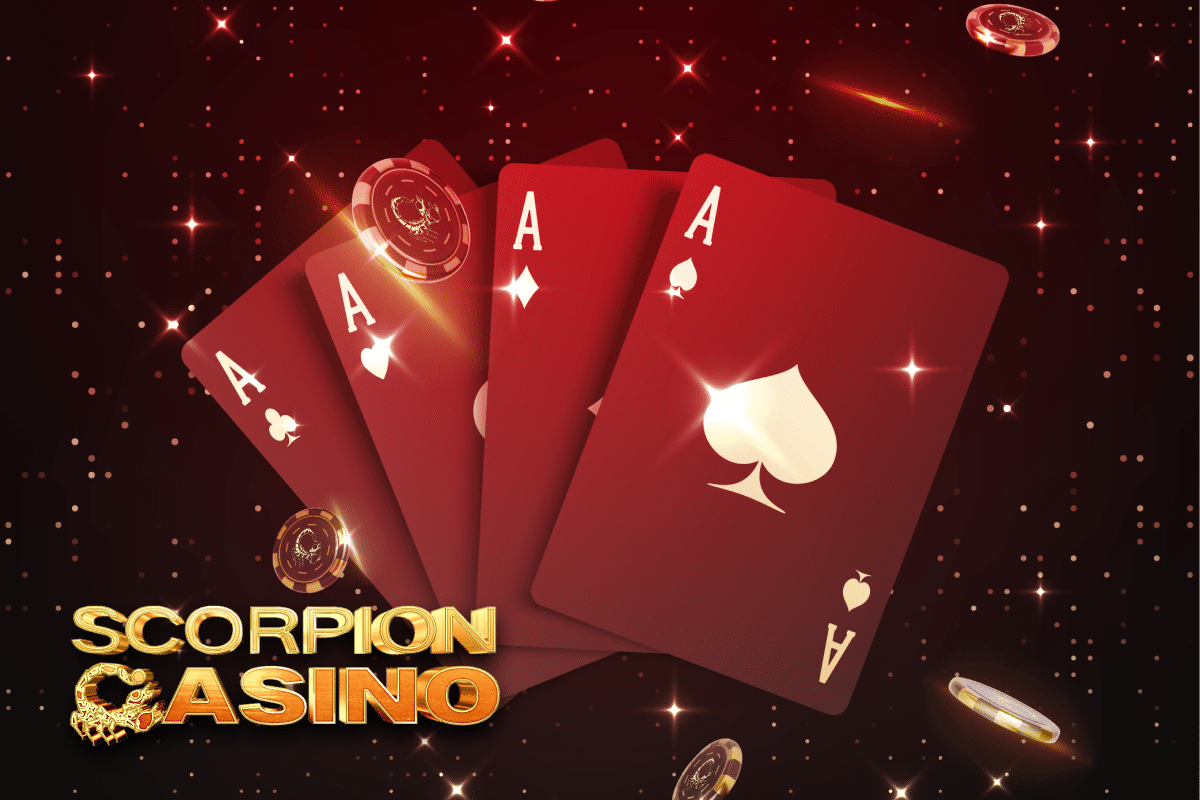 Scorpion Casino is currently hosting the presale of SCORP, which gives you the most profitable entry into the project. It is an investment opportunity to not miss out on. (To get 20% extra tokens, use the Exclusive Bonus Code Scorpion20. Live for a limited period only).
| | |
| --- | --- |
| Token symbol | SCORP |
| Presale supply | 200,000,000 SCORP |
| Token type | BEP-20 |
| Payment methods | ETH, USDT, BNB |
| Listing price | $0.05 |
11. yPredict – Top New Crypto Developers and Traders Need to Watch
yPredict is an ecosystem, blockchain platform, and cryptocurrency with a native token called $YPRED. Holders use it for staking, purchasing predictive models on the yPredict marketplace, and gaining access to the project's ecosystem.

Even though it's an AI-driven trading and analytics tool and part of an increasingly competitive market, it still aims to stand out with an all-in-one ecosystem of tools, analyses, predictions, insights, and more.
On top of that, yPredict has already partnered with many PhD-level AI developers who will provide the platform's AI solutions. The staking feature is the most appealing, offering up to 45% quarterly staking rewards, primarily sourced from subscriptions.
The platform's native token is built on the Polygon network with a total supply of 100 million. A relatively small pool is intentional, but it can be an asset or a liability, so read the project's whitepaper to learn everything you need to know before investing.
As many as 80 million tokens are allocated to the presale held in eight rounds, each increasing the token's price. Interestingly, the price increase is quite substantial, so the total rise is higher than 202%. The value begins at $0.036 and ends at $0.12 at the listing date, while the presale has already raised more than $2.5 million. It's worth mentioning that the project has already secured a listing on Bitmart.
To read the latest news about yPredict and its presale, you can visit the official website or follow the Telegram channel.
| | |
| --- | --- |
| Presale Started | February 2023 |
| Purchase Methods | ETH, MATIC, USDT, BNB, Card |
| Chain | Polygon |
| Hard Cap | $6,507,511 |
| Min Investment | 200 $YPRED |
| Max Investment | None |
12. Bitcoin – Established Crypto with Widespread Adoption
Bitcoin has been around since 2009 and has proven its resilience through various market cycles. It has gained significant mainstream acceptance recently, with large companies like Tesla, PayPal, and MicroStrategy investing in it.
There are several reasons why Bitcoin is one of the top cryptos to watch for 2023. Firstly, the adoption rate is increasing rapidly, with more businesses accepting it as a payment method. Secondly, the supply of Bitcoin is limited, with only 21 million coins that will ever exist, making it a scarce asset. This scarcity, combined with the increasing demand, could lead to significant price appreciation.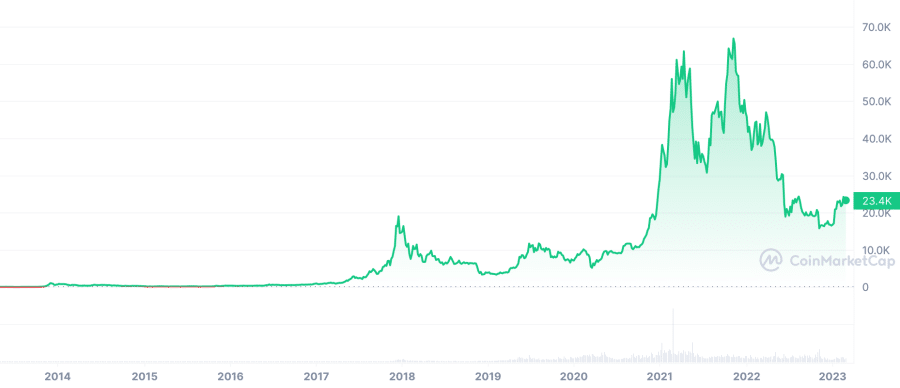 Moreover, there are ongoing developments in the Bitcoin ecosystem, such as the launch of the Lightning Network, which will improve transaction speed and reduce fees. Additionally, the increasing institutional adoption and regulatory clarity may legitimize Bitcoin as a viable investment option.
While risks are associated with investing in any cryptocurrency, the increasing adoption, limited supply, ongoing developments, and institutional adoption make Bitcoin a top crypto to watch today and one of the best crypto winter tokens. At press time, the king coin traded at nearly $23.4K.
Cryptoassets are a highly volatile unregulated investment product.
13. XRP – Blue-Chip Crypto With Huge Payments Network
XRP is a cryptocurrency that Ripple Labs have developed to enable fast and low-cost global transactions. It has gained significant adoption among banks and financial institutions due to its potential to revolutionize cross-border payments. There are several reasons why XRP is one of the top cryptocurrencies to watch for 2023.
Ripple has partnered with several global financial institutions, including Santander, Standard Chartered, and American Express. This adoption by major financial players suggests that XRP has real-world applications and could potentially revolutionize the financial industry.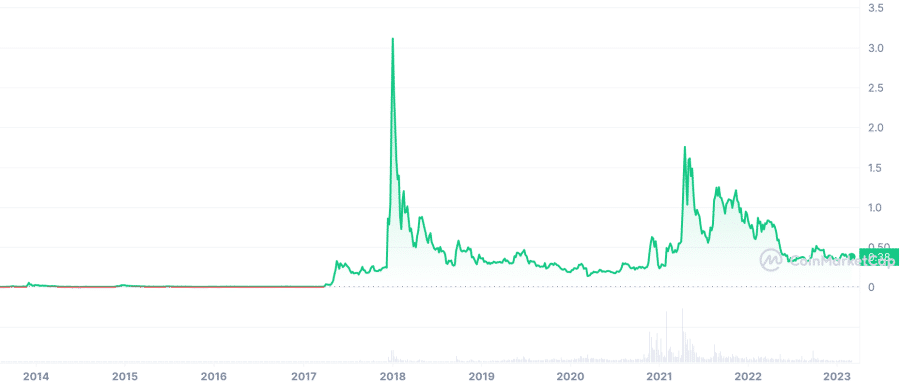 Also, the recent developments of the SEC lawsuit against Ripple have boosted investor confidence in the project, and XRP's price has shown resilience in the face of regulatory uncertainty.
Moreover, the potential for XRP to facilitate cross-border payments more efficiently and cost-effectively than traditional systems could drive adoption among businesses and individuals. Additionally, Ripple's ongoing developments, such as developing a decentralized exchange, may enhance XRP's utility and value.
For those wondering where to buy XRP in 2023, some of the best crypto exchanges, such as eToro, offer access to all the top altcoins on the market.
Cryptoassets are a highly volatile unregulated investment product.
14. Ethereum – Large Layer-1 Crypto With Strong Upside Potential
Whether you're looking for the top crypto to watch this week or for the longer term, there are several reasons why Ethereum is a viable option.
Ethereum is a blockchain that allows developers to build dApps using smart contracts. Ethereum has been around since 2015 and has established itself as the leading platform for dApp development, with numerous decentralized finance (DeFi) and NFT projects built on it. At the time of writing, ETH traded at nearly $1,650.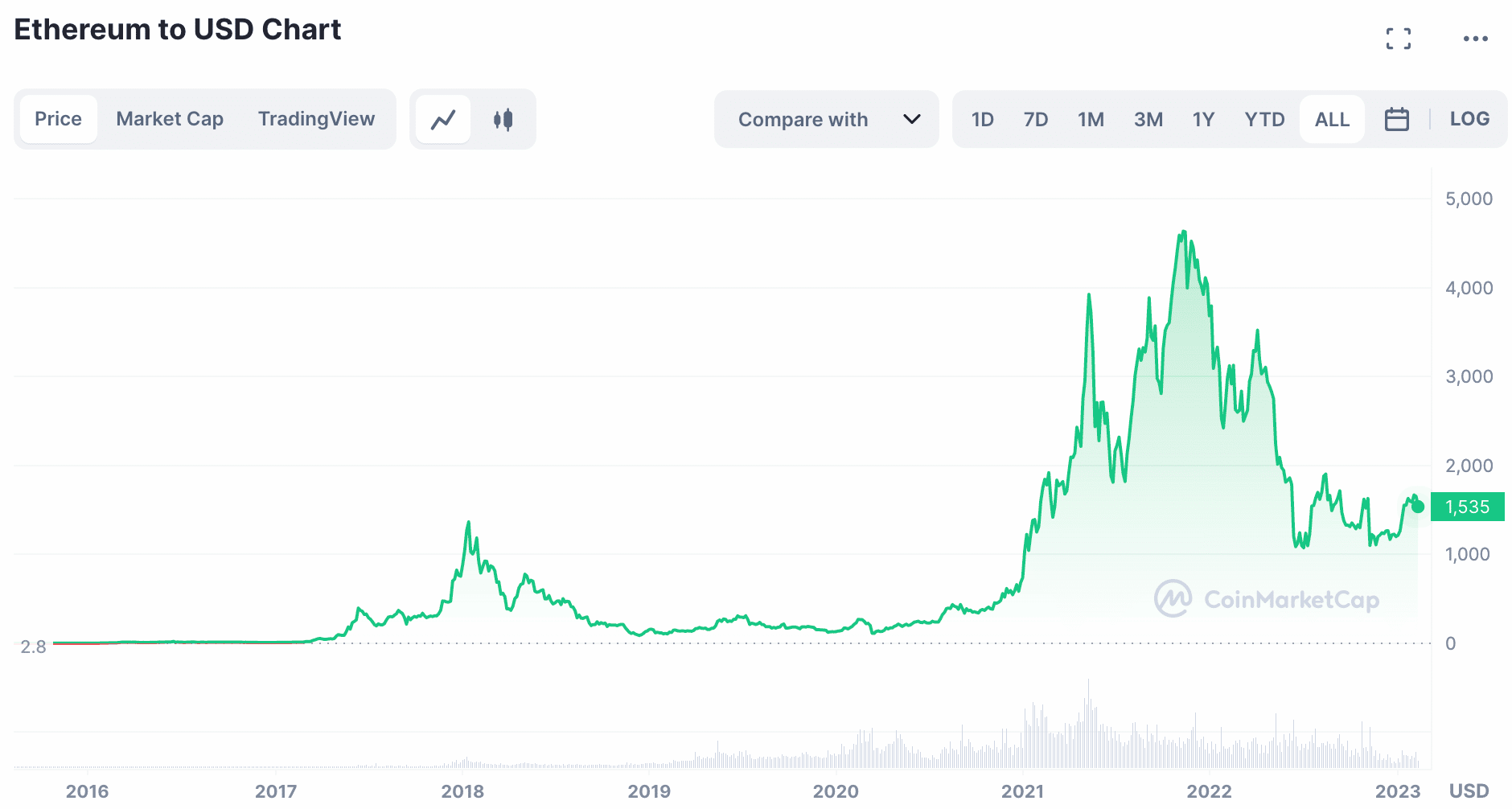 The ongoing upgrades to Ethereum, such as the implementation of Ethereum 2.0, are designed to improve the platform's scalability, security, and energy efficiency.
The world's second-biggest cryptocurrency just got a lot greener with successfully implementing its energy-efficient proof-of-stake consensus mechanism.
These upgrades will enhance the overall user experience and expand the platform's capabilities, attracting more developers and businesses to the Ethereum ecosystem.
Also, the growing adoption of DeFi and NFTs has driven demand for Ethereum, as it is the primary platform for these applications. As these markets continue to grow, the need for Ethereum is likely to increase, driving up its value. Moreover, the potential for Ethereum to facilitate the development of new dApps and revolutionize various industries, such as finance, gaming, and supply chain, could drive long-term adoption and value.
Cryptoassets are a highly volatile unregulated investment product.
15. Solana – High-Performance Blockchain with Growing Ecosystem
Solana is a high-performance blockchain platform designed to handle large-scale decentralized applications. It has gained significant attention due to its fast transaction speeds, low fees, and growing ecosystem.
Solana's architecture enables it to handle many TPS, making it one of the fastest blockchains. This speed and low fees make Solana an attractive option for dApp developers. At press time, SOL traded at nearly $22.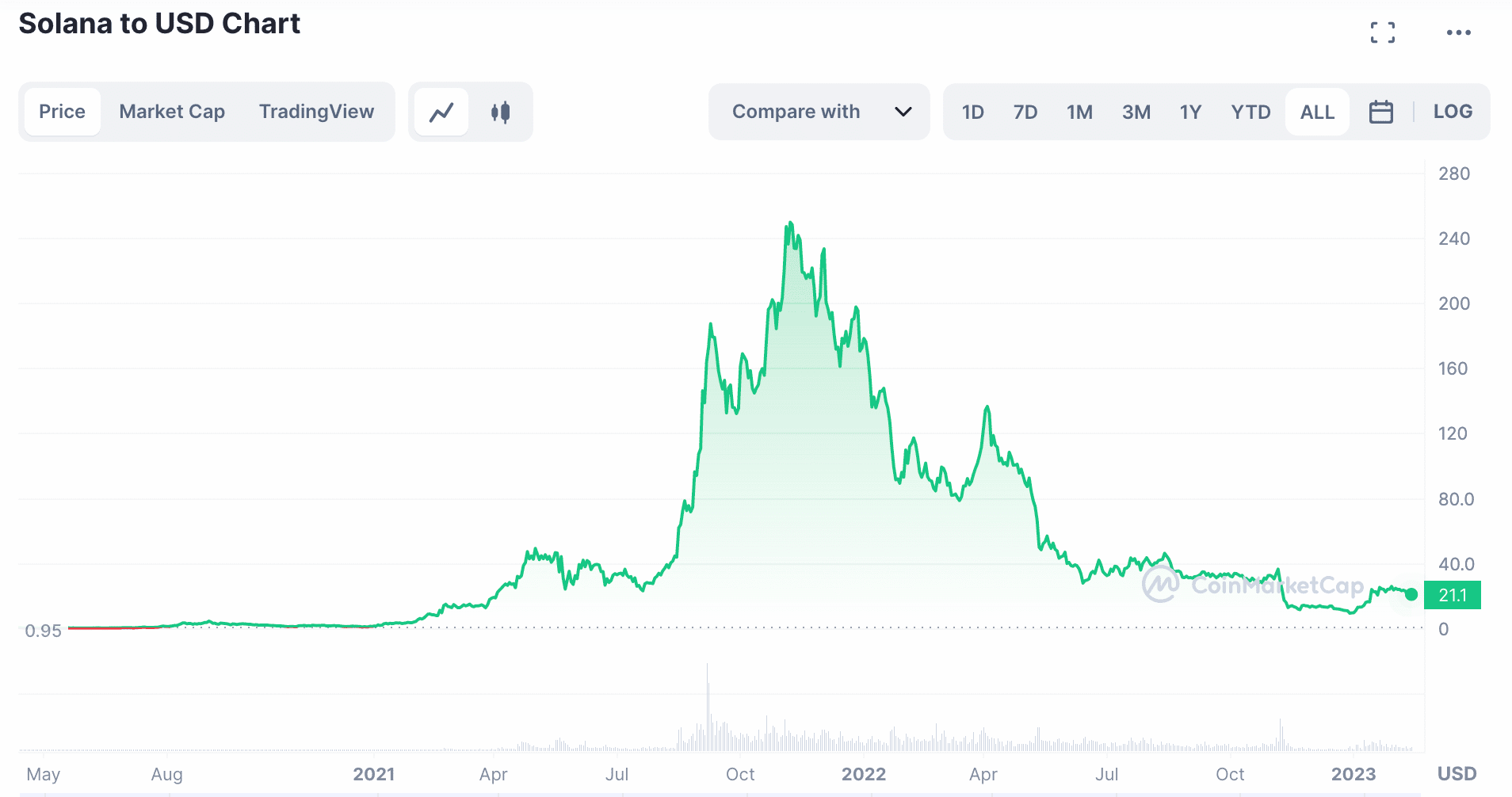 The platform has established partnerships with several major players in the crypto space, such as Serum and FTX, which could drive adoption and increase its visibility.
Moreover, Solana's growing ecosystem of dApps, such as Serum's decentralized exchange and Mango Markets, a decentralized margin trading platform, could further boost adoption and demand for the platform's native token, SOL.
Cryptoassets are a highly volatile unregulated investment product.
16. Polkadot – Next-Generation Multi-Chain Platform
Polkadot is a next-generation blockchain platform allowing interoperability between different blockchain networks. This means that Polkadot can facilitate seamless communication and data transfer between blockchain ecosystems, allowing for greater efficiency and scalability.
The platform also has a strong development team and community support, with numerous projects and partnerships underway. These partnerships span a variety of industries, including finance, gaming, and healthcare, indicating the versatility and potential of the Polkadot ecosystem.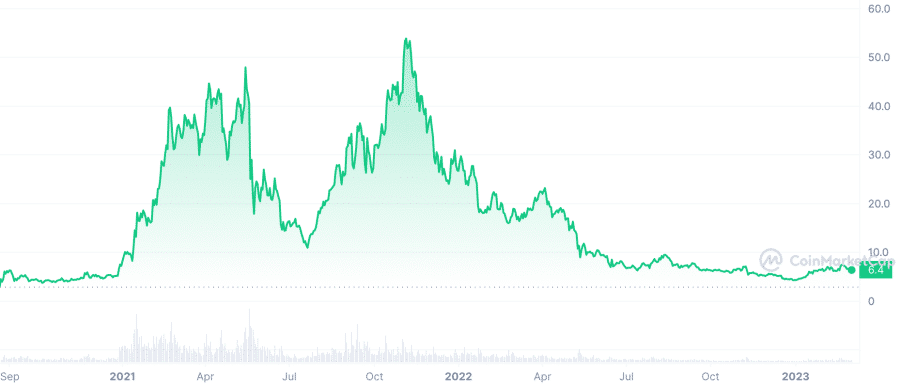 Polkadot's innovative consensus mechanism, known as "Proof of Stake," is designed to promote decentralization and prevent centralization of power, a common problem with other cryptocurrencies like Bitcoin. This mechanism encourages network participants to hold and stake their tokens, earning rewards in return for helping to secure the network. At the time of writing, DOT was trading around the $6 mark.
Cryptoassets are a highly volatile unregulated investment product.
17. Cardano – Smart Contract Platform with Sustainable Approach
Cardano is built on a peer-reviewed proof-of-stake protocol known as Ouroboros, which is more energy-efficient and secure than the proof-of-work algorithm used by Bitcoin and other crypto platforms.
The platform has a strong community of developers and researchers, including its founder Charles Hoskinson, who co-founded Ethereum. They are actively working on improving the scalability and interoperability of the Cardano blockchain, which could make it a more versatile platform for building decentralized applications.
At the time of writing, buyers can buy ADA for nearly $0.36.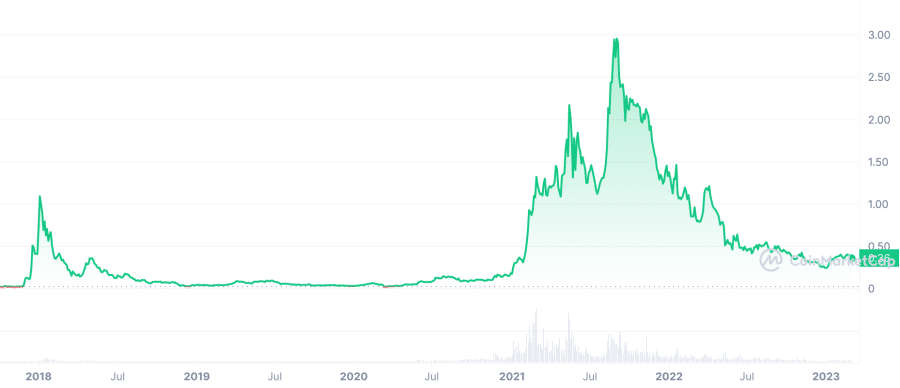 Cardano recently outperformed crypto rivals amid scaling and fee momentum, as its robust infrastructure and low transaction costs attract a growing number of users and developers to its ecosystem.
Cardano has also already made significant progress in building partnerships with governments and institutions in developing countries, such as Ethiopia and Tanzania, in helping them modernize their financial systems and increase financial inclusion. All in all, Cardano's innovative technology, strong community, partnerships, and upcoming developments make it a cryptocurrency to watch for in 2023.
Cryptoassets are a highly volatile unregulated investment product.
18. Binance Coin – Exchange-Based Crypto with Multiple Use Cases
BNB is a cryptocurrency operating on the Binance Smart Chain, a fast and efficient blockchain that supports the development of dApps and smart contracts.
Binance is one of the world's largest and most established cryptocurrency exchanges. Alongside the broader Crypto market's growth, the exchange's growth and continued expansion of the Binance Smart Chain will likely drive demand for Binance Coin.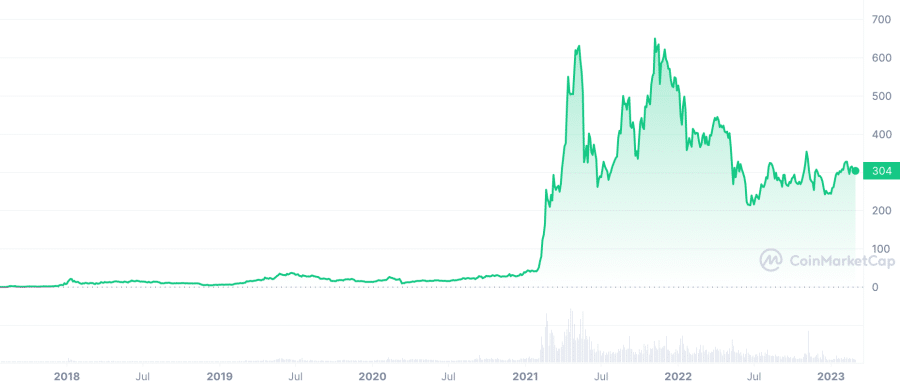 Moreover, the token offers utility and incentives for its holders. Holders of Binance Coin can use it to pay trading fees on the exchange, receive discounts, and participate in token sales on the Binance Launchpad platform.
Binance has also been actively acquiring and investing in companies and projects that could increase the adoption and utility of Binance Coin. The implementation of Binance Smart Chain's cross-chain compatibility with other blockchains and integration of Binance Coin into more mainstream payment systems will further drive the adoption and growth of Binance Coin in the coming times.
Cryptoassets are a highly volatile unregulated investment product.
How to Find the Best Cryptos to Watch
With thousands of cryptocurrencies, it can be challenging to identify which ones are worth keeping an eye on. However, several factors can help you narrow your scope and find the most searched crypto to buy in 2023.
This section will cover some of the most important factors to consider when evaluating the best crypto to watch in 2023.
Understanding the Technology
The first step to finding the best crypto to buy now is understanding the underlying technology. For example, Bitcoin is built on blockchain technology, enabling secure and decentralized transactions. Ethereum, on the other hand, is a smart contract platform that allows developers to build decentralized applications (dApps).
By understanding the technology, you can evaluate the cryptocurrency's potential use cases, scalability, and security. This understanding can help you identify promising cryptocurrencies with a solid technological foundation.
Market Capitalization
Market capitalization is the total value of a cryptocurrency's circulating supply. It is calculated by multiplying the current market price by the circulating supply. Cryptocurrencies with a high market capitalization, such as Bitcoin, Ethereum, and Binance Coin, are generally more established and have a more extensive user base.
While cryptocurrencies with a low market capitalization may have higher potential for returns, they are also riskier investments. Thus, it's vital to evaluate market capitalization when considering the prospect of a cryptocurrency.
Adoption and Use Cases
A crypto's adoption and potential use cases are essential when evaluating its potential. Look for cryptocurrencies that have real-world applications and widespread adoption. For instance, Bitcoin is used as a medium of exchange for goods and services. While Bitcoin was initially used as a speculative investment, it has gradually gained acceptance as a form of payment by merchants and individuals.
By evaluating a crypto's adoption and potential use cases, you can identify promising investment opportunities with a solid user base and potential for growth.
Development and Innovation
Development and innovation are critical factors to consider when evaluating cryptocurrencies. Look for cryptocurrencies actively developing new features, improving technology, and solving real-world problems. Check the crypto's website and whitepaper to see if they have a clear roadmap for their development.
Also, consider the community around a crypto project. A strong community of developers, investors, and supporters can drive innovation and development.
Team and Leadership
The team and leadership behind a cryptocurrency can significantly impact its success. Research the team members' backgrounds and experience in the industry, as well as their involvement in the crypto's development and progress. Look for cryptocurrencies with experienced and qualified teams and transparent leadership.
By evaluating the team and leadership, you can identify projects with a clear vision, stable development, and potential for long-term success.
Regulatory Landscape
Regulatory changes and updates can significantly impact the value and potential of a cryptocurrency. Consider the regulatory landscape surrounding the project you are interested in and the potential impact of any upcoming regulatory changes.
For example, a cryptocurrency that's subject to increased regulatory scrutiny could negatively impact its value and growth potential. You can identify the potential risks and opportunities of a crypto by evaluating the regulatory landscape.
Market Trends and News
Market trends and news can also influence the value and potential of a cryptocurrency. Keep up-to-date with the latest news and trends in the cryptocurrency industry to identify potential opportunities and risks.
Consider significant events like regulatory changes, partnerships, and major technological advancements. Also, consider the broader market trends and sentiments, as these can affect the value and demand for cryptos.
Conclusion
In conclusion, keeping an eye on the top cryptocurrencies is essential for any investor looking to stay ahead of the curve. With the proper research and strategy, you can make informed decisions about which established or penny cryptos to watch and potentially profit from in the future.
As per our research, Bitcoin ETF Token emerged as a clear standout. It provides a demonstrable use case that targets BTC ETF approval by the SEC, offers high PoS APY yields, and is priced at a steep discount in its early presale stage.
FAQs
What is the best crypto to watch?
What are the most watched cryptocurrencies?