The crypto market is saturated, so finding the next big crypto for gains of 10x or more can be challenging. To help clear the mist, this guide explores the best cryptos with the most potential in 2023.
We discuss each crypto project's use cases, plans for the future, and other important factors to enable investors to make an informed decision.
The 16 Cryptocurrencies With the Most Potential for 10x Growth
Below we've speculated on a range of different types of crypto projects with the most potential for 2023:
Bitcoin ETF Token (BTCETF) – New presale easily offers 10x potential if SEC approval of BTC ETFs takes place. It further provides a high POS APY, a strong 25% token burn, and an automatic price appreciation from $0.005 to $0.0068 by the final presale round.
Bitcoin Minetrix (BTCMTX) – High potential ERC20 token provides APY of 2,563% and strong upside potential with a concept that democratizes the BTC mining market and greatly increases accessibility. Currently trades at an early bird discount ($0.011).
Meme Kombat (MK) – A new meme paradigm with huge potential as a platform for blockchain-powered AI-enhanced meme vs. meme combat with a plethora of betting options, stunning visuals, and APY yields of 112%.
Wall Street Memes (WSM) – High-potential community-centric meme token, launched by the creators of Wall St Bulls, raising over $25 million in presale. 30% of the supply is reserved for community rewards and has seen interactions with high-profile personalities like Elon Musk. Presale complete.
Launchpad XYZ (LPX) – An innovative crypto platform aiming to simplify the complexities of Web3 technology. With its decentralized exchange, robust analytics, and unique Web3 wallet, the $LPX token offers immense potential for both novices and experienced crypto buffs.
Chimpzee (CHMPZ) – This Sustainable and multi-utility token will increase by more than 200% by the time of its exchange listing.
eTukTuk (TUK) – This cryptocurrency is revolutionizing the automotive industry by creating electric vehicle charging stations and offering token rewards via staking and other means.
Scorpion Casino (SCORP) – Top social online gambling platform that allows users to earn daily passive rewards based on the casino's performance.
yPredict (YPRED) – A groundbreaking crypto platform harnessing AI and data science for reliable market predictions. The $YPRED token can unlock the power to forecast market moves, earn from subscriptions, and stake for attractive APY.
Doge Uprising (DUP) – A meme crypto offering multiple use cases – Doge Uprising ($DUP) lets token holders purchase Doge Mecha NFTs and battle the evil regime of Mark Zuckerberg. This presale token will increase by 100%, and offers staking rewards.
Gala (GALA) – Gaming Platform Facilitating NFT Ownership
Orchid (OXT) – Open-Sourced Network and Decentralized VPN Provider
Uniswap (UNI) – DeFi Token Powering an Ethereum-Based Crypto Exchange
EstateX (ESX) – Real-Estate Investing Platform Using Blockchain Technology
Metacade (MCADE) – Web3 Focused Meeting Place for GameFi and Crypto Enthusiasts
Evameta Token (EMT) – Upcoming Presale Meme Token With Community Governance
High Potential Cryptos for 2023 – A Detailed Analysis
Read on to find our analysis of the 16 best cryptos with the most potential for 2023. Further down, we divulge how to find cryptocurrencies with big potential as well as how to buy tokens on a DIY basis.
1. Bitcoin ETF Token – Top Crypto With Phenomenal Growth Potential And 25% Deflationary Burn Mechanics
Bitcoin ETF Token ($BTCETF) is a new ERC-20 implementation that could 10x or more in 2024, or even late 2023.
This is because it is tied in with Bitcoin ETF approval by the SEC. Such a move could add hundreds of billions of dollars to the overall crypto market cap.
And Bitcoin ETF Token is positioning itself for this precise event, making it a prime candidate to explode in price – more than Bitcoin, Bitcoin ETFs, or other altcoins.
Bitcoin ETF approval is expected to occur soon. While nothing is guaranteed, a number of analysts have hinted that approval is probable, as soon as December 2023. It could be interesting to see what happens to the price of $BTCETF, should this take place.
While the token is not officially connected to regulatory authorities or to Bitcoin, its roadmap corresponds to key events. These events include BTC ETF regulatory approval, the total market capitalization of BTC ETFs surpassing $1 billion, and the price of Bitcoin hitting $100,000. At each milestone, five in total, there is a 5% reduction in the token allocation.
So there is a 25% token burn that corresponds with important events in the wider markets. This sets this project apart in many ways because it is not merely a self-contained ecosystem, but is tied in with other relevant criteria in the wider markets.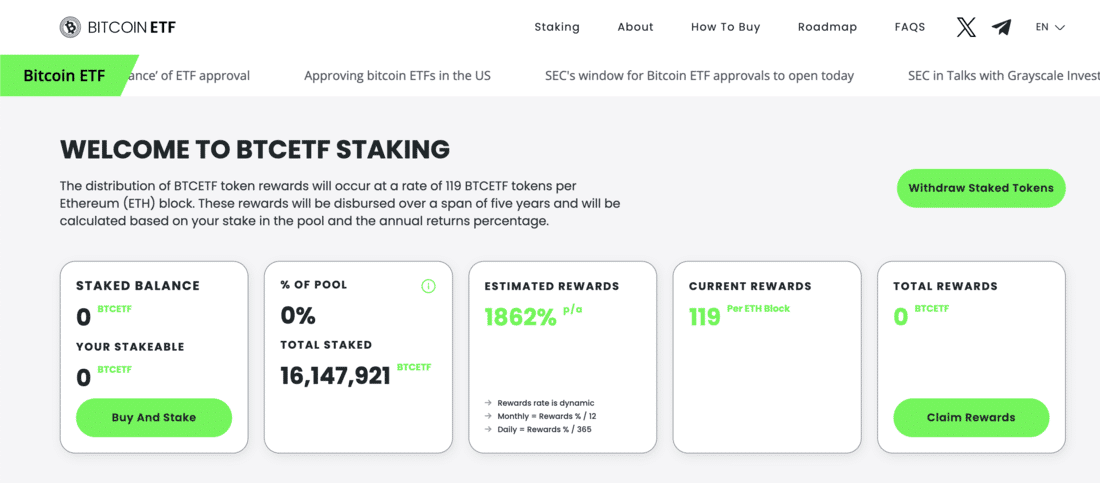 The PoS APY for this presale is above 1,800% and the price will automatically appreciate from $0.005 in the initial stage to $0.0068 by the end of the presale. Both of these are powerful additional incentives for investment. There are 10 stages in total, with 840 million tokens up for grabs.
If the coin does 10x or more, earlier presale investment will yield even more benefits, with more tokens generated for the same price.
For further details on this new campaign, consult the Bitcoin ETF Token Whitepaper and join the Bitcoin ETF Token Twitter account.
| | |
| --- | --- |
| Hard Cap | $4.956 Million |
| Total Tokens | 2.1 Billion |
| Tokens available in presale | 840 Million |
| Blockchain | Ethereum Network |
| Token type | ERC-20 |
| Minimum Purchase | NA |
| Purchase with | USDT, ETH, BNB, MATIC, Card |
2. Bitcoin Minetrix – High Upside ERC20 Crypto With Revolutionary Stake-To-Mine Model and 2,563% APY
We like Bitcoin Minetrix ($BTCMTX) as a token with enormous upside, for some solid reasons.
It solves the existing problem of centralized BTC mining, offers generous APY yields (currently 2,563%), is easy to use for all investors, and has already seen considerable interest, raising over $100k within hours of its launch.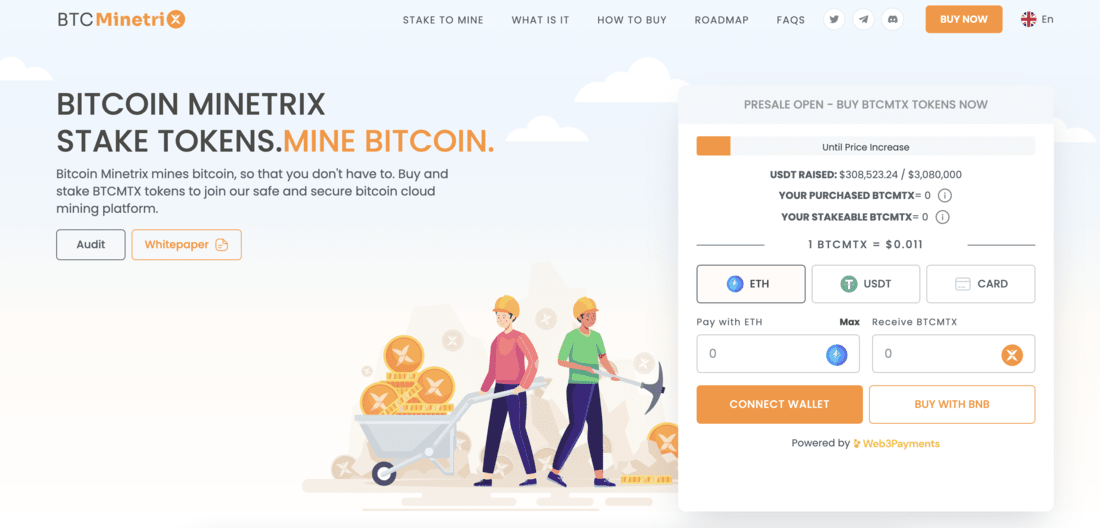 Bitcoin-themed tokens like BTC20 and Bitcoin BSC have performed extremely well this year, with presales that sold out very quickly and price points that increased when listed for trading.
But Bitcoin Minetrix could potentially do even better, as it focuses on the mining industry as opposed to copying Bitcoin tokenomics. In other words, it offers significant utility value.
The Bitcoin mining industry is known to be environmentally destructive as well as inaccessible. It requires thousands of dollars just to invest in a single hardware mining unit, known as an ASIC.
It consumes a lot of electricity and requires experience to maintain profitability, as it is a technically challenging field.

Bitcoin Minetrix solves this through a stake-to-mine model that only costs $10 minimum, with no need for hardware or even software, aside from perhaps MetaMask to connect with the presale.
Users simply stake their tokens, earn mining credits, and burn them for BTC. All of this takes place through an easy-to-use mining interface with the options to burn, stake, or withdraw funds. A mobile application is also in the works for added convenience.
It is a great concept that could be a hit in 2023, as the Bitcoin mining market is once again open for business to ordinary investors, though over a technically superior and eco-friendly Ethereum framework.
It currently trades at $0.011, though this will rise to $0.0119 by the final stage of the presale, and could rise further when listed on exchanges.
For more information on what this architecture offers, be sure to join the project socials – Twitter and Telegram – and read the Whitepaper from top to bottom.
| | |
| --- | --- |
| Presale Started | September 2023 |
| Purchase Methods | USDT, ETH, BNB |
| Chain | Ethereum |
| Hard Cap | $32 Million |
| Min Investment | $10 |
| Max Investment | None |
3. Meme Kombat – High Potential Crypto Introducing New Meme Combat Paradigm With Multiple Betting Options
Meme Kombat ($MK) is an interesting new ERC20 presale that offers a new paradigm in terms of the meme industry.
While most projects center around a central meme icon, Meme Kombat brings them all together in one arena, where players can spectate and wager on the outcome.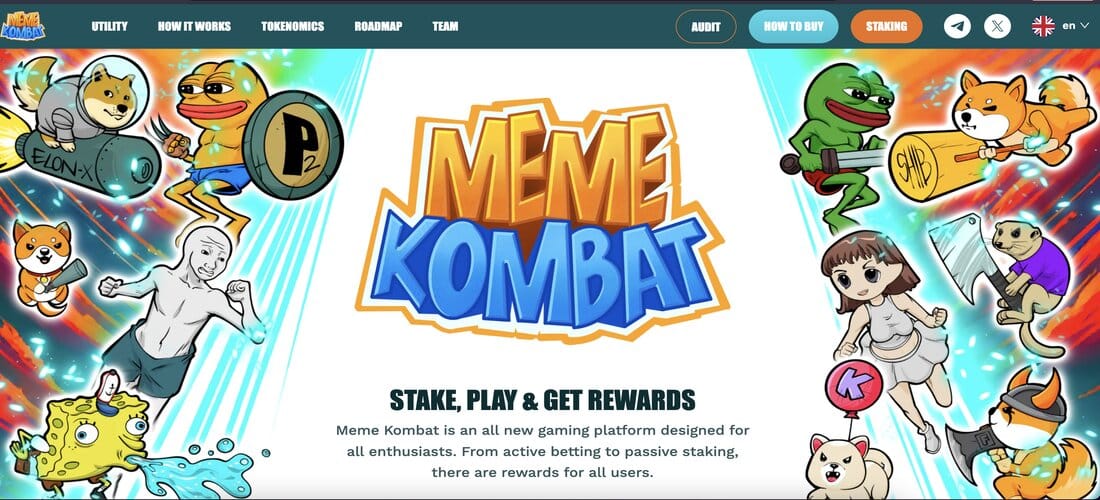 This includes direct betting, P v P betting, P v Game betting, and even side bets on very specific activities, to make the combat more engaging. This ecosystem further offers 112% APY rewards.
So this is a presale with high potential because it brings together keys elements that could make for a successful presale – high APY yields, live betting, and the appeal of the world's most famous and established meme tokens.
For Season One, these meme tokens include – Pepe, Pepe 2, Milady, Kishu, Mong, Shiba, Sponge, Wojack, Doge, Floki, Baby Doge. More memes will be added in future, along with more betting options, once Season One has concluded.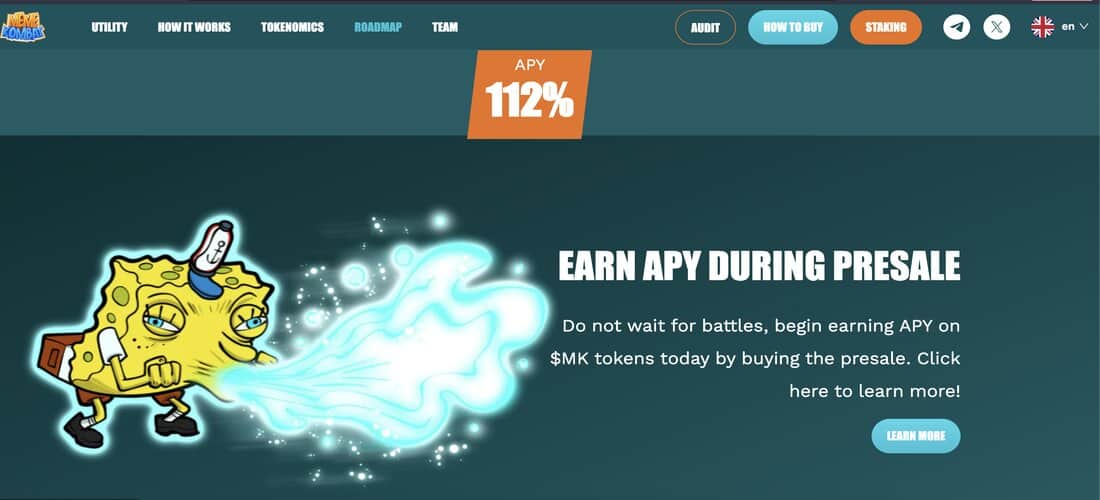 Bets are processed on chain to encourage transparency, another area where this token shows its potential. The founder has been doxxed (he is publicly viewable on Linkedin) and the campaign has undergone a smart contract audit, with no severe issues found within the code base.
6 million tokens are available in this presale at a cost of $1.667. The total token supply is 12 million and the founding team has not withheld any of the supply to themselves. 50% go to the presale, 30% to staking, 10% to DEX liquidity, and 10% to player rewards.
To join the presale connect your Web3 wallet and make the appropriate purchase in ETH, USDT, or BNB. This is a high-potential coin that offers something new to the meme coin industry, and could make waves.
The idea of bringing the world's most successful tokens under one roof could prove to be very profitable if market conditions are correct, and our price prediction guide outlines some trajectories for $MK.
But remember to read the Whitepaper and understand that meme tokens are notoriously volatile. The social accounts (Telegram and Twitter) are also useful for alerts and updates.
| | |
| --- | --- |
| Hard Cap | $10,000,000 |
| Total Tokens | 12,000,000 |
| Tokens available in presale | 6,000,000 |
| Blockchain | Ethereum Network |
| Token type | ERC-20 |
| Minimum Purchase | $5 |
| Purchase with | USDT, ETH, BNB |
4. Wall Street Memes (WSM) – Raised $25 Million In Finished Presale With Live Crypto Casino
Wall Street Memes ($WSM) is crypto positioning itself as an emerging high-potential meme coin amid the recent meme coin boom. The token has attracted significant investor interest, raising over $25 million in just over 12 weeks. The presale is now finished with a huge $25M raised and a token live on OKX.
The $WSM meme coin stems from the Wall St Bulls creators, an accomplished Ethereum NFT project. This project sold out within half an hour of its launch and showed an ability to align with market shifts, such as venturing into Bitcoin NFTs. Despite the inherent risks of presales, the robust community backing likely assures long-term growth.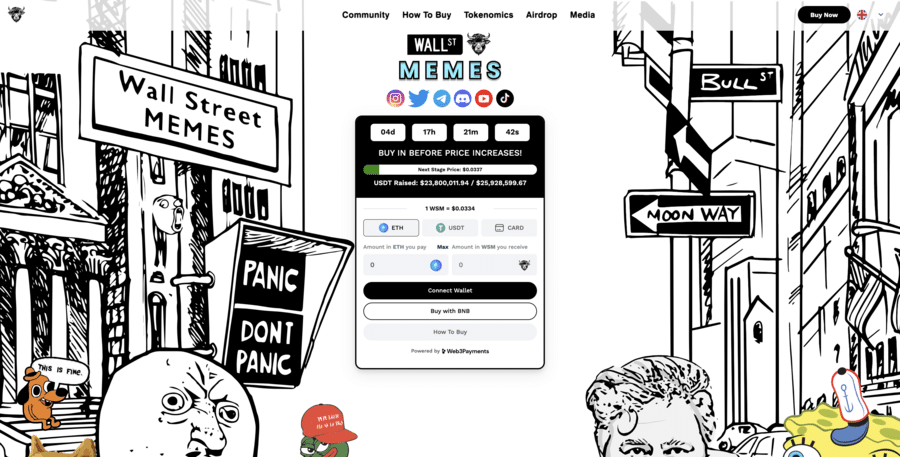 The excitement surrounding Wall Street Memes doesn't stop with its community. High-profile names, including Elon Musk, have engaged with the platform's content, highlighting its widespread appeal.
Moreover, Wall Street Memes has initiated an airdrop event, allowing token holders to win $50,000 by actively engaging with the project's social media platforms and completing simple tasks.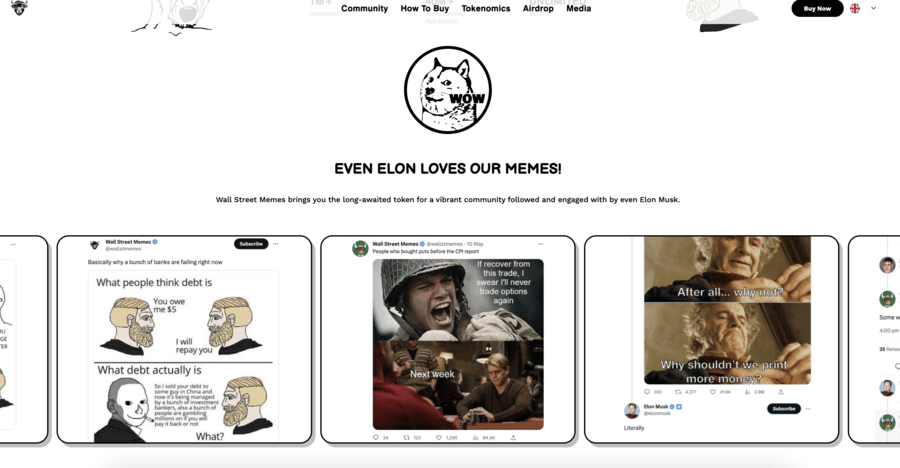 As per the Wall Street Memes whitepaper, $WSM's supply cap is at 2 billion tokens. Notably, 30% of the total supply is reserved solely for community rewards. The remaining allocation includes 50% for marketing and 20% for liquidity provision, addressing potential market flood or dumping issues.
Wall Street Memes aims to stand out as one of the top high-potential cryptos in the current meme coin trend, with a unique emphasis on community engagement and transparency.
You can enter the Wall Street Memes Telegram community to stay updated on the latest developments.
| | |
| --- | --- |
| Hard Cap | $30,577,000 |
| Total Tokens | 2,000,000,000 |
| Tokens available in presale | 1,000,000,000 |
| Blockchain | Ethereum Network |
| Token type | ERC-20 |
| Minimum Purchase | 100 WSM |
| Purchase with | USDT, ETH, BNB, Bank Card |
5. Launchpad XYZ – Key to All Things Web3 and a Smooth Crypto Trading
Launchpad XYZ is a cryptocurrency project with an ambitious goal — to become the focal point for all Web3 functionalities, and make it accessible to everyone. Web3 currently poses a challenge for users without technical knowledge, preventing them from taking advantage of the benefits it has to offer.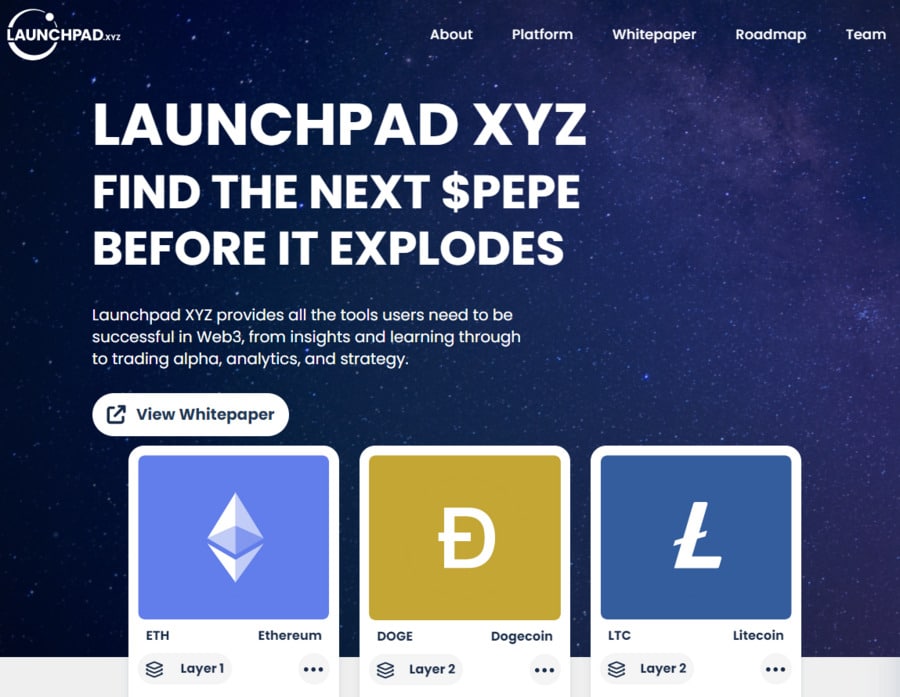 By securing access to all parts of Web3, Launchpad XYZ differentiates itself from other similar platforms. No other crypto project has managed to create such an all-encompassing approach, leaving Launchpad XYZ without competitors and making it a crypto with some of the highest potential in 2023
According to the whitepaper, the platform will offer its own decentralized exchange where users can trade hundreds of crypto pairs. It will also enable browsing and buying NFTs from many different marketplaces on Web3. At the same time, users who stake its native token, $LPX, will also benefit from reduced trading fees.
Furthermore, Launchpad XYZ will provide analytic tools, tutorials, and weekly trading insights to enable users to make more informed investment decisions. The platform's proprietary Web3 wallet will be available for holding assets, and your wallet address can serve as a unique ID for subscribing to different services.
These and other fantastic features have made Launchpad XYZ quite popular during its presale, leading it to earn more than $450,000 in just a few weeks. The project has just entered its second presale stage, so you can buy its token for $0.0445. You can keep track of the token's price progression and other news on the Launchpad XYZ Telegram channel.
| | |
| --- | --- |
| Presale Started | April 2023 |
| Purchase Methods | USDT, ETH, Transak |
| Chain | Polygon |
| Hard Cap | $12.5 million |
| Min Investment | None |
| Max Investment | None |
6. eTukTuk – Green Cryptocurrency Offsetting Carbon Emissions by Building EV Charging Stations
eTukTuk has spent the last 5 years building its cryptocurrency platform to help reduce air pollution and make TukTuk drivers easily switch to zero-emission vehicles (ZEVs). The platform is the first-ever automotive project built on the Cardano blockchain.


eTukTuk chose Cardano since it is energy-efficient, charges low transactions compared to platforms such as Ethereum, and supports a huge amount of transactions. The goal of this project is to get TukTuk drivers to switch from internal combustion engines (ICEs) to ZEVs.
The platform will facilitate this change by building Electric Vehicle Supply Equipment (EVSE) in urban and suburban regions in various developing countries. TukTuk drivers can download the driver app, through which they will be able to charge their EVs on the supported EVSEs with $TUK, the native cryptocurrency.
To minimize the costs of setting up EVSEs, eTukTuk will use territory partners. Territories are regions where EVSEs will be set up. Territory partners will play a role in handling the manufacturing and production of these charging stations.
Whenever drivers use these new charging stations, the territory partners will get paid in $TUK. Token holders can also stake $TUK into power nodes, which will help maintain these charging stations. A percentage of the revenue generated will be distributed to staked token holders.
With energy prices increasing by 50% in certain countries and ICEs being responsible for more carbon emissions than cars, the world is slowly shifting towards EVs. But, eTukTuk is one of the first platforms to make this shift easier and cheaper for drivers from developing economies.
$TUK has a total supply of 2 billion. Interested readers can join the token whitelist to get priority access to the upcoming token presale.
7. Chimpzee (CHMPZ) – This Sustainable Token will Rise By Over 200% During the Presale
$CHMPZ is the native token of Chimpzee, a revolutionary crypto platform that aims to protect the environment and wildlife.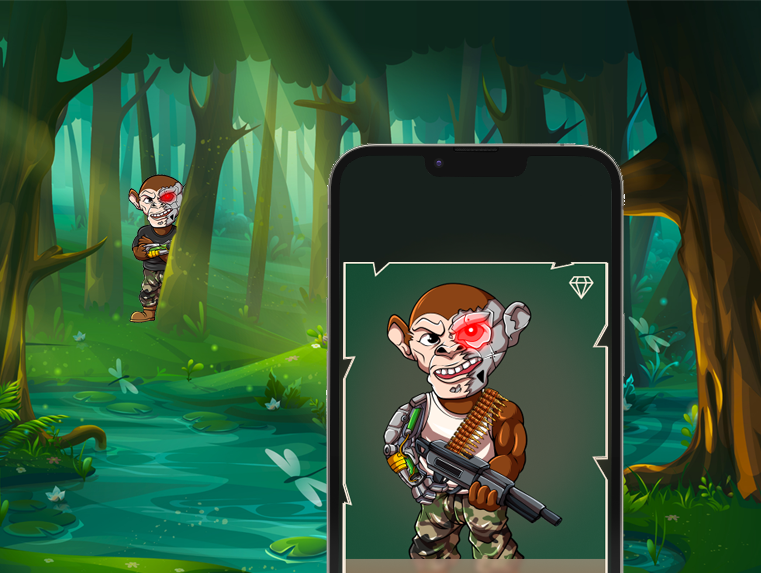 Through the funds generated on the ecosystem, Chimpzee will contribute a chunk to the charities it partners with. Currently, $CHMPZ is priced at only $0.0006 per token during the first presale round.
After the presale ends, $CHMPZ will be listed at a price of $0.00185 per token, equating to a 208% price increase. Apart from the price movement that will take place during the presale, investors can generate passive income from the ecosystem.
With $CHMPZ, you can purchase and stake NFT passports. One can earn up to 20% annually by staking the NFTs. The NFTs can be used within Chimpzee's play-to-earn platform, where the top performers can earn free tokens and other prizes.


Furthermore, Chimpzee will collect revenue through its trade-to-earn NFT marketplace. NFT passport holders and traders can earn passive income, as Chimpzee will offer a portion of the trading fees collected to token holders.
Chimpzee has pledged to donate 10% of the total token supply to charities it is associated with. The platform has also helped plant 1,200 trees and donated $15K to help protect elephants.
One can read the Chimpzee whitepaper and join the Telegram channel to receive regular updates about this cryptocurrency.
| | |
| --- | --- |
| Token symbol | CHMPZ |
| Total supply | 200 Billion |
| Presale supply | 40 Billion |
| Network | Ethereum (ERC20) |
| Purchase methods | ETH, USDT, Credit Card |
8. Scorpion Casino – Provably Fair Gambling Platform with Daily Passive Rewards
A cryptocurrency's growth potential largely relies on its utility and market relevance. SCORP has both. As the payment, governance, and reward token crypto of Scorpion Casino, it is stepping into the multi-billion dollar online gambling and betting industries. The underlying project is set apart by its blockchain foundation which makes it provably fair, transparent, and decentralized.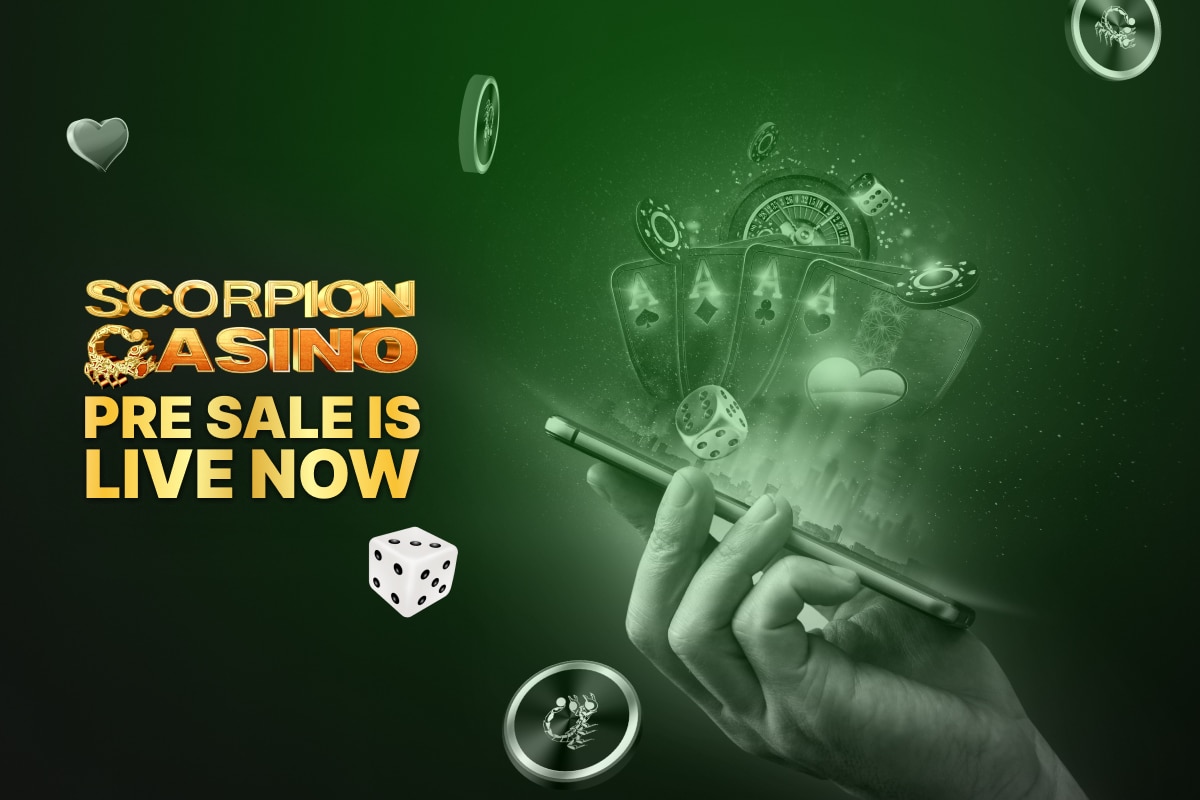 The safe gambling environment put forward by Scorpion Casino has the potential to onboard a large user base this year. The ecosystem consists of two key components:
A licensed crypto casino platform that lists 210 casino games like slots, blackjack, roulette, poker, and 160 live games.
A licensed sports betting section that covers an array of football, tennis, American football, horse racing, basketball, golf, boxing, and MMA events.
Users can access more than 30,000 betting opportunities via these platforms every month. Keeping in line with its mission to provide a safe gambling experience, Scorpion Casino works with credible providers like Evolution, NetEnt, Play N Go, Novomatic, EGT, and AMATIC.
Another key highlight of the crypto ecosystem is its strategically designed burning mechanism that maintains the healthy value of the token in the open market. Apart from long-term value appreciation, you can also take advantage of the reward and referral system of the platform. It has a daily staking reward potential of up to $10,000, facilitated by an integrated re-distribution system.
Scorpion Casino's unique offerings have won it a listing with a top-tier centralized exchange, with more coming. (To find out more about the platform's development and upcoming exchange listings, follow the community on Telegram and Twitter.)

If you want to invest in SCORP, it's best to not wait. The SCORP presale that is currently live gives you the most profitable entry into the project. (To get 20% extra tokens, use the Exclusive Bonus Code Scorpion20. Live for a limited period only).
| | |
| --- | --- |
| Token symbol | SCORP |
| Presale supply | 200,000,000 SCORP |
| Token type | BEP-20 |
| Payment methods | ETH, USDT, BNB |
| Listing price | $0.05 |
9. yPredict (YPRED) – Best New Crypto Platform for Making Financial Market Predictions
Trading cryptocurrency has always been risky, owing to the volatility and unpredictability of the market. However, these problems may not have such an impact thanks to yPredict. This crypto platform is designed to offer reliable financial predictive models, which makes it a crypto project with pretty high potential.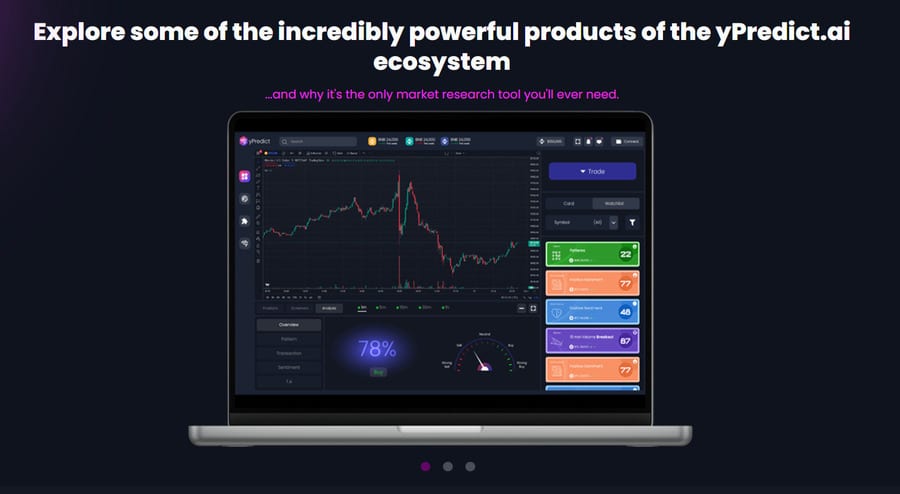 yPredict has recognized the power artificial intelligence and data science can have in predicting market moves. Its platform allows financial quants and ML/AI experts to utilize these technologies to generate sophisticated analytical tools that can forecast the probable occurrences in crypto markets. You can learn more about how the platform utilizes these technologies by reading its whitepaper.
yPredict's native token, $YPRED, serves as an incentive to both these developers and the traders who benefit from their predictive models. Namely, traders can use $YPRED to subscribe to these models and use their power to make better trading decisions. Developers can earn recurring passive income by selling subscriptions to their products.
In addition to that, token holders are also encouraged to stake their assets. By doing so, they can earn lucrative APY. The platform aims to maintain its liquidity by reserving 10% of the total revenue it earns from selling subscriptions. This can make its APY percentage much more stable when compared to platforms that derive their liquidity from an allocated token supply.
$YPRED tokens became available for presale in February 2023. Many users have already recognized their potential, and the project has already raised more than $1.1 million. The token price is currently set at $0.07, being in its fifth presale stage. There will be a total of eight stages, and the price will increase with each one.
If you want to jump on the bandwagon, it's still a good time to do so. Before you make the decision, make sure to follow the platform's Telegram channel for more information and updates about the project.
| | |
| --- | --- |
| Presale Started | February 2023 |
| Purchase Methods | ETH, MATIC, USDT, BNB, Card |
| Chain | Polygon |
| Hard Cap | $6,507,511 |
| Min Investment | 200 $YPRED |
| Max Investment | None |
10. Doge Uprising (DUP) – Buy NFTs and Get Staking Rewards with this Meme Crypto, Presale Price Set to Rise by 100%
While meme cryptos offer huge growth potential, they can become unsustainable in the long-term due to a lack of utility. However, Doge Uprising ($DUP) is a new meme token offering utility via staking rewards, NFTs, and airdrops.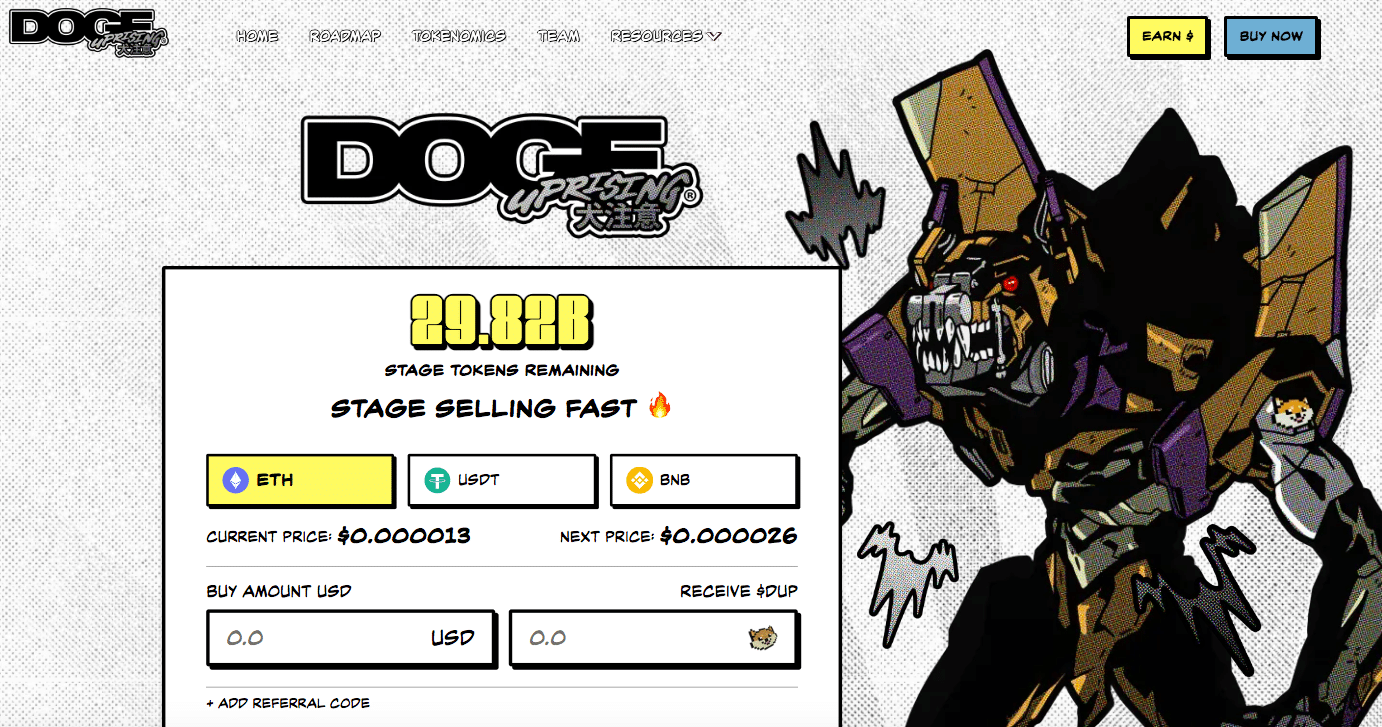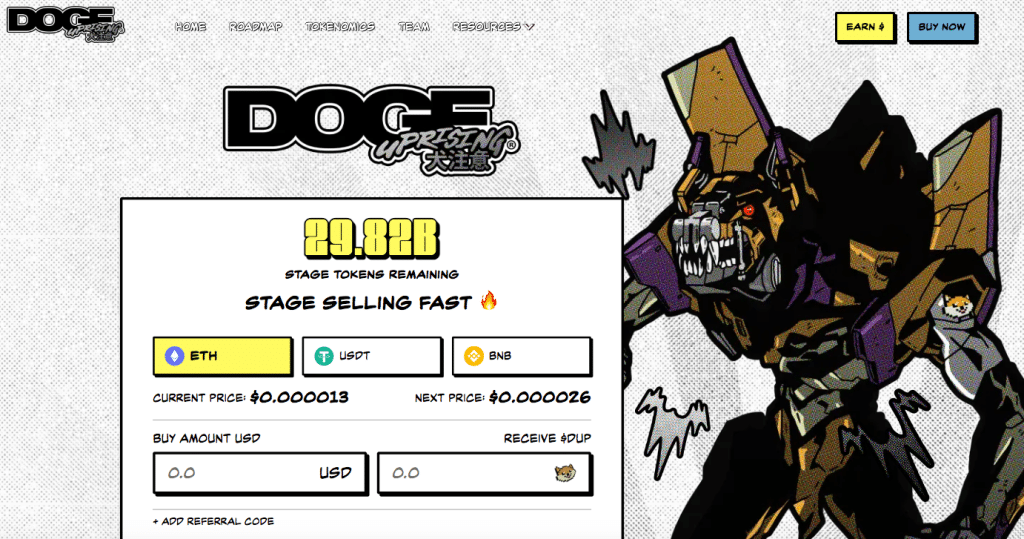 This ecosystem is based on the narrative created by its own manga series. Community members can join the fight against the evil lizard king, Mark Zuckerberg – who has taken control over the world in the year 2045.
Users can leverage their $DUP tokens and become 'Pilots' by purchasing the Doge Mecha NFTs – who are coming together to battle the oppressive regime. According to the manga, Elon Musk leads the battle against Zuckerberg. This new cryptocurrency will soon implement a staking mechanism through which $DUP can be staked to earn passive income.
From a 450 billion token supply – 10% will be offered through airdrop campaigns. These different use cases can help $DUP become one of the top cryptos in the future. At the time of writing, $DUP is priced at $0.000013 per token on presale. By the next round, the price will soar by 100% to $0.000026 per token. Therefore, early presale investors can buy $DUP before the price increases.


60% of the supply is allocated for the presale, while 20% will be offered once $DUP is listed on crypto exchanges. This new cryptocurrency's smart contract has been audited by SolidProof. Read the Doge Uprising whitepaper and join the Telegram channel to learn more about this cryptocurrency.
| | |
| --- | --- |
| Token symbol | DUP |
| Presale supply | 270,000,000 DUP |
| Token type | ERC-20 |
| Payment methods | ETH, USDT, BNB |
| Listing price | N/A |
11. Gala (GALA) – Gaming Platform Facilitating NFT Ownership
Gala is a gaming platform built on the Ethereum blockchain. Its native token, GALA, is another gaming crypto with the highest potential for growth. This token is used for paying rewards in all supported Gala games. Unlike traditional video games, players own all in-game assets that they buy and earn without the Gala ecosystem.
These digital items are also tradable on the Gala marketplace. Investors who buy GALA tokens can also vote on the future of the project. As a gaming guild, Gala will host a wide variety of genres and titles. Categories include tabletop, simulation, third-person shooters, strategy, and card games among others.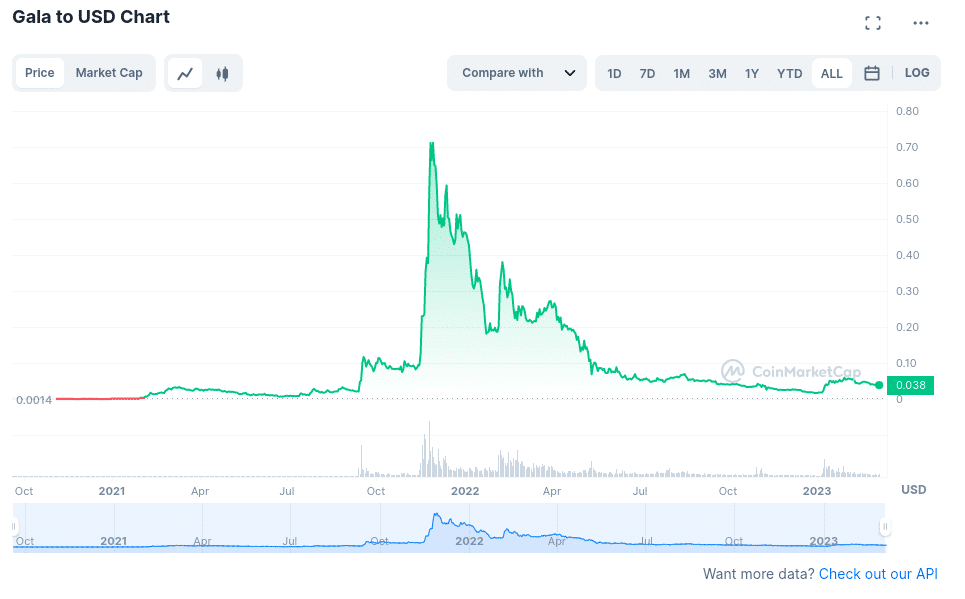 Gala is also working on a variety of NFT collections. This includes a recent partnership with Frank Miller and Concept Art House. The partnership will create NFTs based on the Sin City franchise, which is hugely popular with gamers. The Gala platform has over a million active monthly users – illustrating its popularity. GALA tokens can be purchased at eToro from just $10.
Cryptoassets are highly volatile and unregulated in most EU countries, Australia and the UK. No consumer protection. Tax on profits may apply. Your capital is at risk.
12. Orchid (OXT) – Open-Sourced Network and Decentralized VPN Provider
Orchid is a VPN network that facilitates anonymous multi-hop routing. As such, users can route an internet connection via more than one provider at once. OXT powers the platform and is one of the best cryptos with the most potential in 2023. To operate nodes, users need to stake OXT via an Ethereum smart contract.
This peer-to-peer tool creates a bandwidth decentralized market through a reliable central authority. This is achieved via a probabilistic nano payment system. The payment mechanism spreads out transfer fees to reduce costs. It's also scalable and can handle millions of transactions per second.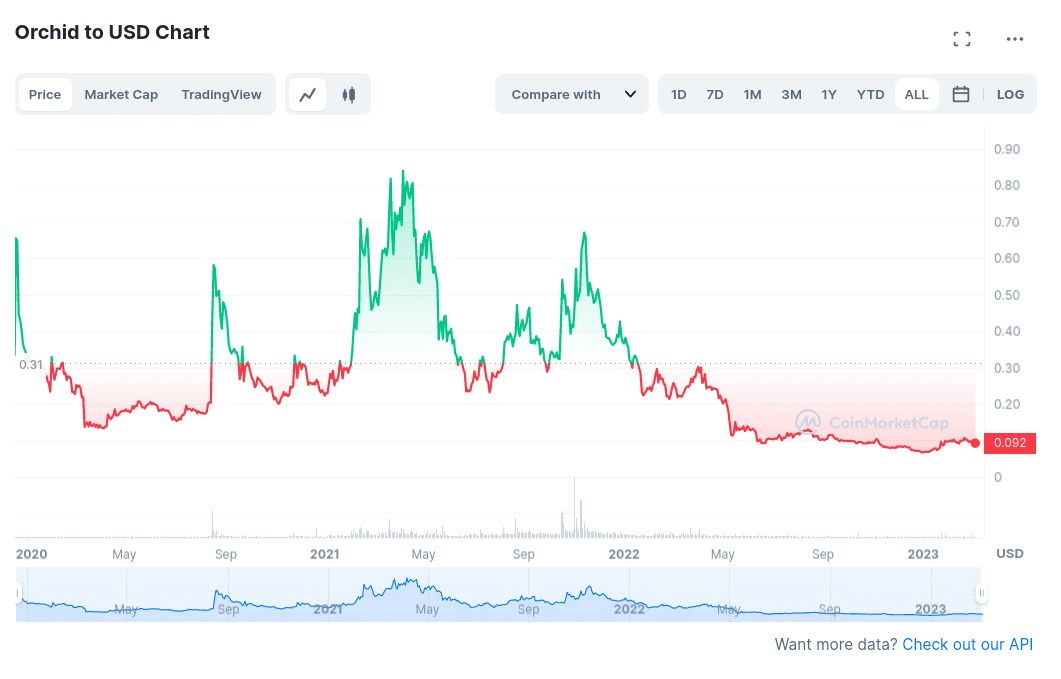 Orchid also offers a framework for advertising. Suppliers are chosen at random and weighted in proportion according to their stake in the project. Orchid's core features were created to give users better control of their private internet connection. At the time of writing, the market capitalization of Orchid is just $64 million – which offers plenty of upside.
Cryptoassets are highly volatile and unregulated in most EU countries, Australia and the UK. No consumer protection. Tax on profits may apply. Your capital is at risk.
13. Uniswap (UNI) – DeFi Token Powering Ethereum-Based Crypto Exchange
Uniswap is the largest DEX (decentralized exchange) platform by trading volume. As of writing, the 24-hour trading volume on Uniswap is over $665 million. Uniswap offers over 900 markets and 300 DeFi apps are integrated within its DEX.
This platform adopts an automated liquidity protocol to match buyers and sellers. As such, users can trade, earn, and build without intermediaries. The AMM (automated market maker) model also offers lower transaction fees for traders.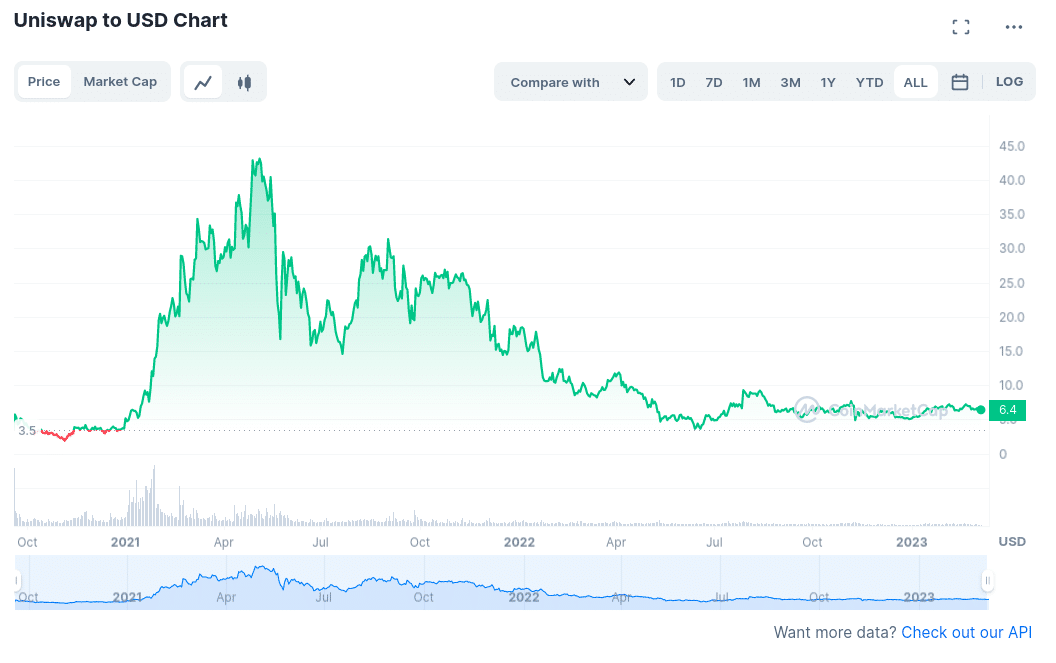 Amidst the challenging Crypto Winter, Uniswap's successful $165M funding round emerges as a bright spot for the DeFi sector, showcasing its resilience and potential for growth.
Its native token, UNI, could be the best crypto with the highest growth potential. Investors who hold UNI tokens can vote on governance proposals, trade crypto, and create liquidity pools. Uniswap offers rewards for creating liquidity. That is to say, all transaction fees are given to liquidity providers instead of the platform's founders.
Cryptoassets are highly volatile and unregulated in most EU countries, Australia and the UK. No consumer protection. Tax on profits may apply. Your capital is at risk.
14. EstateX (ESX) – Real-Estate Investing Platform Using Blockchain Technology
EstateX was founded in 2020 and is one of the best new penny cryptocurrencies with potential. The project facilitates fractional real-estate investments and is globally accessible. As such, EstateX has the potential to disrupt the real estate industry through tokenization. ESX tokens power the ecosystem and are used for governance, bonuses, and transactions.
Therefore, ESX is among the cryptos with the most potential for wide-scale adoption in 2023. Another benefit of EstateX is that it will appeal to real estate investors on a budget. After all, the project supports investments from just $100.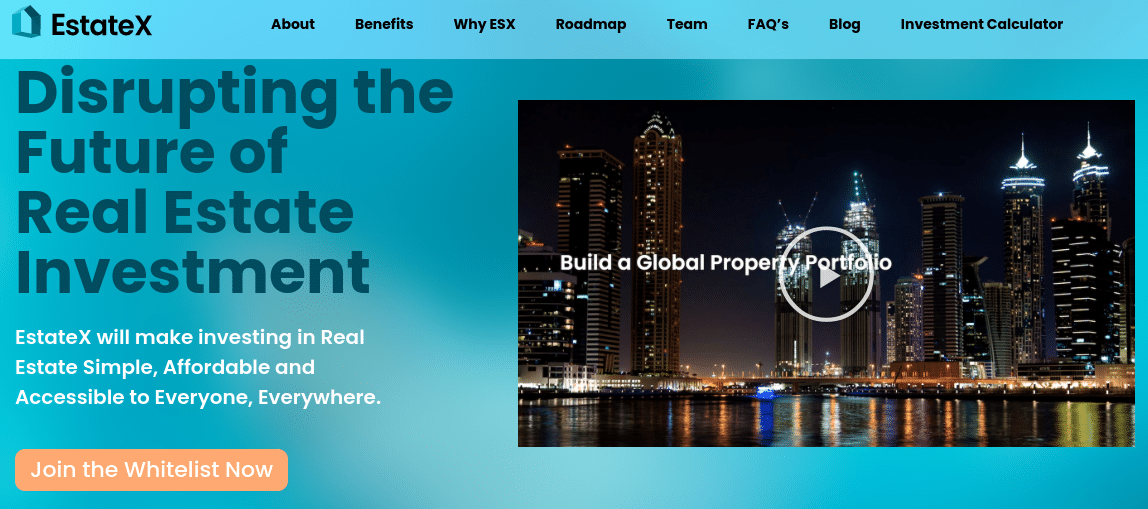 This is achieved through fractional investing and makes real estate more affordable to everyone. Investors can also earn a passive income through rental payments. This can be achieved without large deposits or credit checks. At the time of writing, ESX is on presale at $0.002 per token.
15. Metacade (MCADE) – Web3 Focused Meeting Place for GameFi and Crypto Enthusiasts
Gamers looking for the best cryptos with the most potential in 2023 could consider Metacade. This is a hub for the web3 community, such as gamers and developers. Metacade users can generate income, share ideas, and earn rewards.
The native token is MCADE, which is used for rewards, voting, staking, and more. Metacade will be self-sustainable. This is because the economy will include advertising revenue, P2E arcade games, tournaments, and game testing. Test contributors will also be rewarded with limited edition staking and MCADE tokens.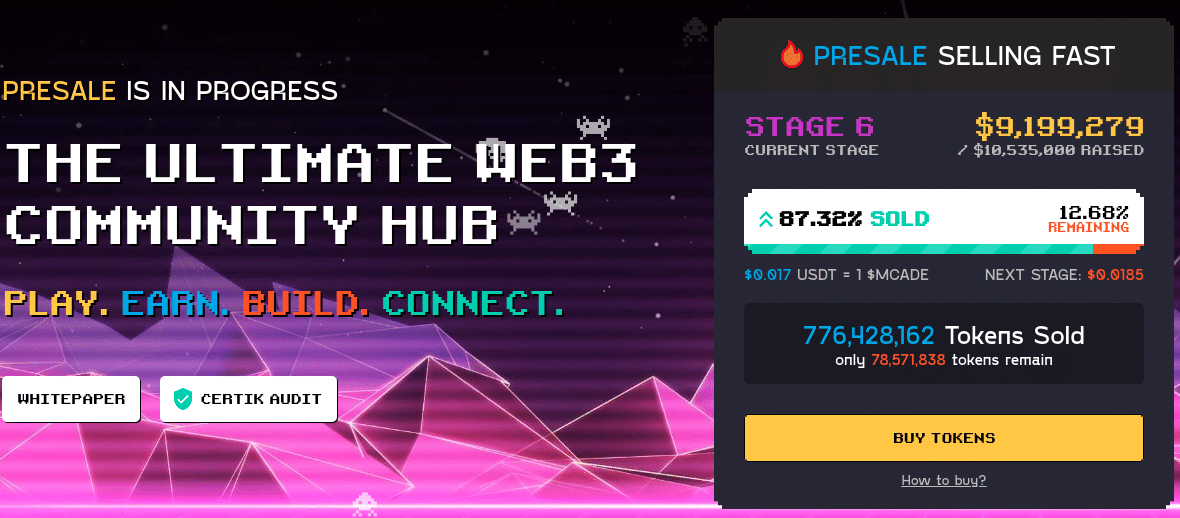 As such, MCADE is among the cryptocurrencies with big potential in the web3 space. Investors that buy MCADE tokens during stage six of the presale can secure a discounted price of $0.017 each. This will increase to $0.0185 in stage seven. The presale has already raised over $9 million and is almost 90% of the way through.
16. Evameta Token (EMT) – Upcoming Presale Meme Token With Community Governance
Evameta Token is a new cryptocurrency with potential to explode in the coming months. This project is building a multichain financial engine and the system is indirectly supported by staking.
The platform also offers a multichain ecosystem for NFT staking protocols. Investors can buy NFTs with EMT tokens and stake them to earn rewards. Moreover, those who buy and hold at least 200 EMT tokens will also earn BNB.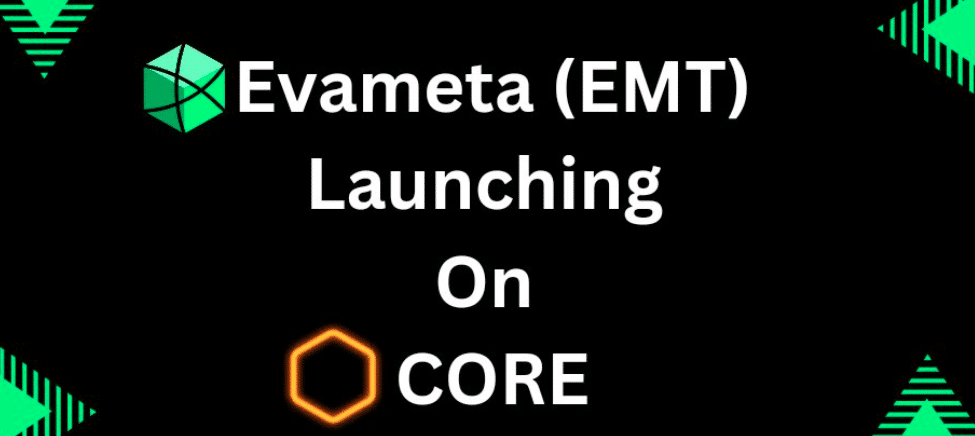 Evameta Token holders are given 5% of every EMT transaction via a reflection program. In terms of legitimacy, the project has partnered with Vital Block to audit its smart contract code. This highlights that the project is taking network security seriously. The presale campaign for EMT tokens is about to begin. Early-bird investors will secure the best price possible.
How to Find the Highest Potential Cryptocurrency
Wondering how to find cryptos with high potential? Read on to discover the best ways to find the next 10x project.
Adoption and Use-Cases
Investors looking for the most profitable cryptocurrencies with the highest potential should consider their use cases. The adoption of crypto no longer refers to acceptance as a payment option alone. Newer blockchain-based initiatives focus on web3 applications such as vote-to-earn and the metaverse.
Find Presale Cryptos
When searching for cryptocurrency with the most potential, a great starting point is to explore presales. This is because presales offer a low entry price to early investors and have plenty of room to grow. But how do you know which crypto could become the next Ethereum?
As such, presales offer a great way to find crypto with the highest growth potential in 2023.
Investors looking for a cryptocurrency with the most potential might also find some tips on social media platforms. This is great for finding up-to-date information on the most searched cryptocurrencies and quality projects that are trending.
For instance, Twitter notifications for suitable keywords like 'new crypto', or 'crypto presale' are worth considering. Reddit is another good platform for finding cryptocurrencies. This platform has many groups dedicated to finding cryptos with the most potential, such as r/CryptoMoonShots.
Another place to find cryptocurrencies with big potential is YouTube. For example, Jacob Bury has a crypto-dedicated YouTube channel with almost 12,000 subscribers. Bury carries out technical analyses and talks about crypto projects he thinks will blow up. This includes crypto presales and new projects that he believes will produce notable gains for investors.
How to Avoid Low-Potential Cryptocurrencies?
Industry experts believe that the toughest challenges for cryptocurrency are still to come, rather than being confined to the past, as the rapidly evolving landscape presents new obstacles and opportunities.
In the rapidly evolving world of cryptocurrencies, investors must avoid low-potential cryptocurrencies that may result in suboptimal returns or even financial loss.
Here are some key strategies to help you steer clear of such investments:
Research: Conduct thorough research on the cryptocurrency project, its team, and its technology. Examine the project's whitepaper to understand its objectives, use cases, and roadmap. A well-structured and detailed whitepaper is a good sign of a project with potential.
Utility and Adoption: Assess the utility of the token or coin, and consider whether it has a practical application that can drive demand and adoption. A cryptocurrency with strong utility and growing adoption is more likely to have a promising future.
Community and Social Media: Investigate the project's community and social media presence. A strong and engaged community can be indicative of a project with potential. This is the case with the best cryptos on Reddit. Be cautious of projects with fake followers or low engagement levels, as these may be signs of a low potential cryptocurrency.
Development Activity: Examine the development activity of the project by checking its code repositories, such as GitHub. Regular updates and a committed development team can indicate a project's potential.
Transparency and Regulation: Ensure the project maintains transparency and meets regulatory requirements. Transparent projects with regulatory compliance are less likely to face legal challenges, which can impact their potential.
Partnerships and Industry Support: Look for projects with strategic partnerships and support from established industry players. Such backing can contribute to the credibility and potential growth of a cryptocurrency.
Conclusion – Which Crypto has the Most Potential?
All things considered, Bitcoin ETF Token is the crypto with the highest potential in 2023. APY levels are high, it trades at a discount in its early presale stage, and it is involved in a unique industry connected to Bitcoin ETF approval.
It could easily be a 10x coin, if market conditions are correct.
FAQs
Which is the best potential cryptocurrency to invest in?
Which new cryptos have the brightest future?