The crypto market is saturated, so finding the next big crypto for gains of 10x or more can be challenging. To help clear the mist, this guide explores the best cryptos with the most potential in 2023.
We discuss each crypto project's use cases, plans for the future, and other important factors to enable investors to make an informed decision.
The 14 Cryptocurrencies With the Most Potential for 10x Growth
Below we've speculated on a range of different types of crypto projects with the most potential for 2023:
AiDoge (AI) – An AI-powered platform for the production of relevant memes. With its token $AI, it offers meme creation, voting, and staking rewards, making it an attractive investment option.
yPredict (YPRED) – A groundbreaking crypto platform harnessing AI and data science for reliable market predictions. The $YPRED token can unlock the power to forecast market moves, earn from subscriptions, and stake for attractive APY.
Ecoterra (ECOTERRA) – A rising star in the crypto world championing sustainable living. $ECOTERRA tokens can be used on the Recycle2Earn app to track your environmental impact and promote eco-friendly actions.
DeeLance (DLANCE) – A Web3 platform revolutionizing the recruitment landscape with $DLANCE tokens. The platform offers secure, quick crypto transactions, project conversion into NFTs, and minimal transaction fees.
Launchpad XYZ (LPX) – An innovative crypto platform aiming to simplify the complexities of Web3 technology. With its decentralized exchange, robust analytics, and unique Web3 wallet, the $LPX token offers immense potential for both novices and experienced crypto buffs.
Swords of Blood (SWDTKN) – A Compelling Hack-and-Slash RPG with an Immersive Gameplay
Scorpion Casino (SCORP) – Top social online gambling platform that allows users to earn daily passive rewards based on the casino's performance.
RobotEra (TARO) – Build NFT Robots and Mine in a Sandbox-Style Metaverse
Tamadoge (TAMA) – Arcade Game Library on the Blockchain With NFT Pets
Gala (GALA) – Gaming Platform Facilitating NFT Ownership
Orchid (OXT) – Open-Sourced Network and Decentralized VPN Provider
Uniswap (UNI) – DeFi Token Powering an Ethereum-Based Crypto Exchange
EstateX (ESX) – Real-Estate Investing Platform Using Blockchain Technology
Metacade (MCADE) – Web3 Focused Meeting Place for GameFi and Crypto Enthusiasts
High Potential Cryptos for 2023 – A Detailed Analysis
Read on to find our analysis of the 14 best cryptos with the most potential for 2023. Further down, we divulge how to find cryptocurrencies with big potential as well as how to buy tokens on a DIY basis.
1. AiDoge (AI) – Meme-Creation Crypto Platform With the Highest Potential for Growth
AiDoge is a cryptocurrency platform utilizing the power of artificial intelligence to create captivating and relevant memes. The project features its own token, $AI, which holders can stake, use to buy credits for meme creation and perform other functions. Its presale started in April 2023, but it has already raised more than $8 million.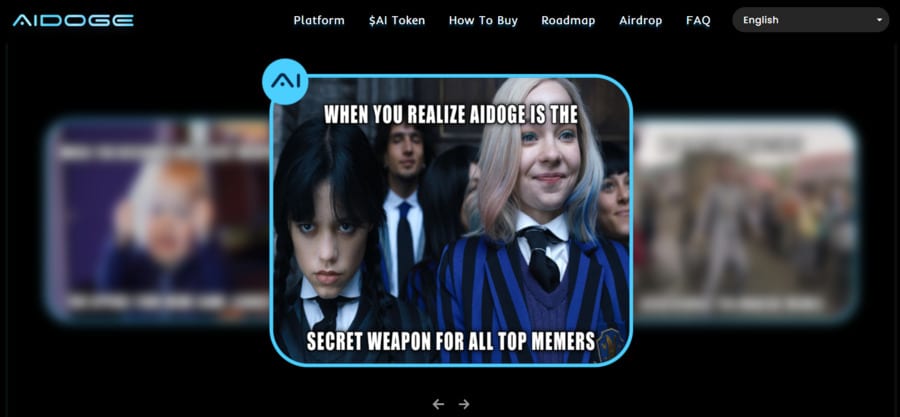 Utilizing the most advanced technology, AiDoge merges two of the most popular crypto niches — memes and AI. It deserves a place on our list of cryptos with the highest potential in 2023 due to its fantastic utility.
AiDoge uses the same principles as Conflux, Pepe Coin, SingularityNET, and The Graph. However, it's superior to these projects in that it combines their unique features into one distinctive platform.
The platform provides real utility by fostering advanced AI algorithms using extensive, up-to-date crypto information and meme databases. As the whitepaper states, $AI holders can buy credits, allowing them to use this technology to create memes with just text input.
This makes the meme-generation process accessible to anyone, allowing a large community to form. In addition, the platform will also feature a public wall where users can post their creations and vote on other users' memes.
This functionality can increase the visibility of high-quality memes and give creators the opportunity to earn tokens if their memes rank highly. This can, in turn, motivate the users to create more, enlarging the community further and increasing engagement, contributing to the sustainable growth of the platform.
Users are also incentivized to participate in the voting process by receiving tokens for their involvement. Furthermore, holders can earn additional assets by staking their tokens, bringing them daily credit rewards and other perks. You can learn more about this by following the project's official Telegram group.
If you've missed investment opportunities like Pepe Coin, now is a great time to mend that by investing in AiDoge. The project is still in its early presale stages and will set you back at only $0.0000304 per token. Its price will only rise in the following period until it reaches $0.00003360 at the launch date.
| | |
| --- | --- |
| Presale Started | April 2023 |
| Purchase Methods | ETH, USDT, BNB, Credit card |
| Chain | Ethereum |
| Hard Cap | $14,900,000 |
| Min Investment | 38,461 $AI |
| Max Investment | None |
2. yPredict (YPRED) – Best New Crypto Platform for Making Financial Market Predictions
Trading cryptocurrency has always been risky, owing to the volatility and unpredictability of the market. However, these problems may not have such an impact thanks to yPredict. This crypto platform is designed to offer reliable financial predictive models, which makes it a crypto project with pretty high potential.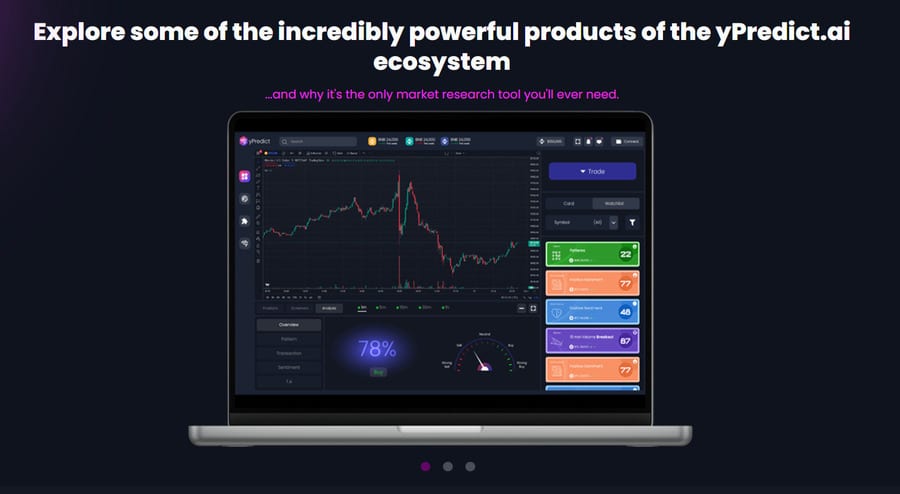 yPredict has recognized the power artificial intelligence and data science can have in predicting market moves. Its platform allows financial quants and ML/AI experts to utilize these technologies to generate sophisticated analytical tools that can forecast the probable occurrences in crypto markets. You can learn more about how the platform utilizes these technologies by reading its whitepaper.
yPredict's native token, $YPRED, serves as an incentive to both these developers and the traders who benefit from their predictive models. Namely, traders can use $YPRED to subscribe to these models and use their power to make better trading decisions. Developers can earn recurring passive income by selling subscriptions to their products.
In addition to that, token holders are also encouraged to stake their assets. By doing so, they can earn lucrative APY. The platform aims to maintain its liquidity by reserving 10% of the total revenue it earns from selling subscriptions. This can make its APY percentage much more stable when compared to platforms that derive their liquidity from an allocated token supply.
$YPRED tokens became available for presale in February 2023. Many users have already recognized their potential, and the project has already raised more than $1.1 million. The token price is currently set at $0.07, being in its fifth presale stage. There will be a total of eight stages, and the price will increase with each one.
If you want to jump on the bandwagon, it's still a good time to do so. Before you make the decision, make sure to follow the platform's Telegram channel for more information and updates about the project.
| | |
| --- | --- |
| Presale Started | February 2023 |
| Purchase Methods | ETH, MATIC, USDT, BNB, Card |
| Chain | Polygon |
| Hard Cap | $6,507,511 |
| Min Investment | 200 $YPRED |
| Max Investment | None |
3. Ecoterra (ECOTERRA) – Eco-Friendly Crypto Project Likely to Blow up
An upcoming crypto with high potential is Ecoterra. The Ecoterra platform features the innovative Recycle2Earn app, which rewards users with Ecoterra tokens for their eco-conscious participation.
The $ECOTERRA tokens can either be held as investments or used for environmentally friendly initiatives such as community cleanups and alternative energy projects.
At present, a single Ecoterra token is $0.004 USDT. Obtaining these tokens is a seamless process, as they can be purchased through the project's presale page using ETH/USDT or credit card transactions.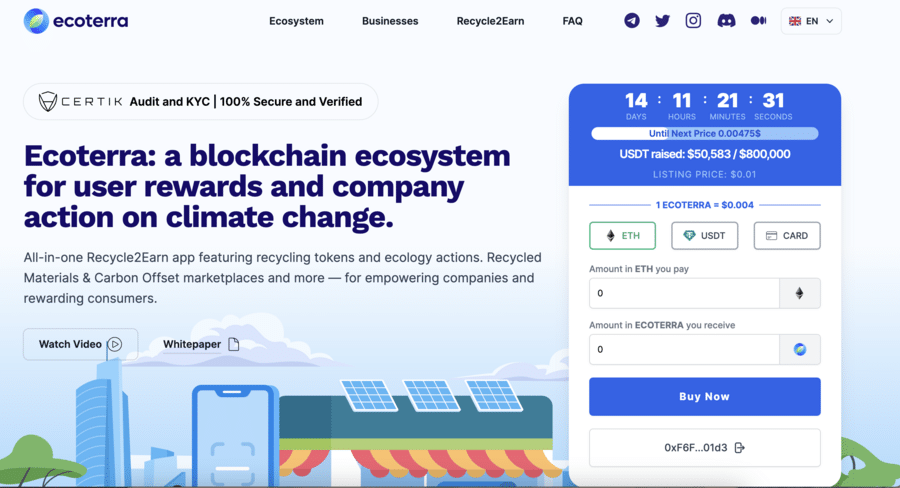 Monitoring Environmental Footprint with Recycle2Earn
The app allows users to track their environmental impact. Each user's pollution generation is recorded in their profile, which businesses can access as "impact trackable profiles." By buying impact packages from other users, individuals can access resources to offset the negative consequences of their production processes.
This approach fosters a transparent and committed atmosphere centered on eco-friendly practices.
Another noteworthy feature of Ecoterra is its marketplace for carbon offsets and recycled materials.

The Ecoterra token can be used in the carbon offset market to support projects that have passed a rigorous global evaluation and verification process, as detailed in the Ecoterra whitepaper. Successful carbon offsets can generate Non-Fungible Tokens (NFTs). This proposed solution benefits users who employ Reverse Vending Machines (RVMs) for recycling purposes.
Adaptable to Various Industries
The system's adaptability addresses the needs of diverse sectors such as consumer goods, technology, fashion, and hospitality. Recycle2Earn's cutting-edge platform holds the potential to serve hundreds of millions of people worldwide due to its compatibility with RVMs globally.
To keep up-to-date with the platform's latest progress, consider joining the Ecoterra Telegram group.
| | |
| --- | --- |
| Hard Cap | $6,700,000 |
| Total Tokens | 2,000,000,000 |
| Tokens available in presale | 1,000,000,000 |
| Blockchain | Ethereum Network |
| Token type | ERC-20 |
| Minimum Purchase | $10 |
| Purchase with | USDT, ETH, Bank Card |
4. DeeLance (DLANCE) – High Potential Crypto Reshaping Web 3.0 Recruitment
Since its inception, DeeLance has rapidly emerged as one of the cryptos with the most potential in the Web3 freelancing and recruitment landscape.
The presale of the $DLANCE token is now live, with each token valued at a mere $0.025 USDT. DeeLance's ultimate goal is to transform the interactions between independent freelancers and businesses in the decentralized economy through complete project ownership and crypto payment processing.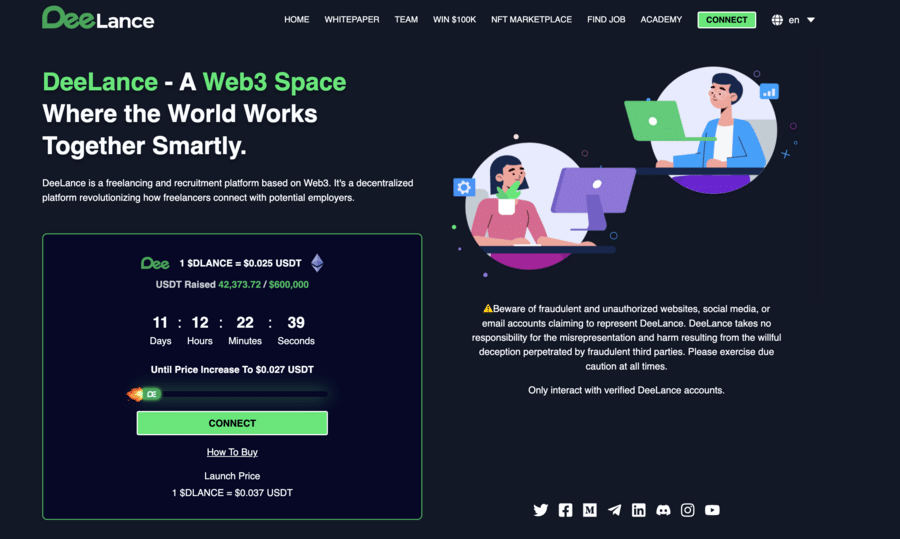 DeeLance's platform offers services and resources tailored to optimize the daily operations of freelancers. It features a minimal transaction fee of 2% for businesses and 10% for freelancers.
The platform also promises no withdrawal fees, currency conversion delays, or maximum project limitations, as stated in the DeeLance whitepaper.
The platform simplifies job posting and application processes for users while utilizing a public blockchain to maintain an automated dispute resolution system that monitors the standings of buyers and sellers.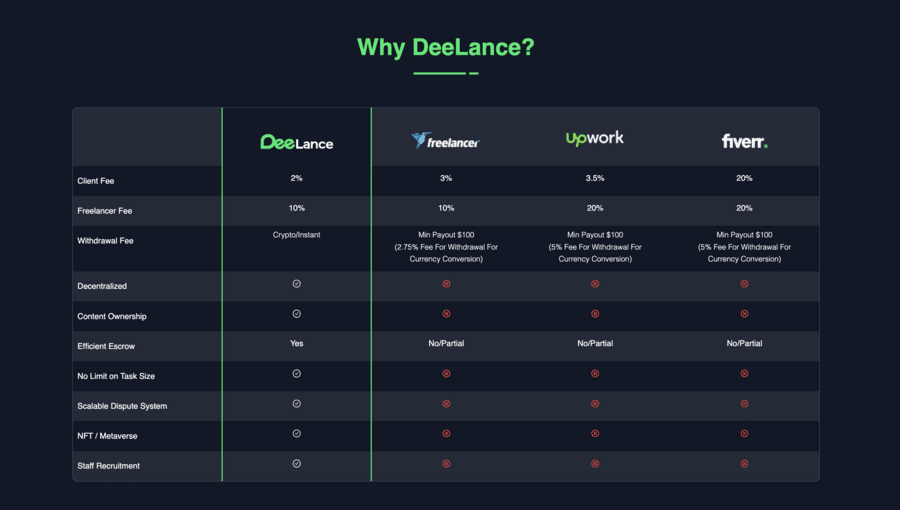 Among the numerous advantages DeeLance provides are escrow services that securely hold freelancer payments until both parties approve the completed work. The platform ensures prompt, low-cost crypto payments and safeguards against payment fraud and copyright infringement by converting freelance projects into NFTs while preserving recruiters' ownership of the work.
DeeLance stands out due to its ability to connect users with exceptional job prospects and talent globally, thanks to its decentralized nature. The platform's native token, $DLANCE, can be utilized for purchasing NFTs, leasing virtual office spaces, and more, all powered by the Ethereum blockchain.
Furthermore, DeeLance is developing a metaverse concept with a lobby arena, offices, and virtual meeting rooms designed for collaborative teamwork.
DeeLance presents an enticing investment opportunity as it addresses the freelance economy's long-standing challenges. The DeeLance team is hosting a giveaway to celebrate the presale, with four fortunate winners sharing $100,000 in $DLANCE tokens.
By subscribing to the DeeLance Telegram channel, interested parties can stay informed about the latest developments.
| | |
| --- | --- |
| Hard Cap | $6,800,000 |
| Total Tokens | 1,000,000,000 |
| Tokens available in presale | 300,000,000 |
| Blockchain | Ethereum Network |
| Token type | ERC-20 |
| Minimum Purchase | $10 |
| Purchase with | USDT, ETH, Card |
5. Launchpad XYZ – Key to All Things Web3 and a Smooth Crypto Trading
Launchpad XYZ is a cryptocurrency project with an ambitious goal — to become the focal point for all Web3 functionalities, and make it accessible to everyone. Web3 currently poses a challenge for users without technical knowledge, preventing them from taking advantage of the benefits it has to offer.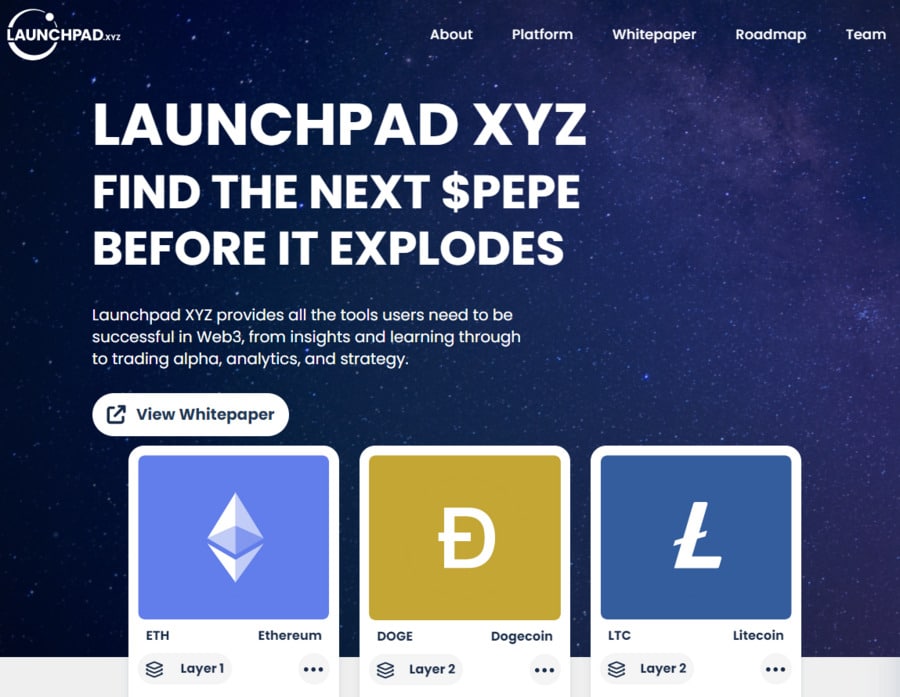 By securing access to all parts of Web3, Launchpad XYZ differentiates itself from other similar platforms. No other crypto project has managed to create such an all-encompassing approach, leaving Launchpad XYZ without competitors and making it a crypto with some of the highest potential in 2023
According to the whitepaper, the platform will offer its own decentralized exchange where users can trade hundreds of crypto pairs. It will also enable browsing and buying NFTs from many different marketplaces on Web3. At the same time, users who stake its native token, $LPX, will also benefit from reduced trading fees.
Furthermore, Launchpad XYZ will provide analytic tools, tutorials, and weekly trading insights to enable users to make more informed investment decisions. The platform's proprietary Web3 wallet will be available for holding assets, and your wallet address can serve as a unique ID for subscribing to different services.
These and other fantastic features have made Launchpad XYZ quite popular during its presale, leading it to earn more than $450,000 in just a few weeks. The project has just entered its second presale stage, so you can buy its token for $0.0445. You can keep track of the token's price progression and other news on the Launchpad XYZ Telegram channel.
| | |
| --- | --- |
| Presale Started | April 2023 |
| Purchase Methods | USDT, ETH, Transak |
| Chain | Polygon |
| Hard Cap | $12.5 million |
| Min Investment | None |
| Max Investment | None |
6. Swords of Blood: A Compelling Hack-and-Slash RPG with an Immersive Gameplay
Swords of Blood is an engaging hack-and-slash role-playing game (RPG) with significant potential for growth. Accessible on both mobile and desktop platforms, this blockchain-based multiplayer game offers free gameplay for all. However, players holding $SWDTKN tokens can utilize them to acquire premium weapons and season passes, enhancing their gaming experience.
The Swords of Blood whitepaper states that 140 million $SWDTKN tokens have been allocated for the ongoing presale from a total supply of 1 billion tokens. In the current second stage, the token price is only $0.07 USDT, with an expected increase to $0.08 USDT in the next round. Since the presale commenced, over $1.18 million USDT has been raised for the game's development.

Players will encounter challenging opponents throughout the game, such as the Brutal Impaler, Master of Witchcraft, and the King of Blizzard in the Icy Tower.
Players can earn tokens by engaging in player-versus-player (PvP) battles, completing story missions, and defeating monsters. These tokens can be used to obtain upgraded NFT items, such as weapons, magical items, and gold. The NFTs will soon be available for sale on secondary markets, allowing players to streamline their progress and increase their chances of success.
In Swords of Blood, players can delve into dungeons and battle enemies, including demons, goblins, and wizards. Developed using the fast and efficient layer-2 Polygon engine, the game is based on the 2019 award-winning Artifex Mundi with important updates for a seamless transition from Web2 to Web3.
More information can be found on the Swords of Blood Telegram channel.
| | |
| --- | --- |
| Presale Started | 15th March 2023 |
| Purchase Methods | ETH, USDT USDC, DAI |
| Blockchain | Polygon |
| Minimum Investment | None |
| Maximum Investment | None |
7. Scorpion Casino – Provably Fair Gambling Platform with Daily Passive Rewards
A cryptocurrency's growth potential largely relies on its utility and market relevance. SCORP has both. As the payment, governance, and reward token crypto of Scorpion Casino, it is stepping into the multi-billion dollar online gambling and betting industries. The underlying project is set apart by its blockchain foundation which makes it provably fair, transparent, and decentralized.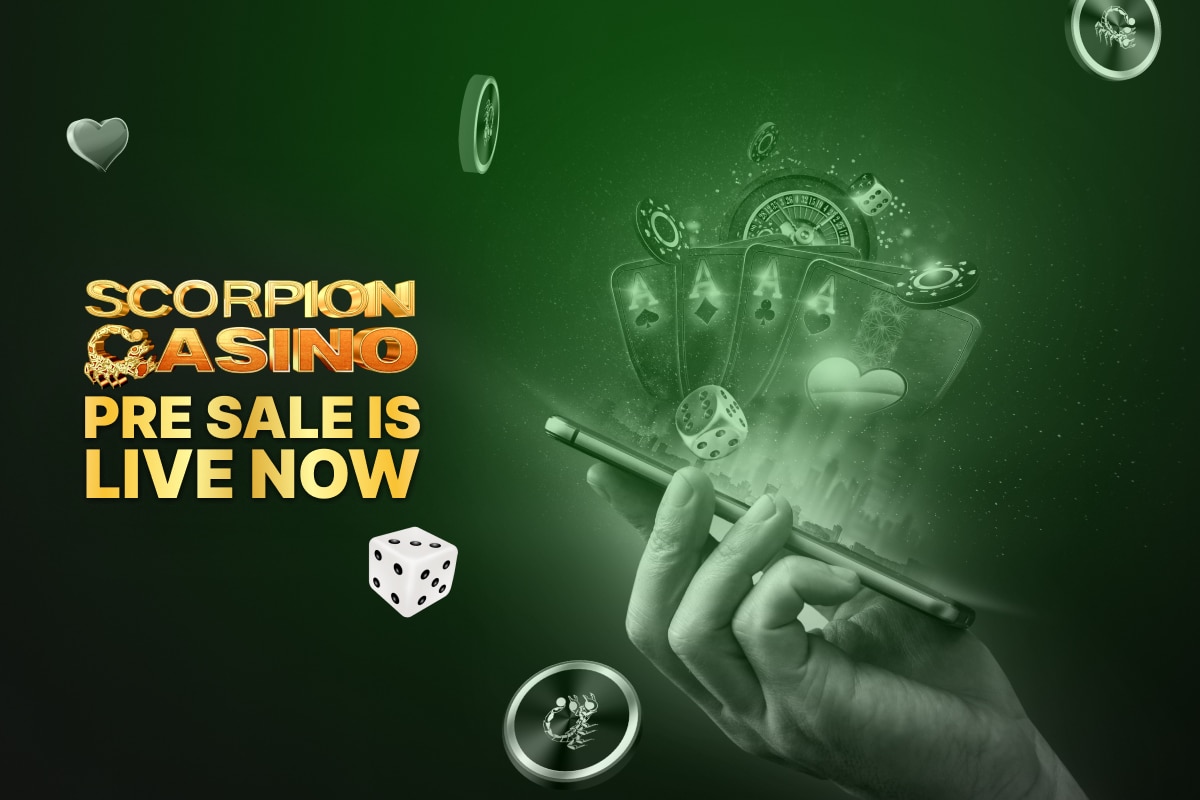 The safe gambling environment put forward by Scorpion Casino has the potential to onboard a large user base this year. The ecosystem consists of two key components:
A licensed crypto casino platform that lists 210 casino games like slots, blackjack, roulette, poker, and 160 live games.
A licensed sports betting section that covers an array of football, tennis, American football, horse racing, basketball, golf, boxing, and MMA events.
Users can access more than 30,000 betting opportunities via these platforms every month. Keeping in line with its mission to provide a safe gambling experience, Scorpion Casino works with credible providers like Evolution, NetEnt, Play N Go, Novomatic, EGT, and AMATIC.
Another key highlight of the crypto ecosystem is its strategically designed burning mechanism that maintains the healthy value of the token in the open market. Apart from long-term value appreciation, you can also take advantage of the reward and referral system of the platform. It has a daily staking reward potential of up to $10,000, facilitated by an integrated re-distribution system.
Scorpion Casino's unique offerings have won it a listing with a top-tier centralized exchange, with more coming. (To find out more about the platform's development and upcoming exchange listings, follow the community on Telegram and Twitter.)

If you want to invest in SCORP, it's best to not wait. The SCORP presale that is currently live gives you the most profitable entry into the project. (To get 20% extra tokens, use the Exclusive Bonus Code Scorpion20. Live for a limited period only).
| | |
| --- | --- |
| Token symbol | SCORP |
| Presale supply | 200,000,000 SCORP |
| Token type | BEP-20 |
| Payment methods | ETH, USDT, BNB |
| Listing price | $0.05 |
8.RobotEra (TARO) – Build NFT Robots and Mine in a Sandbox-Style Metaverse
Gamers looking for cryptocurrencies with big potential will likely be attracted to RobotEra. This is a sandbox-style gaming platform that transforms players into unique robot NFT characters. Within the RobotEra metaverse, players can create their own games, buy and build on virtual land, and plan events.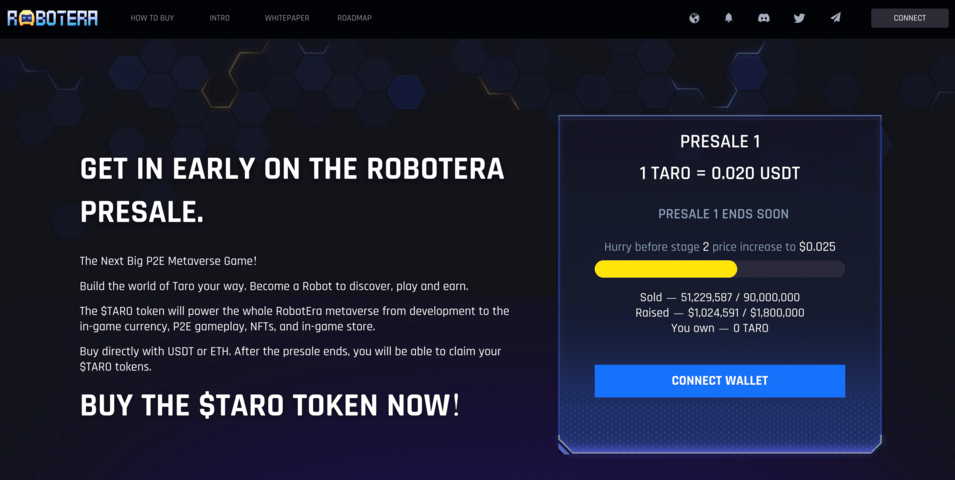 Players can build concert halls, museums, parks, and more on their own continents. While creating an interactive ecosystem, players will rebuild the planet TARO. Players can also construct and trade robot companions to help them. RobotEra's metaverse will connect social gaming with web3 technologies for an immersive experience.
TARO tokens are used to buy and sell robot companions, land, and other items in the RobotEra metaverse. Moreover, as RobotEra will also host play-to-earn (P2E) games, users can earn and accumulate TARO tokens. Players can also earn TARO while exploring the RobotEra metaverse, taking part in events, and mining.
TARO holders can also vote on the development of the project and are eligible for crypto airdrops. Those with an interest in the RobotEra metaverse can invest in the project via the ongoing going presale. TARO tokens can be purchased at $0.20 each, which offers a huge discount. After all, in stage two of the presale, the price of TARO will increase to $0.025.
| | |
| --- | --- |
| Presale Started | Q4 2022 |
| Purchase Methods | ETH, USDT |
| Chain | Ethereum |
| Min Investment | 1,000 TARO |
| Max Investment | None |
9. Tamadoge (TAMA) – Arcade Game Library on the Blockchain With NFT Pets
Tamadoge (TAMA) is one of the top penny cryptocurrencies with potential. The project is creating a gaming ecosystem that gives players the opportunity to earn crypto rewards. Each player will enter the game by minting a virtual pet. Tamadoge pets are backed by NFTs and each is unique.
Players can earn rewards by entering battles with other virtual pets. Rewards are paid in the native ERC-20 token, TAMA. Players can increase their chances of winning by buying NFT pets with different strengths. There are common, rare, and ultra-rare pets available to buy on OpenSea.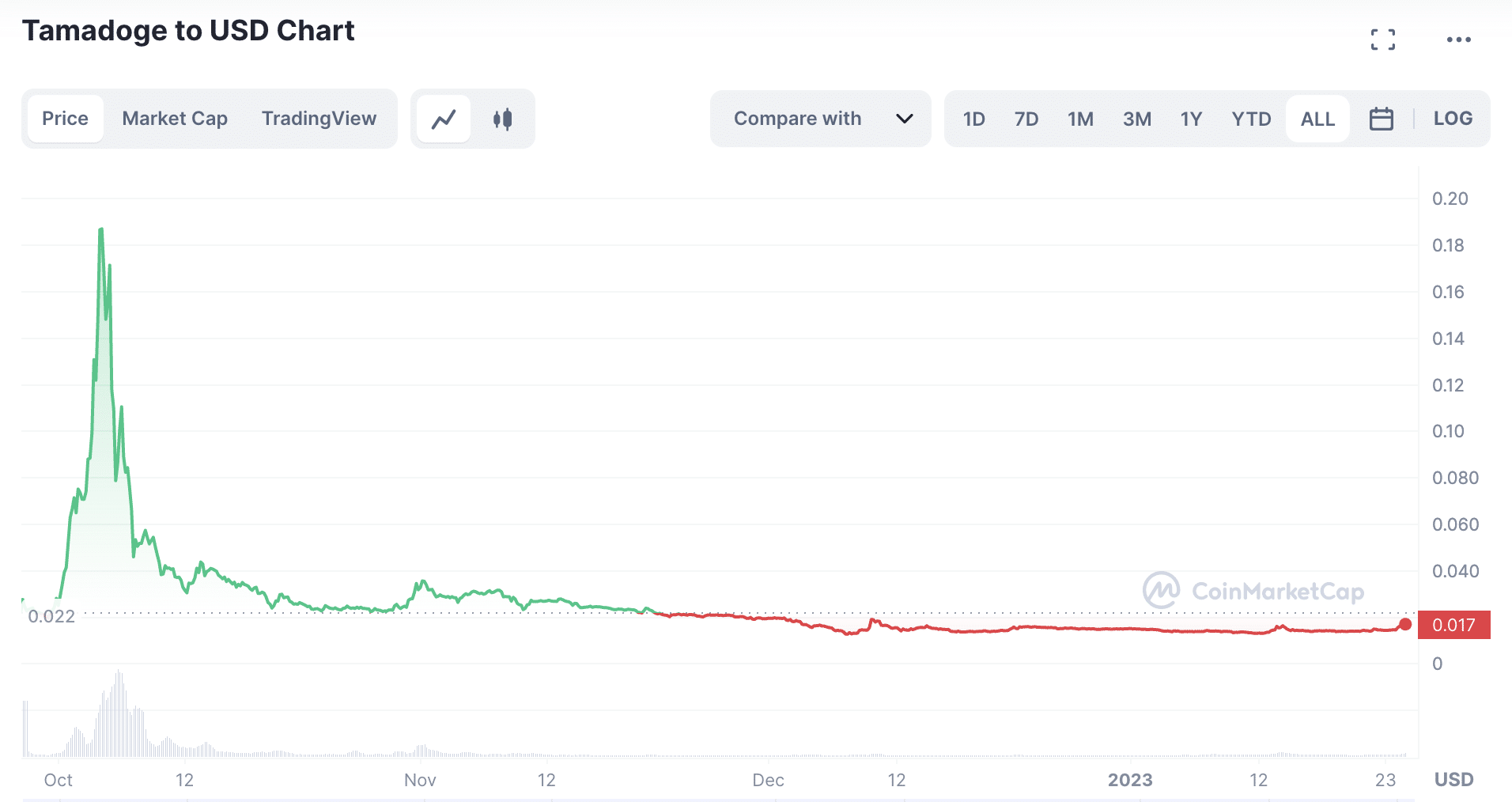 Alternatively, players can improve the strength of their virtual pets through training. As one of the best crypto games to invest in, Tamadoge also hosts a variety of arcade games within its ecosystem. Gaming titles include To the Moon, Rocket Doge, and Super Doge. More games are to follow, including Tamadoge Run and Tama Blast.
Tamadoge arcade games also offer the opportunity to earn TAMA tokens. We analyzed the Tamadoge whitepaper and discovered that the project is also working on augmented reality (AR). This will enable users to play Tamadoge games in an immersive environment. Taking all of these features into account, TAMA is the cryptocurrency with the highest potential in the P2E space.
TAMA is trading on several leading exchanges having already completed its $19 million presale. Based on its low market capitalization, TAMA is one of the best crypto assets to buy for long-term appreciation.
10. Gala (GALA) – Gaming Platform Facilitating NFT Ownership
Gala is a gaming platform built on the Ethereum blockchain. Its native token, GALA, is another gaming crypto with the highest potential for growth. This token is used for paying rewards in all supported Gala games. Unlike traditional video games, players own all in-game assets that they buy and earn without the Gala ecosystem.
These digital items are also tradable on the Gala marketplace. Investors who buy GALA tokens can also vote on the future of the project. As a gaming guild, Gala will host a wide variety of genres and titles. Categories include tabletop, simulation, third-person shooters, strategy, and card games among others.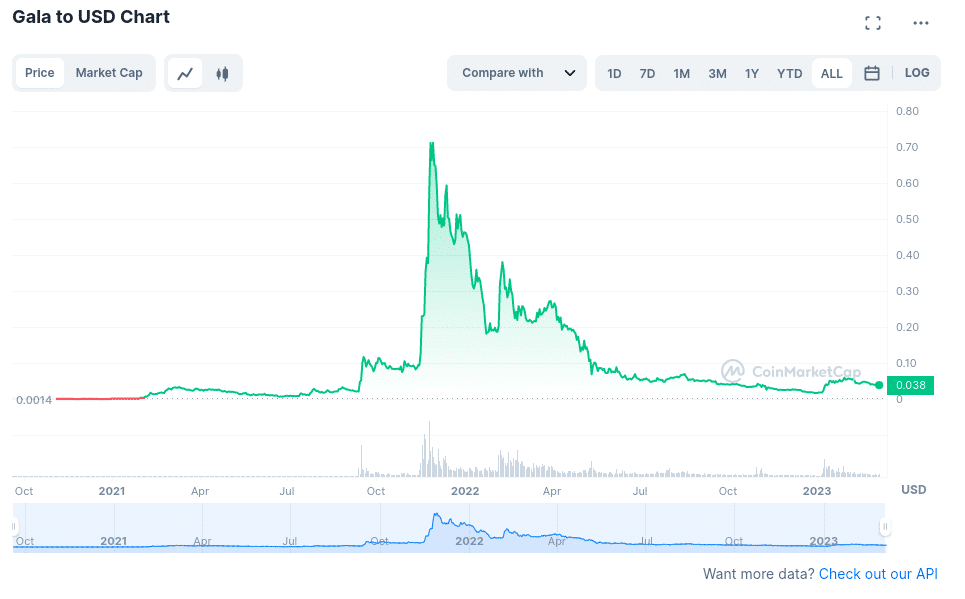 Gala is also working on a variety of NFT collections. This includes a recent partnership with Frank Miller and Concept Art House. The partnership will create NFTs based on the Sin City franchise, which is hugely popular with gamers. The Gala platform has over a million active monthly users – illustrating its popularity. GALA tokens can be purchased at eToro from just $10.
Cryptoassets are highly volatile and unregulated in most EU countries, Australia and the UK. No consumer protection. Tax on profits may apply. Your capital is at risk.
11. Orchid (OXT) – Open-Sourced Network and Decentralized VPN Provider
Orchid is a VPN network that facilitates anonymous multi-hop routing. As such, users can route an internet connection via more than one provider at once. OXT powers the platform and is one of the best cryptos with the most potential in 2023. To operate nodes, users need to stake OXT via an Ethereum smart contract.
This peer-to-peer tool creates a bandwidth decentralized market through a reliable central authority. This is achieved via a probabilistic nano payment system. The payment mechanism spreads out transfer fees to reduce costs. It's also scalable and can handle millions of transactions per second.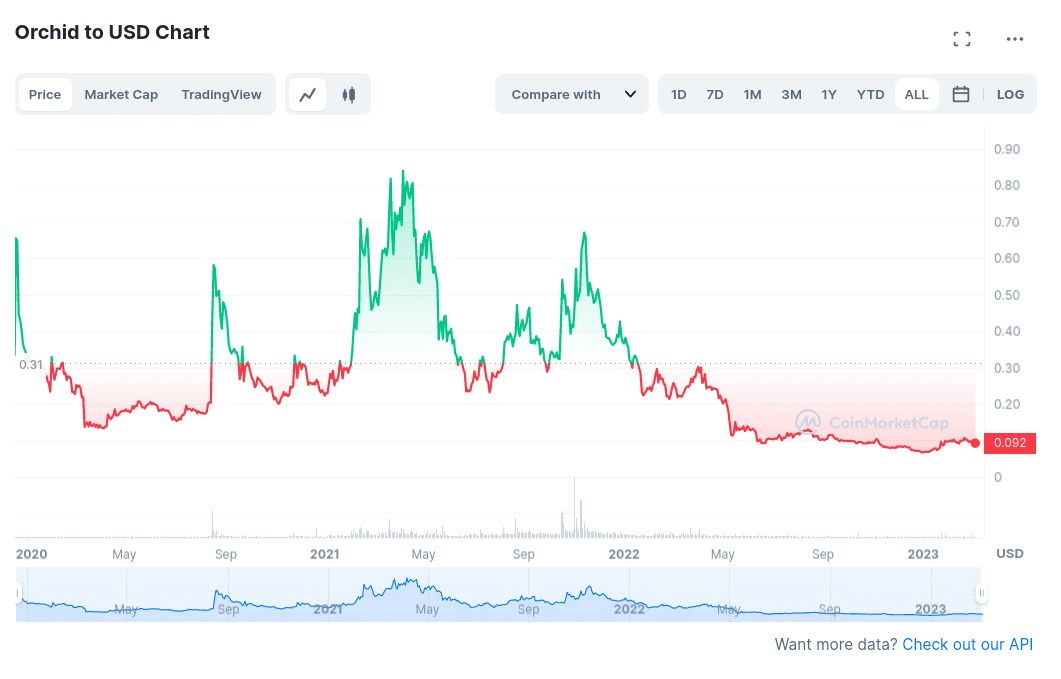 Orchid also offers a framework for advertising. Suppliers are chosen at random and weighted in proportion according to their stake in the project. Orchid's core features were created to give users better control of their private internet connection. At the time of writing, the market capitalization of Orchid is just $64 million – which offers plenty of upside.
Cryptoassets are highly volatile and unregulated in most EU countries, Australia and the UK. No consumer protection. Tax on profits may apply. Your capital is at risk.
12. Uniswap (UNI) – DeFi Token Powering Ethereum-Based Crypto Exchange
Uniswap is the largest DEX (decentralized exchange) platform by trading volume. As of writing, the 24-hour trading volume on Uniswap is over $665 million. Uniswap offers over 900 markets and 300 DeFi apps are integrated within its DEX.
This platform adopts an automated liquidity protocol to match buyers and sellers. As such, users can trade, earn, and build without intermediaries. The AMM (automated market maker) model also offers lower transaction fees for traders.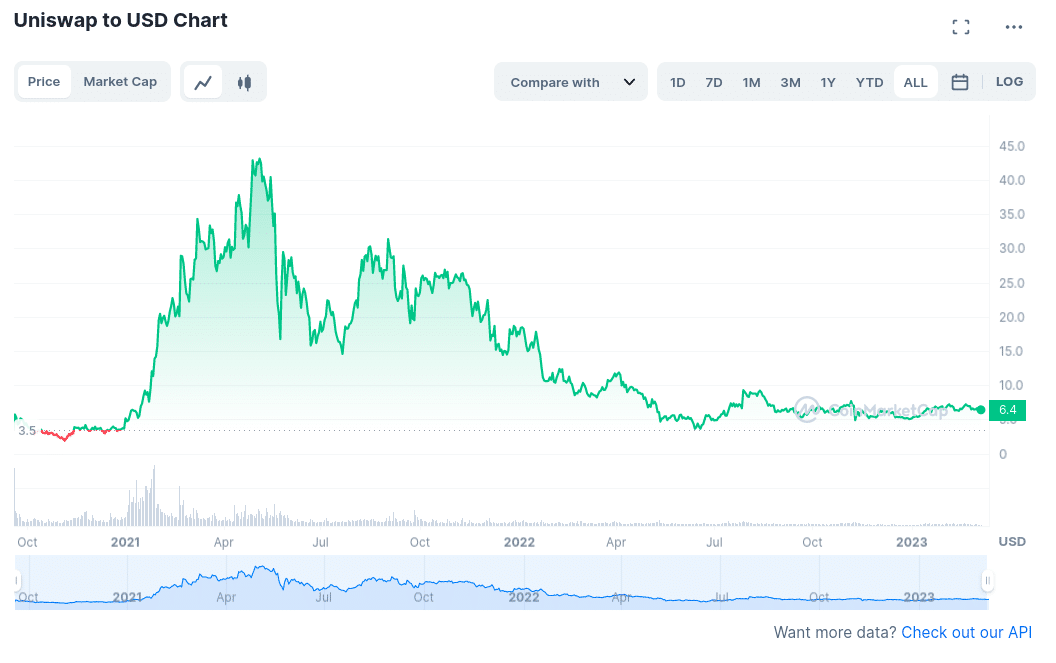 Amidst the challenging Crypto Winter, Uniswap's successful $165M funding round emerges as a bright spot for the DeFi sector, showcasing its resilience and potential for growth.
Its native token, UNI, could be the best crypto with the highest growth potential. Investors who hold UNI tokens can vote on governance proposals, trade crypto, and create liquidity pools. Uniswap offers rewards for creating liquidity. That is to say, all transaction fees are given to liquidity providers instead of the platform's founders.
Cryptoassets are highly volatile and unregulated in most EU countries, Australia and the UK. No consumer protection. Tax on profits may apply. Your capital is at risk.
13. EstateX (ESX) – Real-Estate Investing Platform Using Blockchain Technology
EstateX was founded in 2020 and is one of the best new penny cryptocurrencies with potential. The project facilitates fractional real-estate investments and is globally accessible. As such, EstateX has the potential to disrupt the real estate industry through tokenization. ESX tokens power the ecosystem and are used for governance, bonuses, and transactions.
Therefore, ESX is among the cryptos with the most potential for wide-scale adoption in 2023. Another benefit of EstateX is that it will appeal to real estate investors on a budget. After all, the project supports investments from just $100.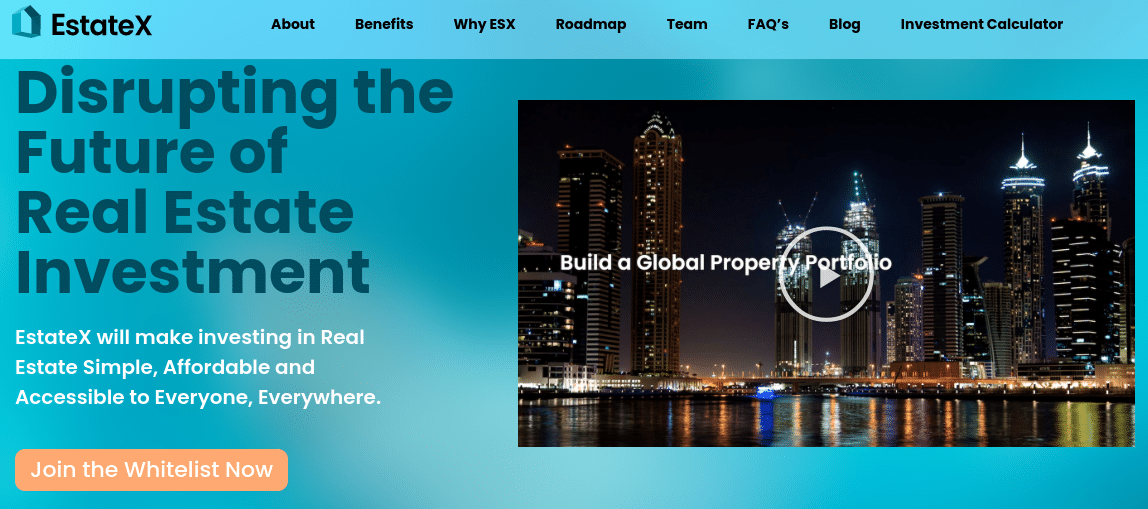 This is achieved through fractional investing and makes real estate more affordable to everyone. Investors can also earn a passive income through rental payments. This can be achieved without large deposits or credit checks. At the time of writing, ESX is on presale at $0.002 per token.
14. Metacade (MCADE) – Web3 Focused Meeting Place for GameFi and Crypto Enthusiasts
Gamers looking for the best cryptos with the most potential in 2023 could consider Metacade. This is a hub for the web3 community, such as gamers and developers. Metacade users can generate income, share ideas, and earn rewards.
The native token is MCADE, which is used for rewards, voting, staking, and more. Metacade will be self-sustainable. This is because the economy will include advertising revenue, P2E arcade games, tournaments, and game testing. Test contributors will also be rewarded with limited edition staking and MCADE tokens.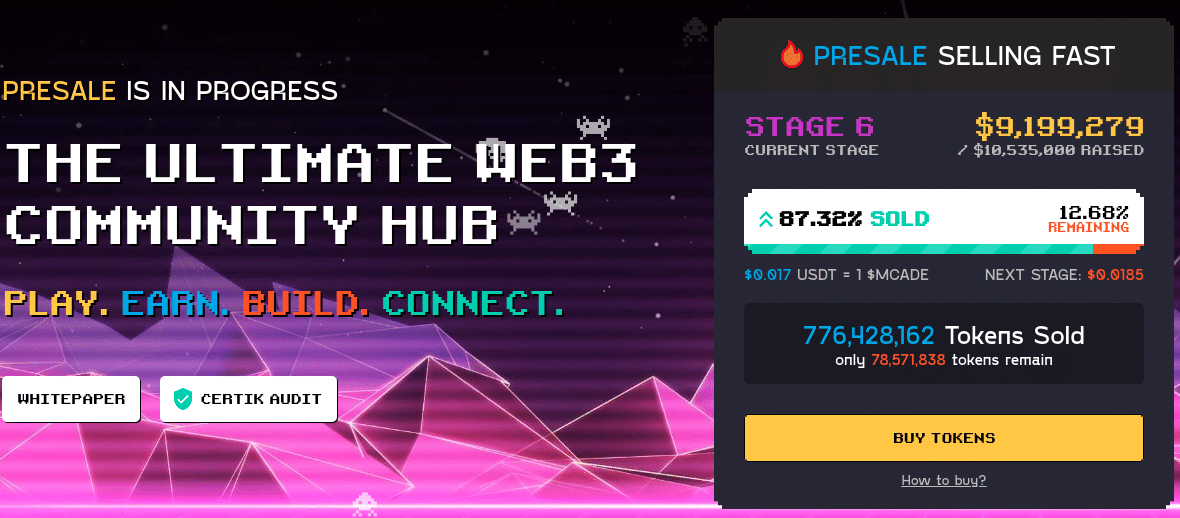 As such, MCADE is among the cryptocurrencies with big potential in the web3 space. Investors that buy MCADE tokens during stage six of the presale can secure a discounted price of $0.017 each. This will increase to $0.0185 in stage seven. The presale has already raised over $9 million and is almost 90% of the way through.
15. Evameta Token (EMT) – Upcoming Presale Meme Token With Community Governance
Evameta Token is a new cryptocurrency with potential to explode in the coming months. This project is building a multichain financial engine and the system is indirectly supported by staking.
The platform also offers a multichain ecosystem for NFT staking protocols. Investors can buy NFTs with EMT tokens and stake them to earn rewards. Moreover, those who buy and hold at least 200 EMT tokens will also earn BNB.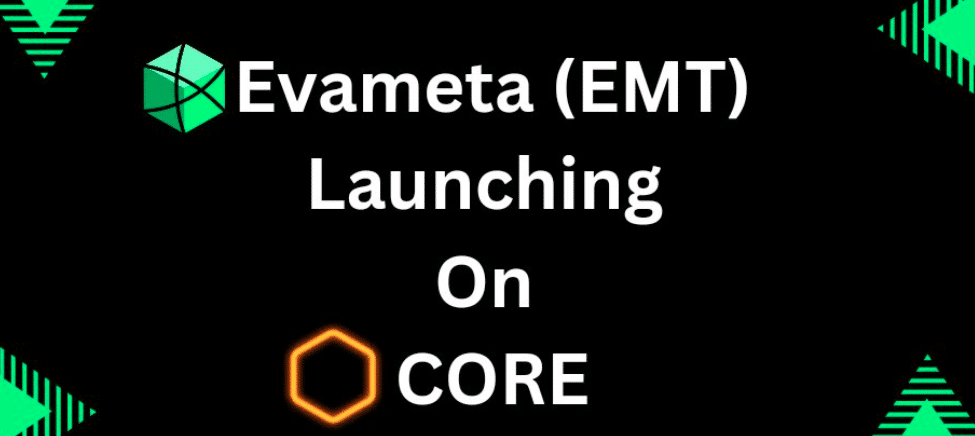 Evameta Token holders are given 5% of every EMT transaction via a reflection program. In terms of legitimacy, the project has partnered with Vital Block to audit its smart contract code. This highlights that the project is taking network security seriously. The presale campaign for EMT tokens is about to begin. Early-bird investors will secure the best price possible.
How to Find the Highest Potential Cryptocurrency
Wondering how to find cryptos with high potential? Read on to discover the best ways to find the next 10x project.
Adoption and Use-Cases
Investors looking for the most profitable cryptocurrencies with the highest potential should consider their use cases. The adoption of crypto no longer refers to acceptance as a payment option alone. Newer blockchain-based initiatives focus on web3 applications such as vote-to-earn and the metaverse.
Find Presale Cryptos
When searching for cryptocurrency with the most potential, a great starting point is to explore presales. This is because presales offer a low entry price to early investors and have plenty of room to grow. But how do you know which crypto could become the next Ethereum?
Here's an example of a presale crypto with high potential in 2023:
The price of C+Charge (CCHG) tokens is currency at $0.018. They will be listed on exchanges at $0.0235. Therefore, this offers an upside of over 30%.

AiDoge ($AI) is currently sold for $0.0000308, but its price is set to increase by 5% in each subsequent presale stage. At the time of listing, the token's price will rise to $0.00003360.
As such, presales offer a great way to find crypto with the highest growth potential in 2023.
Social Networking Services
Investors looking for a cryptocurrency with the most potential might also find some tips on social media platforms. This is great for finding up-to-date information on the most searched cryptocurrencies and quality projects that are trending.
For instance, Twitter notifications for suitable keywords like 'new crypto', or 'crypto presale' are worth considering. Reddit is another good platform for finding cryptocurrencies. This platform has many groups dedicated to finding cryptos with the most potential, such as r/CryptoMoonShots.
Another place to find cryptocurrencies with big potential is YouTube. For example, Jacob Bury has a crypto-dedicated YouTube channel with almost 12,000 subscribers. Bury carries out technical analyses and talks about crypto projects he thinks will blow up. This includes crypto presales and new projects that he believes will produce notable gains for investors.
How to Avoid Low-Potential Cryptocurrencies?
Industry experts believe that the toughest challenges for cryptocurrency are still to come, rather than being confined to the past, as the rapidly evolving landscape presents new obstacles and opportunities.
In the rapidly evolving world of cryptocurrencies, investors must avoid low-potential cryptocurrencies that may result in suboptimal returns or even financial loss.
Here are some key strategies to help you steer clear of such investments:
Research: Conduct thorough research on the cryptocurrency project, its team, and its technology. Examine the project's whitepaper to understand its objectives, use cases, and roadmap. A well-structured and detailed whitepaper is a good sign of a project with potential.
Utility and Adoption: Assess the utility of the token or coin, and consider whether it has a practical application that can drive demand and adoption. A cryptocurrency with strong utility and growing adoption is more likely to have a promising future.
Community and Social Media: Investigate the project's community and social media presence. A strong and engaged community can be indicative of a project with potential. This is the case with the best cryptos on Reddit. Be cautious of projects with fake followers or low engagement levels, as these may be signs of a low potential cryptocurrency.
Development Activity: Examine the development activity of the project by checking its code repositories, such as GitHub. Regular updates and a committed development team can indicate a project's potential.
Transparency and Regulation: Ensure the project maintains transparency and meets regulatory requirements. Transparent projects with regulatory compliance are less likely to face legal challenges, which can impact their potential.
Partnerships and Industry Support: Look for projects with strategic partnerships and support from established industry players. Such backing can contribute to the credibility and potential growth of a cryptocurrency.
Conclusion – Which Crypto has the Most Potential?
All things considered, AiDoge is the crypto with the highest potential in 2023. Combining the power of artificial intelligence with the popularity of memes, AiDoge offers a fantastic utility that can build a large community.
Many have already recognized the project's value, which has led it to amass more than $8 million in presale. Click on the link below to grab your tokens now before the project enters the following presale stage and the price increases.
FAQs
Which is the best potential cryptocurrency to invest in?
Which new cryptos have the brightest future?