The gig economy is thriving, and DeeLance, the popular new presale coin, hopes to capitalize on the trend. Currently, at the beginning of its stage ongoing presale and already being picked up by high-profile industry figures, we wanted to explore how far this could go in terms of the best cryptocurrency to invest in.
With that in mind, this article is an in-depth DeeLance price prediction, covering its potential between 2023 and 2030. We break down what the coin is, its tokenomics, use cases, demand and much more.
DeeLance Price Prediction – Quick Overview
Before we jump in, here's a quick summary of the potential prices for DeeLance in the years ahead.
End of 2023: By the end of the year, we can expect to see the DeeLance roadmap to fully roll out. The coin will also have its IEO, which could cause massive media hype. This leads us to a price estimate of $0.04.
End of 2025: The end of 2025 will see the crypto bull market booming along with the continued gig economy growth. As a result, we estimate a price of $0.06 per token.
End of 2030: The DeeLance platform could cement itself as the link between the gig economy and crypto. With that in mind, the price could reach $0.60 per token, with value coming from real utility rather than speculation.
DeeLance Price History
DeeLance is brand new to the crypto space, currently in its stage one presale at $0.025. So far, the project has raised over $25k, with a target of $600k before moving to the next round of presale, where the price will go up.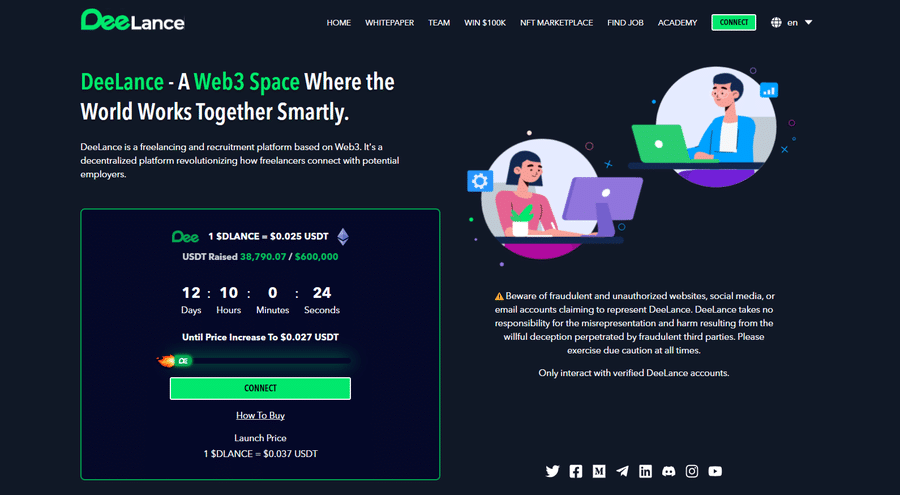 That said, the DeeLance team is doing a fantastic job, as pundits are already touting it to be the next crypto to explode.
So you might be wondering, what gives DeeLance so much potential? It comes down to two main things: solving real-world issues and brilliant tokenomics.
We will see how DeeLance tackles real-world issues of freelancing and ownership rights shortly. But for now, you must understand the use cases of the $DLANCE token, as this ultimately decides the price.
The $DLANCE token is the centre of the DeeLance ecosystem. Website users pay for services, NFTs, metaverse real estate and advertisements with the token. In short, if there is demand for the project, the token will also be in high order, in turn boosting its price.
The total supply for the coin is 1 billion, with 30% of tokens being offered in presale with a $2.5 million hard cap.
The token distribution is 10% for liquidity, 2% for airdrops and rewards and 16% for CEX listings. The remaining tokens are locked to be released later for partnerships, the team and the development and operational expenses of the platform.
The DeeLance presale will occur in three separate stages. Currently, it is in its first stage, and the token price is $0.025, with the second round commencing at $0.027 and the final round at $0.03.
Lastly, the IEO will start at $0.035. This could trigger a massive surge similar to that of Tamadoge.
LHINU Price History – Key Points
Based on the facts presented so far, it is clear to see DeeLance could be one of the most promising cryptos to invest in. But before going further, here's a key point summary of the price history.
| | |
| --- | --- |
| Presale Started | 30 March 2023 |
| Purchase Methods | ETH, USDT, Fiat |
| Chain | Ethereum |
| Hard Cap | $2.5 million |
DeeLance Price Prediction 2023
Already touted as one of the best crypto presales to look out for, we expect big things for DeeLance this year. Judging from its media attention at this early stage, we expect the project to undergo a massively successful presale before exploding in price following its IEO.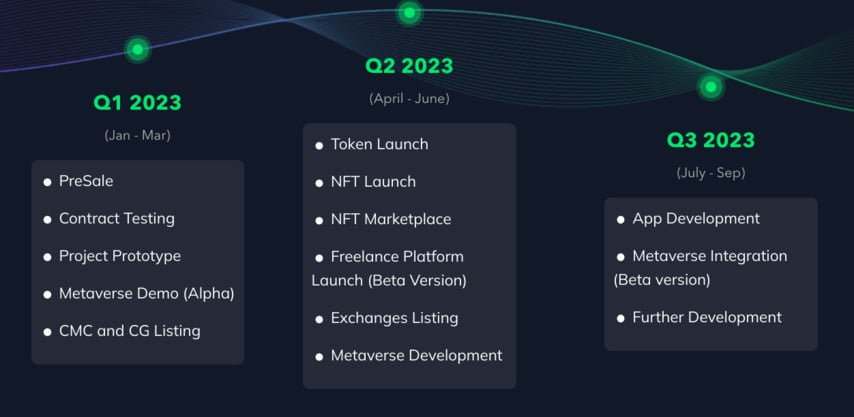 An important thing to note when considering its short-term price is that 42% of tokens will be locked. This means there will not be too much sell pressure following the IEO.
Moreover, this year will see some considerable developments for DeeLance, including NFTs and the NFT marketplace launch, the freelance platform launch, exchange listings and the metaverse launch.
That said, 2023 will be a massive year of innovation for the DeeLance crypto. With the project already amassing media and investor attention, this will likely explode the IEO.
Therefore, we expect the DeeLance token price to increase to $0.04, putting it in the conversation for the cryptos to watch in 2023. This price would put the fully diluted market cap at 40 million.
The two main reasons for our estimation are the platform's utility and the notoriety DeeLance has already experienced.
DeeLance Price Prediction 2025
While 2023 will see the DeeLance crypto execute its roadmap, 2025 will be when the platform begins to gain mass adoption.
This is when demand for the $DLANCE token demand turns from speculative to utility-based. We expect a growing number of users to join the platform, thus increasing the demand for the token.
With much of the DeeLance project focusing on freelance contracts, the demand and success of DeeLance ultimately align with the performance of the gig economy.
A report by the World Economic Forum expects the gig economy to surge by 2025. Also, Statistica, the consumer data analysis platform, estimates an increase to 79.6 million US workers in the gig economy by 2025 and 90.1 million by 2030.
DeeLance addresses many issues that web2 freelancing platforms face through blockchain. We will explore many of these issues in our next section, but for now, it's important to note DeeLance's problem-solving approach when considering its potential price for 2025.
With this in mind, and considering the end of 2025 will likely be around the peak of the crypto altcoin season, we estimate a $DLANCE price of $0.06. This would put the fully diluted market cap at 60 million, which could prove to be a conservative estimation if the hype continues and the team executes as planned.
DeeLance Price Prediction 2030
Estimating a price seven years into the future is challenging as several variables are at play. However, breaking it down into smaller segments of supply and demand will give us a better understanding of the long-term potential for DeeLance.
Thanks to the internet, workforces are becoming increasingly globalized. A lot of the time, it is easier for employers to manage "gig workers" rather than full-time remote employees. Gig work allows the employer and employee to carry out frictionless remote work.
On top of this, cryptocurrency and web3 are designed to enhance borderless payments and transfers of data. This is especially important in the freelance industry, where reaching an agreement over a dispute between international parties might be difficult.
DeeLance solves this issue by issuing work as NFTs that can prove ownership of work.
In this regard, the DeeLance platform fixes a key issue that prevents many businesses from hiring international personnel. Therefore, the seamless and trustless nature of the platform could see it grab a considerable amount of the gig economy's market share by 2030.
If the platform does capture a sizeable amount of the gig economy market, the demand for $DLANCE will explode, naturally causing its price to surge.
With this in mind, by the end of 2030, we can expect a fully diluted market cap of around $600 million or a $DLANCE price of $0.60. From its current presale price of $0.025, this would amount to a 2,400% return for investors.
Potential Highs and Lows for DeeLance
Considering its problem-solving approach to one of the most prominent trends of the past decade, DeeLance has the potential to be one of the best altcoins to buy. Check out the table below for a summary of our DeeLance price prediction for 2023-2030.
| | | |
| --- | --- | --- |
| Year | Potential High | Potential Low |
| 2023 | $0.04 | $0.035 |
| 2025 | $0.06 | $0.055 |
| 2030 | $0.60 | $0.45 |
What Is DeeLance?
Now that we have established our DeeLance price predictions, it is time to break down what the project is and what problems it solves.
For any crypto project to succeed, it needs to generate demand. The most efficient way to do this is by delivering real-world utility that solves common issues.

In simple terms, DeeLance is an online marketplace that connects recruiters and freelancers. That said, what makes it different from any other freelancer platform?
As we mentioned earlier, DeeLance tackles some core issues that users of web2 freelancing sites face.
The first is the issue of ownership. Work ownership and copyrights can be complex in remote and international business settings. However, with DeeLance, the owner of the work is verifiable on the Ethereum blockchain and transfers of completed work are also recorded and immutable.
When freelancers create a piece of work, they can mint it as an NFT that they can transfer to the recruiter via an escrowed account. This transaction is recorded on the blockchain, making it easy to prove who owns the work.
Next, many freelancing platforms charge upwards of 10% fees on transactions. This artificially inflates prices, sometimes causing freelancers and recruiters to look outside traditional platforms. But due to the peer-to-peer nature of DeeLance, the platform is much more cost-friendly, only charging 2% fees on transactions.
Finally, the bane of international remote work is the ludicrous fees and poor exchange rates that banks and payment networks provide for international transfers. But thanks to DeeLance leveraging blockchain tech, payments are made in the $DLANCE token for a fraction of the fees of fiat transfers.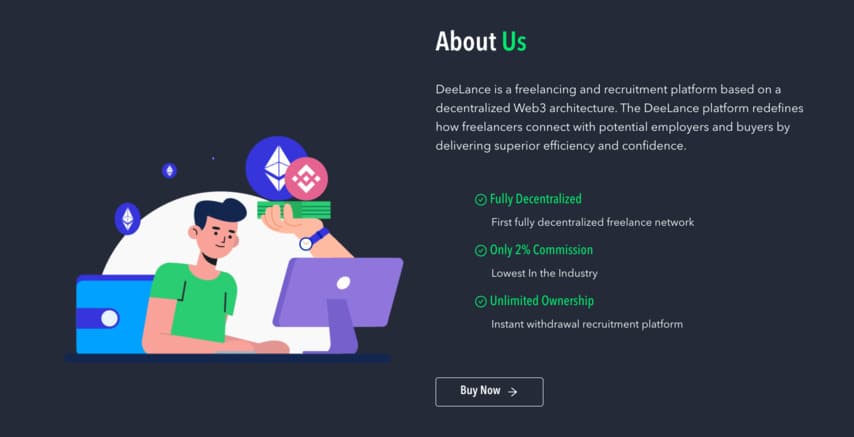 Before we go further, let's break down some of the project's key features. The first is the job recruitment section; users can easily search for jobs with an advanced range of filters. It comes with a seamless user interface and easy management of active jobs.
Next is the NFT marketplace. This is where creators can mint a piece of their work as an NFT, such as a piece of art, content or piece of software, and sell it on the DeeLance marketplace.
And lastly is the DeeLance metaverse, which will be used as a corporate meeting point for remote workers to collaborate, with land and offices for sale, among other things.
Keep in mind that users will pay for all the services with the $DLANCE, creating actual demand and utility for the token.
In conclusion, the cryptocurrency industry has been among the best-performing and most revolutionary of the past decade. Many industry players prefer to use blockchain-native tech whenever possible. Combining gig work and crypto gives DeeLance the potential to succeed long-term.
Factors Affecting the Price of DeeLance
To determine whether DeeLance is one of the best long-term cryptos, you must understand the factors influencing its future price. This section runs through some of the most important ones.
Gig Economy
DeeLance is strategically placed as the best crypto freelance platform, but this means the coin's price is coupled with the performance of the gig economy. 2022 saw some remote workers returning to the office, but studies show the trend for remote work remains on the rise.
An increasing market of remote workers will naturally lead to more "gig-type" jobs, creating a continuous stream of demand for platforms like DeeLance. Ultimately this will drive up the price of the platform's token.
Globalisation
Thanks to the internet, social media, and gig-economy platforms like DeeLance, many companies outsource their work to agencies or freelancers in other nations.
Sometimes this can be due to a lack of specific knowledge in their country, or it can be to save on costs. But whatever the reason, the globalisation of the online workforce continues to explode. With this in mind, businesses will look for a freelancing platform that solves cross-border issues such as payments and ownership rights.
Limited Supply
An unlimited token supply, or poor tokenomics, can hold down the price despite significant demand. That said, DeeLance has a capped supply of 1 billion tokens and a vesting schedule to ensure the coins are distributed fairly and evenly to prevent market manipulation or a supply shock.
Media-Driven Hype
So far, DeeLance has received tremendous media coverage. Looking ahead, we expect to see a lot more, considering the early stage of the project. Ultimately, coverage by media and high-profile figures can boost demand for the coin, causing its price to surge.
Furthermore, the project has already amassed 11K Twitter followers, showing inventors and the crypto community are already taking notice.
Is DeeLance the Best Crypto to Buy in 2023?
Statistica found the global gig economy is worth $455 billion in 2023; meanwhile, the total crypto market cap sits at $1.1 trillion. This means DeeLance sits between two massive growing industries, both thriving and having long-term potential.
The great thing about DeeLance is that it benefits traditional web2 gig platform users and is desirable for many recruiters and freelancers in crypto as it is native to their industry. This means the platform should be able to garner a wide range of talent and opportunities, which gives the token massive potential.
Providing the DeeLance development stage continues to run successfully; the platform could be set to achieve big things in the gig economy space.
How to Buy DeeLance Crypto – Quick-Step Guide
Before we tie things up with our conclusion, let's quickly run through the steps you can take to buy the $DLANCE coin.
Step 1 – Create a Crypto Wallet
Firstly, set up an ERC-20 (Ethereum chain) wallet. The most popular wallet is a MetaMask, which is easy to get started with, and you can create a wallet from your browser or phone.

Step 2 – Purchase Crypto to Fund DLANCE Investment
If you're paying by card, you can skip this step. But if you are paying with crypto, connect your card to MetaMask and top up your balance, or send fiat to a centralised exchange and swap for ETH or USDT before sending it to your MetaMask wallet.
Step 3 – Connect Wallet to Presale
Next, visit the DeeLance website and connect your wallet. Simply click connect on the home page and follow the instructions.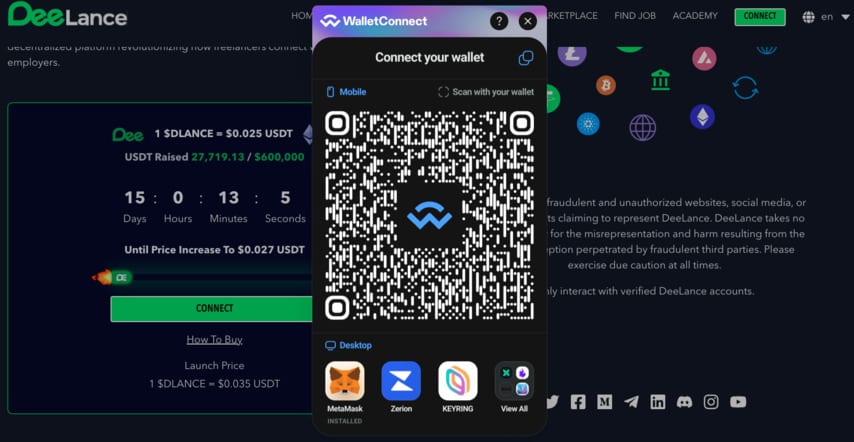 Step 4 – Buy DLANCE Tokens
Choose your payment method, select the number of tokens you want to purchase and click approve. Then follow the instructions to complete your payment.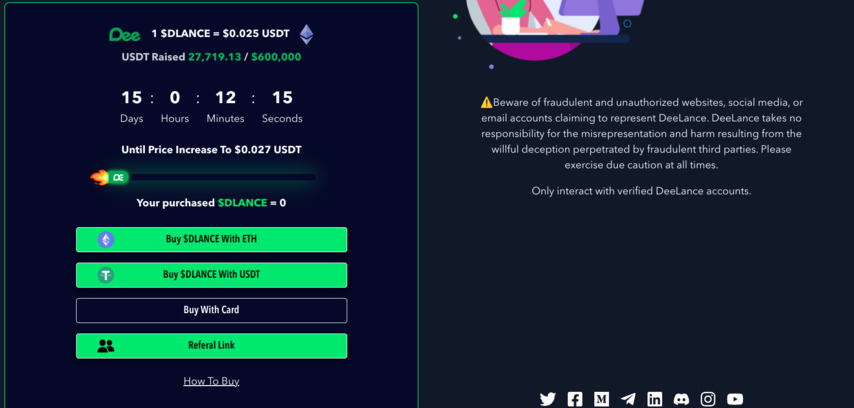 Step 5 – Claim Tokens
The end of the presale will trigger a token generation event (TGE), following which, investors can claim their tokens from the DeeLance website.
DeeLance Price Prediction – Final Thoughts
This DeeLance price prediction has covered our estimated prices for the years ahead for the coin, along with the contributing factors and how to buy.
Considering it is still in its stage one presale, we can expect to see big things for DeeLance moving forward. That said, the price of the coin is only going to rise from here, making now the perfect time to buy for investors looking for a brilliant deal.
FAQs
What will the DeeLance price be in 2025
Is DeeLance a good investment opportunity?
How much is DeeLance currently worth?