DigiToads is an upcoming memecoin with both P2E and S2E (Play-to-Earn and Stake-to-Earn) fundamentals. The $TOADS token launched as a presale that has now reached stage five, and just over 200 million Tokens have been sold already.
The recent surge in memecoins has led the markets to look into other new meme coin projects, chasing the next Pepe (PEPE). Can DigiToads make the cut and generate parabolic gains? We look into this in our DigiToads price prediction.
DigiToads Price Prediction Summary
End of 2023 – DigiToads has completed 95% of its presale and has already raised close to $3 million. Once the presale concludes and the token generation event begins, an eventual dump may push the token's value below the listing price. But as macroeconomic factors take hold and more of DigiToad's roadmap start to show development, the token's value can come back on track. Some of these features include trading school, P2E games, NFT staking, and eco-friendly measures. But macroeconomic conditions will be the major drivers for this crypto, pushing it closer to the $0.08 mark by the end of 2023.
End of 2024 – The platform has the potential to capitalize on its P2E and S2E fundamentals, coupled with its community-centric focus. It can expect considerable traction with its gaming and staking features and the envisioned decentralized exchange launch. Owing to these developments and assuming favorable market conditions, the token's value could rise to around $0.15. However, volatility and macroeconomic factors may result in the token value fluctuating from $0.08 to $0.15.
End of 2025 – DigiToads has provided a robust roadmap but has done so without providing a timeline. That means this project can realize its entire vision in 2025 or can go beyond. That will be a major factor in determining how well this token does once it's in full swing. At best, the token can be valued at $0.3 by the end of 2025. And at worst, it might settle around the $0.12 level.
End of 2030 – DigiToads' performance in 2030 will depend a lot on how crypto regulations see staking. Another determinant factor might be how it is able to compete against the likes of Dogecoin or even Pepe. We estimate that this token's value by the end of 2030 will be around $0.9.
DigiToads Price History
DigiToads has followed the same route as other presales, opting to incorporate multiple stages. Currently, the presale is at its fifth stage, and it has already raised close to $3 million at the time of writing. The current presale stage, also known as Lilypad 5, has priced DigiToads at $0.024 USD.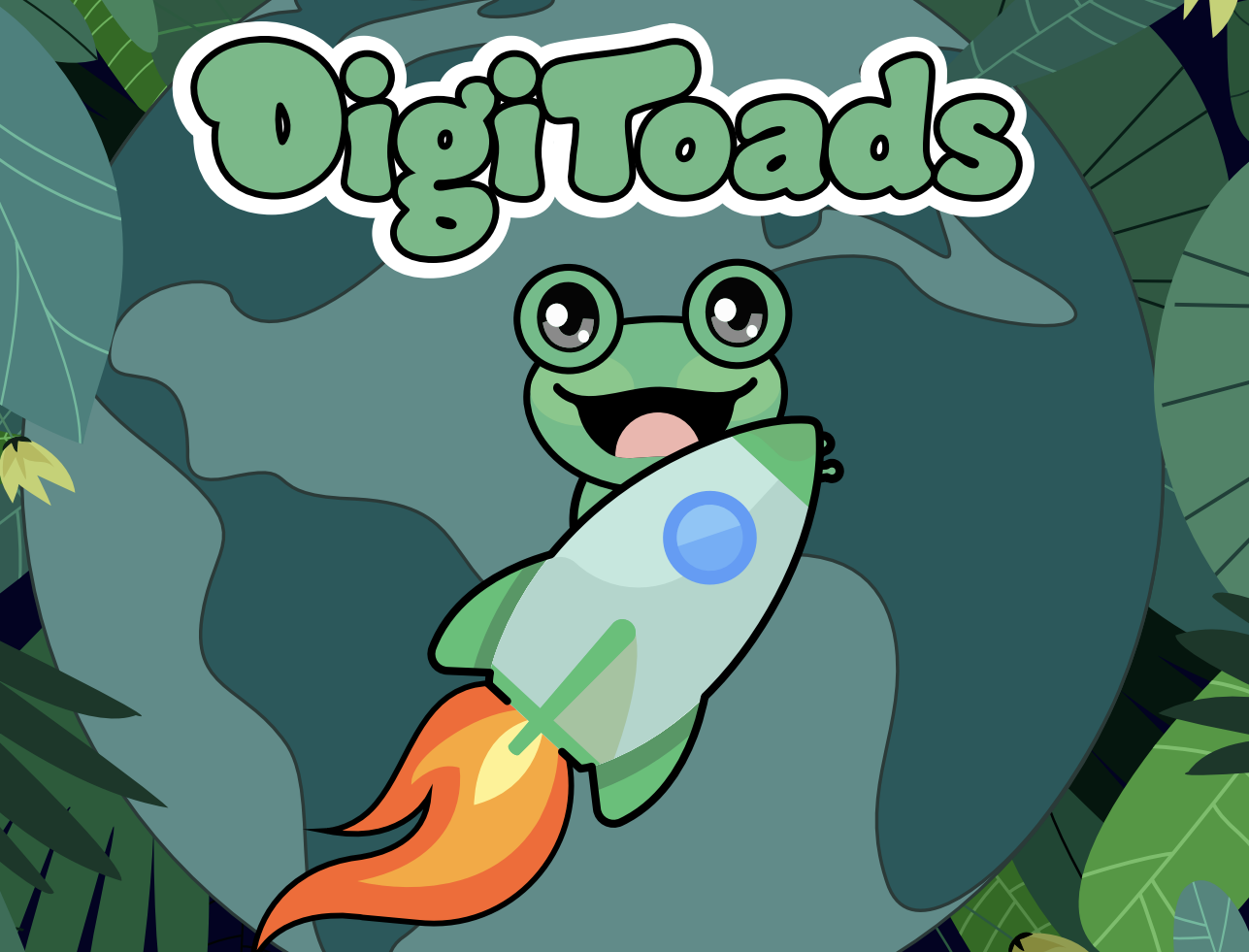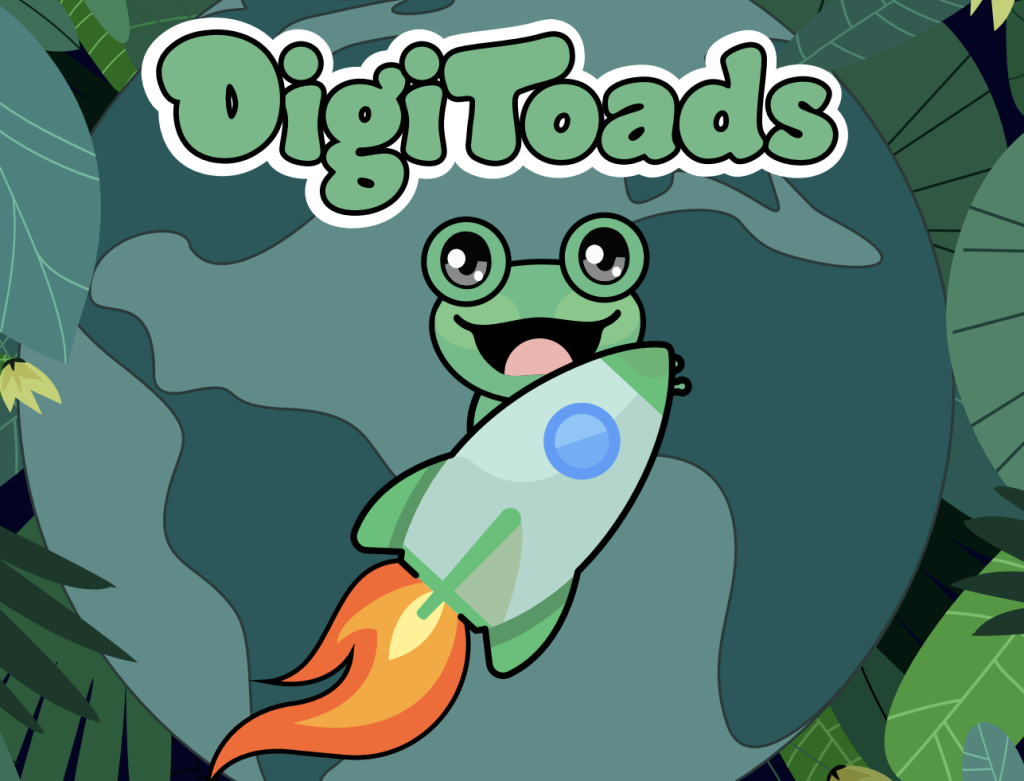 The conclusion of this stage will increase the price of the token to $0.027. DigiToads value during the first stage was $0.01, and the listing price has been set at $0.05. It means that those who invested in this token during the first stage would make 500% gains during the listing process.
DigiToads Key Points
Here are the key points associated with the DigiToads token:
| | |
| --- | --- |
| Presale Started | March 2023 |
| Purchase Methods | USDT, ETH, BTC, TRON, UNI |
| Chain | Ethereum |
| Hard Cap | No information yet available |
| Listing Price | $0.0006 |
DigiToads Price Prediction 2023
2023 has been shaping up to be a year for the memecoins. Pepe (PEPE) surged massively over the course of 15 days and reached a $1 billion marketcap before retracing. And tokens like SpongeBob (SPONGE) have started to garner a lot of attention from the crypto community.
These facts indicate that people are looking for better crypto investments with the possibility of huge gains – and memecoins make the cut. DigiToads has many utilities to speak of. But it is marketing itself as a memecoin – and that factor will be the one that pushes it to perform volatility.
If the current interest that people have in memecoins persists throughout the year, DigiToads can potentially go up even more than the listing price. In the most bullish case, we predict that DigiToads could trade around the $0.08 mark.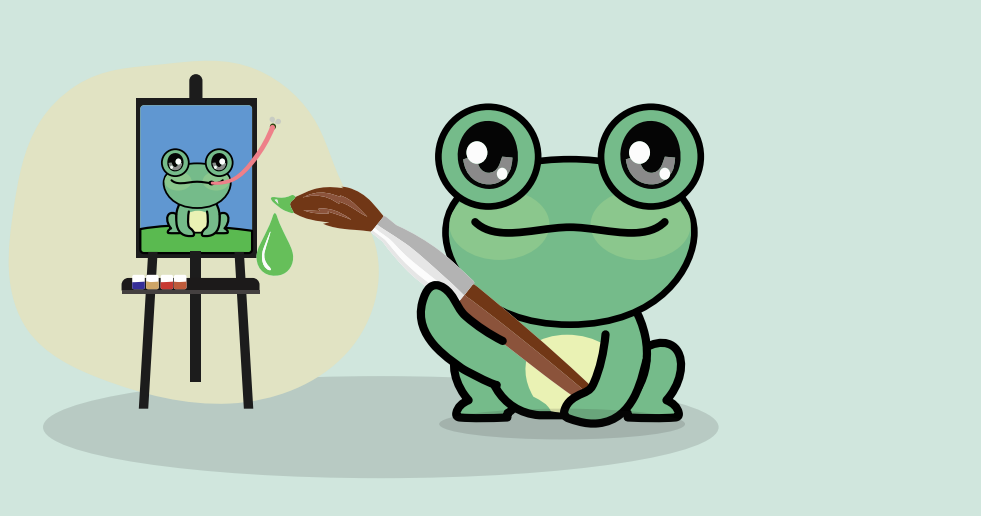 DigiToads Price Prediction 2024
DigiToads has been marked as a promising project with significant potential for growth. By 2024, the ecosystem should be fully operational, and the play-to-earn (P2E) and stake-to-earn (S2E) features fully implemented. These two unique attributes have the potential to drastically enhance user engagement and provide sustainable growth for DigiToads.
Another key aspect of DigiToads' ecosystem is its dedicated 'Toad School', an educational initiative set to offer a full trading course for users holding three or more TOADS NFTs. This educational initiative is expected to attract more users to the platform and create a more informed and engaged community. It may also provide an additional incentive for individuals to acquire and hold TOADS tokens.
However, DigiToads' performance in 2024 will largely depend on its ability to execute its roadmap effectively, as well as broader market conditions. Based on these considerations, we predict that the DigiToads token could reach a value of $0.15 by the end of 2024.
DigiToads Price Prediction 2025
The interest people have in memecoins in the second quarter of 2023 might not persist going into 2025. That will make the development done on the DigiToads ecosystem the primary driver behind its growth. DigiToads has stated in its official whitepaper that many of its developments, from the staking mechanism to NFT games, would be available by them. Those factors can help DigiToads reach $0.3 by the end of 2025.
DigiToads Price Prediction 2030
When the DigiToads finally gets launched, it might become one of the top 20 memecoins to be there. And since its total supply is far lower than Dogecoin, the deflationary aspect, which comes from the 2% token burn as mentioned in the whitepaper, may allow it to flip the world's leading memecoin.
Another major price driver for this token would be the regulations. 2030 will see most regulations around crypto consolidating. The staking factor of DigiToads can be affected by that, but that would depend on how well this token implements it. Based on these factors, we believe that DigiToads will go up to $0.9 by the end of 2030.
Possible Highs and Lows for DigiToads
Here are the possible highs and lows that we can expect from Digitoads in days to come.
| | | |
| --- | --- | --- |
| Year | Potential High | Potential Low |
| 2023 | $0.08 | $0.05 |
| 2024 | $0.15 | $0.08 |
| 2025 | $0.3 | $0.12 |
| 2030 | $0.9 | $0.4 |
Memecoins, utility or not, don't follow the general market's trajectory. Their price is influenced by the virality of the token in a major way. DigiToads has some resemblance with PEPE, a memecoin that reached a $1 billion market cap in 2023. While it may not be able to completely follow PEPE's route, since most of its Twitter posts would be based upon talking about utilities, DigiToads may be able to get close if it puts its meme-nature at the forefront.
Other Traders & Analysts DigiToads Predictions
From prominent crypto analysts to influential YouTubers, here's a brief roundup of what some other significant figures in the space have to say:
Jim Crypto: A popular figure in the crypto space with a substantial following of 75,000 individuals, Jim Crypto has voiced his optimism regarding DigiToads. He has suggested the possibility of DigiToads experiencing a significant surge in value, indicating a potential 100x growth. While this is an ambitious prediction, it illustrates the high expectations some have for this digital asset.
FinTech Channel: This YouTube channel, boasting over 109,000 subscribers, has also reviewed the crypto. Although specific predictions weren't provided, the overall tone of the review was positive, reflecting well on DigiToads' potential prospects.
Brandon10x: Another crypto-centric YouTuber, Brandon10x, who has nearly 100,000 subscribers, recently posed the question: "Is DigiToads the next Pepe in 2023?" He examined DigiToads' potential in his video analysis and compared it with other known digital assets. The conclusions were largely analytical and pointed towards a promising potential for DigiToads.
What is DigiToads?
DigiToads is a toad-themed memecoin designed to provide a P2E and S2E ecosystem to users. The token is focusing on offering a multi-functional platform that involves a decentralized exchange, merchandizing, staking, NFTs, and a P2E ecosystem.
DigiToads is powered by $TOADS. There are 585 million $TOADS in total, and 272.5M of this supply – which is 46.58% – has been dedicated to the presale. The remaining breakdown of the TOADS token is as follows:
22.3% of the tokens are for community growth
14.41% of the tokens are for competitions
7.5% of the tokens are for platform development
5% of the tokens are for the teams
DigiToads has also implemented a 7% 'toad tax' for leaving and entering the swamp – which means buy and sell tax.
This 7% has been dedicated to
2% token burn
2% NFT staking pool
1% liquidity pool
2% treasury.
Factors Affecting DigiToads Price
There have been no exchange listings for the token yet, but it has been confirmed that DigiToads will land on Uniswap and Bitmart after the presale concludes.
In the meantime, the following are the factors that might impact DigiToad's price.
Its status as a memecoin – Can it follow the same path of growth as PEPE, another frog-themed token that reached a $1 billion market cap and achieved a Binance listing?
DigiToads NFTs – How successful can the NFT projects associated with it become?
Legitimate environmental conservation – DigiToads is also focusing on protecting rainforests. The token's environmental impact would also push DigiToads's value.
Is DigiToads the Best Presale Crypto to Buy in 2023?
Due to it being a memecoin with fundamentals, DigiToads might have the potential to become the next crypto to explode.
However, it is still a memecoin – which would automatically introduce volatility into how it moves across the price charts. So, until it does show us something more, we have to wait for the listing stage to answer this question correctly.
Meanwhile, alternative crypto presales we've reviewed have some offerings that might be better options. AiDoge, for example, is providing a meme-to-earn ecosystem.
How to Buy DigiToads
If deciding to invest in TOADS tokens, follow these steps:
Step 1 – Go to the Official Account
Visit the official website of DigiToads – digitoads.world – and click on the Buy Tokens button.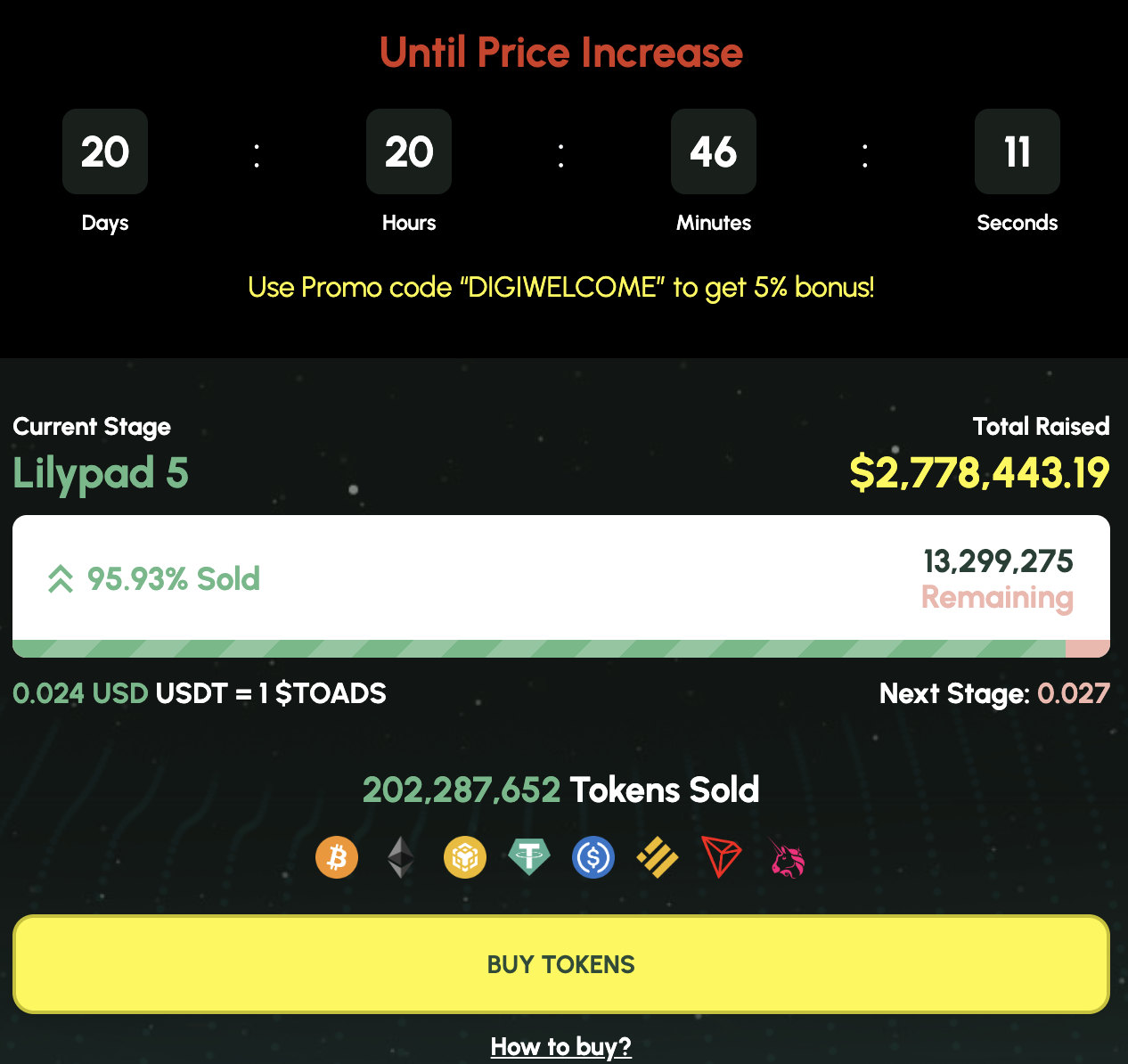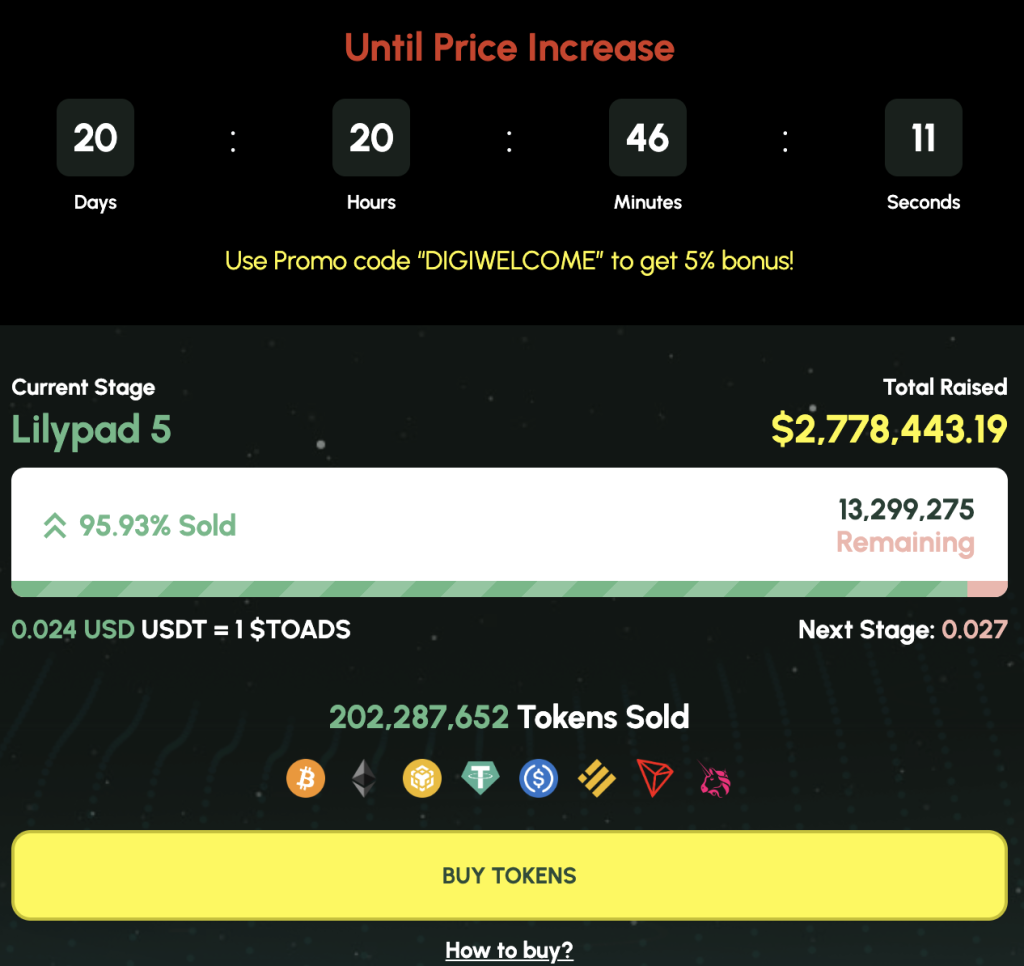 Step 2 – Connect your Wallet
Connect your wallet and make sure that you have one of the supporting crypto assets inside it.
Step 3 – Buy TOADS
The final step is to buy $TOADS. Swap your crypto assets for DigiToads. Wait for the presale to be over and claim your tokens.
Beware of fake sites, phishing links and scammers impersonating Telegram or Twitter admins in unsolicited DMs.
DigiToads Price Prediction – The Verdict
DigiToads is a presale token that follows the same path as other memecoins – adding utility to a seemingly jokish asset. It closely resembles PEPE in terms of aesthetics, which many interpreted as hope that it would overtake its value someday.
While it is not certain, multiple publishing sites, like Cointelegraph and Bezinga, have covered this token. However, DigiToads is still a memecoin, which means once it gets listed on BitMart as specified, a volatile price action is imminent.
Also see our best altcoins list for some potential alternatives to TOADS token.
FAQs on DigiToads
Is DigiToads a good investment?
Does DigiToads provide a bonus?