The crypto world has seen an explosive growth of meme coins recently, a trend that shows no signs of slowing down. But not every token offers real utility. This is where Doge Rush ($DR) stands out among the many coins fighting for attention.
With a unique combination of crypto gaming, Non-Fungible Tokens, and memes, Doge Rush promises to create a new narrative for meme coins.
This article will help you understand the project better, including its potential price trajectory from 2023 to 2025 and a guide to buying the $DR tokens.
Doge Rush: A Quick Glance at Price Predictions
Here's a quick summary of the Doge Rush Price Prediction until 2025:
2023: The Doge Rush token, $DR, is presently in its presale phase, with a projected listing on various exchanges this year. By the end of 2023, the token could reach $0.019 USDT, given its increased market presence and listing on top exchanges.
2024: Introducing the DogeWin game could bring many users to the Doge Rush ecosystem. This growth can drive the $DR price to $0.055 USDT by 2024.
2025: Doge Rush aims to tie up with top gaming studios and expand its listings on even more Exchanges. By 2025, this expansion could lead to a $DR token price of $0.18 USDT.
Doge Rush: More than Just a Meme Coin
At first glance, Doge Rush may appear as just another meme coin. However, the project differentiates itself by blending the fun of meme culture with NFTs and gaming, providing real-world utility to its token holders.
By leveraging popular internet sensations like Elon Musk and Doge, Doge Rush has created a platform that redefines the meme coin concept. It shifts from a speculative asset to a useful real-world utility and community engagement tool.
At the center of this platform is Doge Rush's native token ($DR), the utility of which can grow as the platform evolves.

Doge Rush sets itself apart from traditional meme coins by integrating DogeHub, an engaging gaming ecosystem, and DogeWin, a platform that offers incentives. These unique attributes provide actual use cases for the platform, potentially boosting the worth of $DR.
Moreover, the project prioritizes investor protection, demonstrated through a smart contract audit conducted by Consult. This adds a layer of trust for investors.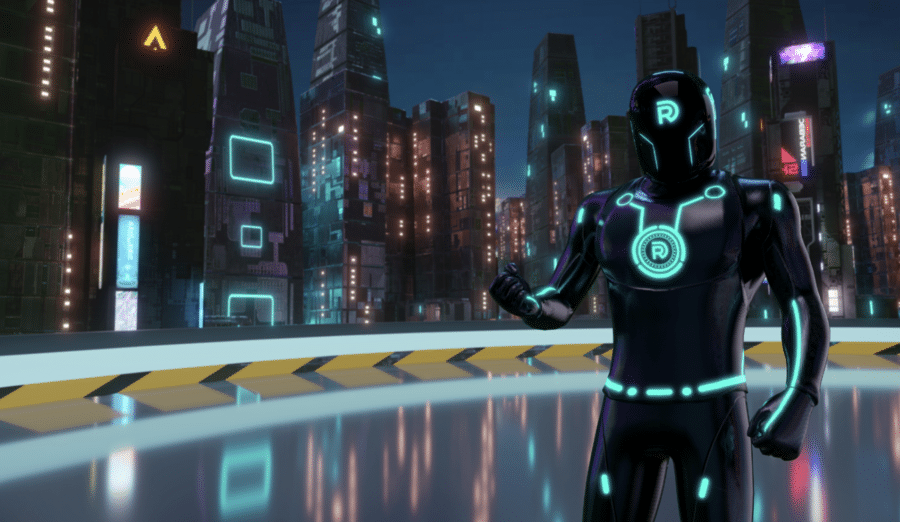 Doge Rush's tokenomics presents an appealing opportunity for potential investors.
According to Doge Rush's whitepaper, a significant portion (70%) of the total token supply is allocated for presale, highlighting the project's commitment to its community.
The Doge Rush Price Prediction
$DR is currently offered at a presale rate of $0.0055 USDT. With a starting listing price of $0.0099 USDT, early investors can capitalize on the meme coin's 80% upside potential. Could this be one of the best emerging cryptos in 2023?
2023 Prediction
After the platform's Initial Exchange Offering (IEO), events like listing on popular platforms like Uniswap, CoinMarketCap, and CoinGecko could further support the token's market reach and liquidity.
With the planned launch of DogeWin and an increasing community, conditions could be conducive for potential price escalation, suggesting a potential surge to $0.019 by 2023's end.
2024 Prediction
Doge Rush's future growth largely depends on DogeHub, a unique gaming platform that combines entertainment with the chance to earn.
This revolutionary platform converts well-known games such as Subway Surfers, Temple Run, and Sonic Dash into avenues for earning rewards. The proposition of earning Doge Rush tokens through gaming is set to appeal to crypto enthusiasts and gamers, hinting at a potential uptick in users in 2024.
The expected introduction of DogeWin could further transform the landscape. The promise of crypto rewards and competitive gaming will likely attract players, significantly boosting community engagement and growth.
Assuming Doge Rush achieves its roadmap goals and maintains its growth trajectory from the previous year, the price could rise to $0.055 by the close of 2024.
2025 Prediction
The fate of Doge Rush is closely linked to its strategic goals, as outlined in its roadmap. By this stage, the platform plans to collaborate with top gaming studios, amplifying the play-to-earn model's impact.
Additionally, Doge Rush intends to be listed on all major centralized and decentralized exchanges by 2025. This extensive market reach will enhance the project's visibility, attract a wider investor base, and ultimately boost the token's price.
Celebrity tie-ups and partnerships with renowned YouTubers are also in the pipeline. This approach can attract new users and promote community growth.
As a result, looking ahead to 2025, the unique features and broad ecosystem of Doge Rush suggest a price increase to around $0.18 by 2025's close.
How to Buy Doge Rush ($DR) Tokens – 5 Easy Steps
Let's look at the five simple steps to purchase the $DR tokens.
Step 1: Setting Up Your Wallet
Establish a digital wallet compatible with Doge Rush's presale website. MetaMask is a popular choice, offering a convenient app and PC browser extension.
After installation, create a new wallet and securely store the private key.
Step 2: Acquiring Ethereum or USDT
Once you have your wallet, purchase Ethereum or USDT to buy $DR tokens from the presale page.
You can buy these cryptos from any exchange and transfer them to your wallet. Also, you can directly buy ETH/USDT from the wallet.
Step 3: Connecting Your Wallet
Connect your wallet with the platform's presale page by clicking on 'connect wallet.' Then, choose MetaMask or WalletConnect and sync your wallet.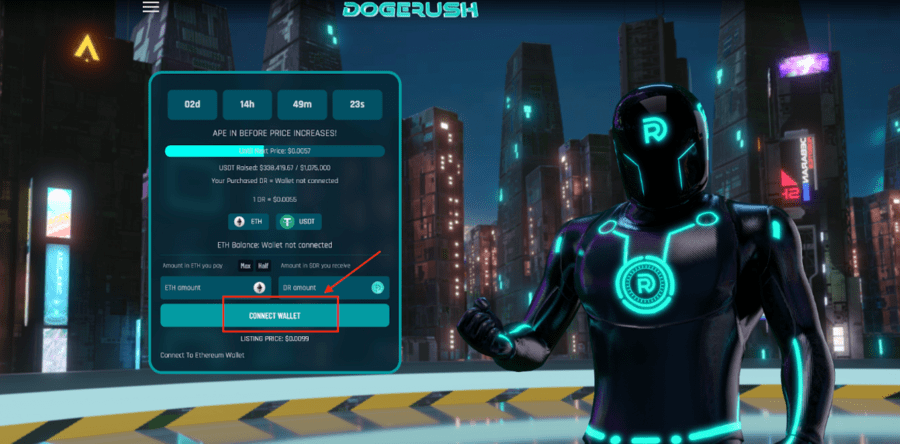 Once connected, select Ethereum/USDT to trade for $DR tokens.
Step 4: Purchasing Doge Rush ($DR)
Enter the amount of crypto you wish to exchange, then click 'swap.' Follow the prompts to authorize the transaction.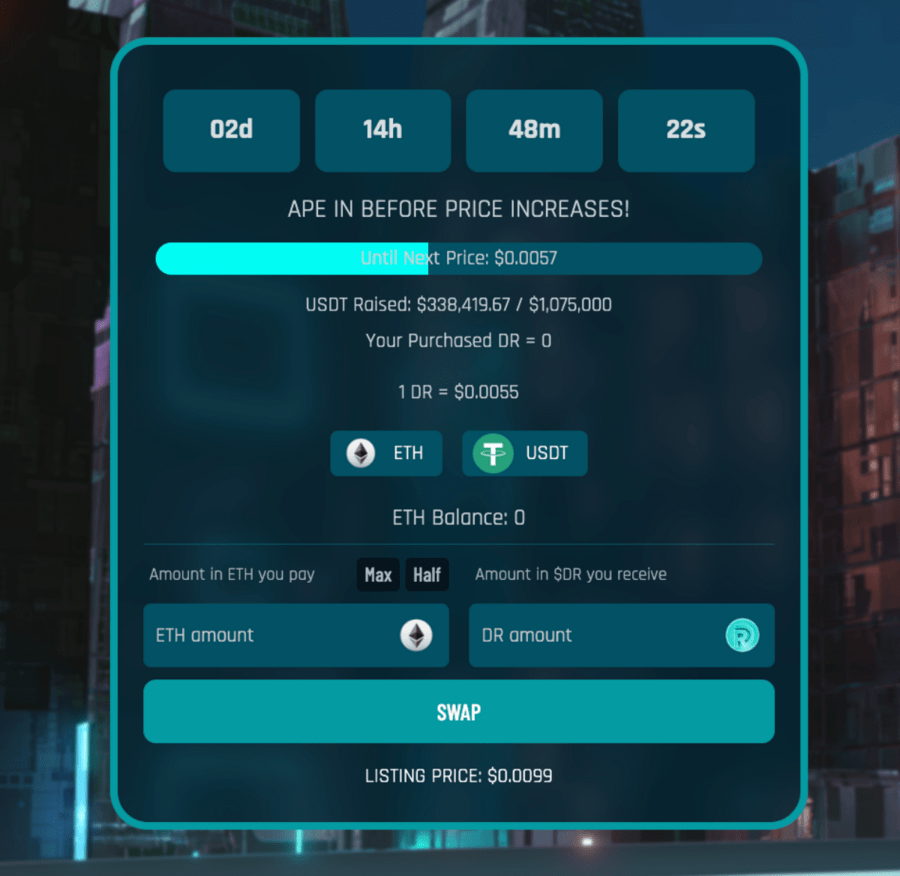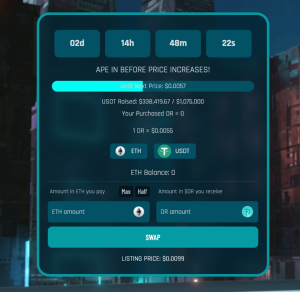 Step 5: Claiming $DR Tokens
After purchasing, $DR tokens will remain on the platform's website until the presale ends. Navigate to the website, click 'Claim,' and confirm the transaction (some gas fees may apply).
Conclusion
By blending gaming, community participation, and NFTs, Doge Rush offers real utility and stands out among other meme coins. Harnessing the potential of memes with many real-life rewards, Doge Rush aims to redefine the landscape of meme tokens.
Investing in meme coins comes with inherent risks which is why experienced traders aim to build a diversified crypto portfolio. You can check out our best crypto presales page to learn about similar crypto projects with 10x upside potential.
FAQs
Should I buy the $DR token?