Dogecoin is a meme coin that started as a joke in 2013 and eventually reached a total valuation of over $80 billion and an all-time high (ATH) of $0.7376. Since then, the coin is down 91%. Find out in this article if DOGE can regain its ATH and potentially reach $1.
This Dogecoin price prediction looks at the price history and price potential between 2023 and 2030, examining its tokenomics, use cases, price drivers, technical analysis and much more.
Dogecoin Price Prediction Summary
Dogecoin is priced at $0.0622, up 11031.90% from its launch in 2013.
After reaching its ATH in May 2021, DOGE is down 91%.
Dogecoin currently has a $9 billion market cap.
Our Dogecoin price prediction forecasts that DOGE will reach an average price of $0.0709 by the end of 2023.
Our 2025 Dogecoin price prediction estimates an average price of $0.3.
| | | | |
| --- | --- | --- | --- |
| Year | Minimum Price | Average Price | Maximum Price |
| 2023 | $0.04225 | $0.0709 | $0.09956 |
| 2024 | $0.04225 | $0.1161 | $0.19 |
| 2025 | $0.16 | $0.3 | $0.45 |
| 2030 | $0.25 | $0.705 | $1.16 |
Dogecoin Price History
Initially, Dogecoin was launched in 2013 as a fair launch. The project was created by software engineers Billy Markus and Jackson Palmer and is based on the "Doge" meme, which became popular in 2013 and featured the Shiba Inu dog.
According to CoinMarketCap, the initial Dogecoin price was $0.0002993, and the coin reached $0.001 for the first time in May 2017. Then in January 2018, the Dogecoin price briefly touched $0.0146 but crashed and then traded below $0.01 until January 2021.
In early 2021, cryptocurrency prices began to boom as the crypto bull market commenced. However, unlike the previous bull market, Dogecoin had an unexpected advantage: one of the world's wealthiest men, Elon Musk, became a massive fan of the project.
An article dating back to February 2021 by Fox Business shows that Elon had already started accumulating Dogecoin in Q1 2021 and announced his support publicly on Twitter during the same period.
The future currency of Earth

— Elon Musk (@elonmusk) February 6, 2021
Musk's support continued over the following months, causing the Dogecoin community to grow significantly. Consequently, this caused the Dogecoin price to explode, reaching an ATH of $0.7376 on 6 May 2021. This put the market cap to $80 billion, coining the term "Dogecoin millionaire" because it made many early DOGE investors exceptionally rich. But is Dogecoin still a good investment now?
As a result, early holders aggressively took profits, leading to a drastic sell-off which seemingly bottomed in June at $0.05. Since its capitulation, the DOGE price has formed a descending wedge, touching the support level multiple times and creating lower highs each time.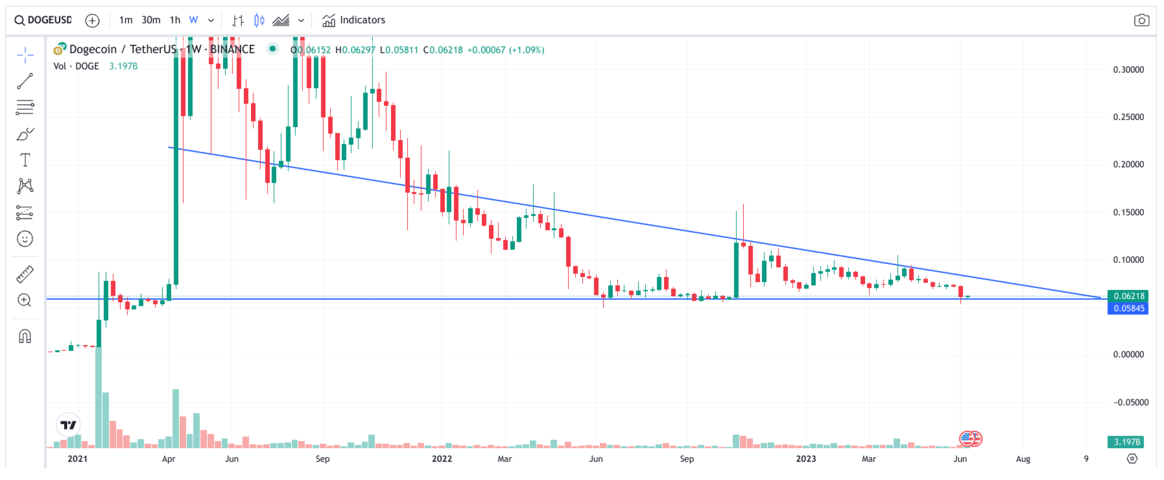 Currently, the price of Dogecoin is $0.0622, down 91% from its bull market highs.
Dogecoin price history key points:
Dogecoin was initially created as a joke, based on the "doge" meme.
It launched in 2013 with an initial price of $0.0002993.
The price reached its ATH in 2021 of $0.7376.
Since it bottomed, the price has formed a descending wedge, bouncing off the support to create continually lower highs.
The current price of Doge is $0.0622.
Dogecoin Price Prediction 2023
The crypto markets have been in turmoil following the SEC suing Coinbase and Binance, causing crypto prices to plummet. The SEC issued the lawsuits claiming the exchanges have been selling unregistered securities to US customers.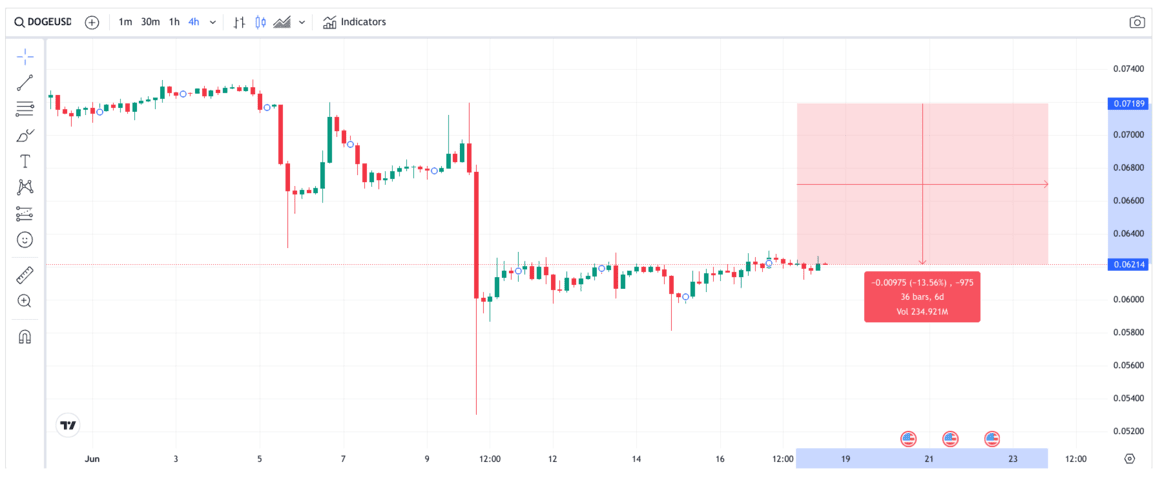 Currently, Dogecoin is down 13% from when the SEC announced its lawsuits, despite not being listed as a security by the SEC.
The lawsuit caused significant fear in the crypto community since Coinbase and Binance are vital in on-ramping fiat currency onto the blockchain. It also caused a lot of uncertainty surrounding many crypto projects since the SEC is targeting crypto harder than ever.
However, the excellent news for Dogecoin is that the SEC chair, Gary Gensler, is only targeting Proof-of-Stake (PoS) cryptos, and Dogecoin is Proof-of-Work (PoS).
Moreover, the world's largest asset manager, Blackrock, has just filed to launch a Bitcoin exchange-traded fund (ETF), allowing Bitcoin to be traded on the NASDAQ stock exchange. Despite the SEC's recent actions, this could prove massively bullish for crypto and shows the leading players are not shying away from the industry.
With this in mind, we hold a fundamental bullish bias towards Dogecoin this year, but if the broader crypto market takes another leg down, we expect Dogecoin to follow.
The Dogecoin price chart below shows that DOGE has recently closed below its weekly support. This is a bearish sign for Dogecoin and could signal a move towards $0.04225 in the short term.
Alternatively, the recent break below support may be a deviation, and the price could climb back above shortly.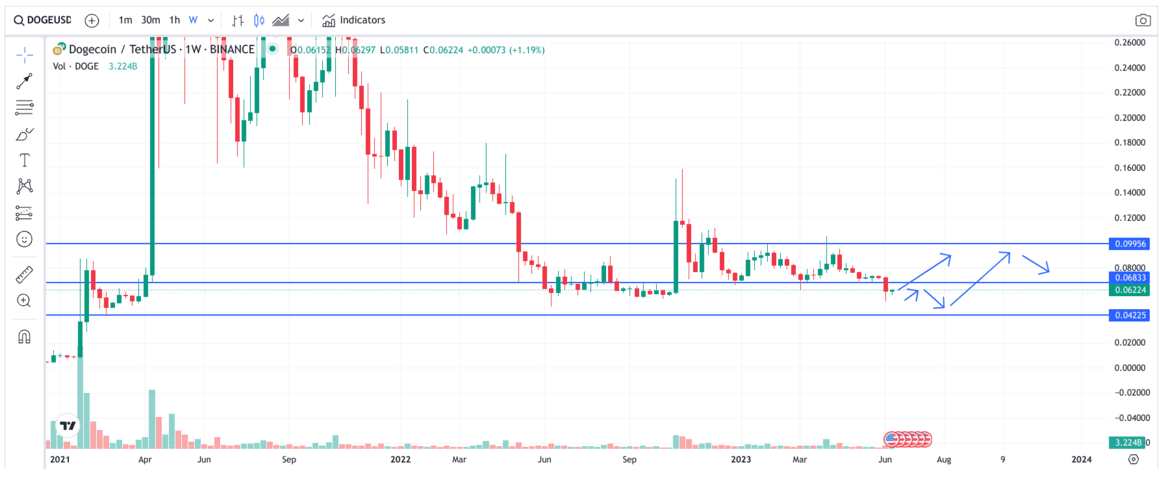 Although there is scope for DOGE to decrease further than $0.04225 by the end of the year, the recent improving macroeconomic factors, such as inflation slowing down in the US, tell us we will most likely see a bounce before heading to the resistance level.
With this in mind, our Dogecoin price forecast estimates a potential price of $0.0709 with a minimum price of $0.04225 and a maximum price of $0.09956.
| | | | |
| --- | --- | --- | --- |
| Month | Potential Low | Average Price | Potential High |
| July 2023 | $0.055 | $0.065 | $0.075 |
| August 2023 | $0.031 | $0.045 | $0.059 |
| September 2023 | $0.041 | $0.053 | $0.065 |
| October 2023 | $0.032 | $0.06 | $0.078 |
| November 2023 | $0.044 | $0.064 | $0.084 |
| December 2023 | $0.04225 | $0.0709 | $0.09956 |
Cryptoassets are highly volatile and unregulated in most EU countries, Australia and the UK. No consumer protection. Tax on profits may apply. Your capital is at risk.
Dogecoin Price Prediction 2024
To determine where the Dogecoin price is headed in 2024, it is essential to understand the intent of Dogecoin buyers.
Dogecoin offers a form of low-fee payment, with many vendors accepting it, including Tesla, Microsoft and Twitch. However, most buyers who pushed up the price of Dogecoin in 2021 were less experienced crypto investors who bought it to "get rich quick".
Typically, these conditions are only available in a bull market. Therefore, Dogecoin's best chance of pumping again is when the rest of the market is bullish. While the outcome remains to be seen, experts predict the crypto bull run will begin in 2024 due to the Bitcoin halving event.
If this occurs, we expect a significant move to the upside for Dogecoin, particularly since it has the backing of Elon Musk and an enormous community with over five million wallet addresses.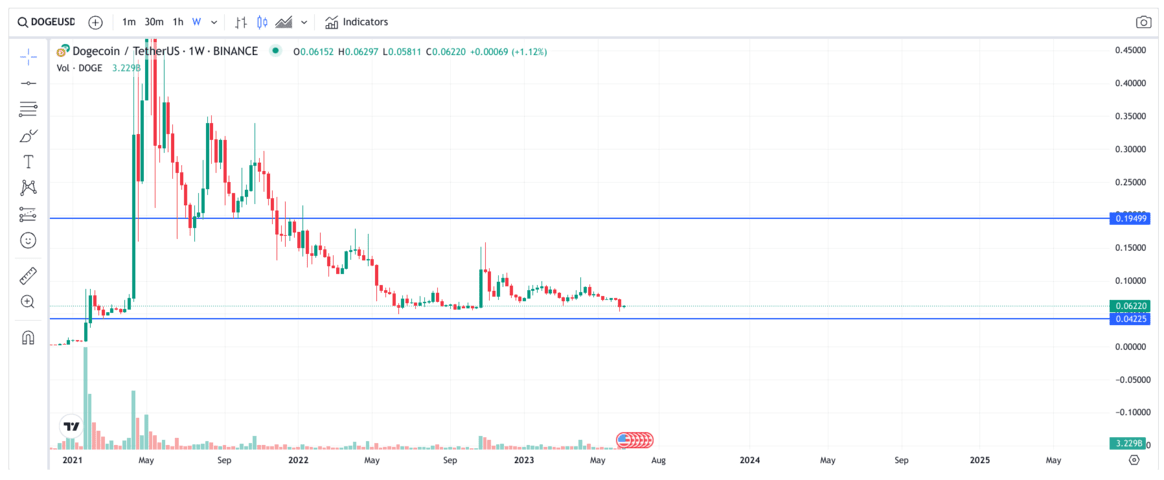 Therefore, our DOGE price prediction estimates a potential high of $0.19, a low of $0.04225 and an average price of $0.1161 by the end of 2024.
While there is potential for Dogecoin to climb higher, the ongoing uncertainty regarding global macroeconomic events, crypto regulation, and Dogecoin's price mainly being driven by pure price speculation means the next bull run will likely be less spectacular.
Dogecoin Price Prediction 2025
Dogecoin has made several advancements recently. Firstly, Elon Musk changed the Twitter logo to the Dogecoin logo; also, network activity boomed on the Dogecoin blockchain after the "DRC-20" token standard was created.
These advancements show two things. It indicates that the project will remain in the spotlight with Elon's support and that the Dogecoin developers are working to keep up to date with the latest industry innovations.
The Dogecoin DRC-20 implementation briefly saw Dogecoin surpass Bitcoin in daily transactions recently, although transactions dropped off shortly after.

The DRC-20 implementation has added functionality for tokens to be minted on the Dogecoin blockchain. However, whether DRC-20 generates long-term demand or is just a fad remains to be seen.
Despite the bullish factors relating to Dogecoin, two tokenomics issues could hold down its price in 2025.
First, there are five million holders, and the top 10 holders control 46% of all Dogecoin coins. While this presents worrying centralization concerns, it also means that even in a bull market, five million investors are betting the price of a speculative, low-utility coin will increase.
Most of these investors are holding Dogecoin for a quick profit during the next bull market and are not looking to hold the coin long-term. Therefore, we will likely see excess sell pressure as the price increases in 2025, preventing it from regaining its ATH.
Secondly, unlike most other cryptos, such as Bitcoin, Ethereum, XRP or even Shiba Inu, Dogecoin does not have a maximum supply. Essentially, this makes Dogecoin an inflationary token and means there will always be new sell pressure entering the market.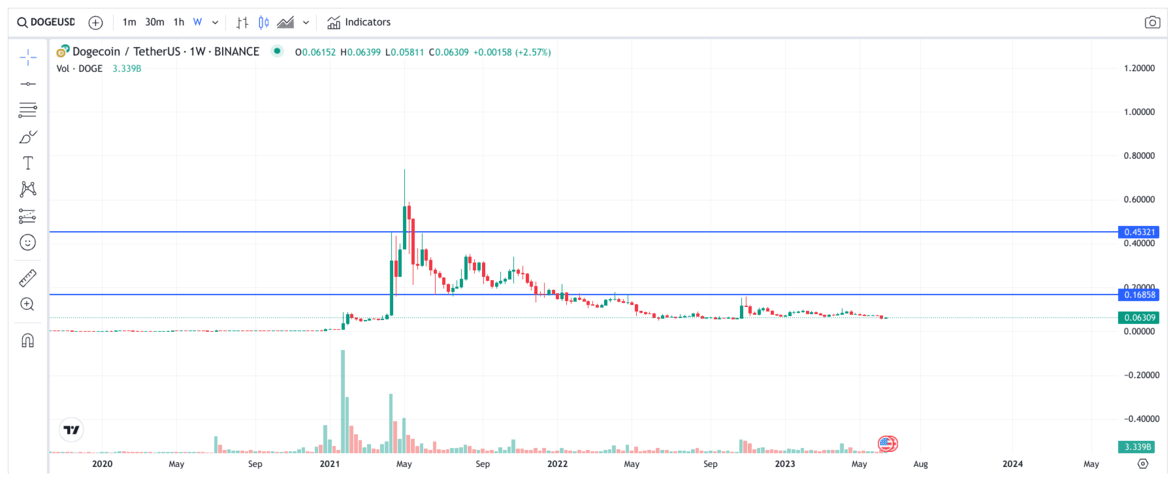 Dogecoin will likely run in 2025, but not as much as the community may expect. Therefore, our Dogecoin price prediction expects a maximum price of $0.45, a minimum price of $0.16 and an average price of $0.3 by the end of 2025.
Dogecoin Price Prediction 2030
Elon Musk infamously bought Twitter in 2022, and then in April 2023, he quietly merged Twitter with X Corp. He plans to create an "everything app" similar to WeChat in China, except it will likely integrate with Tesla and Musk's Starlink satellite service and potentially even his space exploration company, SpaceX.
Musk's satirical sense of humor could lead him to integrate Dogecoin into X App for payments, something which he has previously alluded to. If this occurs, Dogecoin could become one of the best long-term cryptos, particularly considering its recent DRC-20 developments.
Using the Fibonacci retracement on the Dogecoin price chart below, we can see Dogecoin has a long-term price target of $1.16.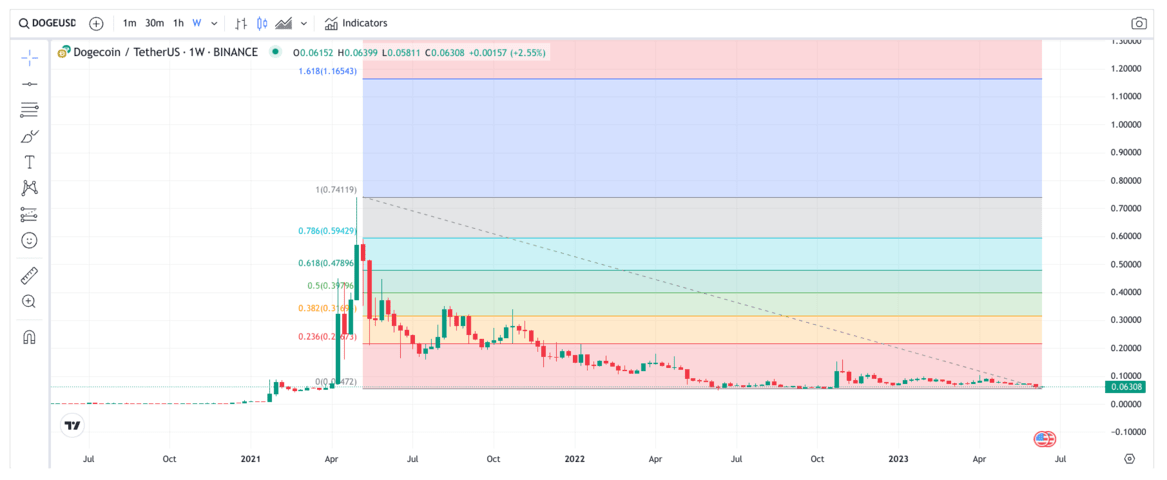 However, we should also consider that Dogecoin's tokenomics could prevent it from regaining new ATHs, potentially leading DOGE to capitulate and lose its value.
This is amplified since there are no actual use cases besides being a means of payment, and there are many other cryptos which are more technically sound payment currencies.
Therefore, our Dogecoin price prediction also forecasts potential lows of $0.25, leading to an average expected price of $0.705 by the end of 2030.
Possible Highs and Lows of Dogecoin Price
Dogecoin sits highest on the list of best meme coins. However, newer meme coins may have gained the upper hand on Dogecoin regarding tokenomics. This is why the Dogecoin price may struggle to regain its ATH. We have listed our expected highs and lows of the DOGE price below.
| | | |
| --- | --- | --- |
| Year | Minimum Price | Maximum Price |
| 2023 | $0.04225 | $0.9956 |
| 2024 | $0.04225 | $0.19 |
| 2025 | $0.16 | $0.45 |
| 2030 | $0.25 | $1.16 |
What Do Other Analysts Forecast For the Price of Dogecoin?
To better determine whether Dogecoin is one of the best cryptos to watch, we have summarized the predictions of several other analysts.
Changelly's DOGE price prediction estimated a minimum price of $0.0593, a maximum of $0.0622 and an average price of $0.0607 by the end of 2023.
According to CryptoNewZ, the price of Dogecoin will be between $0.074 and $0.18 by the end of 2023.
Based on CoinPedia's Dogecoin forecast, the price could reach possible lows of $0.079, highs of $0.158 and an average price of $0.118 by the end of 2023.
The AMBCrypto DOGE price forecast predicts a low of $0.11, a high of $0.13 and an average price of $0.12 by the end of 2023.
Another Dogecoin price prediction carried out by Bitnation forecasted potential lows of $0.07539, highs of $0.113085 and an average price of $0.094238 by the end of 2023.
What is Dogecoin and What is it Used For?
Dogecoin was cryptocurrency's first "meme coin". It was created partly as a joke and partly to change the narrative since crypto was often associated with illegal online activities at the time.
Initially, Dogecoin was a "tipping coin" thanks to its low fees. Several times, the Dogecoin community crowdfunded different events; for example, in 2014, the Dogecoin community raised over $25,000 to send the Jamaican Bobsled team to the Olympics.
Since Elon Musk's interest in Dogecoin, countless vendors have begun accepting Dogecoin as a means of payment. One of Dogecoin's main benefits is that it offers cheaper and faster transactions than Bitcoin and Ethereum.
However, the most common use for Dogecoin currently is speculating on its price and future potential adoption. The enormous gains it is known for have attracted many investors to buy DOGE to not miss out on the next pump.
Dogecoin Price Overview
| | |
| --- | --- |
| Cryptocurrency | Dogecoin |
| Ticker Symbol | DOGE |
| Rank | 8 |
| Price | $0.06171 |
| Price Change 24H | -0.82% |
| Market Cap | $8,634,418,063 |
| Circulating Supply | 139,822,496,383.71 DOGE |
| Trading Volume 24H | $227M |
| All Time High | $0.7376 |
| All Time Low | $0.00008547 |
What Influences the Price of Dogecoin?
The main thing holding down the Dogecoin price currently is its sell pressure. This comes from several places. First, since the coin does not provide much utility, holders have less conviction in its long-term potential, causing them to "paper hand" Dogecoin.
Also, its infinite supply means there is an ever-increasing amount of Dogecoin, making it far more difficult for the price to grow over time.
Meme culture also plays a key role in the Dogecoin price. Since crypto is a community-centric industry built around social media, creating and distributing memes has bolstered awareness around Dogecoin before and could easily do it again.
Undoubtedly the most significant influence on the Dogecoin price is Elon Musk. He is now dubbed the "Dogefather", thanks to his impact on the price of DOGE.
Musk's plan to integrate Dogecoin into the X App and continued support for the coin could dictate whether Dogecoin is one of the cryptos with the highest potential. However, this is rather worrying since it means one person controls the fate of a multi-billion dollar cryptocurrency, making it highly centralized.
The final factor affecting the Dogecoin price is investors' sentiment and speculation. Many people missed out on the last Dogecoin bull run. This will cause fear of missing out (FOMO) as we head into the next bull market, potentially leading to the DOGE price surging.
Is Dogecoin a Buy?
Dogecoin currently sits at a market cap of over $8 billion, despite offering little utility. The massive valuation is mainly down to investors' speculation that Elon Musk will continue to endorse Dogecoin.
While Dogecoin undoubtedly has the potential to run again, the over-reliance on Elon is a risk for the project. Moreover, compared to most of the best altcoins, Dogecoin also lags behind regarding tokenomics, mainly due to its unlimited supply and the fact ten wallets control 46% of coins.
Conclusion
Dogecoin is a pioneering crypto. It made headlines unlike any other and has likely raised more awareness about the industry than most other altcoins. However, it was designed in 2013 and has mostly failed to innovate and provide value to holders.
Although there is still potential for Dogecoin to make a new ATH, there are countless newer, faster and more decentralised cryptocurrencies on the market. With that in mind, we created a list of the best cryptos to explore now. Check it out by clicking the button below.
Cryptoassets are highly volatile and unregulated in most EU countries, Australia and the UK. No consumer protection. Tax on profits may apply. Your capital is at risk.
References
https://www.foxbusiness.com/technology/elon-musk-dogecoin-son
https://www.reuters.com/business/finance/us-sec-coinbase-binance-crackdown-puts-crypto-exchanges-notice-2023-06-08/
https://www.bloomberg.com/news/articles/2023-03-15/sec-s-gary-gensler-signals-tokens-like-ether-are-securities
https://www.reuters.com/business/finance/blackrock-close-filing-bitcoin-etf-coindesk-2023-06-15/
https://www.bbc.co.uk/news/business-65892873
https://www.bloomberg.com/news/articles/2023-04-23/bitcoin-btc-halving-in-2024-spurs-predictions-of-rally-past-50-000
https://www.businessinsider.com/elon-musk-x-everything-app-twitter-details-2022-10
https://www.theguardian.com/technology/2014/jan/20/jamaican-bobsled-team-raises-dogecoin-winter-olympics
FAQs
Can Dogecoin be worth $10?
What will Dogecoin be worth in 2025?
What will Dogecoin be worth 2030