Ecoterra is a new presale crypto aiming to solve climate change issues using blockchain tech, 'Recycle2Earn', and carbon credits. This project is one of the best ways to earn free crypto, all while helping the environment.
This ecoterra price prediction explores what the coin is, how it works, its short and long-term price potential, and the key factors contributing to its price.
Ecoterra Price Prediction – Quick Overview
Below is a quick summary of our expected prices for 2023, 2025 and 2030.
End of 2023: This year will see the end of the ecoterra presale, its initial-exchange offering (IEO) and continuous ecosystem development. We expect large amounts of media and investor hype, potentially leading to a price of $0.02.
End of 2025: By this point, the ecoterra ecosystem will be built out, and the project will likely attract new companies to use its marketplaces. Therefore we expect a price of $0.04.
End of 2030: Ecoterra's USP of serving the entire circular economy sets it apart from other cryptos. Since it has already attained partnerships with multiple large companies, we expect a long-term price of $0.08.
Ecoterra Price History
Despite the bearish sentiment of the crypto community in 2022, things are looking up for top emerging cryptos like ecoterra. Recently, Bitcoin rallied 30%, causing experts to predict we are moving to a new bull market – this makes it perfect timing for up-and-coming cryptos to join the market.
Currently, ecoterra is in stage three of its presale with a fixed price of $0.0055. The project is brand new and will make its way through nine presale stages before having its initial exchange offering (IEO). With this in mind, ecoterra could be one of the best cryptos under $1.
The idea behind the project is to encourage recycling and sustainable living in a way that incentivizes users. Ecoterra users are incentivized with the project's native token, $ECOTERRA, which is distributed to users when they recycle.
The thing that sets ecoterra apart, making it one of the best cryptos to buy, is that there is demand for the token outside of purchasing it to earn more tokens. This was the crux of the first generation of Play-to-Earn cryptos.
Ecoterra generates demand by allowing companies to purchase carbon credits using the coin.
Besides the coin's utility, the most important thing is understanding its tokenomics. The coin has a total supply of 2 billion tokens, with 50% available at the presale.
At the time of writing, ecoterra is in stage 3 of its presale and on sale for $0.0055, with the price increasing incrementally throughout the nine presale rounds with a final round presale price of $0.01. This will provide early investors with an 82% return on investment.
The presale will end on June 19, 2023, with the IEO commencing shortly after. However, the coin has a hard cap of $6.7 million – this means we could see the presale close early if the hard cap is reached before the end date.
Since the presale launched, more than $1.3 million has already been invested.
More information and the latest news on the project can be found in the Telegram group or the ecoterra Twitter page.
| | |
| --- | --- |
| Presale Started | 29 March 2023 |
| Purchase Methods | ETH, USDT, Card |
| Chain | Ethereum |
| Hard Cap | $6.7 million |
ECOTERRA Price History – Key Points
Based on the information so far, it is clear to see ecoterra is one of the best cryptos with long-term potential. With that in mind, we have summarized the coin's history in bullet points below:
Ecoterra has a total supply of 2 billion coins, with 50% available during the presale.
There are nine presale rounds with the last ending June 19, 2023, unless the hard cap is hit first.
Ecoterra has a soft cap of $2 million and a hard cap of $6.7 million.
The final presale round has a price of $0.01 per token.
The ecoterra presale started on March 29 and, at the time of writing, more than $1.3 million has been raised with the presale in stage 3.
There is no minimum investment for presale tokens and no vesting period on ECOTERRA purchased during the presale.
Presale investors should also note that the price increases through each stage, with early investors securing an advantage of those who wait.
| Phase | Token Price | Percentage | Amount of Tokens | USD Value | Raised Totals |
| --- | --- | --- | --- | --- | --- |
| Stage 1 Price | $0.004000 | 20.00% | 200,000,000 | $800,000.00 | $800,000 |
| Stage 2 Price | $0.004750 | 10.00% | 100,000,000 | $475,000.00 | $1,275,000 |
| Stage 3 Price | $0.005500 | 10.00% | 100,000,000 | $550,000.00 | $1,825,000 |
| Stage 4 Price | $0.006250 | 10.00% | 100,000,000 | $625,000.00 | $2,450,000 |
| Stage 5 Price | $0.007000 | 10.00% | 100,000,000 | $700,000.00 | $3,150,000 |
| Stage 6 Price | $0.007750 | 10.00% | 100,000,000 | $775,000.00 | $3,925,000 |
| Stage 7 Price | $0.008500 | 10.00% | 100,000,000 | $850,000.00 | $4,775,000 |
| Stage 8 Price | $0.009250 | 10.00% | 100,000,000 | $925,000.00 | $5,700,000 |
| Stage 9 Price | $0.010000 | 10.00% | 100,000,000 | $1,000,000.00 | $6,700,000 |
| Total Presale | 100% | 1,000,000,000 | $6,700,000 | | |
Ecoterra Price Prediction 2023:
Although its presale has just begun, many pundits consider the ecoterra cryptocurrency token one of the best cryptos to buy. Such hype at an early stage means things are looking bright for the project's future. That said, projects need more than hype to succeed long-term.
Based on ecoterra's roadmap, 2023 will see the ecosystem undergo massive developments. Firstly, its recycled material and carbon emissions marketplaces will launch. Secondly, the crypto will deploy its Recycle2Earn mechanism.
Compared to other 'earn' cryptos such as STEPN, ecoterra provides a far more sophisticated set of tokenomics and absolute utility. Even earlier Play-to-Earn games like Axie Infinity lacked in the department of real utility, as players only used the game as a means of income rather than out of enjoyment of the game.
On the other hand, the rewards that ecoterra users earn are derived from the project's demand, with the price being pushed up by companies purchasing the tokens to offset their climate emissions. With this in mind, we expect a cost of $0.02 per token for ecoterra by the end of 2023. This would result in a 400% gain for investors who enter the first round presale.
Ecoterra Price Prediction 2025:
By 2025, ecoterra will roll out the Recylce2Earn scheme meaning users worldwide can cash in their unwanted goods and materials for the $ECOTERRA crypto.
The ecoterra roadmap also discusses additional corporate partnerships; we expect this to relate to their carbon emissions and recycled materials marketplaces mainly. However, bringing in even more massive industry players will further boost the coin's demand.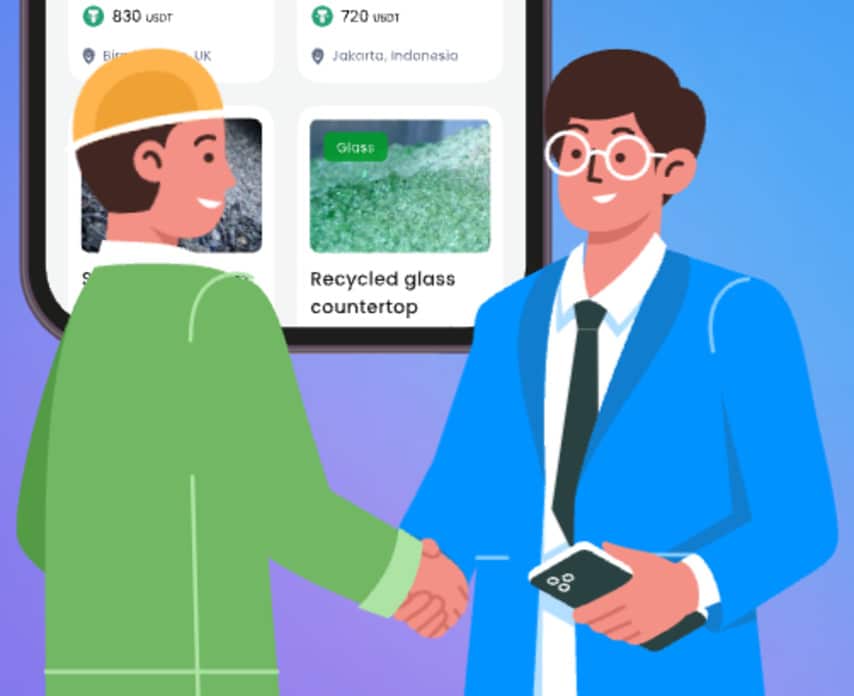 On top of that, the World Economic Forum (WEF) expect the climate adaptation industry to soar to a whopping 2 trillion valuation by 2026. With that in mind, this market has plenty of growth potential, putting ecoterra in an advantageous position to grow.
Many investors already understand the possibility of cryptos that help with critical issues like climate change, which is why this coin has had such incredible coverage so far.
Considering this, a price of $0.04 is likely for ecoterra by the end of 2025. This price reflects the ecosystem rollout, climate industry growth and investor's interest in ESG-friendly coins.
Ecoterra Price Prediction 2030:
Looking ahead to 2030, ecoterra requires more than hype and speculation to sustain an increasing price. If you look at a successful long-term coin such as Bitcoin, two fundamental factors can lead to sustainable growth: community and solving real issues.
While we have already discussed some of the problems that ecoterra solves, it is important to note that it aims to embrace the circular economy. ecoterra will provide services for all parties, from consumers to recycling plants to reworkers or recycled material manufacturers.
In other words, ecoterra provides utility to all parties in the recycling life cycle, allowing it to build a vast network.
The second contributing factor to long-term success is a strong community, and when it comes to ecoterra, the community is at the centre of everything. Besides the financial incentives for recycling, ecoterra allows its community to make sustainable purchases for things like beach clean-ups, tree planting and educational classes on its platform.
A clear sign that the ecoterra community is strong is that it has amassed a strong social media following and is one of the most popular cryptos on Reddit, despite being just days old.
It is also worth noting that all these purchases are made with the ecoterra token, increasing the coin's utility further.
The ability to make positive and sustainable purchases means ecoterra could attract a new, conscious audience to the project. However, the financial incentives while looking after the environment mean the coin could see mass adoption.
Add to this the business and corporate usage and partnerships, and it quickly becomes evident that $ECOTERRA could be in high demand by the end of 2030. With that in mind, we expect a price of $0.08 for the crypto by the end of the decade.
Potential Highs and Lows for Ecoterra
Based on our price predictions above, ecoterra is one of the best new presales. Therefore, we have created a table below showing the crypto's possible highs and lows until 2030.
| | | |
| --- | --- | --- |
| Year | Potential High | Potential Low |
| 2023 | $0.02 | $0.015 |
| 2025 | $0.04 | $0.035 |
| 2030 | $0.08 | $0.07 |
What is Ecoterra?
Since we have filled you in on our expected Ecoterra prices, it's now time to break down what the coin is.
Ecoterra is a Recycle2Earn cryptocurrency where users get paid to recycle unwanted goods, including clothing, electronics, plastics and much more. The exciting thing about ecoterra is it has real utility for recycled goods, giving the project much more sustainable potential.
Users recycle their goods through reverse vending machines (RVM) that will be situated in many international locations. To recycle, users scan a QR code, input their goods into the RVM and are rewarded with $ECOTERRA, which they can either hold, stake or spend on in-app purchases or carbon credits.
The great thing about ecoterra is its actual demand for the token. This comes from companies who can use the coin to buy carbon credits and offset their carbon footprint. All in all, there are countless innovative ways the coin can be used.
The token utility marks a significant change from earlier Play-to-Earn and Move-to-Earn cryptos, where the user's only interest was abstracting crypto, causing a downward spiral thanks to the unlimited supply.
With this in mind, ecoterra has the foundation for sustainable growth. Now let's look at where the recycled goods go.
This is where ecoterra's 'circle economy' strategy comes in. These materials are distributed to recycling plants that sort them and can then list them on the ecoterra recycled goods marketplace.
Overall, ecoterra's USP is that it operates in the circular economy, making things more seamless and transparent for all parties involved through the use of blockchain tech.
Factors Affecting the Price of Ecoterra
It is important to understand the contributing factors affecting ecoterra's price to determine if this innovative green crypto will be one of the best altcoins to invest in this year.
Token Supply & Demand
The amount of supply and demand for the coin is the deciding factor for the ecoterra price. Ecoterra has a maximum supply of 2 billion tokens and vast utility. This means the supply is limited and the demand is unlimited, giving the coin long-term growth potential.
Another factor affecting its demand is altcoin season, which causes the top altcoins to explode once it kicks in.
Ability to Attract Large Companies
The ability of ecoterra to develop more partnerships to serve the circular economy better will lead to more demand for the coin and increase its price. Companies need the $ECOTERRA crypto to offset their carbon emissions and to purchase recycled materials.
If ecoterra continues to partner with large companies, the crypto price could soar long-term.
Token Utility
For every user who earns the ecoterra coin and decides to sell it, there must be a willing buyer on the other end. And for the price to go up, there must be more buyers than sellers.
Providing utility such as the ability to buy carbon credits, educational courses, recycled materials, and clean beaches with the coin gives it plenty of utility. This naturally fills the supply, and unlike cryptos like Axie Infinity, there is plenty of actual demand coming from people who want to use the token, not just people looking to earn extra income.
Is Ecoterra the Best Crypto to Buy in 2023?
Although the crypto markets performed poorly throughout 2022, ongoing financial crises in the TradFi sector have led people to seek alternative asset classes and stores of value. Many investors initially turn to Bitcoin, as it is considered a safer investment than altcoins like ecoterra.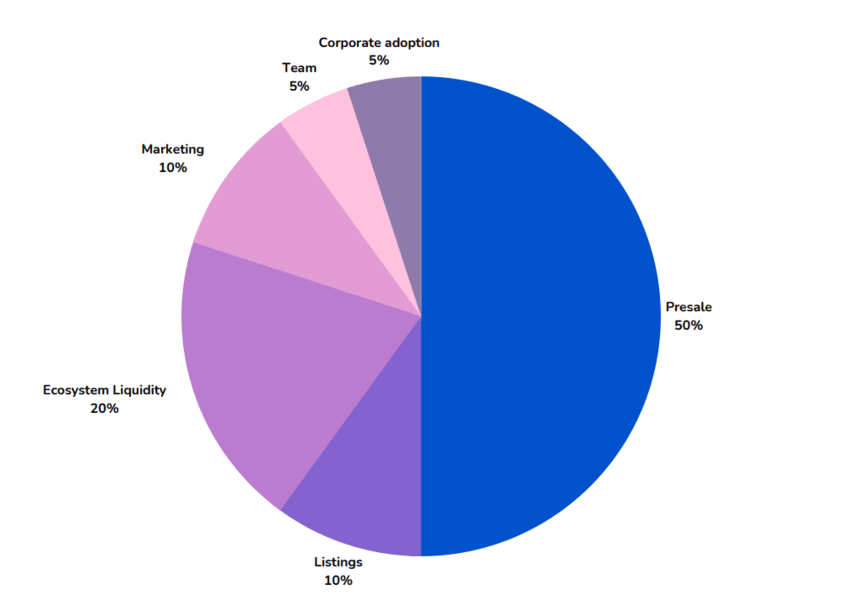 Over the past months, we have begun to see Bitcoin climbing again, currently sitting above $28k. However, if it breaks $30k and a bull market commences, much of the Bitcoin liquidity will trickle down into smaller altcoins, triggering some cryptos to explode.
Considering this, ecoterra is in a fantastic position to capture some altcoin liquidity as we move through 2023. Based on the WEF report mentioned earlier, the climate industry is soaring in value, with governments and regulators pressuring companies to increase their ESG-friendliness.
Moreover, there is currently a lot of distrust between consumers and brands that claim to be 'green'. One of these instances recently came to light when a team of Reuters reporters uncovered a scandal regarding a botched recycling program.
On the other hand, ecoterra provides a way for businesses to publicly manage their environmental impact on the blockchain, where it is recorded and cannot be tampered with.
This is just one of many issues that ecoterra solves; many others can be found in its whitepaper.
Ecoterra is already gaining massive traction in the crypto community. As a project solving some of the most pressing and controversial global issues, Ecoterra has a promising future.
How to Buy Ecoterra Tokens
This section runs through how to buy ecoterra tokens during its presale.
Step 1 – Create a Crypto Wallet
The coin is in its presale, so you can only buy it from the ecoterra website. This means you will need a crypto wallet; the most popular are MetaMask and TrustWallet. Both are easy to set up and use, but if you are using a desktop, we prefer MetaMask.

Step 2 – Buy Crypto to Fund the $ECOTERRA Investment
You can pay with card for ECOTERRA, so this step is optional. However, if you are buying with crypto, top up your wallet with ETH or USDT or buy some on a centralized exchange and transfer them to your wallet.
Step 3 – Select the Amount of $ECOTERRA Tokens To Buy
From the ecoterra home screen, select the currency you will pay with and the amount of $ECOTERRA that you want to buy.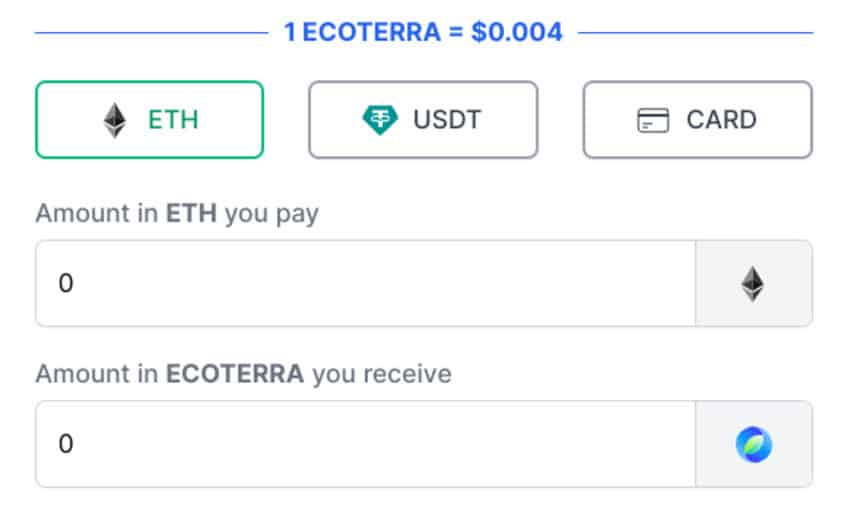 Step 4 – Connect the Wallet to the Ecoterra Presale
Hit the connect wallet button and follow the on-screen instructions to sign the transaction.

Step 5 – Claim Your Tokens
The end of the ecoterra presale will trigger a Token Generation Event (TGE). At this point, you can visit the website to claim your crypto.
Conclusion
The stars are aligned for ecoterra to have a successful future. It tackles one of the biggest global concerns while also appealing to the crypto and tech community through its innovative uses of blockchain.
While it is yet to be determined whether ecoterra is a crypto that could make you rich, it certainly has a bright future. But thanks to its discounted presale price, investors face an exciting opportunity for a limited time.
At the time of writing, more than $1.3 million has been raised in the presale since launch in just over two weeks.
FAQs
What will Ecoterra be worth in 2025?
What is the current price of Ecoterra?
Is ECOTERRA a good investment?