In 2021, Enjoin Coin (ENJ) rallied by over 2500%, touching its all-time high of $4.8 that year. Since then, it has declined with the broader market, trading 95% below its peak at press time.
As the market sentiments toggle between fear and greed, many investors are looking for an Enjin Coin price prediction.
This article dives deep into the coin's price history, examines its potential up to 2030, and explores how its real-world applications can help its network grow. It also outlines expert analysts' views to give you a well-rounded perspective on the ENJ price.
Enjin Coin (ENJ) Price Prediction 2023 to 2030 – Overview
End of 2023

: The bearish trend may continue if Enjin Coin breaks below its immediate support of $0.22. However, a rally from this point could see the coin reaching up to $0.42 by year's end. Market sentiment in the "Fear" zone could influence the coin's trajectory.

End of 2025

: With partnerships like Efinity enhancing scalability and the upcoming NFT.io marketplace, ENJ has a bullish outlook. Given these developments, a price target of $1.2 by the end of 2025 seems feasible.

End of 2030

: With the global blockchain market predicted to grow exponentially, Enjin is well-positioned to benefit. Its strategic initiatives, like Efinity, a platform built on Polkadot, could make Enjin a major player in the gaming and broader NFT space. Considering these factors, ENJ could achieve around $4 by 2030.
| | | | |
| --- | --- | --- | --- |
| Year | Potential Low | Average Price | Potential High |
| 2023 | $0.17 | $0.26 | $0.42 |
| 2024 | $0.38 | $0.6 | $0.85 |
| 2025 | $0.8 | $1.1 | $1.5 |
| 2030 | $1.2 | $2.5 | $4 |
Enjin Coin Price History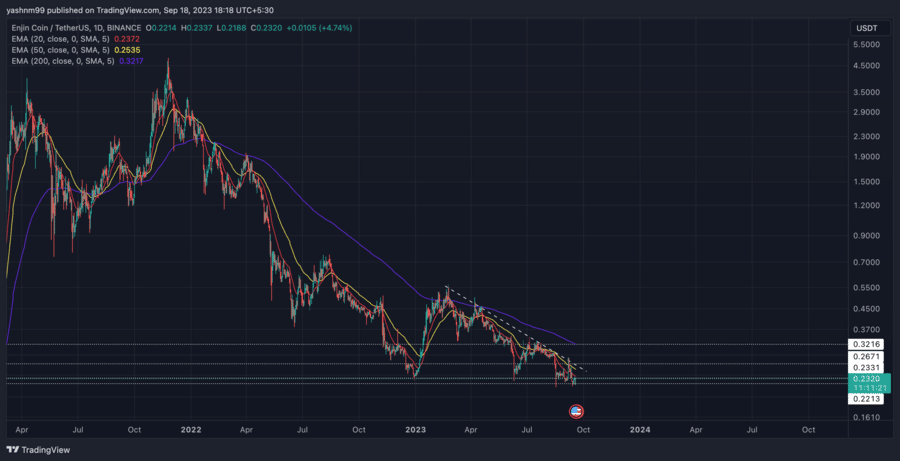 Understanding Enjin Coin's future requires some insights into its history, notably the journey from its launch in November 2017 through its various highs and lows to its current state in 2023;
Sideways Trading Until 2021

: Launched in November 2017, ENJ didn't initially make big waves, even after listing on some of the

best crypto exchanges

like Binance. It experienced minor peaks in January 2018 and March 2019 but mostly hovered without significant changes.

Explosive Growth in 2021

: The coin saw a meteoric rise in 2021, soaring over 2500% from $0.128 to $2.5832. This surge coincided with a

growing enthusiasm for NFTs in the market

.

All-Time High in November 2021

: During a month-long period from late October to late November 2021, ENJ soared another 150% to reach its all-time high of $4.8. Before this, announcing a

$100 million Efinity Metaverse Fund

for blockchain projects fueled bullish sentiment, contributing to its 2021 upswing.

End-of-2021 Dip

: Despite a bullish November, December 2021 saw the coin lose nearly half its value, closing the year at around $2.2.

Bearish 2022

: With geopolitical tensions, including the Russia-Ukraine conflict, and broader economic uncertainties, ENJ entered a bearish cycle in 2022. 

Continued Trend in 2023

: The bearish trend continued, and ENJ kept finding newer support levels on its chart. At press time, the token was trading near its immediate support level at $0.22, 95% below its all-time high. The price action chalked out a descending triangle on its daily chart. It indicates that the bearish trend could continue in the near term should the price fall below the $0.22 support.
Quick Bullet Point Summary of ENJ's Price Action History:
Minor peaks in 2018 and 2019, mostly flat trading.

2500% surge in 2021 amid NFT hype.

ENJ reached an all-time high of $4.8 in November 2021.

Dropped to around $2.2 by the end of December 2021.

Entered a long-term bearish trend in 2022 and 2023, currently trading at $0.23.
Enjin Coin Price Prediction 2023
Analyzing recent market conditions and price movements, Enjin Coin offers a varied outlook for the rest of 2023. 
The market sentiment is yet to improve. The Bitcoin Fear and Greed Index shows the market is currently in the "Fear" zone, which means buying power is not strong. 
Consequently, further losses could continue if ENJ falls below its immediate support at $0.22, especially given the descending triangle setup on the chart.
On the other hand, the coin's support level at $0.22 provides hope for a near-term recovery. The coin's outlook could brighten if buyers can sustain a rally from this level.
To consider it a real uptrend, however, the coin should breach and maintain above the $0.26 resistance level. Following this, a push toward the $0.32 resistance could pave the way for an additional rally.
Note – "Support" is a price level where a downtrend can be expected to pause due to increased demand. "Resistance" is the opposite: The price may stop rising and see a downturn due to increased selling. These levels are critical as they help traders make educated guesses about where the price may be heading next.
Given this analysis, Enjoin Coin can see lows of around $0.17 at the lower end while surging to a high of $0.42 by the end of 2023.
| | | | |
| --- | --- | --- | --- |
| Month | Potential Low | Average Price | Potential High |
| October 2023 | $0.17 | $0.2 | $0.26 |
| November 2023 | $0.2 | $0.25 | $0.3 |
| December 2023 | $0.25 | $0.33 | $0.42 |
Enjin Coin Price Prediction 2024
With the broader market showing signs of recovery, many buyers are looking for the best cryptos to trade. In 2024, several factors and in-network developments can impact the Enjin Coin price.
Also, one of the major shifts defining the crypto landscape for 2024 is the integration of blockchain with real-world applications.
Enjin, already a significant player in the NFT space, has recently partnered with New Frontier, which aims to digitalize the tourism sector. 
This venture uses Enjin's blockchain technology stack and specialized QR codes to augment tourist experiences globally.
How does it work? New Frontier utilizes Enjin's platform to introduce NFTs into tourism, offering rewards, games, and even treasure hunts.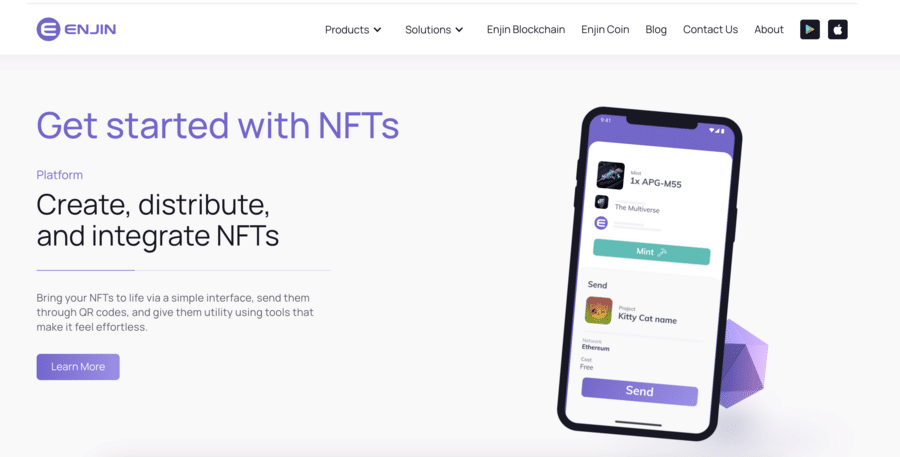 This approach not only gamifies the visitor experience but also adds utility, such as loyalty programs and advanced booking incentives. 
The goal is to create a blend of physical and digital experiences that captivate the younger, digitally-native demographic—Millennials and Gen Z.
So, what does this mean for Enjin Coin (ENJ)? Well, these real-world applications have the potential to drive user adoption significantly. 
By solving practical problems in industries like tourism, Enjin can demonstrate the actual utility of its coin and ecosystem. 
Considering these developments and the broader market trends, it's reasonable to predict that the price of ENJ could approach $0.9 by the end of 2024.
Enjin Coin Price Prediction 2025
As we look ahead to 2025, Enjin Coin stands to benefit from a series of upgrades and partnerships that could potentially fuel its growth. 
One key development is the collaboration with Efinity, which acts as a sidechain to Enjin's main blockchain, similar to how the Lightning Network operates with Bitcoin. This sidechain enhances the scalability and speed of transactions.
Furthermore, Enjin is continuously upgrading its wallet, offering an all-in-one solution for cryptos and NFTs. They also have plans to unveil NFT.io, an advanced marketplace for NFTs that could set a new industry standard. This marketplace is designed to offer core functionalities and is expected to integrate seamlessly with Efinity.
Enjin's active development extends beyond its marketplace and wallet. They are also working on tools and platforms for developers, aiming to simplify the blockchain integration process. This involves visual upgrades and substantial changes in code infrastructure, making it easier for developers to onboard.
Considering these key developments, a price of $1.2 for Enjin Coin by the end of 2025 seems within reach.
Enjin Coin Price Forecast 2030
In 2022, the global blockchain market was worth $11.14 billion. By 2030, the projections suggest it could grow to $469.49 billion. This expansion is expected to happen at a Compound Annual Growth Rate (CAGR) of nearly 60%. 
With blockchain technology becoming more pivotal, Enjin is strategically positioned to capitalize on this surge.
Enjin has been on a relentless quest to mass adopt NFTs and blockchain. Key to this strategy is Efinity, a scalable, affordable blockchain platform built on Polkadot. 
Polkadot is a well-thought-out project to solve scalability, interoperability, and security problems in the blockchain ecosystem. Efinity's launch serves as a significant milestone, not just for Enjin but for the broader NFT space.
The long-term vision for Efinity is ambitious. It aims to become the go-to blockchain for the world's 3.1 billion gamers and beyond.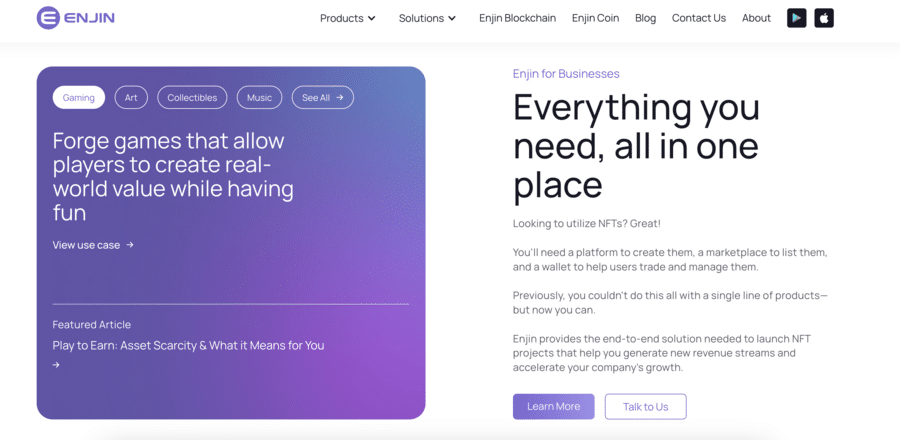 The platform promises scalability to accommodate mainstream gaming and offers cross-chain capabilities. You can move any crypto or NFT to Efinity without permission from its original creators. With these functionalities, Efinity can significantly improve the utility of Enjin's ecosystem.
Furthermore, Efinity is designed to be easily integrated into the Enjin platform, with over 160,000 NFT creators. 
The platform is also expected to host over 100 projects soon, providing a solid foundation for the decentralized metaverse. Transaction fees on Efinity are designed to be minimal, making it more accessible for users and developers alike.
Given these upgrades and the growth of the blockchain industry, the Enjin Coin price could hit highs of around $4 by 2030.
Nonetheless, considering the overall Bitcoin sentiment and other macroeconomic factors is vital when gauging the best long-term investment.
Potential Highs & Lows of Enjin Coin Price
Below is a quick summary of the Enjoin Coin price forecast from 2023 to 2030:
| | | | |
| --- | --- | --- | --- |
| Year | Potential Low | Average Price | Potential High |
| 2023 | $0.17 | $0.26 | $0.42 |
| 2024 | $0.38 | $0.6 | $0.85 |
| 2025 | $0.8 | $1.1 | $1.5 |
| 2030 | $1.2 | $2.5 | $4 |
What Do Other Analysts Predict For Enjin Coin?
When evaluating expert predictions on Enjin Coin's price trajectory, it's critical to remember that these estimates are based on historical data and analytical models. 
While the projections vary among analysts, there's a consensus that Enjin Coin shows growth potential. But remember that the crypto market is affected by several factors and is susceptible to rapid changes.
Digital Coin Price's Projections:
For 2023: They estimate a minimum price of $0.21, an average of $0.46, and a maximum of $0.51.

By 2024: Prices could range between $0.50 and $0.60, averaging around $0.58.

Moving to 2030: The minimum price could be $2.25, with an average of $2.34 and a peak of $2.36.
CoinCodex's Perspective:
For 2023

: Enjin Coin is expected to trade between $0.22 and $0.69. If it hits the upper limit, it could soar by 199.25%.

In 2024

: The price could fluctuate between $0.22 and $0.69, marking a potential 199.25% rise if it reaches the higher end.

For 2030

: The upper target price is $0.26, implying an 11.5% gain if reached.
PricePrediction.net's View:
For 2023

: They foresee a minimum price of $0.34, an average of $0.35, and a peak at $0.36.

By 2024

: The prices might range from $0.51 to $0.60, averaging at $0.52.

Going up to 2030

: Minimum, average, and maximum prices could be $4.84, $5.01, and $5.69, respectively.
Changelly's Analysis:
For 2023

: The minimum Enjin Coin price is predicted at $0.22, peaking at $0.25, with an average trading price of about $0.29.

In 2024

: Estimates indicate a minimum of $0.26, a maximum of $0.41, and an average of $0.56.

By 2030

: Enjin Coin's price could range from $4.84 to $5.69, averaging around $5.01.
What is Enjin Coin?
Enjin is a comprehensive blockchain-based platform specializing in creating and managing digital assets for the gaming community. 
Established in 2009 in Singapore, it has grown from a gaming community network to a robust blockchain entity following an $18.9 million Initial Coin Offering (ICO) in 2017. 
Enjin's offerings center on a unique ecosystem that caters to game developers and gamers, simplifying the complexities associated with blockchain.
The platform uses a collection of Software Development Kits (SDKs), APIs, and a specialized blockchain to create a seamless user experience. 
Originally grounded in Ethereum's ecosystem, Enjin enables the issuance of digital assets through a proprietary token standard, ERC-1155, which they proposed and ratified in 2019. 
This standard allows fungible and non-fungible tokens to exist on a single smart contract, thereby increasing efficiency and functionality.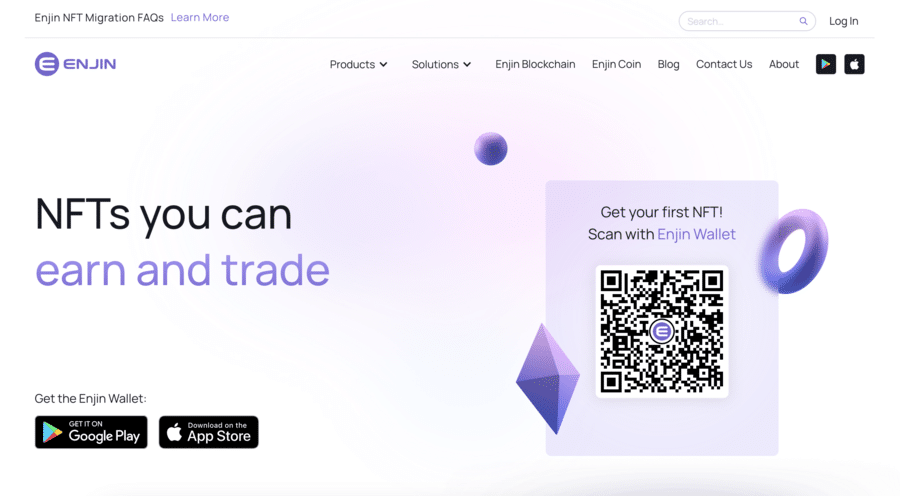 To mitigate Ethereum's high gas fees, Enjin employs a scaling solution called 'JumpNet,' giving developers the flexibility to build on Ethereum's secure architecture without prohibitive costs. 
Its operational marketplace offers a trading ground for these digital assets, boasting over a million user downloads of the Enjin Wallet and over 3,000 active projects.
Enjin has pioneered several 'firsts' in the blockchain and gaming industry. It was among the first projects to test Ethereum's Raiden Network for scalability and secured a Polkadot Parachain slot, increasing its interoperability. 
The project also got regulatory approval in Japan, breaking new ground for gaming tokens in regulatory frameworks.
In 2023, Enjin revealed plans to launch its own Enjin Blockchain, tailor-engineered for NFTs and digital assets. The Enjin Coin or ENJ, an ERC-20 token, is set to migrate to this new blockchain mainnet, maintaining a 1:1 ratio for the transfer.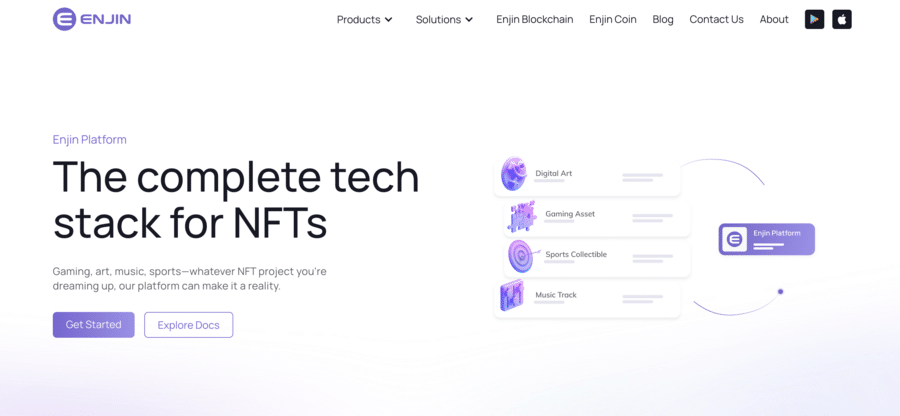 Beyond gaming, the Enjin platform has versatile applications, making it adaptable for different industries seeking tokenized digital assets for various strategies: acquisition, retention, or monetization.
Therefore, Enjin's tools provide a holistic environment for digital asset creation, management, and trading innovation. Also, it aims to minimize fraud, a significant pain point in transferring virtual goods, while creating a more connected, frictionless digital world.
In essence, Enjin offers an all-inclusive blockchain-based platform that bridges the gaps between game developers, gamers, and blockchain.
Enjin Coin Overview
| | |
| --- | --- |
| Cryptocurrency | Enjin Coin |
| Ticker Symbol | ENJ |
| Price | $0.23 |
| Price Change 24H | +0.6% |
| Market Cap | $233,074,473 |
| Circulating Supply | 1,000,000,000 |
| Trading Volume | $18,443,265 |
| All-Time High | $4.82 |
| All-Time Low | $0.018 |
What Factors Influence the Price of Enjin Coin?
Gauging the variables that impact a crypto's price is essential for making an educated price prediction. Below are some factors that could influence the Enjin Coin price:
Adoption and Utilization

: One of the key drivers of Enjin Coin's value is the rate at which game developers and gamers adopt its blockchain tools and marketplace. More adoption often increases demand for ENJ tokens, which can positively influence the price.

Technical Upgrades

: Enjin's planned migration from the Ethereum network to its blockchain mainnet can significantly influence the coin's price. Any successful upgrade or added functionality to the platform makes it more appealing, driving up the ENJ price.

Industry Partnerships and Collaborations

: Strategic partnerships with other industries or gaming companies can create new use cases for Enjin's platform, thereby driving demand for the ENJ token. An announcement of a major partnership can often result in immediate price gains.

Scalability Solutions

: Enjin's use of solutions like JumpNet to mitigate Ethereum's high gas fees can make it more appealing to developers and end-users. Lower transaction costs can lead to higher transaction volumes, which can positively influence the demand and price of ENJ.

Interoperability

: Enjin's securing a Polkadot Parachain slot points to its increased interoperability with other blockchain networks. The application of this can help increase its user base while adding to its functionality, which can positively impact ENJ's price.

Regulatory Changes

: Being one of the first gaming tokens to get regulatory approval in Japan,

any future changes in regulatory stance

towards crypto assets in other major markets could either boost or hinder ENJ's market position and price.

Market Sentiment and Macro-Economic Factors

: General investor sentiment in the crypto market, or broader economic indicators like inflation rates, can also affect ENJ's price. Investors are likely to speculate more in bullish markets, potentially increasing the price, whereas, in bearish conditions, the opposite could occur.
Conclusion
Following the broader market trajectory, Enjin Coin peaked dramatically in 2021 before entering a bearish phase in 2022 and 2023. 
As it currently trades near a critical support level at press time, the coin faces uncertainty in the short term, which could tilt either way depending on market sentiment and buying power.
ENJ's goals with real-world applications like tourism and its ambitious plans with Efinity offer optimism for its future. These developments could make the coin more resilient and drive user adoption. 
However, the general market conditions, indicated by the Bitcoin Fear and Greed Index, point towards prevailing caution among investors.
Also, due to the volatile nature of the crypto market, investors should consider diversifying their portfolios to mitigate risk. But navigating a market with over 10,000 options is challenging.
We have identified some of the best cryptos with utility and a growing user base. You can check out our 'Best Cryptos' page for an in-depth analysis to identify these high-potential cryptos.
References
FAQs
Can Enjin Coin reach $100?
How much will the Enjin coin cost in 2030?