Ethereum Classic has a deep-rooted relationship with the world's second-largest cryptocurrency, Ethereum. This relationship, especially in name, makes many skeptical, which means Ethereum Classic price predictions can vary wildly.
Here, we're going to look at what can affect the Ethereum Classic price in the near and distant future, looking at both technical indicators, long-term industry trends, and the impact shifts in societal opinion might have on it.
Ethereum Classic Price Prediction 2023-2030
The Ethereum Classic token price has just broken out of a downward trend, and it is currently testing support at $15 while battling with its 20- and 50-day moving averages (MAs) to try and gain upward momentum.
Prior to breaking out of this downward trend, $15 was successfully tested, and doing so again could help it beat its moving averages and begin upward momentum.
Technical indicators show that it is difficult for the Ethereum Classic price to gain much in the near future.
Ethereum Classic tracks the price of Ethereum very closely, often posting its new all-time highs before Ethereum does. The planned upgrade testing and implementation on Ethereum in 2024 will be positive for Ethereum Classic, as will the Bitcoin Halving event in the same year.
Ethereum Classic retains close compatibility with Ethereum, typically adding the same upgrades to its network 3–6 months after its sister network does. If decentralization becomes a bigger part of the blockchain conversation in the future, Ethereum Classic could see a significant increase in interest.
| | | | |
| --- | --- | --- | --- |
| Year | Potential Low Price | Average Price | Potential High Price |
| 2023 | $14.72 | $15 | $15.50 |
| 2024 | $15 | $48 | $100 |
| 2025 | $120 | $210 | $387 |
| 2030 | $520 | $690 | $860 |
Ethereum Classic Price History
The Ethereum Classic blockchain emerged after the Ethereum chain forked with an irregular state change due to a hack in July 2016. The token of the original chain was given price discovery on two exchanges on July 20th, 2016, and Ethereum Classic price data on CoinMarketCap goes back to July 24th, 2016, where it debuted at $0.7523.
Since its launch, and despite a small jump early in its existence in August 2016, Ethereum Classic's price movement has closely tracked the price of its sister chain, Ethereum, reaching an all-time high of $176.16 in May 2021. Notably, in the buildup to the launch of The Merge on Ethereum in September 2022, Ethereum Classic climbed from a price of $14.20 up to a high of $41.59 before dropping back to around the $15 mark at the end of 2022.
Throughout 2023, the Ethereum Classic token price has fluctuated quite dramatically between $15 and $23. After starting the year at $15.69, Ethereum Classic sits at $15.03 at the time of writing, a change of -4.21% over 2023.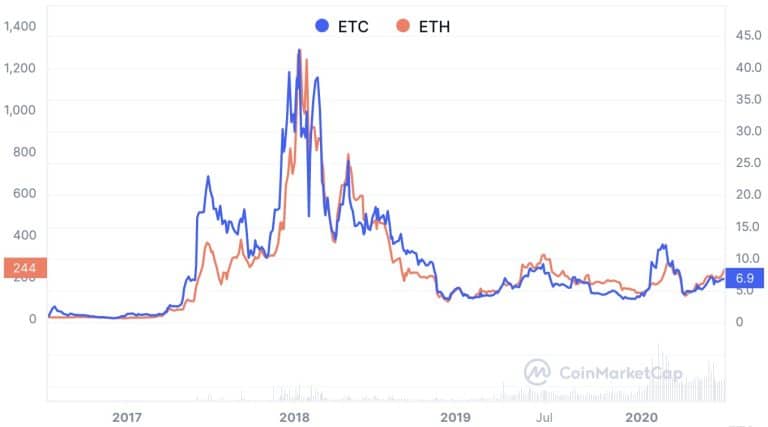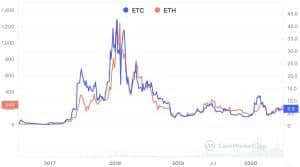 Key Points in Ethereum Classic Price History
Ethereum Classic's price history begins on CoinMarketCap on the 24th of July, 2016, starting at $0.7523.
Since its launch, Ethereum Classic has closely tracked the price of its sister chain, Ethereum.
Ethereum Classic's all-time high is $176.16 and was achieved on May 6th, 2021. The Ethereum Classic price is currently down 91.47% from this high.
In the buildup to The Merge on Ethereum, Ethereum Classic posted higher percentage gains than its sister chain, climbing almost 193% from $14.20 to $41.59, in anticipation that many miners would move to support the chain.
Ethereum Classic Price Prediction 2023
Having traded in a wide range of $15–$23 for 2023, Ethereum Classic is currently trading at a 4.21% discount to its price at the beginning of the year. Having broken out of a downward trend at the end of September, where the trend line met the 20-day MA, and rapidly climbed above the 50-day MA, the Ethereum Classic price stalled at $16.71 and has since declined below these MAs to test support at $15.
The 20- and 50-day MAs are now at a cross point, at $15.60. If the Ethereum Classic token price can find support at $15 and the energy to climb above these trend lines and sustain its position for a few days, then this could offer a springboard to finish the year on a high, potentially as high as $17—although a more realistic high is around $15.50
If, however, the Ethereum Classic token price can't find strong support at $15, or finds heavy resistance at the cross of the MAs, it may again return to test $15, and combined bearish market pressure from these signals could lead it to test key support at $14.72.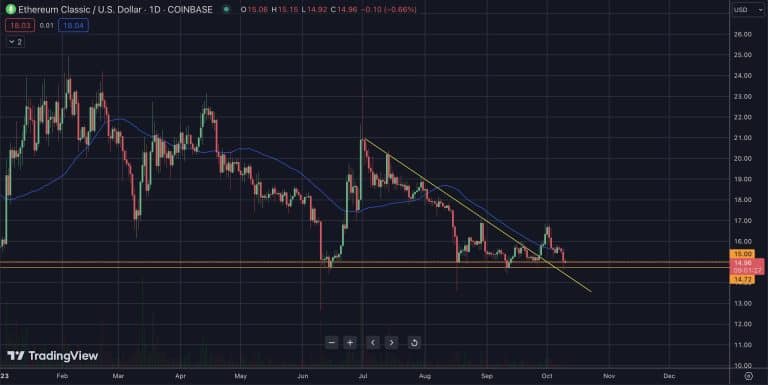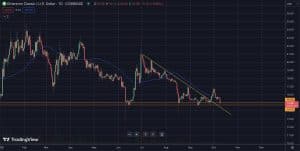 Ethereum Classic has many barriers to climb if it is going to post big gains by the end of 2023. That's why our Ethereum Classic price prediction for 2023 is that it will trade in a narrow range from now until the end of the year and finish the year around $15, with a potential high of $15.50 and a potential low of $14.72.
| 2023 | Price Prediction |
| --- | --- |
| High | $15.50 |
| Low | $14.72 |
Ethereum Classic Price Prediction 2024
There are expectations of a crypto bull market in 2024 due to the Bitcoin Halving event set to occur in April 2024. Historically, Bitcoin Halving events have been preceded by steady rises in the price of Bitcoin, and prices have continued to rise considerably afterward.
As the rest of the market often tracks the price of Bitcoin, their prices also follow this trend. Indeed, during the bull run, whose start coincided with the last Bitcoin Halving, Ethereum Classic posted its all-time high price of $176.16.
With no roadmap, it is difficult to tell what will happen with Ethereum Classic, posing a problem for making an Ethereum Classic price prediction. However, unlike other coins that typically have a roadmap and will face scrutiny and uncertainty when they lack one, Ethereum Classic never has one, and there is less price pressure on it because of this.
Ethereum, whose price Ethereum Classic tracks closely, will begin testing scaling upgrades related to sharding called proto-danksharding toward the end of 2023. This is expected to be implemented in 2024. If this goes as planned, it will likely boost the price of Ethereum, and Ethereum Classic will follow. Ethereum Classic will upgrade its blockchain with these upgrades 3–6 months after they launch on Ethereum.
With all this in mind, our Ethereum Classic price prediction for 2024 is optimistic, with a possible end of year price of $48, highs in the psychological territory of $100, and a low price, mainly at the start of the year, of $15.
Ethereum Classic Price Forecast Long-Term Outlook – 2025-2030 Predictions
With Ethereum Classic tracking the price of Ethereum in the long term, we can look at Ethereum price predictions to see what might happen to the Ethereum Classic crypto price.
Ethereum Classic Price Prediction for 2025
If the bull market starts in 2024 with the Bitcoin Halving, we can expect to see it continue through to 2025, where coins will likely begin posting their new ATHs. Historically, Ethereum Classic has closely tracked Ethereum to its all-time highs, sometimes even posting its new all-time high before Ethereum does its own.
With Ethereum cementing itself as the #2 crypto and becoming the most popular proof-of-stake coin and deflationary asset over the past year, we can expect it to post new all-time highs in the next bull run.
Following our Ethereum prediction of a 120% increase on its all-time high, our Ethereum Classic price prediction for 2025 is that Ethereum Classic will post a high price of $387. With this, we can expect lows of $120 and a median price of $210.
Ethereum Classic Price Prediction for 2030
Many factors affect an Ethereum Classic price prediction for 2030, with the potential adoption of cryptocurrencies by this point in time being one of the biggest ones. If a move to mass adoption of crypto does happen, then this is good news for all crypto markets.
If this is coupled with a shift toward decentralization because of a lack of trust in centralized entities, then Ethereum Classic could be a huge gainer.
As the sections below explain, Ethereum Classic is the original, untampered Ethereum. This means that a move away from centralized entities may lead to a lack of trust in Ethereum due to its history, boosting the profile of Ethereum Classic.
Because Ethereum Classic loosely follows Ethereum's roadmap, upgrading the chain with many of the same upgrades 3–6 months after its sister does—to maintain compatibility—we could see dApps and use cases move to Ethereum Classic because of the highly familiar operating environment, bringing their users with them and increasing demand for Ethereum Classic.
However, we also need to consider the unfavorable public perception of proof-of-work blockchains from the angle of global climate change. All of which is sure to evolve by 2030, and it doesn't seem like it will evolve to get better. This could have Ethereum Classic decouple from the Ethereum price and start charting its own course through the markets.
With all this in mind, our price prediction for Ethereum Classic in 2030 is that it could be moving towards and even creating new all-time highs, posting a high of $860, with a low of $520 and a median price of $690.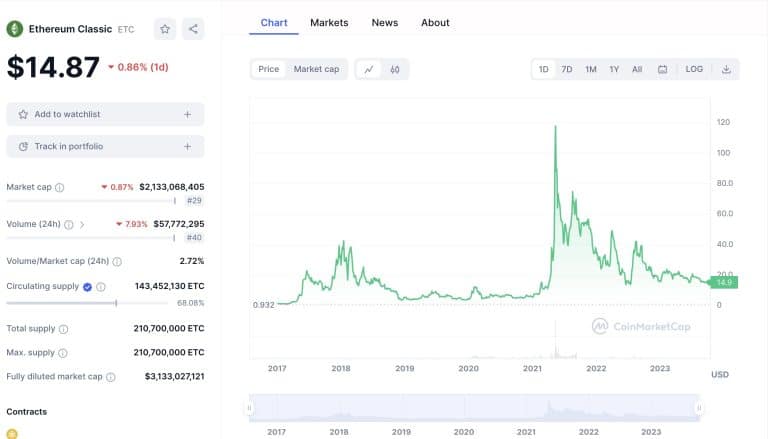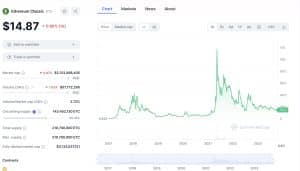 Potential Highs & Lows of the Ethereum Classic Price
Ethereum Classic is positioning itself as an asset and network with all the utility of Ethereum but a different history. While a different coin and network entirely, it does track the price of its sister, Ethereum, very closely. We must consider what's happening to Ethereum when making an Ethereum Classic coin forecast.
With that in mind, here is a summary of our Ethereum Classic price predictions.
| | | | |
| --- | --- | --- | --- |
| Year | Potential Low Price | Average Price | Potential High Price |
| 2023 | $14.72 | $15 | $15.50 |
| 2024 | $15 | $48 | $100 |
| 2025 | $120 | $210 | $387 |
| 2030 | $520 | $690 | $860 |
What do Other Analysts Predict for Ethereum Classic?
The Cryptopolitan predicts that the Ethereum Classic price will reach $50.94 in 2025, with a high of $317.96 in 2030. They also predict highs of $705.99 in 2032.
The Cryptolitan
The blog for the Changelly exchange predicts that Ethereum Classic will hit a high of 317.93 at the end of 2030, with an average price of $237.65.
Changelly
On the other hand, Wallet Investor offers a high level of bearish sentiment with its Ethereum Classic price forecast, foretelling that it will lose almost 99% of its value and be worth $0.195 by October 2028.
Wallet Investor
Coincodex predicts that Ethereum will hit highs of $33.57 and $34.98 in 2025 and 2030, respectively. With highs of $74.29 in 2024 and $100.97 in 2028 thanks to the Bitcoin Halving happening in those years.
Coincodex
On Traders Union, price predictions for Ethereum Classic are moderate, with, prices for 2025 and 2030 at $20.54 and $33.14 respectively.
Traders Union
What is Ethereum Classic and What is it Used For?
Many are wary of "Ethereum Classic" when they first see it, reasoning through its name that it is a ripoff off of the world's second most popular blockchain, Ethereum.
However, Ethereum Classic is not a ripoff of Ethereum, and many argue that Ethereum Classic is the "true Ethereum." How is this possible?
Ethereum: Two Chains, One Beginning
The Ethereum blockchain was launched by the Ethereum Foundation in 2015 as a platform that supported the mantra that code is law, i.e., whatever happens as a result of the code running on-chain is unchangeable. This mantra was broken in 2016, almost a year after the creation of Ethereum, when a controversial hard fork was implemented to save fund from a hacker in what is known as The DAO hack.
What is a Hard Fork?
Hard forks vary greatly in content, but essentially, a hard fork is an event that results in a change in the blockchain code that makes it no longer compatible with older versions.
Most hard forks are undertaken as organized and well-debated network upgrades without much contention surrounding them. As a result, most miners, node operators, and/or pool operators will upgrade to the new software, the fork will successfully alter the network's code, and one chain will emerge running the new consensus.
However, if there is contention about the philosophical or practical purpose of the fork it can result in a split in the community, and, if strong enough, when the hard fork is initiated some of the community follows the fork, but another side continues with the old software. This creates two chains that share the same history up until the moment of the hard fork, but are incompatible and on different tracks after that. Ethereum and Ethereum Classic are great examples of this, as is the Bitcoin/Bitcoin Cash hard fork from 2018.
After the hard fork event, everyone thought there would only be one chain, the forked one, where funds from the hacker had been returned to The DAO for redistribution to those who contributed to the crowdsale. The Ethereum Foundation, who initiated the fork and had ownership rights over the Ethereum brand, branded this fork Ethereum, and this is the popular Ethereum we know today.
Everyone thought that would be it, and the unchanged, or 'original', chain would disappear. However, some miners continued to support the original chain. The token's of that chain were quickly given price discovering on two exchanges and branded by those in the market as Ethereum Classic.
So, Ethereum Classic is the continuation of the original, unaltered Ethereum chain. Its history has not been interfered with to reverse the errors in The DAOs smart contract because the Ethereum Classic community believes that Code is Law.
What Happened in The DAO Hack?
In April 2016, The DAO was proposed by a group containing many members and former members of the Ethereum Foundation, and it had the backing of the Foundation. The DAO was a proposed, crowdfunded venture capital fund designed to invest in new projects on Ethereum.
At the time, this was the largest crowdsale ever, raising 14% of all Ether, totaling $150 million. However, once this was complete, it was noticed that there was a bug smart contract of the DAO project. This bug allowed a hacker to drain 30% of the funds before white hat (i.e., good) hackers managed to secure the other 70%. To get hold of the other 30% of the funds, a protocol-level intervention would have to be used.
A soft fork was proposed and implemented with the consent of miners, but a bug was found in the soft fork code, and it was rejected. A hard fork was then proposed to return the funds from the hacker to The DAO. After a short, 12 hour, voting period, the fork was confirmed and then implemented 5 days later.
As one of the biggest events in Ethereum's history, there are lots of details surrounding the story of the hack. This timeline from Ethereum Classic explains the progress of events excellently, while this extensive post tells the story of the DAO hack and the origins of Ethereum and Ethereum Classic in depth.
No Roadmap: A Focus on Decentralization
Ethereum Classic emerged as the result of a centralized authority making a decision that went against the ideals that organization was trying to push for. As Ethereum Classic emerged from the fork, its focus seemed clear: to continue with the mantra that code is law and decentralization is key.
As a result, the Ethereum Classic Foundation was created. However, it does not have any control over the project. It is defined as an idea, and serves and an informational source on Ethereum Classic—there is no centralized board or group of advisors deciding what is best.
In this sense, Ethereum Classic has a similar philosophy to Bitcoin's. There is no roadmap, and progress is made through community debate, development, and community consensus. This draws criticism from some as development for chains operating in this way moves much slower, but it does help ensure decentralization.
Similarities with Ethereum: dApps and More!
While Ethereum Classic might be philosophically different from Ethereum—with its commitment to the code is law mantra, capped supply, and focus on decentralization—it is technologically similar to Ethereum.
Indeed, until Ethereum's move to a proof-of-stake consensus mechanism in September 2022, the chains were highly similar. Incidentally, Ethereum Classic is committed to proof-of-work and has no plan to switch to proof-of-stake.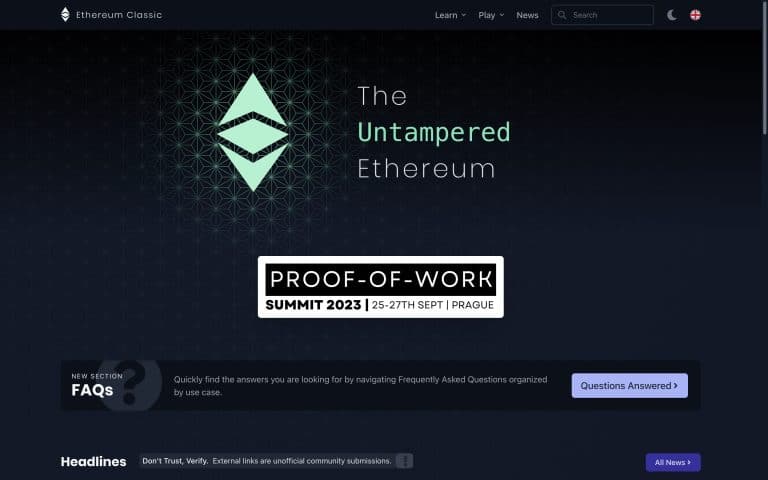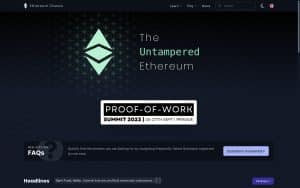 Despite this difference in the consensus layer, both blockchains run the Ethereum Virtual Machine (EVM), and Ethereum Classic has implemented many of the upgrades that have been implemented on its sister chain to ensure that they are operationally compatible. Ultimately, this allows for dApps and smart contracts deployed on Ethereum to remain compatible with Ethereum Classic.
Because of this similarity, there are multiple wallets that many users will be familiar with that support Ethereum Classic, an array of dApps, from DeFi to metaverses to NFT projects, built on top of it, and support from many crypto exchanges and cross-chain bridges. This means Ethereum Classic has just as much utility and potential as its more famous sister.
Ethereum Classic Overview
| | |
| --- | --- |
| Cryptocurrency | Ethereum Classic |
| Ticker Symbol | ETC |
| Rank | #29 |
| Price | $15.03 |
| Price Change 24H | 0.09% |
| Market Cap | $2,149,431,949 |
| Circulating Supply | 143,433,722 ETC |
| Trading Volume 24H | $61m (4,098,485 ETC) |
| All Time High | $176.16 |
| All Time Low | $0.4524 |
What Influences the Price of Ethereum Classic?
With Ethereum Classic's price being so closely tied to Ethereum's, it is most notably influenced by the price of Ethereum and what happens there. The Merge, with it being Ethereum's transition away from proof-of-work, had an abnormal effect on the price of Ethereum Classic, but when Ethereum completes an upgrade, and the price reacts positively, we can expect the Ethereum Classic price to follow it.
The Bitcoin Halving events will always have a knock-on effect throughout the whole crypto market; this is expected to continue throughout 2024 and 2028.
Any public commentary on Ethereum Classic can also have an effect on its price. Notable, the Ethereum Classic price received a 20% boost in 2022 when, at the ETHCC conference in 2022, Vitalik Buterin endorsed Ethereum Classic by saying: "If you like proof-of-work you should go use Ethereum Classic."
There is also the effect of the growing Ethereum Classic ecosystem. As it grows, the utility of the coin grows as does the amount of people using it. More activity can entice others to join in, increasing demand for the coin.
Ethereum Classic has been the victim of multiple 51% attacks in its history, affecting its price. In 2020 Ethereum Classic was the victim of three 51% attacks in a month, and its price fell 31% from $7.40 to $5.12.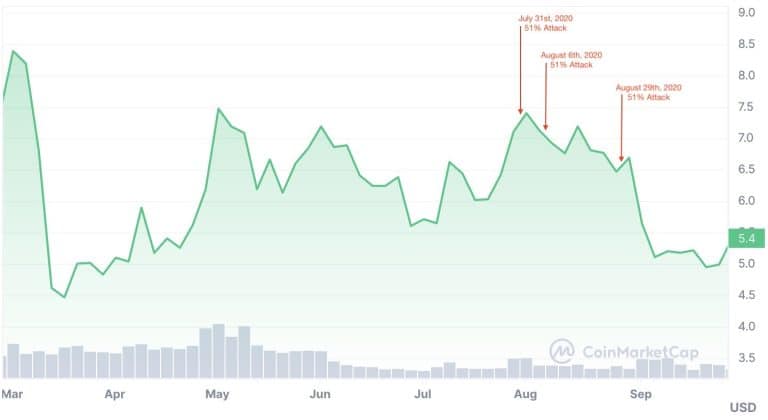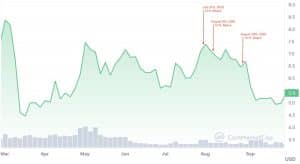 Is Ethereum Classic a Buy?
According to our price analysis, we don't see Ethereum Classic gaining much over the remainder of 2023, and technical indicators show that it is likely to finish the year at $15.
However, with the Bitcoin Halving around the corner in 2024 and scalability upgrades, due to begin testing and potentially being implemented on Ethereum in 2024, we expect Ethereum Classic to reach $100 in 2024.
As the bull run of 2024 runs into 2025, we expect highs of $387 in 2025, with a median price of $120.
Long-term price predictions depend on many factors, and even events and happenings not written in the playbook can still occur. But we expect Ethereum Classic to be breaking new ground in 2030, forecasting that it could post highs of $860.
These are just predictions; whether they will come to fruition depends on many factors. The cryptocurrency market is volatile, affected by happenings in many different markets, meaning that they could also go in the other direction, and you could incur losses.
Conclusion
Ethereum Classic's close relation to the #2 cryptocurrency has an overall positive effect on its existence and forecasts made on its price, even though many are skeptical when they first read its name. Continuing to run on a proof-of-work consensus mechanism could be detrimental to it in the future. However, if decentralization becomes a big part of the conversation, it could be a favored alternative because of its compatibility with Ethereum.
Does all this make it one of the top coins to buy in 2023? Follow the link below to find out which altcoins investors are most attracted to in 2023.
References
FAQs
How much will Ethereum Classic be in 2024?
What will Ethereum Classic be worth in 2025?
Can Ethereum Classic rise $100?
How much will the Ethereum Classic price be in 2030?