Ethereum is up 46% since the start of January 2023. However, despite the gains, ETH is currently facing some concerns in the short term. With that in mind, we explore if it can sustain its bullish momentum or whether new lows are on the horizon.
This article dives deep into the key drivers of ETHs price as well as on- and off-chain analytics to give you our Ethereum price prediction between 2023 and 2030.
Ethereum Price Prediction Summary
Ethereum's current price is $1,748.84, up 42% in the past year.
After reaching its all-time high (ATH) of $4,891.70 in November 2021, ETH is now down 64%.
ETH is down 20.33% since its local high on 16 April.
Our Ethereum price forecast estimates ETH could range for the rest of the year between $1,100 and $2,000.
| | | | |
| --- | --- | --- | --- |
| Year | Minimum Price | Average Price | Maximum Price |
| 2023 | $1,100 | $1,550 | $2,000 |
| 2024 | $4,500 | $3,200 | $4,600 |
| 2025 | $4,500 | $7,630 | $10,760 |
| 2030 | $7,400 | $9,800 | $12,200 |
Ethereum Price History
Ethereum launched as an ICO in 2014 for $0.311 per coin. Until January 2016, the price mostly traded for less than $1. However, by January 2018, the price reached an ATH of $1,270. The price again exploded in 2021, eventually creating its current ATH on 16 November 2021 of $4,891.70.
Following its all-time highs, the crypto bear market ensued, which sent the Ethereum price capitulating to lows of $890 on 18 June 2022.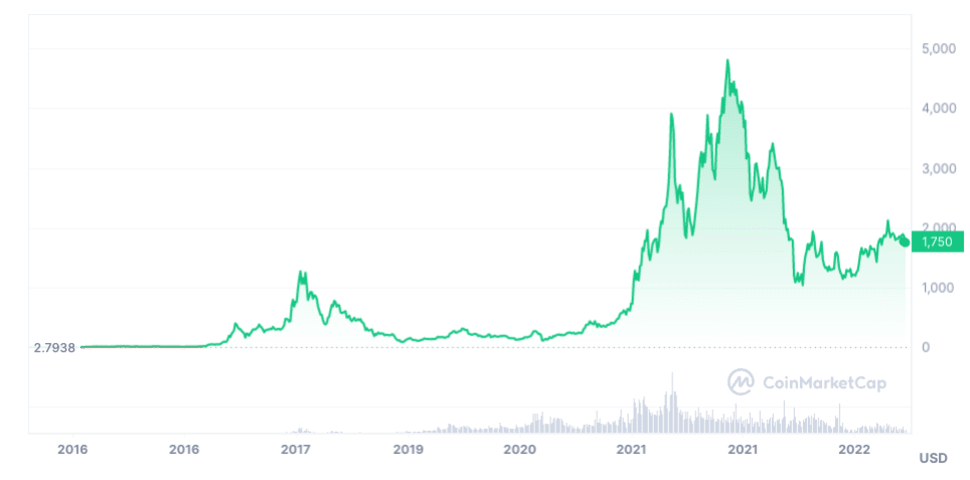 Since its lows, the Ethereum price has recovered relatively well. ETH is up 98% from June 2022, 42% in the 12 months but down 64% from its ATH.
The Ethereum price has recently endured high volatility after the SEC sued the two biggest crypto exchanges, Binance and Coinbase. The lawsuits claimed that the exchanges were selling unregistered securities.
Although the allegations did not mention Ethereum as a security, SEC chair Gary Gensler has previously raised concerns that Ethereum's move to Proof-of-Stake makes it a security.
Ethereum price history key points:
Ethereum launched as an ICO for $0.311 in 2014.
The coin traded under $1 for most of 2015.
In 2018, the price exploded to $1,270 but was followed by a bear market.
Ethereum reached its ATH of $4,891.70 in November 2021.
ETH is currently down 64% from its ATH but up 98% from its recent bear market lows.
Ethereum Price Prediction 2023
Ethereum has followed an uptrend since June, creating higher lows and higher highs. As seen on the Ethereum price chart below, the price recently broke above its previous resistance level of $2K. However, it was unable to retest and bounce and has since dropped back below.

Although the higher high could signal an uptrend, it is also possible that it is a "fake out".
A fake-out is occurs when a price breaks out of its support or resistance but quickly returns to the zone. They often trick investors to trade against the price's actual direction, giving "smart money" traders more liquidity and better entry points.
The recent Ethereum price movement could mean retail investors buy at a high price, providing extra liquidity for whales to short and sell more coins.
Additionally, considering the SEC's recent crypto action and the fact that the next crypto bull run is expected in 2024, we are unlikely to see Ethereum create new higher highs this year.
Instead, Ethereum will likely range between $1,100 and $2,000 for the rest of the year. With that in mind, our Ethereum price prediction estimates an average price of $1,550 by the end of 2023.
| | | | |
| --- | --- | --- | --- |
| Month | Potential Low | Average Price | Potential High |
| July 2023 | $1,500 | $1,675 | $1,850 |
| August 2023 | $1,450 | $1,575 | $1,700 |
| September 2023 | $1,250 | $1,425 | $1,600 |
| October 2023 | $1,200 | $1,500 | $1,800 |
| November 2023 | $1,100 | $1,500 | $1,900 |
| December 2023 | $1,100 | $1,550 | $2,000 |
Cryptoassets are highly volatile and unregulated in most EU countries, Australia and the UK. No consumer protection. Tax on profits may apply. Your capital is at risk.
Ethereum Price Prediction 2024
As mentioned, the crypto bull market is expected to occur in 2024. This is because the Bitcoin halving is set for April 2024.
The Bitcoin halving is an event on the Bitcoin network where mining rewards are cut in half. This doubles the cost to create a Bitcoin for miners, historically triggering a crypto bull market.
However, all cryptocurrencies carry risk, and there are several scenarios where the halving may not cause a new bull market. For example, global macroeconomic factors could worsen. This year, some experts have feared that a global recession could be on the horizon.
Another consideration is that the SEC could file a lawsuit against Ethereum, particularly since SEC chair Gary Gensler has previously called Ethereum a security.
Nevertheless, there are numerous factors which could help ETH grow in 2024. For example, the UK and Dubai aim to become global crypto hubs, Hong Kong has welcomed Coinbase to set up an office there, and the EU is pushing ahead with its Markets in Crypto Assets framework.
Regarding the SEC FUD, crypto is a global tool, not limited to one country. Therefore, believe that the Bitcoin halving will likely still trigger a new bull market, enabling ETH's price to break out of its current zone in 2024.
With that in mind, our Ethereum price prediction expects an Ethereum price of $3,200 by the end of 2024.
While it could push higher than this, global economic conditions and FUD could make a high price harder to attain in 2024. Therefore, we also forecast a possible low of $1,800.
Ethereum Price Prediction 2025
Provided the crypto bull market occurs, we can expect Ethereum to create new ATHs in 2025. Bull markets typically last 18 months, so if it begins in Q2 2024, Q4 2025 will likely be the peak.
Generally, each bull market produces less growth from its previous ATH for established cryptos. This is because as an asset matures, the amount of liquidity needed to boost its price increases. In other words, the most volatile cryptos are usually newer with lower market caps.
For example, according to CoinMarketCap, Ethereum reached a $1,270 ATH in 2018, an 6,600% increase from its 2016 ATH of $18.9. However, from its 2018 to 2021 ATH, it only increased by 285%.
However, it is also worth noting that Ethereum's transition from Proof-of-Work to Proof-of-Stake has deemed it "ultra sound money". This is because, for each Ethereum transaction, a small percentage is burned.
According to Ultrasound.money, the current rate of Ether burned is outpacing the Ethereum emissions given to validators for block rewards. Or, in simple terms, Ethereum is now a deflationary coin.
Considering the bull market will see increased network activity on Ethereum, the total amount of ETH in circulation could decrease considerably.
With this in mind, our Ethereum price prediction forecasts Ethereum could increase as much as 120% from its current ATH. This could lead to highs of $10,760 by the end of 2025.
Our average expected Ethereum coin price forecast is $7,630 and we predict potential lows of $4,500.
Ethereum Price Prediction 2030
Due to the turbulent nature of the cryptocurrency industry, it is difficult to say where Ethereum will be by 2030.
There is a possibility that Ethereum could see mass adoption, with governments, companies and individuals utilising it for everything from as a means of payment to decentralised social media.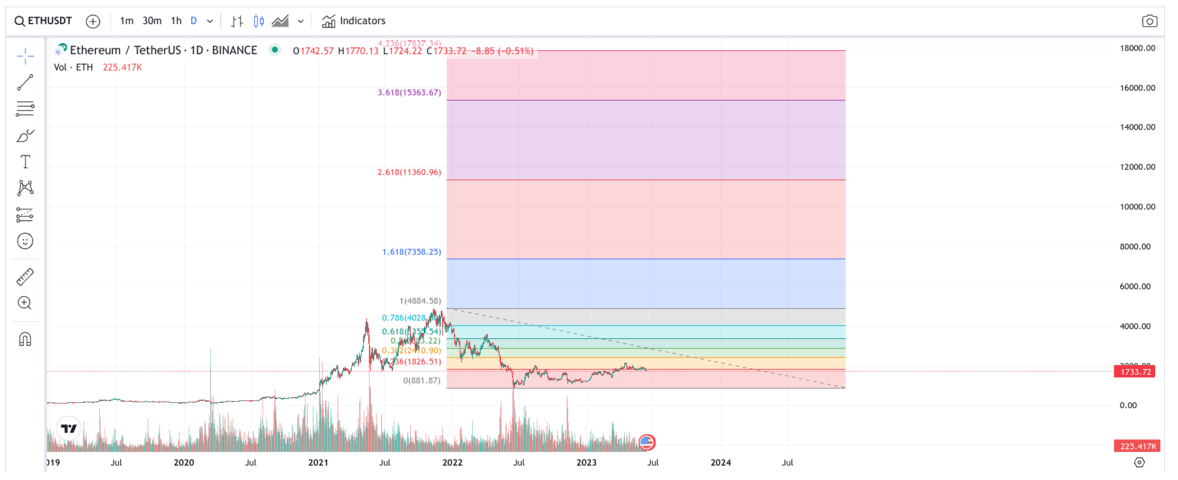 On the other end of the spectrum, smart contract risk or a global crackdown on cryptocurrencies with the intention of implementing central bank digital currencies could stunt Ethereum's growth considerably.
Ethereum will undoubtedly face trials and tribulations looking ahead, yet it provides tremendous value, and it is one of the most promising cryptocurrencies.
With this in mind, we expect Ethereum to be at the peak of its next bull run by 2030. However, it is important to note that cryptocurrency is an emerging technology. Many known and unknown risks could be detrimental to ETH's price.
Therefore, our Ethereum price prediction estimates an average price of $9,800 by the end of 2030.
Potential Highs & Lows of Ethereum Price
Ethereum is one of the best cryptos on the markets today. It offers lots of potential, but the novel use cases, tokenomics and regulatory uncertainty make it a riskier asset than Bitcoin. With this in mind, we have listed the possible lows and highs below.
| | | |
| --- | --- | --- |
| Year | Minimum Price | Maximum Price |
| 2023 | $1,100 | $2,000 |
| 2024 | $1,800 | $4,600 |
| 2025 | $4,500 | $10,760 |
| 2030 | $7,400 | $12,200 |
What Do Other Analysts Predict for Ethereum?
Cryptocurrency data firm CoinCodex developed the Ethereum Rainbow Chart which predicts Ethereum price to reach $28,700 by the end of 2025. This analysis is based on Ethereum's price volatility and cyclical nature of Bitcoin halvings which introduce extra supply-side pressure on Bitcoin and the rest of the crypto market every 4 years.
Crypto analyst Gareth Soloway calls for a $650 ETH price in 2023. This forecast comes after he successfully called the top of the previous bull market.
What is Ethereum & What is it Used For?
Ethereum is a "smart contract" blockchain. A smart contract is a piece of code that executes automatically. The Ethereum blockchain means hosting for this code can be distributed across thousands of computer nodes worldwide, making Ethereum decentralized, tamper-proof, transparent and secure.
Ether, or ETH, is the Ethereum blockchain's native utility token. It is used to pay gas fees (transaction fees) and is often used to pay for digital goods on the blockchain, such as NFTs. It is also the native coin pairing to swap for new tokens when they are added to the blockchain.
The Ethereum blockchain has a wide range of use cases. Its decentralization and immutability make it ideal for financial activity, known as decentralized finance (DeFi). Additionally, Ethereum is used for metaverse projects, blockchain gaming, NFTs, as a security layer for layer two scaling solutions and much more.
Ethereum Overview
Ethereum has proven itself as the best altcoin in recent years. This is evident in it being the second largest crypto by market cap after Bitcoin. Below we have compiled Ethereum's key price-related stats.
| | |
| --- | --- |
| Cryptocurrency | Ethereum |
| Ticker Symbol | ETH |
| Rank | 2 |
| Price | $1734.53 |
| Price Change 24H | -0.42% |
| Market Cap | $208,582,655,077 |
| Circulating Supply | 120,226,966.54 ETH |
| Trading Volume 24H | $6B |
| All Time High | $4,891.70 |
| All Time Low | $0.4209 |
What Influences the Price of Ethereum
Unlike Bitcoin, Ethereum is a utility token. Although it follows Bitcoin's price and other macroeconomic factors, many of Ethereum's price influences are also crypto-specific.
Also, cryptocurrency and the equities markets often move in unison. However, they have decoupled the past months with many tech stocks like Apple (AAPL) reaching ATHs, while crypto remains in a bear market.
Moreover, macroeconomic conditions have improved recently, with inflation curbing and the FED halting interest rate hikes. However, many cryptos, including Ethereum, have plunged in the past month. So what is affecting Ethereum's price?
Firstly, government regulation is a massive concern for the whole of crypto at the moment and has caused prices to plunge in recent weeks.
Secondly, crypto-specific issues, such as the collapse of FTX, LUNA and, more recently, issues regarding layer two scaling solutions, have raised concerns and may have held Ethereum's price down.
Another issue troubling Ethereum is smart contract and security risk. Although Ethereum is known for its security, countless hacks and exploits have targeted decentralized applications (dApps) on the Ethereum chain, causing users to lose millions.
On the other hand, supply and demand are significant drivers of Ethereum's price. With ETH being a deflationary utility token, the scarcity combined with demand could boost its price looking ahead.
Currently, there are roughly 400,000 daily active ETH addresses. However, in a recent interview, Ethereum founder Vitalik Buterin said the Ethereum team is working to accommodate 500 million users in the near future.
This level of demand, plus the deflationary nature of ETH, could rocket its price.
Is Ethereum a Buy?
According to our Ethereum price forecast, we expect Ethereum's price to decrease by 14.1% in 2023 to $1,550.
Taking a longer-term outlook, we expect the price of Ethereum to reach $3,200 by 2024. With the bull market expected to start in 2024, our 2025 Ethereum price prediction estimates a price of $7,630.
While long-term price predictions are more difficult to make, we believe Ethereum could break the 10K mark in 2030, with the average price for our 2030 Ethereum forecast at $9,800.
However, it is important to remember that these figures are predictions. Crypto assets are volatile and can quickly move in either direction, potentially leading to losses.
Conclusion
Ethereum is one of the most well-established and technologically advanced cryptocurrencies. However, its massive market cap means its upside potential is limited, and it still risks losing value.
With that in mind, we have compiled a list of cryptos with greater potential than Ethereum. Click below to check them out now.
Cryptoassets are highly volatile and unregulated in most EU countries, Australia and the UK. No consumer protection. Tax on profits may apply. Your capital is at risk.
References
https://www.bbc.com/news/technology-61796155
https://www.msn.com/en-us/money/companies/us-sec-sues-crypto-exchange-coinbase-one-day-after-suing-binance/ar-AA1cdw4j
https://www.bloomberg.com/news/articles/2022-09-15/gensler-raises-concerns-over-staking-model-used-on-ethereum
https://www.cnbc.com/2022/02/21/bitcoin-btc-bull-market-may-not-return-until-2024-huobi-co-founder.html
https://www.reuters.com/markets/world-bank-warns-global-economy-could-easily-tip-into-recession-2023-2023-01-10/
https://www.investmentmonitor.ai/crypto/london-and-dubai-hold-strong-against-crypto-global-hubs/
FAQs
What will Ethereum be worth in 2025?
How much will one Ethereum be worth in 2030?
Is it still a good time to buy Ethereum?
What was Ethereum's highest price?
Will Ethereum reach $10,000?