We compared two crypto trading platforms, eToro vs Coinbase – both aimed at beginner and intermediate traders – to find out which one is the best in 2023. As you might expect, each platform had its pros and cons and areas in which it was a better option compared to the other.
But with beginners and intermediate traders in mind, one crypto trading platform still came out on top.
eToro vs Coinbase – Our Summary
Overall, eToro may be the better option for many traders. Here's why.
When compared to Coinbase's simple trades, eToro's trading fees are lower – and the eToro platform is even easier to use. Add in features like copy trading, a simple way to copy the trades of successful traders on eToro, and you have an affordable crypto trading platform that doesn't require you to be a trading guru to make money.
Coinbase remains a solid choice. And with 250+ cryptos compared to eToro's 80 cryptos, Coinbase offers more variety if you're looking to diversify your crypto portfolio in 2023.
You'll also be able to do more with the crypto you buy, such as transfer it to another wallet or put your crypto to work in decentralized finance applications. (eToro allows this with some cryptos — but not all.) Cost-effective trading on Coinbase requires using the advanced platform, however, which can be challenging for newer traders.
Here's how the two crypto trading platforms compare. We'll also look at the cost to buy Bitcoin on each.
eToro vs Coinbase Compared
eToro
Coinbase
Licenses & Regulation
UK: Financial Conduct Authority (FCA)
Europe: Cyprus Securities Exchange Commission (CySEC)
US: Financial Crimes Enforcement Network (FinCEN), U.S. Securities and Exchange Commission (SEC)
UK: Financial Conduct Authority (FCA)
Australia: Australian Transaction Reports and Analysis Centre (AUSTRAC)
US: Financial Crimes Enforcement Network (FinCEN), U.S. Securities and Exchange Commission (SEC)
Number of cryptos
80; number of cryptos available for trading varies by country
250+
Fee structure
1% to buy or sell crypto
Variable fees + spread for simple trades; 0.6% maker fees and 0.8% taker fees for Coinbase Advanced, with lower fees available based on volume
Fee to buy Bitcoin
$1 to buy $100 worth of Bitcoin

$3.84 to buy $100 of Bitcoin using simple trades; $0.60 to buy $100 of Bitcoin with a limit order on Coinbase Advanced
Trading tools & features
Charts, Copy trading, smart portfolios
Charts, ETH staking, interest on USDC
Mobile app rating
Android: 4.1 out of 5 stars
iOS: 4.2 out of 5 stars
Android: 4.1 out of 5 stars
iOS: 4.7 out of 5 stars
Payment methods
Bank transfer, Debit card, PayPal, Neteller, Skrill
Wire transfer, Bank transfer, Debit card, PayPal
Minimum deposit
$10
$1.99
Demo account
$100,000 USD virtual portfolio
No demo account available
What are eToro and Coinbase?
Both eToro and Coinbase are platforms where you can trade and invest in cryptocurrencies. However, each platform approaches the task differently, and eToro offers several other asset types for trading, including stocks and exchange-traded funds (ETFs).
eToro Overview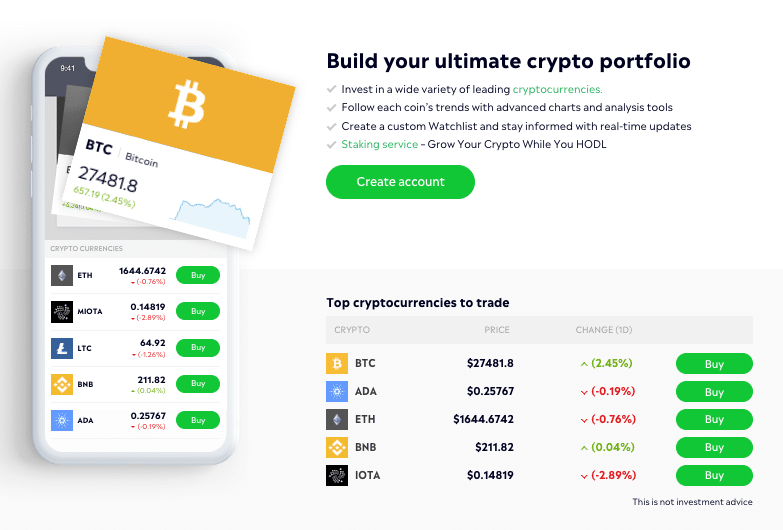 eToro's history dates back to 2007 when the company was founded in Israel under the name RetailFX. Over the years, the beginner-friendly platform added new features and trading markets, eventually growing to over 33 million users worldwide. Today, eToro offers trading in stocks and ETFs, as well as cryptocurrencies, commodities, and even foreign currencies.
Although eToro offers trading in a wide range of asset classes, eToro's social trading features are the biggest appeal for many traders. You can follow other traders' posts or even copy their trades using eToro's copy trading.
In this guide, we'll explore eToro vs Coinbase from a crypto-trading perspective, although we'll also consider the additional trading opportunities eToro offers that may make it a better choice for some investors.
Coinbase Overview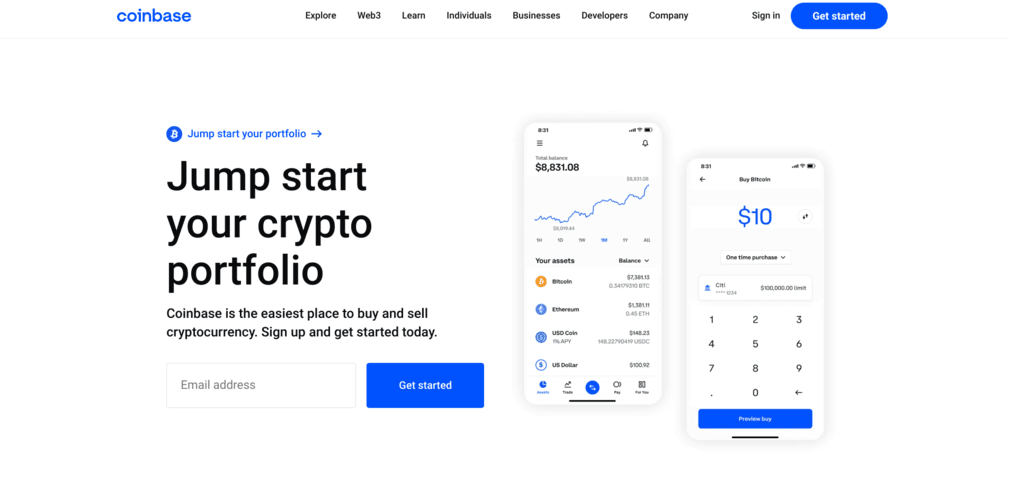 Coinbase began operating as a crypto exchange in 2012, and does not offer trading in any other asset classes. Since its founding, Coinbase has grown to become the largest publicly traded crypto exchange in the world and now offers over 250 cryptocurrencies.
Like eToro, Coinbase aims to make its platform easy to use for new traders. However, Coinbase offers both a simple buying interface and Coinbase Advanced, its lower-cost trading platform.
Tradable Cryptocurrencies
Coinbase offers a much wider selection of cryptocurrencies, now over 250, with nearly 600 trading pairs, meaning you can trade crypto for crypto without first converting to cash.
By contrast, eToro offers 80 cryptocurrencies for trading across all markets, with certain cryptos not available in some markets. For example, in the US, you can trade 23 cryptocurrencies.
Both platforms, however, offer access to the top cryptocurrencies by market capitalization. Bitcoin (BTC) and Ethereum (ETH) combined make up nearly 70 percent of the crypto market value. Institutional investment interest in BTC and ETH continues to grow.
The table below shows which top 10 cryptos are available for trading on each platform. We did not include stablecoins, which act like crypto equivalents of traditional currencies like the US dollar.
| | | |
| --- | --- | --- |
| Cryptocurrency | eToro | Coinbase |
| Bitcoin (BTC) | Yes | Yes |
| Ethereum (ETH) | Yes | Yes |
| Binance Coin (BNB) | Yes | No |
| Ripple (XRP) | Yes | Yes |
| Solana (SOL) | Yes | Yes |
| Cardano (ADA) | Yes | Yes |
| Dogecoin (DOGE) | Yes | Yes |
| Tron (TRX) | Yes | No |
| Toncoin (TON) | No | No |
The total number of cryptos available for trading doesn't tell the whole story, though. eToro offers nine of the current top 10 cryptos, whereas Coinbase (with more than three times the number of tradable cryptos compared to eToro), offers just seven of the top 10 cryptocurrencies.
You can build a more diversified "top ten" portfolio on eToro.
Where you are in the world also makes a difference regarding trading availability on eToro. BNB and SOL, for example, are tradeable cryptocurrencies on the platform. But if you're in the US, you can't trade these two assets on eToro. This isn't uncommon in the industry. Until recently, Coinbase didn't offer trading for XRP, a crypto it once offered — and now offers again.
Account Types
Most traders will use a personal account, which both eToro and Coinbase offer with easy onboarding. However, both platforms also offer additional account types for business or institutional investors.
eToro Account Types
If you need to trade in a business account or are an experienced trading professional, eToro offers additional account types for these situations.
Here are eToro's four account types:
Personal: eToro's personal account provides an easy way to get started trading cryptos or other assets, such as stocks or ETFs. Personal accounts can access popular features, including copy trading, which lets you follow the moves of other traders, and smart portfolios, a feature that provides a curated selection of assets hand-picked by eToro analysts.
Professional: eToro's professional account targets investment professionals with a balance of €500,000 or more. Professional accounts can take on larger risks, which is why this account type requires prior experience and a substantial balance.
Corporate: eToro also supports business accounts in major markets like the UK. You'll need to provide documentation on your qualified business and deposit at least $10,000. Certain markets may require minimum deposits of $20,000 or $50,000.
Islamic account: To comply with Sharia law, eToro offers Islamic accounts which do not charge (or credit) overnight fees for trading products such as CFDs (Contract-for-difference).
eToro Demo Account (Virtual Portfolios)
Although not a distinct account type, eToro's demo account, also known as a virtual portfolio, deserves a mention here. We'll explore virtual portfolios in more detail in a bit, but each account type listed above qualifies for a virtual account as well where you can practice trading or test trading strategies.
Coinbase Account Types
You'll find three account types for trading on Coinbase:
Personal: Coinbase's personal account offers easy onboarding for new traders as well as those with experience trading cryptocurrencies. You can also choose between simple trades and advanced trading, but both trading platforms are accessible from the same trading account.
Business: If you need to invest in crypto through your business, Coinbase has a solution. There's also an option to use Coinbase as a merchant services provider (and accept crypto payments). However, this is a separate service available to businesses called Coinbase Commerce.
Institutional/Prime: Qualified institutional investors can use Coinbase Prime, which offers both trading and custodial services.
Coinbase One
Coinbase users can also consider Coinbase One, a $30 monthly subscription that eliminates trading fees while delivering a few additional benefits including priority support.
eToro Fees vs Coinbase Fees
Trading fees can create an invisible headwind when investing in crypto, although getting the lowest fees often requires using an advanced trading platform that comes with a steep learning curve. As a result, the platform with the lowest fees may not be the best choice for all investors because advanced trading can be more difficult to use and therefore bring more risk of costly mistakes.
When comparing Coinbase vs. eToro in regard to fees, it's important to compare both of Coinbase's trading platforms (simple and advanced) against eToro's one-size-fits-all trading fee structure.
Interestingly, Coinbase can have either the lowest fees of the group – or the highest – depending on whether you use Coinbase simple trades or the advanced trading platform.
Lowest Fees: Coinbase Advanced
With Coinbase Advanced, you're interacting directly with the order book, so you don't pay a spread on limit orders. We'll cover spreads in more detail in a bit. Typical accounts will pay 0.6% for limit orders or 0.8% for market orders. Advanced trading fees changed recently, increasing from 0.4% for limit orders and 0.6% for market orders.
Lower trading fees are available based on trailing 30-day trading volume, as shown below.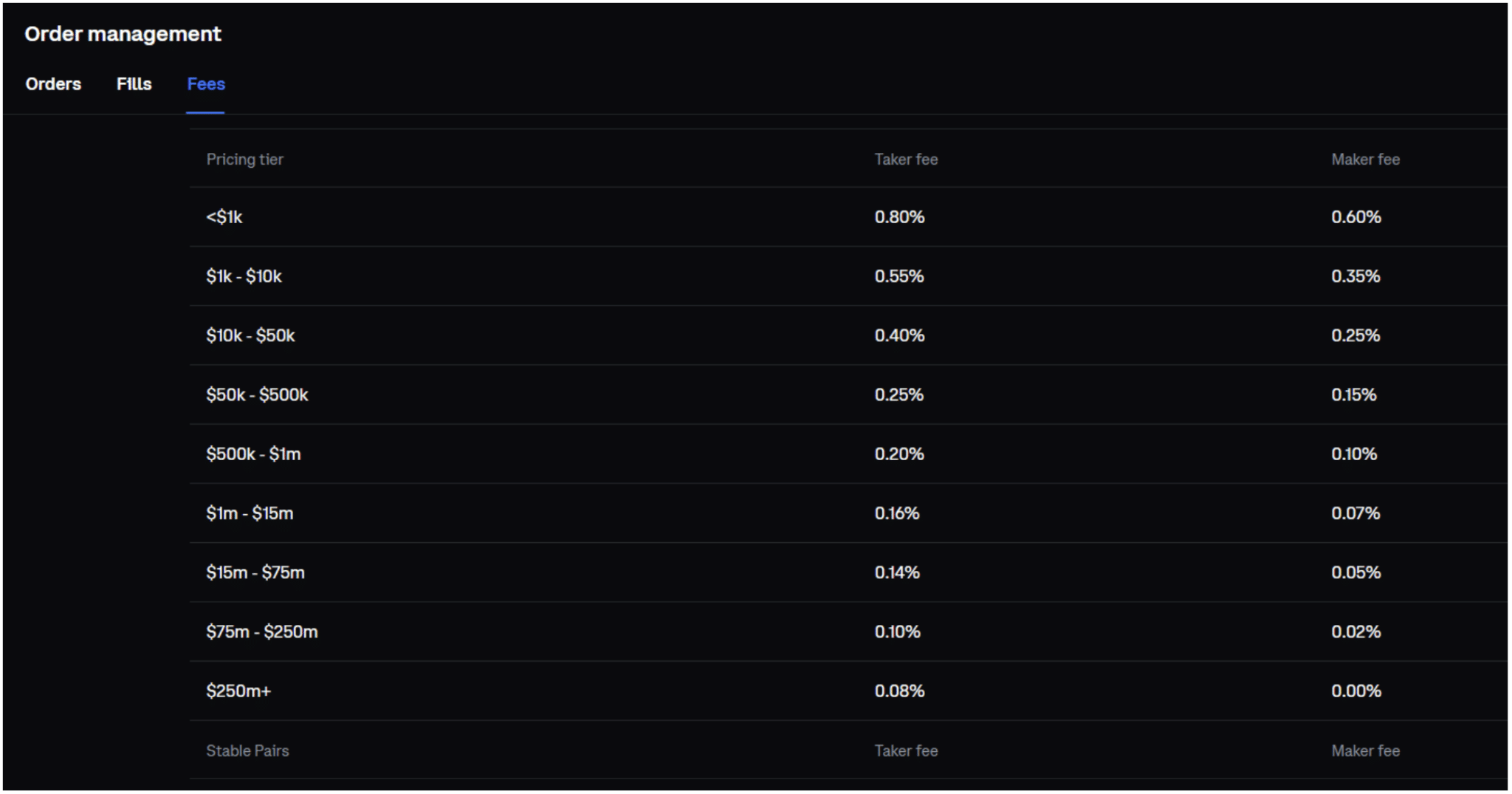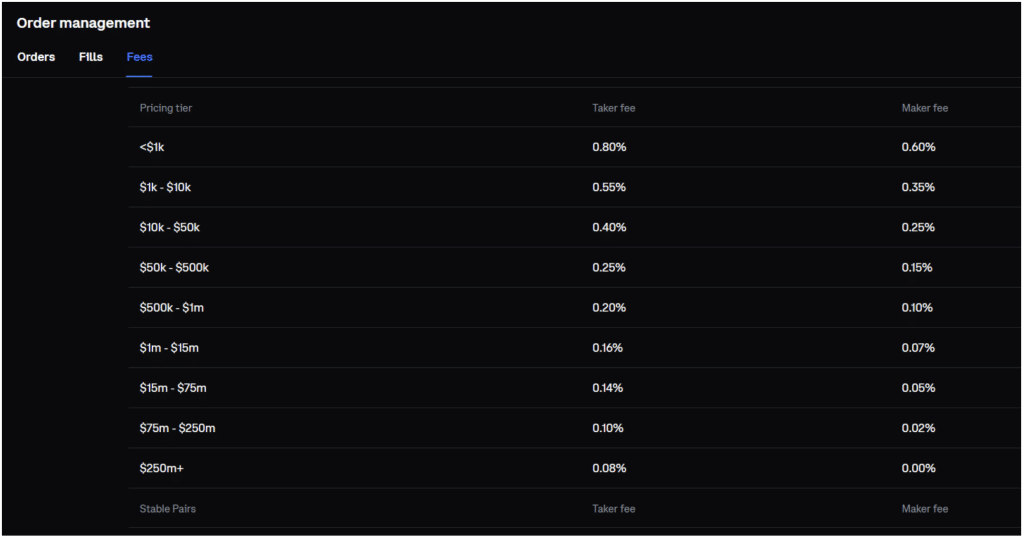 Average Fees: eToro
To its credit, eToro keeps crypto trading fees simple to understand. You'll pay 1% on buy orders and 1% on sell orders. The 1% fee is added to what eToro calls the "market price," which reflects a spread between the bid and ask price. The result is a price difference of higher than 1%, but typically still lower than Coinbase's simple trades (up next).
With eToro, you'll see the price you're paying, including fees on the order screen.
Highest Fees: Coinbase Simple Trades
You'll find a simple trade box throughout the Coinbase website and prominently in the mobile app. Like eToro's platform, Coinbase simple trades use a spread, quoted as 1% for BTC. In addition, you'll pay a variable fee based on the order amount. Smaller orders pay the highest percentage in fees. For example, on a $10 BTC order, you'll pay a $0.99 fee plus a 1% spread on the BTC cost, about 11% in total.
The lowest fee you'll pay for Coinbase simple trades is 3.84%.
eToro Fees vs Coinbase Fees Compared
| | | | |
| --- | --- | --- | --- |
| Trading fees | eToro | Coinbase Simple Trades | Coinbase Advanced |
| General | 1% to buy or sell cryptocurrencies + spread | $0.99 up to $2.99 (trades up to $75), variable fees above $75 + spread | 0.6% maker (limit) orders, 0.8% taker (market) orders |
| Trading fee to buy $50 Bitcoin | $0.50 | $1.99 | $0.30 (limit order) |
| Trading fee to buy $100 Bitcoin | $1.00 | $3.84 | $0.60 (limit order) |
| Trading fee to buy $1,000 Bitcoin | $10.00 | $38.37 | $6.00 (limit order) |
How Crypto Spreads Work
Trading spreads refers to the difference between the bid price and the ask price in trading markets. The bid is the highest priced limit buy order for an asset and the ask is the lowest priced limit sell order for the asset.
Limit orders are orders in which you set the buy or sell price. You're making a market by adding inventory to the order book at a fixed price, so these orders are also called "maker" orders.
Let's say there's a 1 BTC buy order at $28,065.00. All other limit buy orders are priced lower, so the bid is $28,065.
On the other side of the order book, you have sell orders. If the lowest price sell order is priced at $28,066, then that amount is the ask and the "spread" is $1.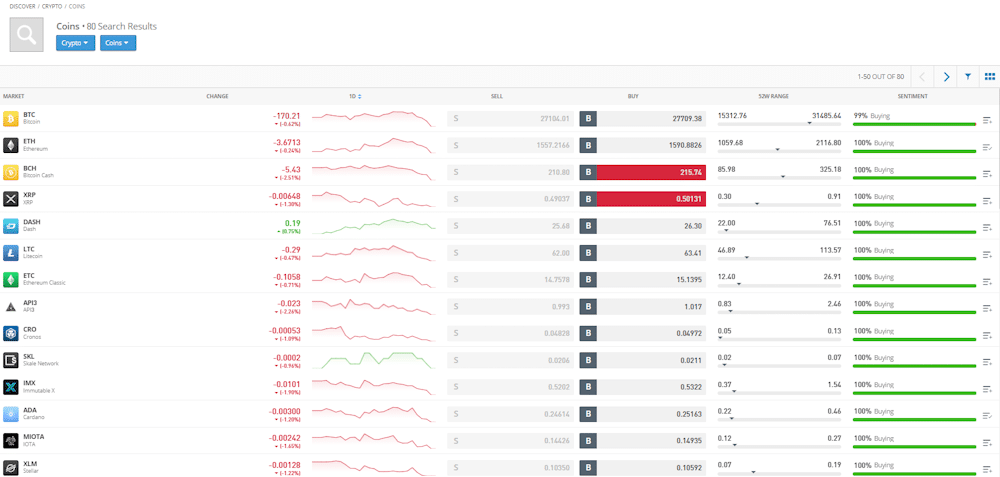 Spreads can vary from one moment to the next based on the open orders in the order book. On high-volume cryptos, like BTC, spreads are usually tighter, whereas spreads can be much wider for cryptos that trade infrequently.
Volume on each exchange also affects spreads. Fewer traders can lead to wider spreads.
However, sometimes the market source and meaning of spreads may not be clear. Coinbase, for example, assigns a 1% "spread" to simple trades. This means the spread isn't really a spread in the true sense of the term. Trading platforms may take some liberties with the meaning of spreads, using the term spread to describe a markup.
With the new fee schedule for Coinbase Advanced, Coinbase platform loses some of its price advantage over eToro. The new fees for market orders put the two platforms much closer together. You'll pay 0.8% on Coinbase Advanced compared to 1.0% on eToro.
Both platforms price the order at the ask price for buys and bid price for sells on market orders.
Coinbase vs. eToro Non-Trading Fees
Other fees, such as deposit or withdrawal fees can affect overall trading costs as well. These can be just as tricky to understand as trading fees. For example, Coinbase charges a 2.5% deposit fee for PayPal. However, you won't see this fee when using simple trades. Instead, the fee applies to deposits (in general), which you can use for simple or advanced trades.
| | | |
| --- | --- | --- |
| Non-Trading Fees | eToro | Coinbase |
| Bank deposit fee (ACH) | None | 0% to 1.49%, base on location |
| Debit card deposit fee | None | Not available for advanced trades; up to 3.99% for simple trades |
| PayPal deposit fee | None | 2.5% |
| Withdrawal fee | $5 for bank or debit card withdrawals; network fees if sending with eToro Money crypto wallet | Network fees if sending to another crypto wallet |
| Fiat conversion fee | Variable; deposits must be converted to USD | Variable if paid with debit card |
| Crypto conversion fee | Not available | Up to 2% spread for simple buy/convert |
| Inactivity fee | $10 per month after 12 months of inactivity | None |
eToro and Coinbase each have pros and cons related to non-trading fees.
On Coinbase, you'll want to watch for deposit fees — or deposit via ACH bank transfer to avoid paying deposit fees.
On eToro, budget for conversion fees (variable) if you're not depositing in USD and withdrawal fees ($5). You'll also want to log in at least once per year to avoid the inactivity fee. At $10 per month, it's costly.
User Experience
Both Coinbase and eToro target beginners, although there are opportunities for advanced traders on both platforms.
Account Setup
eToro and Coinbase make onboarding an easy process. KYC (Know Your Customer) rules make the process a bit longer, however. Expect to upload proof of identity, much like you'd need to do when opening a bank account. Both platforms offer a similar onboarding experience and are among the most streamlined in the industry.
Design
Finding your way around on each platform is key to ease of use.
eToro wins this one, offering a mirror-image experience with both desktop and mobile. Most of what you'll need to find is within a click or two from the main menu on the left.
By comparison, Coinbase isn't more difficult to navigate – but it often feels more difficult by adding features that can be confusing even for experienced traders. Click on "web 3" in the menu, for example, and you're whisked away to another corner of the crypto universe, a place where beginners and those with a few trades under their belts can get lost easily.
Funding
Both eToro and Coinbase offer multiple funding methods, including bank transfers, debit cards, and PayPal. eToro gets the edge here, however, because there's no fee for deposits. Coinbase charges 2.5% to deposit via PayPal.
Crypto Trades
For new users, trading is the most intimidating aspect of investing in crypto. Both Coinbase and eToro are well-suited to beginners, but eToro does a better job of making crypto easy to buy.
Let's look at the process on both platforms.
eToro Crypto Trading
eToro's crypto trading is more intuitive for newer traders. Just find a crypto you want to purchase and click on buy to start an order. Orders default to the "trade" order type, which helps prevent unfilled orders and support requests from confused traders.
Your purchase price is clearly displayed, including spreads and fees.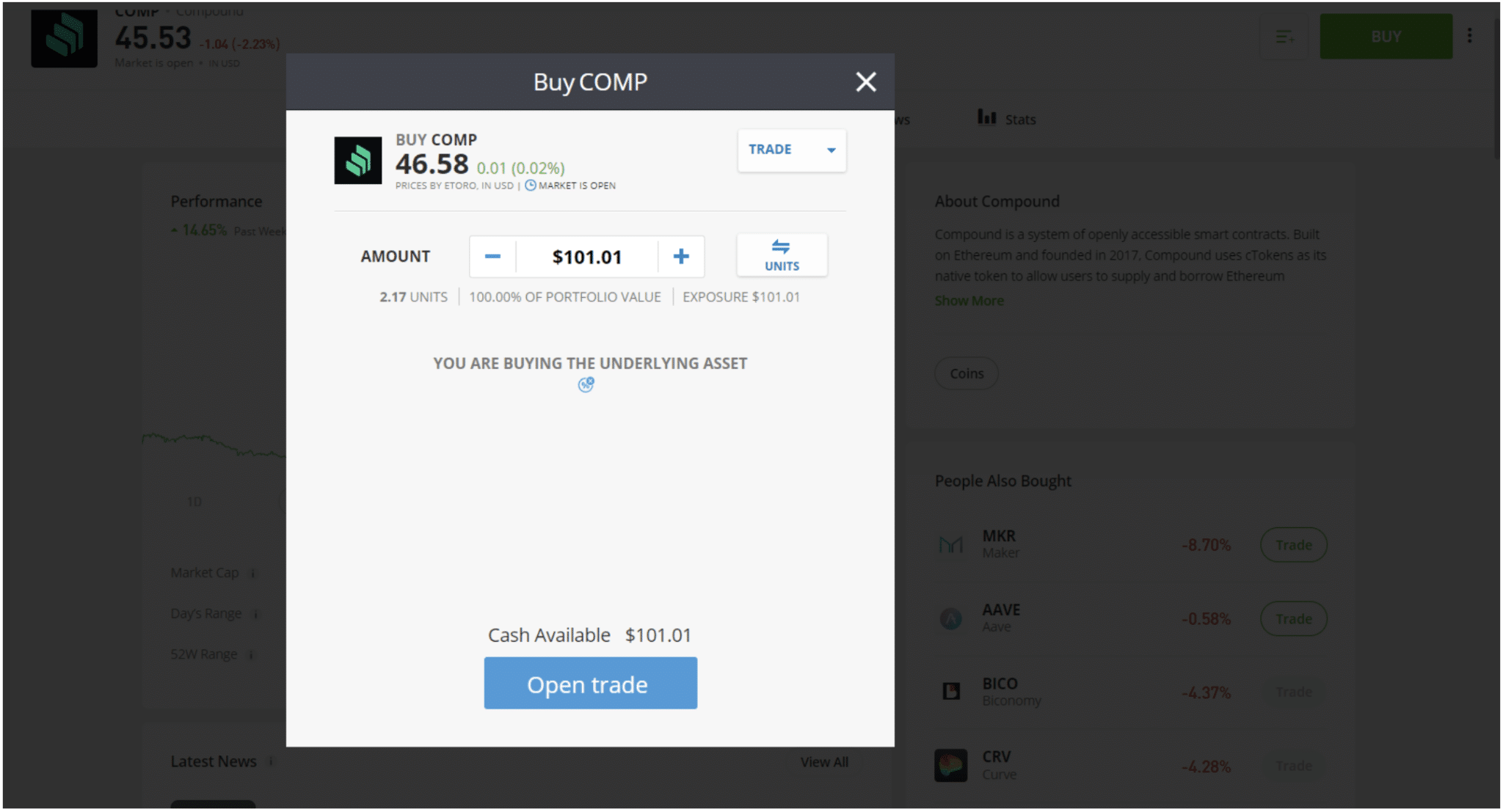 Click on "portfolio" in the menu to see your profit or loss (including fees) at a glance.


Coinbase Crypto Trading
By contrast, Coinbase's simple trades show a price in the order preview (which includes a 1% spread), but trading fees are separate. This structure makes it more difficult to know your real cost.
In the example below, trading fees of $3.84 add about $1.86 to each COMP token in this order.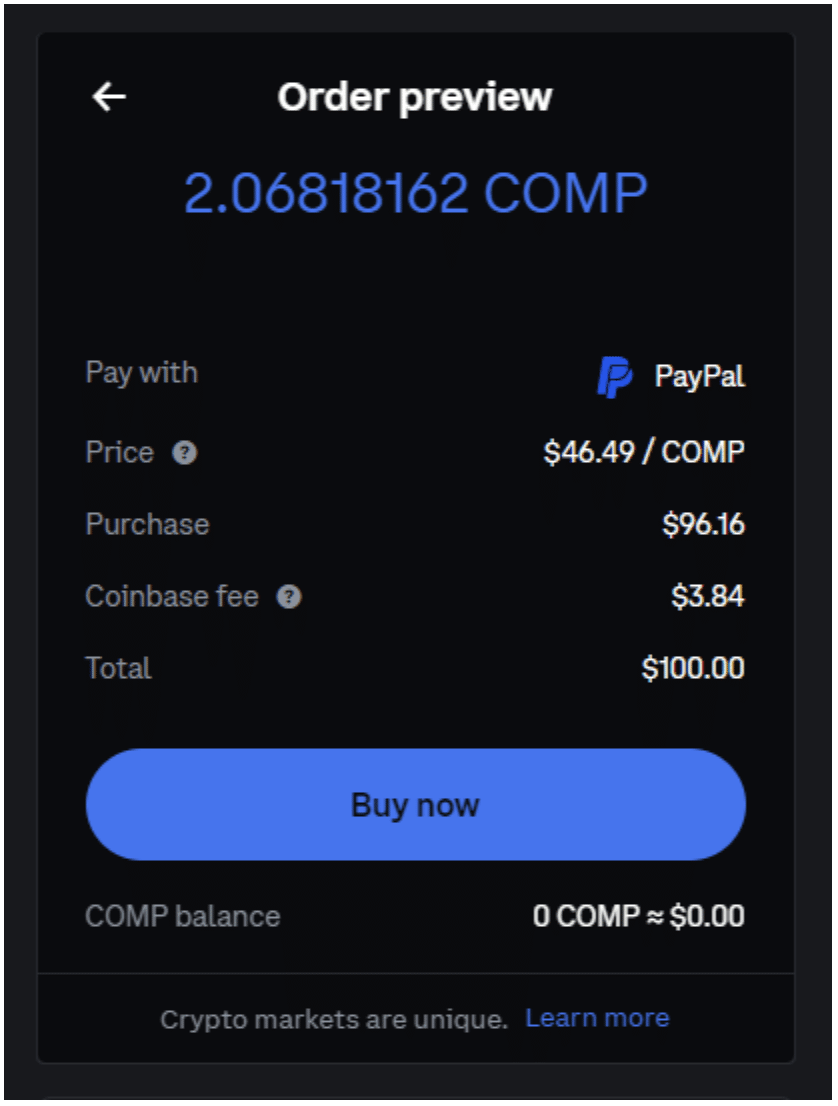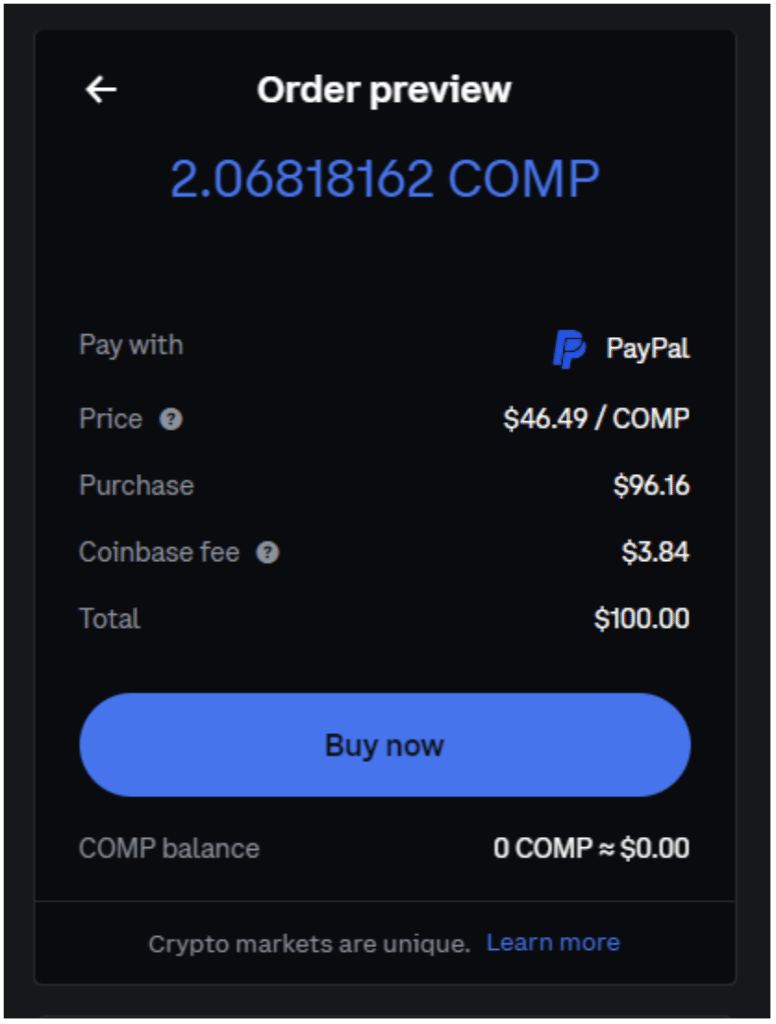 Advanced trading on Coinbase offers trading with no spreads, but comes with its own challenges for newer traders. To trade on Coinbase advanced, you need to invest some time learning about limit orders versus market orders because the cost of trading depends on which you choose. Fees for limit orders are lower on Coinbase Advanced.
Limit orders

let you choose the price for your trade.

Market orders

fill the order from existing limit orders in the order book. Other traders set the price for the trade.
Coinbase Advanced defaults to allow market orders even when you choose a limit order, causing higher-than-expected fees in some cases if you don't change the setting.
Note the "allow taker" setting on the advanced platform, shown below. That means the order might be filled as a market order. To get the lowest rates, you'll want to change this to "post only," which is a true limit order.," which is a true limit order.


There's also room for confusion regarding funding methods on Coinbase. Simple trades on Coinbase support debit card deposits to pay for your order. Once you switch to the advanced trading platform, this option disappears.
Experienced traders might be willing to navigate these platform-specific Coinbase oddities to save on fees. But the structure isn't as inviting for beginners.
If you're buying in smaller amounts or only buying occasionally, the cost savings available through Coinbase Advanced might not be worth the extra effort.
Differences Between eToro and Coinbase
When comparing eToro vs. Coinbase, it's important to illustrate the user experience for trades you can make on either platform. But it's also useful to know about features available on each platform that aren't available on the competing platform.
| | | |
| --- | --- | --- |
| Feature | eToro | Coinbase |
| Stock, ETF, commodity, and forex trading | Yes; commodity and forex trading not available in all countries | No, crypto only |
| Demo Account | Yes, $100,000 virtual portfolio | None |
| Interest paid on stablecoins | No | Up to 5% APY paid on USDC |
| Crypto Debit Card | UK only | Yes, multiple markets; crypto rewards vary month to month |
| Learning rewards | No | Yes; learn and take quizzes to earn crypto |
| Copy trading | Yes; follow the moves of successful crypto traders | No |
| Smart portfolios | Yes; eToro's smart portfolios let you invest in a curated basket of stocks, ETFs, or crypto assets | No |
eToro offers several features not available on Coinbase, including a demo account, copy trading, and smart portfolios. We'll explore these in more detail later in the eToro vs. Coinbase comparison. Of course, eToro offers stock and ETF trading as well, possibly eliminating the need for a second brokerage account.
Coinbase, however, offers interest on USDC holdings. USDC is a popular stablecoin pegged to the value of the US dollar. Coinbase also offers its debit card in more locations, including the US and UK — and allows users to choose a new crypto reward each month for purchases made with the card. Typically, rewards fall into the 1% range with occasional opportunities to earn 3% or more in crypto rewards.
Mobile Apps
The eToro and Coinbase mobile apps offer the same functionality you'll find on the respective web apps, although in a condensed form. Overall, eToro does a better job of matching the web experience on mobile devices.
eToro's app, available for Android and iOS, looks great and feels snappy.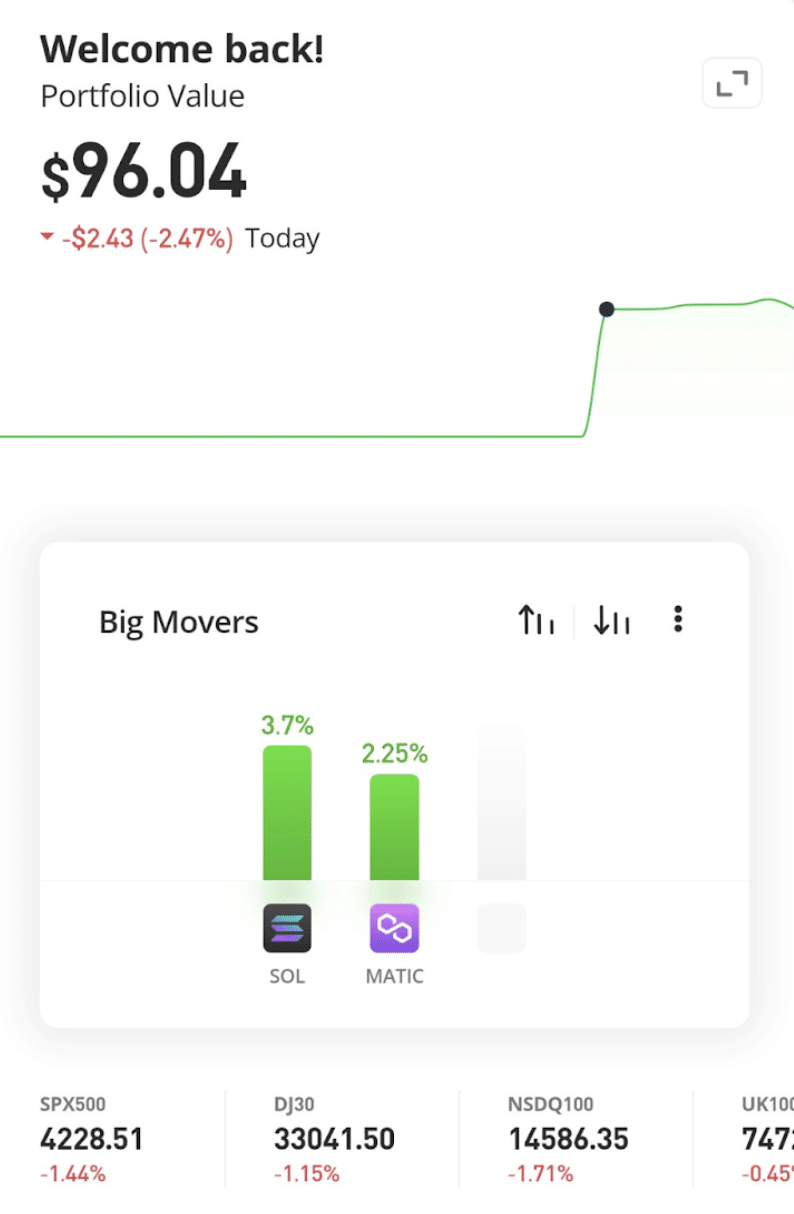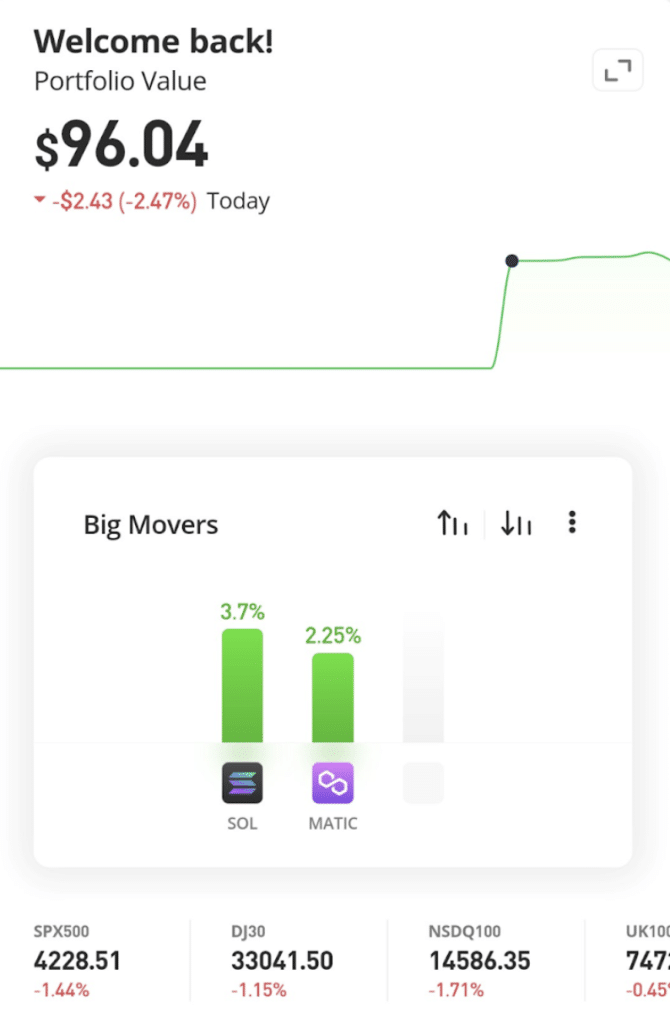 Search for an asset or choose an asset in your portfolio to start trading. Fees and spreads for the mobile app mirror those on the web app. You'll also find all of eToro's trading tools like copy trading and smart portfolios. More on those in a bit.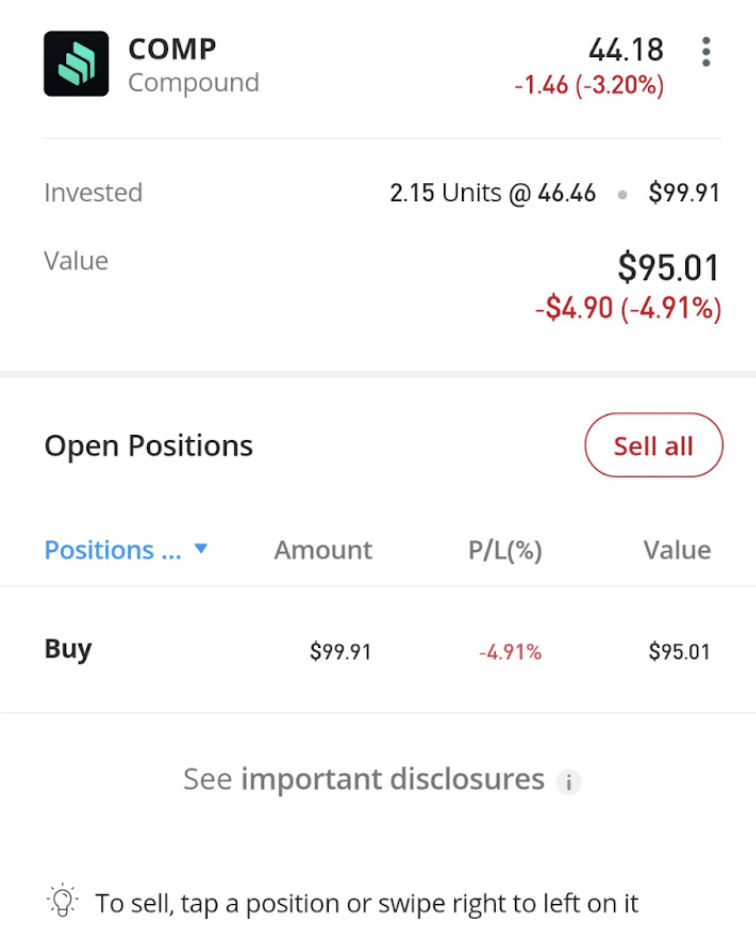 The Coinbase mobile app offers both simple trades and advanced trades, although the lower-cost advanced trades take a bit of searching to find.
You'll find advanced trades by clicking the square menu icon next to the search bar.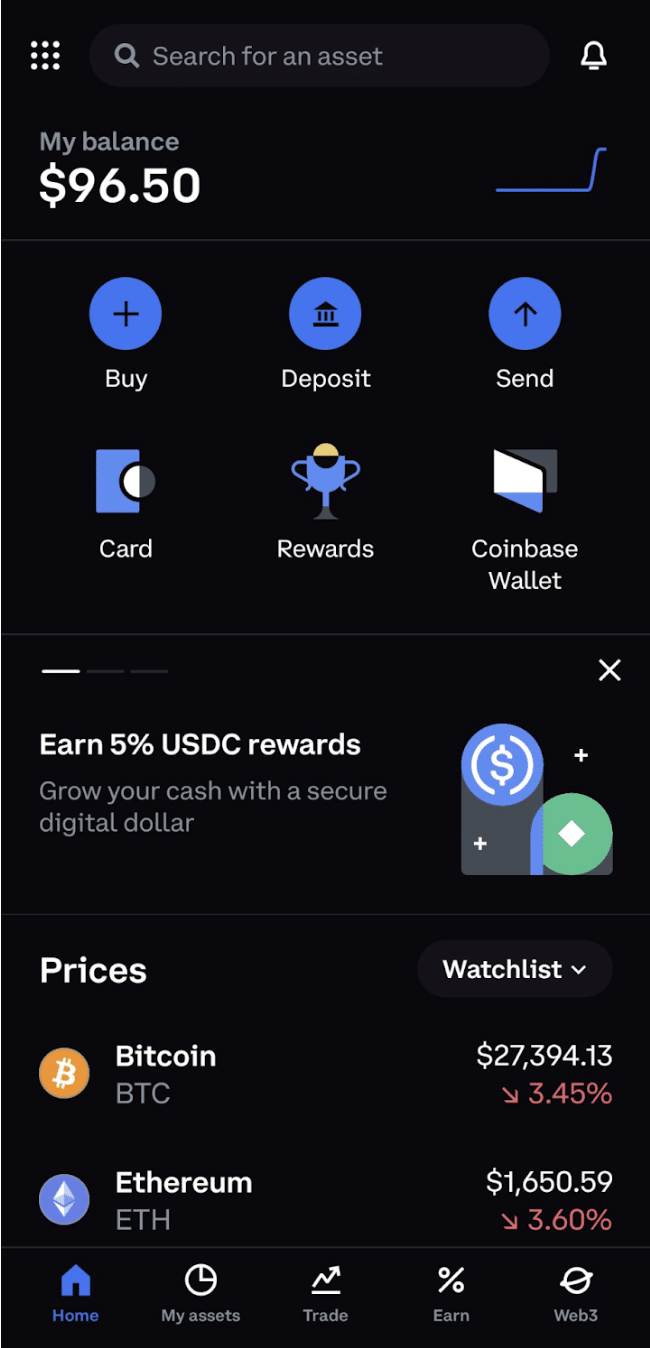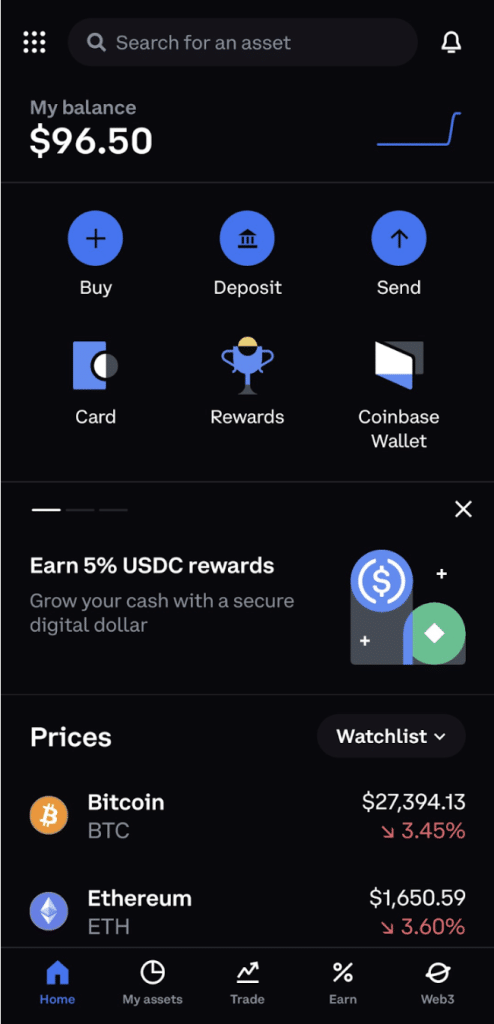 Also, keep an eye on fees for your trades on Coinbase. The trade below showed a $2.99 fee. When we checked again later, the fee was $1.99.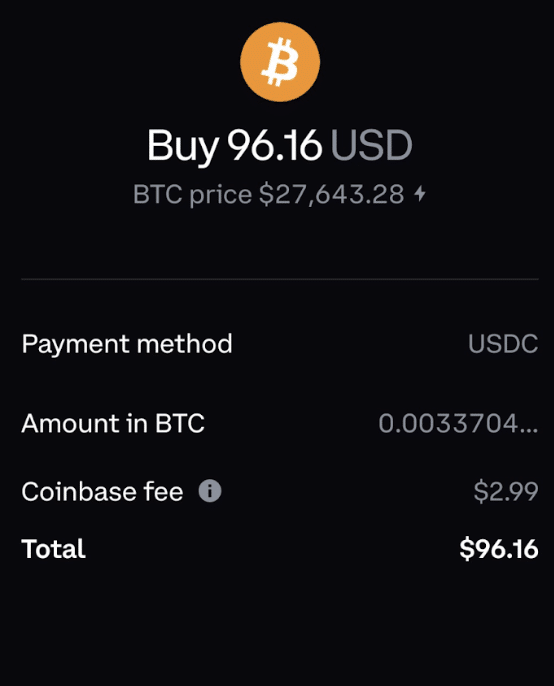 The same trade on the Coinbase web app shows a fee of $1.99.

However, you'll save money by using Coinbase Advanced, which is available on the mobile app as well.
Similar to the earlier example, the fees don't always look quite right. We should get the lower "maker" trading fee, but the order is quoted with a higher "taker" fee.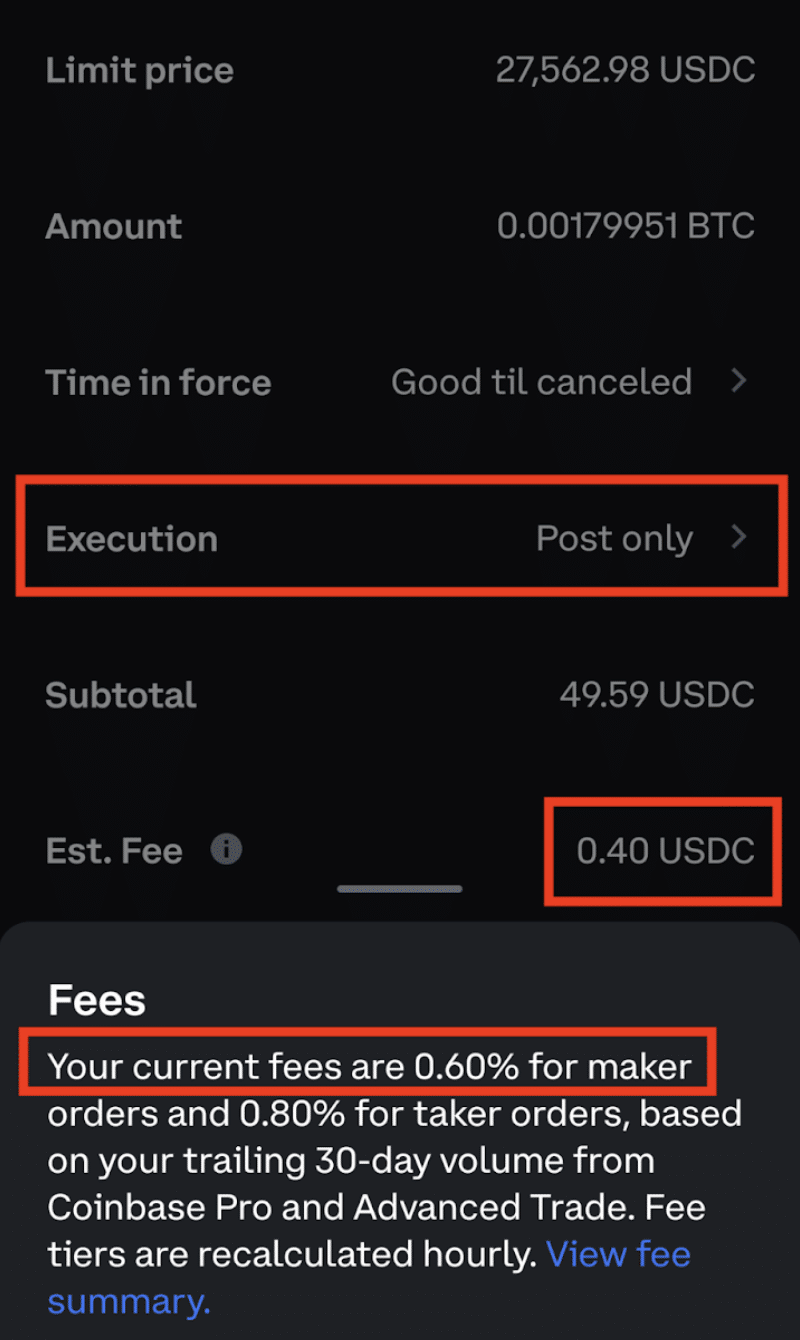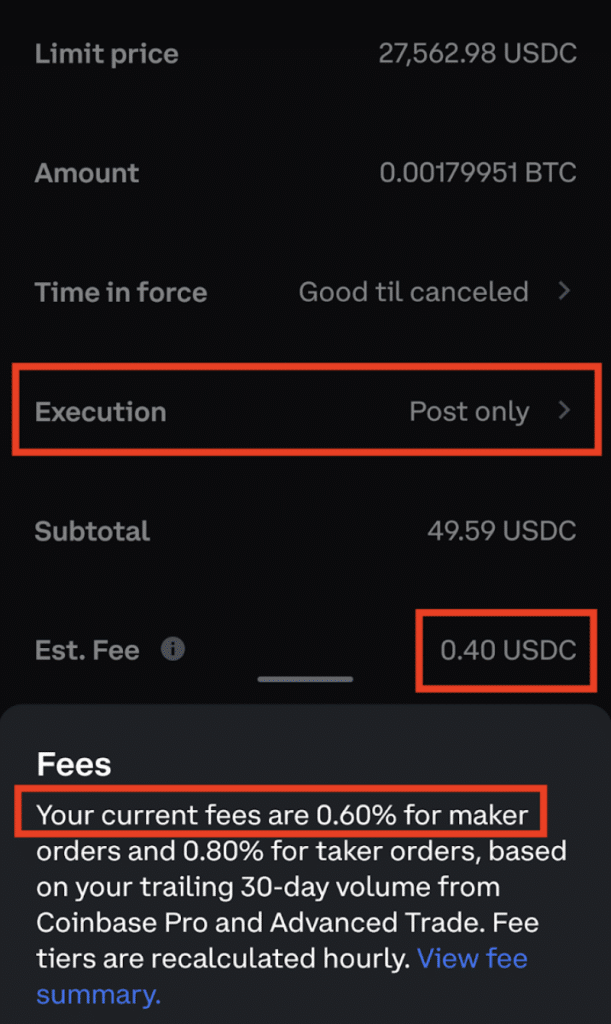 Like Coinbase Advanced, eToro also offers limit orders on both the mobile app and the web app.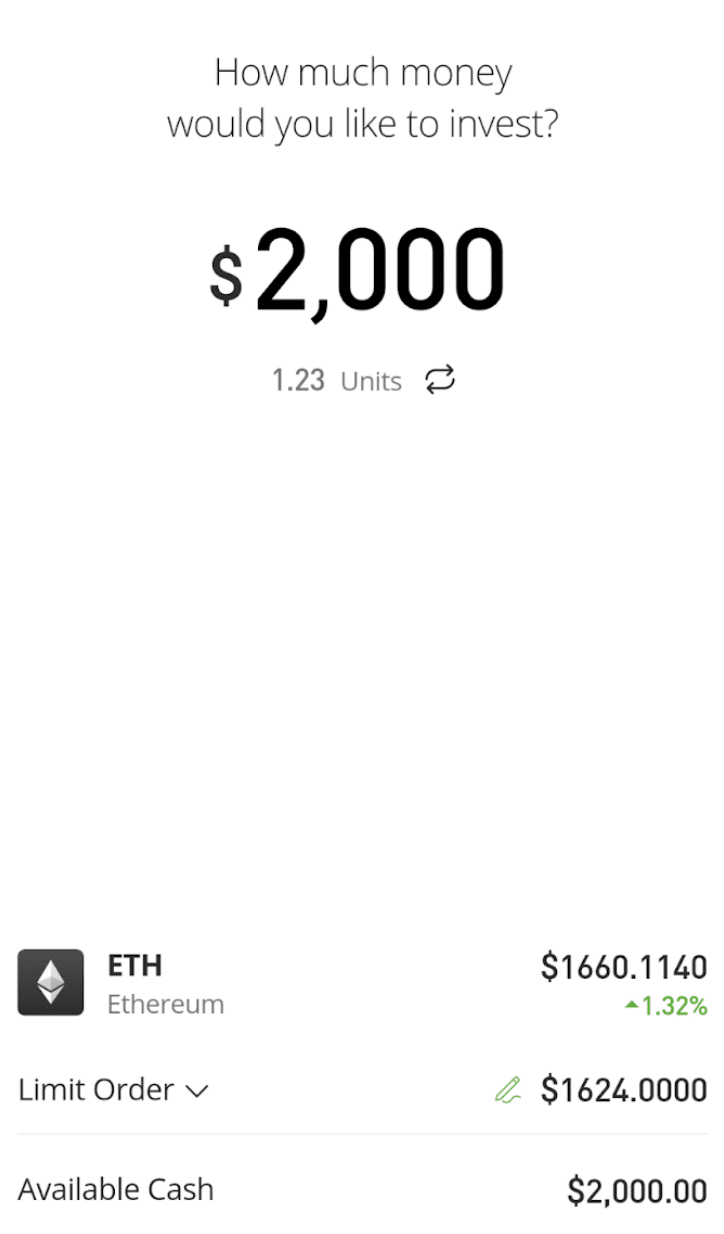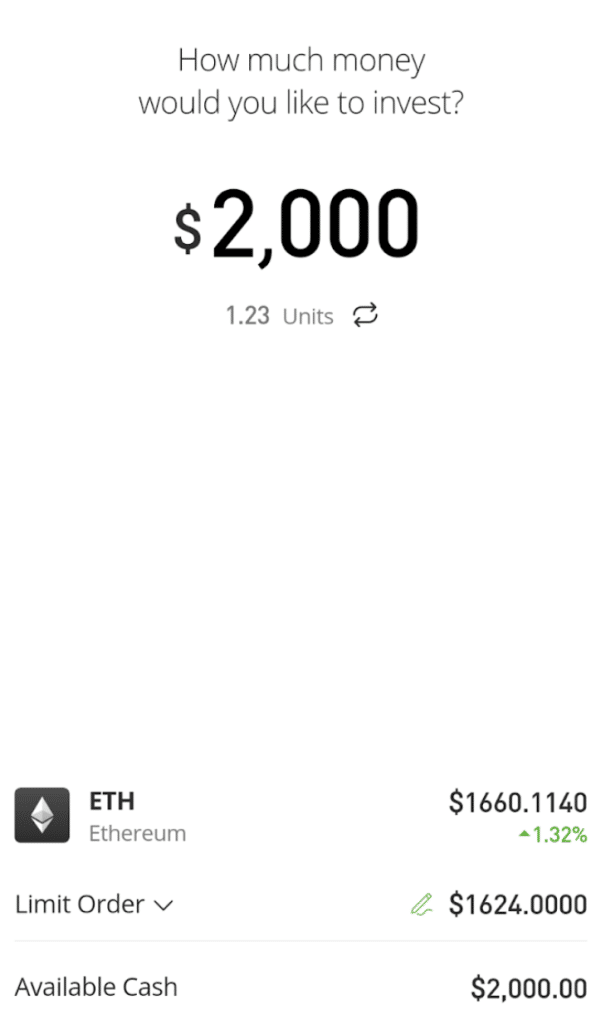 On eToro, limit orders give you more control over the price of your trade but choosing a limit order won't change the trading fee. You also face the risk that your trade may not execute right away — or perhaps not at all — if your limit order is outside the current trading range.
eToro vs. Coinbase Crypto Wallet App
When you buy crypto, you're using a crypto wallet, even if the platform takes care of the technical details and just shows an account balance. A crypto wallet offers a secure way to store your crypto on the blockchain.
Wallets secured by your login on crypto exchanges are called custodial wallets. The exchange or trading platform provides custody for your crypto, meaning they hold it for you.
But what if you want to hold your crypto yourself – or do something with it, like putting your crypto to work in decentralized finance applications (DeFi)? Well, that's where a crypto wallet app comes into the picture.
eToro and Coinbase both offer wallet apps, but their approaches are quite different.
eToro Money: You can't transfer crypto directly from your eToro trading account to a third-party crypto wallet like MetaMask, a popular self-custody crypto wallet for ETH. Instead, you can transfer certain crypto assets, including ETH, to the eToro Money mobile app. From eToro Money, you can send your crypto to another wallet that offers more features. The eToro Money app doesn't offer true self custody; eToro still has the private keys to the wallet.
Coinbase Wallet: The Coinbase wallet supports a handful of cryptocurrencies, including BTC and ETH, and supports many of today's most popular DeFi applications such as Aave, Compound, and more. With Coinbase, you can send supported cryptocurrencies directly to the self-custody Coinbase Wallet or another self-custody wallet like MetaMask.
The takeaway: eToro's solution makes crypto custody easier for beginners, but eToro Money comes with some caveats. Depending on which cryptocurrencies you decide to trade, there might not be a way to get your crypto off the eToro platform. The eToro Money app supports eight cryptocurrencies.
BTC
ETH
XRP
LTC
BCH
XLM
TRX
ADA
If the crypto you're trading on eToro isn't in the list above, you can hold your position on eToro's trading platform or you can sell to exit the position.
For those who just want to invest in crypto for potential price appreciation, eToro's solution could work. Newer crypto traders may not even want to move their crypto.
But if you want to do something more with your crypto, you might want to manage at least some of your investment on Coinbase or a similar exchange that allows you to move your crypto to your own cryptocurrency wallet with fewer restrictions.
eToro Money vs Coinbase Wallet
In the table below, you can see eToro Money takes a simpler approach. You won't be able to do as much with your crypto as you can with Coinbase Wallet. On the other hand, Coinbase Wallet comes with a much steeper learning curve.
| | | |
| --- | --- | --- |
| | eToro Money | Coinbase Wallet |
| Platforms | iOS, Android | iOS, Android, Chrome extension |
| Private keys controlled by user (true self custody) | No; eToro controls the private keys | Yes |
| Supported Cryptos | 8, including ETH and BTC | 3 on the mobile app (BTC, ETH and SOL); Coinbase Wallet also supports NFTs and thousands of ERC-20 tokens. |
| DeFi app support | No | Connect to popular decentralized apps (dApps) like Aave, Uniswap, Curve, and others. |
| Built in dApp browser | No | Yes; connect directly from your Coinbase Wallet |
| Send crypto back to your trading account | No | Yes, if the crypto asset is supported for trading on Coinbase |
eToro Money Mobile App
The eToro Money app lets you take cryptocurrencies off the eToro platform. Only eight cryptos are supported, however, and you may have to wait 1 to 5 days before the funds reach eToro Money.
Once the crypto funds are in your eToro Money account, you can send your crypto to another wallet if needed. Others can also send crypto to your eToro Money account from an external wallet or another eToro Money wallet.
eToro Money doesn't allow transfers back to your eToro trading account, though. It's a one-way street.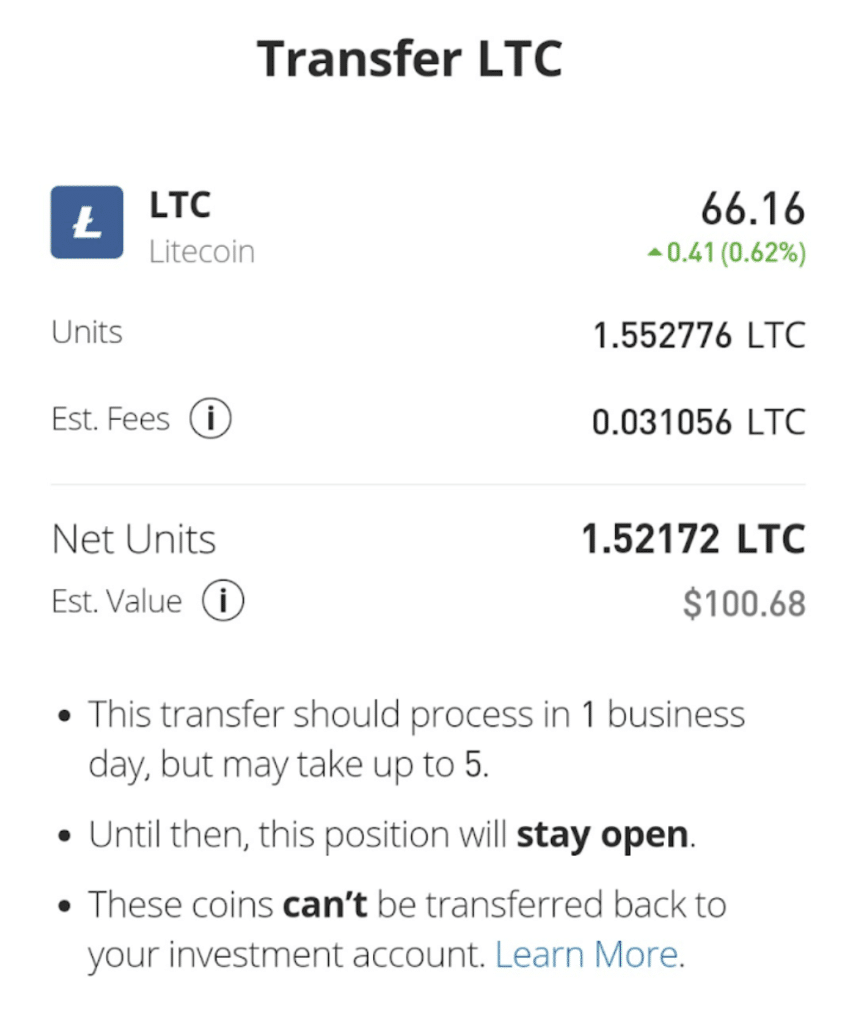 Coinbase Wallet
Available as both a mobile app and a Chrome extension, Coinbase Wallet is a very busy place in comparison to eToro Money.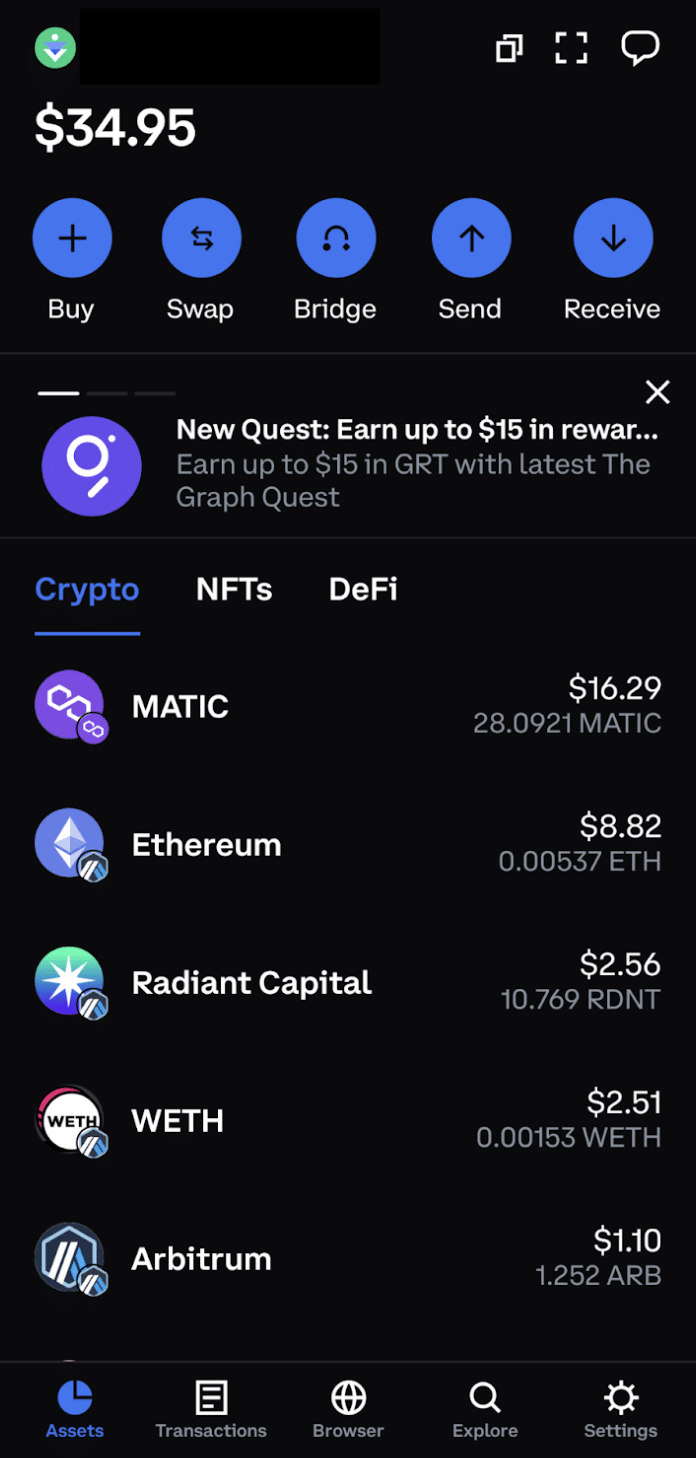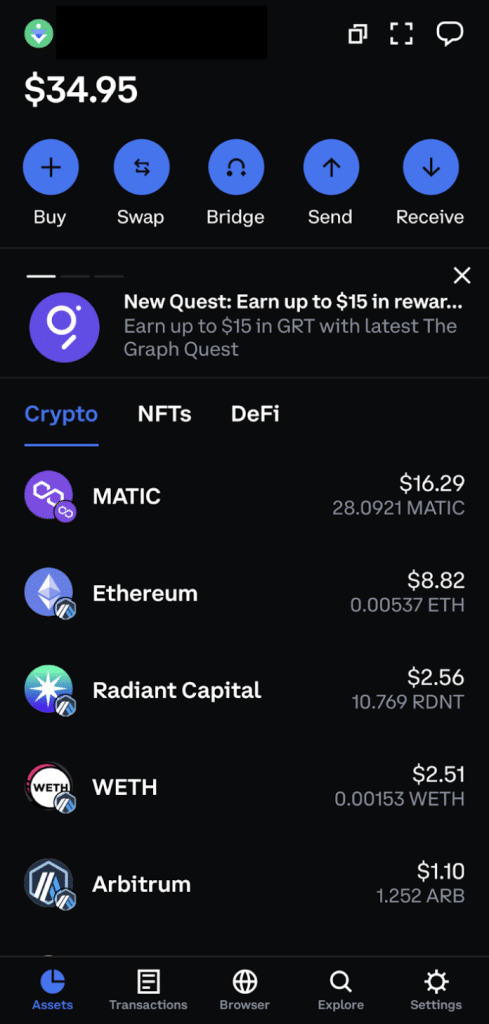 Coinbase Wallet supports bridging, which refers to transferring tokens between blockchains. The wallet also supports swaps, in which you can "swap" one type of crypto for another directly from your wallet and without using your trading account.
These two mobile crypto wallets serve different use cases. eToro Money is simple to use, but doesn't offer as much functionality. Coinbase Wallet offers many more features, but may be much more than beginning traders need.
Coinbase vs eToro Trading Tools & Features
Trading tools and unique features can make a platform feel more like home than others. Although both Coinbase and eToro have built their businesses on people-friendly features, Coinbase's unique features appeal to a more advanced trader.
| | |
| --- | --- |
| Coinbase Top Features | eToro Top Features |
| Advanced trading: Enjoy lower trading fees with advanced chart indicators. | eToro Copy Trading: Trade alongside eToro's top traders by copying their trades automatically. |
| Coinbase Earn: Use your crypto to earn a yield through staking or promotional interest rates. | Smart portfolios: Target specific investment strategies with a curated bundle of stocks, ETFs, or cryptocurrencies. |
| Web3: Discover the top crypto apps and connect with your Coinbase Wallet. | Demo accounts: Start with $100,000 in virtual money to build a no-risk practice portfolio. |
Coinbase Advanced Trading
As shown previously, using the simple trade box on Coinbase can lead to much higher trading costs. As an alternative, you can use Coinbase Advanced.
Advanced trading also offers chart indicators. We added Bollinger bands and MACD to the default candlestick chart.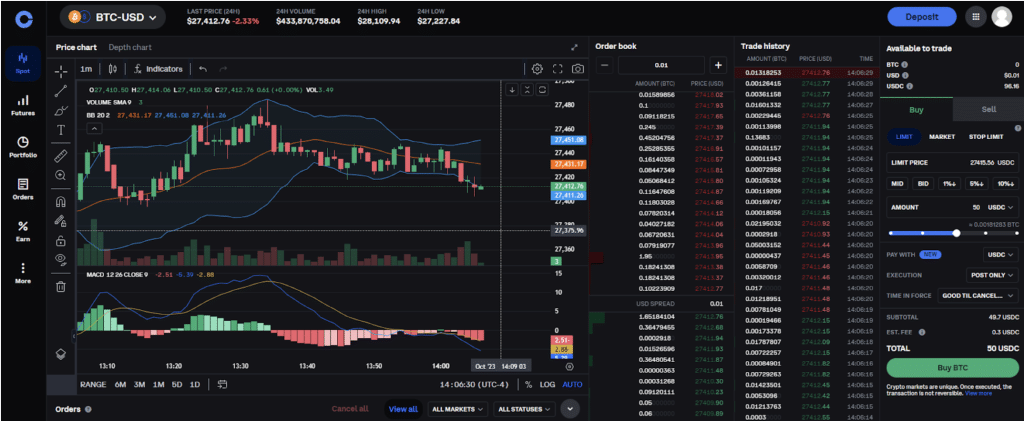 Coinbase Earn
With Coinbase Earn, you can earn more crypto in various ways.
APY offers: Currently, Coinbase pays 5% APY for holding USDC, so you can earn a yield in between trades.
Staking: By using cryptocurrencies like ETH to help validate network transactions, you can earn a yield. The process is called staking, and Coinbase supports staking for ETH, ADA, SOL, DOT, and more. Earn up to 10% staking cryptos like ATOM, all with a few clicks on the Coinbase platform.
Coinbase Web3
If you want to dabble in Web3, a moniker given to decentralized finance applications like lending platforms, Coinbase now links to popular Web3 apps from your Coinbase account homescreen. You'll need a self-custody crypto wallet like Coinbase Wallet to connect to the apps, however. Think of Coinbase Web3 as a tour guide in the world of dApps.
eToro Copy Trading
If you've got $200 or more to put to work but you're not sure where to invest, you can consider eToro copy trading. Follow the moves of successful traders on the platform with nearly real-time trades. Just choose an amount to allocate to the copy trade and eToro takes care of all the details automatically.
In some markets, like the UK, you can choose to copy traders who invest in stocks, ETFs, or crypto. In other markets, you may be limited to crypto copy trades only due to regulatory restrictions.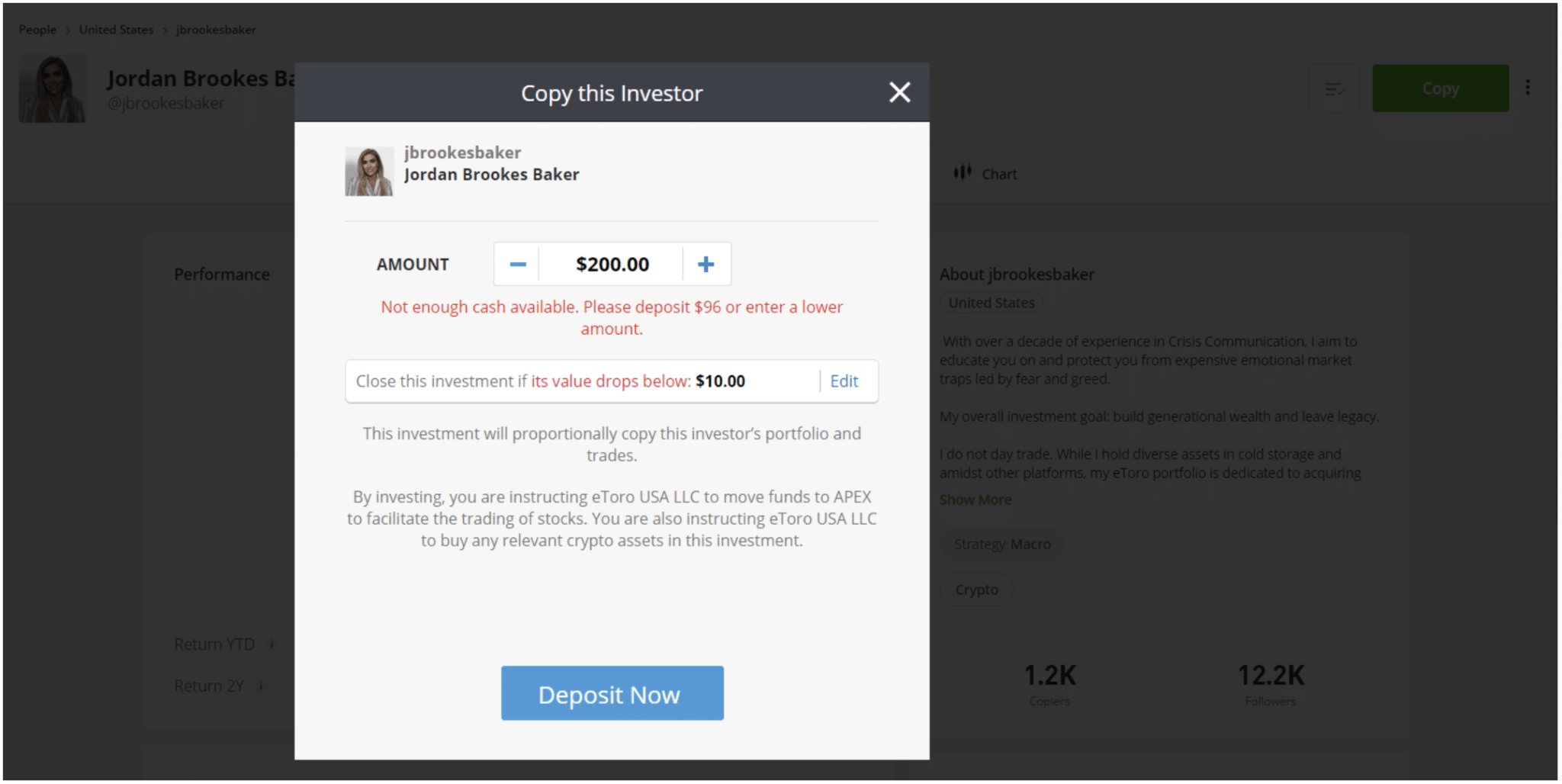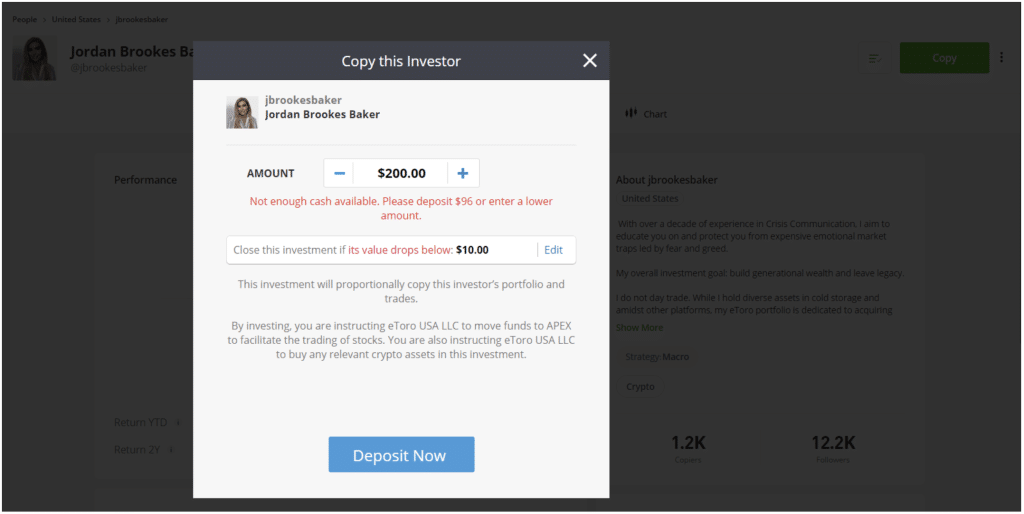 Either way, eToro makes it easy to find traders with above-average returns. Read the profiles to get a feel for investment strategies or use eToro's virtual portfolio to copy trades without any risk.
We'll discuss virtual portfolios, sometimes called demo trading, in more detail shortly.
eToro Smart Portfolios
eToro's analysts put together targeted portfolios for nearly any investment goal. Formerly called CopyPortfolios, eToro's smart portfolios let you buy a basket of assets targeting an investment niche. These work much like mini-ETFs, but without the management fee.


You'll just pay trading fees and spreads where applicable, but you'll need at least $500 to buy into a smart portfolio. Opportunities abound. Twelve-month returns for the "Crypto-currency" smart portfolio reached nearly 40%, providing similar performance to standout smart portfolios in traditional assets, like eToro's "InTheGame" portfolio that topped 40% returns.
eToro Staking
Like Coinbase, eToro offers staking for select cryptos. Currently, the selection is limited to Tron (TRX) and Cardano (ADA).
Demo Accounts
Many traders think of copy trading as eToro's leading feature. And, yes, it's top notch. But eToro's virtual accounts might make a close second for some. Every account gets a $100,000 demo account to use as well — and this balance is available before you add any real funds to your eToro account.
After you make your first deposit, you can continue using your demo account to test trading strategies or just to learn your way around the platform.


Demo accounts make eToro an outstanding choice for those new to investing. You can make trades just like you would with real money but without the risk of losing real money.
To access your virtual portfolio, select "Switch to Virtual" on the left-hand menu. When you're ready to make real trades, "Switch to Real."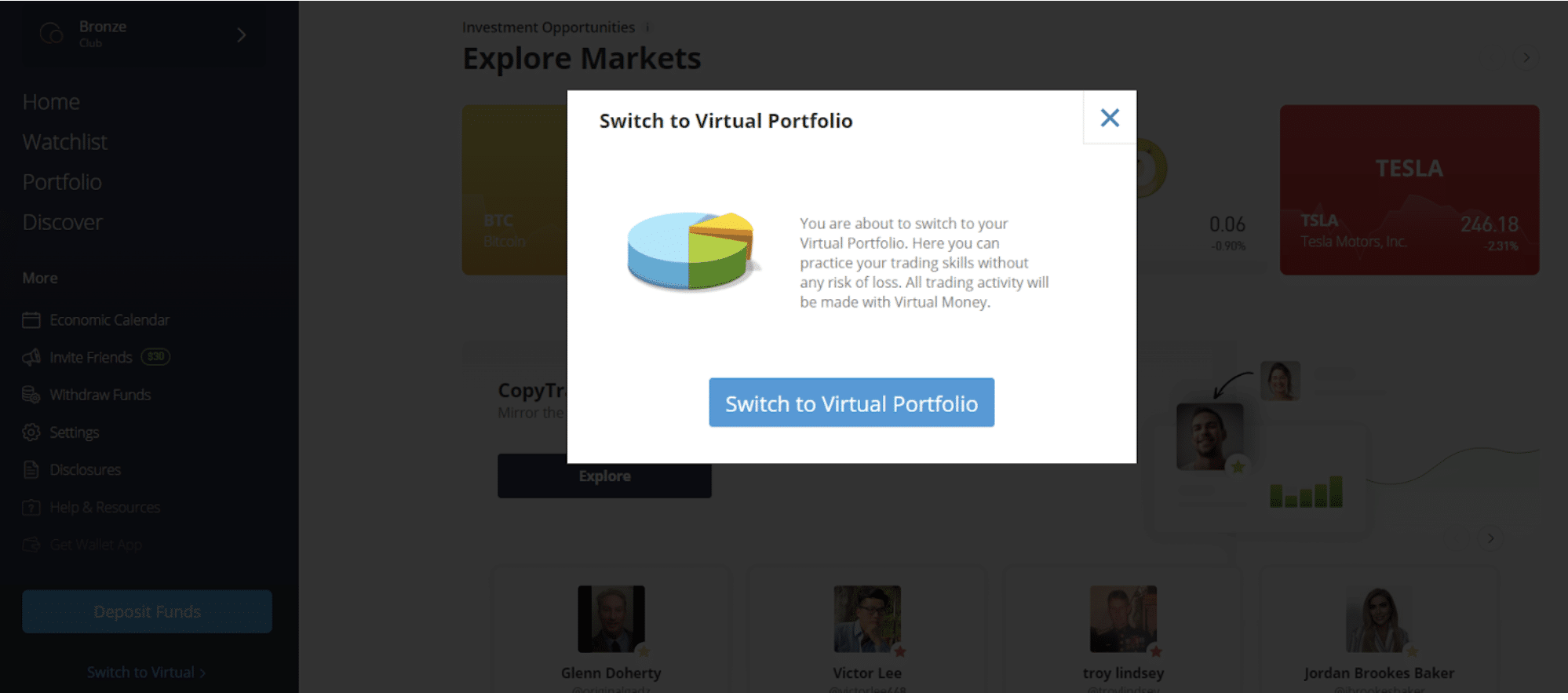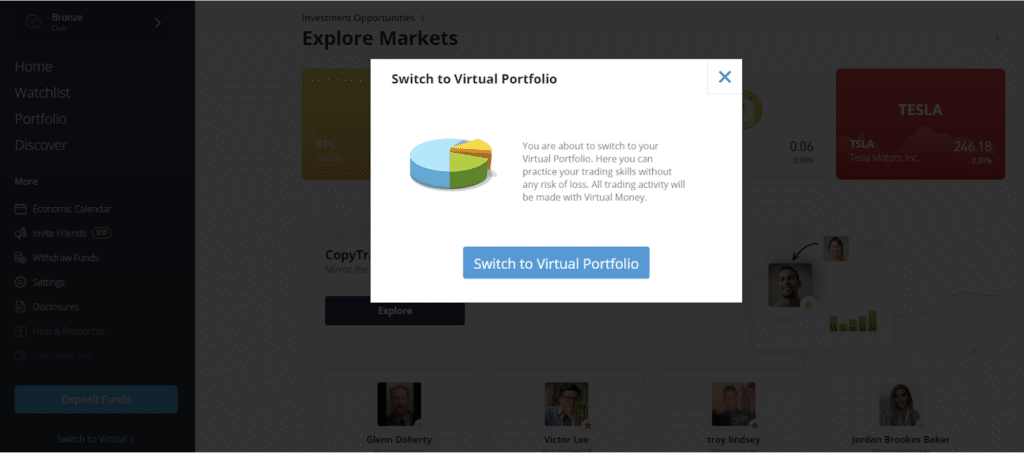 Virtual trades are available for stocks, ETFs, and cryptocurrencies. You can also use your demo account to test out features like copy trading.
In some cases, minimum transaction amounts differ for virtual portfolios compared to real trading. For example, copy trading minimums jump from $200 for real trades to $6,310 using the virtual portfolio. Smart portfolio minimums increased to $6,310 as well. Adjust these values, as needed.
eToro's virtual portfolios give you access to all basic trade types. However, you won't be able to trade options in a demo account (options use a mobile app), nor can you make Contract for Difference (CFD) trades such as forex or indices trades.
Payments & Minimum Deposit
Most new investors won't need to make time-sensitive trades, but it's helpful to know how long it takes to fund your account and which funding methods are available for each platform.
Payment Method
eToro
Coinbase
ACH bank transfer
Accepted
No fee
$10 minimum
Instant availability
Accepted
No Fee
$1.99 minimum
1-3 business days availability
Debit cards
Accepted
No fee
$10 minimum
Instant availability
Accepted
Up to 3.99% fee
Instant availability
PayPal
Accepted
No fee
$10 minimum
Instant availability
Accepted
Up to 2.5% fee
Instant availability
Skrill
Accepted
No fee
$10 minimum
Instant availability
Not accepted
Neteller
Accepted
No fee
$10 minimum
Instant availability
Not accepted
Payment options and fund availability may vary by region.
Note: Coinbase debit card deposits can only be used with simple trades. This includes Google Pay and Apple Pay debit-card based deposits. Coinbase Advanced does not support debit cards.
eToro vs Coinbase Customer Service
Both eToro and Coinbase offer multiple ways to reach out if you need support.
Coinbase offers phone support at the following phone numbers:
US/International: 1(888) 908-7930
UK: +44 808 168 4635
Ireland: 1800 200 355
Germany: +49 800 0010726
However, you might get faster service with chat.
You'll find chat support for Coinbase on the Coinbase help page. eToro's chat support is available in the help center, or you can find the link in the left menu when you're logged into your account.
Support type
eToro
Coinbase
Phone
None listed
1-888-908–7930 (US)
+44 808 168 4635 (UK)
Chat
Yes
Open 24 hours M-F
Response within minutes
Yes
Open 24/7
Response within minutes
Email support
Yes
Ticket response within 1-2 business days
Not supported as an initial contact method
Trustpilot Score
4.4 out of 5 stars
1.5 out of 5 stars
Chat is usually the fastest way to get a response. If you need to open a ticket, you can use eToro's customer service page.
We've used chat support for both platforms in the past and found both eToro and Coinbase to be responsive. However, your results may vary. The Trustpilot scores and reviews for each platform suggest many users experienced difficulty using Coinbase or getting support for the exchange.
Regulation & Security
Government regulation isn't synonymous with security in the crypto space, but having a watchdog keep an eye on trading platforms can be beneficial.
Both eToro and Coinbase are regulated by regulatory agencies in their respective trading markets.
Compare
eToro
Coinbase
Licenses & Regulation
UK: Financial Conduct Authority (FCA)
Europe: Cyprus Securities Exchange Commission (CySEC)
US: Financial Crimes Enforcement Network (FinCEN), U.S. Securities and Exchange Commission (SEC)
UK: Financial Conduct Authority (FCA)
Australia: Australian Transaction Reports and Analysis Centre (AUSTRAC)
US: Financial Crimes Enforcement Network (FinCEN), U.S. Securities and Exchange Commission (SEC)
Cold storage
Yes
Yes
Two-factor authentication
Yes, SMS only
Yes, SMS or authenticator app
FDIC pass-through insurance (US)
Yes
Yes
Financial Service Compensation Scheme (FSCS) Insurance (UK)
No
No
Insurance
Theft and insolvency policy
Crime policy
Regulatory oversight is part of the security solution. Exchanges and trading platforms can also take steps to provide a more secure trading environment.
Cold storage: Crypto wallets that generate and store the private keys offline are called cold wallets. Both eToro and Coinbase offer cold wallet storage, although it's not clear what percentage of crypto assets are held in cold storage on each platform nor is there a way for users to select cold storage.
Two-factor authentication (2FA): Two-factor authentication helps ensure account safety by restricting access based on access to a secondary device. eToro uses SMS (text messaging) for its 2FA. Coinbase requires SMS authentication at a minimum but also allows you to set up 2FA with a more secure authenticator app, like Google Authenticator.
Federal Deposit Insurance Corporation (FDIC) pass-through insurance: Both eToro and Coinbase provide pass-through insurance on cash deposits for US customers. This coverage is offered through partner banks and follows standard FDIC limits ($250,000 per account). Crypto assets are not FDIC insured.
Insurance: Both eToro and Coinbase have insurance policies. However, this coverage may only offer limited protection (or none at all) for crypto assets. eToro carries a policy that protects against employee theft as well as insolvency. Coinbase carries a policy that offers limited crime protection, protecting against risks like platform breaches.
While both platforms are generally considered safe for trading, crypto platforms are prime targets for hackers. As your balances grow, consider moving some of your crypto assets from your trading account to a self-custody crypto wallet.
eToro vs Coinbase – Our Verdict
Although both eToro and Coinbase market their platforms as beginner-friendly ways to trade crypto, eToro does a better job of guiding new traders through their first trades. eToro's crypto trading fees are simpler and don't require using an advanced platform to get the lowest fees. While you don't have the massive selection of cryptocurrencies you'll find on larger exchanges, you can trade the assets that drive most of the crypto market, including BTC and ETH.
So where does Coinbase fit? If you need more advanced features, like staking, or you trade more frequently and want lower trading fees, Coinbase Advanced may be a fit for you.
For many traders, and particularly those newer to trading crypto, however, eToro offers a more welcoming experience without the high fees you'll find with Coinbase simple trades.
Don't invest unless you're prepared to lose all the money you invest. This is a high-risk investment and you should not expect to be protected if something goes wrong. Take two minutes to learn more.
References
FAQs
Which is better, eToro or Coinbase?
Is eToro cheaper than Coinbase?
What is better than Coinbase?