Founded in 2015, Exodus is a non-custodial wallet that supports a wide range of cryptocurrencies. But is Exodus the best wallet in the market?
This Exodus wallet review explores everything from security, features, and usability to supported coins, device types, and more.
Read on to determine whether or not Exodus is suitable for storing and transferring cryptocurrencies in 2023.
Exodus Wallet Review Summary – Pros & Cons

Exodus is an established wallet provider that offers non-custodial storage. This means that Exodus users have full control of the wallet's private keys. Exodus is free to use and available on multiple device types. This includes desktop software for Windows and Mac, as well as a browser extension for Chrome.
It also comes as an app for Android and iOS. All supported device types are compatible with over 260 cryptocurrencies. This covers multiple network standards, including Bitcoin, Ethereum, Binance Smart Chain, Cardano, Polygon, and Solana. Users can manually add any cryptocurrency from these networks, meaning that Exodus actually supports thousands of utility tokens.
This leading crypto wallet comes packed with additional features that will appeal to both short and long-term investors. For example, users can view their cryptocurrencies at the real-time market rate in their local currency. The Exodus portfolio manager offers valuable insights, such as top-performing investments.
It also connects to dApps and supports fiat money purchases. However, the latter is facilitated by Ramp, a third-party payment processor. This means Exodus users pay up to 5.45% when using a debit/credit card. Another drawback of Exodus is its basic security features. Wallets are protected by a password and little else. This means users are responsible for safeguarding their private keys.
Pros
Established non-custodial wallet that was launched in 2015
Supports multiple network standards – including Bitcoin, Ethereum, Solana, Cardano, and Polygon
Manually add custom tokens to any supported network
Free to use and no markups on GAS fees
Connects to dApps and offers an in-built staking tool
Cons
Ramp partnership means users pay up to 5.45% on debit/credit card payments
Limited security features
Type of Wallet
Custodianship
Supported Cryptos
Fee for Buying Crypto
Mobile App?
Features
Mobile app, desktop software, and browser extension
Non-custodial
Supports multiple blockchain standards, including Bitcoin, Ethereum, Binance Smart Chain, Polygon, Solana, and Cardano. Initially supports 260 cryptocurrencies but other tokens can be added manually.
Payments are processed by Ramp. Debit/credit card fees of up to 5.45%.
Yes
Non-custodial storage gives investors full control of their cryptocurrencies

Available on desktops, mobiles, and browsers

Also connects to Trezor hardware wallets
What is Exodus?
Exodus is a multi-asset cryptocurrency wallet that offers non-custodial storage. This wallet type will appeal to investors that want to manage their own private keys without third-party interference. Exodus comes as a mobile app, desktop software, and browser extension.
Exodus is one of the best crypto wallets for non-custodial storage. This is because Exodus gives investors full control of their cryptocurrencies. Users are presented with their private keys when setting their wallets up for the first time. Private keys are backed by a 12, 18, or 24-word passphrase.
Crucially, Exodus does not have access to the wallet credentials, allowing investors to store cryptocurrencies away from centralized parties. Exodus is compatible with multiple devices and operating systems. On mobiles, this includes iOS and Android. Desktop software is available for Windows, Mac, and Linux. There is also support for web browsers, including an extension for Chrome and Brave.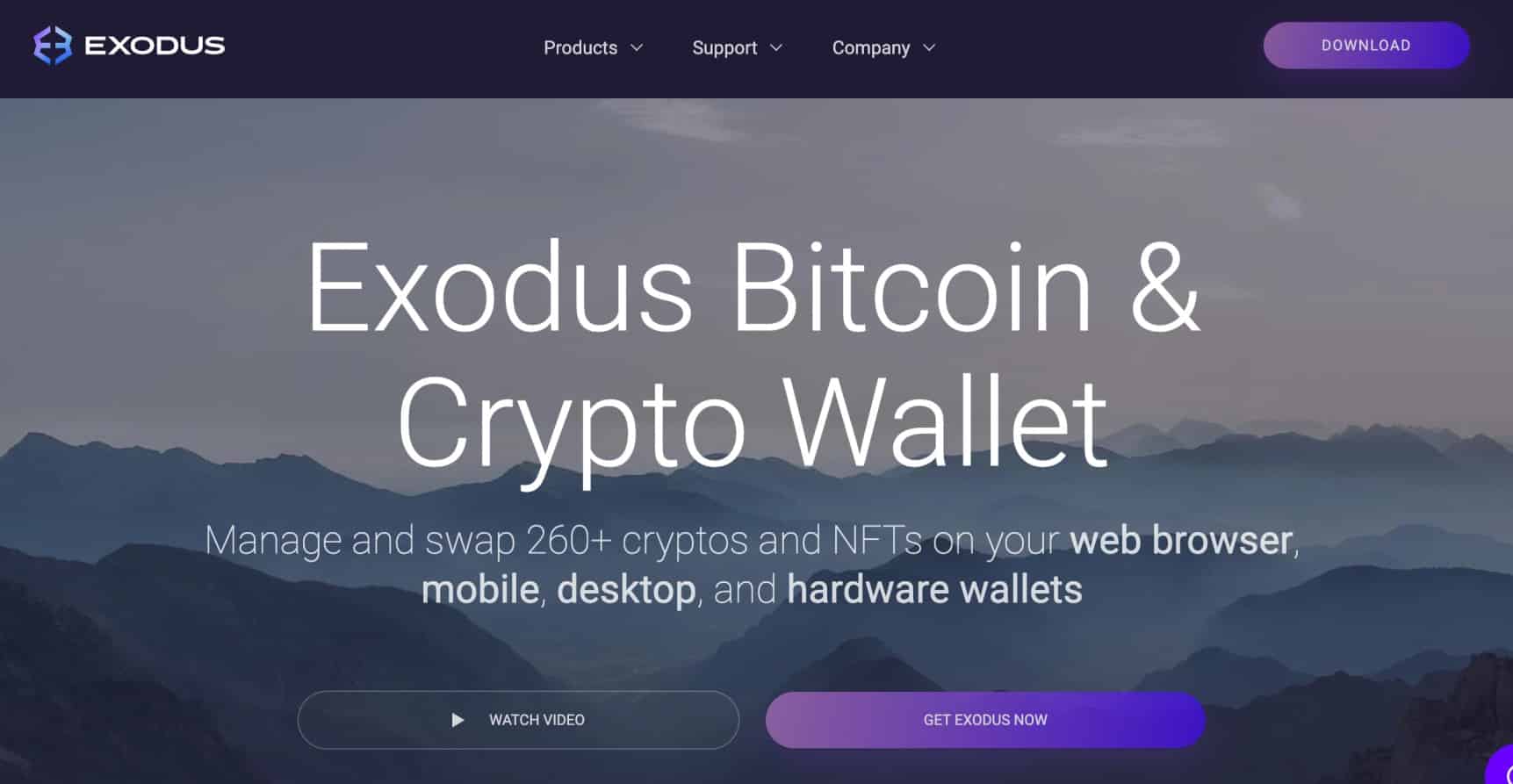 The primary function of Exodus is to store cryptocurrencies. There is support for plenty of network standards, including Bitcoin, Ethereum, Polygon, and Cardano. By default, Exodus supports 260 cryptocurrencies. As long as the respective network is supported, users can manually add any token. For example, Exodus supports all of the best ERC20 tokens.
Additionally, Exodus makes it simple and cost-effective to send and receive cryptocurrencies. While users pay GAS fees, no markups are added. Exodus comes packed with other features, including support for dApps. This allows cryptocurrency investors to earn income on their tokens without leaving Exodus. For instance, through staking, yield farming, or savings accounts.
Exodus also allows investors to buy cryptocurrencies with debit/credit cards and e-wallets. As noted earlier, Exodus uses Ramp for this purpose. This means investors will pay huge fees of up to 5.45%. Another feature of Exodus is that it connects to Trezor hardware wallets. This enables investors to keep their cryptocurrencies offline while keeping tabs on their portfolios.
Supported Coins – What Cryptos Can You Store on Exodus?
Although Exodus claims it is compatible with 260 cryptocurrencies, it actually supports thousands of tokens. This is because custom tokens can be added manually. However, tokens can only be added if the underlying network is supported by Exodus.
In this section of our Exodus wallet review, we unravel what cryptocurrencies and networks are supported.
First and foremost, Exodus comes pre-loaded with support for some of the most popular cryptocurrencies, including:
Bitcoin
Ethereum
XRP
BNB
XRP
Cardano
Solana
Tron
Litecoin
Polkadot
Avalanche
Cosmos
Monero
Stellar
That said, Exodus supports all tokens for all of the networks it is compatible with. For example, Exodus supports the Binance Smart Chain. As such, investors can manually add any BSC token to their Exodus software wallet. Similarly, Exodus is compatible with Arbitrum. As such, all of the best Arbitrum network tokens are supported.
Not only does Exodus support some of the best cryptocurrencies to buy today, but also NFTs. This includes NFTs on the Ethereum, Solana, and Algorand networks.
Is Exodus Wallet Centralized or Decentralized?
Exodus is a non-custodial wallet provider. This means users store their cryptocurrencies away in a decentralized environment. What's more, Exodus users are the only ones to have access to their private keys.
Wondering what's the difference between a non-custodial vs a custodial wallet? A non-custodial wallet gives all security access to the user whereas a custodial wallet means a third party controls the private keys of its users.
Exodus is a completely decentralized wallet for mobiles, desktops, and web browsers. The wallet provider never has access to the private keys it supplies to users. Instead, private keys are cryptographically generated and encrypted directly on the user's device.
Put otherwise, Exodus ensures that users have full and unfettered control of their cryptocurrency investments.
That said, this also comes with increased risk.
If the Exodus wallet is hacked or the private keys are misplaced – the cryptocurrencies will be unrecoverable.
This is, however, the case with all non-custodial wallets.
Although Exodus is decentralized, it has partnered with selected centralized entities. This includes Ramp, which facilitates debit/credit card payments for Exodus users.
Those wishing to use fiat money to buy cryptocurrencies will need to go through a KYC process. This means uploading some ID and providing personal information. However, Ramp, nor any other partnered entity, can access the wallet or its private keys.
Exodus Wallet Fees
The next part of our Exodus wallet review will explore fees.
Wallet Fees
There are no fees to download or use the Exodus wallet. This is the case across all supported device types.
Transfer Fees
Like most crypto wallets, incoming transfers are paid by the sender. As such, there are no fees to receive cryptocurrencies from another wallet.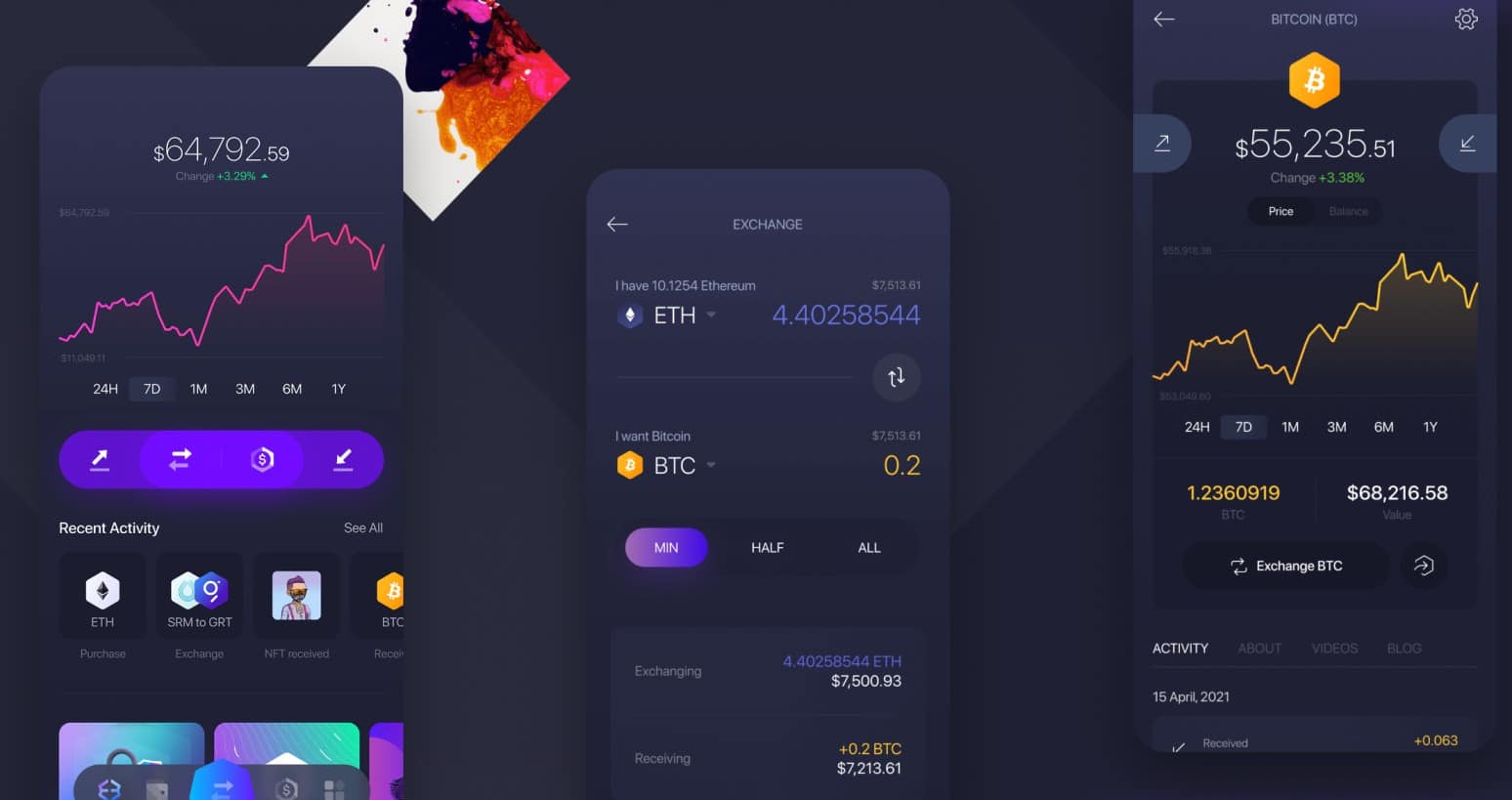 Outgoing transfers are charged GAS fees. This is determined by the blockchain network. For example, ERC20 GAS fees are quoted by the Ethereum blockchain. While BSC GAS fees are determined by the Binance Smart Chain.
Nonetheless, the fees paid go straight to blockchain miners. This means Exodus does not add a markup.
Third-Party Fees
Exodus offers plenty of third-party features within its wallet interface. Fees will be determined by the provider.
For example, we mentioned that debit/credit card payments are processed by Ramp. In this instance, the fees are paid directly to the provider.
That said, our Exodus review also found that the wallet makes money from token swaps. It achieves this through the spread, which is the difference between the bid and ask prices. Exodus does not publish what spreads it charges – just that this is built into the price.
| | |
| --- | --- |
| Incoming Transfers | No fees |
| Outgoing Transfers | Standard network GAS fees |
| In-Built Token Swaps | Charges an unspecified market spread |
| Buying Crypto With Fiat Money | Processed by Ramp, so fees of up to 5.45% |
Exodus Wallet Security – Is it Safe?
Now that we have covered fees, our Exodus wallet review will discuss security and safety.
Password Protection
Like most non-custodial wallets, Exodus requires users to create a strong password. This protects the wallet from unauthorized access.
However, this feature needs to be manually switched on. If it isn't, the user does not need to enter their password to access the wallet.
Users are strongly advised to protect their Exodus wallet with a strong password.
Encrypted Private Keys
Exodus provides users with their private keys when creating a wallet for the first time. This is encrypted onto the user's device.
As such, Exodus does not have access to the private keys. This means Exodus cannot help recover the wallet if the password is forgotten and the private keys are misplaced.
Backup Passphrase
Exodus displays private keys as a backup passphrase. This can be 12, 18, or 24 words, depending on the user's preference. The backup passphrase should be written down on a sheet of paper. The paper should then be kept somewhere safe.
If the backup passphrase is misplaced or damaged – it can still be recovered. However, this is only the case if the user still has access to the wallet. If they don't, there is no way for Exodus to recover the backup passphrase or private keys.
Once again, this is just the nature of non-custodial storage.
Exodus Wallet Features
Next, let's explore what features we came across when compiling this Exodus crypto wallet review.
In-Built Token Swaps
Exodus allows users to seamlessly swap cryptocurrencies without leaving the wallet. This includes cross-chain swaps, such as ETH for BNB or LTC for DOGE.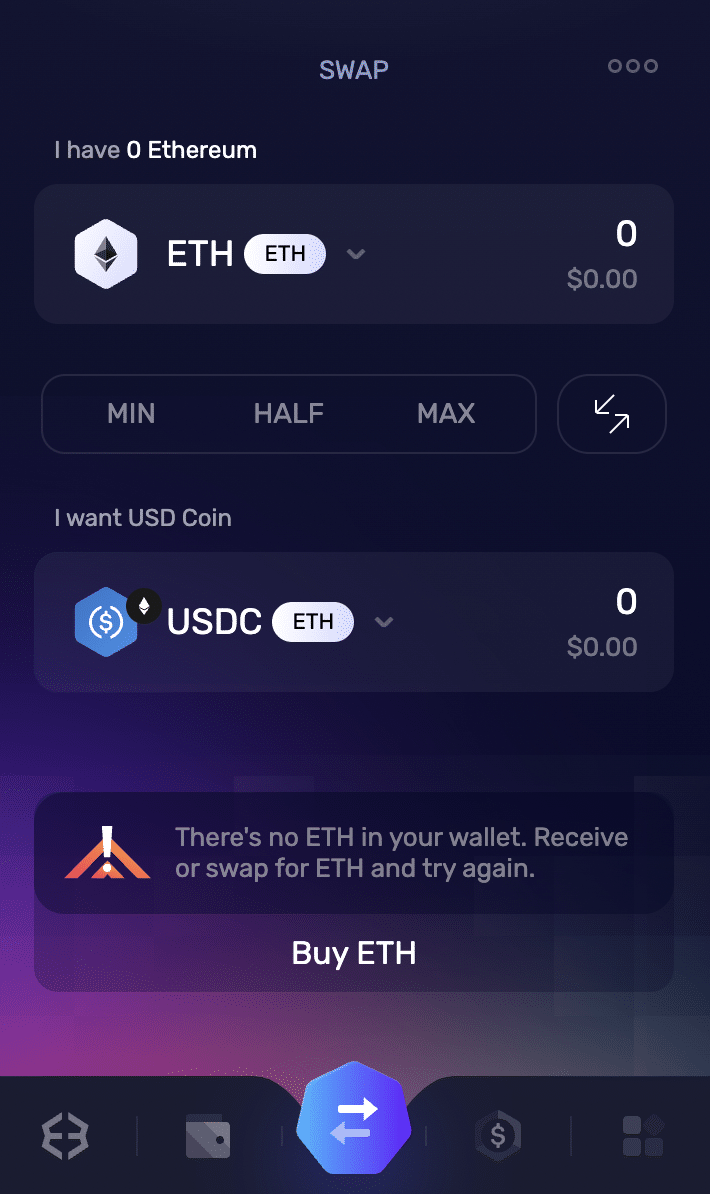 However, although this feature is built into the wallet interface, it's provided by selected third parties. Moreover, token swaps are one of the only ways that Exodus makes money. This is because Exodus adds a markup to the spread it secures.
For example, suppose Ethereum is currently trading at $1,500.
Exodus users might pay $1,530, representing a markup of 2%.
Moreover, the spread markup is built into the price that Exodus users see. This makes it difficult to assess how much is actually being paid.
Nonetheless, this feature will appeal to beginners that favor convenience.
Connect to dApps via WalletConnect
Exodus makes it simple to connect to dApps like Uniswap, Compound, OpenSea, and SushiSwap.
This is because the Exodus mobile app supports WalletConnect.
To access dApps, users will initially need to select the 'WalletConnect' option on a desktop device.
This will display a unique QR code.
Then, users will need to scan the QR code via the Exodus app.
This provides a private and anonymous connection to the chosen dApp.
Any completed token swaps will be represented in the Exodus crypto wallet.
Exodus Wallet Staking Tools
Our Exodus wallet app review also came across a convenient staking facility. This enables users to earn passive income on their idle cryptocurrencies.
We found that Exodus supports some of the best staking coins, including:
Solana
Cardano
Ontology
VeChain
Algorand
Tezos
Cosmos
The notable exception here is Ethereum. That said, the Exodus wallet connects to Lido – a decentralized staking pool. This enables users to access competitive staking rewards without needing to become a validator.
In terms of fees, Exodus doesn't make any money when users stake their cryptocurrencies. However, fees might be payable depending on the staking provider.
For example, those staking Ethereum via Lido will pay 10%, meaning they keep 90% of the rewards. While those staking Tezos will pay 15%, as determined by Everstake.
Buy and Sell Crypto With Fiat Money
As noted earlier, Exodus also allows users to buy cryptocurrencies via its partnered processor, Ramp.
Supported payment types include:
Bank wire
Debit/credit cards
ApplePay
GooglePay
Additionally, Exodus users can also sell their cryptocurrencies back to fiat money.
Here's a recap of what fees apply:
| | | | |
| --- | --- | --- | --- |
| Buying Crypto With Fiat | Minimum fee | Below €2,500 | |
| Bank transfers (manual) | €2.49 | Up to 1.40% | Up to 0.90% |
| Debit/credit cards and e-wallets (USD, EUR, GBP) | €2.49 | Up to 3.9% | Up to 3.9% |
| Debit/credit cards and e-wallets (other currencies) | €2.49 (local equivalent) | Up to 5.45% | Up to 5.45% |
Portfolio Management
Our Exodus wallet review found that the provider offers a great crypto portfolio management feature.
Cryptocurrencies held within the Exodus wallet are displayed next to real-time values. The user can select which fiat currency they want prices displayed. Moreover, Exodus offers useful portfolio statistics.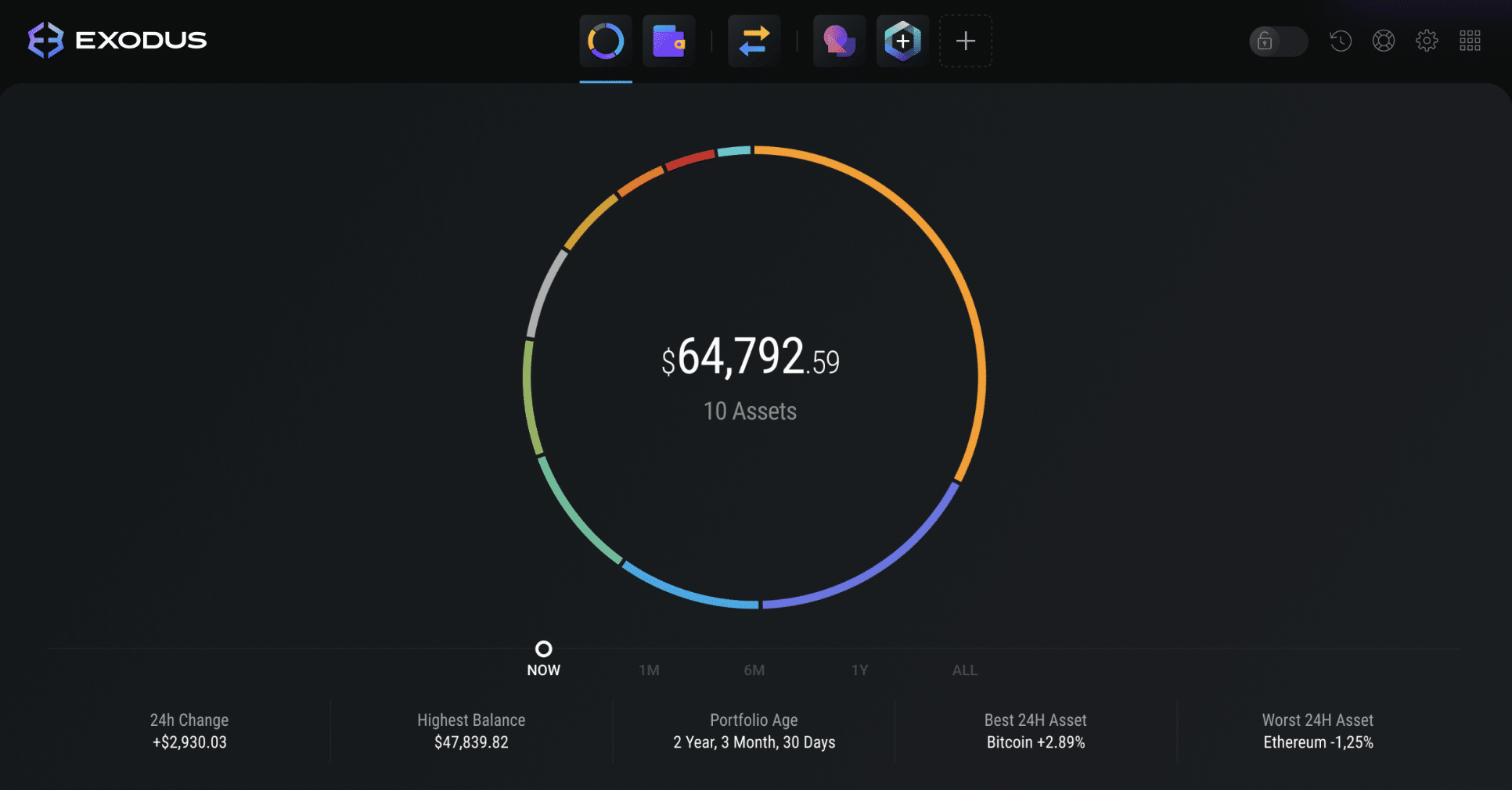 For example, the best and worst performing cryptocurrencies in the prior 24 hours. All these metrics can be adjusted manually, giving investors a 360-degree overview of their cryptocurrency investments.
Exodus Wallet User Experience
Exodus offers a superb user experience for investors of all experience levels, particularly beginners. All account features are clearly displayed, making it seamless to store, trade, and stake cryptocurrencies. Moreover, getting started with a new wallet is also simple.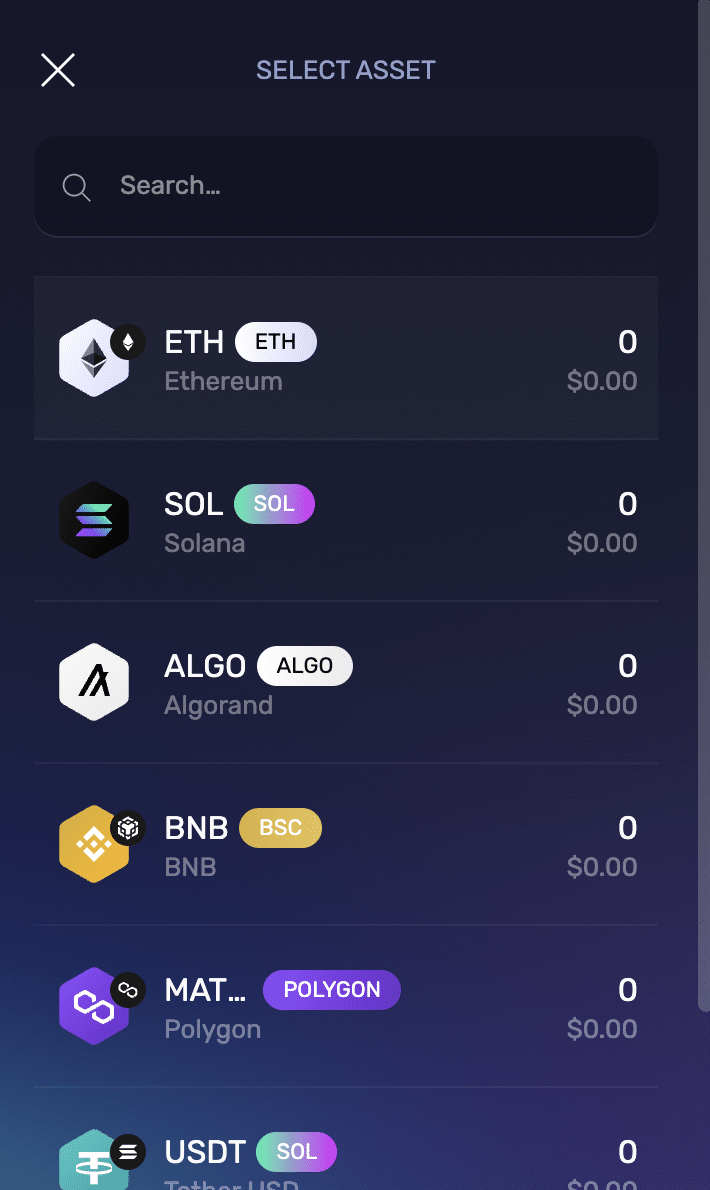 The specific steps will, however, depend on the chosen device type. For example, those using the desktop software or browser extension will need to create a strong password. While those using the Exodus app can choose from a PIN or face/fingerprint ID.
We also found that sending and receiving cryptocurrencies via Exodus is straightforward. For example, users can send funds by clicking on the 'Wallet' icon, followed by the respective token. Then, users can paste the wallet address. Or, if using the Exodus app, users can scan the recipient's address with their smartphone.
We also found excellent Exodus wallet reviews online. On Google Play and the App Store, for example, Exodus is rated 4.5/5 and 4.6/5, respectively.
How to Transfer Funds & Buy Crypto in Exodus Wallet
Now let's take a look at how to transfer and buy cryptocurrencies within the Exodus Bitcoin wallet.
Transfer Funds to Another Wallet
To send cryptocurrencies to another wallet location:
Click on the 'Wallet' icon.
Then, click on the cryptocurrency that will be transferred
Click on the 'Arrow' icon on the left-hand side
Paste the wallet address that the cryptocurrencies will be sent to
Confirm the transfer
As a non-custodial wallet, Exodus will process the transfer immediately.
Buying Crypto via the Exodus Wallet
Although there are much cheaper options elsewhere, some users might want to use Exodus to buy cryptocurrencies with fiat money.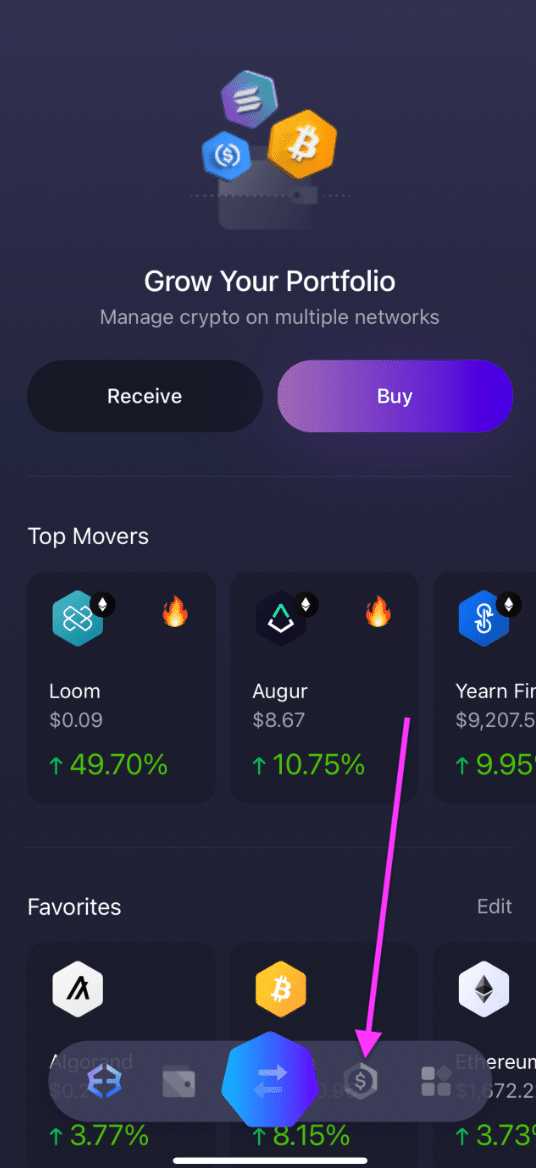 First, click on the 'Buy/Sell' icon, as per the arrow above
Choose the payment currency, such as USD or EUR
Then, select the cryptocurrency to buy, such as Bitcoin or Ethereum
Users will then be redirected to Ramp, which will facilitate the purchase. This will require a KYC process. After the purchase is completed, the cryptocurrencies will be added to the Exodus wallet.
Withdrawing From Exodus Wallet
Withdrawing cryptocurrencies from Exodus is the same process as transferring funds. This is because the transaction is a wallet-to-wallet transfer.
Simply click the 'Wallet' icon, choose the cryptocurrency to send, and paste the recipient's address.
Exodus Contact and Customer Service
Exodus offers 24/7 customer support via live chat. This is a major plus point for beginners that might require live assistance. Waiting times will vary depending on how busy the support team is.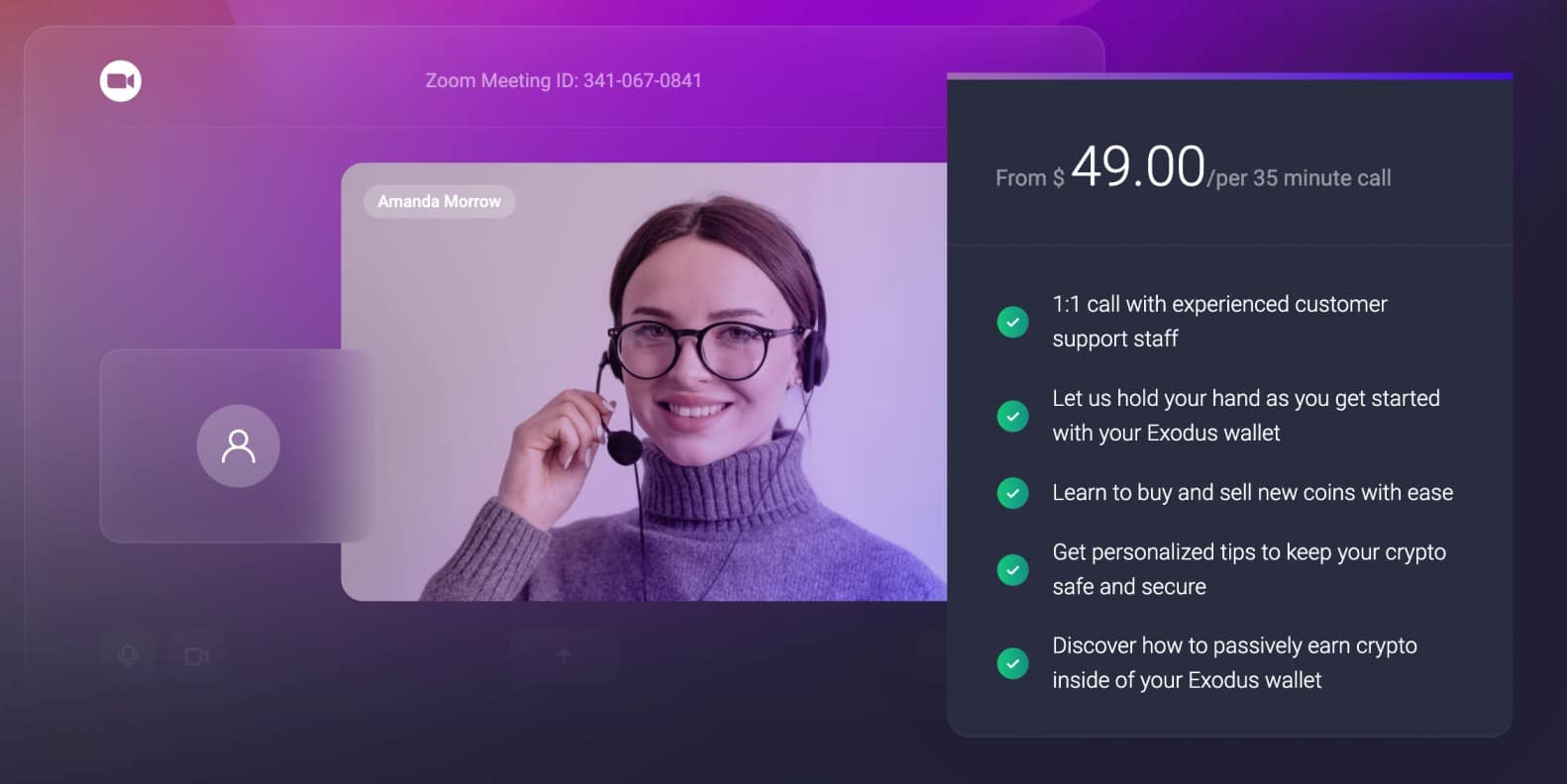 That said, Exodus also offers premium support. This is offered via Zoom and costs $49 for a 35-minute video call. We found that in most cases, the basic live support function is more than suitable.
How to Use Exodus Wallet
In this section of our Exodus wallet review, we explain how to get started in under five minutes.
This includes downloading the wallet and securing it with a password and backup passphrase.
Note: We are using the Exodus Chrome extension for this tutorial. Most steps are the same across other device types, but slight variations might exist.
Step 1: Exodus Wallet Download
First, visit the Exodus website and click the 'Download' button. Then, choose which device to download the wallet to.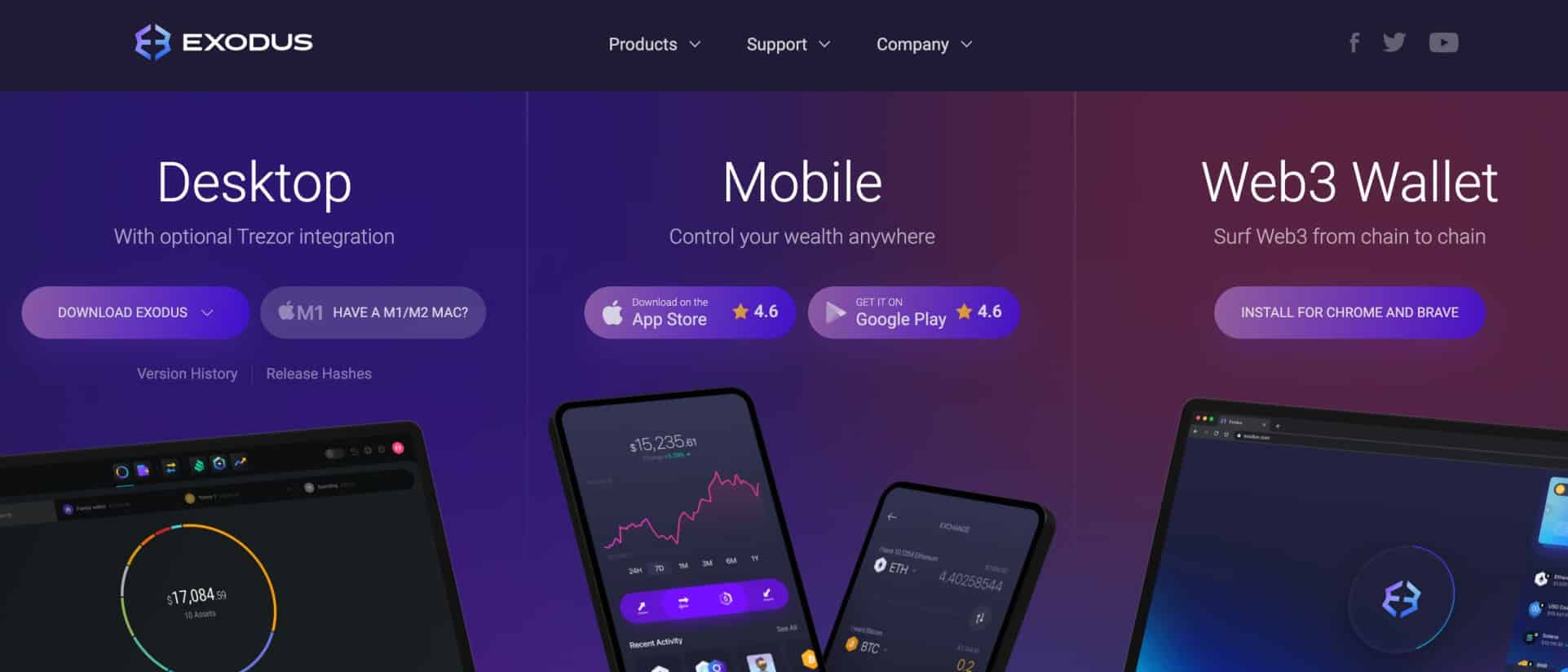 Mobile users can download the iOS or Android app. Desktop users can choose from Windows, Mac, and Linux. While those preferring a browser extension can choose from Chrome or Brave.
Step 2: Create a Wallet and Get a Backup Passphrase
Next, open Exodus and select the 'Create New Wallet' button.
Then click on the 'Backup' wallet button. Click on the 'Reveal' button, and Exodus will display the 12-word backup passphrase.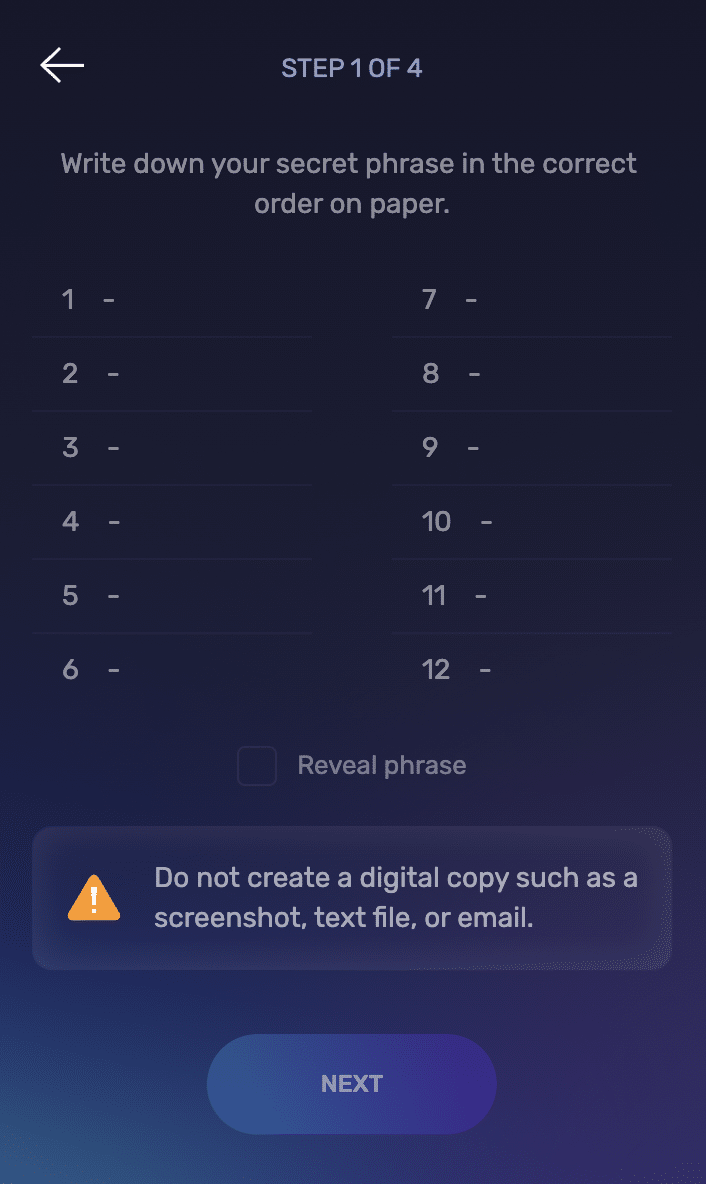 Write this down on a sheet of paper. Ensure the order of the words is written correctly. Never share the passphrase with anyone.
Step 3: Secure Wallet With a Password
After confirming the passphrase has been written down directly, Exodus will give the option for setting up a password.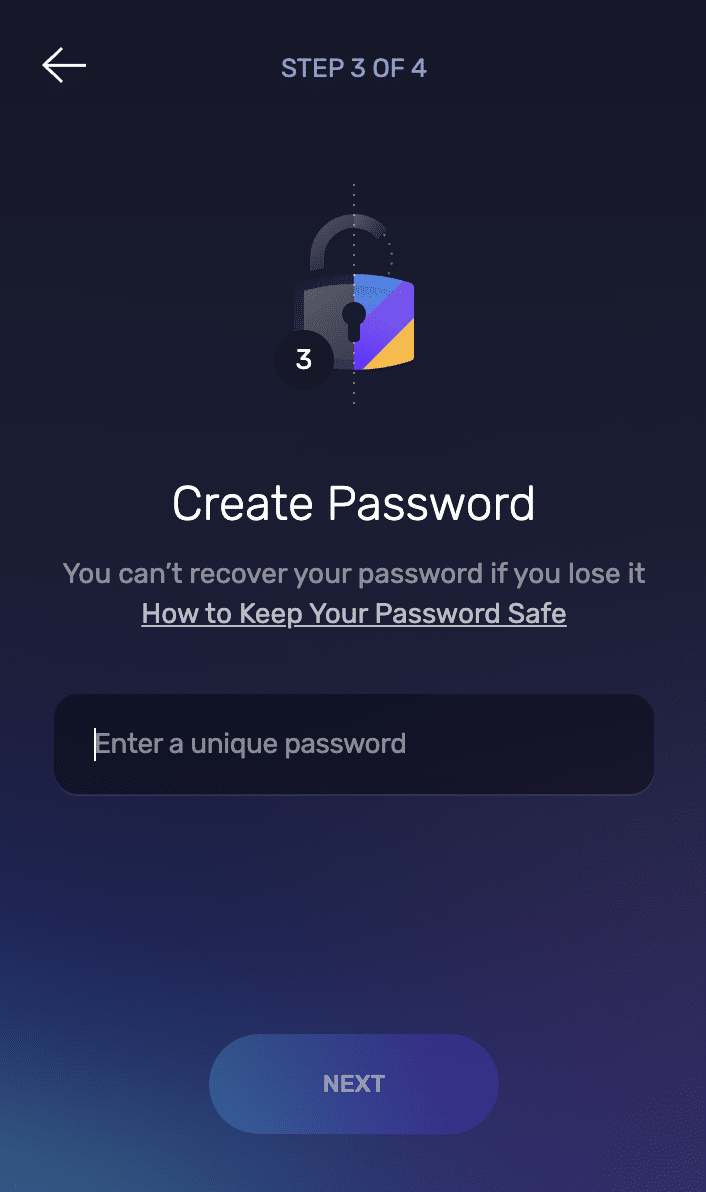 This is strongly advised, as it adds a layer of security to the wallet. Ensure the chosen password is strong enough so that nobody else can guess it.
Step 4: Add Cryptocurrencies to Exodus
Now that the wallet has been secured, the final step is to add some cryptocurrencies.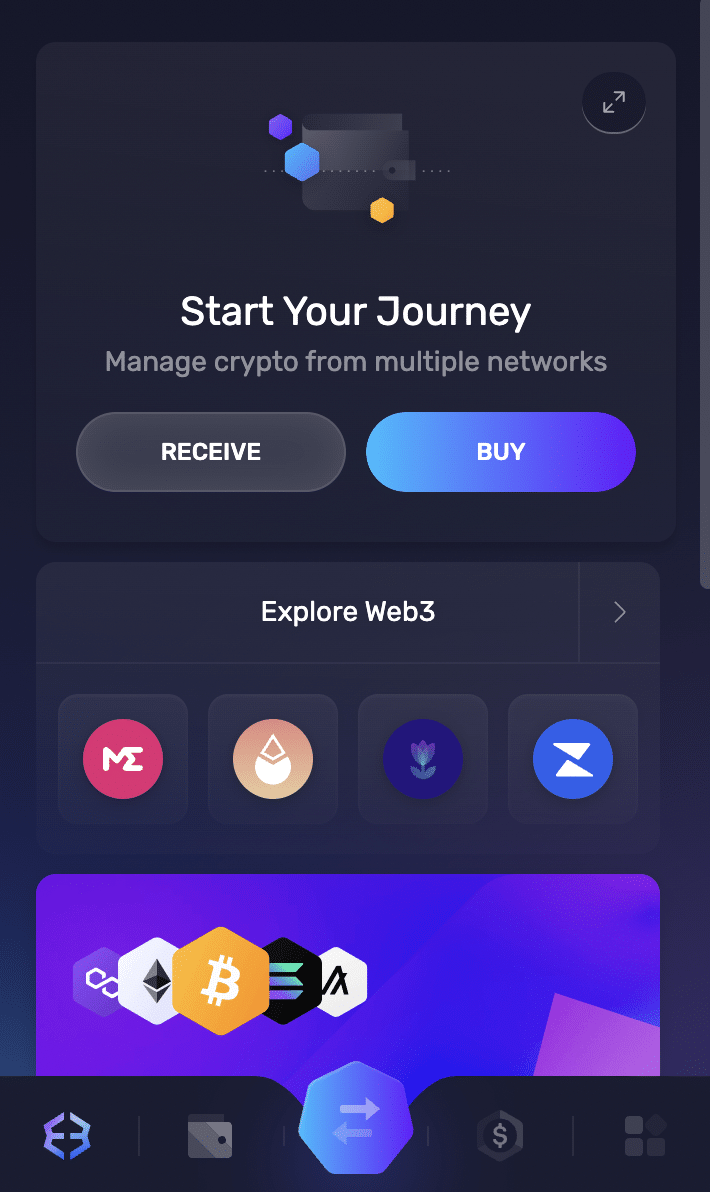 Refer to the instructions above on how to receive or buy cryptocurrencies via Exodus.
The Verdict
In summary, our Exodus review found that the wallet offers a user-friendly way to store and manage cryptocurrencies. It supports a wide range of networks and doesn't charge storage fees or GAS markups.
That said, Exodus falls short when it comes to security. Wallets are not initially secured by a password, as users need to switch this on. Moreover, Exodus is always online, making it vulnerable to hackers.
Another drawback is that Exodus uses Ramp for fiat payments. This results in debit/credit card fees of up to 5.45%. Furthermore, Exodus charges a spread when using its in-built token swap tool. The spread is built into the price, making it difficult to assess what is being paid.
Overall, there are better wallets in the market. Investors can refer to our comprehensive guide on the best crypto wallets 2023 to see what else is out there.
References
https://support.ramp.network/en/articles/10415-what-fees-does-ramp-charge-for-buying-and-selling-crypto
https://www.bnbchain.org/en/smartChain
https://ethereum.org/en/developers/docs/gas/
https://www.exodus.com/support/article/90-how-does-exodus-make-money
https://bitpay.com/blog/non-custodial-wallets-vs-custodial-wallets/
https://www.exodus.com/support/article/1300-tezos-staking-faq
https://apps.apple.com/us/app/exodus-crypto-bitcoin-wallet/id1414384820
https://play.google.com/store/apps/details?id=exodusmovement.exodus&hl=en&gl=US
https://coinmarketcap.com/alexandria/article/the-complete-guide-to-crypto-portfolio-management
https://www.imf.org/en/Publications/fandd/issues/2018/06/central-bank-monetary-policy-and-cryptocurrencies-he
FAQs
How trustworthy is Exodus?
Is Exodus wallet legit and safe?
Is Exodus wallet safer than Binance?
What are the advantages of Exodus?
Why is Exodus better than Coinbase?
Can an Exodus wallet be hacked?