Filecoin sits at #31 in CoinMarketCap's overall rankings, and the Filecoin price has climbed 9% over 2023, from $3.0091 at the start of the year to its current price of $3.28. In that time, it has hit a high of $8.5823—in anticipation of the release of smart contracts on the network and the team's completion of the Filecoin Masterplan—before falling back to current levels.
Here, we'll look at the potential future price of Filecoin, what affects it, and what information we can draw on to make a well-informed Filecoin price forecast.
Filecoin Price Prediction Summary
In March 2023, Filecoin released smart contract support and has just finished its Masterplan roadmap, positioning the network as a "layer 0" for computational networks.
Filecoin is the strongest and most well-known of the 'storage coins,' and the worldwide need for cloud storage will only grow, along with a continued move toward decentralization.
The Filecoin price just broke out of a downward wedge and is currently meeting resistance at its 50 day moving average as it makes an effort to move upwards.
Before breaking out of this wedge, the Filecoin token successfully tested strong, long-term support of $3.
The combination of technical indicators and the technological accomplishments of the development team set Filecoin in good stead for adoption in a decentralized blockchain-based future.
| | | | |
| --- | --- | --- | --- |
| Year | Potential Low Price | Average Price | Potential High Price |
| 2024* | $3 | $5 | $12 |
| 2025 | $6 | $9 | $12 |
| 2026 | $6 | $10 | $16 |
| 2027 | $10 | $16 | $22 |
| 2028* | $18 | $24 | $30 |
| 2029 | $20 | $24 | $28 |
| 2030 | $20 | $28 | $36 |
* The Bitcoin Halving event pushes up Potential High Prices in these years.
Filecoin Price History
Filecoin price data on CoinMarketCap begins in December 2017, with the first quoted price being $11.48. Since then, it has, like many altcoins, tracked along with the rise and fall of Bitcoin, hitting an ATH of $237.24 in April 2021 as Bitcoin peaked above $60,000 for the first time.
One point where the Filecoin crypto price deviated from the flow of the rest of the crypto market was in October 2020 when the Filecoin mainnet was released. Here Filecoin's price saw a 200% increase from $19.55 to $59.76, before settling around $30.
As for the rest of the cryptocurrency market, 2023 has been a stagnant year for the Filecoin price, and it is currently trading at $3.28, 9% above the price it started the year at, $3.0091.
2023 has, however, seen some exciting movement in the price of Filecoin, driven by the launch of smart contracting capabilities on the Filecoin network in March.
From the beginning of the year, the Filecoin token price steadily rose to a peak of $8.5823 in February, before coming down to $6.3995 on launch day, March 14th. Since then, it has steadily declined and recently successfully tested its key long-term support price of $3.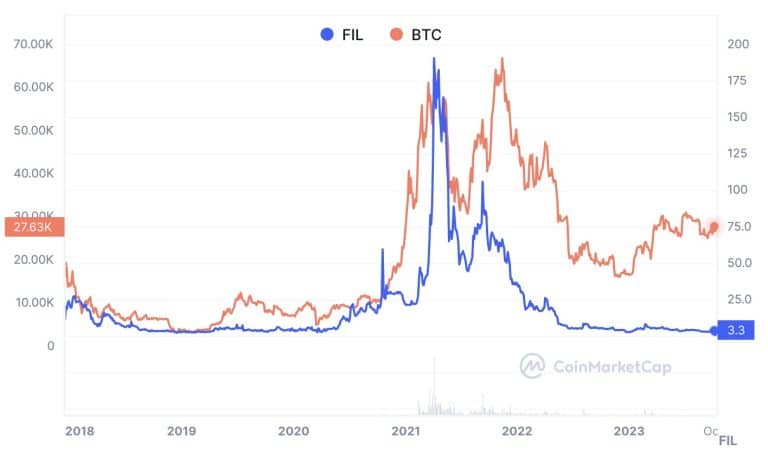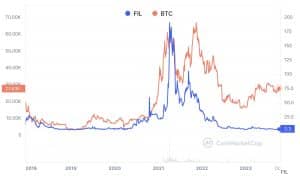 Key Points in Filecoin's Price History
The earliest data on CoinMarketCap indicates that Filecoin began trading in December 2017 with an initial price of $11.48.
A large spike in Filecoin's price, increasing 200% from $19.55 to $59.67, was recorded in October 2020 and coincided with the release of the Filecoin mainnet.
Since then the Filecoin price has largely tracked the movement of the wider cryptocurrency market.
Filecoin Price Prediction 2023
Making a Filecoin price prediction for 2023, of which there are only a few months left, means considering a few things.
The first is the sideways nature of their overall cryptocurrency market this year and the recent positive price action for Bitcoin, whose movement most altcoins track.
Then there's also the content independent quarterly reports, commissioned by the Filecoin Foundation and released on Messari. The 2023 Q2 report was overall positive and resulted in a 10% gain in the price of Filecoin on its release on July 13th. With the Q3 report due this month, we expect a positive report to have the same positive effect on the price. If it's negative, we could see Filecoin retest the long-term support of $3.
Finally, from a technical angle, Filecoin is currently toying with its 50 day moving average, and the result of the report may force it in one direction or another. It has also recently tested long-term support at $3 and seems to find $3.50 as a soft resistance.
For these reasons, we predict that Filecoin will finish 2023 at or above $3.30, around the same mark as today's price. However, if the Q3 report is negative, this could be as low as $3.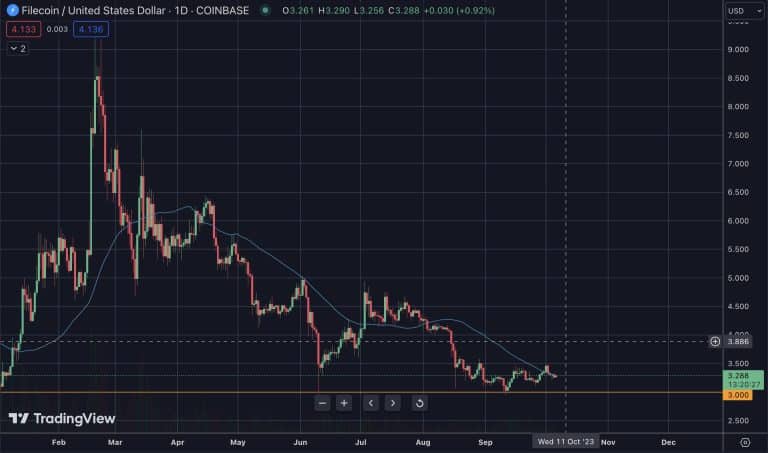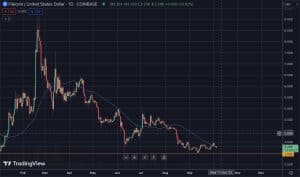 | 2023 | Price Prediction |
| --- | --- |
| High | $3.60 |
| Low | $3 |
Filecoin Price Prediction 2024
Looking toward 2024, it is expected that the crypto markets will pick up due to the Bitcoin halving event in April 2024, which usually results in a significant rise in price. Standard Chartered forecasted Bitcoin could hit $120K by the end of 2024. Such a prediction coming true will result in big moves for the whole market.
Looking at the network elements of Filecoin, the Filecoin Masterplan was completed in March of this year with the network's release of smart contracting capabilities. While the ecosystem of Filecoin dApps and the introduction of blockchain bridges has started impressively, how it evolves and grows in 2024 will positively or negatively impact the Filecoin token price and, therefore, our Filecoin coin forecast.
Something that could deter investors and put downward pressure on the Filecoin price is that there is no Filecoin roadmap for the future. The Masterplan was completed last March, and no clear roadmap has been laid out since. Providing little in the way of excitement to entice buyers into the Filecoin market.
From a technical standpoint, Filecoin has just broken out of a downward trending wedge in a positive to neutral direction, successfully testing support at $3 just beforehand, and it is now starting to test its 50 day MA. If it successfully beats this, it will have the 100 day moving average to contend with. All this, coupled with the expected boost of the Bitcoin Halving event could drive positive momentum in Filecoin's token price early in 2024.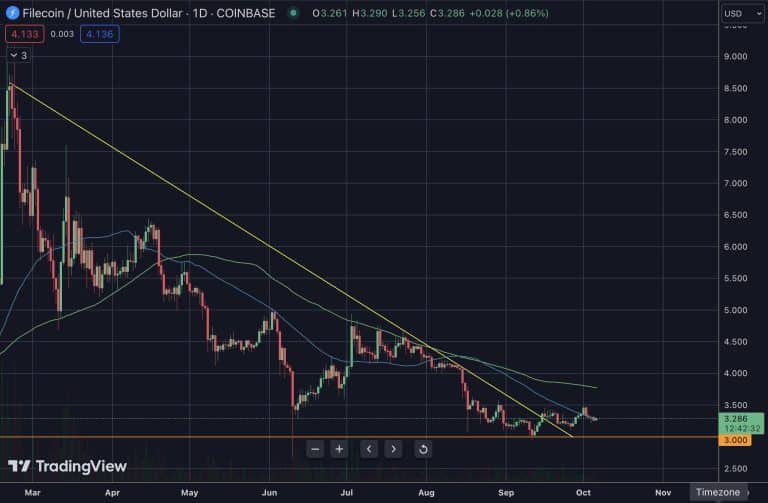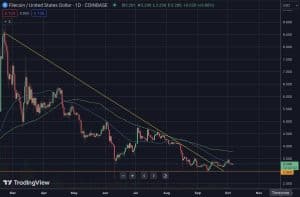 With all that in mind, our Filecoin price prediction for 2024 is that Filecoin could finish 2024 as high as $7 and as low as $4, with an average price of $5.
Filecoin Price Forecast Long-Term Outlook – 2025-2030 Predictions
As mentioned previously, Filecoin has finished its roadmap for now, and there are currently no big developmental updates we can expect to have a positive impact on the Filecoin token price. The non-existence of such plans could harm the price.
Filecoin, according to the aforementioned Masterplan, is now positioned as 'a "layer 0" for computational networks.' With a built-in utility layer for persistent, decentralized data storage and a computational layer that now allows dApps and smart contracts, the Filecoin price depends on ecosystem growth.
With the expected continued adoption of blockchain technology and the continuing decentralization of industries, Filecoin is well positioned for adoption by those eager to adopt blockchain technology and decentralization. Keeping an eye on the quarterly performance reports will be key to knowing what is going to happen with the Filecoin price.
Our Filecoin price prediction for 2025 puts it between $6 and $12, with an average price of $9.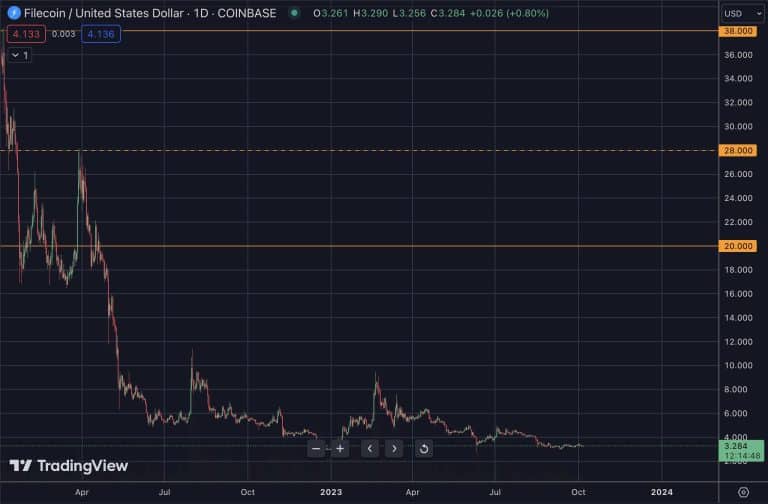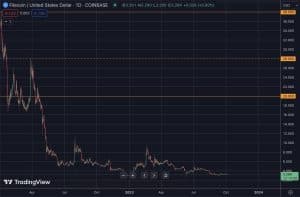 Looking to 2030, the cloud storage market isn't going anywhere. If anything, demand will only increase as humanity continues data creation speed grows at an exponential rate. If Filecoin development keeps pace with the growth of blockchain technology and stays relevant to cloud storage trends, then there's no reason its price can't continue to rise. For these reasons, our Filecoin price prediction for 2030 puts Filecoin between $20 and $36, with an average price of $28.
Potential Highs & Lows of Filecoin Coin Price
As with all assets, the price of Filecoin's FIL token will fluctuate throughout each year. Traders looking to make long-term positions should know these will happen and have estimates for them. Here, we present the potential highs and lows of the Filecoin price for each year between 2024 and 2030.
| | | | |
| --- | --- | --- | --- |
| Year | Potential Low Price | Average Price | Potential High Price |
| 2024* | $3 | $5 | $12 |
| 2025 | $6 | $9 | $12 |
| 2026 | $6 | $10 | $16 |
| 2027 | $10 | $16 | $22 |
| 2028* | $18 | $24 | $30 |
| 2029 | $20 | $24 | $28 |
| 2030 | $20 | $28 | $36 |
* The Bitcoin Halving event pushes up Potential High Prices in these years.
What do Other Analysts Predict for Filecoin Coin?
The Changelly exchange predicts that Filecoin's FIL token will hit a maximum price of $3.45 by the end of the year, with a bullish prediction of a high of $85.08 by the end of 2030.
Changelly
'In 2030, our Filecoin price prediction forecasts that the FIL token will trade at a minimum of $67.29 and an average value of $69.71. If the crypto market remains positive, the highest expected price for Filecoin cryptocurrency in 2030 is around $82.80.'
The Cryptopolitan
On CoinCodex, high and low predictions vary greatly due to the Bitcoin Halving events. They say Filecoin could hit highs of $25.85 next year, with lows of $3.12. While the respective high and low predictions for 2030 are $23.26 and $18.38.
CoinCodex
In their forecast for 2023, AMBCrypto predicts an end of year price increase for Filecoin, predicting that it will close between $5.69 and $6.55. In addition, they predict an average price of $43.56 for the FIL coin in 2030.
AMBCrypto
The KoinX crypto tax tool predicts that Filecoin will have an average price of $11.66 in 2025 and hit highs of $56.06 in 2030.
KoinX
What is Filecoin Coin and What is it Used For?
Filecoin is a decentralized data-storage network that allows users to store data outside their computers and retrieve it whenever they want without relying on centralized entities. Filecoin supports multiple data formats, including image, audio, and video. This means service providers, governments, or anyone else cannot censor the files stored using the Filecoin protocol.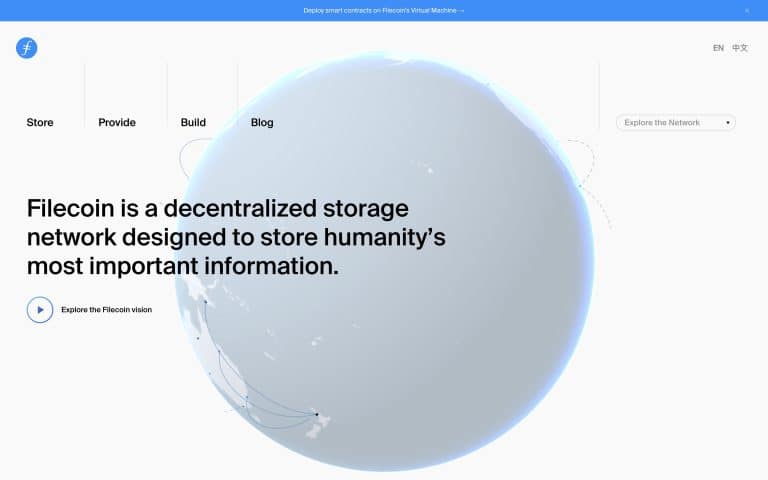 In March 2023, Filecoin gained smart contracting capabilities with the release of the Filecoin Virtual Machine (FVM) on the network. This increased Filecoin's utility, from being just a decentralized storage network with a payment layer to allowing developers to build dApps on top of the network. Since then, over 2,500 smart contracts have been launched, powering over 100 dApps in the Filecoin ecosystem.
Filecoin is not for the storage of data that needs to be accessed frequently, as users pay small amounts to access their data. The Filecoin protocol targets companies with large digital archives they need infrequent access to.
Filecoin vs the IPFS
Filecoin is often compared to the IPFS (Interplanetary File System) as both offer a similar service: decentralized storage. While complementary and developed by the same entity, Protocol Labs, they are actually different.
Filecoin is a decentralized peer-to-peer storage network with economic incentives built into it by including a payment layer that uses the FIL token. The network is designed to offer the reliable storage of large quantities of data for an extended time, paid for monthly. This data can be changed and is always accessible from the same address.
The IPFS is also a decentralized peer-to-peer storage network, but there is no economic incentive layer, and each file has a unique content identifier (CID) equivalent to a website URL. Here, a one-time payment commits the file to the network forever. Files stored in the IPFS are immutable, meaning that when the contents of a file changes, so does its CID, i.e., its URL changes.
Files on the IPFS are not stored in one location. They are, instead, stored in multiple locations in a shared network. When a user enters a CID, the network delivers the content associated with that CID through the most effective route in the network at that time.
Filecoin is actually built on top of the IPFS, allowing users to rent unused hard drive space in the IPFS. But, while the IPFS offers immutable data, stored and accessible forever for a one-time fee, the Filecoin network offers temporary, reliable storage for as long as the user wants to pay, on a per-month basis.
Using Filecoin: Service Providers and Service Users
Anyone can sign up to be a Storage Provider and assign a portion of server or hard drive space for use in the Filecoin system (multiple terabytes of space and technical knowledge of how to set it up are required). They can then offer this storage on the open market for anyone to use.
It is on this market that potential users come to find, bid, or ask for storage space over a period of time for a price that suits them. Once a deal is made, paid for, and recorded on the Filecoin blockchain, the files are put into storage.
To access their files, the user puts in a bid request on the retrieval market. When a Retriever accepts this, they sign the deal to the blockchain and execute the withdrawal of data for the user.
The network's storage capacity is determined by how much storage the Storage Providers are contributing to the network. The price of storage is determined by the open market, not by a single entity, with many influencing factors, including available storage space, demand for storage, and the price providers and users are willing to accept and pay for storage.
Proof-of-Replication
The Filecoin network is secured using a modified version of proof-of-stake called proof-of-replication to validate that service providers are providing and keeping up the services they said they'd provide. Proof-of-replication has two elements to it:
Proof-of-Storage: Where the Storage Provider has to prove that they have stored the number of copies of data they said they would.
Proof-of-Spacetime: Where the Storage Provider must prove they've stored the data for the previously agreed period.
Both of these are checked once every 24 hours, and the results are recorded immutably on-chain so the user can always check that the storage services they paid for were online, even if they didn't access it. Storage Providers must provide these reports to receive their payments, distributed in FIL.
FIL: The Filecoin Token and its Uses
The FIL coin is the token that powers the Filecoin economy. It has multiple uses in the Filecoin ecosystem, including as payment, collateral, and as an incentive. Here's how FIL is used in the Filecoin economy:
Mining Rewards: Blocks on Filecoin are created by storage providers, with the greater the amount of storage you provide to the network, the higher the likelihood that you'll be elected to mine a block. When a new block is mined, new FIL coins are created and given to the miner as a reward, along with the transaction fees paid by the users.
Storage Payments: Users pay for Storage Providers for their services with the FIL token.
Retrieval Payments: Users pay Retrievers for their services with the FIL token.
Token Staking and Locking: To provide storage to the network and mint blocks, Storage Providers must lock up a certain amount of tokens; providing more storage means locking up more tokens. If they act maliciously or their storage does not pass a reliability check, their stake will be slashed.
Governance Rights: FIL represents voting power in the governance system of the Filecoin ecosystem.
The amount of new FIL tokens released with each block varies, depending on the provable utility of the network at the time of minting. This is to control the supply and ensure it remains economically viable for Storage Providers to provide storage and put the time and energy into minting blocks.
Only if the network achieves large scale utility and growth with the hard cap of 2 billion total FIL tokens ever be minted.
Who Uses Filecoin
The Filecoin network is used by web2 and web3 companies looking to take advantage of the benefits of decentralized storage. Amongst other things, these companies use the Filecoin network to store:
NFT files
Metaverse/game asset
Web2 datasets
Content and files for streaming
Web2 and web3 companies who use the Filecoin include:
Filecoin Coin Overview
| | |
| --- | --- |
| Cryptocurrency | Filecoin |
| Ticker Symbol | FIL |
| Rank | #31 |
| Price | $3.28 |
| Price Change 24H | 0.38% |
| Market Cap | $1,499,105,135 |
| Circulating Supply | 454,222,000 FIL |
| Trading Volume 24H | $58m (17,770,694 FIL) |
| All Time High | $237.24 |
| All Time Low | $1.83 |
What Influences the Price of Filecoin?
The FIL token is a utility token that is used by all users of the network. As a result, the popularity of the network and the services it offers have a major influence on Filecoin token price. This is the most important factor affecting the price of FIL, and it is crucial to take this into account when making a Filecoin price prediction.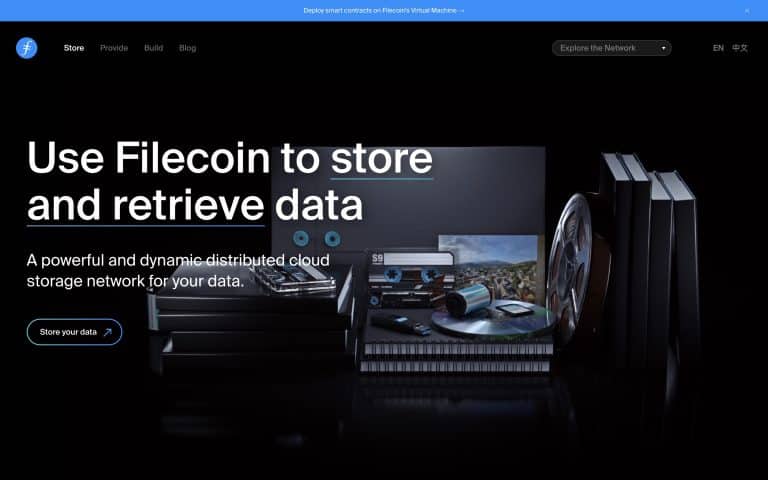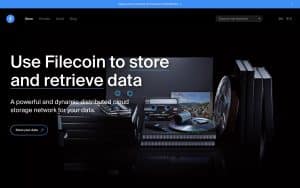 Users pay for storage services on Filecoin with the FIL token. So, an increase in desire for storage increases the use of the network. As the demand for storage space rises, Storage Providers will want to add more storage to the network to increase its capacity and their earnings.
They have to lock up a proportional amount of the FIL token to add storage to the network. This decreases the supply of FIL and increases demand, which typically increases a token's price because these Storage Providers need to buy the FIL they want to lock up.
In March 2023, the Filecoin ecosystem was launched with the release of the FVM on top of the network. This adds extra utility to the FIL token as it is required to pay gas fees on the network. This means that the popularity of the Filecoin ecosystem will directly affect demand for the token.
Is Filecoin a Buy?
Filecoin's creators claim that if Filecoin is widely adopted, and due to its open market approach, it will become the fastest and cheapest way to store data on the internet. The State of Filecoin reports, released each quarter, provide an excellent overview of the ecosystem and allow the reader to make a more accurate and data-informed Filecoin price prediction. The Q2 report for 2023 shows promising signs of growth for Filecoin's main offering of persistent decentralized storage.
The networks regulate the release of new Filecoins use, and reaching the hard cap of coins depends on the network's uptake. This means that it is more difficult for the supply of Filecoin to become oversaturated and push down the price.
With the launch of smart contracting capabilities, Filecoin has added another string to its bow in terms of utility. Filecoin's FVM is built on top of the EVM (Ethereum Virtual Machine) model, allowing dApps built on other EMV-compatible networks to easily launch their dApp on Filecoin too. It also makes bridging to the network easy, and Axelar and Celer have already done so. This increase in utility, in addition to it being one of the top storage coins, makes a compelling case for its future success.
However, in May of 2023 the SEC labeled Filecoin's FIL as a security in a letter to Grayscale, a firm who creates investment trusts around coins to give retail investors exposure to them. This has led some to be wary of holding or buying Filecoin, and may lead some exchanges to delist it in the future, although this hasn't happened yet.
While nothing shows that Filecoin will climb aboard a rocket to the moon anytime soon, it has a strong platform of utility and a unique storage USP to attract a wide variety of users.
Best Place To Buy Cryptos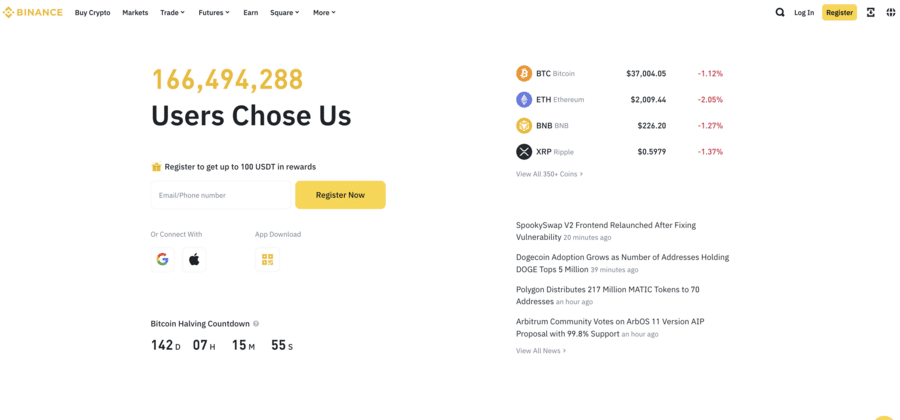 Binance is a leading crypto platform known for its intuitive and user-friendly interface that makes it accessible for beginners while offering advanced features for experienced traders.
With support for multiple languages and a presence in many countries, Binance caters to a global audience, making crypto trading accessible worldwide.
Here are some key features:
Low Trading Fees: One of Binance's most attractive features is its low fee structure. The trading fees are among the lowest in the industry, starting at 0.1%, which benefits both high-volume traders and casual investors.
Extensive Options: Binance offers many cryptos, exceeding 500 coins and tokens. This range caters to mainstream and niche market tokens.
High Liquidity: Binance consistently ranks high for liquidity, ensuring users can execute trades quickly and efficiently, a crucial aspect for traders aiming to capitalize on market opportunities.
Security Measures: Binance takes security seriously, using safety measures like two-factor authentication (2FA), device management, and an internal risk control system to protect user funds and data.
Innovative Products and Services: Beyond basic trading, Binance offers innovative financial products like futures and options trading, savings accounts, staking, and a native blockchain – Binance Smart Chain, which hosts a growing ecosystem of decentralized applications.
Binance Academy: Their educational platform, Binance Academy, provides free educational content on crypto and blockchain, making it a resourceful tool for beginners and experienced users alike.
Crypto assets are highly volatile and unregulated in most EU countries, Australia and the UK. No consumer protection. Tax on profits may apply. Your capital is at risk.
Conclusion
The Filecoin development team has finished their development roadmap, providing a solid foundation for Filecoin's future. The coin itself has long been one of the most popular storage coins out there, but does that make it one of the top coins to buy in 2023?
For a complete breakdown of the best cryptocurrencies on the market in 2023 follow the link below and explore the top-trending altcoins that most crypto investors are adding to their portfolios.
References
FAQs
How much will Filecoin be in 2024?
What will Filecoin be worth in 2025?
Can filecoin rise $1,000?
How much will the Filecoin price be in 2030?