Floki is a popular meme coin which has developed into a utility ecosystem over time. One of the ways the Floki community describes the coin is "the next Shiba Inu".
In this Floki price prediction, we will walk you through the Floki crypto and whether it has what it takes to become the next SHIB. We will forecast its short and long-term price, taking into account its tokenomics as well as its potential future demand and supply.

Floki Price Prediction 2023-2030
End of 2023: Despite poor market conditions, Floki has performed well so far in 2023. However, whether it can continue on an uptrend depends on the broader market and whether meme coins remain popular. Considering its recent exchange listings and providing the broader markets do not take another leg down, our Floki price prediction forecasts a price of $0.000058 by the end of 2023.
End of 2024: Floki has a growing online community, recently receiving a similar number of social mentions to Shiba Inu online. This indicates Floki could begin catching up with Shib in the future. Therefore our Floki price prediction estimates Floki could reach $0.0001 by the end of 2024.
End of 2025: The Floki DeFi app, FlokFi, currently has a higher TVL than Shiba Inu's DEX, Shib Swap. This could become a popular narrative that drives the Floki price. Therefore, our Floki price prediction forecasts Floki could climb to $0.00016 by the end of 2025.
End of 2030: Despite a growing ecosystem, one of the struggles of meme coins is long-term demand. This will be Floki's main issue; however, if successful, our Floki price prediction predicts it could reach $0.00047 by the end of 2030.

Floki Coin Price History
Floki launched in July 2021, inspired by Elon Musk's pet dog, Floki. It was created by an anonymous dev who abandoned the project shortly after launch.
Musk took to Twitter in June 2021, stating his new Shiba Inu dog will be named Floki.
Floki's first major leg up came on September 12, 2021, when Elon Musk tweeted that his Shiba Inu dog, Floki, had arrived.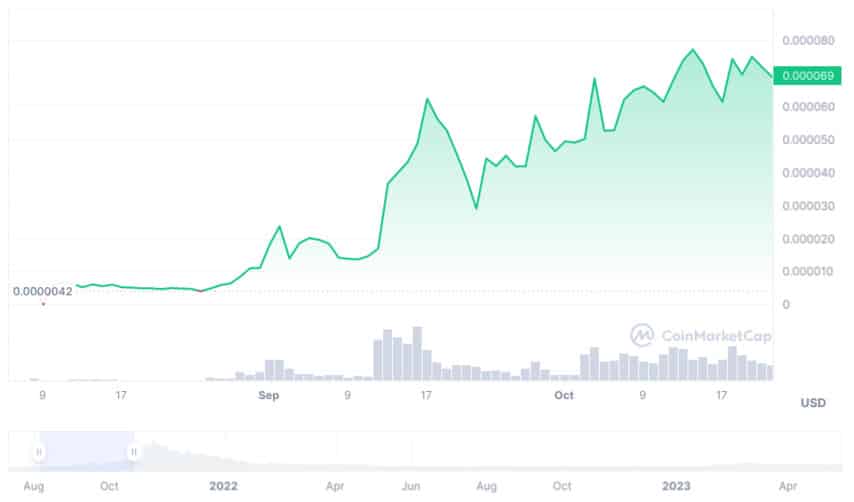 After the initial leg up, Floki began an explosive move upwards. With the Floki team proclaiming it to be a Shiba killer, the community quickly grew, reaching an all-time high of $0.0003437 on November 4 2021. From its all-time low in August of $0.00000002, this equated to a 1718400% increase in three months.
However, the gains were short-lived; Floki took a nose dive, reaching $0.000005578 on July 1 2022.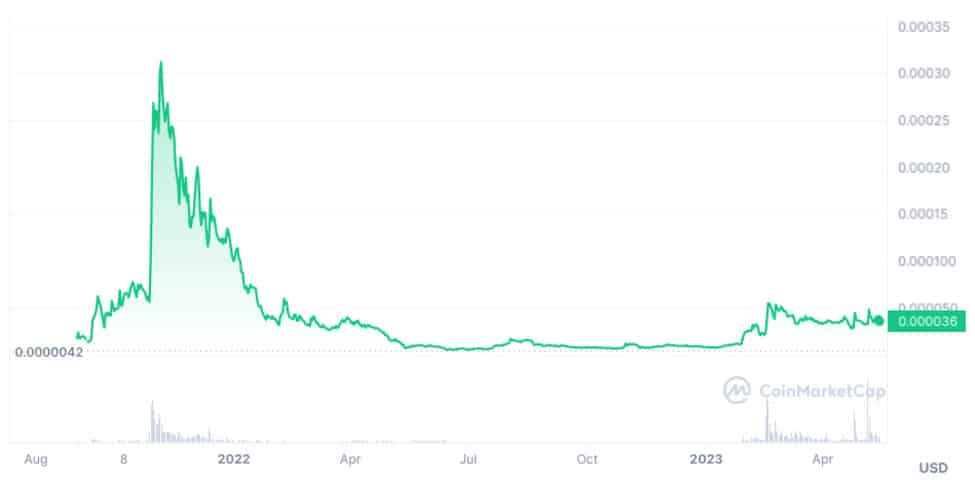 The price remained relatively flat until January 2023, when Floki made a sweep of new efforts to increase the coin's demand, including focusing on exchange listings, increasing efforts to grow in China, and boosting its charity efforts.
More recently, Binance announced it would list Floki in its "innovation zone", causing a sharp uptick in price.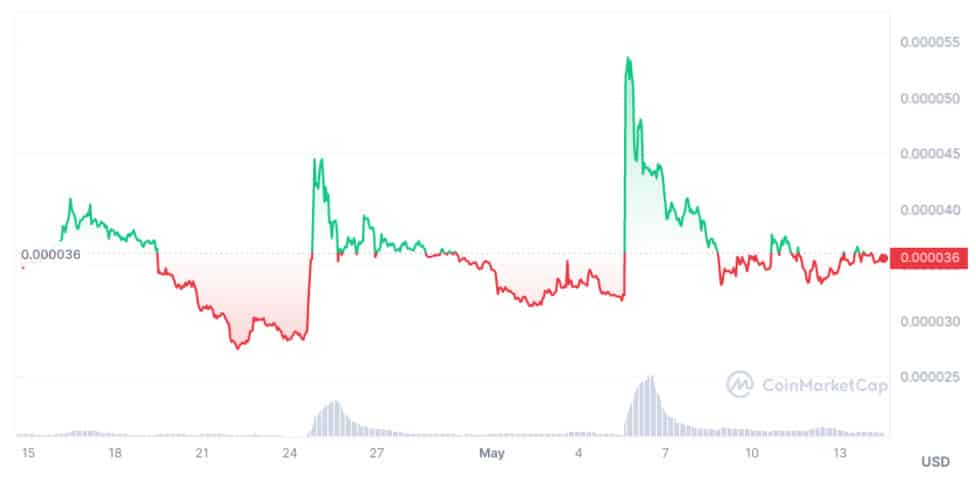 Tokenomics
Floki has a max supply of 20,000,000,000,000, with a circulating supply of 9,711,320,283,965.09. This means 48.56% of its max supply is currently circulating, or that there is 51.44% yet to be released. This could lead to excess sell pressure in the future as the coins are unlocked and will likely hold back the Floki price.
In comparison, Shiba Inu's max supply is already in circulation, so an increase in demand would have a better effect on its price.
There is currently a 0.3% transaction tax on each on-chain Floki transaction. However, the Floki whitepaper says it aims to remove this tax and generate revenue solely through utilities in the future.

What is a transaction tax?
A transaction tax is a fee built-in to a cryptocurrency that deducts a small tax each time the token is bought or sold. The fee usually goes to the project's treasury or devs.
Transaction taxes are mostly used by meme coins since they do not usually have another way to generate revenue.
Floki Coin Price Prediction 2023
Floki has gotten off to a great start to the year, and based on social metrics, it has been performing superbly in recent months.
According to LunarCrush, Floki has received 91K social mentions this week, compared to Shiba Inu's 122K. Considering Floki has fewer holders and a much smaller market cap, these are impressive figures, signalling a strong community.
Moreover, with Floki securing its Binance listing recently and the largest exchange in Brazil, Mercado Bitcoin, listing Floki, Floki has the potential to become one of the best meme coins.
The Floki community is also well known for its raids. This likely plays a significant role in why the project's Twitter following is currently at 485K. Floki also has 175K Telegram members, 15.8K Discord members and 12.6K YouTube subscribers.
While Floki's short-term fundamental metrics look solid, we should also consider its price charts for a more accurate short-term Floki price prediction.
Technical Analysis
In February, Floki broke out of its 7-month-long, low-volatility consolidation range. However, late in February, the Floki token price corrected and began a local downtrend. Nevertheless, Floki broke out of the downtrend on April 1 and has since made higher lows and higher highs.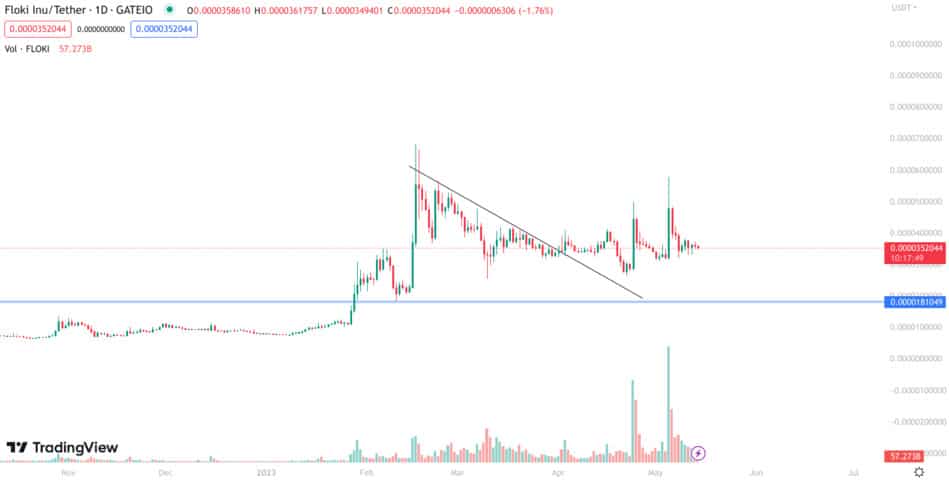 However, until it breaks the local resistance of $0.00006797, we cannot be sure that the uptrend will continue.
Considering Floki has a market cap of over $750 million, it is likely that Floki will only move in unison with the rest of the market. Therefore, it is important to consider Bitcoin's projected price for 2023 to determine where Floki could end up.
Bitcoin is looking to reverse after plummeting from its November 2021 highs. While the bottom seems to be in, just below its 2018 highs, it could revisit these lows before the bull market kicks in.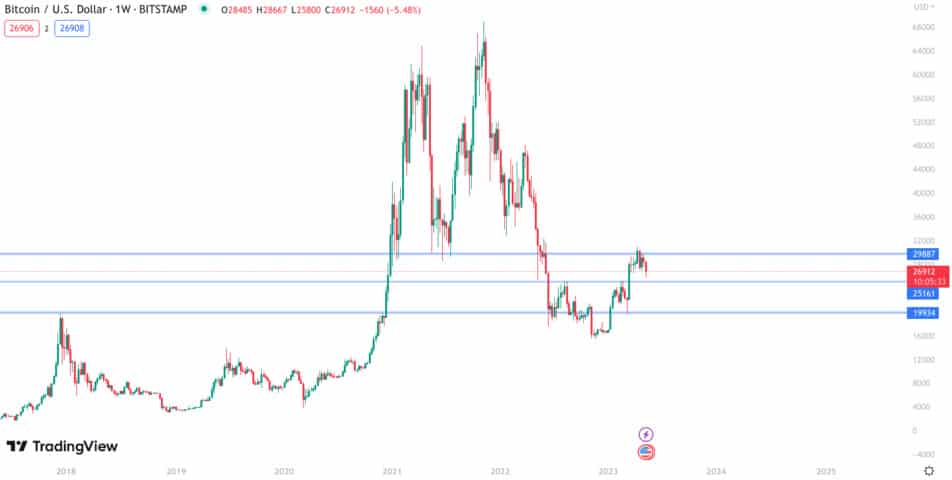 This is because the Bitcoin halving is set for 2024, so it is unlikely a bull market will commence too far in advance. Moreover, with global macroeconomics worsening and the World Bank recently claiming a global recession could be looming, it will be difficult for Bitcoin to rally in the immediate short term.
However, there is also a key support around $25K, where Bitcoin could bounce from before continuing to climb.
Either way, we expect Bitcoin to have bounced in anticipation of the halving by the end of 2023, setting the tone for the rest of the crypto market.
Considering its strong short-term fundamentals, and the likelihood that the markets will bounce this year, our Floki price prediction estimates Floki could reclaim its local highs, hitting $0.000058 by the end of 2023.
Floki Crypto Price Prediction 2024
With the Bitcoin halving expected to occur in April 2024, we expect bull market to commence, causing most top 100 cryptos to surge. However, could Floki be one of the best coins for the bull run?
One of the best indicators of whether Floki will surge during the bull market is the community's level of interest. Based on LunarCrush metrics, social engagement has steadily increased for Floki over the past year.
This, combined with the project's long-term approach to adding value and utility, shows that demand will surge throughout the 2024 bull market.
However, we also have a significant concern about Floki, which could hold its price down. As mentioned, only 49% of Floki's supply is circulating, and the rest is locked.
The perfect time for the team to sell coins would be during a bull market, as it would not cause the price to decrease. That said, new coins coming into circulation could undoubtedly prevent the coin price from reaching its potential.
With this in mind, our Floki price prediction estimates Floki could reach $0.0001 by the end of 2024.
Floki Inu Price Prediction 2025
Looking ahead to 2025, one of the main factors determining if Floki can become one of the best long-term cryptos is whether it can add value.
Considering Floki has a broad ecosystem, including a metaverse, a DeFi app and an online education platform, you might think Floki has already "added value". However, there is a distinction between offering utility and adding value. In terms of adding value, Floki must provide tools that its community actually use.
So the question is, are people using Floki's ecosystem?
With metaverse projects slowing down, we predict that most of Floki's value will be derived from its DeFi app, FlokFi. Currently, FlockFi has a TVL of $22 million, which is impressive for a meme coin with a market cap of $300 million.
Comparatively, Shiba Inu's ShibSwap DEX has a $20.7 million TVL despite having a market cap of over $5 billion. Although the sole purpose of neither project is their DeFi app, this is still a great indicator of the level of value each provides.
Nonetheless, many other utility projects have a higher TVL than Floki and a much lower market cap. Therefore, this statistic alone does not make Floki undervalued, but it could help push the coin higher during the bull market. Moreover, with the coin's strong community, its focus on "Twitter raids", and the other products it offers, there is a great likelihood Floki could rally in 2025.
Considering this, our Floki price prediction forecasts Floki could climb to $0.00016 by the end of 2025.
Floki Token Price Prediction 2030
The primary consideration regarding Floki's potential to succeed in 2030 is whether it can generate demand for its products.
Floki is fighting an uphill battle. The coin is mainly valued on speculation, but to succeed long-term, the dev team will have to execute flawlessly, shifting demand from speculative to utility-driven.
Currently, the project is showing signs that there could be demand beyond hype. However, we are still uncertain whether this will continue long-term.
Nonetheless, if the team execute well, Floki could be one of the best altcoins to buy. Therefore, our Floki price prediction predicts Floki could reach $0.0047 by the end of 2030.
Prospective Highs & Lows of the Floki Coin Price
While Floki began as a meme coin, the devs have taken steps towards shifting it to an all-encompassing utility coin for the Floki ecosystem. Moreover, it is making changes in the real world, partnering with sports teams and providing charitable aid to those in need.
Therefore, we believe Floki to be one of the best meme coins on the market, although it still comes with risk. Despite having strong fundamentals, many current holders invested based on speculation due it being a meme coin rather than a utility token. Therefore, there is still a possibility the coin does not survive long-term.
We have summarized our expected prices between 2023-2030 below.
| | | |
| --- | --- | --- |
| Year | Potential High | Potential Low |
| 2023 | $0.000058 | $0.00003 |
| 2024 | $0.00016 | $0.0001 |
| 2025 | $0.00047 | $0.00025 |
| 2030 | $0.0067 | $0.0004 |
What is Floki Token Used For?
Despite beginning as a meme coin, there are now several ways holders can use the Floki coin. We have listed the main ones below.
Floki Ecosystem
The Floki ecosystem comprises many applications and use cases ranging from its prepaid bank card to its metaverse. The Floki whitepaper says the metaverse (Valhalla) is designed to take a large chunk of coins out of circulation as it will be the in-game currency.
Considering the many uses of the coin in its ecosystem and its large community, this could make Floki one of the best metaverse cryptos.
Overall, users will pay with the Floki token for every service within the Floki ecosystem.
Trading
Short-term traders and long-term investors can speculate on the future price of FLOKI. Short-term traders can now speculate with leveraged future contracts to predict the price going up or down on the Binance platform. Also, long-term investors can purchase the coin on a CEX or DEX and send it to cold storage for HODLing.
Newer meme coins like Pepe and Wojak are some of the most volatile cryptos. However, Floki and other more established meme coins like Dogecoin and Shiba Inu can provide a little more stability. This can attract less risk-averse investors who want meme coin exposure.
Community Events and Future Developments
With its origins as a meme coin, Floki often holds community events to reward its holders. Floki has previously rewarded holders with various NFTs, such as the "Diamond Hands NFT" and the "Flokitar NFT". There were different eligibility criteria for each NFT, but the winners must have held Floki tokens to qualify.
The Floki token will also grant holders access to new features. For example, the Floki website mentions staking coming soon to Floki. Staking will enable holders to generate passive rewards on their Floki holdings by depositing tokens into the Floki ecosystem.
What Factors Can Influence the Floki Crypto Price?
While we have mentioned some of the main factors that can affect the Floki price throughout our Floki price forecast, next, we will break down the factors that hold the most significance.
Supply
As we mentioned earlier, the circulating supply is less than 50% of the max supply for Floki. Depending on how these tokens are released and sold on the open market could massively impact the price.
For example, if they are held long-term once they are unlocked, it could help the Floki token climb, but if they are dumped, it could cause the price to plummet if the demand cannot keep up with supply.
The Value It Can Provide
The best cryptos to buy always offer real value. This means solving problems and improving the users' lives in some way. If Floki can do this through its metaverse, DeFi app, education platform or a future development, we could see demand surge for Floki, in turn benefiting its price.
Staking
What is staking?
Staking refers to when you lock your crypto tokens in a smart contract in return for rewards. Moreover, staking your tokens in a protocol can help maintain its security while also reducing the available supply of a token at a given time.
Therefore, as well as boosting a cryptocurrency's security, staking offers financial incentives to token holders through passive rewards and the possibility for the token's price to increase due to a decreasing supply.
However, there are also security concerns you should be aware of. The main one is smart contact risk. Since your tokens are locked in a crypto smart contract, if a hacker is able to exploit the contract, they could steal your crypto.
While staking is not yet available, Floki has alluded to it many times. Once staking is live, we could see many coins move out of circulation as holders seek passive rewards. Therefore, the addition of staking will reduce the Floki supply, potentially pushing the price higher.
Moreover, staking could cause holders to buy more tokens to earn more rewards, increasing demand for Floki.
Broader Market Conditions
Since Floki already has a $700 million market cap, it is unlikely it could rally while the rest of the market consolidates or drops. Therefore, the broader market conditions will greatly affect the Floki price potential, both short and long-term.
What Do Other Analysts Say About the Floki Inu Price Potential?
It is important to consider all outcomes when forecasting the future price of crypto. Therefore, we have gathered some of the top analysts' Floki price predictions and compared them below.
[/su_note]
Based on the BitcoinWisdom Floki token price prediction, Floki could reach a maximum price of $0.000052 and a minimum price of $0.000041 by the end of 2023.

According to Telegaon, Floki's minimum price will be $0.0000769, and the maximum price will be $0.000116 by the end of 2023.

PricePrediction.net predicts that Floki could reach a minimum price of $0.00000849 and a maximum price of $0.00000974 by the end of 2023.

Based on BTCC's Floki price prediction, Floki's possible low is $0.00006, and its possible high is $0.0001 by the end of 2023.

Is Floki the Best Coin to Buy Today?
One of the barriers to Floki becoming one of the most promising cryptos is that its ecosystem is not currently generating that much demand. While it is outperforming Shiba Inu's ecosystem relative to its market cap, there are many utility tokens with more utility-driven demand with a much smaller market cap.
While we expect Floki certainly has strong potential in the short-term, it is still yet to be known whether it can sustain itself long-term. Below we have identified two crypto presale coins aiming to solve real-world issues with their utility coins from the get-go.
AiDoge is an AI-Powered Meme Coin That's Raised Over $8.5m
Another coin which has enjoyed tremendous presale success in recent weeks is AiDoge. Having recently surpassed the $7.8 million presale raise mark, AiDoge has become one of the top ICOs of recent months.
Similarly to Floki, AiDoge flies under the meme coin banner. However, due to its forward-thinking use case and real utility, the new presale coin is already sought after.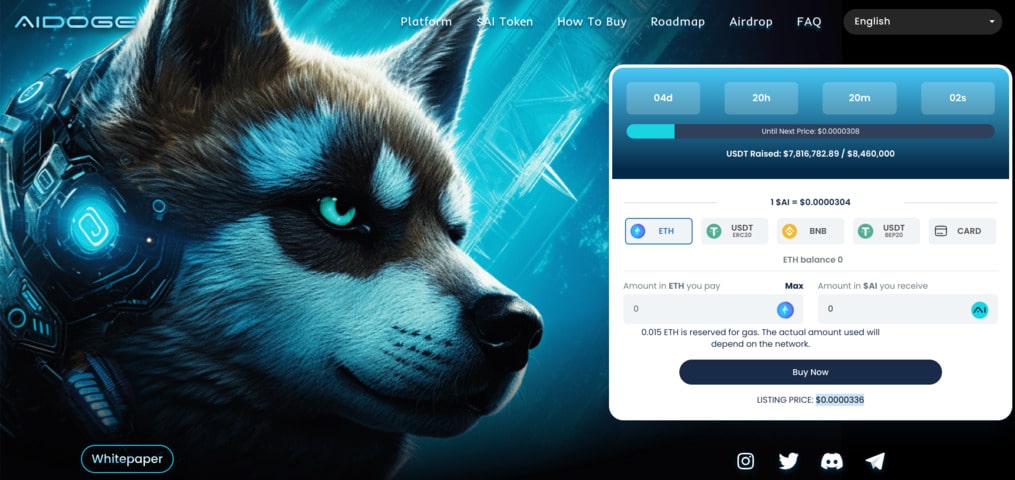 AiDoge is a meme generation platform that allows users to create memes with simple text-based prompts by leveraging its built-in generative AI software.
The platform also features a staking mechanism, where users can lock their tokens in return for rewards and to access the platform.
On top of that, AiDoge has a range of other features like a meme feed wall (where users can filter and vote on other creators' memes) and fractionalised meme NFTs and much more.
The main problem that AiDoge solves is the difficulty and time it takes to create memes. Considering the crypto community's ties with meme culture, AiDoge could certainly rack up lots of demand following its launch.
AiDoge is currently in stage 12 of 20 of its presale at $0.0000304. The price will increase to $0.00003080 next round, which is set to start in four days. The IEO price is set for the end of the presale at $0.0000336, an 10.5% increase from its current price.
yPredict is Building AI Crypto Ecosystem, LPX Token Now on Presale
yPredict is a new crypto many experts anticipate as one of the best altcoins to watch in 2023.
The primary purpose of yPredict is to provide cryptocurrency traders with AI-powered trading signals through a technology known as "predictive models". The platform offers a marketplace where data scientists and quants can sell their predictive models on a recurring subscription in return for the $YPRED token.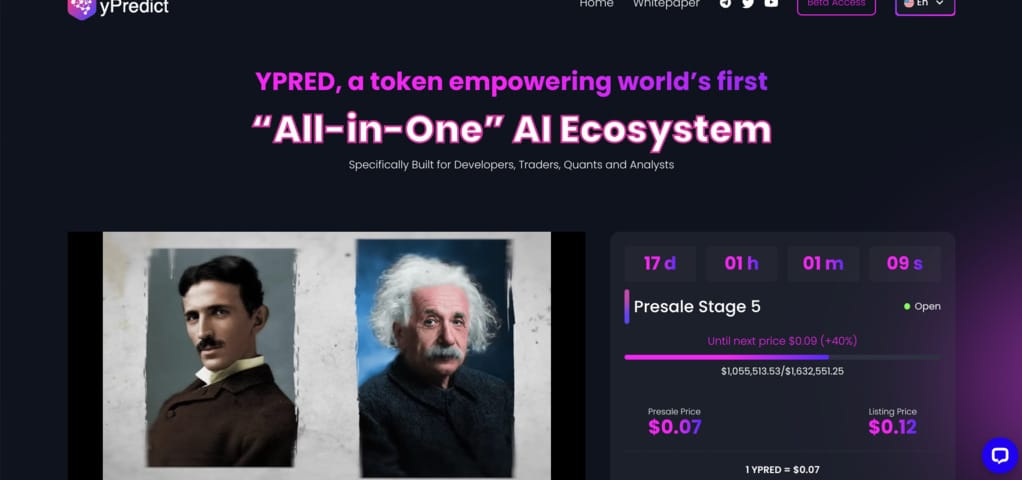 yPredict has already piqued the interest of investors, having raised $1 million so far in its presale. The main issue that the project solves is that very few short-term crypto traders actually make money trading the crypto markets. The reason for this is the algorithmic trading bots they must compete with. yPredict aims to level the playing field, providing timely and accurate signals to retail traders.
Holders can also stake their yPred tokens in return for passive rewards derived from marketplace fees, which the yPredict whitepaper claims could be up to 45% quarterly returns. The great thing about the rewards is that they are a form of real yield, not relying on inflationary token emissions that would devalue the coin.
yPredict is currently in its stage five presale at a price of $0.07. Following this stage, the price will increase to $0.09 in its next presale round. yPredict's IEO will commence following the presale at $0.12, a 71.4286% increase from its current price.
Floki Inu Price Prediction Conclusion
Although Floki aims to become the Shiba killer, it has some challenges it must face along the way. Moreover, with a market cap of over $300 million, there is less room for growth than with newer coins.
With that in mind, investors might find that new utility coins like AiDoge provide more upside potential than Floki in the mid-long term.
FAQs
Does Floki have a future?
What will Floki's price be in 2024?
How much is Floki currently worth?