As Richard Heart's HEX token continues gaining traction for its unique reward system, this article outlines the platform's journey so far while providing a HEX coin price prediction.
Based on technical analysis, key market events, and predictions by prominent analysts, this article provides a HEX forecast until 2030. We also touch upon the platform's struggles with mistrust in the market and its potential for recovery amid an uncertain time in the market.
HEX Price Forecast 2023 to 2030 – Overview
The following key points and data summarize the potential performance of HEX Coin for the period of 2023 to 2030:
HEX has been demonstrating bearish behavior in recent months, but indications from the falling wedge pattern suggest a potential shift to an uptrend.

Despite this promising signal, the coin's value fell below the two-year trendline support, indicating a possible challenge for recovery.

HEX has the potential to reach a maximum price of approximately $0.0189 by the end of 2023 under optimal market conditions.

Moving forward to 2024, HEX Coin may touch a potential high in the $0.02 to $0.03 range, given an overall positive market sentiment.

In the long term, from 2025 to 2030, HEX's potential growth is contingent on its ability to attract a solid and supportive user base and navigate the challenges presented by market volatility and negative perceptions in the crypto community.
| | | | |
| --- | --- | --- | --- |
| Year | Potential Low | Average Price | Potential High |
| 2023 | $0.003 | $0.01 | $0.0189 |
| 2024 | $0.012 | $0.0155 | $0.03 |
| 2025 | $0.023 | $0.04 | $0.07 |
| 2030 | $0.1 | $0.21 | $0.33 |
HEX Token Price History
The HEX coin has experienced a significant bearish trend since the first quarter of 2023. Since late March, HEX has been under a strong bearish influence after peaking and reversing at the $0.12 resistance level. A resistance level determines the price at which supply or selling interest is significant.
Consequently, the HEX coin experienced a steep downturn of over 93% in the next two months, leading the price to fall below the 20/50/200 Exponential Moving Averages (EMAs). The EMA is a type of moving average that gives more weight to recent price data. It's frequently used in crypto analysis to determine the market's direction. When a crypto price drops below these key EMAs, it is typically a sign that the bears have the upper hand.
This steep fall formed a falling wedge pattern on the daily chart. A falling wedge is a pattern characterized by a narrowing range of prices with lower highs and even lower lows. This pattern often indicates that a reversal is about to occur, meaning the downtrend could soon switch to an uptrend.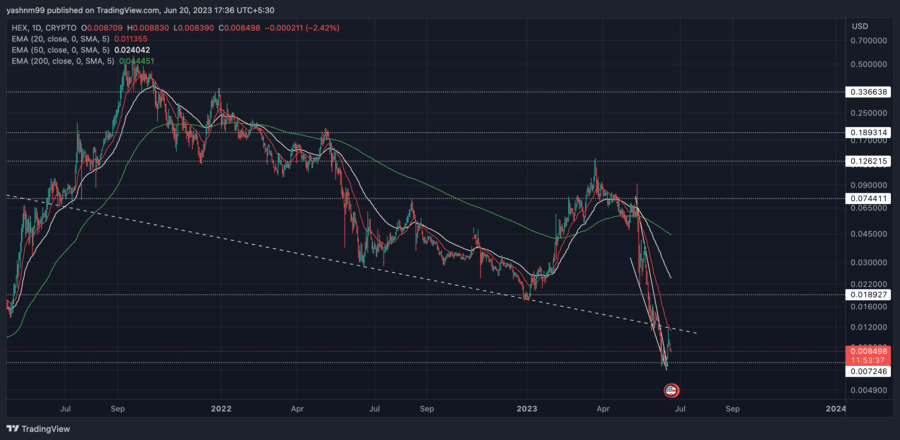 However, despite the potential bullish signal from the falling wedge, the HEX token price fell below its two-year trendline support (white, dashed) and flipped into resistance. When this support line is broken, and the price starts trading below it, it can be a bearish signal.
However, the $0.007-baseline support triggered a near-term pullback, causing buyers to step in and halt further decline. This resulted in the price breaking out of the falling wedge, but the token has yet to embark on an upside rally.
Many analysts believe that despite the platform's use cases, the HEX coin's price is particularly susceptible to pump-and-dump scenarios due to a perceived lack of trust in the broader crypto ecosystem. Such views can add to the market volatility and unpredictability.
The key events of the HEX price history:
HEX saw a peak in late March at the $0.12 resistance level.

Soon after, a steep downturn led to a price decline of 93% as it fell below the near and long-term EMAs.

Then, the price fell below two-year trendline support, turning it into resistance.

Near-term pullback triggered at the $0.007-baseline support. 

The resulting price breakout from the falling wedge without an immediate upside rally.
HEX Price Prediction 2023
As we head into the second half of 2023, speculation swirls around which will be the next crypto to explode. Amidst this uncertainty, HEX's price trajectory remains unpredictable, especially given the current market conditions. With HEX buyers poised to capitalize on the falling wedge breakout, this coin may have a positive outlook in the near term.
However, the recent transformation of the two-year trendline from support to resistance may be a psychological obstacle to near-term recovery. A robust and sustained bounce back from the $0.007 support level could pave the way for challenging this trendline resistance.
Buyers might need to wait for a close above the 20 EMA to evaluate the possibilities of an upside in the near term. Under such circumstances, buyers could aim to retest the $0.07 resistance level before a final rally occurs.
However, the neutral stance of the Bitcoin fear and greed index implies that the market is not showing a preference for buying power yet. Therefore, any fall below the $0.007 support level could expose HEX to further losses.
From this analysis, we can expect HEX to reach a minimum price range of $0.003-$0.004 by the end of 2023. Meanwhile, the maximum price level that HEX could attain is around $0.0189.
Here's a glance at the potential month-by-month price of HEX:
| | | | |
| --- | --- | --- | --- |
| Month | Potential Low | Average Price | Potential High |
| July 2023 | $0.003 | $0.0167 | $0.0184 |
| August 2023 | $0.0072 | $0.0136 | $0.0183 |
| September 2023 | $0.0073 | $0.014 | $0.018 |
| October 2023 | $0.0071 | $0.012 | $0.0179 |
| November 2023 | $0.0073 | $0.0148 | $0.0189 |
| December 2023 | $0.007 | $0.0073 | $0.0179 |
HEX Coin Price Prediction 2024
Off late, investors are exploring the best cryptos to trade, considering the market conditions and potential opportunities. As we look ahead into 2024, the price behavior of HEX could take an interesting turn. Should bullish investors gain the upper hand, they may set their sights on surpassing the $0.0189 resistance level, with a potential target in the $0.02-$0.03 range. This forecast, however, depends heavily on the market's mood and investors' sentiment.
Despite HEX being considered by some as a potential Ponzi scheme, it's crucial to remember that its price is deeply connected to the overall market sentiment. The official HEX website has dismissed allegations of being a Ponzi, pyramid scheme, or scam with a simple "No" in its FAQ section. However, there is an undercurrent of doubt among some users, which may influence its price behavior in 2024.
If negative sentiment leads to a downturn, HEX could retest the $0.012 lows from earlier years. Yet, the crypto market is well-known for its unpredictability, and a resurgence of buyer interest could flip the situation.
As we move forward, investors need to remain informed and updated, as the cryptos market's high volatility means that current trends may change rapidly.
HEX Crypto Price Forecast Long-Term Outlook: 2025-2030 Predictions
From 2025 to 2030, the crypto landscape may transform radically, and it's vital to bear in mind the significant role of market conditions and user sentiment in shaping HEX's price trajectory.
For 2025, changing market trends will heavily influence HEX's immediate future. Assuming the coin can create a robust and supportive user base, it has the potential to revisit its $0.07 – $0.1 range before initiating a price discovery period. The fundamental building block for this growth would be a strong community of dedicated investors.
Shifting the focus to 2030, HEX's dependence on user support makes long-term predictions complex, especially with issues around the project's credibility. Skepticism surrounding Richard Heart, the founder of HEX, serves as a significant roadblock to the coin's future.
In November, the U.S. Securities and Exchange Commission (SEC) started probing Richard Heart's network, issuing subpoenas to several influencers and promoters tied to HEX, Heart himself, and associated projects. This has only fueled the air of uncertainty surrounding the project.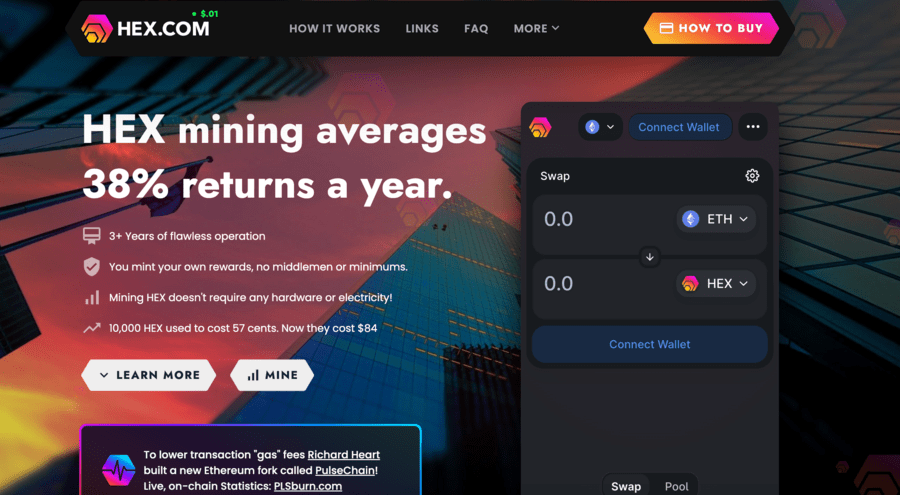 A comprehensive report on HEX by Veritaseum, a peer-to-peer platform, suggests the token's success depends on its price appreciation rather than the promised 40% annual percentage yield (APY) from staking. This raises the question of whether HEX's growth is sustainable or results from extensive marketing.
Although HEX has seen significant capital gains, the report notes that the project has yet to generate economic value. The extraordinary market capitalization, according to Veritaseum, likely stems from a surge in new investors drawn by HEX's aggressive marketing efforts. This has led to speculation that HEX might be in the initial stages of a pump-and-dump scheme.
Despite these red flags, it is essential to note that HEX hasn't explicitly promised high returns to its investors. Instead, HEX's claims center around the average interest yields for HEX stakers and the historical prices for the HEX token.
Should market sentiment turn positive, HEX could retest the $0.33-$0.5 range before settling into a more defined trend. However, the uncertainties looming over HEX warrant caution, and investors should opt for a prudent approach before determining the best long-term investment options.
Potential Highs & Lows of HEX Token
The table below illustrates HEX's potential price highs, lows, and averages from 2023 to 2030.
| | | | |
| --- | --- | --- | --- |
| Year | Potential Low | Average Price | Potential High |
| 2023 | $0.003 | $0.01 | $0.0189 |
| 2024 | $0.012 | $0.0155 | $0.03 |
| 2025 | $0.023 | $0.04 | $0.07 |
| 2030 | $0.1 | $0.21 | $0.33 |
What do Other Analysts Predict for HEX?
To help you gauge the various possibilities, this section has compiled a range of predictions from different credible sources below.
Digital Coin Price states HEX Coin can achieve a value of up to $0.0877 in the forthcoming years. Here's a detailed overview of their decade-long prediction:
For 2023, they propose a minimum price of $0.00755, an average price of $0.017, and a peak price of $0.0185.

By 2024, these predictions will rise to a minimum of $0.0182, an average of $0.0214, and a maximum of $0.0216.

Their projections continue to escalate with each passing year, resulting in 2030 with a minimum price of $0.0828, an average of $0.0877, and a maximum of $0.0885.
Nonetheless, Changelly provides a different perspective. Their price predictions for HEX Coin are relatively less optimistic in the early years but demonstrate the possibility of substantial growth in the future:
For 2023, their estimate ranges between $0.0089991 and $0.009999.

Their 2024 projection spans from a low of $0.0129987 to a high of $0.0149985.

By 2030, they predict a price range from $0.149985 to $0.169983, with their most significant expected surge happening in 2029, with a maximum price reaching $0.109989.
Also, PricePrediction.net has given its perspective on HEX's future. They predict a steady increment in the coin's price over the decade:
Their 2023 prediction establishes the price between $0.011 and $0.013.

In 2024, they anticipate the price to elevate between $0.016 and $0.019.

The most optimistic forecast is set for 2030, where they predict a minimum price of $0.15 and a maximum of $0.18.
Finally, CoinCodex provided a highly optimistic prediction based on their tech sector growth analysis, projecting potential surges in the price of HEX over the next few years:
For 2024, they foresee the HEX price to fall between $0.076436 and $0.229535, indicating an anticipated rise of 2,612.02% in the best-case scenario.

Their projection for 2025 suggests a price range from $0.097845 to $0.509177, signaling an expected increase of up to 5,916.07%.

The most optimistic prediction from CoinCodex is for 2026, where they expect the HEX price to lie between $0.125252 and $1.129508, an increase of up to 13,245.44% in an ideal scenario.
What is HEX?
HEX Coin is an Ethereum-based digital asset that mirrors the functionality of a traditional Certificate of Deposit (CD). Launched in 2019 by Richard Heart, HEX Coin takes a new approach to reward its token holders.
In the HEX model, you 'stake' your tokens – a process similar to locking them away for a fixed period. The longer you commit, the higher your rewards. Once the staking period ends, you're rewarded with additional HEX Coins, similar to how interest is paid on a traditional CD.
A key aspect of HEX Coin's operation is its 'proof of wait' mechanism. This means that all HEX token holders, through their patient waiting, are rewarded with more tokens. Adding to its uniqueness, HEX Coin has an inbuilt inflation rate of up to 3.69% per annum, which helps to sustain the staking rewards.
It's worth noting that HEX Coin has faced its share of controversy. As we saw above, some crypto community members have linked it to a Ponzi scheme due to its reward structure, while others have raised privacy and security concerns. In essence, HEX provides a digital alternative to traditional financial products while aiming to improve upon them.
HEX Overview
| | |
| --- | --- |
| Cryptocurrency | HEX |
| Ticker Symbol | HEX |
| Price | $0.00851397 |
| Price Change 24H | -4.1% |
| Market Cap (diluted) | $5,395,809,166 |
| Circulating Supply | 173,411,074,413.06 HEX |
| Trading Volume | $1,343,384 |
| All-Time High | $0.510830 |
| All-Time Low | $0.00005645 |
What Influences the Price of HEX?
The following factors could impact HEX's price trajectory.
Staking Rewards

: HEX's unique 'proof of wait' mechanism provides additional HEX Coins as rewards to those who stake their tokens for an extended period. This can drive demand as investors may be attracted to the prospect of earning 'interest' on their holdings, influencing the price.

Inflation Rate

: The HEX Coin has an inbuilt inflation rate of up to 3.69% per annum, designed to sustain the staking rewards. This mechanism could have a dual effect. It may attract investors due to potentially higher returns, but it may also deter some who worry about the dilution of their existing holdings.

Community Perception

: The controversy surrounding the platform plays a substantial role in influencing its price. Concerns about HEX being potentially linked to a Ponzi scheme or issues around privacy and security can affect investor confidence. If the negative perception grows, it could lead to a sell-off and downward pressure on the price. Conversely, if these issues are addressed, confidence may be restored, possibly leading to price increases.

Platform Improvements

: Any enhancements or upgrades to the HEX platform that improve its functionality could drive demand for the coin. For example, updates that enhance the staking process or security features may attract more investors, increasing the price.

Regulatory Impact

: Since HEX is an Ethereum-based token, any

regulations affecting crypto

could indirectly influence HEX's price. For instance, restrictions on Ethereum might limit the usability of HEX, potentially lowering its price.

Competitor Products: The arrival of new cryptos offering similar or better reward structures might affect HEX's dominance in its niche. If investors find better returns elsewhere, HEX might face reduced demand, affecting its price.
In addition, several macro factors could also affect the overall crypto market's trend impacting HEX's price in the future.
Conclusion
Like the broader crypto market, HEX is subject to high volatility and related risks. Its unique staking mechanism and rewards system offer potential, yet the future is uncertain given the mistrust in the market for the coin. Thus, diligent research and awareness of market trends are essential for any prospective investor.
As a result, choosing a crypto project with high growth prospects can be time-consuming for investors. We have compiled a list of the best cryptos worth investing in to simplify this task. To check out our curated selection for 2023, follow the link below.
References
https://in.tradingview.com/symbols/HEXUSD/
https://veritas.veritaseum.com/index.php/component/edocman/hex-forensic-analysis-and-valuation/viewdocument?Itemid=
https://www.thecoinrepublic.com/2022/10/10/is-richard-hearts-hex-crypto-a-ponzi-scheme/
https://digitalcoinprice.com/forecast/hex
https://changelly.com/blog/hex-price-prediction/#HEX-Overview
https://coincodex.com/crypto/hex/price-prediction/
https://priceprediction.net/en/price-prediction/hex
https://coinmarketcap.com/currencies/hex/
https://www.coingecko.com/en/coins/hex
FAQs
What is the Hex price prediction for 2023?
Is HEX a good investment?
What will HEX be worth in 2025?