Around 100 new cryptos enter the market every day and while most ultimately fail, some crypto gems can make huge returns for investors.
It can be difficult to find the best crypto projects but in this guide, we'll bring you our picks for the top high-risk, high-reward cryptocurrencies. Keep reading to learn more about our top picks, why we selected them and how to determine risk tolerance.
The Cryptocurrencies with the Highest Upside Potential in 2023
Here are 10 high risk coins that could offer significant upside potential this year.
AiDoge (AI)

— Overall

high-risk, high-reward crypto in 2023

. Its AI-powered platform incentivizes users to share and vote for memes, creating a dynamic online community.

yPredict (YPRED)

— Cutting-edge

high-risk, high-reward crypto

for generating accurate financial prognoses. With the help of the world's top developers, this project gives quants, analysts, and traders an unmatched market edge.

Ecoterra (ECOTERRA)

— Top blockchain project focused on promoting environmental preservation. In a month and a half, the network's imperative initiative helped raise close to $3 million in presale funding.

DeeLance (DLANCE)

— Innovative network designed to make the freelance sector more straightforward, secure, and convenient. Its system renders all feedback visible, facilitating productive freelancer/recruiter collaboration.

Launchpad XYZ (LPX)

— Premium

high-risk, high-reward crypto

for user-friendly Web3 implementation. Providing up-to-date info on market behavior, this system's Quotient (LQ) feed helps users grasp complex data and utilize it to their advantage.

Tamadoge (TAMA)

— Popular Meme and P2E Project with Huge Potential

Bitcoin (BTC)

— Market-Leading Crypto with Scope for Further Growth

Ethereum (ETH)

— Hugely Popular Crypto for Builders and Developers

Shiba Inu (SHIB)

— Meme Coin Project with Huge Following

Cardano (ADA) — Super-Fast and Efficient Blockchain with Potential
Our Analysis of the Top High Risk, High Reward Cryptos
Following our quick introduction to our top eight picks, check out our detailed reviews to learn more about every coin.
1. AiDoge — Overall Best High-Risk, High-Reward Crypto in 2023
Fresh off the press, AiDoge has become one of the hottest crypto ecosystems to hit the modern market. Combining the digital world's most exciting elements — artificial intelligence, blockchain technology, and memes, the project easily sets itself apart from the competition. Its innovative nature and over $8 million presale funding pool have propelled it to the top of our high-risk, high-reward crypto list.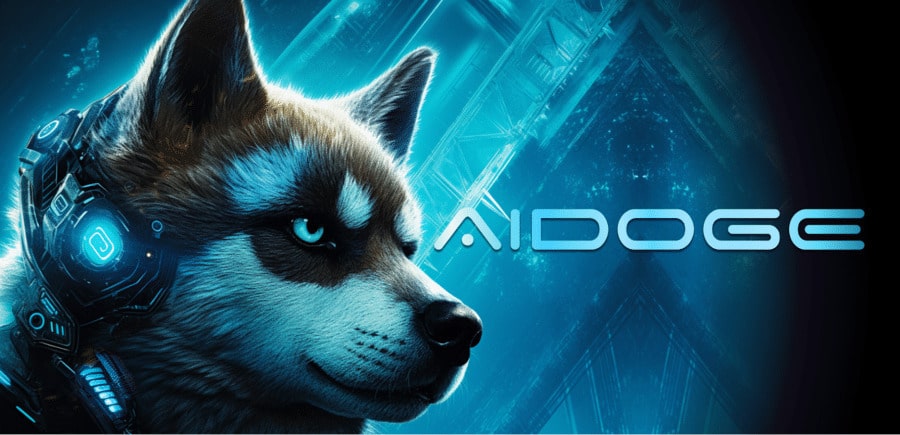 AiDoge's primary focus is facilitating meme generation using AI-powered tools. Its platform allows anyone to create high-quality memes on any topic without hours of editing. All they need is a reserve of AiDoge's native crypto token and a good idea.
$AI holders can buy credits to access the in-house meme generator and put it in motion. Through simple text prompts, this mechanism captures the user's message. It uses its data point library to contextualize the idea and create a unique content. As stated in AiDoge's whitepaper, the end result will always be an original and relevant meme.
If you're up-to-date with the crypto industry, you might think this is nothing new. Strong players like SingularityNET and PepeCoin have shared similar goals for the last two years. The latter was so successful, in fact, it garnered a market capitalization of close to $1 billion within a few weeks of its debut. So, what makes AiDoge different?
Unlike many of its rivals, AiDoge isn't only a meme-generation tool. The project also features a live feed where meme artists can share their latest creations and upvote the best content. Each month, the system weighs all these votes and gives the best-scored meme creator a bundle of $AI tokens as a reward.
$AI owners can also turn a profit through coin staking. If you opt to support the platform's development in this way, you can earn various rewards. The lineup includes daily incentives, voting rights, access to premium features, and more. Thanks to AiDoge's multi-layer protection measures, you won't have to worry about your coins' safety. The network uses audited staking contracts to ensure the security of staked tokens and mitigate potential risks.
If these benefits have convinced you of AiDoge's high-reward potential, you can join its growing community by following its Telegram channel and buying its tokens. $AI is currently available for $0.0000308 per coin.
| | |
| --- | --- |
| Presale Started | April 2023 |
| Purchase Methods | ETH, USDT, BNB, credit card |
| Chain | Ethereum |
| Hard Cap | $14,900,000 |
| Min Investment | 38,461 $AI |
| Max Investment | None |
2. yPredict — Top High-Risk, High-Reward Crypto Providing Accurate Financial Prognosis
The runner-up title in our best high-risk, high-reward crypto list goes to yPredict. The hallmarks of this blockchain network, AI-driven financial analyses, and predictions, made it an immediate success. Its presale raised over $1 million in funding and attracted more than 20,000 users in less than four months. Considering its growth trajectory, we can expect an even greater popularity surge once the crypto officially hits the market.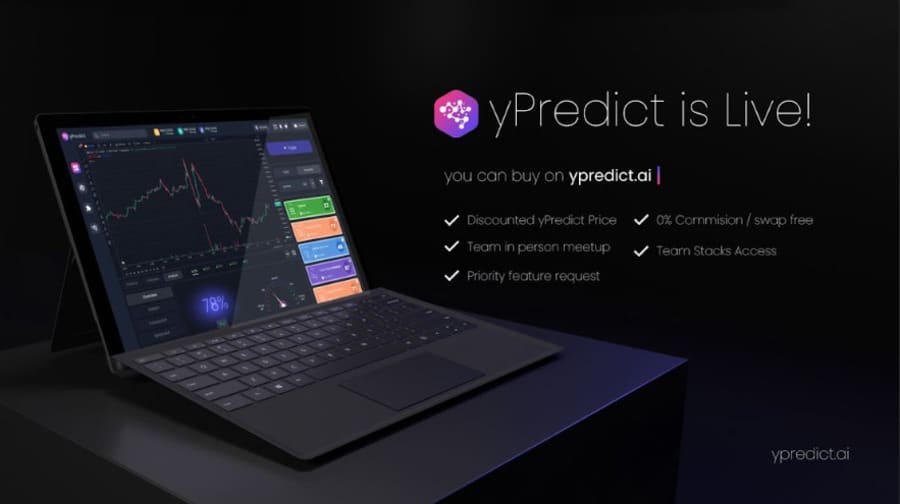 The secret to yPredict's success lies in the methodology of its forecasts. The project leverages state-of-the-art machine learning and artificial intelligence to create accurate projections, according to the whitepaper. Its developers use patent-pending pattern recognition technology to research market fluctuations and identify bearish and bullish patterns.
Financial analysts and quants use this data to produce financial models with up-to-date trading information. By holding yPredict's native coins, $YPRED, users can gain free access to these analytics. They can subscribe to specific financial models or follow the network's top-performing traders' moves to make lucrative investments in real time.
$YPRED tokens also have staking capabilities. Users willing to utilize them will be eligible for generous rewards. They'll get 10% of the platform's subscription fee-based revenue, which can result in up to 45% ROI quarterly. Additionally, they'll have a chance to turn a profit by completing education quizzes and modules and using its P2E hub.
In line with the majority of the market, especially new coins, this crypto's price is volatile. However, you can minimize your losses if you purchase it during its presale. Check out yPredict's official Telegram and website to help you make the right decision.
| | |
| --- | --- |
| Presale Started | February 2023 |
| Purchase Methods | ETH, MATIC, USDT, BNB, Card |
| Chain | Polygon |
| Hard Cap | $6,507,511 |
| Min Investment | 200 $YPRED |
| Max Investment | None |
3. Ecoterra — Eco-Friendly Crypto Project with Recycle-to-Earn Rewards
Ecoterra is a newly-launched eco-friendly crypto that will allow investors to potential earn huge rewards and help in the fight against climate change.
The project has introduced a novel Web3 concept – Recycle-to-earn – that allows users to earn crypto rewards for household recycling.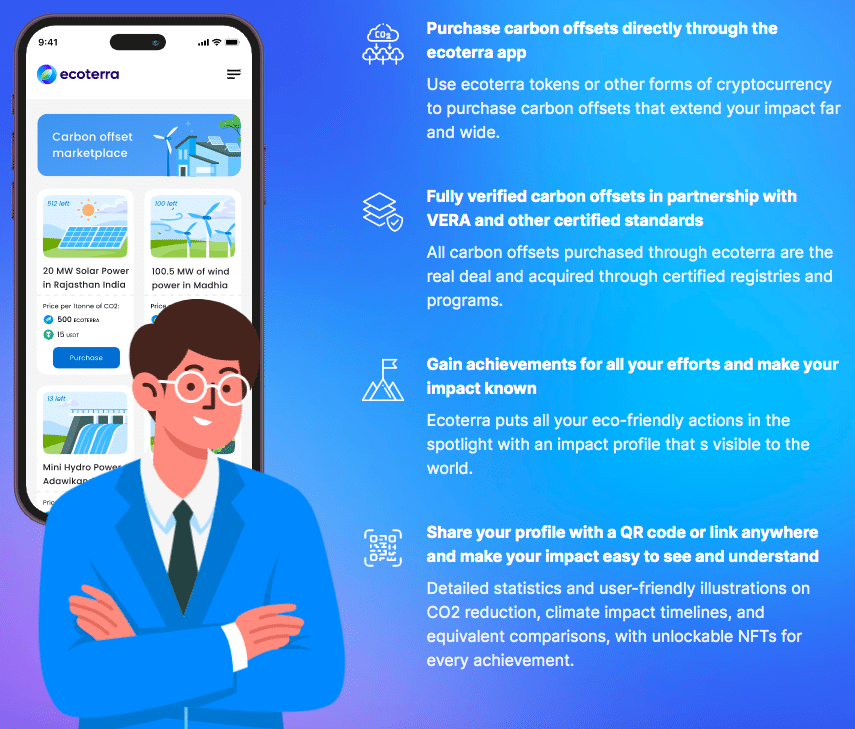 The project works by taking recyclable materials – plastic and glass bottles or cardboard boxes, for example – to Reverse Vending Machines (RVMs), scanning the barcode in the Ecoterra app and then depositing them.
RVMs can be found in supermarkets globally and each item's barcode has an attached value that is stored on a database.
Ecoterra has also partned with Ahold Delhaize, a multi-billion dollar supermarket chain that operates more than 10,000 stores around the world, to offer RVMs.
Users are then rewarded with ECOTERRA tokens – they can not only be sold or held as an investment, but also staked to generate a passive income. Furthermore, ECOTERRA can be used to fund further green efforts such as beach clean-ups or tree planting or to purchase carbon credits.
All achievements are tracked, with further rewards earned when certain milestones are reached, while Ecoterra also has a marketplace to connect individuals and businesses to recyclers.
The ECOTERRA presale has only just launched stage 1 but is offering investors the chance to get in on a high-potential penny crypto – while the price is currently $0.004, it will increase by 150% to $0.01 by the final stage.
Presale tokens have no vesting period and a hard cap of $6.7 million with 1 billion tokens (50% of max supply) available.
Ecoterra has been developed by a doxxed and KYC-verifed team – for more information visit the Ecoterra whitepaper and join the Telegram group.
| | |
| --- | --- |
| Presale Started | 29 March 2023 |
| Purchase Methods | ETH, USDT, Card |
| Chain | Ethereum |
| Soft Cap | $2M |
| Hard Cap | $6.7M |
4. DeeLance — Exciting Crypto to Revolutionize Freelance Economy
DeeLance is another high-risk, high-reward crypto because its presale has only just launched but the project is set to revolutionize the freelance world.
The protocol will make the hiring process more secure and more efficient for both freelancers and recruiters, as well as do away with intermediaries and make it cheaper.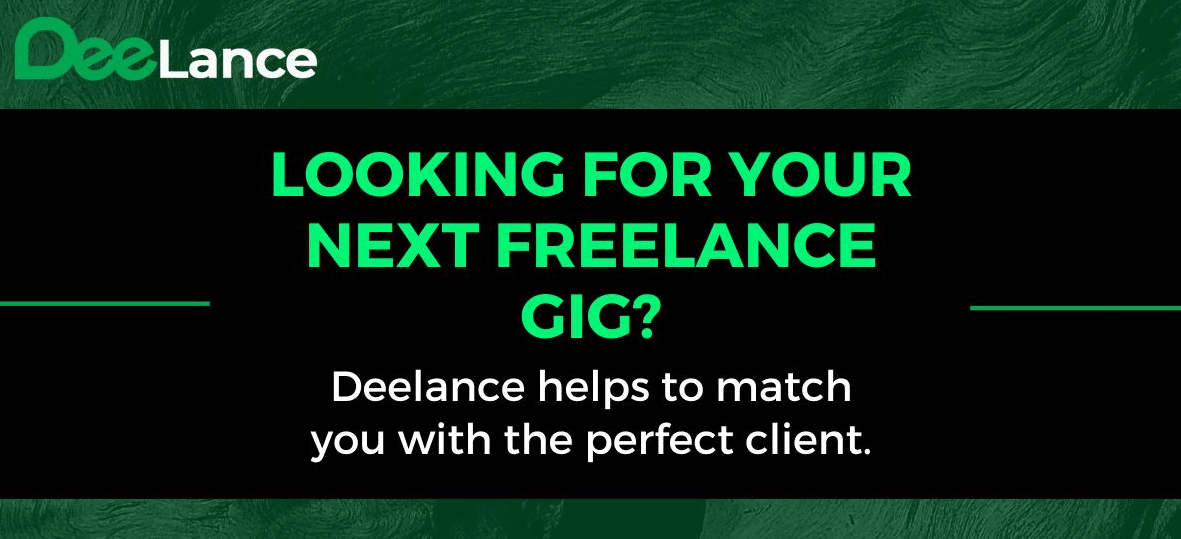 Working from a feedback system that is visible to all, recruiters can directly find high-quality candidates while freelancers can avoid bad actors, with DeeLance also promising cheaper fees and rates than leading Web2 rivals.
Payments will be made with DLANCE tokens – ensuring they are near-instant and not subject to currency exchange commissions or other fees – while they will be held in secure escrows. This guarantees that freelancers will be paid promptly for work once it has been completed to the agreed spec.
Completed work will also be transformed into NFTs and housed on the blockchain to eliminate any potential copyright violations or payment frauds.
DeeLance is also building a metaverse where users can network and collaborate, advertise their services on billboards or even buy virtual plots of land and build office space to hold meetings.
The DLANCE crypto ICO has only just launched and is still in its first stage, with tokens on sale for $0.025 and rising to $0.035 in the final stage. There is no vesting period on presale purchases and a hard cap of $6.8 million. The doxxed and KYC-verified team have made 30% of the 1 billion supply available to purchase.
Those interested should join the DeeLance Telegram group for more information.
| | |
| --- | --- |
| Hard Cap | $6,800,000 |
| Total Tokens | 1,000,000,000 |
| Tokens available in presale | 300,000,000 |
| Blockchain | Ethereum Network |
| Token type | ERC-20 |
| Minimum Purchase | $10 |
| Purchase with | USDT, ETH, Card |
5. Launchpad XYZ — Best High-Risk, High-Reward Crypto for Web3 Adoption
Halfway through our top list, you'll find Launchpad XYZ. The project entered its first presale stage in April 2023 as a self-proclaimed all-in-one Web3 platform. This initiative and the platform's extensive features helped it raise close to $500,000 in funding within weeks. Its creators anticipate this momentum will spill into the following years, reaching a $10 billion market cap by 2025.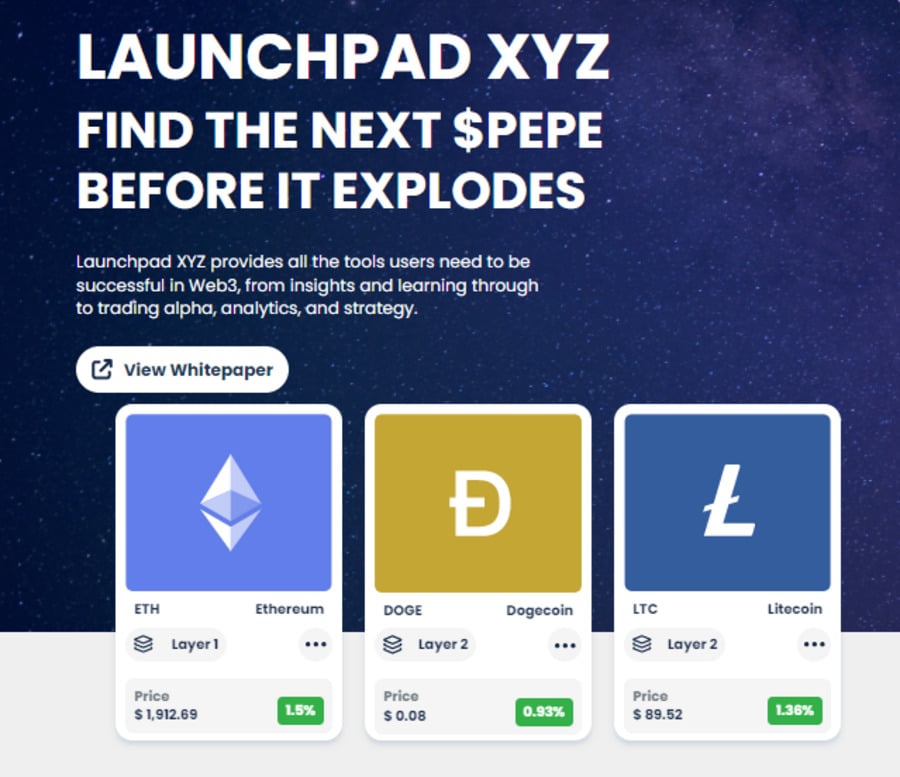 Launchpad XYZ's relatively illiquid market and low ATH may deter some investors. However, this high-risk, high-reward crypto offers more than enough to offset these disadvantages. First and foremost, it addresses one of the modern digital world's most pressing issues — the inaccessibility of the next-gen internet. Curated by an experienced team of developers, Launchpad's platform offers user-friendly tools and educational materials for Web3 adoption.
It can help users with no technical knowledge and skills explore every part of Web3, regardless of their area of interest. Its native crypto token holders will have free access to the latest presales, dApps, utility coins, non-fungible tokens, and more. With the help of a specialized news feed that Launchpad's whitepaper calls LQ, users will get risk-to-reward assessments on all these projects and make profitable business decisions.
Mentioned advantages provide merely a glimpse into the depths of Launchpad XYZ's potential. For only $0.0445 a token, users can enjoy the services of an in-house trading terminal, decentralized exchange, Web3 wallet, metaverse experience library, and P2E hub. The ecosystem even offers an onboarding program with customer engagement experiences to businesses and agencies.
Launchpad XYZ's Telegram channel is a great place to learn more about all its benefits.
| | |
| --- | --- |
| Presale Started | April 2023 |
| Purchase Methods | USDT, ETH, Transak |
| Chain | Polygon |
| Hard Cap | $12.5 million |
| Min Investment | None |
| Max Investment | None |
6. Tamadoge — Popular Meme and P2E Project with Huge Potential
Tamadoge is a leading meme coin project that hit the scene in September 2022. It stands out from a sea of meme coins by offering unrivaled utility through its play-to-earn ecosystem and NFT collection.
In the main Tamadoge game, players breed and grow their pets, purchasing food and treats from the Pet Store, to then battle them against others for the chance to move up daily, weekly and monthly leaderboards and win prizes and rewards.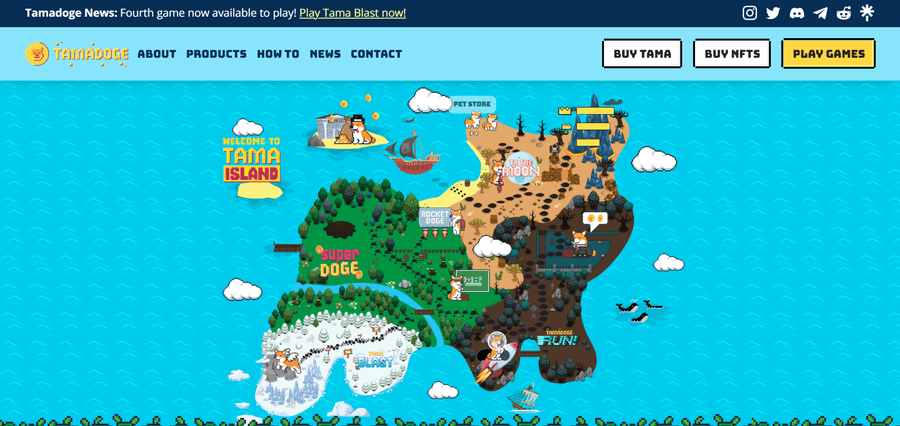 The project has recently launched its five Tamadoge Arcade games, with players already earning rewards from a selection of retro-inspired platform games.
As well as the main game, an augmented reality app is also set for release later in 2023.
Tamadoge enjoyed one of the best presales of 2022, raising $19 million in just eight weeks, before pumping nearly 2,000% to an all-time high of $0.194.
The price of TAMA has since retracted amid the wider crypto market, but it remains a high-reward token, especially with its added and upcoming utility.
Unlike other meme projects, TAMA has a limited supply of just 2 billion – Dogecoin has 130 billion and rising for comparison – and is also deflationary, with a 5% burn on tokens used for pet store transactions.
7. Bitcoin — Market-Leading Crypto with Scope for Further Growth
Every crypto fan or investor has heard of Bitcoin, the king of cryptocurrency – as the world's first cryptocurrency, it still dominates the market, accounting for 46%.
It's always good to have Bitcoin in your crypto portfolio, as it's not going anywhere anytime soon and despite BTC's price decreasing, it's still a worthwhile investment.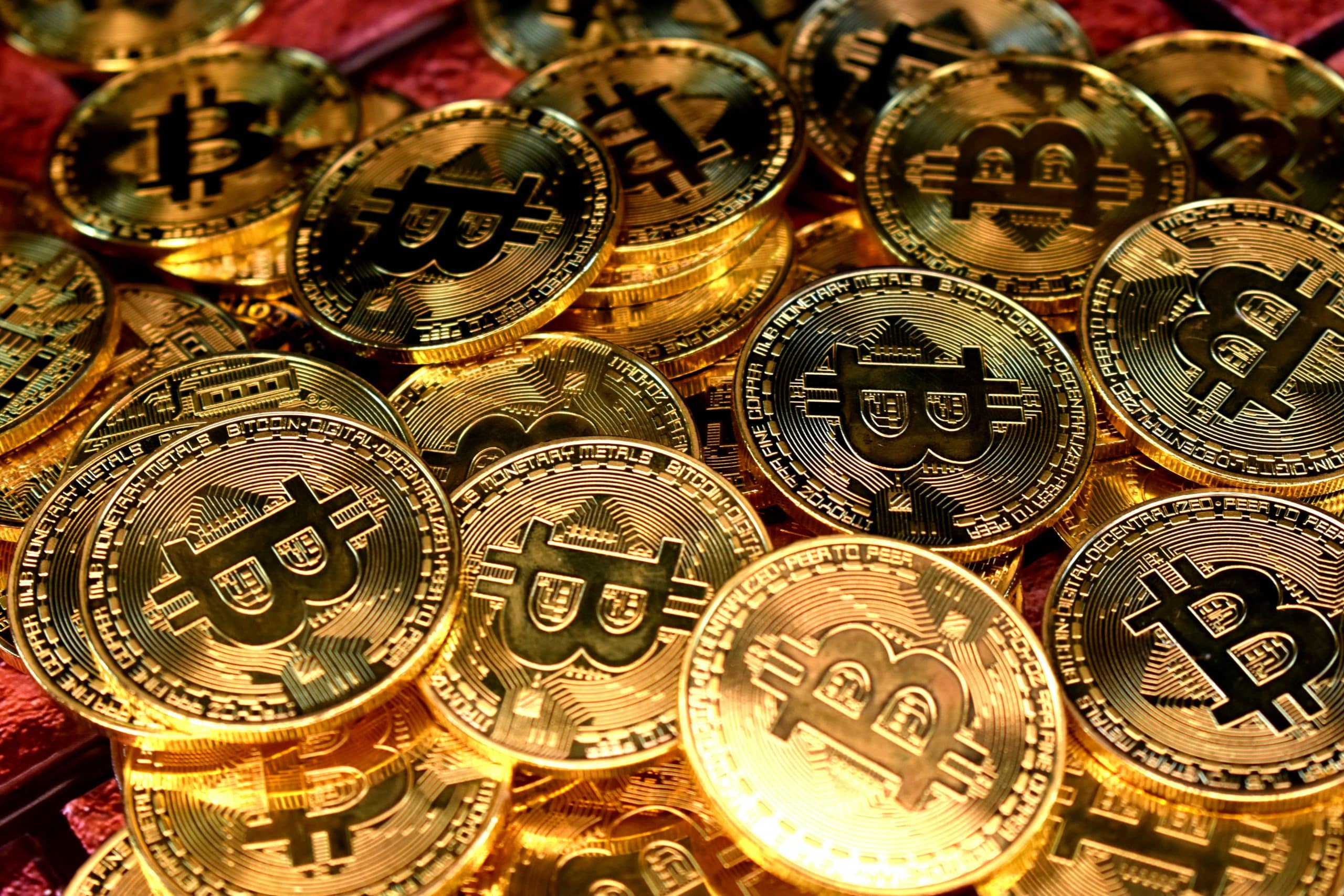 Most importantly, it's still a crypto with plenty of upside, especially for people willing to put in more funds.
Every investor remembers the incredible highs Bitcoin reached throughout 2021 and 2022, jumping by more than 100% twice – after dropping below $17,000 in late 2022, it has since reached $28,000, proving yet again that it has endless upside potential.
Mining Bitcoin may no longer be worthwhile without investing hundreds of thousands, but buying and selling on exchanges certainly is, with many analysts still believing it will reach six figures and beyond by the end of the decade.
However, it's important to note that buying Bitcoin is still risky, especially when investing a large sum, so tread carefully.
8. Ethereum — Hugely Popular Crypto for Builders and Developers
Ethereum ranks as the number two cryptocurrency in the space and has been in that spot for years.
It's one of the oldest and most reliable digital currencies and ecosystems that has introduced a lot of novelty into the sphere, with its place secured as the leading blockchain for decentralized app (dApp) builders and developers.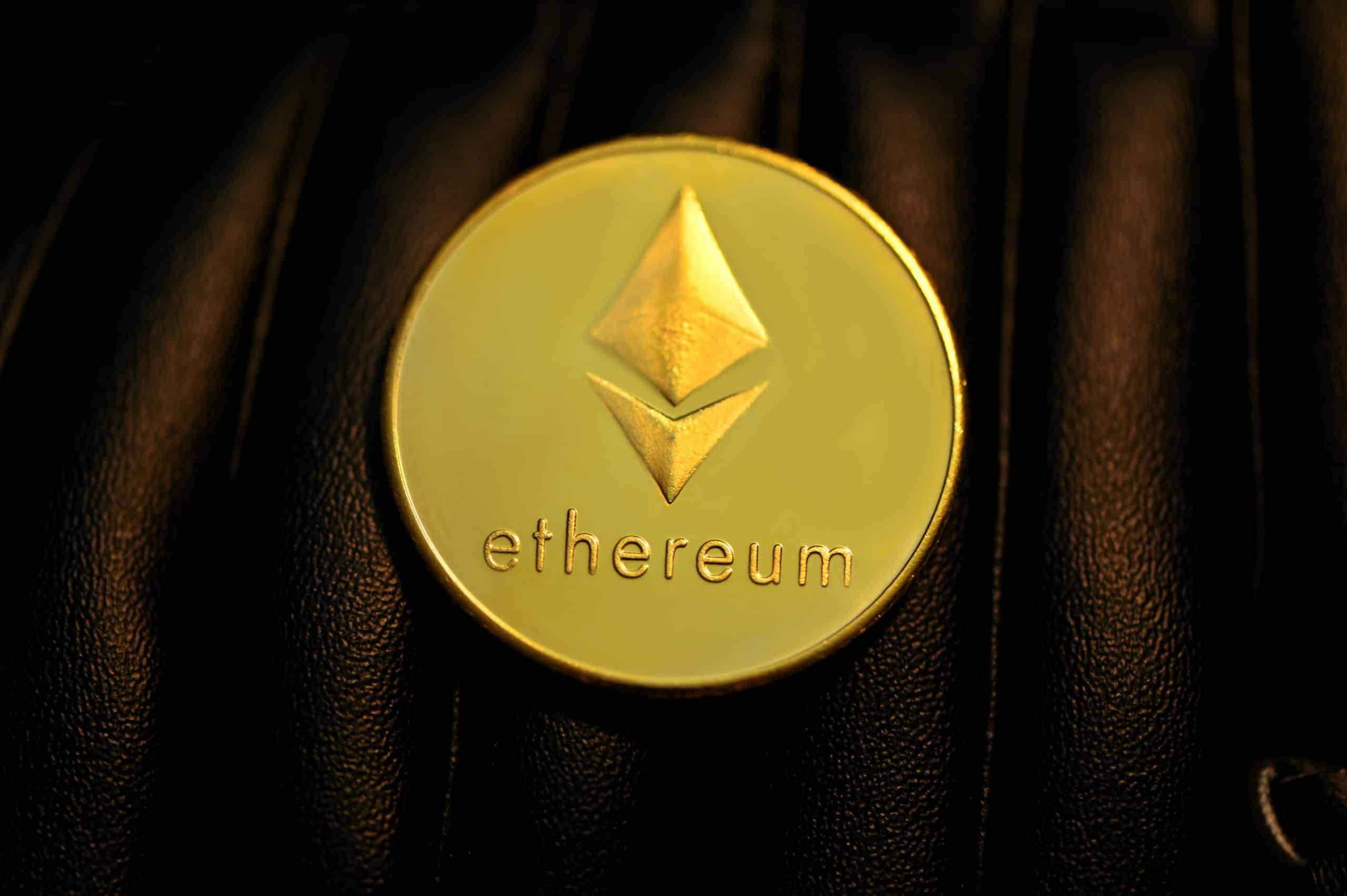 Many new projects, including a few listed here, are built using Ethereum's blockchain smart contract platform, a pioneer in the field. Most of the coins and tokens, including the majority of all new cryptos with the highest upside, are made using Ethereum's ERC-20 compatibility standard.
More than 280,000 ERC-20 tokens have been made since its introduction, with Ethereum offering excellent transaction speed, efficiency and scalability.
Much like Bitcoin, Ethereum's price fluctuates a lot, and its rises and falls are fairly tied to Bitcoin – although some claim it will eventually 'flip' BTC to become the top coin in crypto.
The price has oscillated between $1,000 and $2,000 for the last several months, and with the recent significant jumps, it's clear that it will remain a viable asset. However, you should conduct your own analysis, just as you would with any other investment.
9. Shiba Inu — Meme Coin Project with Huge Following
Shiba Inu is a meme coin developed anonymously under the pseudonym Ryoshi in August 2020. Since then, it has reached the top 20 coins on the market, despite not offering anything for a long time and sticking to the true image of a meme coin.
It's also one of the top shitcoins on the market. However, Shiba Inu still has a purpose — to be the Ethereum counterpart to Dogecoin's Scrypt mining algorithm, a hashing algorithm used by many Proof-of-Work blockchains.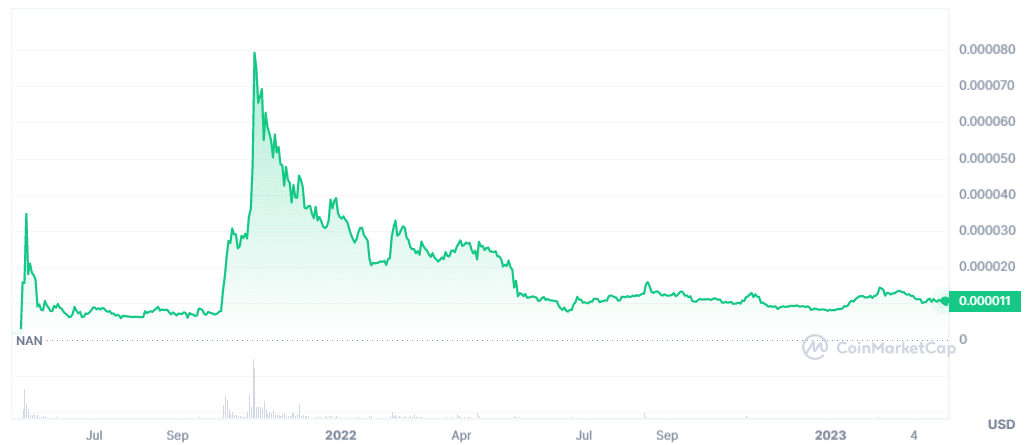 Shiba Inu has famously jumped in value after Vitalik Buterin, Ethereum founder, burned his SHIB supply. Ryoshi gave him 50% of the entire coin's cache at the time and stated that as long as he held it, SHIB would do fine. Vitalik didn't like having that much influence, so he burned most of it, giving the rest to charity.
This act caused a massive drop in Shiba Inu's value, but it eventually recovered, proving that an utterly decentralized crypto project can survive whatever it faces. Shiba Inu has birthed an entire metaverse in the meantime, a project powered by NFTs, all in an effort to give it some utility.
Each SHIB is worth a fraction of a cent, so if you invested as little as $50, you would get more than 48 million SHIB coins. There are more than 580 trillion of them in circulation.
10. Cardano — Super-Fast and Efficient Blockchain with Potential
Cardano (ADA) is a Proof-of-Stake blockchain developed in 2017 by Charles Hoskinson, the Ethereum co-founder.
It's one of the largest energy-efficient cryptocurrencies with the goal of spearheading a developer-friendly ecosystem for developing dApps. The ultimate purpose is to allow visionaries and innovators to create applications that will change the world for the better.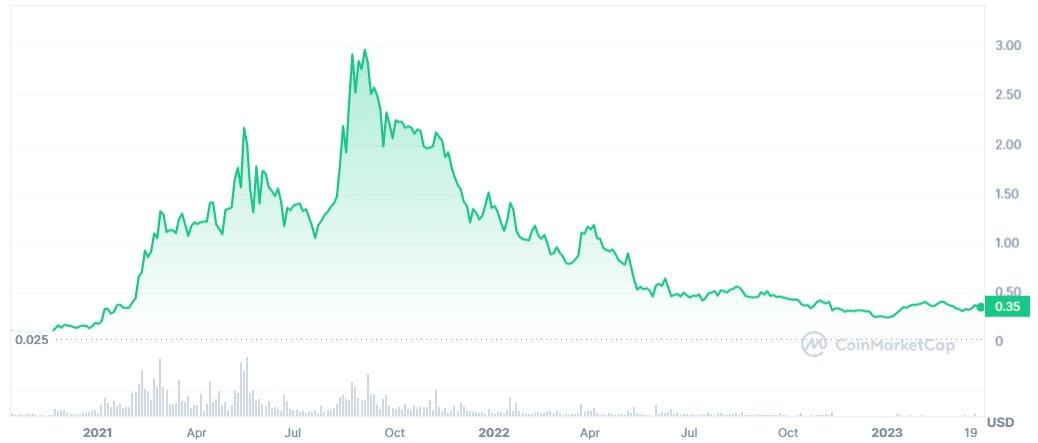 Unlike Ethereum, Cardano has a hard cap on the number of coins, with more than 77% already in circulation.
However, what matters most is that it has the potential to be the leading ecosystem for most future dApp developers, making ADA one of the few cryptocurrencies to watch this year.
Cardano's price is usually below $1, but it reached all-time highs in 2021 when it was close to $3. More than 34 billion coins are in circulation, with the max supply set at 45 billion. With a set hard cap, Cardano has the potential to skyrocket in value in the future.
What Determines How Risky a Cryptocurrency Is?
The main factor determining the risk associated with a specific coin is its price fluctuations. Simply put, the more price jumps and falls, the more volatile it is and the more uncertain it is for an investor. Naturally, the wider the range between highs and lows, the greater the risk.
Moreover, the exact stage in the crypto's development matters greatly. The newer the token is, the riskier investing in it will be.
Presale coins are the most volatile but have the most upside potential as their prices are currently incredibly low. If the coin pans out and booms in popularity, the price will likely jump by several thousand percent, leading to early investors profiting greatly.
High-Risk Cryptos vs Less Volatile Cryptos
Some investors prefer to spend their money on less volatile cryptos like stablecoins, where the price is tied to fiat currency and seldom changes. This can be a good option if you're looking to invest in the digital currency sphere while being risk-averse.
Stablecoins like Tether (USDT), USD Coin (USDC), Binance USD (BUSD), Dai (DAI), and TrueUSD (TUSD) are connected to the dollar, so their price rarely changes. Naturally, the fiat currency prices fluctuate, so you should have that in mind.
Other than that, there are a couple of cryptocurrencies with less volatile prices, including Tron (TRX) and Ripple (XRP).
These offer more stability to your capital but yield low returns, if any. You'll still need to know when to invest, but you'll make lower profits and suffer fewer risks.
How to Determine Your Risk Tolerance With Crypto Investing
Understanding your risk tolerance is one of the key things you need to know if you want to be a crypto investor.
There is always at least some risk involved in any type of investing, but you should still have a threshold for what you consider excessive. This limit is different for every investor, and you can determine your own by assessing the amounts held in crypto and how much you would feel comfortable losing.
The important thing is that no matter what number you end up investing in, you need to be prepared to lose it entirely. More than that, by anticipating the worst, you can objectively assess your investment strategy.
Ultimately, it's essential to determine how long you want to stick with your investment. You can be in it for the long haul or deal with it short term. The former means you needn't worry about price changes, while the latter might entail buying and selling on different exchanges to profit from the margins.
How to Find the Best High-Risk High-Reward Crypto Coins
Finding cryptocurrencies with the biggest upside is not easy to achieve. However, you can get there with a few tips and strategies we'll share with you.
Focus on Presale Projects
Crypto projects in the presale stage have incredibly high upside potential as they are sold at discounted prices. Naturally, this makes them more unpredictable, as you have no way of knowing whether they'll pan out. However, if you're willing to take the risk, they might prove lucrative.
The top three coins on this list are all in the presale stage but bear in mind that some are nearing completion. You should check where they are in their journey before determining whether to invest.
Check Market Capitalization
Cryptocurrencies with the most upside potential are, by default, projects with lower market capitalization. The lower it is, the better, as there will be more room for growth.
Some of the cryptos on this list are still in their early stages, so there's no market capitalization to consider. However, others are already listed, and they still have a meager market cap. The best example is Tamadoge which has a cap of only $11 million.
Consider Buying Meme Coins
Even though they are made to be a joke, many of them aren't when it comes to price and usability.
Many meme coins, including those on our list, like Shiba Inu, have proven to be viable investments. Moreover, Dogecoin has demonstrated that even self-described joke projects can become some of the strongest coins on the planet.
DOGE, for example, spiked 20% recently after Twitter CEO Elon Musk briefly changed the Twitter logo from the blue bird to the doge meme.
So, consider investing in Shiba Inu, Tamadoge, and the crypto with the most upside potential, AiDoge.
Buy in the Bear Market
One of the ways of making higher profits from crypto investing is buying the dip — purchasing the coin in a bear market. That's when the prices are at their lowest, suffering heavy losses after notable highs, making it the best time to buy any coin.
We've been in a particularly heavy bear market since the latter months of 2022, but some experts believe we are in its later stages. It's a constantly-changing situation, and this info can become outdated fast, so it's important to check what the professionals are saying when you're reading this.
Leverage Crypto Market Analysis Platforms
Platforms like Dextools, CoinMarketCap and CoinGecko are among a wide range of tools that analyze current trends and can be very helpful in identifying newly listed cryptocurrencies in their earlier stages.
You can use this info to identify the cryptos with the most upside potential. You can also check other stats and numbers to gain insight into the market and find potentially lucrative coins.
Crypto Tools to Help Mitigate Risk
When it comes to crypto, the key to minimizing risk is employing proper safety techniques and focusing on trustworthy and promising tokens.
You need to carefully research every token you plan on buying and make the purchases through trustworthy sources, using reputable wallets and employing the necessary security measures.
Additionally, you can use tools that create alerts when to sell or buy that pop up at certain price milestones. More importantly, you could employ measures that monitor and analyze transactions to detect and prevent fraud and money laundering and flag suspicious transactions.
It also worth keeping up to date with news on crypto regulations, with the space seeing heightened interest from authorities and governments in the last 18 months.
Ultimately, it's important to use the features of crypto exchanges, most notably the option to create stop-loss orders that let you specify price limits on your investments. They allow you to leave positions that don't perform as expected.
Conclusion
Purchasing good crypto with the most upside is a great way to increase your gains from an investment. It's often quite risky, but it also has the potential for massive profits. The earlier in its development path the coin is, the more upside potential it has. Moreover, this should be a trustworthy token with unique capabilities like solving a problem or fulfilling many people's needs.
Currently, the token that checks the most boxes is AiDoge ($AI). The project uses blockchain technology and AI to generate relevant, engaging memes. It has a reward system that grants users tokens for content creation and staking. Plus, it implements advanced security protocols to protect its users and their token reserves.
If you'd like to join the network that earned $8+ million over only a month and a half of presale, it's not too late.
FAQs
Which cryptos are high risk?
What cheap crypto has the most upside potential?
Are cryptos risky investments?