Around 100 new cryptos enter the market every day and while most ultimately fail, some crypto gems can make huge returns for investors.
It can be difficult to find the best crypto projects but in this guide, we'll bring you our picks for the top high-risk, high-reward cryptocurrencies. Keep reading to learn more about our top picks, why we selected them and how to determine risk tolerance.
The Cryptocurrencies with the Highest Upside Potential in 2023
Here are 12 high-risk coins that could offer significant upside potential this year.
Bitcoin ETF Token (BTCETF) – Offers the most upside potential of all the coins we reviewed, with 1,800% dynamic PoS APY, clear presale price increases, a 25% token supply burn, and a fate tied intimately with SEC approval of Bitcoin ETFs.
Bitcoin Minetrix (BTCMTX) – ERC20 presale targets the BTC cloud mining industry with a revolutionary new model, 2,563% APY, and dual means of income generation. Raised over $100k within hours of its launch and trades at an early-stage discount.
Wall Street Memes (WSM)

— The top high-risk crypto with the highest upside potential in 2023, capitalizing on meme popularity and community involvement. The project has raised more than $25 million in just 12 weeks of presale. Now complete and live on exchanges.

Launchpad XYZ (LPX)

— Premium

high-risk, high-reward crypto

for user-friendly Web3 implementation. Providing up-to-date info on market behavior, this system's Quotient (LQ) feed helps users grasp complex data and utilize it to their advantage.

eTukTuk (TUK) – Upcoming crypto presale of a sustainable project building EV charging stations. Hold $TUK to help reduce air pollution and earn passive income.
Chimpzee (CHMPZ) – An ERC20 token that offers significant upside potential but with associated risk, Chimpzee has already donated $15,000 to protect animals and planted 22,000 trees to save the rainforest.
Scorp Token (SCORP) – This token powers a cryptocurrency casino and sports betting ecosystem. Purchase $SCORP on presale before the price hikes by over 200% after the exchange listing.
yPredict (YPRED)

— Cutting-edge

high-risk, high-reward crypto

for generating accurate financial prognoses. With the help of the world's top developers, this project gives quants, analysts, and traders an unmatched market edge.

Bitcoin (BTC)

— Market-Leading Crypto with Scope for Further Growth

Ethereum (ETH)

— Hugely Popular Crypto for Builders and Developers

Shiba Inu (SHIB)

— Meme Coin Project with Huge Following

Cardano (ADA) — Super-Fast and Efficient Blockchain with Potential
Our Analysis of the Top High Risk, High Reward Cryptos
Following our quick introduction to our top twelve picks, check out our detailed reviews to learn more about every coin.
1. Bitcoin ETF Token – Brand New Crypto With Great Risk/Reward profile Offers PoS APY Above 1,800%
Bitcoin ETF Token ($BTCETF) is a newly launched ERC-20 presale with an impressive risk-to-reward ratio, as gauged by our research team.
The presale is banking on SEC approval of Bitcoin ETFs in the USA. So the token could perform exceptionally well if approval happens, and poorly if it fails to materialize.
However, there has been much speculation recently about approval set to occur shortly, with industry insiders and multiple analysts hinting that it could happen as early as December 2023, or soon thereafter.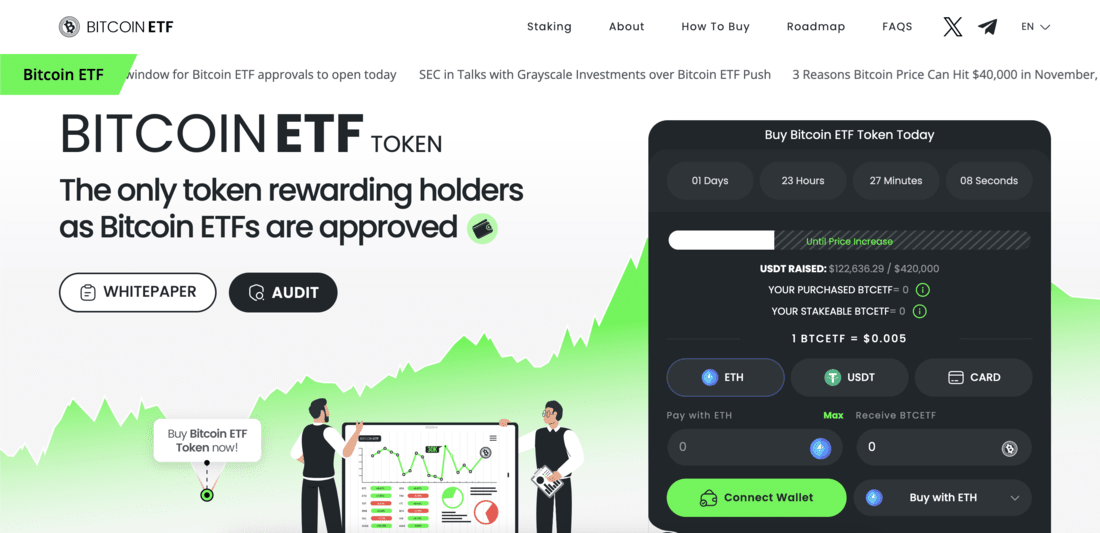 The campaign has a roadmap that coincides with major events in the cryptocurrency markets. There are five roadmap milestones in total, including Bitcoin ETF approval by the SEC and the total Bitcoin ETF market topping $1 billion.
At each roadmap, 5% of the total token supply is burned, for a total burn allocation of 25% (525 million $BTCETF tokens). This is a large figure that could serve to promote price appreciation of the native coin. There are 2.1 billion coins in total, with 840 million available in the presale.
The project offers many incentives that can serve to limit the risk. One of these incentives is dynamic PoS APY which currently sits above 1,800%. Another benefit is the tiered presale price structure. At every stage of the ten-stage presale, the token price will increase, rising from $0.0050 in stage one to $0.0068 in stage ten.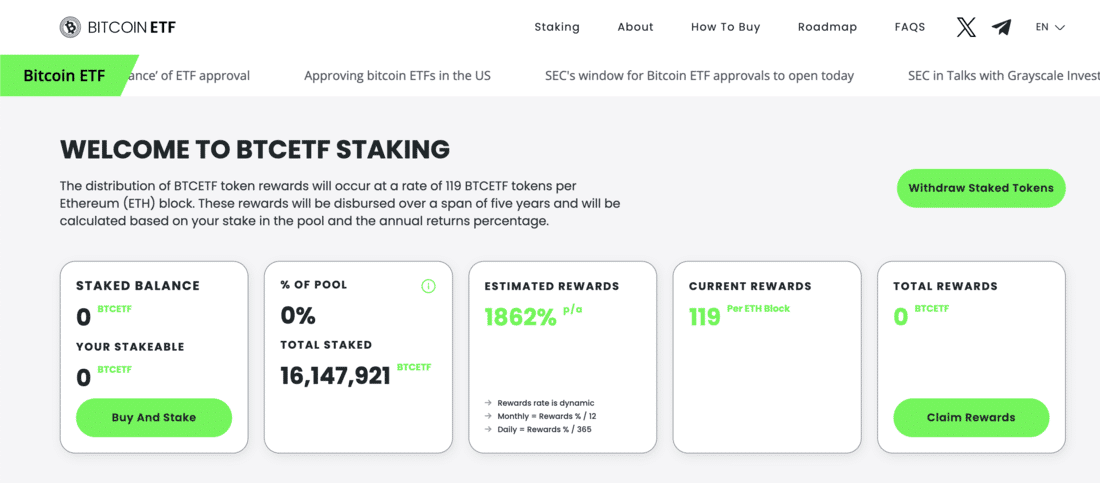 So while this token does come with some risk, the benefits offset this risk to a large degree. Moreover, it has also conducted a rigorous smart contract audit, with no serious issues found.
More information can be obtained from the project socials (Bitcoin ETF Token Twitter and Telegram).
The Bitcoin ETF Token Whitepaper should also be explored in detail before any investment.
| | |
| --- | --- |
| Hard Cap | $4.956 Million |
| Total Tokens | 2.1 Billion |
| Tokens available in presale | 840 Million |
| Blockchain | Ethereum Network |
| Token type | ERC-20 |
| Minimum Purchase | NA |
| Purchase with | USDT, ETH, BNB, MATIC, Card |
2. Bitcoin Minetrix – Brand New ERC20 Presale With New Stake-To-Mine Ecosystem Offers 2,563% APY
Bitcoin Minetrix ($BTCMTX) is a new presale that offers over 2,563% APY and raised over $100k, within hours of its launch. It presents the world's first stake-to-mine ecosystem that allows for BTC cloud mining with the ease of one-click Ethereum staking.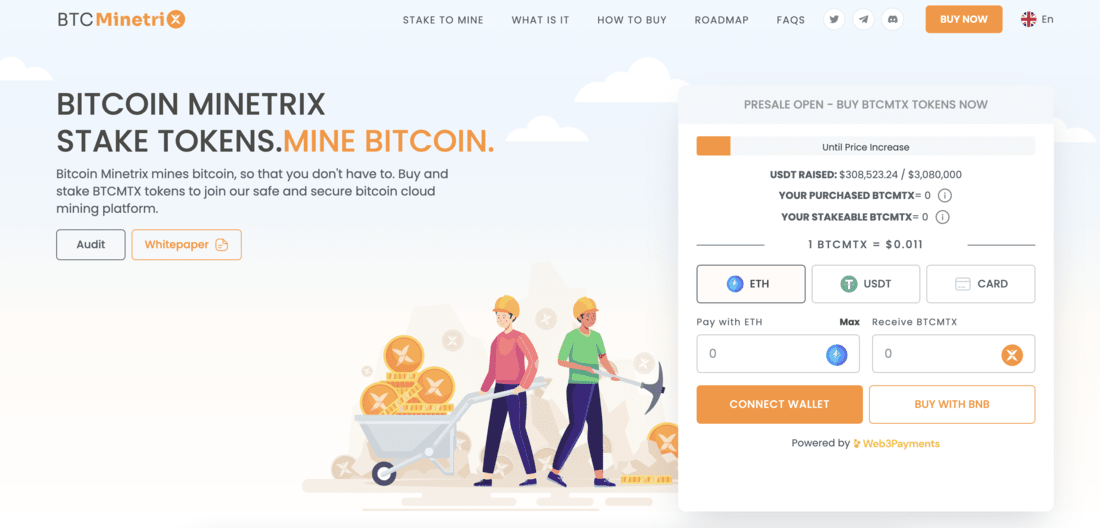 The process is that users stake their tokens, gather BTC cloud mining credits, and burn them in return for Bitcoin, the world's most successful token by market capitalization.
All of this is achieved through an easy dashboard where users can have oversight of their mining operations. A mobile application will also be launched, for even more convenience.
The Bitcoin mining market is currently dominated by a small group of mining corporations with massive financial resources and significant technical expertise.
It is extremely damaging to the environment. These mining factories can cost millions of dollars to set up and maintain – there is no chance for a retail miner to compete.
But with Bitcoin Minetrix, there is no need to purchase a single piece of hardware, no need to install extra software, and the upfront investment is just $10.
It's eco-friendly and the financial risk is much lower, though all investments are volatile. Investors can benefit from token staking, from burning credits for BTC rewards, and from straight price appreciation.
Currently, the price per token is $0.011, though this will increase to $0.0119 by the final stage. So there is a significant advantage in early bird investment, with higher yields and a lower entry price.
The campaign has further undertaken an advanced manual third-party smart contract audit from Coinsult, and no low, medium, or high-risk issues were found in the codebase.
For further information, potential investors are encouraged to join the socials (Twitter and Telegram), and explore the Whitepaper.
This is an ambitious high-risk high-reward project.
Bitcoin-related coins have done very well this year and this targets a more niche area (mining) as opposed to merely reflecting the tokenomics.
| | |
| --- | --- |
| Presale Started | September 2023 |
| Purchase Methods | USDT, ETH, BNB |
| Chain | Ethereum |
| Hard Cap | $32 Million |
| Min Investment | $10 |
| Max Investment | None |
3. Wall Street Memes — Hig Reward Crypto Aiming to Redefine Modern Capitalism Through Community Engagement, Presale Complete
Wall Street Memes is a groundbreaking meme coin project designed to take advantage of a robust and interconnected community, and it has undoubtedly grabbed the crypto world's attention. Having launched the presale of its native token, $WSM, on April 26, the project managed to raise more than $25 million in less than 3 months.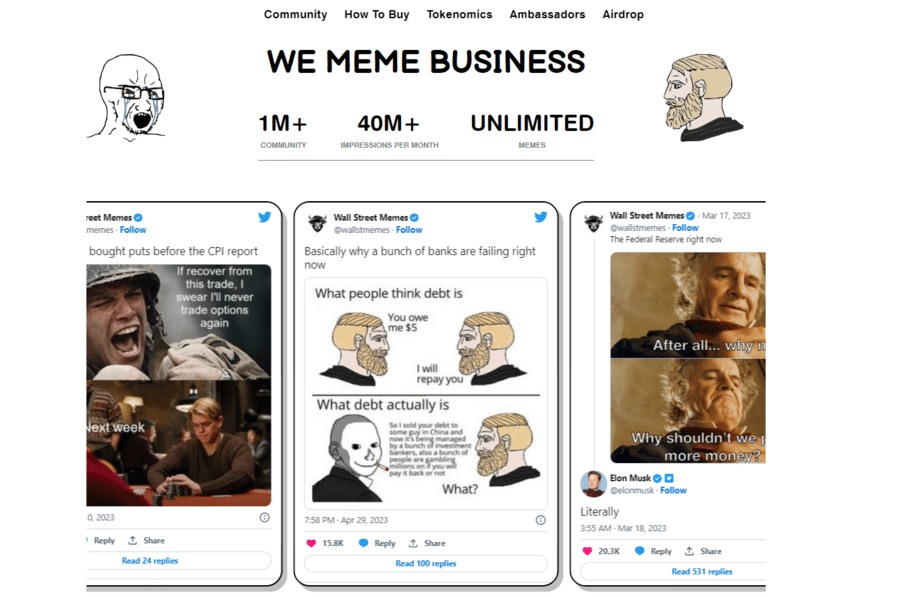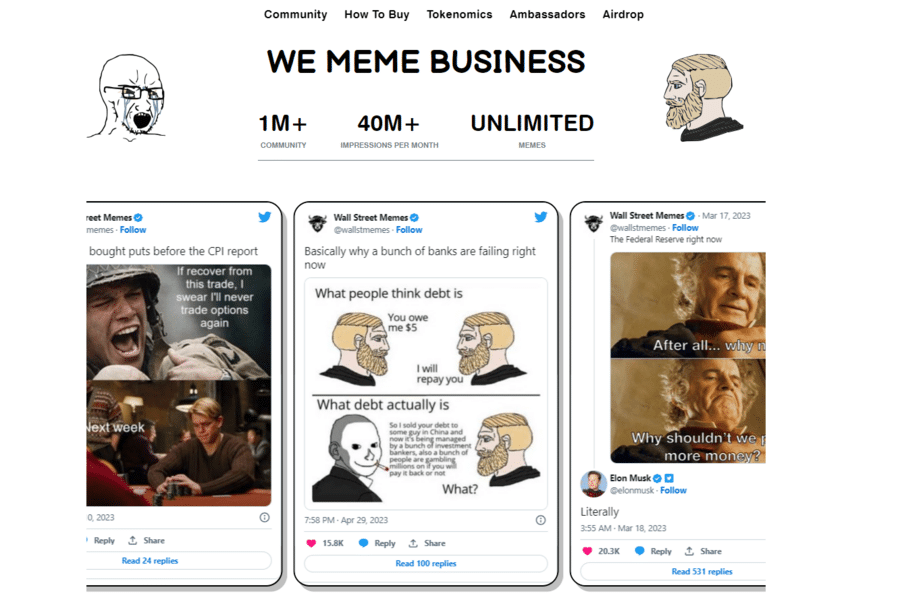 However, Wall Street Memes is no new kid on the block(chain). Its developers previously launched Wall Street Bulls, a highly successful project in 2021 that sold 10,000 NFTs, raking in $2.5 million in just half an hour. This time, they've used their blockchain expertise to build a platform that capitalizes on meme popularity and makes retail investors wealthy, echoing the ethos of the GameStop incident that shook Wall Street in 2021.
The project's meteoric rise in popularity and profits is mainly due to its growing community on Twitter, Reddit, and Telegram, which already boasts more than 1.1 million members. The spirit of the project has resonated with many crypto investors. This community power may be enough to drive $WSM's value high-sky, making it the top high-risk crypto with the highest upside potential in 2023.
The project has also attracted the attention of influential figures. For instance, tech mogul Elon Musk has interacted with Wall Street Memes on Twitter several times. His support for the project has enhanced its credibility, boosting its appeal to potential investors.
According to Wall Street Memes' whitepaper, there's a cap on the token supply at two billion, with half that number already in the presale phase. Take note that there will be 30 of these stages, and the price will increase with each.
| | |
| --- | --- |
| Hard Cap | $30,577,000 |
| Total Tokens | 2 billion |
| Tokens Available in Presale | 1 billion (50%) |
| Blockchain | Ethereum |
| Token Type | ERC-20 |
| Minimum Purchase | 100 WSM tokens |
| Purchase With | USDT, ETH, BNB, cards |
4. Launchpad XYZ — Best High-Risk, High-Reward Crypto for Web3 Adoption
Halfway through our top list, you'll find Launchpad XYZ. The project entered its first presale stage in April 2023 as a self-proclaimed all-in-one Web3 platform. This initiative and the platform's extensive features helped it raise close to $500,000 in funding within weeks. Its creators anticipate this momentum will spill into the following years, reaching a $10 billion market cap by 2025.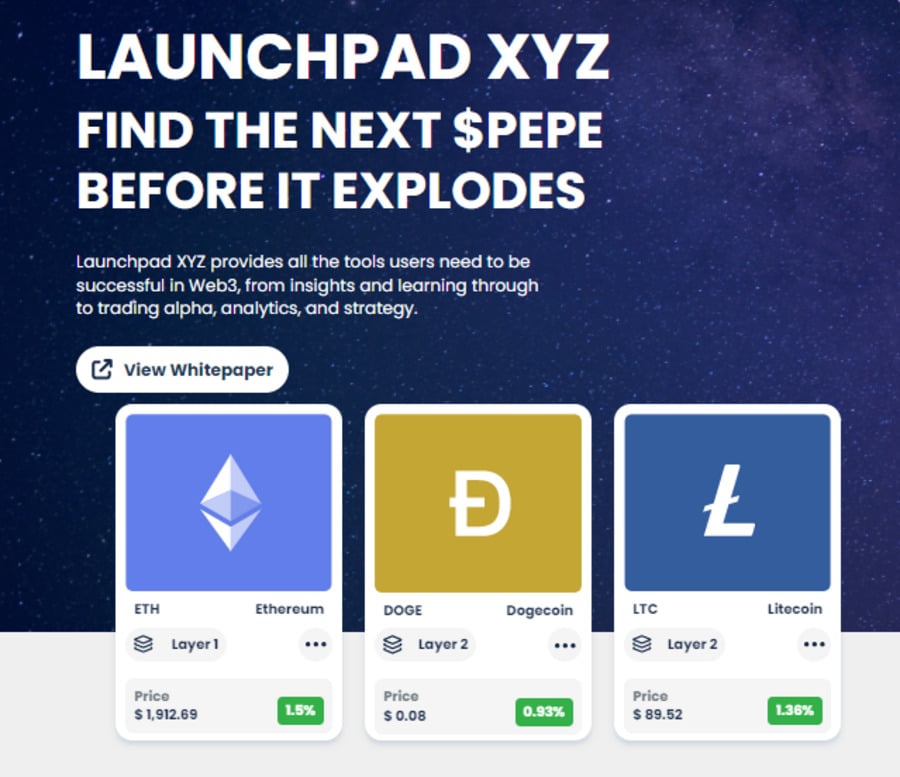 Launchpad XYZ's relatively illiquid market and low ATH may deter some investors. However, this high-risk, high-reward crypto offers more than enough to offset these disadvantages. First and foremost, it addresses one of the modern digital world's most pressing issues — the inaccessibility of the next-gen internet. Curated by an experienced team of developers, Launchpad's platform offers user-friendly tools and educational materials for Web3 adoption.
It can help users with no technical knowledge and skills explore every part of Web3, regardless of their area of interest. Its native crypto token holders will have free access to the latest presales, dApps, utility coins, non-fungible tokens, and more. With the help of a specialized news feed that Launchpad's whitepaper calls LQ, users will get risk-to-reward assessments on all these projects and make profitable business decisions.
Mentioned advantages provide merely a glimpse into the depths of Launchpad XYZ's potential. For only $0.0445 a token, users can enjoy the services of an in-house trading terminal, decentralized exchange, Web3 wallet, metaverse experience library, and P2E hub. The ecosystem even offers an onboarding program with customer engagement experiences to businesses and agencies.
Launchpad XYZ's Telegram channel is a great place to learn more about all its benefits.
| | |
| --- | --- |
| Presale Started | April 2023 |
| Purchase Methods | USDT, ETH, Transak |
| Chain | Polygon |
| Hard Cap | $12.5 million |
| Min Investment | None |
| Max Investment | None |
5. eTukTuk (TUK) – Upcoming Crypto Presale of a Sustainable Project Building EV Charging Stations
eTukTuk (TUK) has spent five years developing the world's first automotive project based on the Cardano blockchain. In recent years, there is a growing demand for adopting electric vehicles (EVs), as internal Combustion Engines (ICEs) emit more waste and contribute to air pollution.

Around 270 million TukTuks are ICEs and release more carbon dioxide than cars. Thus, ICEs will soon be obsolete. To help TukTuk drivers to make the switch to electric vehicles, eTukTuk will set up EV charging stations and Electric Vehicle Supply Equipment (EVSE).
These charging stations will be set up in areas called 'territories'. Each territory will have a territory partner who will help in operations and installations. By using local support, eTukTuk will reduce the costs of production.
Furthermore, by building the platform on the Cardano blockchain, eTukTuk will be able to provide drivers with low transaction costs and offer high scalability. It is estimated that drivers will save 400% of their revenue by using the charging stations at eTukTuk.
The $TUK token may be a high-risk investment since it is just about to be listed on presale. Any new token can attract volatility, but $TUK offers different use cases. Members can stake tokens and earn passive income as the transactions on charging stations increase.

Territory partners will also receive a portion of each transaction that a TukTuk driver makes. Notably, the transactions on the charging stations will be paid with $TUK.
Therefore, this cryptocurrency project has the potential to offer huge returns in the long-term. $TUK has a 2 billion token supply, 250 million of which will be allocated for the token presale.
To learn more about the project, go through the eTukTuk whitepaper and join the Telegram channel.
6. Chimpzee – High Risk High Reward ERC20 Token With Focus on Environmental Sustainability
Chimpzee (CHMPZ) is a token that could offer substantial rewards for customers in 2023. It has a number of appealing factors that come together to provide upside potential. The first one would be its core focus on the environment.
Environmental concerns are a huge area right now with many people eager to get involved. Chimpzee is different from other projects because it promotes immediate action and has already donated $15,000 to elephant conservation and planted over 22,000 trees to prevent deforestation.
Many projects make claims that never materialize, yet Chimpzee is already having an impact. 10% of the token supply is allocated towards charitable causes.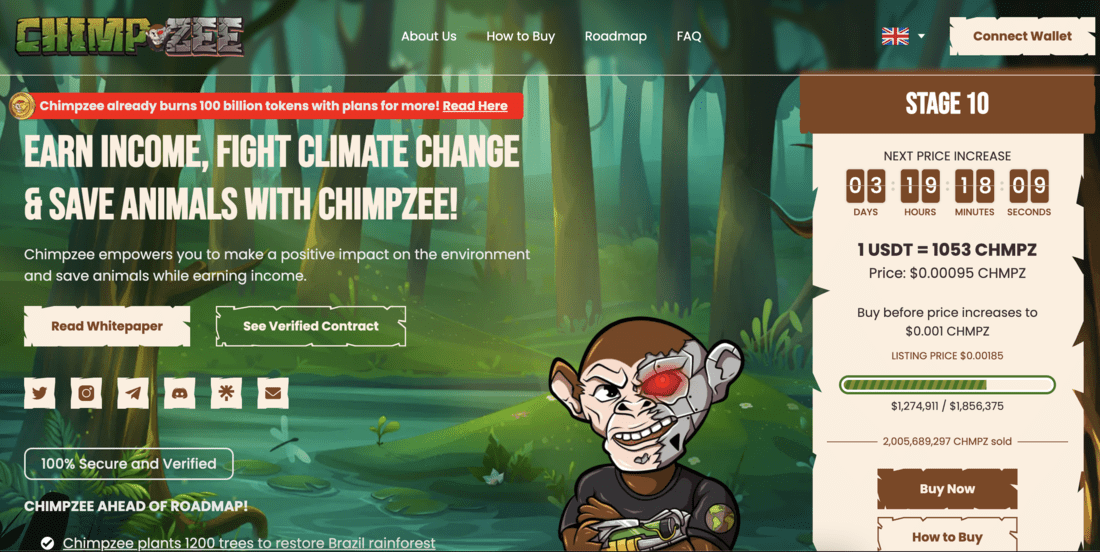 Aside from its target area, Chimpzee offers 3 ways to earn an income for users. These are the Shop-To-Earn, Play-To-Earn, and Trade-To-Earn aspects of the wider ecosystem. By far, the best way to earn an income is through NFT passports – this offers the most privileges and income earning opportunities.
While investing in any token comes with risks, Chimpzee has already offered multiple reassurances. It has secured a smart contract audit with no high or even medium severity issues found. Additionally, it has also attained a KYC Certificate from Coinscope.
This means that the code is relatively sound and also points towards regulatory compliance. Combined with its core area and the fact that it has already made significant contributions, this is one of the more honest and transparent presales available right now. Only 5% of the token allocation goes towards the team, and this amount is locked for 2 years.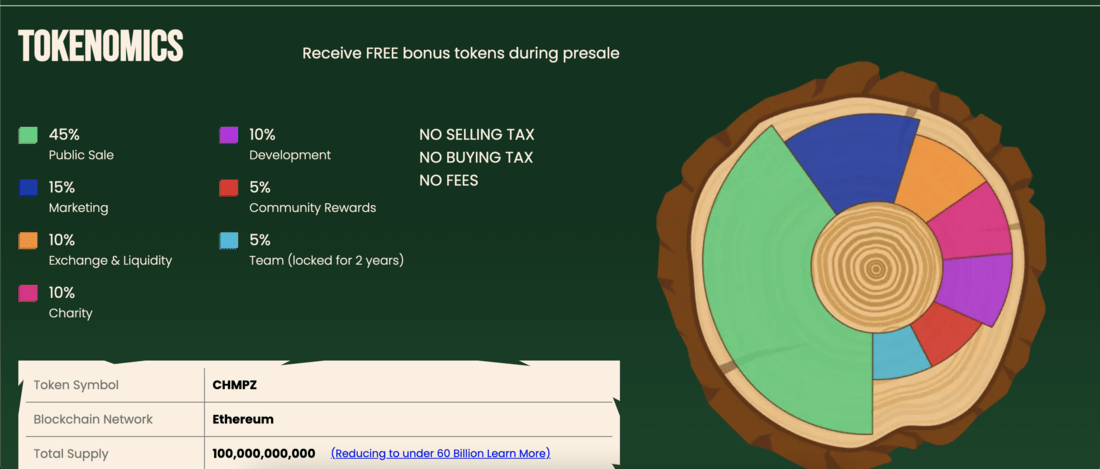 Chimpzee is available at a much larger discount for presale investors as compared to the exchange listing – the difference is currently $0.00185 against $0.00095, meaning you can get the token for about half the price. Of the 100 billion tokens, the supply is set to be burned down to 60 billion. Token burning can further increase scarcity and promote price appreciation.
For these reasons, and more, Chimpzee could be a great presale option. Payment can be made through a Web3 wallet using ETH, USDT, or Card. Socials – Twitter, Discord, Telegram, Link Tree, Instagram – should be joined for further information.
The whitepaper should also be read in detail.
| | |
| --- | --- |
| Hard Cap | $1,856,375 |
| Total Tokens | 100 billion |
| Tokens available in presale | 45 billion |
| Blockchain | Ethereum Network |
| Token type | ERC-20 |
| Minimum Purchase | NA |
| Purchase with | ETH, USDT, Bank Card |
7. Scorp Token – Buy this Casino Presale Token Before it Hikes by 237%
When investing in tokens that offer high upside, investors may wish to diversify into high-risk tokens that are relatively new in the crypto space. Scorp Token ($SCORP) is a BEP-20 token on presale and offers long-term utility to token holders.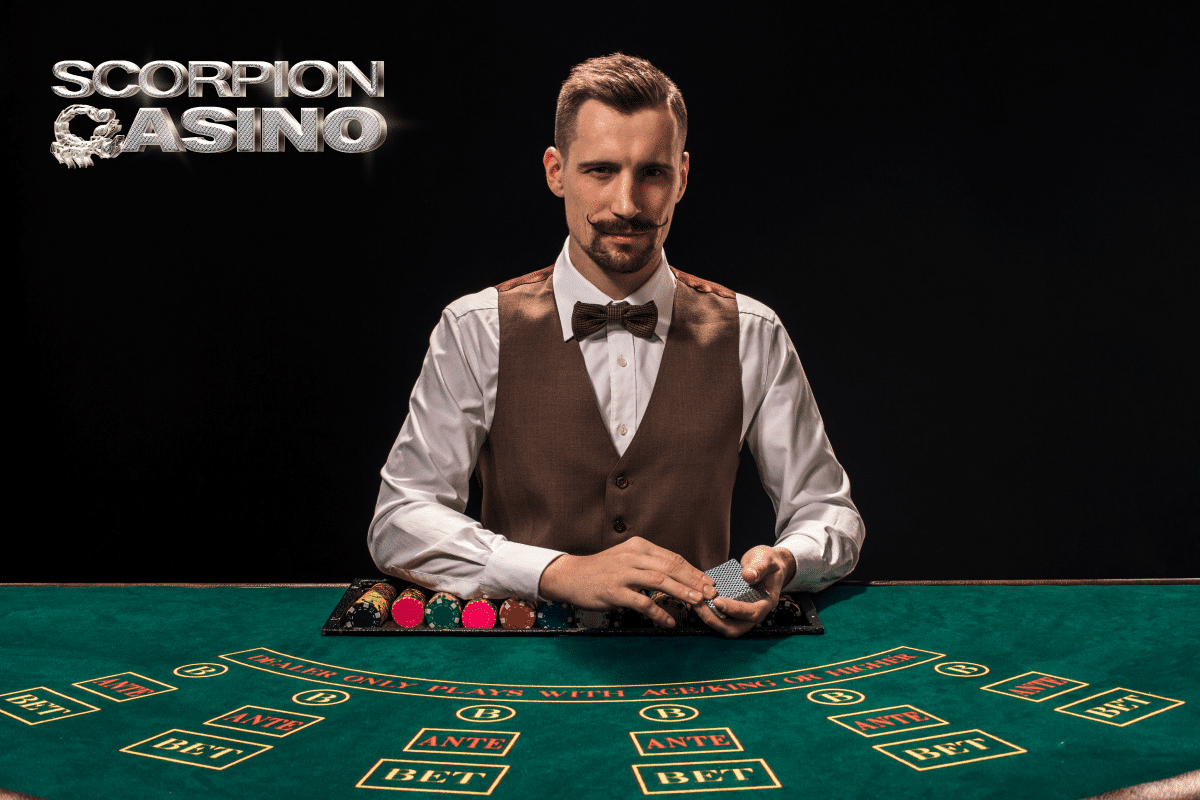 The Scorp Token is currently priced at $0.014 during the ongoing presale. The presale has already raised over $458K since the start. The hard cap presale target is set at $500K. With over 90% of the presale finished, investors can buy $SCORP before the exchange listing occurs.
The listing price for $SCORP is set at $0.05, equating to a massive price jump of 237%. Thus, investors can already register a return on investment when the token is listed. This cryptocurrency can also be staked to earn from a daily staking pool.
On the Scorpion Casino, $SCORP will be the main mode of payment. Token holders will also get exclusive benefits such as weekly bonuses and access to 40% free credits on certain games.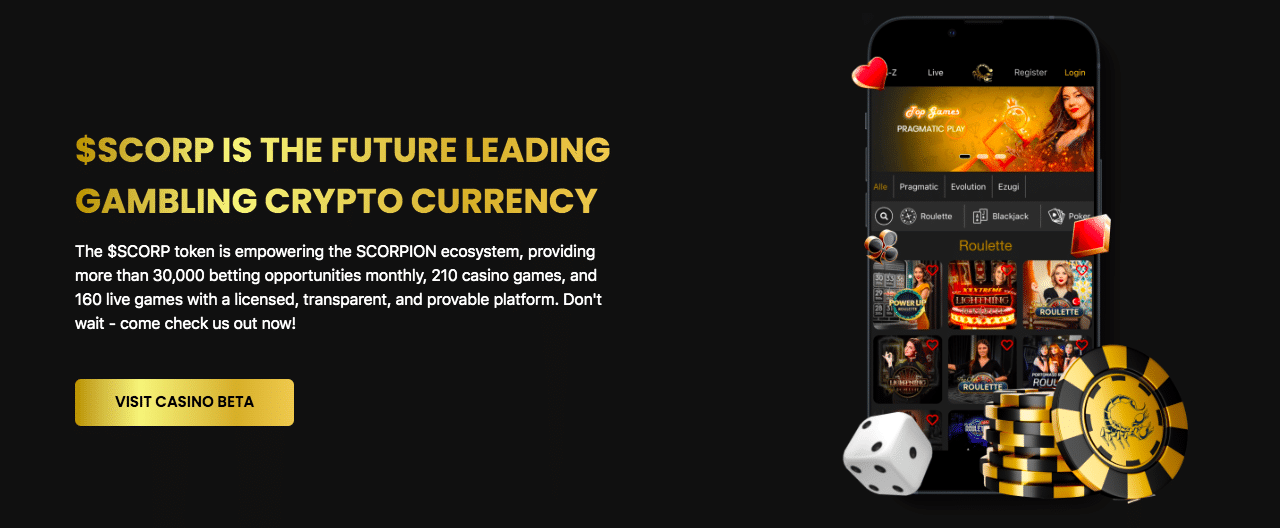 The casino will let you leverage your tokens to participate in over 200 casino and 160 live games. Some available games include Poker, slot machines, crash games, and Roulette. You can also bet on live sporting events such as Football and Basketball through the sports betting markets.
The Curacao government licenses the Scorpion Casino, and the project has been audited and KYC verified. Enter the presale, and stand a chance to win a $250K giveaway and join an affiliate rewards system.
Read the Scorpion Casino whitepaper and join the Telegram channel.
| | |
| --- | --- |
| Token symbol | SCORP |
| Presale supply | 200,000,000 SCORP |
| Token type | BEP-20 |
| Payment methods | ETH, USDT, BNB |
| Listing price | $0.05 |
8. yPredict — Top High-Risk, High-Reward Crypto Providing Accurate Financial Prognosis
The runner-up title in our best high-risk, high-reward crypto list goes to yPredict. The hallmarks of this blockchain network, AI-driven financial analyses, and predictions, made it an immediate success. Its presale raised over $1 million in funding and attracted more than 20,000 users in less than four months. Considering its growth trajectory, we can expect an even greater popularity surge once the cryptocurrency officially hits the market.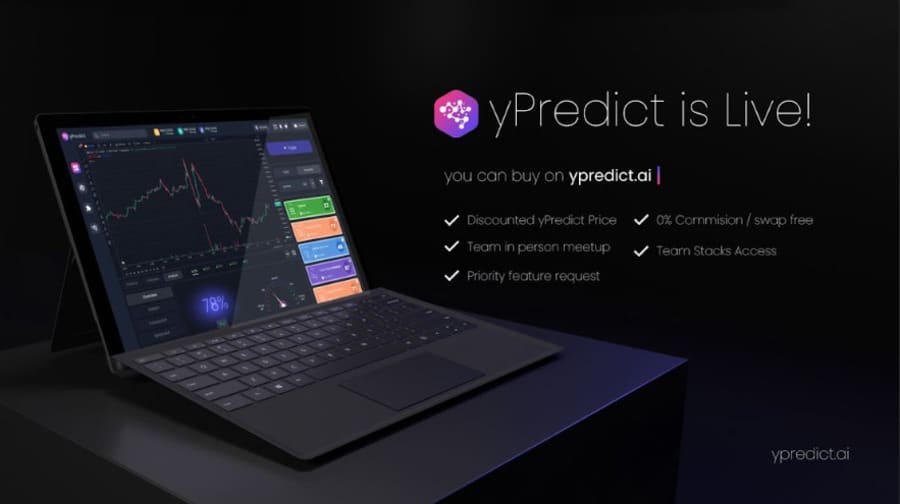 The secret to yPredict's success lies in the methodology of its forecasts. The project leverages state-of-the-art machine learning and artificial intelligence to create accurate projections, according to the whitepaper. Its developers use patent-pending pattern recognition technology to research market fluctuations and identify bearish and bullish patterns.
Financial analysts and quants use this data to produce financial models with up-to-date trading information. By holding yPredict's native coins, $YPRED, users can gain free access to these analytics. They can subscribe to specific financial models or follow the network's top-performing traders' moves to make lucrative investments in real time.
$YPRED tokens also have staking capabilities. Users willing to utilize them will be eligible for generous rewards. They'll get 10% of the platform's subscription fee-based revenue, which can result in up to 45% ROI quarterly. Additionally, they'll have a chance to turn a profit by completing education quizzes and modules and using its P2E hub.
In line with the majority of the market, especially new coins, this crypto's price is volatile. However, you can minimize your losses if you purchase it during its presale. Check out yPredict's official Telegram and website to help you make the right decision.
| | |
| --- | --- |
| Presale Started | February 2023 |
| Purchase Methods | ETH, MATIC, USDT, BNB, Card |
| Chain | Polygon |
| Hard Cap | $6,507,511 |
| Min Investment | 200 $YPRED |
| Max Investment | None |
9. Bitcoin — Market-Leading Crypto with Scope for Further Growth
Every crypto fan or investor has heard of Bitcoin, the king of cryptocurrency – as the world's first cryptocurrency, it still dominates the market, accounting for 46%.
It's always good to have Bitcoin in your crypto portfolio, as it's not going anywhere anytime soon and despite BTC's price decreasing, it's still a worthwhile investment.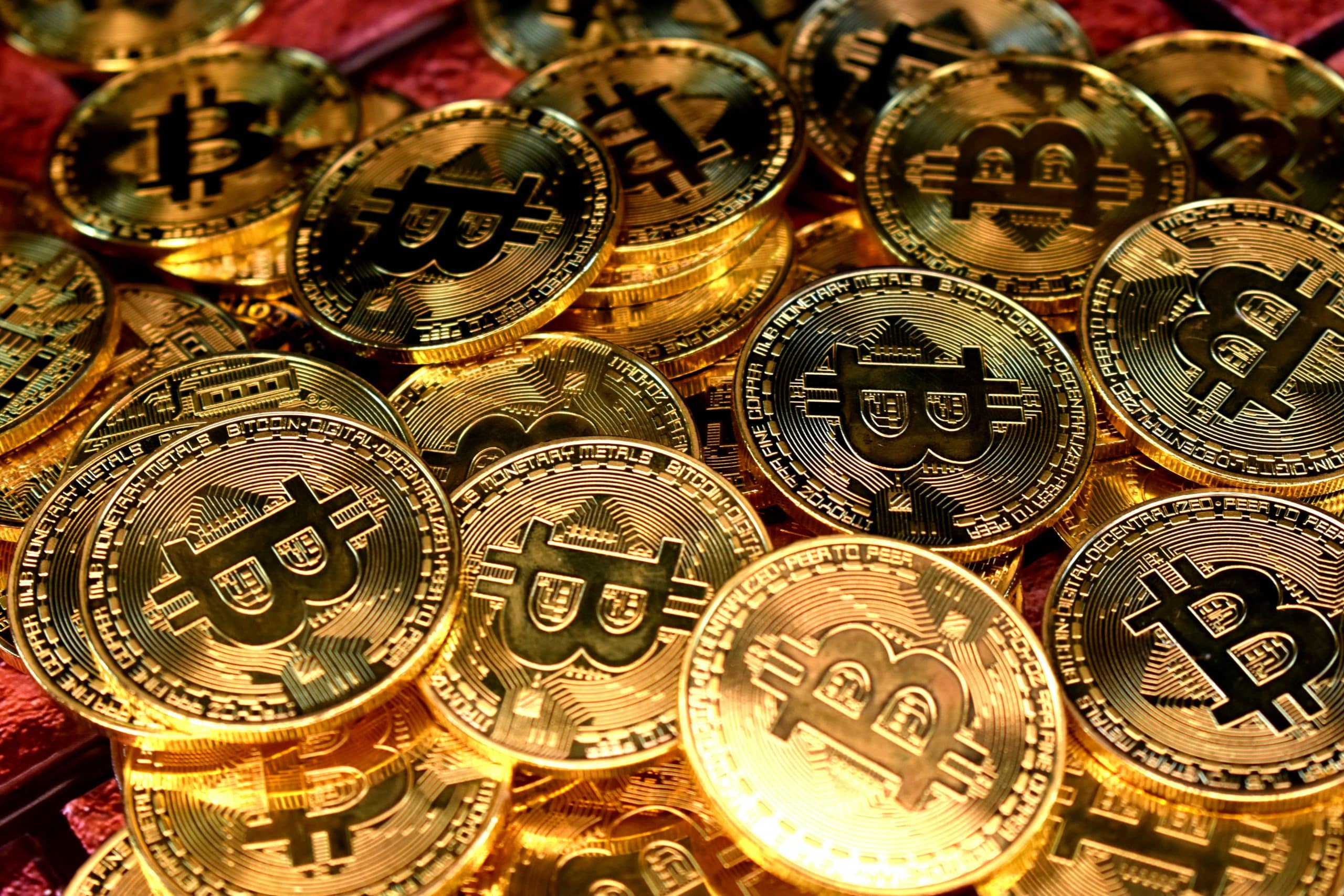 Most importantly, it's still a crypto with plenty of upside, especially for people willing to put in more funds.
Every investor remembers the incredible highs Bitcoin reached throughout 2021 and 2022, jumping by more than 100% twice – after dropping below $17,000 in late 2022, it has since reached $28,000, proving yet again that it has endless upside potential.
Mining Bitcoin may no longer be worthwhile without investing hundreds of thousands, but buying and selling on exchanges certainly is, with many analysts still believing it will reach six figures and beyond by the end of the decade.
However, it's important to note that buying Bitcoin is still risky, especially when investing a large sum, so tread carefully.
10. Ethereum — Hugely Popular Crypto for Builders and Developers
Ethereum ranks as the number two cryptocurrency in the space and has been in that spot for years.
It's one of the oldest and most reliable digital currencies and ecosystems that has introduced a lot of novelty into the sphere, with its place secured as the leading blockchain for decentralized app (dApp) builders and developers.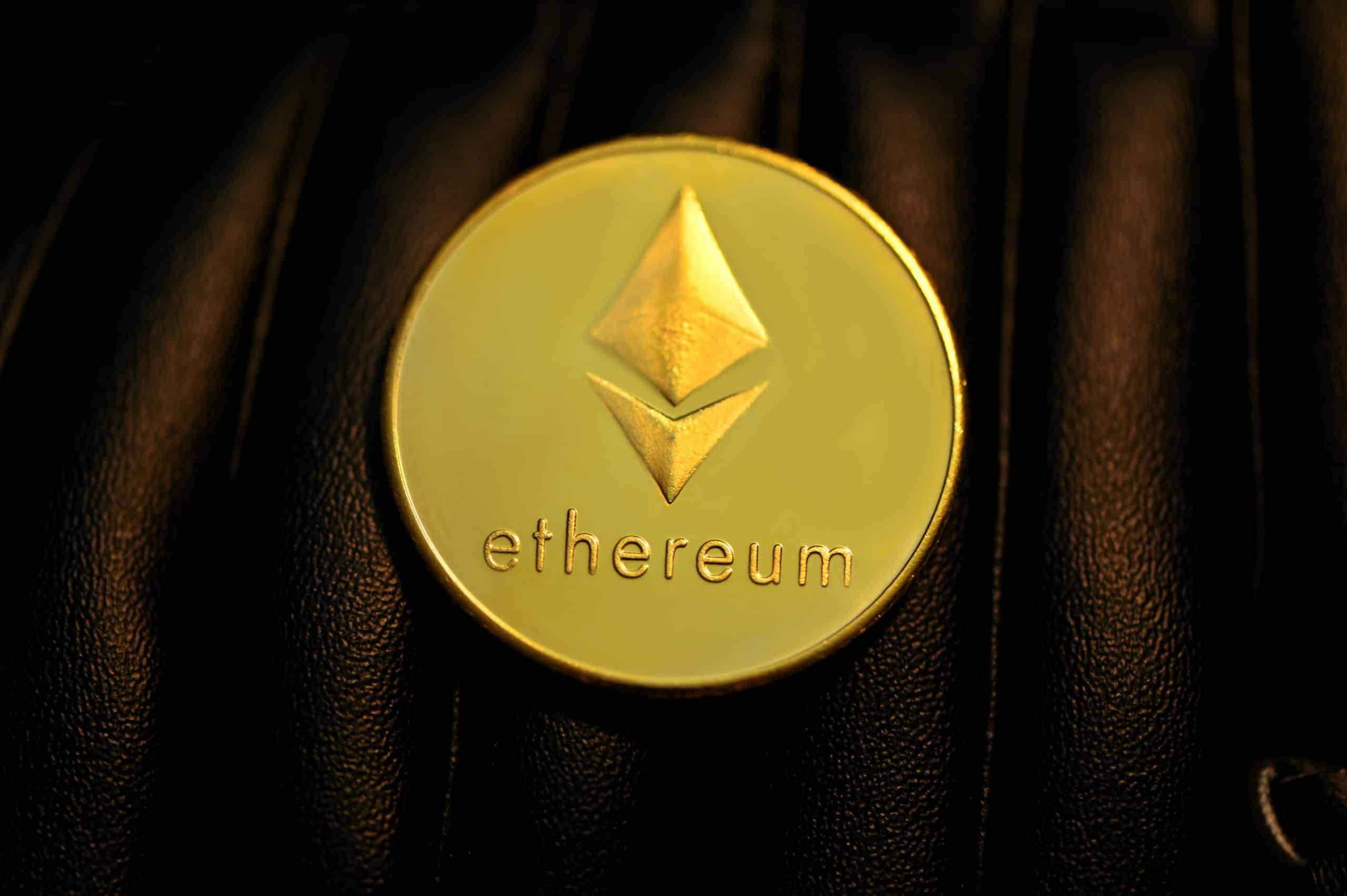 Many new projects, including a few listed here, are built using Ethereum's blockchain smart contract platform, a pioneer in the field. Most of the coins and tokens, including the majority of all new cryptos with the highest upside, are made using Ethereum's ERC-20 compatibility standard.
More than 280,000 ERC-20 tokens have been made since its introduction, with Ethereum offering excellent transaction speed, efficiency and scalability.
Much like Bitcoin, Ethereum's price fluctuates a lot, and its rises and falls are fairly tied to Bitcoin – although some claim it will eventually 'flip' BTC to become the top coin in crypto.
The price has oscillated between $1,000 and $2,000 for the last several months, and with the recent significant jumps, it's clear that it will remain a viable asset. However, you should conduct your own analysis, just as you would with any other investment.
11. Shiba Inu — Meme Coin Project with Huge Following
Shiba Inu is a meme coin developed anonymously under the pseudonym Ryoshi in August 2020. Since then, it has reached the top 20 coins on the market, despite not offering anything for a long time and sticking to the true image of a meme coin.
It's also one of the top shitcoins on the market. However, Shiba Inu still has a purpose — to be the Ethereum counterpart to Dogecoin's Scrypt mining algorithm, a hashing algorithm used by many Proof-of-Work blockchains.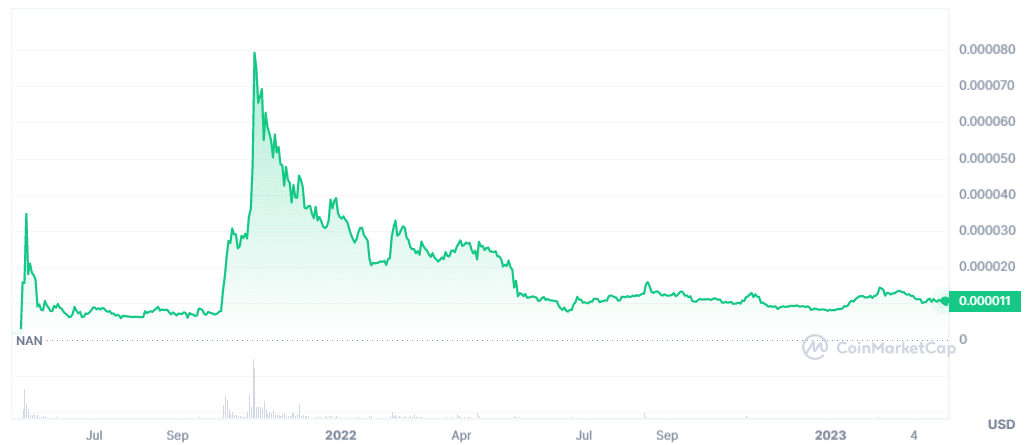 Shiba Inu has famously jumped in value after Vitalik Buterin, Ethereum founder, burned his SHIB supply. Ryoshi gave him 50% of the entire coin's cache at the time and stated that as long as he held it, SHIB would do fine. Vitalik didn't like having that much influence, so he burned most of it, giving the rest to charity.
This act caused a massive drop in Shiba Inu's value, but it eventually recovered, proving that an utterly decentralized crypto project can survive whatever it faces. Shiba Inu has birthed an entire metaverse in the meantime, a project powered by NFTs, all in an effort to give it some utility.
Each SHIB is worth a fraction of a cent, so if you invested as little as $50, you would get more than 48 million SHIB coins. There are more than 580 trillion of them in circulation.
12. Cardano — Super-Fast and Efficient Blockchain with Potential
Cardano (ADA) is a Proof-of-Stake blockchain developed in 2017 by Charles Hoskinson, the Ethereum co-founder.
It's one of the largest energy-efficient cryptocurrencies with the goal of spearheading a developer-friendly ecosystem for developing dApps. The ultimate purpose is to allow visionaries and innovators to create applications that will change the world for the better.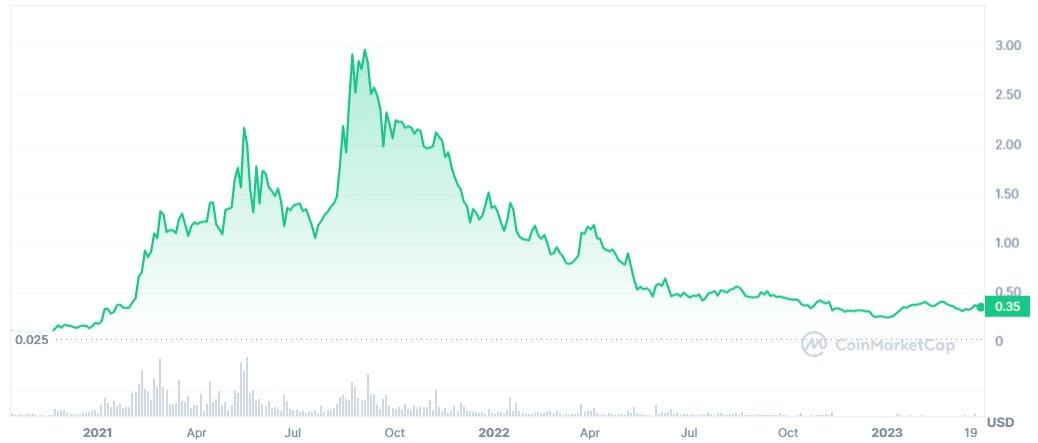 Unlike Ethereum, Cardano has a hard cap on the number of coins, with more than 77% already in circulation.
However, what matters most is that it has the potential to be the leading ecosystem for most future dApp developers, making ADA one of the few cryptocurrencies to watch this year.
Cardano's price is usually below $1, but it reached all-time highs in 2021 when it was close to $3. More than 34 billion coins are in circulation, with the max supply set at 45 billion. With a set hard cap, Cardano has the potential to skyrocket in value in the future.
What Determines How Risky a Cryptocurrency Is?
The main factor determining the risk associated with a specific coin is its price fluctuations. Simply put, the more price jumps and falls, the more volatile it is and the more uncertain it is for an investor. Naturally, the wider the range between highs and lows, the greater the risk.
Moreover, the exact stage in the crypto's development matters greatly. The newer the token is, the riskier investing in it will be.
Presale coins are the most volatile but have the most upside potential as their prices are currently incredibly low. If the coin pans out and booms in popularity, the price will likely jump by several thousand percent, leading to early investors profiting greatly.
High-Risk Cryptos vs Less Volatile Cryptos
Some investors prefer to spend their money on less volatile cryptos like stablecoins, where the price is tied to fiat currency and seldom changes. This can be a good option if you're looking to invest in the digital currency sphere while being risk-averse.
Stablecoins like Tether (USDT), USD Coin (USDC), Binance USD (BUSD), Dai (DAI), and TrueUSD (TUSD) are connected to the dollar, so their price rarely changes. Naturally, the fiat currency prices fluctuate, so you should have that in mind.
Other than that, there are a couple of cryptocurrencies with less volatile prices, including Tron (TRX) and Ripple (XRP).
These offer more stability to your capital but yield low returns, if any. You'll still need to know when to invest, but you'll make lower profits and suffer fewer risks.
How to Determine Your Risk Tolerance With Crypto Investing
Understanding your risk tolerance is one of the key things you need to know if you want to be a crypto investor.
There is always at least some risk involved in any type of investing, but you should still have a threshold for what you consider excessive. This limit is different for every investor, and you can determine your own by assessing the amounts held in crypto and how much you would feel comfortable losing.
The important thing is that no matter what number you end up investing in, you need to be prepared to lose it entirely. More than that, by anticipating the worst, you can objectively assess your investment strategy.
Ultimately, it's essential to determine how long you want to stick with your investment. You can be in it for the long haul or deal with it short term. The former means you needn't worry about price changes, while the latter might entail buying and selling on different exchanges to profit from the margins.
How to Find the Best High-Risk High-Reward Crypto Coins
Finding cryptocurrencies with the biggest upside is not easy to achieve. However, you can get there with a few tips and strategies we'll share with you.
Focus on Presale Projects
Crypto projects in the presale stage have incredibly high upside potential as they are sold at discounted prices. Naturally, this makes them more unpredictable, as you have no way of knowing whether they'll pan out. However, if you're willing to take the risk, they might prove lucrative.
The top three coins on this list are all in the presale stage but bear in mind that some are nearing completion. You should check where they are in their journey before determining whether to invest.
Check Market Capitalization
Cryptocurrencies with the most upside potential are, by default, projects with lower market capitalization. The lower it is, the better, as there will be more room for growth.
Some of the cryptos on this list are still in their early stages, so there's no market capitalization to consider. However, others are already listed, and they still have a meager market cap. The best example is Tamadoge which has a cap of only $11 million.
Consider Buying Meme Coins
Even though they are made to be a joke, many of them aren't when it comes to price and usability.
Many meme coins, including those on our list, like Shiba Inu, have proven to be viable investments. Moreover, Dogecoin has demonstrated that even self-described joke projects can become some of the strongest coins on the planet.
DOGE, for example, spiked 20% recently after Twitter CEO Elon Musk briefly changed the Twitter logo from the blue bird to the doge meme.
So, consider investing in Shiba Inu, Tamadoge, and the crypto with the most upside potential, Wall Street Memes.
Buy in the Bear Market
One of the ways of making higher profits from crypto investing is buying the dip — purchasing the coin in a bear market. That's when the prices are at their lowest, suffering heavy losses after notable highs, making it the best time to buy any coin.
We've been in a particularly heavy bear market since the latter months of 2022, but some experts believe we are in its later stages. It's a constantly-changing situation, and this info can become outdated fast, so it's important to check what the professionals are saying when you're reading this.
Leverage Crypto Market Analysis Platforms
Platforms like Dextools, CoinMarketCap and CoinGecko are among a wide range of tools that analyze current trends and can be very helpful in identifying newly listed cryptocurrencies in their earlier stages.
You can use this info to identify the cryptos with the most upside potential. You can also check other stats and numbers to gain insight into the market and find potentially lucrative coins.
Crypto Tools to Help Mitigate Risk
When it comes to crypto, the key to minimizing risk is employing proper safety techniques and focusing on trustworthy and promising tokens.
You need to carefully research every token you plan on buying and make the purchases through trustworthy sources, using reputable wallets and employing the necessary security measures.
Additionally, you can use tools that create alerts when to sell or buy that pop up at certain price milestones. More importantly, you could employ measures that monitor and analyze transactions to detect and prevent fraud and money laundering and flag suspicious transactions.
It also worth keeping up to date with news on crypto regulations, with the space seeing heightened interest from authorities and governments in the last 18 months.
Ultimately, it's important to use the features of crypto exchanges, most notably the option to create stop-loss orders that let you specify price limits on your investments. They allow you to leave positions that don't perform as expected.
Conclusion
Purchasing good crypto with the most upside is a great way to increase your gains from an investment. It's often quite risky, but it also has the potential for massive profits. The earlier in its development path the coin is, the more upside potential it has. Moreover, this should be a trustworthy token with unique capabilities like solving a problem or fulfilling many people's needs.
Currently, the token that checks the most boxes is Bitcoin ETF Token. It could perform extremely well if BTC ETF approval takes place. It also offers many other additional incentives to make it one of the best options, at present, in terms of high-risk high-reward crypto.
FAQs
Which cryptos are high risk?
What cheap crypto has the most upside potential?
Are cryptos risky investments?