Amid the recent surge in popularity of meme coins, Hollywood X Pepe ($HXPE) emerges as a unique proposition by merging Hollywood's charm with Pepe the Frog. More than just another meme coin, Hollywood X Pepe aims to position itself as a cultural revolution to engage a global community.
The project's native crypto, $HXPE, currently on presale, aims to create a new era of meme coins. This article will guide you through the platform's journey and $HXPE price prediction from 2023 to 2025.
Hollywood X Pepe Price Forecast: Summary
Let's take a quick look at the Hollywood X Pepe ($HXPE) price prediction from 2023 to 2025:
End of 2023 – Owing to the buzz around the Hollywood Shoot project and the newly launched website, $HXPE's visibility could increase, potentially driving its price to $0.012 USDT from the present figures.
End of 2024 – Major events like the Raid Bitcoin Conference and the potential CEX partnership should enhance $HXPE's reach and accessibility. This heightened visibility and the growing community could fuel demand, pushing the token's price to $0.035 USDT by the end of the year.
End of 2025 – Planned developments like a Uniswap Launch and a Binance Listing will likely bolster $HXPE's position in the DeFi space. Along with the forecasted growth in the meme coin sector, $HXPE's price could reach $0.1 USDT by the close of 2025, subject to successful roadmap execution and market trends.
Hollywood X Pepe Overview: Where Meme Revolution Meets Hollywood
Hollywood X Pepe is a new crypto project that merges the appeal of the popular Pepe the Frog meme with Hollywood, offering a refreshing spin in the meme coin space. Built on the Ethereum Blockchain, $HXPE is an ERC-20 token aiming to go beyond being a mere meme sensation.
It aims to promote decentralization with fun and community engagement, distinguishing itself from other meme coins. The underlying ethos of $HXPE revolves around creating trends rather than following them, an approach personified by the project's figure, Hollywood X PEPE.

This project stands out in its attempt to create a niche within the entertainment & meme crypto industry by creating a robust, engaging community.
$HXPE's tokenomics offers a total supply of 100 billion tokens, with allocation ranging from liquidity provisions to community influencers, and even a 30% burn, contributing to its market excitement. The token has passed a solidity audit, ensuring it's not vulnerable to common blockchain exploits.
The project even offers a chance to win a Tesla, making it a potential hotspot of attraction within the crypto world. As $HXPE hits the presale stage, it aims to be one of the best cryptos to offer a combination of crypto trends, including meme culture and Hollywood, for crypto enthusiasts and investors.
Hollywood X Pepe Price Prediction
At the time of writing, each $HXPE is trading at $0.0005 USDT. With the next presale stage price set at $0.001 USDT, the token offers a 100% upside.
HXPE Price Prediction – 2023
The Hollywood Shoot project, one of the key highlights of the 2023 roadmap, will leverage the charm of Hollywood to boost the token's appeal. With the broader reach of Hollywood, it could attract global investors and further drive up demand.
The recent website launch has provided an official platform for potential investors to get detailed insights about $HXPE, which may encourage increased adoption in the coming months.
As the token gets listed this year, it could attract a larger audience, creating a ripple effect on its demand and price. Given that the listing price is set at $0.005 USDT, a price increase to $0.012 USDT by the close of 2023 is plausible.
HXPE Price Prediction – 2024
In 2024, HXPE will undertake key initiatives that could significantly impact its price trajectory. The Raid Bitcoin Conference could provide an ideal platform for $HXPE to connect with high-profile crypto enthusiasts and investors.
Also, the anticipated CEX Partnership will expand the token's reach and accessibility. Making $HXPE available on major centralized exchanges will make the token more easily accessible to many investors.
This increased accessibility could translate into higher demand and, subsequently, a price increase. Considering these developments and the growing $HXPE community, a price increase to $0.035 USDT by the end of 2024 appears feasible.
HXPE Price Prediction – 2025
In 2025, HXPE intends to capitalize on the DeFi space's momentum with key developments that could significantly influence its price.
The roadmap indicates plans for a launch on one of the top decentralized exchanges, Uniswap. This could drastically enhance liquidity and facilitate more transactions, thus driving demand and pushing the price upward.
Furthermore, a Binance Listing, one of the most sought-after milestones for any crypto, is also expected soon. By 2025, the token's visibility can drastically improve, likely leading to a price appreciation.
Given these planned launches, combined with an anticipated surge in the meme coin sector, it's possible that $HXPE could see a price hike to $0.1 USDT by the close of 2025. However, it's crucial to note that these predictions are based on the roadmap's successful implementation and favorable overall market conditions.
How to Buy Hollywood X Pepe ($HXPE) Tokens – Simple Guide
Buyers can grab the $HXPE tokens by following these 5 simple steps:
Step 1 – Wallet Set-Up
Create a crypto wallet compatible with Hollywood X Pepe's presale platform. A widely used option is MetaMask, which provides a user-friendly app and a browser extension for PCs.
If MetaMask doesn't suit you, the platform offers many other options, like Ledger and Trust Wallet, which you can select from the WalletConnect widget.
Step 2 – Buy ETH/USDT/BUSD/USDC/DAI
To buy $HXPE, you need to have either ETH/USDT/BUSD/USDC/DAI, as these are the cryptos the platform accepts.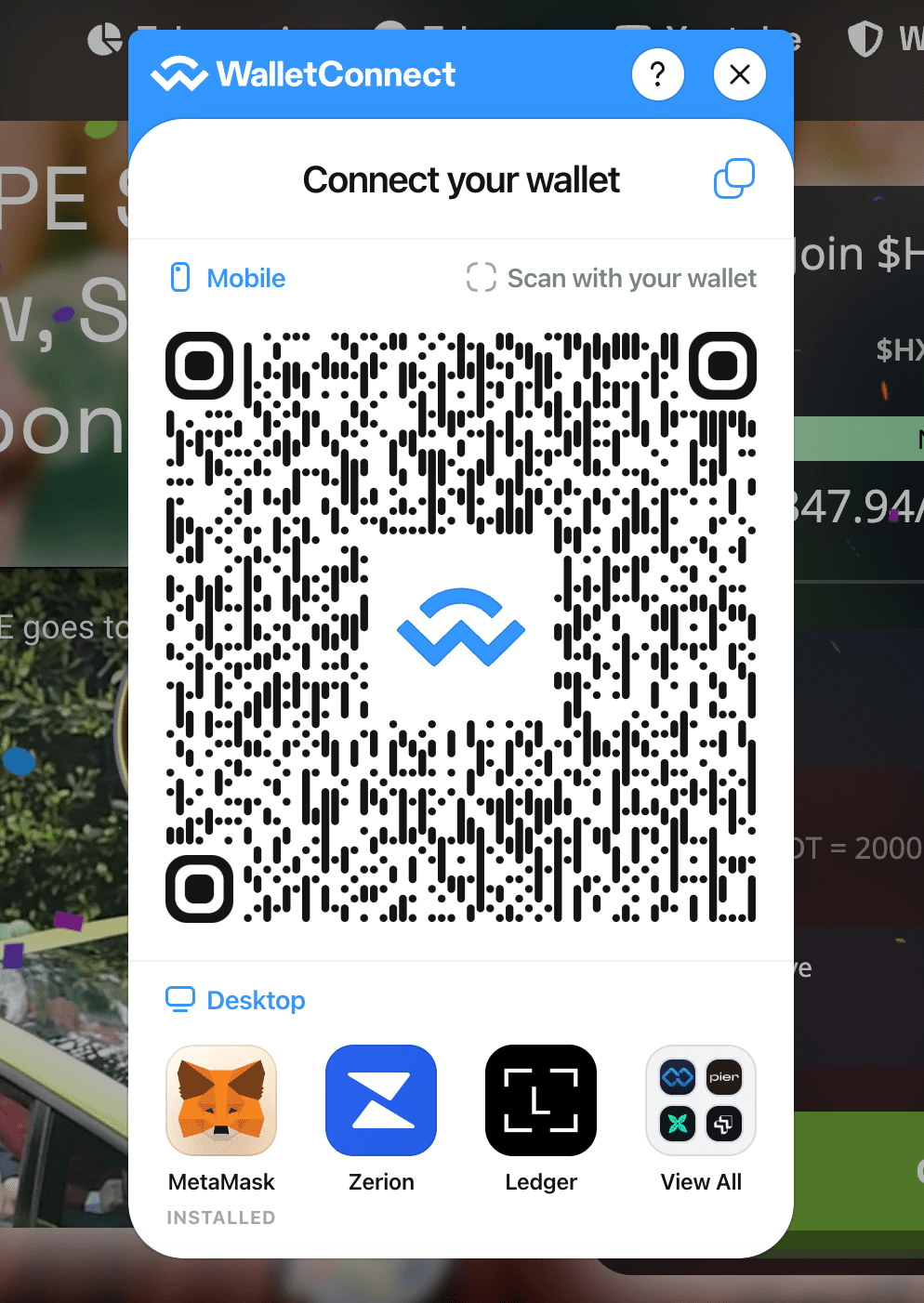 If you don't have them, you can obtain these tokens from any crypto exchange and move them to your wallet. Alternatively, some of these cryptos can be purchased directly from the wallet.
Step 3 – Connecting Your Wallet
After your wallet is set up and funded, connect it to the Hollywood X Pepe presale website.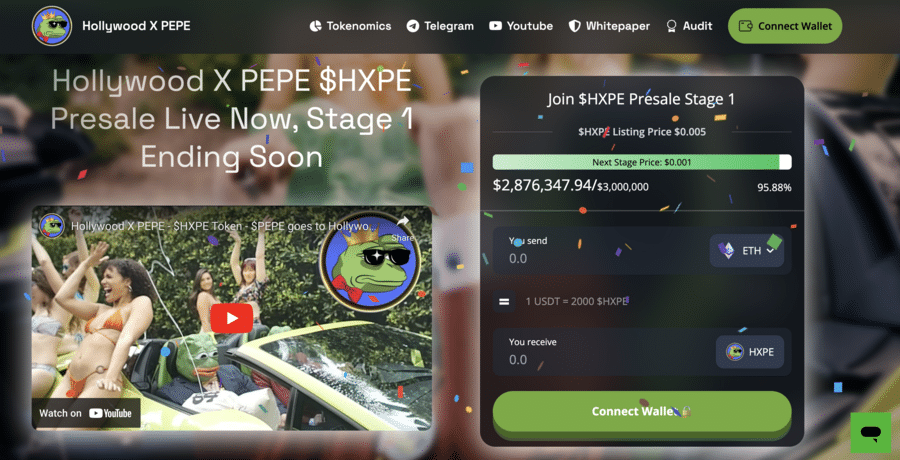 Click 'Connect wallet' and select MetaMask or any other wallet you prefer. Once the wallet is connected, choose the crypto you want to swap for $HXPE tokens.
Step 4 – Purchasing $HXPE
Select the crypto you want to exchange for $HXPE and click 'Buy $HXPE Tokens.' Follow the subsequent instructions to confirm the transaction.
Step 5 – Claiming $HXPE
Upon completion of the purchase, your $HXPE tokens will stay on the website until the presale concludes. Upcoming claiming, be aware of any gas fees that may apply.
Conclusion
Hollywood X Pepe is an ambitious crypto project that blends the meme culture with Hollywood's charm, offering a fresh perspective in the meme coin space.
It aims to create a thriving community around the $HXPE token and become a trendsetter in the entertainment and meme crypto industry. As with any investment, potential $HXPE investors should monitor the project's roadmap and market trends before jumping in.
Curious about other early-stage crypto platforms with significant potential? Have a look at our top crypto presales page to discover them.
FAQs
What is the Hollywood X Pepe ($HXPE) token?
Should I buy the Hollywood X Pepe ($HXPE) token?