Bitcoin BSC ($BTCBSC) is a new version of Bitcoin built on Binance's BNB Smart Chain. Unlike the original Bitcoin, it offers investors the ability to earn staking rewards and promises much lower transaction fees. Bitcoin BSC has the potential to be the next major token for crypto commerce.
For a limited time, Bitcoin BSC is available to buy at just $0.99 through the token's presale. In this guide, we'll explain how to buy Bitcoin BSC during the presale and explore whether $BTCBSC is a good investment today.
Bitcoin BSC Presale Key Points
Here are the key things investors need to know about the Bitcoin BSC presale:
Bitcoin BSC ($BTCBSC) is a new crypto project reimagining Bitcoin on the BNB Smart Chain.
$BTCBSC offers staking rewards, with rewards paid out to investors on the same schedule as Bitcoin block mining rewards.
$BTCBSC is currently on presale at a price of $0.99, a price that Bitcoin last held in 2011.
The presale raised more than $30,000 in its first 24 hours and is expected to sell out quickly.
How to Buy Bitcoin BSC ($BTCBSC) Tokens – A Five-Step Beginner's Guide
Investors can buy $BTCBSC tokens right now during the project's presale. The token is priced at $0.99, a price that Bitcoin last touched in 2011.
Bitcoin BSC is built on the BNB Smart Chain, giving investors the ability to buy the token with several popular cryptos. Here's how to buy $BTCBSC during the presale.
Step 1: Create a Crypto Wallet
Investors must have a crypto wallet that's compatible with BEP-20 tokens like $BTCBSC. Popular options include MetaMask and Trust Wallet, both of which are free and secure.
To install MetaMask, simply visit the wallet's website and download the app. Then create a new wallet account and store the seed phrase somewhere safe.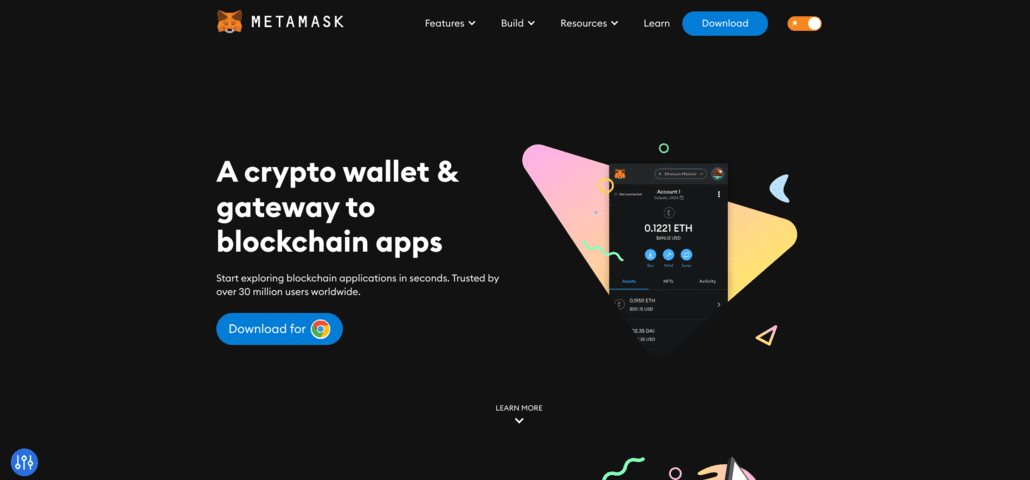 Step 2: Buy BNB, ETH, or USDT
Investors can buy $BTCBSC with BNB, ETH, or USDT during the presale. All three are available from most major crypto exchanges and can be bought with fiat.
Once an investor purchases one of these tokens, they should send the token to the wallet they set up in Step 1.
Step 3: Connect to the Bitcoin BSC Presale
Next, connect the crypto wallet to the Bitcoin BSC presale platform. Click 'Connect Wallet' and select the wallet to connect. Follow the prompts to authorize the connection.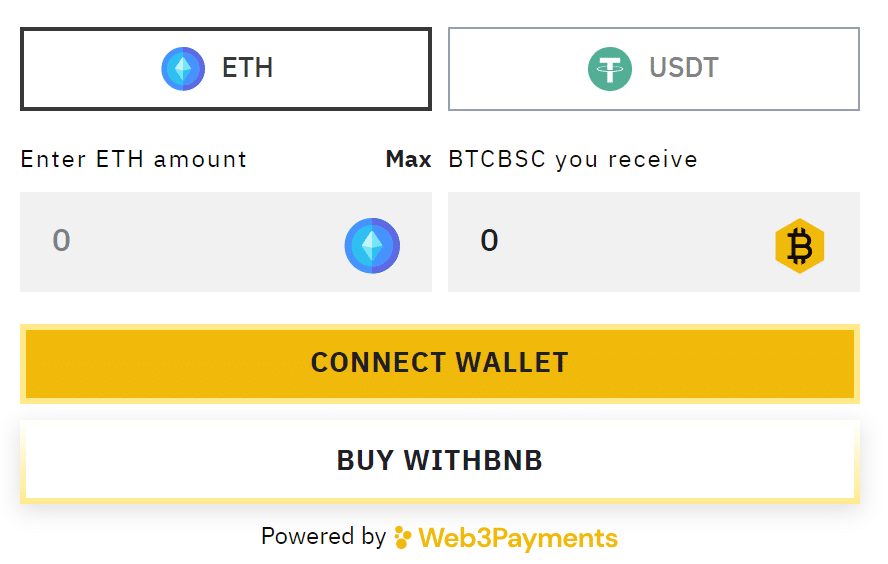 Step 4: Buy $BTCBSC
Now it's time to buy $BTCBSC. Enter the amount of BNB, ETH, or USDT to swap for $BTCBSC tokens, then click 'Buy $BTCBSC Tokens.' Authorize the transaction to complete the purchase. Note that the minimum purchase is $10 worth of BNB, ETH, or USDT.
Step 5: Claim $BTCBSC Tokens
At the end of the presale, purchased $BTCBSC tokens will be released to investors. Return to the presale site and connect the same wallet, then click 'Claim' to add the $BTCBSC tokens to the wallet.
Investors should keep an eye on Bitcoin BSC's Twitter and Telegram channels for the latest updates about when tokens will be available to claim.
What is Bitcoin BSC?
Bitcoin BSC is the latest in a series of 'Bitcoin clones' that seek to update Bitcoin for the modern crypto industry.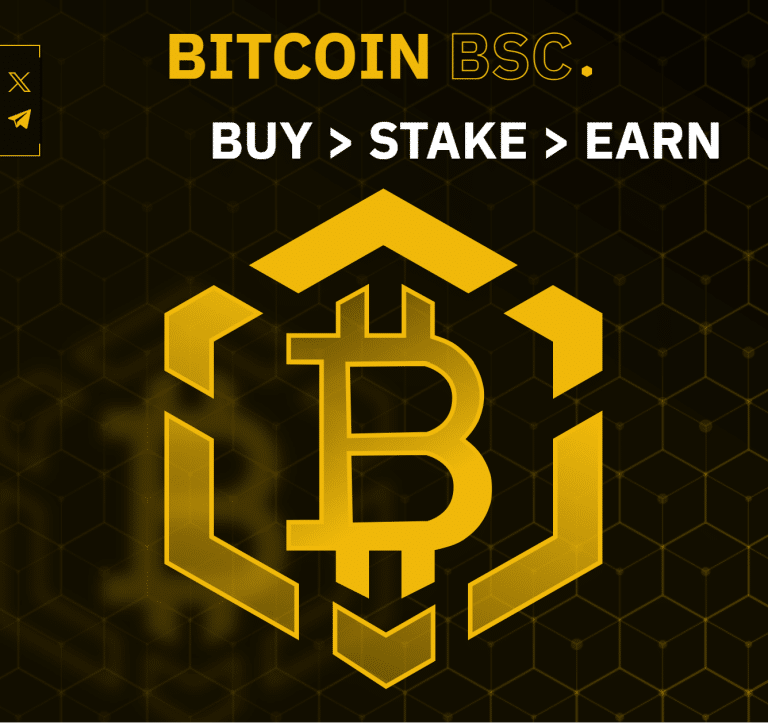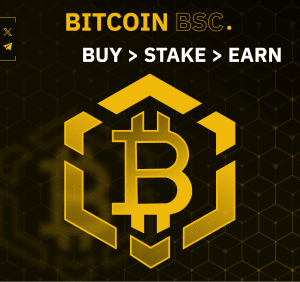 Whereas Bitcoin uses its own proof-of-work blockchain that requires mining, Bitcoin BSC is built on Binance's BNB Smart Chain (BSC). There are many parallels between Bitcoin BSC and the original Bitcoin, including the maximum token supply of each coin.
The change in blockchain enables Bitcoin BSC to deliver the same ease of transaction and security as the original Bitcoin, while offering several major benefits. These include lower transaction fees, vastly reduced electricity usage, and staking rewards for investors.
A Brief History of the Original BTC Token
Most crypto investors are probably familiar with Bitcoin's trajectory, considering that it's the largest cryptocurrency by market cap by a wide margin. However, it's worth taking a look back at Bitcoin's history to better understand the need for Bitcoin BSC and its possible future.
Bitcoin launched in January 2009 by a pseudonymous creator known as Satoshi Nakamoto. At the time, it was the first use of blockchain technology.
Bitcoin uses proof-of-work mining, which requires Bitcoin miners to solve computational problems in order to validate transactions and release block rewards. Rewards are released every 10 minutes.
Bitcoin adoption was slow in the token's early years, but it surged to nearly $20,000 per token in 2017 during the first crypto boom.
Bitcoin hit an all-time high of $68,789.63 in 2021. Today, Bitcoin's price hovers below $30,000. It remains the largest cryptocurrency, with a market cap of nearly $500 billion.
The last Bitcoin is currently expected to be mined around the year 2140.
Notably, while Bitcoin is the most popular cryptocurrency, it has faced criticism due to the energy used by Bitcoin mining operations. Some countries, including the US, have considered legislation limiting Bitcoin mining that could severely hamper Bitcoin's use in the future.
The Rise of Bitcoin BSC
Bitcoin BSC is a reimagination of Bitcoin that builds on modern crypto infrastructure and addresses several of the key shortcomings of Bitcoin. It's built on the BSC blockchain, which uses a proof-of-stake mechanism to validate transactions rather than a proof-of-work mechanism.
Bitcoin BSC is able to offer faster and cheaper transactions than Bitcoin, saving investors money every time they buy and sell tokens. It also makes Bitcoin BSC easier to use for everyday commerce, something that Bitcoin has long struggled with.
In addition, Bitcoin BSC offers staking rewards for investors. Investors who stake Bitcoin BSC can earn additional $BTCBSC every 10 minutes, following the same block reward schedule as Bitcoin mining.
Bitcoin BSC's tokenomics are designed so that rewards will be available until roughly 2140, the same time at which all Bitcoin is expected to be mined.
Bitcoin BSC has quickly attracted attention as a promising Bitcoin alternative and one of the top cryptos to watch in 2023.
| | |
| --- | --- |
| Presale Started | September 2023 |
| Purchase Methods | BNB, ETH, USDT |
| Chain | BNB Smart Chain |
| Hard Cap | $6,063,750 |
| Min Investment | $10 |
| Max Investment | None |
Bitcoin BSC Tokenomics & Presale
Bitcoin BSC is designed to match the tokenomics of Bitcoin. It has a maximum supply of 21 million tokens, the same as for Bitcoin.
Up to 6,125,000 tokens will be released during the presale at a price of $0.99, giving the project an initial market cap of $6,063,750 at launch. The presale has only a single stage.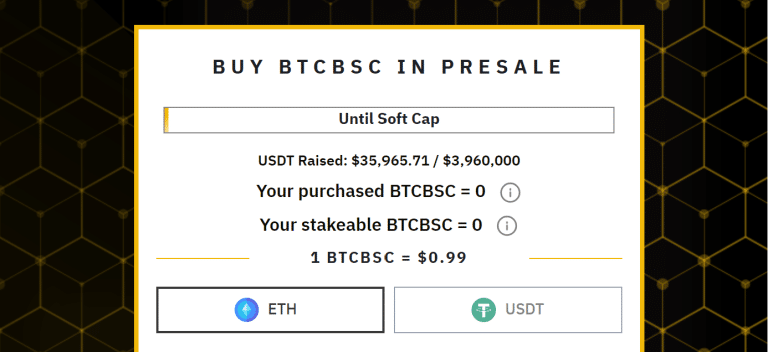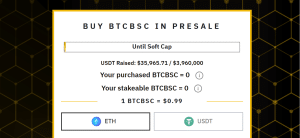 The remaining 14,455,000 tokens, nearly 69% of the total supply, are set aside for staking rewards. Staking rewards will be released to investors every 10 minutes in sync with Bitcoin's block rewards.
The amount of $BTCBSC investors receive in each reward will be proportional to the amount of $BTCBSC they have staked relative to the entire pool.
| | | | | |
| --- | --- | --- | --- | --- |
| Stage | Token Price | Percentage (Of Presale Tokens) | Number of Tokens | USD |
| 1 | $0.99 | 100% | 6,125,000 | $6,063,750 |
The Future of Bitcoin BSC: The Roadmap
Bitcoin BSC has positioned itself as one of the best long-term crypto investments and has a roadmap that lays out how it plans to reward early investors. Let's take a closer look at the roadmap.
Stage 1: Presale Starts. Bitcoin BSC's journey begins with a fair presale that's open to all investors. Presale investors can buy $BTCBSC at a price of $0.99.
Stage 2: Staking Opens. The team behind Bitcoin BSC will launch an audited smart contract to enable staking before the end of the presale, enabling presale investors to start earning passive income from their $BTCBSC right away.
Stage 3: Token Launch. At the end of the presale, $BTCBSC will launch on a BSC-based decentralized exchange and will be fully decentralized.
Stage 4: Passive Income. $BTCBSC investors can earn passive income through staking rewards. Staking rewards are expected to last until around 2140.
Why Buy Bitcoin BSC During the Presale?
Many crypto investors think that Bitcoin BSC is among the best cryptos to invest in today. Here are some of the key reasons why it makes sense to get in during the $BTCBSC presale.
Appreciation Potential: Bitcoin BSC's starting market cap is nearly 100,000 times lower than Bitcoin's market cap. Plus, other Bitcoin clones like BTC20 and BTC 2.0 recently generated gains of 7x and 538x for early investors. This is a token that has a lot of room to run after launch.
Passive Income: Bitcoin BTC's staking rewards offer the possibility of long-term passive income for Bitcoin BTC investors. Early investors can quickly amass $BTCBSC tokens, ensuring that they continuously earn a large slice of the token rewards issued every 10 minutes.
Reduced Transaction Costs: Bitcoin BSC has much lower transaction processing costs than Bitcoin or even Bitcoin clones like BTC20. That gives it a competitive advantage and encourages widespread adoption for commerce, which would help push up demand for $BTCBSC.
Lower Energy Use: Bitcoin BSC is unlikely to be impacted by any future legislation targeting Bitcoin mining. Bitcoin BSC's staking mechanism uses very little energy and is widely considered to be environmentally sustainable.
Bitcoin BSC Price Prediction – What is $BTCBSC's Potential?
Bitcoin BSC stands out as one of the most promising cryptocurrencies of 2023 thanks to its staking rewards, fast and cheap transactions, and low energy usage.
While it's still early in the token's presale, the project's future looks incredibly bright according to most Bitcoin BSC price predictions. The fact that the project sold more than $30,000 worth of $BTCBSC in its first 24 hours after launch is a very good sign that Bitcoin BSC could be the next crypto to explode.
It's difficult to predict a price for a new token like $BTCBSC, but we can look to other Bitcoin clones for guidance. $BTC20 jumped 7x within a month after launch. This token is similar to $BTCBSC in that it also offers staking rewards, but it runs on the Ethereum blockchain instead of the BNB Smart Chain. So, BTC20 is slower to process transactions and has higher transaction fees.
Based on this, we predict that $BTCBSC could outperform $BTC20. Investors could potentially see a 10x gain from this new token after it launches, pushing the $BTCBSC market cap over $60 million.
Conclusion
Bitcoin BSC is a promising new cryptocurrency that brings the best aspects of Bitcoin onto the BNB Smart Chain. In the process, Bitcoin BSC offers lower transaction fees, reduced energy use, and staking rewards for investors.
During the Bitcoin BSC presale, investors can buy $BTCBSC for just $0.99, a price Bitcoin last saw in 2011. The presale is off to an exciting start and is expected to sell out quickly, so investors won't want to wait to get their hands on Bitcoin BSC.
References
https://www.coindesk.com/markets/2017/12/29/from-900-to-20000-bitcoins-historic-2017-price-run-revisited/
https://coinmarketcap.com/currencies/bitcoin/
https://www.coindesk.com/learn/what-happens-when-all-bitcoin-are-mined/
https://blockworks.co/news/us-crypto-mining-regulation-states
https://www.brookings.edu/articles/the-brutal-truth-about-bitcoin/
FAQs
What is the market cap of BTCBSC?