As cryptocurrencies gain popularity, many people are looking for ways to buy Bitcoin, the most popular digital currency. PayPal, a popular online payment network, is a straightforward way to purchase Bitcoin.
This article will walk you through the process of buying Bitcoin with PayPal, providing step-by-step instructions to help you complete the transaction smoothly. We also explore some of the key metrics in terms of low fees, safety, and processing times.
Why Buy Bitcoin with PayPal?
To begin this guide on how to buy Bitcoin with PayPal, let's explore some of the reasons why this payment method is popular with crypto investors.
High Security
PayPal facilitates one of the safest ways to buy Bitcoin online. This is because investors are not required to type in credit card details into their chosen crypto exchange.
Instead, investors simply need to sign into their PayPal account. Account logins are processed via an encrypted pop-up box. This means that crypto exchanges cannot see the email address or password used to log in.
Once logged in, the investor's payment details will already be linked to their PayPal account. As such, the investor can complete their Bitcoin purchase without needing to expose their sensitive financial information.
Buyer Protection
Another safety net when exploring how to buy Bitcoin with PayPal is the Buyer Protection Scheme.
This will come in handy if the investor has issues with the crypto exchange. For example, if the exchange charges higher fees than was originally quoted. Or, if the buyer doesn't receive the Bitcoin in their wallet.

Either way, the PayPal Buyer Protection Scheme can help investors recover their funds.
Here's how it works:
Let's say an investor buys $1,000 worth of Bitcoin with PayPal via a crypto exchange
The investor doesn't receive the correct amount of Bitcoin, and the exchange won't provide further assistance
Within 60 days of making the payment, the buyer raises a claim with PayPal
PayPal will then investigate the transaction and ask the buyer for supporting documentation
In the meantime, PayPal will freeze the funds from the exchange's e-wallet account
If PayPal determines that the dispute is valid, they will deduct the funds from the exchange and return the money to the buyer.
This offers peace of mind to investors who might be wary of buying Bitcoin online.
Fast Deposits
Another benefit of using PayPal to buy Bitcoin is the speed of the purchase. Just like debit/credit cards, PayPal transactions are processed instantly.
Is KYC Required if I Already Have a Verified PayPal Account?
The simple answer is yes – the KYC process is a legal requirement for crypto exchanges processing fiat money payments.
This is the case even if the user has a verified PayPal account.
Fortunately, many crypto exchanges have an automated KYC procedure in place.
This means that uploaded documents can be verified near-instantly.
This means as soon as the deposit is approved, the funds will be credited to the buyer's exchange account. In contrast, bank account payments can take several days to arrive.
Speedy Withdrawals
Just like deposits, PayPal offers one of the fastest ways to withdraw funds from a crypto exchange.
For instance, once the crypto exchange approves the withdrawal, the funds will leave their PayPal account instantly. Within seconds, the funds will arrive in the buyer's PayPal account. This is because PayPal does not need to use third parties to process the transaction.
This isn't the case with debit/credit cards or bank account withdrawals.
For instance, it's likely that at least two financial institutions are involved when withdrawing funds from an exchange and into a bank account. The transaction will also need to go through a domestic or international payment network, such as ACH or SWIFT. This can delay the process by several days.
How Long Does it Take to Withdraw Funds From PayPal to a Bank Account?
PayPal notes that standard withdrawals usually take 1 business day to reach US bank accounts
However, the process can take up to 5 business days.
US clients can expedite the process by selecting an Instant Transfer
However, Instant Transfers are charged 1.75% of the withdrawal amount
Low Fees Are Available
PayPal often falls within the same bracket as debit/credit cards when depositing funds into a crypto exchange. By this, we mean that fees are high to counter the added risks of a chargeback.
For example, Coinbase charges nearly 4% on PayPal deposits. While on Crypto.com, PayPal deposit fees amount to 2.1%.
The good news is that the regulated exchange eToro offers FREE PayPal deposits and withdrawals. The only condition is that the PayPal transfer should be made in US dollars. If another currency is used, eToro will levy a small FX fee of 0.5% on the transaction.
How to Buy Bitcoin with PayPal – Quick Steps
Before proceeding with our comprehensive guide, we'll quickly explain how to buy Bitcoin with PayPal instantly in 2023. We'll use eToro for this mini-tutorial, considering PayPal fees start from 0%.
Step 1: Open an Account With eToro – Head over to the eToro website and register an account. Choose a username and password, and enter some personal information when prompted.
Step 2: Complete the KYC Process – A quick KYC process is required before PayPal can be used. Simply upload a government-issued ID and a recently issued proof of address document. KYC at eToro is automated, so should only take a couple of minutes.
Step 3: Deposit Funds via PayPal – Click on the 'Deposit Funds'; button and type in the amount of money to add to the account ($10 minimum). Then, select PayPal from the list of deposit options. Click on 'Deposit' to confirm.
Step 4: Log in to PayPal – The investor will then be redirected to the PayPal website. Type in the email address and password for the PayPal account. Then, check the details of the deposit and confirm. The user will then be redirected back to eToro, and the funds should show in the account balance.
Step 5: Buy Bitcoin – Finally, search for 'Bitcoin' and click on 'Trade'. Type in the investment amount, from $10. Click on 'Open Trade' to confirm the Bitcoin purchase.
Read on for a more in-depth guide on how to buy BTC with PayPal instantly.
Note: Check out other popular methods to buy Bitcoin, such as:
Where to Buy Bitcoin with PayPal
Still searching for the best site to buy Bitcoin with PayPal? Some of the key metrics to look for include fees, minimum deposits, processing times, and trading commissions.
Below, we review the best crypto exchanges to buy Bitcoin online with PayPal in 2023.
1. eToro – Overall Best Place to Buy Bitcoin With PayPal in 2023, Offers Copy Trading & Low Trading Fees
In terms of fees, safety, and user-friendliness – eToro ranks as the overall best place to buy Bitcoin with PayPal. We found that it takes just five minutes to open an eToro account and complete the KYC process. After that, investors can instantly deposit funds with PayPal. eToro requires a minimum deposit of just $10 for investors in the US and the UK. The minimum is increased to $50 for investors in other countries.
In terms of fees, eToro offers FREE PayPal deposits that are made in US dollars. If another currency is being used – such as British pounds or euros, an FX fee is charged. This is just 0.5% of the deposit amount. We also found that PayPal deposits on eToro are processed instantly. Users simply need to enter their login details via an encrypted PayPal box and confirm the payment.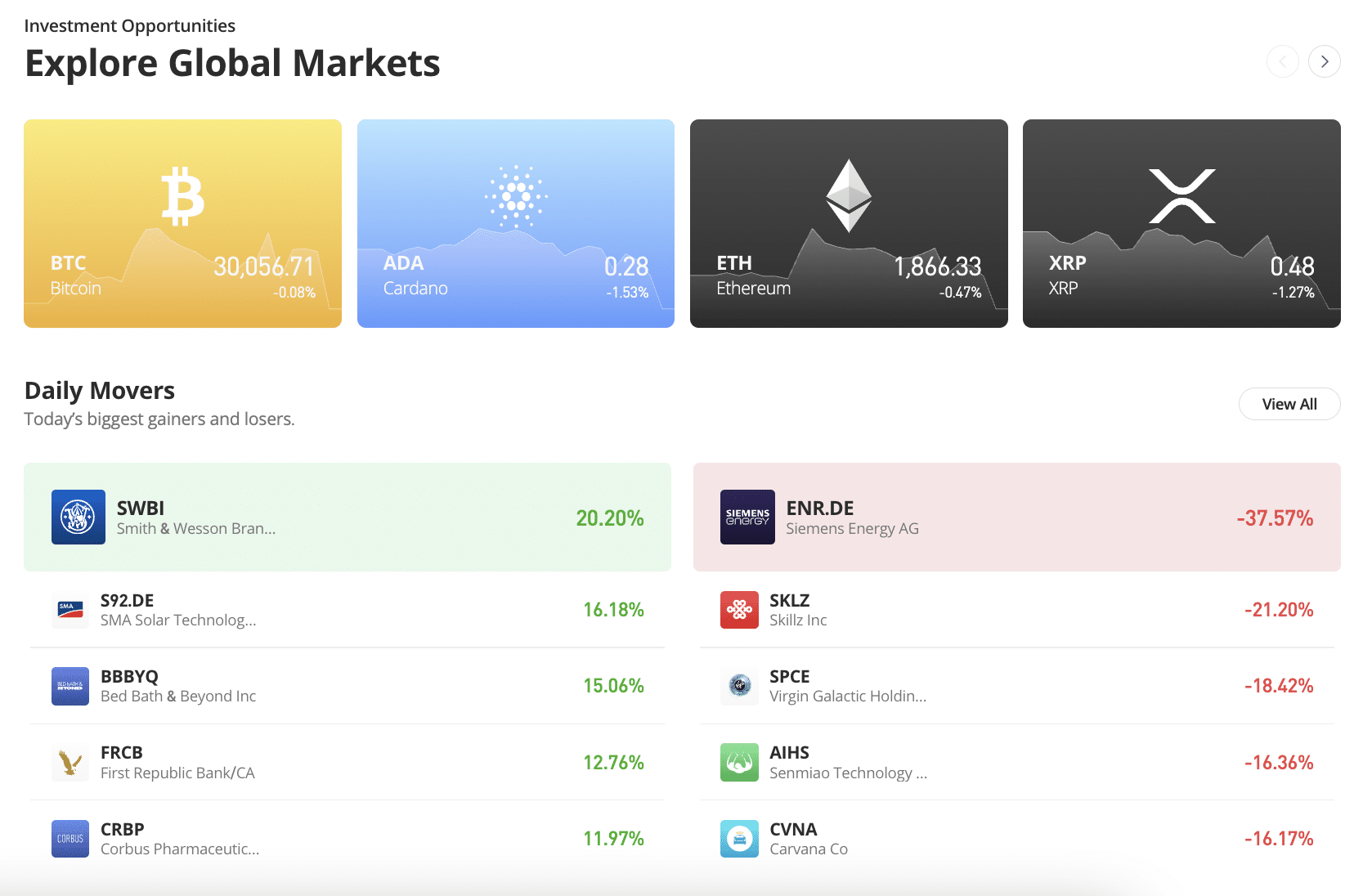 To complete the process, investors can use their eToro balance to buy Bitcoin. The minimum trade size is just $10. eToro charges 1% per slide when buying and selling Bitcoin. This is also the case for other supported cryptocurrencies. For example, eToro lists some of the best altcoins, such as Litecoin, BNB, and XRP. It also supports some of the best ERC20 tokens, including Uniswap, SushiSwap, Shiba Inu, and Decentraland.
This enables eToro users to create a diversified portfolio on a budget. Alternatively, beginners might consider investing in an eToro smart portfolio. Each portfolio is professionally managed and tracks a basket of the best crypto to buy today. The minimum investment is $500, and no additional fees apply. Passive investors also like the eToro copy trading feature.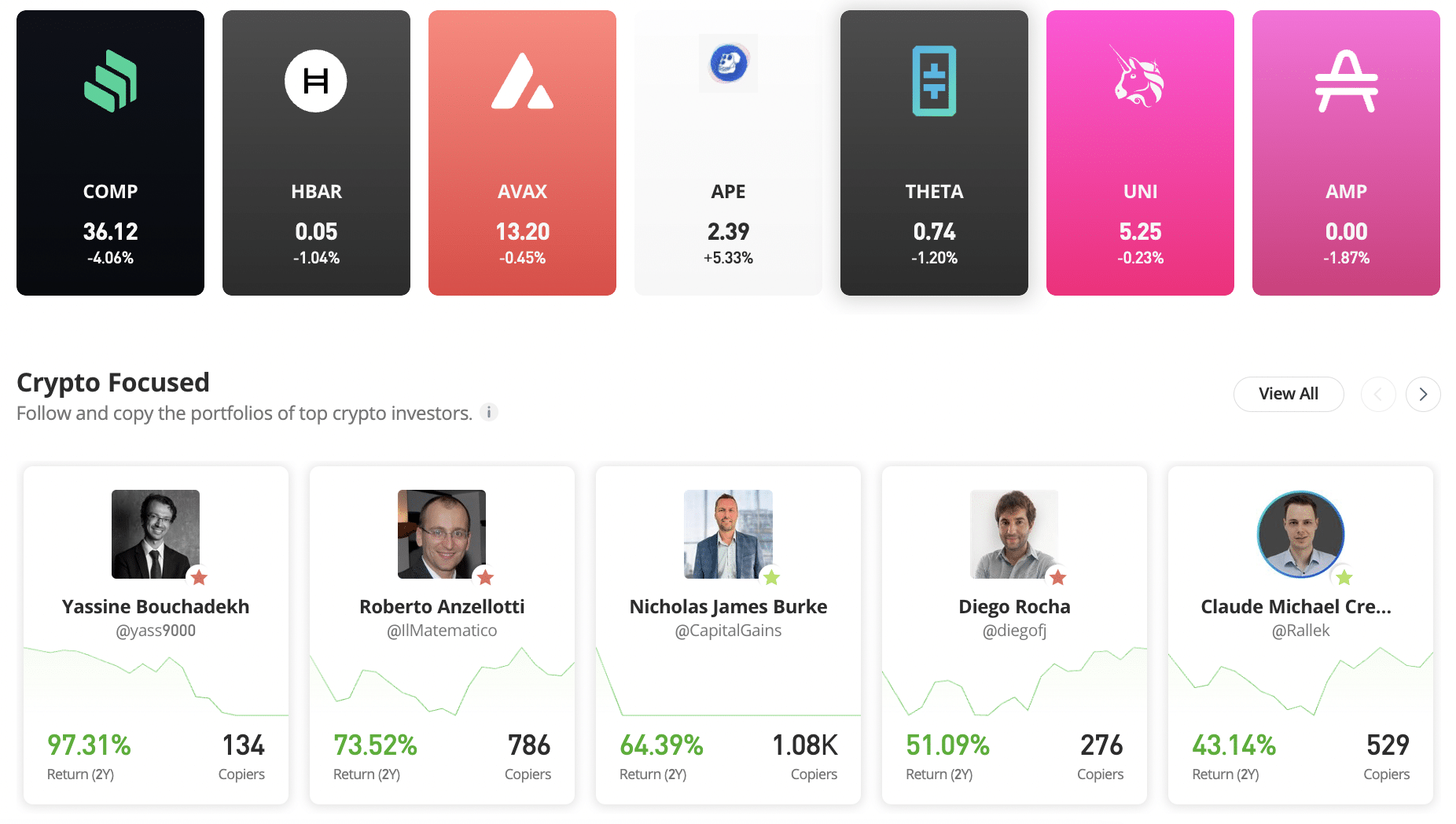 This allows investors to automatically mirror the positions of a successful cryptocurrency trader. The minimum copy trading investment is $200. We should also mention that eToro offers one of the best crypto wallets for beginners. Available as a web wallet or mobile app, this offers custodial storage. Meaning – eToro ensures that client cryptocurrencies remain safe at all times.
Moreover, eToro wallets are protected by two-factor authentication. Investors also have the added protection of using a regulated provider. eToro holds licenses with multiple bodies, including ASIC, CySEC, FINRA, FCA, and GFSC. eToro has been operational since 2007 and is used by over 30 million investors. Finally, eToro offers customer support on a 24/5 basis via live chat.
Pros
Overall best place to buy Bitcoin with PayPal
PayPal payments are fee-free for US clients (0.5% for other nationalities)
PayPal deposits are processed instantly
Minimum PayPal deposit of just $10
Buy Bitcoin and 90+ other cryptocurrencies
Established provider with regulatory licenses in five countries
Smart portfolio and copy trading tools support passive investing
Cons
Trading commission of 1% is higher than other crypto exchanges
Cryptoassets are highly volatile and unregulated in most countries. No consumer protection. Tax on profits may apply. Your capital is at risk.
2. Crypto.com – Instantly Deposit Funds With PayPal at a Fee of 2.1%
Crypto.com is also one of the best places to buy Bitcoin with PayPal. Before getting started, users will need to open a Crypto.com account and download the app for iOS or Android. This is because PayPal payments are only supported by the app and not the main desktop exchange. After completing a quick KYC process, PayPal deposits can be made instantly.
The process is fast and safe, although fees are higher than eToro at 2.1%. This works out at $21 for every $1,000 deposited. Once the deposit lands in the Crypto.com account, users can proceed to buy Bitcoin. Crypto.com charges trading commissions of just 0.075%. We found this to be one of the lowest in the market. After completing the Bitcoin purchase, users have several options.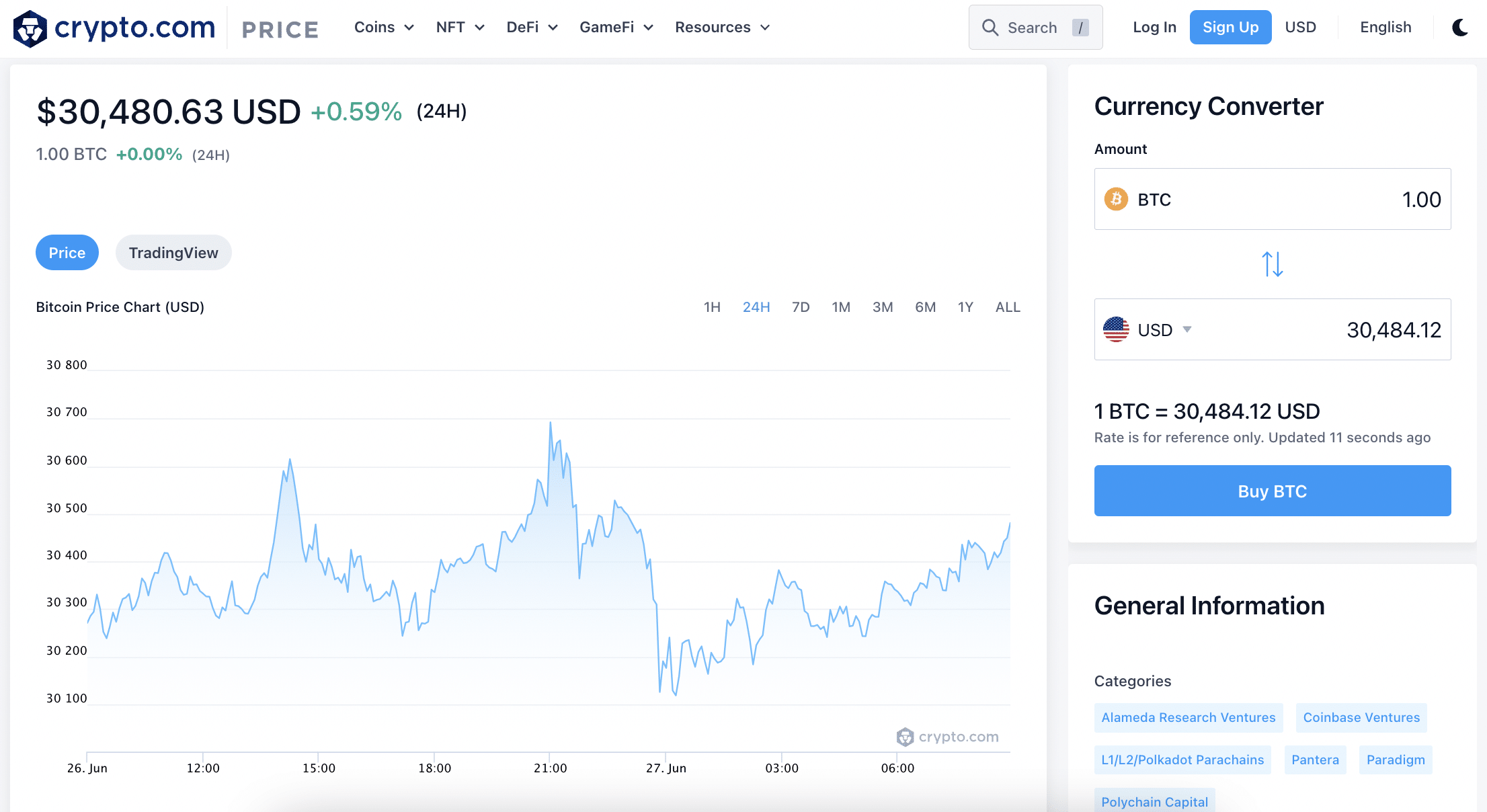 For example, some investors leave their BTC tokens in their main Crypto.com wallet. Those who prefer non-custodial wallets can download the Crypto.com DeFi app. This gives users full control of their private keys. Alternatively, some investors will deposit the BTC tokens into a Crypto.com savings account. While this yields passive income, yields are currently limited to 1.5% annually.
Pros
Instantly buy Bitcoin with PayPal after completing the KYC process
Pay just 0.075% in commission to buy Bitcoin after making a deposit
Also supports 250+ other cryptocurrencies
Choose from a custodial or non-custodial wallet app
Cons
PayPal deposit fees of 2.1% are higher than other exchanges
PayPal payments can only be made via the app
3. Coinbase – Beginner-Friendly Crypto Exchange Supporting PayPal Payments
Coinbase is another popular crypto exchange supporting PayPal payments. While we like Coinbase for its user-friendly dashboard, regulated status, and solid security controls – it's one of the most expensive options in the market. This is because buying Bitcoin with PayPal costs 3.99%. This is the same rate as using a debit/credit card.
Moreover, selling Bitcoin back to US dollars will cost 1.49%. All that being said, Coinbase offers a safe and trusted way to buy Bitcoin with PayPal. For example, Coinbase is regulated in the US and is now listed on the NASDAQ exchange. Coinbase also offers institutional-grade security tools, such as IP and device whitelisting – not to mention two-factor authentication.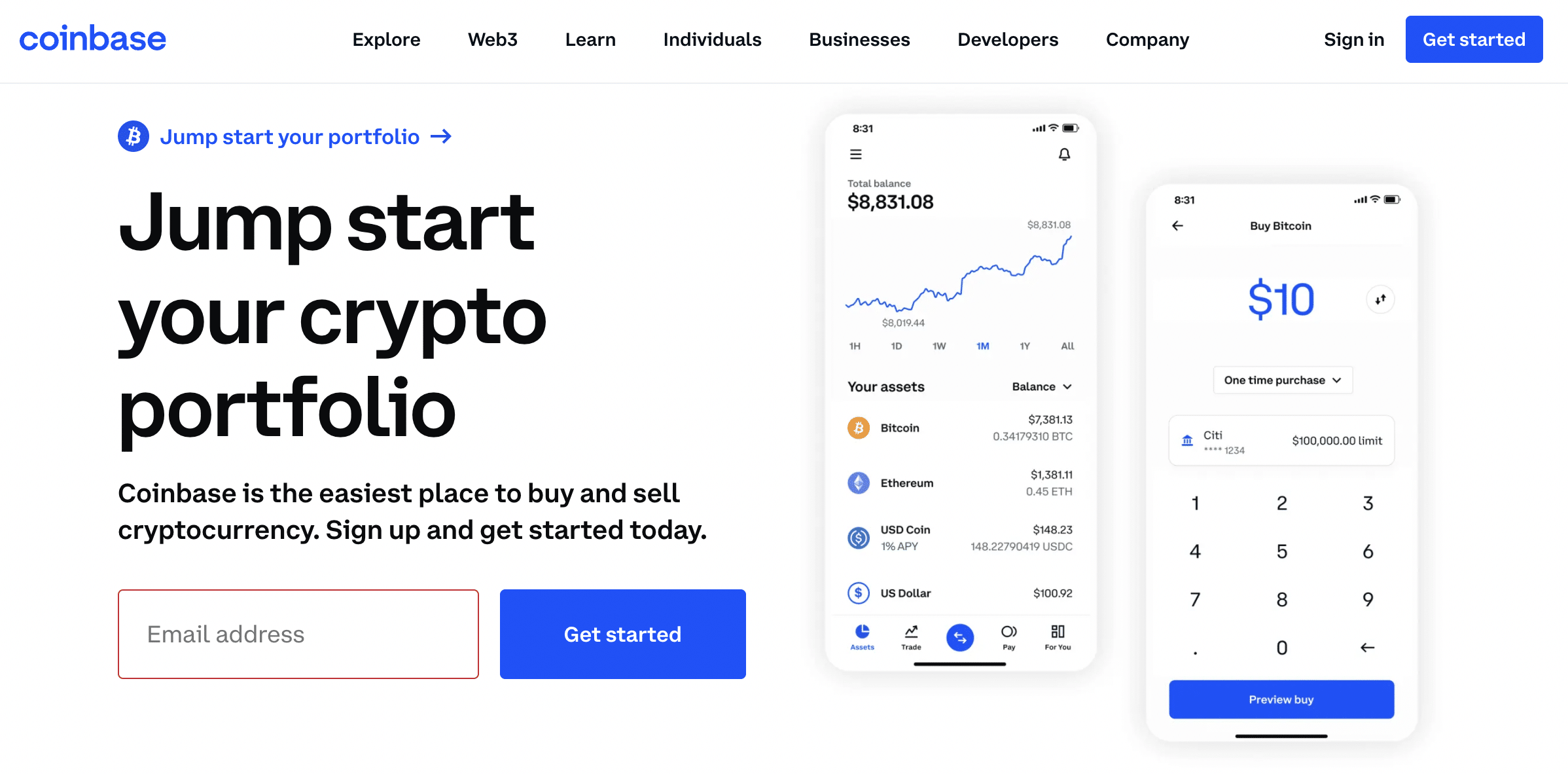 Moreover, Coinbase makes the Bitcoin investment process frictionless. It rarely takes more than 10 minutes to buy Bitcoin with PayPal. This includes the KYC process, as documents are verified instantly. Coinbase is also suitable for building a diversified portfolio. It supports over 100 cryptocurrencies, covering popular altcoins like Ethereum, Litecoin, Uniswap, and Dogecoin.
Pros
Buy Bitcoin with PayPal in under 10 minutes
Regulated exchange that was launched in 2012
Strong commitment to security and safety
Perfect for beginners buying Bitcoin for the first time
Cons
PayPal fees cost 3.99%
Trading commissions are charged at 1.49%
4. Bitstamp – Established Bitcoin Exchange With 0% Commission on the First $1,000 Traded
Next up is Bitstamp – one of the most established Bitcoin exchanges in the market. Launched in 2011, Bitstamp supports dozens of cryptocurrencies. This includes Bitcoin, Ethereum, Dogecoin, Solana, and Litecoin. The fee structure at Bitstamp varies widely depending on the payment method used. For example, while ACH transfers are free of charge, PayPal deposits cost 4%. This is also the case with debit/credit cards.
That being said, Bitstamp makes up for this with highly competitive trading commissions. For example, there are no commissions to pay when trading under $1,000 per month. This brings the overall cost down considerably, especially for those trading small amounts. Do note, however, that a 0.4% commission will kick in when exceeding monthly volumes of $1,000.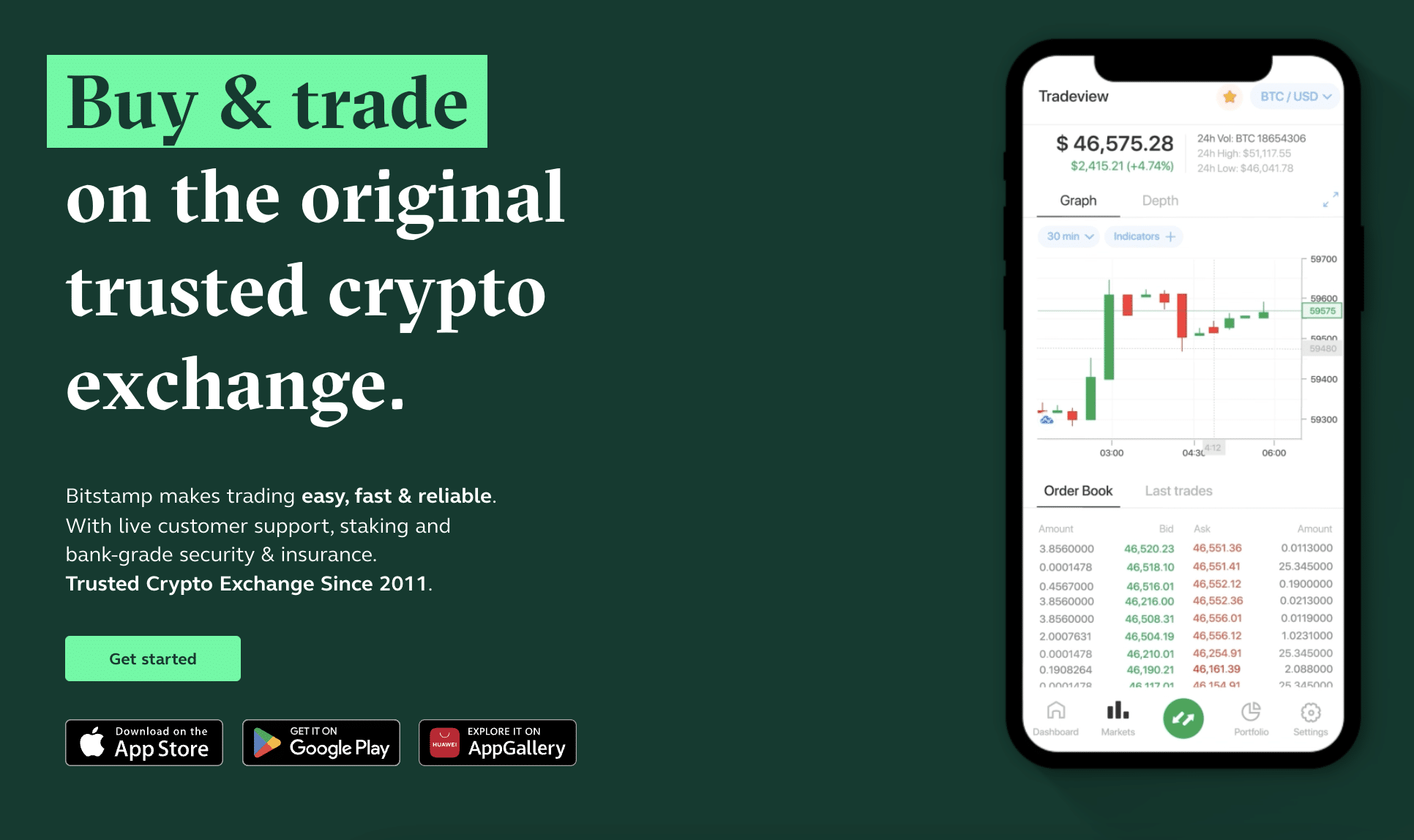 Nevertheless, We like that Bitstamp is available on standard desktop browsers and as a native mobile app. The latter is available on iOS and Android. Moreover, Bitstamp keeps 95% of client-owned digital assets in cold storage wallets. We also like that users can whitelist their devices. Bitstamp also offers a 'Pro' platform for seasoned traders seeking advanced trading tools.
Pros
Supports PayPal deposits – as well as debit/credit cards
Established in 2011
No trading fees on monthly volumes under $1,000
95% of client-owned digital assets are kept in cold storage
Cons
Is PayPal a Good Place to Buy Bitcoin?
So far, we have discussed how to buy Bitcoin with a PayPal balance on leading crypto exchanges. That said, PayPal also allows verified users to buy Bitcoin directly on its website.
In this section, we explain why electing to buy Bitcoin via PayPal isn't the best option.
High Trading Commissions
The main issue with buying Bitcoin directly on PayPal is its high fees. The e-wallet provider charges fees based on the amount purchased.
The lowest fee available is 1.50% per slide. This requires a minimum purchase of $1,000. For trades between $200 and $1,000, the fee is increased to 1.8%.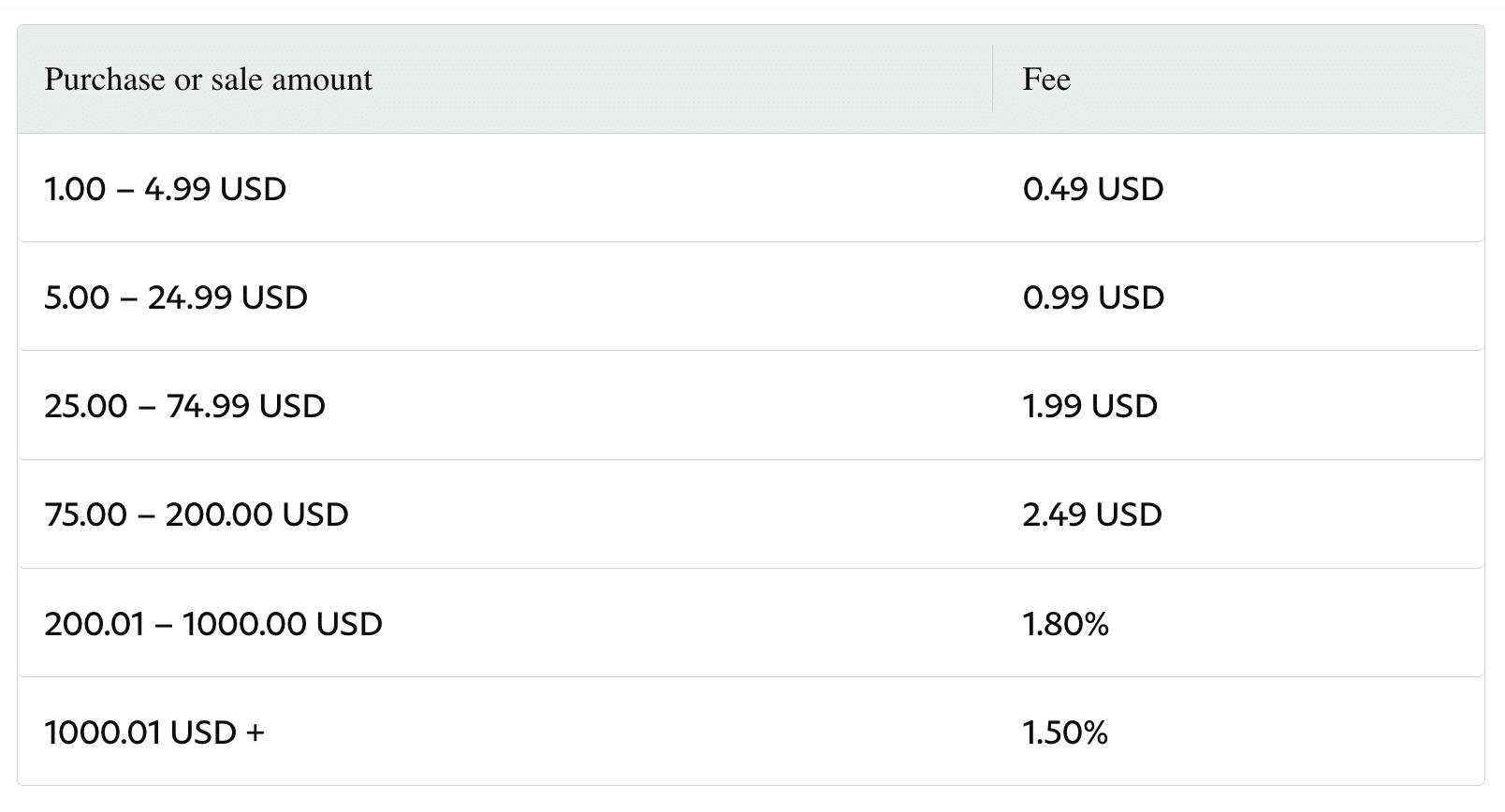 Any Bitcoin purchases below $200 attract a flat fee. This works out at a higher percentage commission.
For example, buying $25 worth of Bitcoin will cost $1.99. While this might not sound like a lot, this works out at a commission of almost 8%. Similarly, buying $5 worth of Bitcoin costs $0.99. That's a commission of nearly 20%.
Now let's compare this to some of the crypto exchanges we reviewed earlier.
Irrespective of the amount being purchased, eToro charges a commission of 1%. So, when buying $100 worth of Bitcoin, investors pay $1 in fees. The same Bitcoin trade on PayPal would cost a flat fee of $2.49.
Hidden Spreads
Another issue with the pricing structure on PayPal is the spread. This is the difference between the bid and ask prices of Bitcoin.
Now, to find out what spreads are charged, PayPal redirects users to its terms and conditions.
Deep within the PayPal terms and conditions, it states that it "may include an estimated spread of one-half of one percent (0.5%)"
It then goes on to state that the spread can be higher or lower than this figure.
However, it will not "disclose the spread we earn on each transaction".
As such, we found that PayPal is not transparent enough for our liking. Crucially, investors will not know what spreads they are paying when buying and selling Bitcoin.
US Customers Only
Another drawback is that PayPal only allows people from the US to buy Bitcoin on its website. This means that all other nationalities will need to look elsewhere.
That said, US clients will get a better deal elsewhere. For example, eToro allows US clients to deposit funds with PayPal without paying a single cent in fees. What's more, withdrawals to PayPal are also fee-free.
What Cryptocurrencies Does PayPal Support?
PayPal supports four cryptocurrencies. This includes Bitcoin, Ethereum, Litecoin, and Bitcoin Cash. Investors seeking a more diversified portfolio will need to consider a crypto exchange, such as eToro, Binance, or Coinbase.
Withdrawal Minimums
Also hidden deep within the PayPal terms and conditions is the minimum amount of Bitcoin that can be transferred to another wallet.
This stands at just 0.001 BTC, or about $30 based on current Bitcoin prices. As such, if an investor buys less than 0.001 BTC, they won't be able to withdraw the tokens to a private wallet.
Buying Bitcoin On PayPal vs Buying Bitcoin Using PayPal on Crypto Exchanges
Now that we have discussed the drawbacks of buying Bitcoin on PayPal, let's explore the benefits of using a crypto exchange instead.
Trading Tools
Crypto exchanges offer significantly more trading tools than PayPal. At a minimum, this will include live pricing charts.
In most cases, crypto exchanges offer analysis tools, such as technical indicators. This enables investors to make informed decisions before buying or selling Bitcoin.
Passive Investment Features
PayPal only allows users to buy, store, and sell Bitcoin. When using a crypto exchange like eToro, investors can access passive trading tools.
For example, eToro smart portfolios allow investors to diversify across more than a dozen cryptocurrencies. Only one trade is required, and smart portfolios are managed on behalf of investors.
The eToro copy trading feature is also popular. This enables users to 'copy' an experienced trader like-for-like. For example, if the investor buys Bitcoin and XRP, the same trade is replicated in the user's eToro portfolio.
Much Wider Range of Cryptocurrencies
PayPal offers access to just four cryptocurrencies; Bitcoin, Ethereum, Litecoin, and Bitcoin Cash. This won't appeal to investors that exposure to a much wider range of projects.

In contrast, eToro supports over 90 cryptocurrencies, including Shiba Inu, Dogecoin, Cardano, and Solana. Crypto.com and Binance go one step further, with over 250 and 350 supported cryptocurrencies, respectively.
Leveraged Products
While only suitable for experienced traders, many crypto exchanges offer access to leveraged products.
For example, Binance supports leveraged futures and options markets. While eToro offers crypto CFDs, with leverage of up to 1:2 available for eligible clients.
PayPal only offers basic spot trading services without margin or leverage.
How to Buy Bitcoin with PayPal on eToro – Tutorial
We will now explain how to buy Bitcoin with PayPal in 2023.
The step-by-step guide shows the process with eToro, which offers 0% fees on PayPal deposits made in US dollars.
Step 1: Open an eToro Account
First, open an account by visiting the eToro website and clicking on 'Sign Up'.
Complete the registration form that appears by entering an email address and choosing a username and password.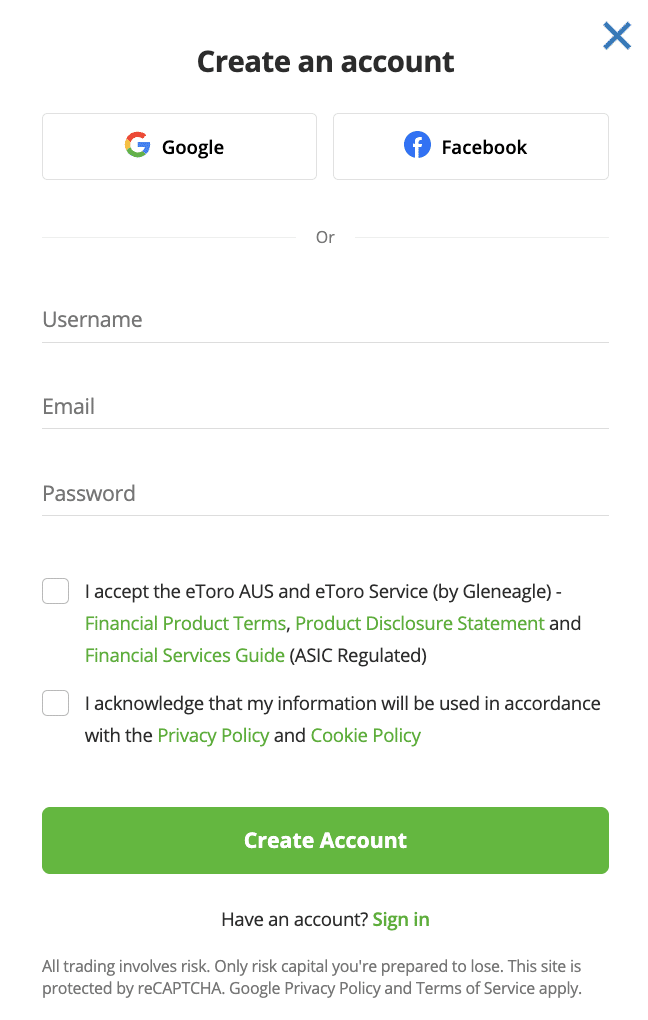 After clicking on 'Create Account', eToro will collect some personal details. It shouldn't take more than a couple of minutes to complete the registration process.
Step 2: Get Verified
eToro is a regulated crypto exchange that complies with anti-money laundering regulations. This means a KYC process is required.
When prompted, upload a copy of a government-issued ID. Most people opt for a passport or driver's license, but other forms of ID also are accepted.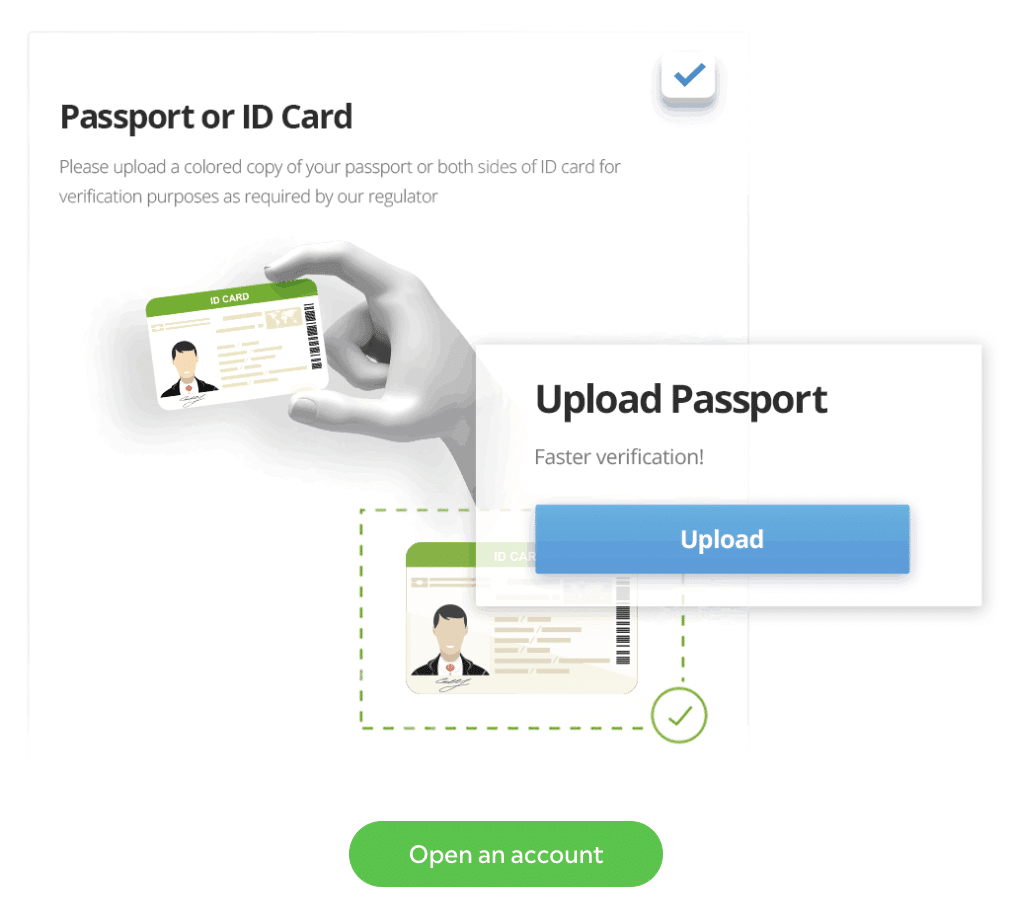 eToro users also need to verify their home address. The document must have been issued within the prior three months. Examples include electricity/water bills and credit card/bank statements.
Step 3: Deposit Funds With PayPal
Click on the 'Deposit Funds' button and choose the preferred currency. Type in the deposit amount and choose 'PayPal'
Then, enter the email address that is associated with the PayPal account and click 'Continue'. The user will then be redirected to the PayPal website.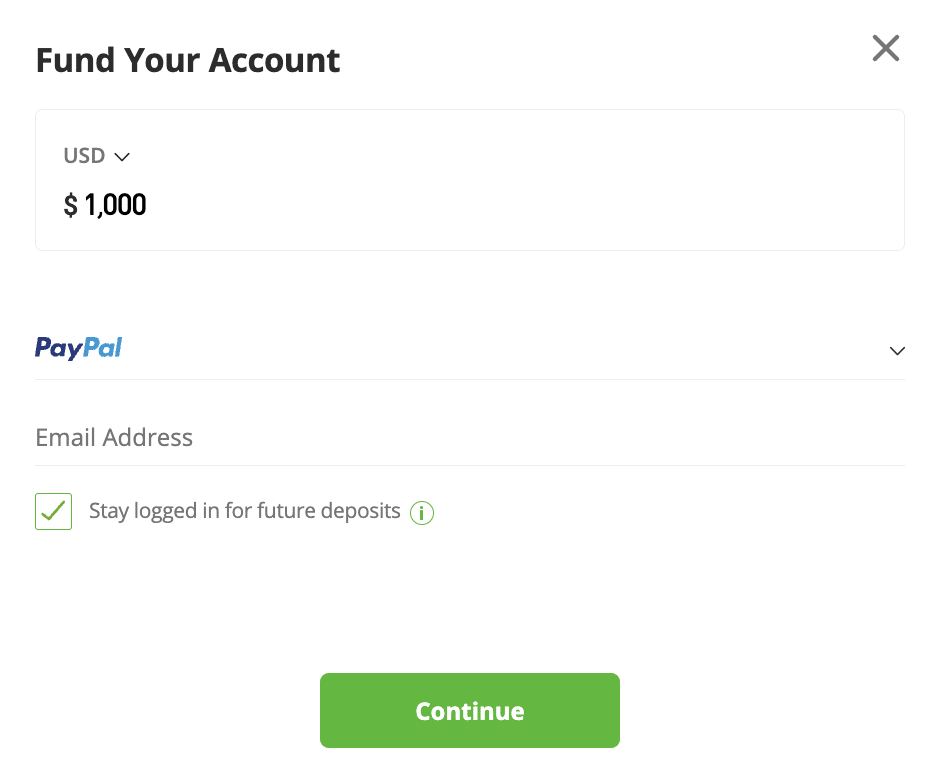 Log into the PayPal account and check the deposit information. If everything looks correct, confirm the deposit.
The user will then be taken back to the eToro website. The PayPal deposit should reflect in the account balance instantly.
Step 4: Search for Bitcoin
Next, type 'Bitcoin' into the search box.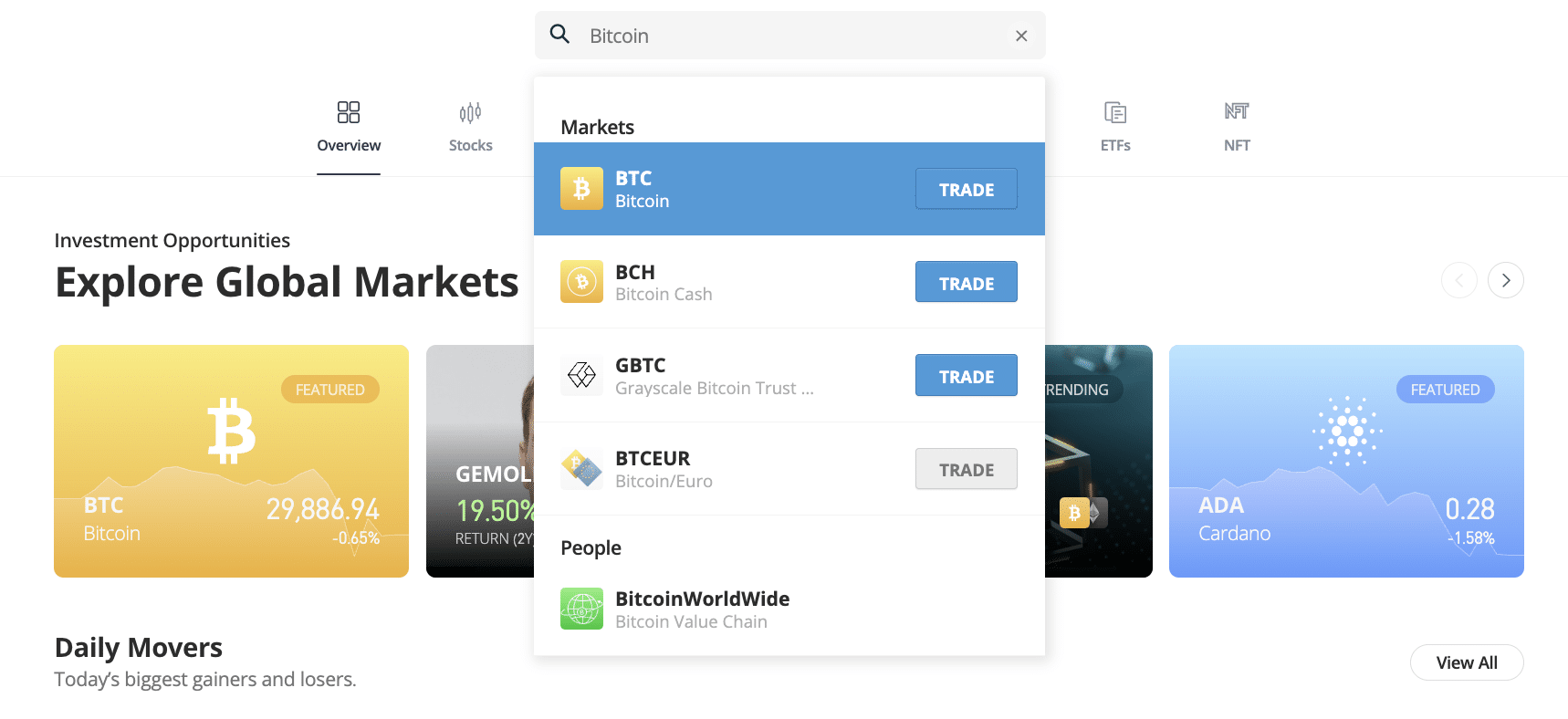 Click on the 'Trade' button next to the 'Bitcoin'.
Step 5: Buy Bitcoin
Finally, the investor will need to fill out an order.
All this requires is the amount of money to invest in Bitcoin.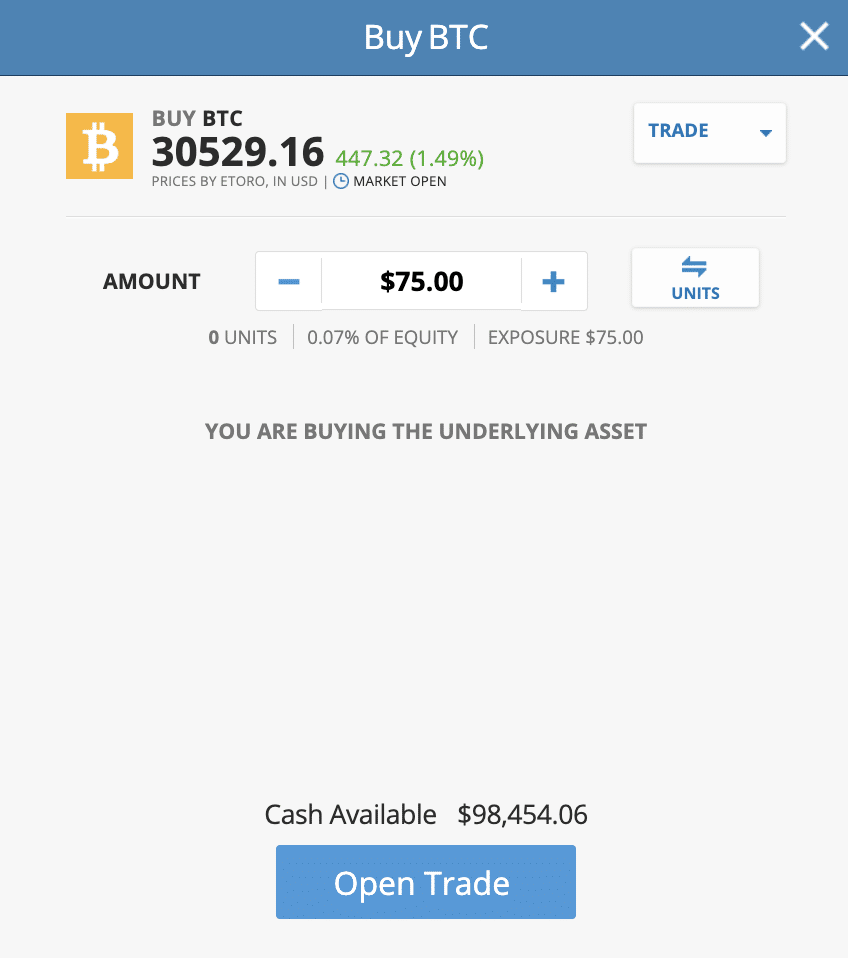 To proceed, click on the 'Open Trde' button. And that's all it takes – the Bitcoin investment is complete, and the BTC tokens will now be found in the eToro portfolio.
Bitcoin BSC – BTC Replica on the BNB Smart Chain Could Offer Better Upside, $1.5M Raised in Just 8 Days
While Bitcoin is the most successful crypto of all time, some could argue that it might no longer be able to generate the 10x or 100x gains that people are looking for.
This is where BTC clones come in, which are essentially Bitcoin-themed tokens on a different blockchain, but with similar or identical tokenomics.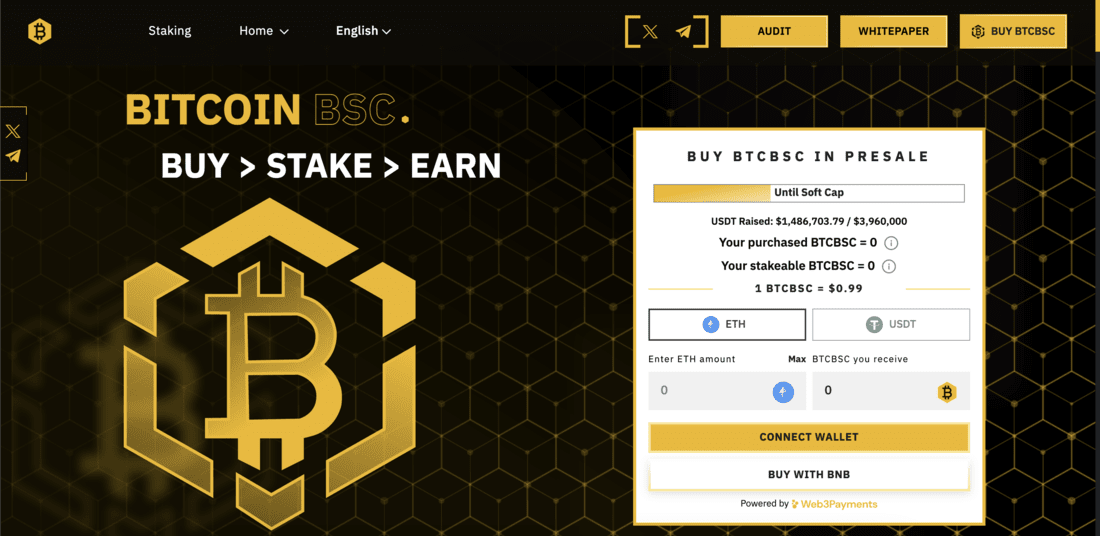 Bitcoin BSC ($BTCBSC) is one such replica and has already raised $1.5M in just 8 days, a remarkably short span of time. The cost per token is $0.99 and there are 6.125M available in the presale, which is similar to BTC tokenomics in 2011.
But the benefits extend far beyond a Bitcoin theme. This token is currently offering estimated APY rewards of 370%, a major incentive for investment and something that legacy BTC is not capable of providing.
Built on the enhanced BNB Smart Chain, it also offers lower carbon emissions, reduced fees, and faster transaction finalization.

In other words, it is superior to Bitcoin's PoW mining system in almost every respect, and rewards are given to all project participants instead of a small group of miners, who use Application Specific Integrated Circuits (ASICs) which are very damaging to the environment.
This is a token that could be said to have more upside potential than Bitcoin, which is unlikely to generate 100x or even 10x ever again.
But Bitcoin BSC could hit this mark – another Bitcoin clone, BTC20, enjoyed 600% gains after its successful $6M presale. Just keep in mind that Bitcoin BSC is not Bitcoin and will follow its own unique price trajectory.
This BEP20 token is not available through PayPal. However, it is available for purchase with a Credit Card, or with an accepted crypto (ETH, BNB, or USDT).
More data can be obtained from the Whitepaper, as well as the Twitter and Telegram accounts.
| | |
| --- | --- |
| Hard Cap | $6,063,750 |
| Total Tokens | 21 Million |
| Tokens available in presale | 6.125 Million |
| Blockchain | BNB Smart Chain |
| Token type | BEP20 |
| Minimum Purchase | $10 |
| Purchase with | USDT, ETH, BNB, Credit Card |
Conclusion
When using the right crypto exchange, buying Bitcoin with PayPal is fast and cost-effective. At eToro – a regulated and user-friendly exchange, users can deposit $10 or more via their PayPal balance.
What's more, USD payments are not charged any fees. It takes just five minutes to register an eToro account and buy Bitcoin with PayPal.
Cryptoassets are highly volatile and unregulated in most countries. No consumer protection. Tax on profits may apply. Your capital is at risk.
References
FAQs
Can I buy Bitcoin with Paypal?
Can I use PayPal to buy Bitcoin?
What crypto wallets accept PayPal?
How to buy Bitcoin with PayPal on Coinbase?
How to buy Bitcoin with PayPal credit?
Can I transfer Bitcoin to PayPal?
Can I Buy Bitcoin with PayPal anonymously?