Cardano has been in the top ten list on CoinMarketCap since 2018. In that time, some big names, Stellar, DASH, Litecoin, and IOTA, have dropped out, and others, EOS and Bitcoin Cash, have come and gone. This leaves many wondering what sustains Cardano and how to buy it and get a piece of the action of one of the most stable cryptocurrencies.
Here, we'll cover how to buy Cardano, the best and cheapest exchanges on the market, along with what use cases ADA has in store.
How to Buy Cardano in 5 Simple Steps
If you're looking to invest in ADA you can do so in just 5–10 minutes by following these 5 simple steps.
Step 1. Chose a Exchange or Platform – We Recommend eToro – The first step involves selecting a trusted crypto exchange or broker. We've picked eToro as the overall best platform to buy ADA in 2023 as it's fully regulated, offers low trading and non-trading fees, and even provides access to a native hot wallet.
Step 2. Verify Your Identity – The first step involves Once you've signed up to eToro, you will be asked to verify your identity, by providing a government issued ID and proof of address before you can invest in ADA. Exchanges must be licensed to operate in each jurisdiction. Later on we'll touch on the legality of buying Cardano in your country or region.
Step 3. Decide How Much You Want to Buy – All investments are inherently risky as assets can lose their value, so never invest more than you can lose. For eToro, the minimum deposit is $10 in the USA and $50 or more in other countries around the world, and the minimum trade size is just $10.
Step 4. Deposit Funds – Once you know how much you want to invest, head over to the deposit page of eToro. eToro is a USD-based exchange and deposits made in other currencies are charged a conversion fee. There are multiple ways to fund an account on eToro, including bank transfers, debit and credit cards, and PayPal. Some service providers or banks may charge you for, or put limits on, sending money to exchanges.
Step 5. Buy ADA – With your account funded and your investment limits set, you're ready to invest in Cardano! Search for Cardano or ADA in the search bar at the top of your eToro dashboard, select Buy, enter the amount of Cardano you'd like to purchase, and select Open Trade. The platform will then place and execute your trade almost instantaneously.
Where to Buy Cardano – Best ADA Exchanges Reviewed
With Cardano ranked as a top ten cryptocurrency by CoinMarketCap, it can be found on a wide array of exchanges. The payment methods accepted, fees charged, minimum deposits, and buy amounts are all factors that need to be considered when choosing a crypto exchange.
We've reviewed the best places to buy Cardano in 2023 saving you the time and effort.
1. eToro — Best Place to Buy Cardano, Offering Secure Asset Storage and Accepting Many Payment Options
The eToro platform features low fees, multiple payment options, copy trading tools, secure storage, and it has over 33.4 million registered users, as reported by Statista. It is the best place for new traders who are looking for where to invest in Cardano and other cryptocurrencies.
Launched in 2007, eToro now offers over 90 cryptocurrencies alongside stocks, commodities, ETFs, indices, and foreign exchange (forex) markets. All users also have access to a CopyTrader system and Smart Portfolios to help them on their investing journey.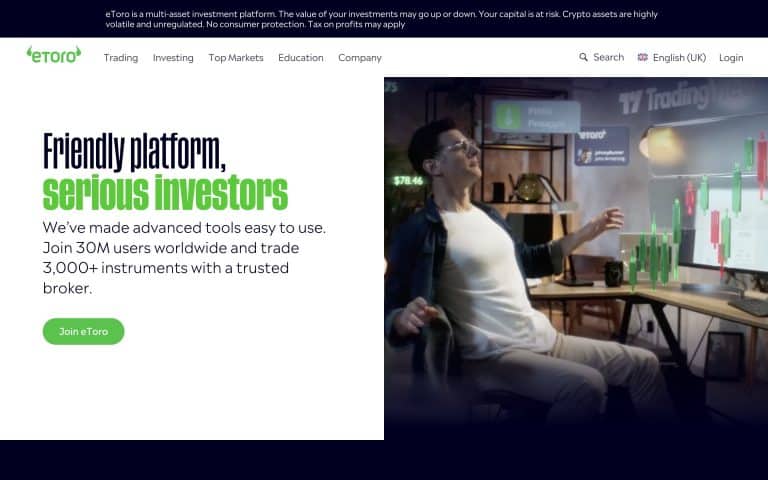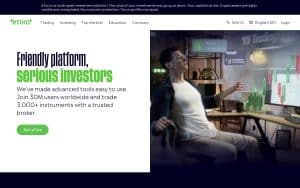 The CopyTrader and Smart Portfolios functionalities are two of the features that make eToro the perfect place for those just starting on their trading journey. The CopyTrader feature allows users to automatically copy trades completed by top crypto trading portfolios, managed by professionals. Smart Portfolios are curated portfolios that bundle together multiple assets on a particular theme, e.g., AI or renewable energy, to allow users to easily gain exposure to markets or technologies they're interested in with one trade.
Compared to its major competitors, eToro offers the best fees and is almost certainly the cheapest way to buy Cardano for the majority of investors. There is no fee for deposits and withdrawals in USD, and deposits in other currencies are subject to a conversion fee. A simple 1% commission is charged on each trade. This is, however, quite a bit more than some of the other exchanges on this list.
Deposits are also accepted through multiple payment methods, including bank transfer, debit cards, PayPal, and many other gobble payment platforms. You can also buy Cardano with a credit card on eToro.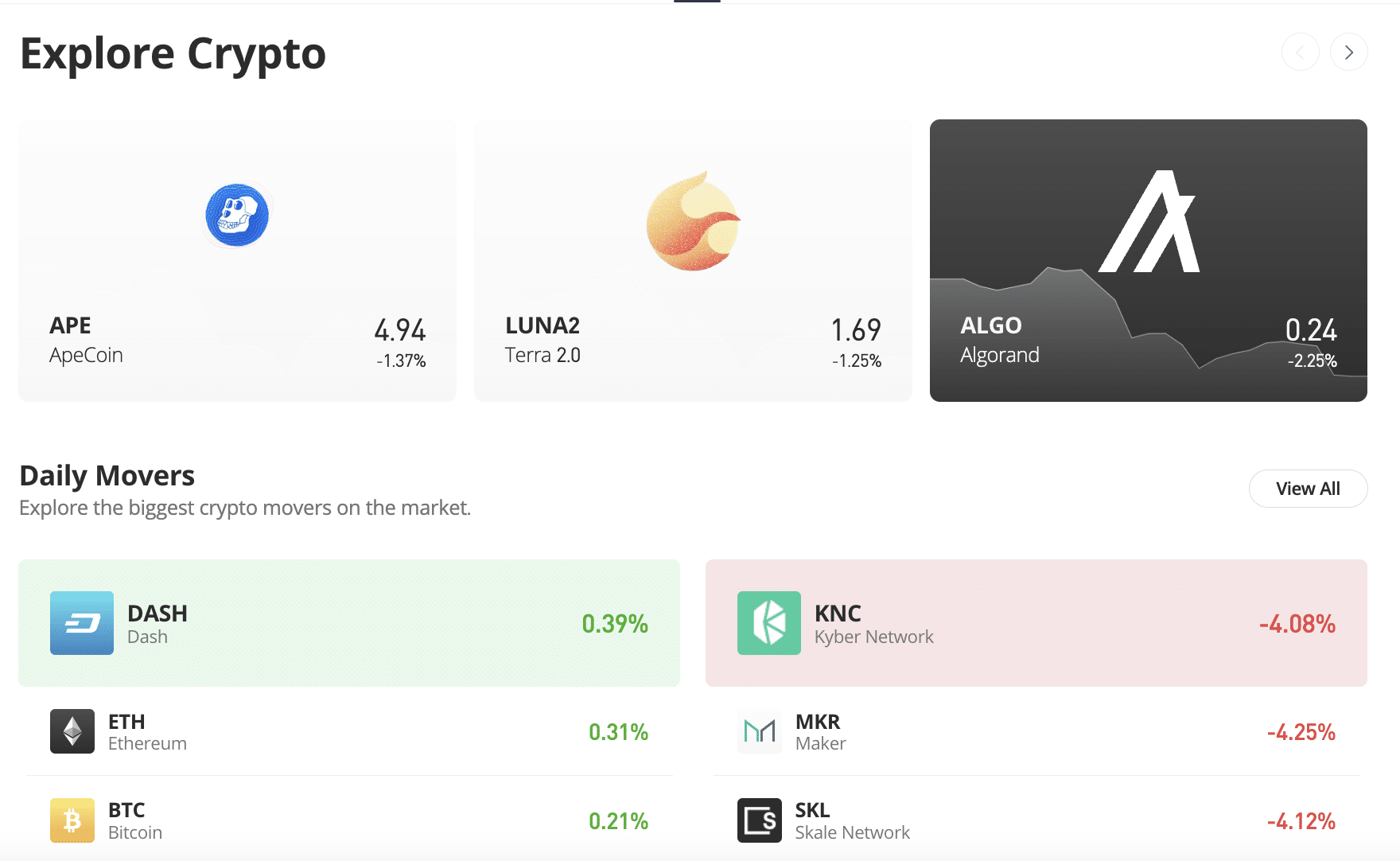 With this many payment methods, eToro customers have great flexibility in how they fund their trading accounts. Furthermore, the minimum deposit and trade amount on eToro is only $10. Meaning the platform is accessible to people on almost any budget!
On eToro's desktop trading platform, assets are mainly kept in cold storage. This is the most superior form of storage available, allowing you to trade with peace of mind, knowing that your assets are safe as they can possibly be. However, the assets kept in the eToro Money crypto wallet, available for both iOS and Android, are stored in hot wallets on the blockchain and are, therefore, less secure.
Finally, eToro is regulated by many regulatory bodies in regions across the globe. These regulatory bodies include FINRA in the USA, the FCA in the UK, ASIC in Australia, and CySEC in the EU.
If you're wondering where to buy Cardano, eToro is one of the safest and most secure places to do so.
Fees for Buying
Cardano
Zero fee for deposits of USD (a conversion fee applies to other currencies)
1% trade commission
Top Features
Low fees, asset kept in cold storage, low minimum investment ($10), highly regulated, CopyTrader™ and Smart Portfolio features make passive trading easy
Pros
Easy setup: can set up account and buy Cardano in 5–10 minutes
Minimum investment of $10
Low trading fees of 1% commission
Cold Storage of assets on trading platform
Passive investing through CopyTrader™ and Smart Portfolio tools
Heavily regulated in major regions around the globe
Cons
Assets in the eToro Money wallet for mobile are stored in a hot wallet
Cryptoassets are highly volatile and unregulated in most countries. No consumer protection. Tax on profits may apply. Your capital is at risk.
2. Coinbase – Easy to Use Platform and Mobile App with Cold Asset Storage
Coinbase is probably one of the most established names in the cryptocurrency exchange business. It is a publicly traded company, listed on the Nasdaq exchange in 2021. It is also heavily regulated and registered with regulatory authorities in the USA, UK, Europe, and beyond, making it one of the most trusted crypto exchanges.
With a simple onboarding process, mandatory 2FA authentication on your account (protecting you from hacks), a mandatory KYC process to ensure compliance, and 98% of customer assets kept in cold storage, Coinbase is one of the best exchanges out there for both the customer experience and customer peace of mind.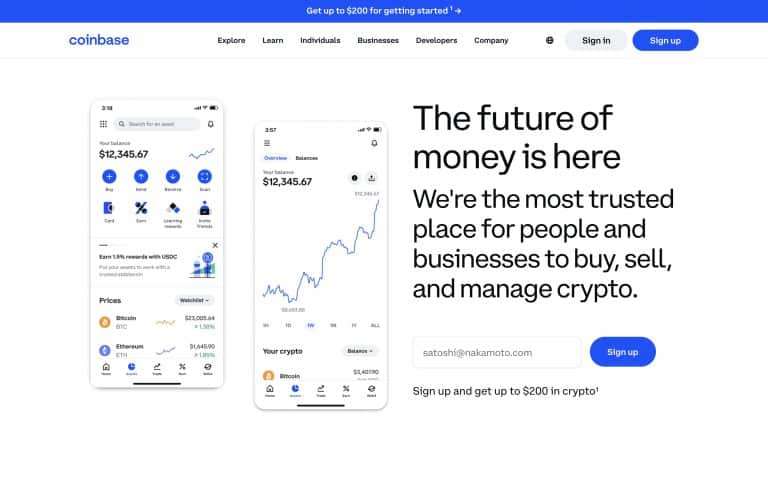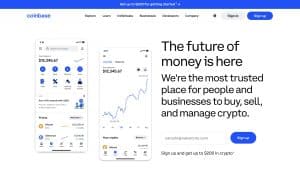 Coinbase users can trade through an intuitive web interface and a highly rated mobile app. However, here is where the fun stops for many. Coinbase charges a hefty 3.99% fee for using debit and credit cards to buy crypto instantaneously and a flat fee, with a 3.99% minimum, on investments below $200. It also charges a 1.49% fee for each trade done on cryptocurrencies. It has also been said that Coinbase's fee structure is not very transparent, with true fee totals only being shown at the time of purchase.
Fees for Buying
Cardano
3.99% with credit or debit card
1.49% trading fee
Top Features
Easy to use platform with mobile app, heavily regulated platform, enforced high level of account security, and 98% of assets kept in cold storage
Pros
Easy-to-use, intuitive platform
98% of assets are kept in cold storage
Free bank transfers to fund account
Enforced account security
Heavily regulated
Publicly traded company
Cons
1.49% trading fees
3.99% fee for instant buys with credit and debit cards
Less than transparent pricing structure
3. Kraken – Professional Trading Platform Offering Margin Trading and Proof of Reserves
The Kraken crypto exchange was established in 2011 and is based in the USA. It supports more than 100 cryptocurrencies and is used by traders around the globe. Kraken also offers regular proof of reserves audits for user security and peace of mind.
The Kraken platform is probably best known for its advanced trading features in a professional trading interface that can be customized by the user to suit their needs.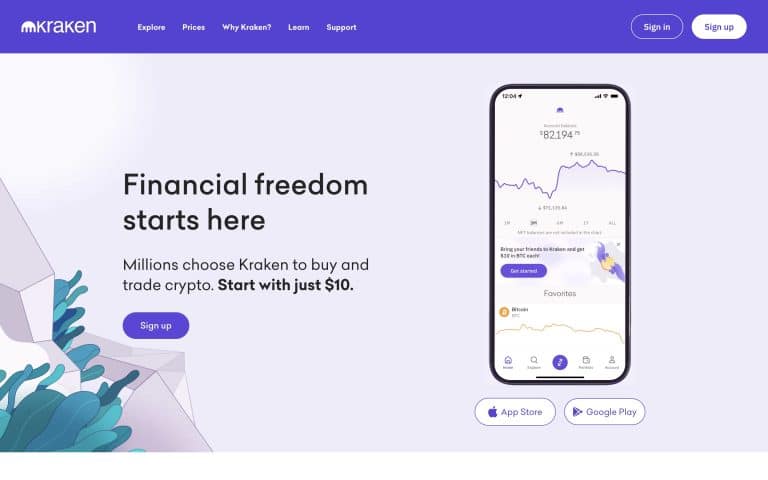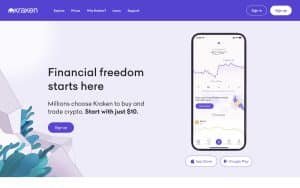 Two of the highlight features are margin trading and the ability to shorting assets. This allows traders to have 2–3x leverage on their balance. For example, if a trader has $1000 in their account, Kraken will allow them to leverage trade and buy or sell $2000 worth of ADA with their account.
Regarding fees, Kraken's fee structure varies greatly based on the payment method provider the user is using. This is true for debit and credit card payments too, but fees for using these have been said to be 3.75%. Kraken's trading commissions are some of the lowest when compared to its competitors and vary between 0% and 0.26%.
Fees for Buying
Cardano
3.75% credit and debit card deposit fee
Trade commission varies between 0% and 0.26%
Top Features
Regular proof of reserve audits, professional trading tools, margin and leverage trading
Pros
Professional trader tools
Regular proof of reserve audits
Maximum trading commission of 0.26%
Minimum deposit of $10
Margin and leverage trading
Cons
Less than transparent fee structure
0.02% margin trading fee charged every four hours
4. Binance – Low Cost, Popular Exchange, with High 24hr Trading Volume
Binance is the world's most popular cryptocurrency exchange. It boasts over 150 million users and typically records the largest daily volume of all the crypto exchanges. It features over 350 currencies in markets around the globe, and offers Cardano's ADA in many of those markets.
While registering does require completing KYC with a government issued ID, it is very easy to register on the Binance platform and fund your account. Binance offers a whole host of products and services, the majority of which are targeted at experienced trades. These features include leverage trading, futures, and yield farming.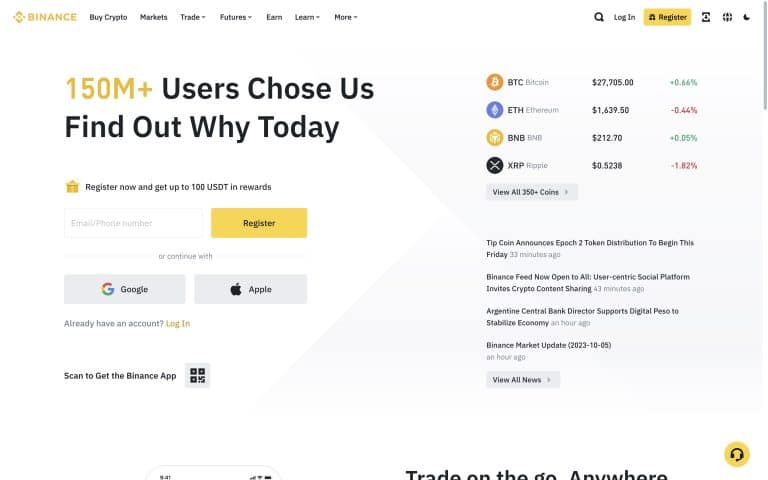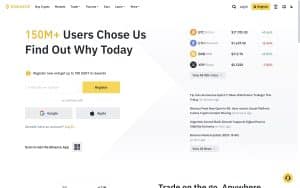 While they do keep the majority of their clients' funds in cold storage, the exchange was hacked in 2022 for over $570 million.
The fee structure on Binance is one of the most competitive in the market—making some say that it is the best way to buy Cardano—with some of the lowest commission fees of all exchanges, at just 0.10%. Deposit fees range from 0 to 3.5% depending on the currency, and withdrawals also vary from 0% to flat amounts for specific currencies. Users also have the opportunity to reduce their fees by paying them with BNB.
Fees for Buying
Cardano
Variable deposit fees
Maximum 0.10% trade commission
Top Features
350+ currencies, Lots of professional trading features, very low trading commission, largest exchange by volume
Pros
Professional trader tools
Maximum trading commission of 0.10%
Largest exchange by volume
350+ currencies
Cons
Hacked in 2022 for over $570 million
Designed for advanced traders
5. Crypto.com – Low Fee Exchange With Over 250 Assets and Discount for Token Holders
The Crypto.com platform supports over 250 assets, including Bitcoin, Ethereum, Dogecoin, XRP, and Cardano's ADA. On Crypto.com, you can buy Cardano with a debit card, but doing so incurs a 2.99% fee, as does using a credit card. Depending on which country you're based in, bank transfers are typically fee-less and can settle in just 30 minutes.
Crypto.com is available in over 100 countries around the globe and offers one of the best app experiences for buying and trading your cryptocurrencies.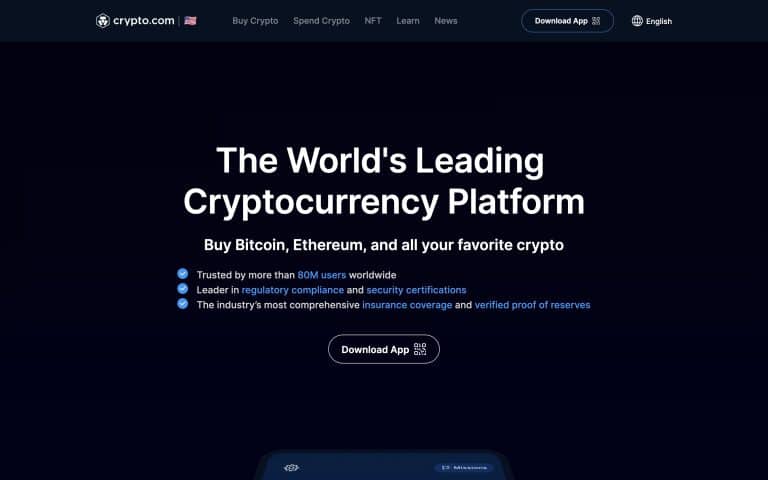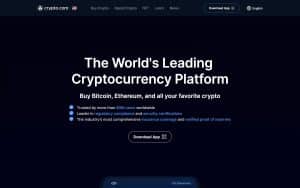 The commission fee charged by Crypto.com is a maximum of 0.075%, and, in some instances, these fees can be reduced to zero by holding a balance of the platform's CRO token.
On top of their exchange offering, Crypto.com also offers a range of services for crypto enthusiasts and beginners, including a decentralized wallet, DeFi tools, and crypto-based loans.
Fees for Buying
Cardano
Variable deposit fees (free for most bank transfers)
Maximum 0.075% trade commission
Top Features
250+ assets, excellent mobile trading experience, crypto-based loans and other services
Pros
Maximum trading commission of 0.075%
250+ currencies
No fees for bank account transfers
Cons
2.99% fee on debit and credit card purchases
How we Ranked the Best Places to Buy Cardano
Choosing the right place to buy ADA is critical to ensuring you have the lowest fees, and smoothest and safest buying experience possible.
Here's how we ranked the best places to buy Cardano.
Safety and Regulation
There are many unregulated crypto exchanges out there, and for those just starting their crypto journey, the safety of their assets and information is one of the most important factors. The highest ranked platforms that allow users to trade Cardano's ADA will also hold licenses with the applicable agencies in each region they operate.
The exchange we've ranked as the best place to buy Cardano, eToro holds licenses from multiple regulatory authorities covering many jurisdictions around the globe, including FINRA, FCA, ASIC, and CySEC. While the second most recommended exchange, Coinbase, is registered with multiple regulatory authorities in the UK, Europe, and beyond. On regulated exchanges, customers' assets can be protected and customers can receive compensation should anything happen to their funds.
On top of licensing, we also take into account the customer and asset security offered by the exchange for their clients, e.g., two-factor authentication for account login and the cold storage of assets.
Payment Methods
Beginners making their first steps into crypto need things to be easy, and being able to deposit money into their exchange account using their preferred method is key to making things easy.
The best exchanges allow traders to easily buy Cardano with a debit card while also allowing bank transfers and payments through services like PayPal and other global payment platforms.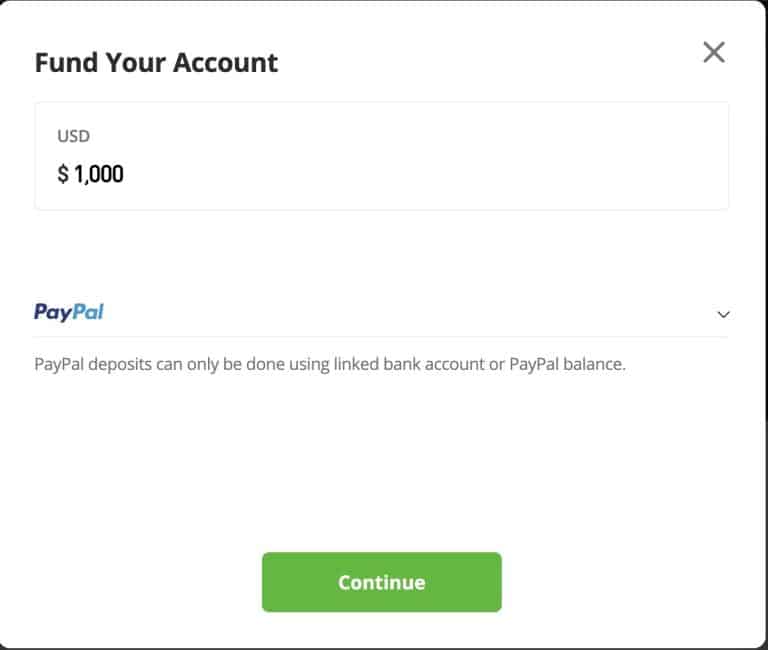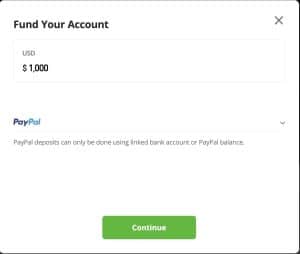 Platform Fees
Each platform charges fees for different activities performed on their platform. The most visible fees are those levied on the deposit and withdrawal of funds, as well as the trading commissions placed on each buy or sell order of a cryptocurrency like Cardano.
These fees will vary greatly by exchange, and, for context, US investors on eToro can deposit and withdraw funds without paying any fees or charges and pay a simple trading commission of 1% on each buy or sell order. Users of Coinbase face variable trading fees—ranging from 0.5–4.5% depending on the size of their trade—with fees of 3.99% for using a debit or credit card to buy Cardano.
Supported Cryptocurrencies
If you're interested in Cardano, you might already be familiar with some of the more popular cryptocurrencies, such as Bitcoin, Ethereum, BNB, and XRP, and might even be looking at utility tokens or meme coins too.
Per Statista, there are over 9000 coins available. No exchange offers them all, and some offer far fewer than others. For example, Kraken offers access to over 100 assets and eToro offers more than 90 cryptocurrencies to investors, while Binance offers over 350 cryptocurrencies. Choosing an exchange that offers a wide range of coins gives you more opportunities to diversify your portfolio with different assets, increasing your protection against down swings in certain parts of the market.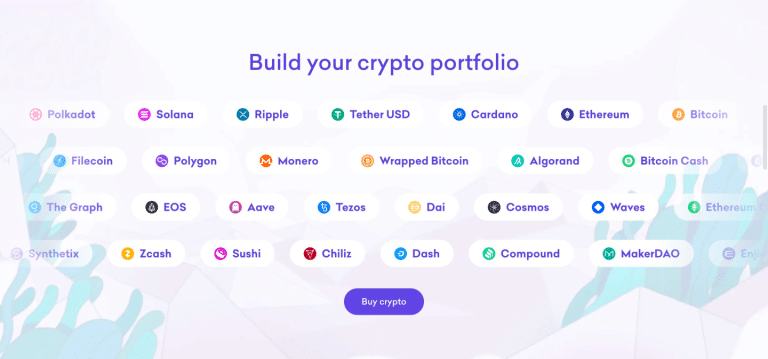 User Experience
The world of cryptocurrencies can be intimidating, so a good user experience is imperative for new users to be able to explore the world of cryptocurrencies with confidence. While some, Kraken and Binance, offer confusing looking professional trading tools, other, like eToro, offer simplified interfaces for buying cryptocurrencies—providing a smooth and easy experience for inexperienced users.
Offering your services through a good mobile app is also very important when it comes to user experience. Coinbase, for example, has a rating of 4.7/5 on the Apple App Store and a 4.1/5 rating on the Google Play Store.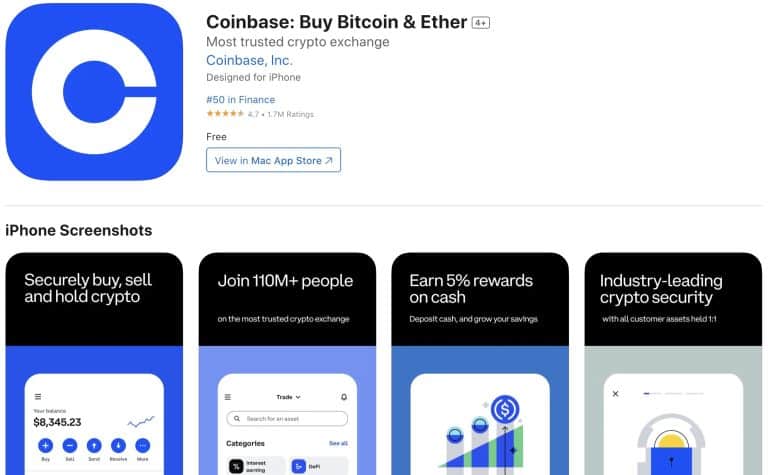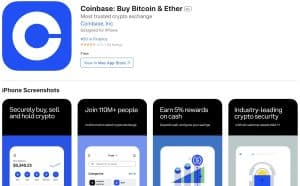 Account Minimums
All exchanges will have minimum deposit and trade amounts, and most beginner investors will be looking for exchanges that allow them to trade and hold small amounts of cryptocurrencies.
As an example, eToro has a minimum deposit of $10 and a minimum trade value of $10. A minimum that suits a wide range of individuals.
Even though many cryptocurrencies are worth much more than $10, Bitcoin is currently ~$27,000, they are minutely divisible. Bitcoin, for example, has eight decimal places, meaning you can buy 0.00000001 of a Bitcoin—called a Satoshi. Currently 1 Satoshi (0.00000001 BTC) is worth $0.0002710595, and $10 will get you 36,874 Satoshi's, or 0.00036874 BTC.
Trading Tools
While beginners may not want a vast array of trading tools and features, they may want to dabble further down their investing journey.
Some exchanges, like Kraken, offer advanced analytical and charting tools within a customizable interface that are targeted at professional and experienced traders. Others, like eToro, offer features that are aimed at newcomers, such as Smart Portfolios and CopyTrader features that allow users to easily invest in baskets of assets related to industries they're interested in, or have their portfolio copy the trades of professionals with just a few clicks.
Customer Service
When using a platform's services customer's want to know that they've got support there when they need it, through a channel that suits their needs. Trustpilott is a platform used by users worldwide to determine whether a platform or service is one they want to use. On Trustpilot eToro has been given a total score of 4.4/5 by its users.


The crypto markets trade globally, 24 hours a day, seven days a week, 365 days a year, and traders want to have access to these markets all the time so that they never miss the opportunity to capitalize on a market movement. The best exchanges will also offer support during all their trading hours, i.e., 24/7/365. For examples of some of the services offered our top 3 exchanges offer:
eToro – Helpdesk ticketing system, Help Center for FAQs, and 24hr live chat Monday to Friday
Coinbase – Help Center for FAQs, and 24/7 live chat support
Kraken – Support Center for FAQs, and 24/7 live chat and phone support
The Basics of Buying Cardano
Cardano is a blockchain network, founded by one of the cofounders of Ethereum, Charles Hoskinson. The native token is called ADA, named after the famous mathematician and first computer programmer Ada Lovelace. ADA is traded on global markets, and, as with all cryptocurrencies, these markets operate 24/7/365.
The Cardano network is designed to foster financial inclusion by providing a platform that services the billions of people who are excluded by the traditional systems that are in place around the world by providing them with access to the financial tools that we see and use every day, alongside access to decentralized identity solutions to give them the opportunity to take control of their financial future.
As an asset, the value of ADA fluctuates throughout the day, rising and falling based on the supply and demand of the assets. If the price is higher when sold than when it was bought, the trader will profit. If the price of ADA is lower at the time of selling than it was at the time of purchase, then the trader makes a loss.
Due to its popularity as one of the top ten cryptocurrencies as ranked by CoinMarketCap since 2018, Cardano is available on all major exchanges, making it incredibly easy for traders to buy ADA and create a position—a task that can be accomplished in 5 minutes on many exchanges. eToro is one of the best exchanges for purchasing crypto assets, as it is regulated in many regions and permits small, fee-free minimum deposits.
Using exchanges like eToro, investors can buy Cardano with PayPal, debit cards, and other payment methods. Once they've bought ADA, the trader can set stop-losses and take-profit levels, automatic trades at certain prices, to make sure they take profits and cut their losses at the level they want.
What is Cardano?
At a high level, Cardano is an open sourced and decentralized blockchain network that describes itself as a third-generation cryptocurrency, with Bitcoin being first generation and Ethereum being second generation.
It is the first blockchain to be based on peer reviewed research, and it has been designed to address the limitations of its predecessors and solve the blockchain trilemma of decentralization, security, and scalability.
To drop it down to a technical level for a second, Cardano uses a UTXO model, like Bitcoin, but has smart contracting capabilities, like Ethereum. It is a proof-of-stake network, meaning that it is secured by users who stake their coins to produce blocks.
All tokens on Cardano are native tokens, meaning that they are a part of the underlying ledger and not managed by smart contracts—as they are on Ethereum. As a final but important technical point, Cardano is deterministic. This means that, unlike many of its competitors, users always know the exact cost of a transaction before sending it to the network—meaning no surprises.
'Cardano is an open platform that seeks to provide economic identity to the billions who lack it by providing decentralized applications to manage identity, value and governance' – Charles Hoskinson, CEO IOG
There are three founding entities of Cardano, each with a specific role. IOHK, core developer of the Cardano protocol, is the first. The second is the Cardano Foundation, which works to enhance Cardano's visibility and its utility as a tool for enterprise applications. The third is EMURGO, which focuses on developing commercial applications on top of Cardano.
A dedicated Cardano website, run by the Cardano Foundation, provides individuals and developers with all the answers to their technical and utility based Cardano questions.
Cardano's Uses
Cardano has native staking capabilities, a thriving ecosystem of dApps, and numerous scaling protocols in development that allow it to offer all the same capabilities as other top blockchains.
Builders on Cardano are ambitious, and, true to the purpose of the Cardano network and blockchain movement, they're building everything from novel DeFi dApp to blockchain solutions that solve global problems.
In addition to this, there are multiple other exciting facets of Cardano for newcomers to the ecosystem to explore!
Staking ADA
As a proof-of-stake blockchain, Cardano users can stake their coins and earn rewards for helping to secure the network. Cardano is built on the Ouroboros consensus protocol, which arose from the peer reviewed academic research done by IOHK.
The Ouroboros protocol is designed so that every member of the ecosystem helps to secure the network by staking their tokens. Users delegate their ADA to a stake pool from their wallet, retaining complete custody of their coins in the process—receiving an APY up to ~4% for doing so. There is no locking of ADA, meaning staked ADA can be used at any time, and a user's ADA is never slashed if the stake pool they delegated to acts maliciously.
Cardano DeFi
Cardano DeFi has taken off in 2023, with TVL rising from just 200m ADA at the end of January, to over 600m ADA at the time of writing. Its growing DeFi ecosystem features stablecoins, DEXes for trading native tokens, NFT lending and borrowing protocols, synthetic assets, housing solutions, and more! The most popular DeFi platform, by TVL, is the Minswap DEX, and if you want to buy a Cardano native token this is one of the places to go!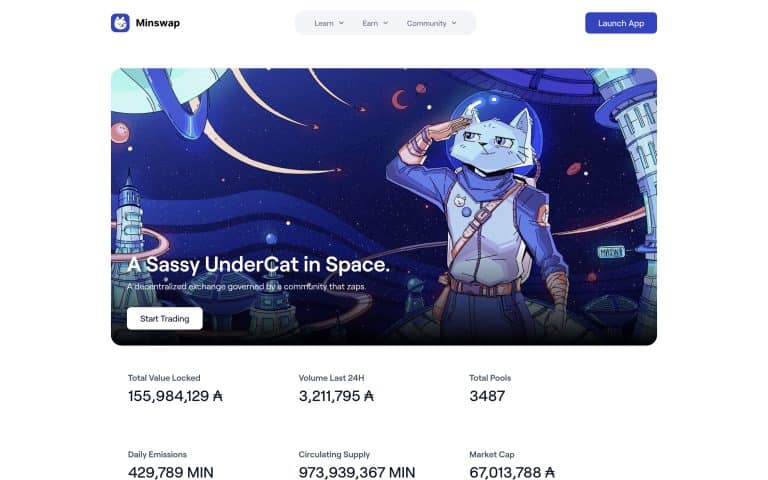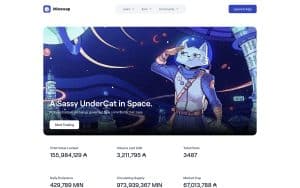 Cardano NFTs
Affectionately called cNFTs by the community, the Cardano NFT ecosystem is thriving. Multiple NFT marketplaces exist, the most popular being JPG Store, as do NFT lending platforms, and there are numerous NFT collections that have utility in Cardano's many dApps, from reducing the cost of using a platform to generating yields on investments in real world projects.
Project Catalyst
Do you have a visionary idea that employs blockchain technology? Project Catalyst is the world's largest decentralized funding program where you can make that idea a reality!
Project Catalyst uses a treasury to fund ideas proposed by the community, assessed and discussed by the community, and voted on by the community (only those who hold ADA can vote). To date, Project Catalyst has already distributed over $32m in funding to teams building on top of Cardano!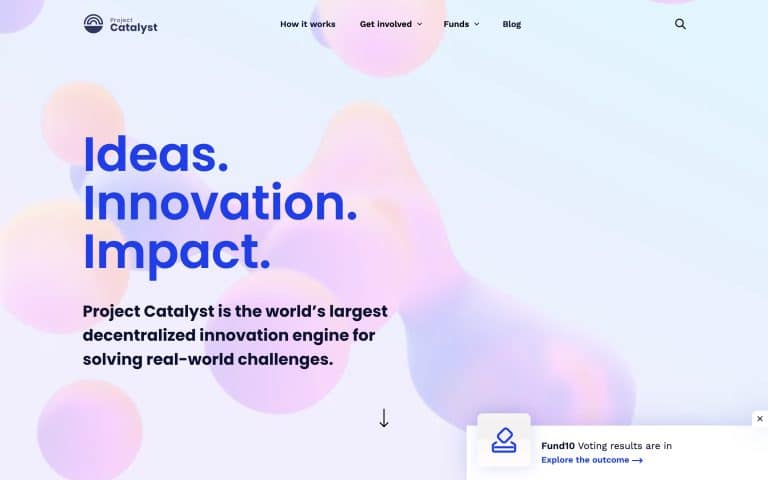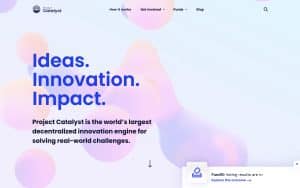 Atala PRISM
Along with Project Catalyst, Atala PRISM shows Cardano's and IOHK's ambition to develop a fully functioning decentralized ecosystem. Atala PRISM is a decentralized identity solution being developed by IOHK, that will allow verifiable decentralized identities and credentials to be released and stored on the blockchain.
Is Cardano a Good Investment?
Cardano survived the industry's first big bear market, and is weathering the storm of the second at the top of the rankings. Here we discuss the factors that help to make people think Cardano is a good investment.
Analysts at Techopedia point out that while Cardano has had a tough year they predict it will rise from the ashes of 2023 to reach highs of $6 in 2030.
High Daily Trading Volume
A high trading volume not only means that investors are interested in ADA and Cardano, but it also means they can enter and exit the market very easily. Such large pools of liquidity also mean that large investors can make moves in the market without moving the price needle too sharply.
Cheap Price
At the time of writing, Cardano was trading at $0.2573, a 91% "discount" on its September 2021 high of $2.9593. This means that $1000 invested in Cardano in September 2021 would be worth around $100 today.
It is, however, worth noting that, according to data from CoinMarketCap, the whole crypto market has lost more than half its value in that time, with Bitcoin down 44% from its price in September 2021 and other popular altcoins like DOGE, Solana, and Litecoin, have all seen declines in price similar to those of Cardano.
Right now, Cardano would have to increase over 1000% to mark a new all time high (ATH). Some see this as a reason not to buy Cardano, whereas those who like Cardano and read the signs view it through a lens that says: "we're buying Cardano at a 90% discount". The Motley Fool say that they are "bullish on Cardano over the long haul."
Solid Foundations: Peer Reviewed Research
As mentioned before, the technology underpinning the Cardano protocol is based on theories that have been rigorously researched and documented in numerous scientific papers, peer reviewed by the scientific community.
There are almost 200 of these in the IOHK research library, covering almost every aspect of blockchain technology, from staking to scaling solutions.
Basing a project on scientific research builds a solid foundation for it to grow from and have a long and sustainable future. This can also be reflected in the price of Cardano's ADA, and Changelly predicts that Cardano could go as high as $12.87 by 2032, a 5,000% increase on today's price.
Solid Roadmap: With Milestone Completion
Many will judge a project's potential by looking at its plan, called a roadmap, and what it has accomplished in the past. The Cardano Roadmap splits the development of Cardano into five developmental eras, and it has recently entered the fifth era, Voltaire.
Having successfully delivered on the deliverables of the last four eras of the blockchain's development, it seems like investors can be confident that the core developers of Cardano, IOHK, will also deliver the fifth era, completing the blockchain's current roadmap and continuing to advance the protocol long term. A very good sign for investors.
Large and Strong Community
Cardano has a huge community, with thousands of active participants and on-chain activity growing massively since the start of 2023, thanks to the growth of Cardano DeFi.
Such vibrant activity, both on-chain and within the passionate community, is a good sign of strength for the future of the network.
Developer Activity
Cardano regularly tops the list when crypto projects are ranked by Developer Activity, as it did, again, for September. A high level of developer activity means that people are actively building the blockchain and striving toward completing the goals laid out in its roadmap.
While the earlier stages of Cardano's roadmap have been completed, their development has not been deemed to be finished. This is because blockchain is at the cutting edge of technology, and strides are being made every day that allow for improvements. This is why IOHK and members of the Cardano community continue to research and improve all of the functionalities achieved in the previous parts of the roadmap. Again, showing strong growth into the future.
Cardano also has a community-built site that monitors and summarizes developer activity.
What is the Cheapest Way to Buy Cardano?
Because Cardano's ADA is among the highest ranked cryptocurrencies on CoinMarketCap and other platforms like CoinGecko, it is very popular among traders and investors. In turn, this means that it is available on a wide variety of platforms.
This wide availability means you have flexibility when choosing where to buy Cardano.
Crypto purchases don't need to be made just through exchanges; they can be made through brokers, centralized and decentralized exchanges, and even from some crypto wallets.
Buying Cardano with a Crypto Broker
While the words exchange and broker are often used interchangeably, brokers and exchanges are quite different. Brokers provide a platform where they are the middleman between the parties buying and selling assets, whereas exchanges provide a platform where users exchange their assets between themselves, without the middleman.
Brokers offer a safe and easy way for individuals to get involved in cryptocurrencies. They will hold the currencies for the user and streamline and simplify the buying process into an excellent user experience. eToro is a broker and offers some of the lowest broker fees, 1% commission, for buying cryptocurrencies.
Centralized Exchanges
Centralized exchanges keep custody of their users' assets, but they allow those customers to buy and sell between each other. These platforms, such as Binance and Kraken, are often aimed at experienced traders and investors who want access to the advanced suite of trading tools they offer.
Decentralized Exchanges (DEXes)
Using a decentralized exchange, such as OKX, Uniswap, and SushiSwap, offers some of the lowest fees and, therefore, cheapest ways to buy cryptocurrencies. Here, traders are charged a small platform commission and also have to pay the blockchain transaction fee.
However, these platforms are only for crypto-to-crypto trades, and to do this you must first possess the crypto assets you want to trade. This often means going through a broker or centralized exchange first to obtain them.
What is a Decentralized Exchange (DEX)?
A DEX is a blockchain-native platform. Centralized exchanges, like Binance and the New York Stock Exchange, are managed by middlemen who approve and execute trades between traders.
Decentralized exchanges replace these middlemen with self executing smart contracts on the blockchain. So users here deal directly with each other. DEXes are permissionless, meaning that anyone can use them, and they operate 24/7/365.
Using DEXes requires a higher level of knowledge of blockchain technology than using a centralized exchange or broker, and they also require users to own and use a non-custodial wallet.
Decentralized exchanges will also often offer users the option to purchase assets via debit/credit card or bank transfer using a third-party service, but fees for this can be high. For example, MoonPay, a popular service provider for payments on decentralized exchanges, has fees that vary between 1% and 4.5%, with a minimum charge of 3.99 denominated in the currency you're paying with, e.g., $3.99, €3.99, etc.
Non-Custodial Wallets
Non-custodial wallets allow you to have total custody of your crypto assets, storing them away from centralized exchanges and the worry of them being hacked. This also means you're the one responsible if you lose access to them.
Non-custodial wallets are used to access decentralized exchanges to trade your assets, although some non-custodial wallets, like Trust Wallet, do offer token swaps within their interface. Trading here, however, can come at a price premium compared to the rate on exchanges.
Custodial vs Non-Custodial
The main focus of the blockchain movement is to use decentralized blockchain technology to remove the requirement of trust that is omnipresent throughout today's modern world. This started with Bitcoin—designed as a peer-to-peer electronic cash system—which was released during the financial crisis of 2008, which was caused by banks abusing the trust people had put in them to safely store and responsibly use their assets.
The idea is that individuals should no longer leave their money in the custody of large institutions, like banks, whose reputation is built mainly on trust. With blockchain technology People can take true ownership of their assets and hold them in their own custody, which is called non-custodial because you're not having someone else to look after them for you.
There are many positive outcomes of this, the main one being that when you hold your assets you are in control of them. They cannot be used and abused by a custodian (e.g., a bank) that holds them for you. Also, if a custodian is hacked or robbed, your assets are safe because you chose to keep custody of them yourself.
Many of these wallets, like decentralized exchanges, also offer their users a gateway through which they can purchase crypto. However, as stated above, these gateways can often charge a premium price when you buy assets through their platform.
All-in-all, if you're a beginner trader looking to invest in Cardano for the first time, we recommend using a broker like eToro, which offers transparent, low-cost fees.
Is Investing in Cardano Safe & Legal?
Investing in Cardano is very safe provided you use a trusted and reputable platform, such as eToro or Coinbase. No harm will come to you for buying and owning Cardano's native currency, ADA. However, due to the novel nature of cryptocurrencies, the regulations surrounding them are always changing.
As recently as June this year, in a filing for its lawsuit against Binance, the Security and Exchange Commission (SEC) in the USA named ADA on a list of assets it regards as unregistered security.
While this filing does not affect the customers of these exchanges (you can't be charged for buying it, they can only be charged for selling it to you), it prompted many platforms to delist it for their customers in the USA, fearing that they would also be charged.
It is worth noting that the SEC cannot, and will not, take the asset off you if you hold it in a non-custodial wallet. Regulatory moves like this can affect specific coins in specific markets, and ADA is still available in the majority of countries around the world. There are some jurisdictions in the world where cryptocurrencies themselves are outright illegal. These are:
Algeria
Bangladesh
China
Egypt
Iraq
Morocco
Nepal
Qatar
Tunisia
If you're living in or trying to register as a citizen of one of these countries, you won't be able to legally buy ADA or any other cryptocurrency.
Which is the Best Cardano Wallet?
There are multiple ways to store your coins once you've bought your ADA, and which option you choose will depend on what you plan on doing with your investment.
Cold Storage – The Hodler
Cold storage means keeping your assets in a wallet that is not connected to the internet. This is for those who want to hold their assets in their own custody and keep them long term, riding the waves of the market even through the more turbulent times. This is called "hodling" in the crypto community, with hodl meaning Hold On for Dear Life, originating from a Bitcointalk forum post in 2013.
Cold storage is done using a hardware wallet, with the two most popular options being Trezor and Ledger. These devices offer the best possible security for your coins as, without your seed phrase, no one can access them.
Hardware wallets allow you to store a wide variety of coins, including Cardano's ADA, and can even be used in conjunction with many of Cardano's hot wallets.
The downside is that you must connect your cold storage device to your computer to use your coins. If you're looking to take quick advantage of price movements and take profits or prevent losses, this can severely impact the time it takes you to get your assets onto the market.
Hot Wallets – The User
As said above, there are many community built wallets in the Cardano ecosystem, the most popular of which are Etrnl, Nami, and Flint. All these are available as browser extensions and mobile apps, allowing you to use your crypto on the go!
With these wallets, you are in total custody of your coins, and they can be connected to all the major dApps in the Cardano ecosystem, allowing you to interact with all that Cardano has to offer, from DeFi to NFTs!
"Hot" means that they are "live," meaning that they are connected to the internet all the time, and while great for interacting with the ecosystem, this does open you up to phishing attacks.
These wallets are also not connected to any major exchanges, and if you want to realize your gains or losses on your Cardano investment, you'll have to transfer your coins to an exchange, resulting in you losing precious time in volatile crypto markets.
Exchange Wallets – The Trader
In these wallets, like the one we used earlier on eToro, your coins are held in the custody of the exchange—meaning that choosing an exchange that is licensed and regulated in your region is very important.
The advantage of storing your coins in an exchange wallet is that you're directly connected to the exchange and are ready to take advantage of any price movements when they happen.
The eToro platform allows you to create price alerts for individual coins and prices, meaning you can take immediate advantage of market movements. You can also set stop-loss and take profit limits, ensuring that you don't miss your target price should it come when you're sleeping.
How to Buy Cardano: A Detailed Tutorial
Investing in Cardano is not a difficult process. Here we're going to walk through the six simple steps of the process to buy ADA.
For this demonstration, we will use the exchange we recommended earlier, eToro.
1. Signup to eToro
Head over to the eToro website and click the Join eToro button to create your account by selecting a username, entering your email, and creating a password.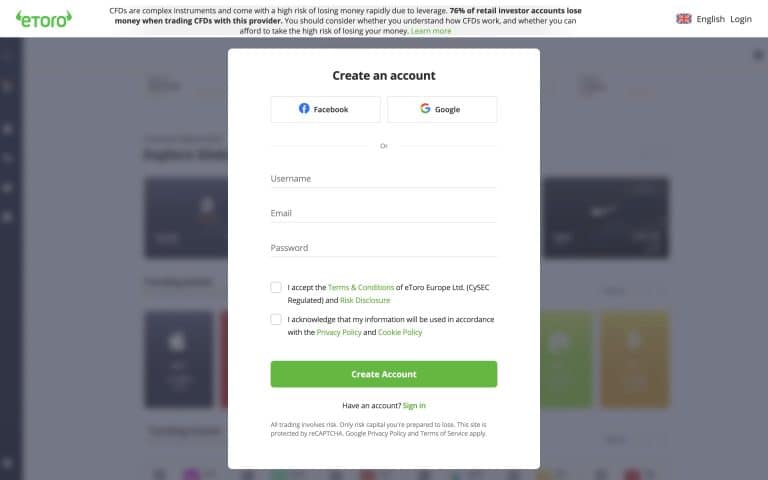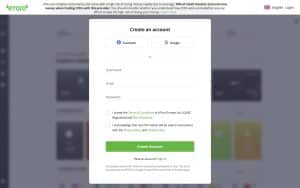 Always choose a strong password for any account, especially financial accounts. Strong passwords are hard to remember, and using a password manager to store your passwords is highly recommended.
2. Verify Your Email Address
A one-time code will be sent to the email address you provided. Check your email account for this email and enter the code on the page.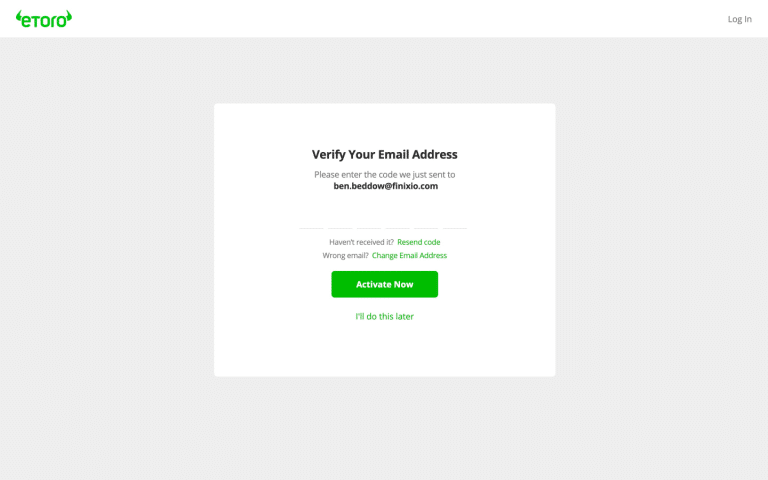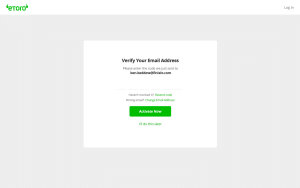 There are also handy options to resend the code should you not receive it, or have to change your email address should you have made a mistake when entering it.
3. Fill Out Your Profile and Provide KYC Documents
Now, you'll find yourself on your eToro dashboard and will be prompted to complete your profile and verify your identity. This is a necessary step on any regulated exchange platform. You'll be asked to provide your:
Name (as stated on the ID you will provide as KYC)
Gender (as stated on the ID you will provide as KYC)
Date of Birth (as stated on the ID you will provide as KYC)
Country
Nationality
Address
Tax identification number
Employment and earnings information
Phone number


During the signup process, eToro will also ask you about your trading experience and investment goals. These don't affect your eligibility, but they help eToro understand your financial background and goals to provide you with the content most relevant to you.
4. Deposit Funds
Once you've completed your profile, you'll be able to add funds to your account. This can often be done through multiple avenues, and which ones are available to you depends on those permitted in your region. The most widely available payment methods are debit card, credit card, PayPal, and bank transfer.


The eToro platform charges no deposit fees and deposit minimums start at $10 (in the USA) and are as little as $50 in many countries! However, all deposits are made in USD, and if you're funding your exchange account with a different currency you will be charged a conversion fee.
Some platforms may also charge you for, or even prevent you from, sending money to crypto exchanges. So it is best to check with your chosen provider first so you don't get declined or stung with any unknown fees.
As stated before, all investments are inherently risky and you should never invest money you can't afford to lose. That is the golden rule of investing. To strengthen your knowledge, many financial regulatory authorities around the world provide advice for first time and novice investors.
5. Search for Cardano or ADA
Your account should now be verified and funded with USD. If so, you're ready to trade! From your eToro dashboard, use the search bar to search for either ADA or Cardano. Click on them to be transported to the ADA page on the eToro platform.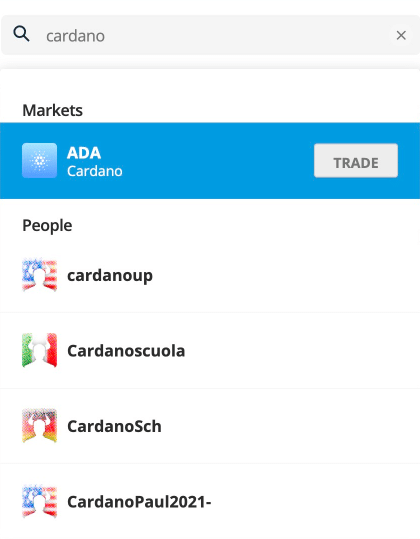 6. Buy ADA
On the ADA page you'll find a buy button in the top right corner. Clicking this will open a popup that will allow you to select how much money you want to invest in Cardano. ADA has six decimal places, meaning that you don't have to buy whole coins and can invest the exact amount of USD you want to invest.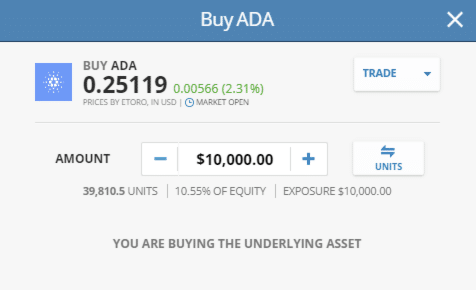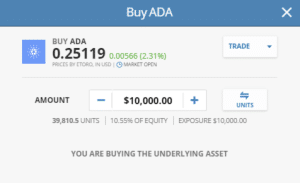 Conclusion
Buying Cardano's ADA is an easy process that can be accomplished in just 6 steps, and safe and regulated platforms that offer users peace of mind.
With its popularity, Cardano is available on a variety of platforms, but with its simple user interface, quick and easy onboarding process, and low fees and commissions, we rank eToro as the best option for starting your journey into Cardano.
References
FAQs
What is the best place to buy Cardano?
Can you buy Cardano with PayPal?