Over the past few years, Cardano has exploded in notoriety, even earning the title of "Ethereum Killer". However, it is currently trading 91% below its all-time high (ATH), potentially presenting a strong buying opportunity.
Interested in learning how to buy Cardano but not sure where to begin? This guide simplifies the process, helping you find the easiest, cheapest, and safest way to buy ADA in the UK.
How to Buy Cardano for Beginners
Here is a quick step-by-step guide on how to buy ADA in around 10 minutes or less.
Step 1 – Choose a crypto exchange or broker. We recommend eToro
The first step is to choose a broker. Later in this guide, we run through where to invest in Cardano in the UK. However, if you are pressed for time, our overall top pick is eToro.
Step 2 – Open an account
Visit the eToro website and select Join. Complete the sign-up instructions and verify your identity with a government-issued document like a driver's license or passport. The minimum first-time deposit for UK traders is $50 (or the GBP equivalent).
Step 3 – Decide how much you want to invest
Choose how much ADA you want to buy. The minimum investment at eToro is just $10. Once you have a figure in mind, move on to the next step.
Step 4 – Deposit Funds
Click the Deposit Funds button at the bottom left of the screen from the eToro dashboard. Then, follow the instructions, choosing your preferred payment method and the amount you want to deposit.
Step 5 – Buy Cardano in the UK
Finally, select the Trade button and enter the amount of ADA tokens you'd like to invest in. eToro gives users two options: to either open a trade at the current market price or set an order that triggers when a predetermined price is met. Once everything has been confirmed, your ADA tokens can be found in your eToro portfolio.
Where to Buy Cardano in the UK – Best Exchanges Reviewed
When buying Cardano, you must choose the right exchange to ensure you get the best value for money while enjoying a seamless user experience and robust security mechanics.
Considering these factors and more, we have ranked the best exchanges to buy Cardano below.
1. eToro – Overall Best Exchange for Cardano Offering Free Deposits and Copy Trading

eToro is the best place to buy Cardano in the UK. This is because it offers the all-around best user experience, comprising competitive fees, a seamless user interface (UI), vigorous security, deposits from just £8 and a suite of features that cater to all levels of investors.
One of the main issues when buying cryptocurrency is fees. They can eat away at your portfolio, making it difficult to profit.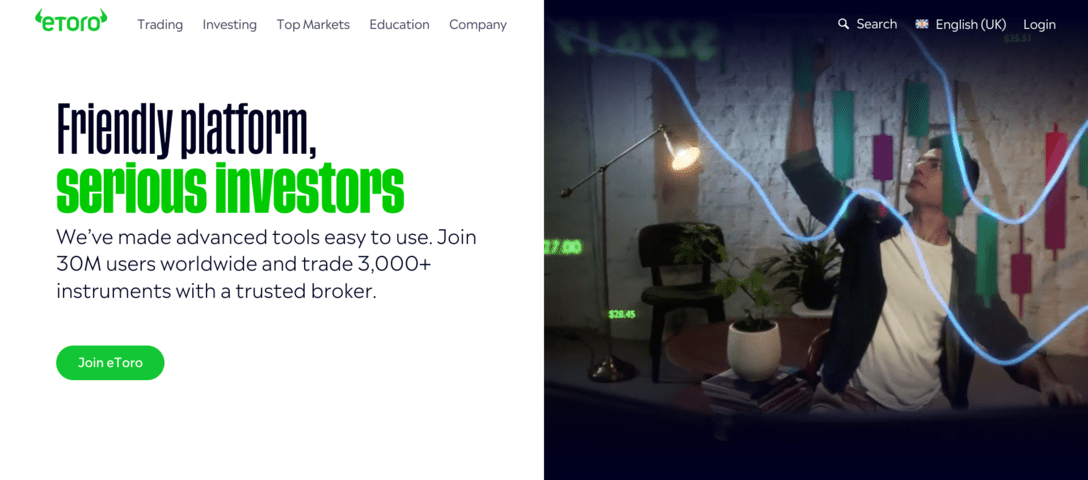 Generally, the fastest and most convenient way to deposit funds to an exchange is via credit/debit card. On eToro, this method is free, whereas other exchanges like Coinbase and Kraken charge upwards of 3.75%.
Furthermore, eToro charges competitive trading fees of just 1% for cryptocurrencies. If you are in the UK, your funds will be subject to a .5% conversion fee since eToro denominates in USD rather than GBP. Still, this brings the total fees on eToro to a modest 1.5%.
The platform's user interface is seamless with intuitive navigation, making it ideal for beginners and those unfamiliar with crypto exchanges.
However, simultaneously, the platform is feature-packed, empowering investors with tools like copy trading, Smart Portfolio (a diversified basket of cryptos in one click) and eToro money accounts, which remove conversion fees and enable users to send and receive payments.
One of its most renowned features is social trading, where users can chat, share ideas, converse about cryptocurrencies, and copy trade. This is ideal for beginner users still learning about crypto and also valuable for traders seeking clues on the market's next move.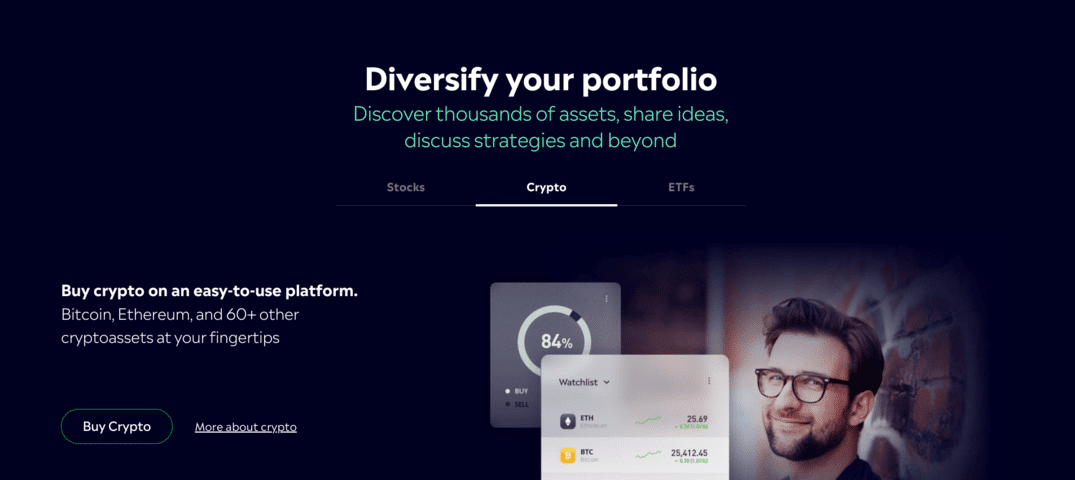 On top of that, eToro offers staking on Cardano, enabling users to earn passive rewards. Currently, eToro distributes up to 90% of Cardano staking rewards accrued back to users.
As mentioned, the platform also boasts top-notch security, with crypto on the exchange held in cold storage and 2FA implemented to further ensure users' funds are kept safe. Moreover, eToro is regulated by the Financial Conduct Authority (FCA).
| | | | | |
| --- | --- | --- | --- | --- |
| Fee Structure | Fee to Buy ADA | FCA Regulated | Top Features | Number of Cryptos |
| Free deposits and a 0.5% conversion fee to convert to USD | 1% of the purchase amount | Yes | Cardano staking, social trading and smart portfolios | 80 + |
Pros
Beginner-friendly UI
Free credit/debit card deposits
1% trading fee
Social trading
Smart Portfolios
2FA security and offline crypto storage
FCA Regulated
Cons
It does not offer a non-custodial crypto wallet
Cryptoassets are highly volatile and unregulated in most countries. No consumer protection. Tax on profits may apply. Your capital is at risk.
2. Coinbase – Beginner-Friendly Exchange With Staking and Learn Platform

Besides eToro, Coinbase is the most beginner-friendly place to buy Cardano. While it does not offer the social trading and Smart Portfolio provided by eToro, it does offer Coinbase Learn, a platform that pays users a small amount of crypto to learn about new projects.
However, fees can be expensive on Coinbase. Credit/debit card deposits are 3.99%, and transaction fees work out at 1.5%. That means you could pay up to 5.49% transaction fees when buying Cardano on Coinbase.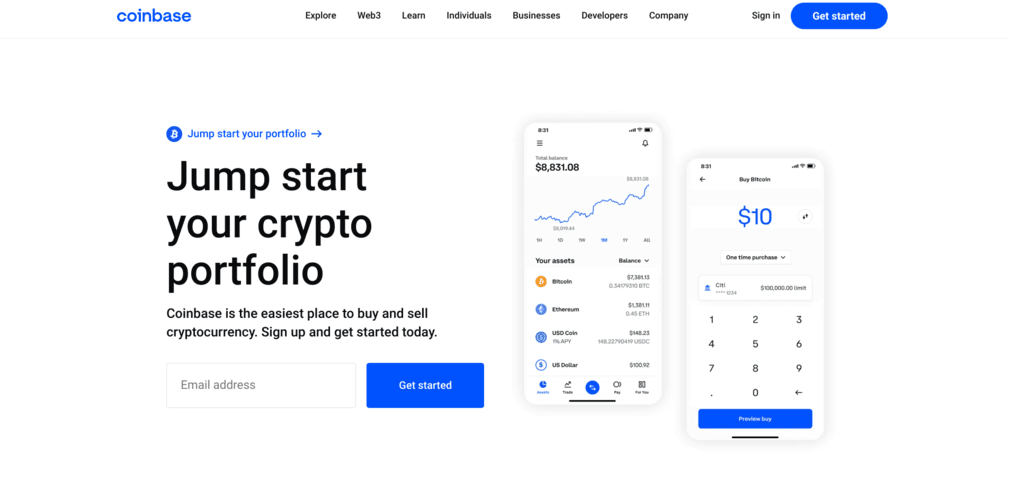 This would equate to paying over £50 in fees on a £1000 deposit.
Despite this, Coinbase is the second-highest exchange by trading volume, only behind Binance. One of the main reasons for this is its simplistic UI, which is easy to use even for a beginner.
On top of that, it also offers numerous advanced features like staking, leveraged trading and a non-custodial wallet.
Coinbase launched as a public company in 2021, furthering its legitimacy as one of the best crypto exchanges in the UK.
However, the SEC recently sued Coinbase, and while this should not put customers' funds at risk, it is still worth considering as it may cause some disruptions on the platform.
| | | | |
| --- | --- | --- | --- |
| Fee Structure | Fee to Buy ADA | FCA Regulated | Top Features |
| 3.99% fee on card deposits and 1.49% for bank transfers over £200 | 1.5% of the purchase amount | Yes | Coinbase Learn and Coinbase Earn |
Pros
Easy-to-use platform
Users can earn rewards by learning about crypto
Numerous advanced features like staking and leveraged trading
Cons
High fees
The SEC lawsuit may cause disruptions
3. Kraken – Offers Beginner-Friendly Features and 3-6% APY on Cardano Staking

Kraken is next on our list of where to buy Cardano. It is a feature-dense exchange catering to beginners while offering over 200 cryptocurrencies and up to 6% APY when staking ADA. This is a significant improvement compared to Crypto.com, which offers up to 3%.
Kraken also boasts a learning platform, enabling users to learn about all things crypto through a vast selection of free in-depth crypto courses.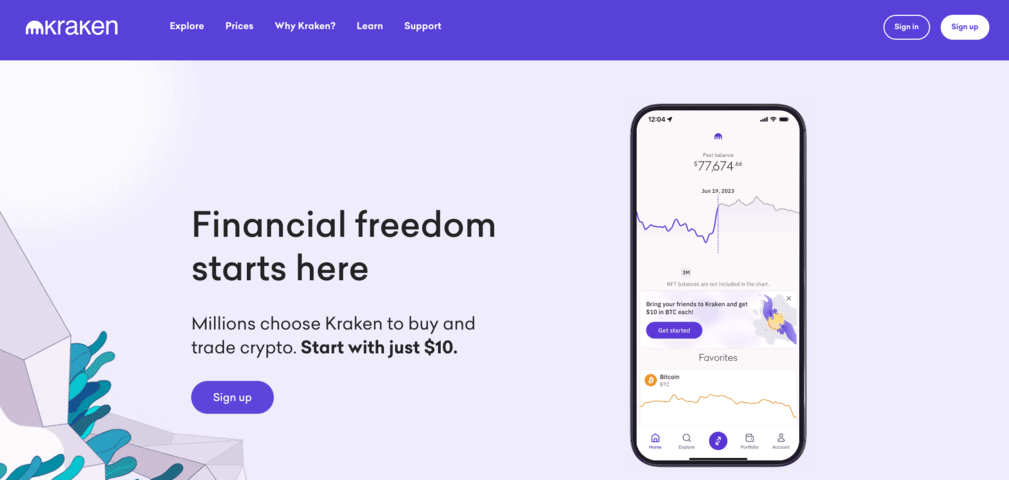 Moreover, Kraken provides separate beginner and advanced platforms. Still, you should move to the advanced platform as quickly as possible, as the beginner platform charges 1.5% trading fees. If you want a more beginner-friendly platform with lower fees, eToro is the best exchange.
Nevertheless, if you are comfortable using the advanced platform, Kraken offers features like margin trading, a sophisticated mobile app and multi-collateral futures contracts.
Deposit fees on Kraken are 3.75% for credit/debit cards but can be cheaper for bank transfers.
| | | |
| --- | --- | --- |
| Fee Structure | Fee to Buy ADA | FCA Regulated |
| 3.75% fee on card deposits | 1.5% of the purchase amount for beginner accounts | Yes |
Pros
Extensive learning content for beginners
Upto 6% APY on Cardano staking
Over 200 cryptocurrencies
Cons
1.5% trading fees on the beginner platform
3.75% card deposit fees
4. Crypto.com – Low Fees for Cardano Transactions and Provides Crypto Bank Cards With Cashback

Crypto.com is another brilliant option regarding where to buy ADA in the UK. It is one of the most feature-dense platforms, comprising margin trading, futures trading, a crypto bank card, an NFT exchange and much more.
On top of that, you can earn free crypto by staking Cardano on Crypto.com.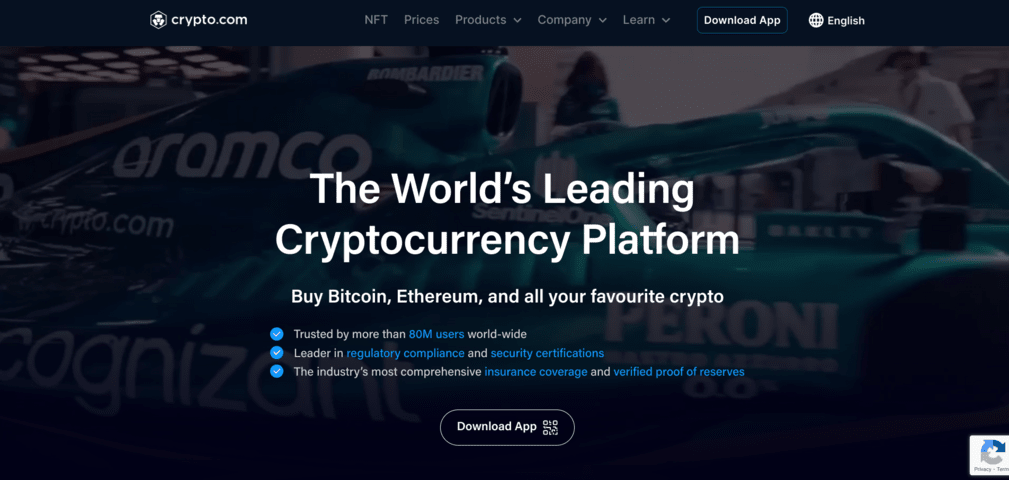 One of its main positives is the Crypto.com bank card, which lets you pay for daily purchases with crypto. Furthermore, the card offers cashback on some purchases, but to get the best rates, you must stake the platform's native token CRO.
Crypto.com offers free deposits for bank transfers, although this method can be slow and inconvenient. Alternatively, you can use a credit/debit card, but the platform charges a 2.99% fee. Nevertheless, Crypto.com holds the most competitive trading fees at just 0.075% to buy Cardano.
The main issue with Crypto.com is that it is less beginner-friendly than eToro and Coinbase. Its UI is difficult to navigate and will likely overwhelm newer users. Furthermore, lots of its products require you to hold and stake the CRO token, complicating the process.
Still, if you are comfortable with more advanced crypto UIs, Crypto.com is a fantastic option. Another reason is that it is one of the most secure crypto exchanges, featuring Proof of Reserves and compliance with Service Organization Control (SOC) 2 and numerous other frameworks.
| | | | |
| --- | --- | --- | --- |
| Fee Structure | Fee to Buy ADA | FCA Regulated | Top Features |
| 2.99% fee on card deposits | 0.075% of the purchase amount | Yes | NFT marketplace, crypto bank card and staking |
Pros
Low trading fees
Strong security with Proof of Reserves
Offers a crypto bank card
Cons
2.99% card deposit fee
Complex UI
5. Binance – Most Extensive Platform Offering Multiple Ways to Earn Yields on Cardano

Binance is the top crypto exchange by trading volume. It offers over 350 cryptocurrencies and boasts the most features, equipping users with endless ways to earn from their crypto assets.
Regarding Cardano, users can earn yield in numerous ways, from staking to liquidity providing and lending.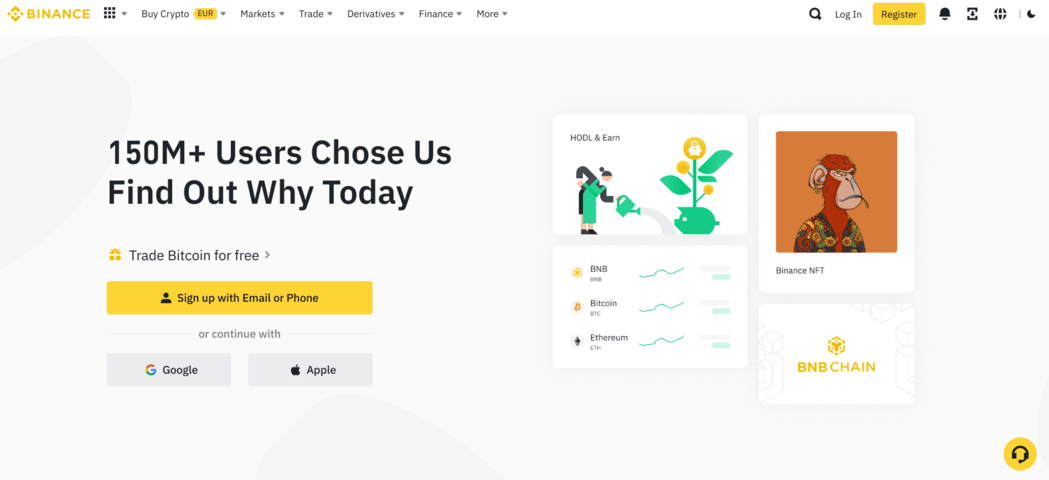 The platform also offers services like a DeFi wallet, cloud mining and a learning platform. This is ideal for advanced users, but there are more beginner-friendly platforms on the market, like eToro.
One thing to note regarding Binance is that it is not currently accepting GBP deposits. Therefore, UK customers who want to use Binance must buy crypto on another exchange and then send it to Binance.
Another concern is that Binance is currently facing significant legal troubles worldwide.
For most users, it makes more sense to simply buy and hold crypto on another exchange, but the platform is still worth considering for those looking to maximize their returns.
| | | |
| --- | --- | --- |
| Fee Structure | Fee to Buy ADA | FCA Regulated |
| Fiat deposits are not available from the UK. However, there are no fees on crypto deposits. | 0.1% of the purchase amount | Yes (partly) |
Pros
Feature-packed
Numerous ways to earn a yield on ADA
Cons
It faces legal issues worldwide
Users cannot deposit GBP
What is Cardano
Cardano is a decentralized layer 1 blockchain founded in 2015 by Charles Hoskinson and developed by IOHK. The project launched in 2017, utilizing a Proof-of-Stake consensus mechanism, which is more environmentally sustainable than the Proof-of-Work mechanism.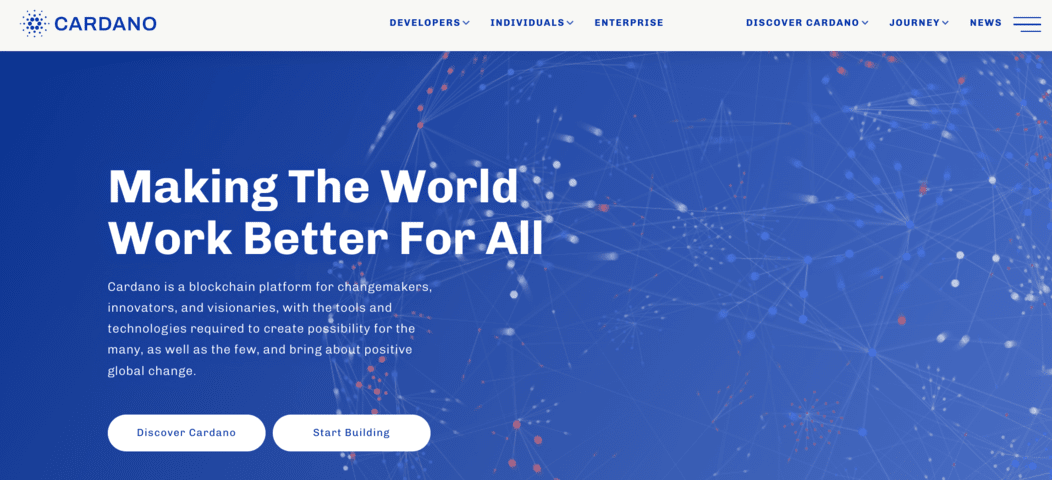 Before Cardano, Charles Hoskinson co-founded Ethereum but left to create something more scalable, interoperable and sustainable.
Cardano has taken an interesting approach to developing its blockchain, using peer-reviewed research to ensure its robustness. This has led to some unique results, helping bolster its scalability, governance and sustainability.
Scalability
Its main competitor, Ethereum, faces severe scalability issues that have stunted its adoption. To combat this issue, Ethereum has focused on interconnecting layer two blockchains to take some transactions off the main chain.
Cardano has recently released Hydra, a similar layer two solution that takes data off the main chain but boasts several advantages in helping Cardano achieve its ultimate goal of facilitating mass crypto adoption.
With the release of Hydra, Cardano is not necessarily focusing on a specific throughput of transactions per second (TPS) as much as it aims to establish flexibility and confluence in its network, which will ultimately facilitate a higher TPS.
Governance
One of the main focuses of decentralization is governance and how decisions are made to manage change on a blockchain. Cardano's native coin, ADA, is used for voting on the network to promote fair, decentralized and transparent decision-making.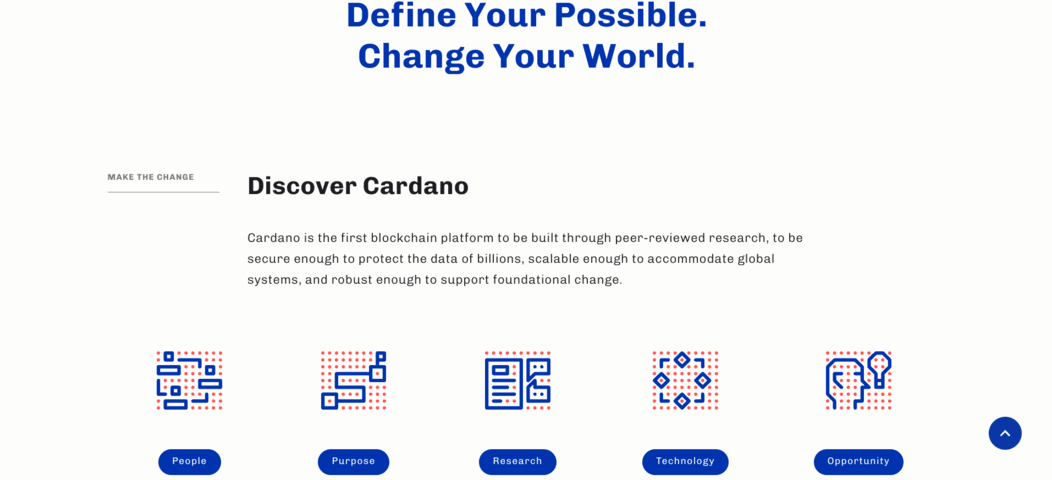 Each ADA holder can vote on changes to the network and management of its treasury. Cardano uses on-chain voting, making it immutable and decentralized. In comparison, Ethereum uses a method of proposing, debating and integrating, which is more qualitative and has raised criticisms of centralization compared to Cardano's approach.
Sustainability
Cardano is intensely focused on creating a sustainable world, referencing environmental, social and governance (ESG) compliance on its website.
Its approach to sustainability has three main goals: to prevent the climate crisis, create a fairer society, and facilitate sustainable development in the developing world.
The Cardano Roadmap
Cardano is still a work in progress, with a vast roadmap ahead. Its roadmap is split into different eras, all with a unique objective. With that in mind, here are the eras and what they will entail:
BYRON – Cardano's foundation aims to create a stable blockchain that anyone can transact on.
SHELLEY – Focused on establishing decentralization by increasing the number of nodes run by the community.
GOGUEN – The launch of smart contracts on the Cardano network, including the launch of a multi-currency ledger that does not require specialized contracts.
BASHO – Aiming to boost Cardano's scalability and performance. The aforementioned Hydra upgrade was a part of BASHO.
VOLTAIRE – This era will focus on governance and bolstering decentralization. Once implemented, users can present and vote on upgrades and manage funds on the network.
It is also worth noting that the Cardano website explains that work for all areas of its roadmap is running simultaneously across different development streams.
Is Cardano a Good Investment? Key Points to Consider
When deciding whether to buy a cryptocurrency, there are some key factors to consider first. These primarily relate to utility, security, price and team/community.
Cutting Edge Technology
As mentioned, Cardano is unique in that all its developments are peer-reviewed and backed by science. This is contrary to the traditional blockchain development process and has led to countless disruptive innovations within the Cardano ecosystem.
For example, as mentioned earlier, Cardano's multi-currency ledger will not require specialized smart contracts. This enables developers to create a much broader range of tokens in less time.
While this may just seem like a minor benefit, improving the development process is crucial in building a successful long-term blockchain that remains on the cusp of innovation.
Another factor regarding Cardano's technology is that it splits its consensus mechanism into the Cardano Settlement Layer (CSL), which handles transactions, wallet balances and smart contracts, and the Cardano Computation Layer (CCL), which handles applications.
This differs from Ethereum, where all the above is handled in a single layer. While it is a technical concept to understand, it effectively means these two layers can work as separate chains, boosting Cardano's scalability and enabling one layer to upgrade without disrupting the other.
Cardano's peer-reviewed development process gives it a solid foundation and a precise and technical approach to blockchain scalability and security. Looking ahead, Cardano's robust technology could provide an upper hand against other blockchains, potentially leading to mass adoption.
Tangible Use Case
One of the main criticisms regarding blockchain is that many innovations and advancements improve blockchain technology but render no tangible real-world benefits. The validity of this statement is beside the point, but the main thing to note is that Cardano is already making significant progress with its real-world use cases.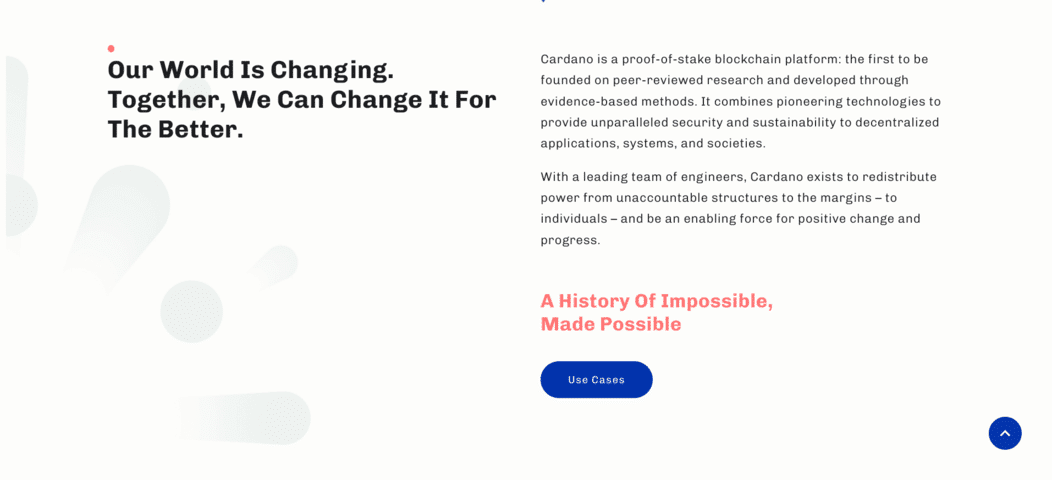 Cardano uses technological innovations to further its real-world utility. One example is Cardano partnering with Georgian Wines Agency to deliver immutable and auditable data, boosting supply chain efficiency while providing transparency for consumers on where each ingredient in the product is from.
The blockchain has also made significant advancements in the developing world, with Cardano's partner EMURGO taking substantial action to boost Web3 adoption in Africa to solve social issues.
Vast Expertise and Active Development
The topic of EMURGO brings us to the next point of Cardano's vast support network comprising partnerships, developers and investors. Its three main partners are EMURGO, the Cardano Foundation and IOHK. These three entities oversee separate areas of Cardano's development, ensuring it aligns with its overarching goals.
However, the blockchain's support network of partners and investors also spans notable organizations like the World Economic Forum, European Investment Bank, Oxfam, Shell Foundation and many more.

Access to such well-established organizations provides Cardano with vast resources and expertise, bolstering its potential for success.
Strong community
Community size and investor sentiment are among the most impactful factors on the price of crypto. While gauging the size of a cryptocurrency community can be challenging, key statistics like social media followers and online engagement provide a good indication.
The Cardano Twitter account currently boasts over 800K Twitter followers. However, the compelling and sometimes controversial Cardano Founder Charles Hoskinson has fostered an even more significant following, at over 979K.
Furthermore, the founder has established a cult following on YouTube, with over 300K subscribers. Ultimately, as well as being a renowned mathematician and blockchain developer, Charles Hoskinson is highly charismatic, which has enabled Cardano to amass a loyal community.
The size of the Cardano community could result in significant price movements as market conditions improve, as there are likely many investors waiting to purchase when the market picks up.
Buying the Dip
Finally, Cardano is currently trading at a significant discount from its ATH. The current Cardano price is $0.2624, down 91.53% from its peak. While it remains to be seen if it will reclaim its ATH in the next bull market, its low price could still result in significant upside potential.
There is room for more than 10x to reclaim its ATH based on its current price. While there is no guarantee it will reach this price, it rose much higher than its previous ATH during the last bull run.
Either way, Cardano's technological advancements, partnerships with some of the world's most influential organizations and a loyal community could make it one of the best cryptos to buy ahead of the next bull run.
Cardano Price History
Cardano's native coin ADA launched in October 2017 following an ICO that raised $62 million in 2016. ADA began trading around $0.02 and ranged up to $0.03 until November 2017, when a broader bull market rally began.
In January 2018, Cardano peaked just shy of $1 and then sold off, dropping to $0.15 before a bull trap and a downtrend continuation. The project then endured a prolonged bear market, trading below $0.1 until mid-2020.
However, Cardano was one of the best crypto winter projects, surging over 30x from its bear market lows to an ATH of $3.1 in September 2021.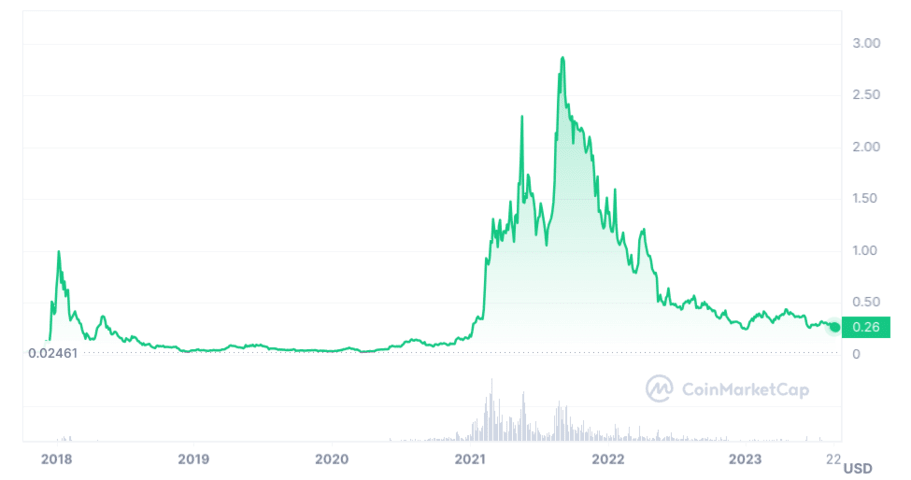 Following this, the project experienced an intense sell-off and has continued to downtrend, currently priced at $0.2633 with a $9.2 billion market cap.
Future Outlook – Cardano Price Prediction
Considering the discount Cardano is trading at and the upcoming bull market, many speculators predict tremendous growth for Cardano. During the previous bull market, ADA attained over 3x growth from its last ATH at its peak.
If it did the same in the upcoming bull market, the ADA price would be $9. However, volatility tends to reduce as assets mature due to the increasing market liquidity.
For example, ADA peaked at $1 in 2018, then $3.1 in 2021 – a 3.1x. However, it experienced a 50x in 2018 to reach $1. This illustrates the reduced volatility that comes with market maturity and indicates the next cycle may see even less growth. Nevertheless, with ADA currently 91% lower than its ATH, there is still significant upside potential.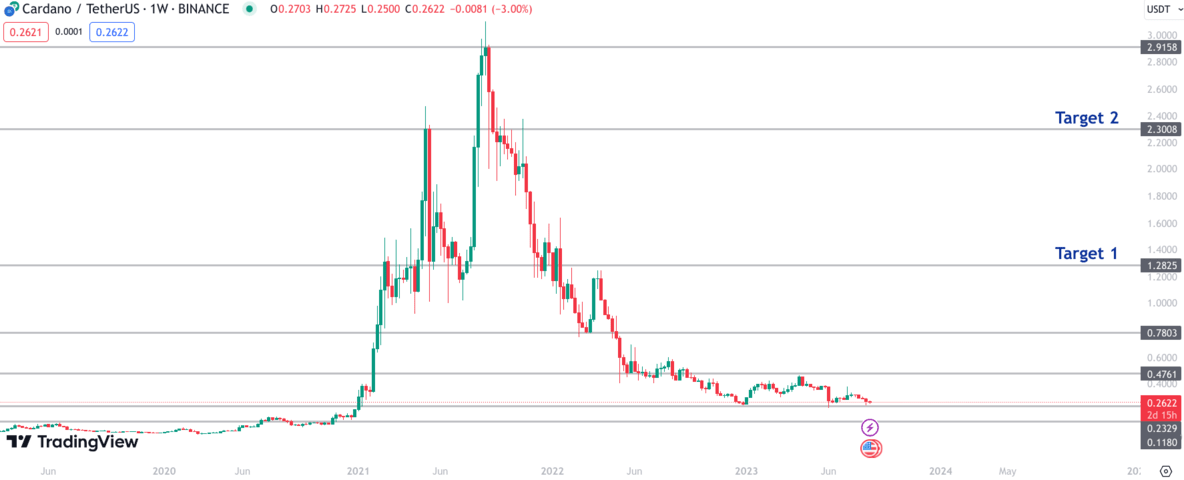 As seen on the chart above, Cardano is currently trading between $0.23 and $0.47. The likely scenario is to continue in this range until mid-2024 before bouncing to the upside. However, we may first see a deviation towards $0.11.
This would create a "shake out", generating mass panic selling and enabling whales to accumulate more Cardano before the bull run. That said, if it reached this price, it would likely result from a black swan event and correct quickly.
Following this, the most likely range for Cardano to trade in will be between $1.28 and $2.3. Although it could climb higher than this, such price action tends to be brief and quickly corrects to a fair value range.
What do Other Analysts Forecast
Crypto Capital Venture Founder Dan Gambardello recently predicted Cardano will reach a minimum ATH of $7.80 in the next bull market.
According to digital strategist at Money Advisor Azzam Sheikh, ADA could climb to highs of $0.716 by the end of 2023.
Meanwhile, a popular trading view analyst, Alan Santana, forecasts a similar trajectory to our prediction, forecasting a possible flash crash to retest the bear market lows and then commencing a bull run rally. Following the reversal, the trader's first price target is $0.62.
Can You Buy Cardano with PayPal in the UK?
While PayPal enables customers to buy crypto directly using its app, it recently halted this service in the UK. Another option for global crypto investors is to deposit PayPal funds to eToro and buy Cardano. However, this service is also unavailable to UK customers now.
Therefore, the best way to buy Cardano with PayPal in the UK is to transfer your funds from PayPal into a bank account and then deposit them to eToro, enjoying the platform's fee-free deposits.
Cheapest Way to Invest in Cardano in the UK – Exchange Prices Explained
Since there are so many ways to buy Cardano, identifying the cheapest method can be overwhelming. There are numerous factors to consider, like deposit, trading, and gas fees, if you use a decentralized exchange (DEX).
As mentioned, one of the most significant fees for buying Cardano is credit/debit card deposit fees, which can go as high as 3.99% on platforms like Coinbase.
While you can sometimes avoid these fees using bank transfer, this method is generally slower and less convenient. Considering this, the best option is eToro, which offers free card deposits.
The second consideration is trading fees. eToro offers competitive trading fees at 1%, but the most low-cost trading fees can be found on Crypto.com at 0.075%. However, it is important to consider that Crypto.com caters to more advanced users than eToro.
While eToro is designed with everyone from beginners to advanced traders in mind, Crypto.com's primary focus is serving advanced traders.
You could also use the Cardano blockchain to manage your ADA. However, you will still have to "on-ramp" your fiat currency, which involves depositing it to a centralized exchange (CEX), swapping it for ADA, and sending it to a Cardano wallet.
As such, you cannot buy ADA on the Cardano blockchain without first buying it on a CEX.
Things to Consider Before Investing in Cardano
While Cardano has cemented itself as one of the most promising cryptos, it is important to know that it still carries risk. Our primary concerns for Cardano are regulation, fragmentation and investor sentiment. We have explained each below.
Regulatory Scrutiny
The SEC referred to Cardano as a security when it sued Coinbase and Binance in June. While it has not taken any direct action against the Cardano Foundation or any other parties overseeing the project, its allegations undoubtedly present a risk of that happening in the future.
The project's growth would likely be stunted if the organizations overseeing Cardano are forced into a legal battle. This is evident with XRP's price, which could not reclaim its ATH in the last bull market due to the ongoing SEC lawsuit.
Blockchain Fragmentation
While regulation bears some importance regarding the price of XRP, the most crucial factor in the long term is its fragmentation issues. Due to its innovative design process, Cardano differs significantly from other blockchains.
For example, it has its own bespoke programming language incompatible with other blockchains. This makes it challenging for developers to move to Cardano or to migrate dApps from other networks onto the blockchain.
On top of that, it means users must adopt a different wallet since crypto wallets for blockchains like Ethereum and Solana are not compatible with the Cardano network. This takes effort and creates a complicated user experience.
Finally, Cardano faces issues of liquidity fragmentation since it is largely cut off from other chains, relying solely on wrapped tokens for cross-chain liquidity.
As such, liquidity is relatively thin on the Cardano network compared to competing chains like Ethereum. This makes Cardano a less attractive option for institutional players since the price impact of trading on Cardano would be too high.
To illustrate this, Ethereum has a TVL of $56 billion, while Cardano's TVL is just $198 million.
Investor Sentiment
The final risk regarding Cardano is that investor sentiment may decline if the downtrend continues. If this occurs, there is a risk that Cardano's price cannot recover despite the expected upcoming bull market.
Although this is unlikely due to Cardano's strong partnerships, robust network upgrades and thriving community, it is still worth considering since anything can happen in crypto.
How to Buy Cardano in the UK Detailed Step by Step
Now that we've covered the best places to buy Cardano and the advantages and risks of investing in this crypto project, let's explore how to buy it.
We will use eToro for our guide since it is our preferred crypto broker in terms of low fees, good usability, high security and fully-fledged features.
Step One: Open an eToro Account
First, visit the eToro website and select the Join eToro button. Then, sign up, either by email or by connecting a Google or Facebook account.
Once you have completed the sign-up process, you must verify your identity by uploading a copy of a government-issued document like a passport or driver's license.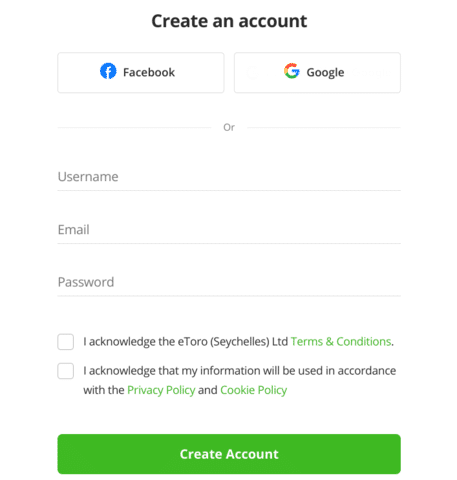 Step Two: Deposit Funds to eToro
Once verified, select the Deposit Funds button on the bottom left of the eToro dashboard. Then, choose your preferred payment method. Please note that card payments have a minimum deposit of £8, while bank transfer is £500.
If you deposit with a card, the funds should arrive in your eToro account within a few minutes.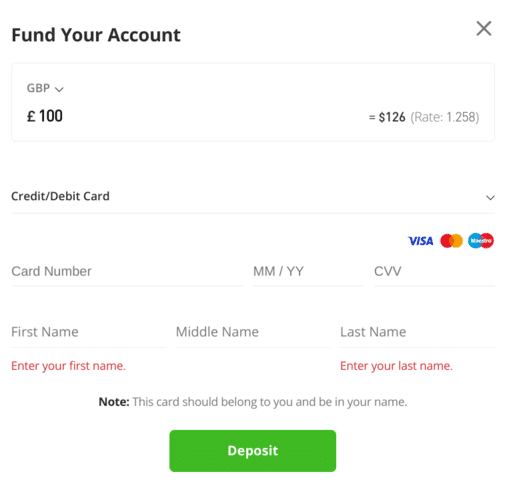 UK traders are required to deposit a minimum first-time amount of $50.
Step Three: Search for Cardano
Click on the search bar at the top of the eToro dashboard and search for Cardano. Once it appears, select the Trade option next to it.

Step Four: Complete Your ADA Purchase
Finally, choose the amount of Cardano you want to buy in USD value or select the Units button to denominate your purchase in ADA. For most people, using USD is more straightforward.
Once you have input the amount you want to buy, select Open Trade to complete your order.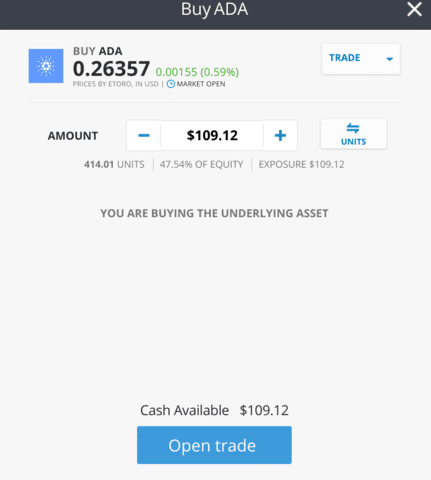 Conclusion
This article explored how to invest in ADA. We considered the best places to buy ADA in the UK and whether it is worth buying.
Ultimately, we found that while all cryptos carry risk, Cardano features impressive fundamentals, boasting real-world utility and partnerships with some of the world's most influential organizations. Moreover, it is currently trading 91% below its ATH, presenting tremendous upside potential.
References
FAQs
How can I buy Cardano in the UK?
Can I buy Cardano on eToro in the UK?
What is the best place to buy Cardano in the UK?