With the recent market crash pulling Dogecoin below 90% from its ATH, many buyers want to buy Dogecoin before the market picks up again.
This easy-to-follow guide is designed for beginners who want to know how to buy Dogecoin in the UK. It provides a clear, step-by-step buying process. It outlines the best places to buy DOGE, focusing on affordability, compliance with FCA regulations, and top features.
How to Buy Dogecoin in the UK for Beginners – Fast Track Guide
Here's a quick overview of steps explaining how to buy Dogecoin in the UK. We also have a detailed step-by-step guide in the following sections.
Choose a crypto exchange or broker – we recommend eToro as it's regulated by the FCA and supports copy trading with low fees:
Step 1 – Open an eToro Account

: The first step is opening a free

eToro

account. Provide basic information, and confirm your mobile number and email address.

Step 2 – Deposit Funds

: UK residents' minimum first deposit at eToro is $50. Payment options include debit cards, PayPal, or Skrill, with instant credit.

Step 3 – Decide How Much You Want to Invest & Search For DOGE

:

Determine the amount you wish to invest in Dogecoin. Then, u

se the search bar at the top of the eToro page. Simply enter 'Dogecoin' and click on 'Trade.'

Step 4 – Buy Dogecoin in the UK

:

Starting from $10, specify the amount you want to invest in Dogecoin on the eToro platform. Then, c

onfirm the investment by clicking on 'Open Trade.'
Where to Buy Dogecoin in the UK – Best Exchanges Reviewed
Dogecoin has made a huge impact in the crypto world since its launch. With its growing popularity and high market cap, it stands as the biggest meme coin by market cap at the time of writing.
If you're wondering where to buy Dogecoin? – you're not alone. Many UK investors are looking to buy Dogecoin from a reliable exchange. We have analyzed and identified some of the top exchanges, ensuring that the process is transparent and secure;
1. eToro – Overall Best Exchange to Buy Dogecoin With Low Costs & User-Friendly Design
When considering where to buy Dogecoin in the UK, eToro is a top choice. eToro is authorized and regulated by the UK's Financial Conduct Authority (FCA). This makes eToro a reliable choice among many crypto brokers and assures users of a safe and secure environment for trading.
Designed to be user-friendly, eToro's platform appeals to beginners and seasoned traders alike. The simple onboarding process requires creating an account and a minimum deposit of $10. Payment methods include debit cards, bank transfers, and e-wallets such as PayPal, Skrill, and Neteller.
Beyond Dogecoin, eToro offers access to many other currencies, including Bitcoin, Litecoin, Cardano, and more. This feature allows investors to diversify their portfolios across various cryptos easily.
eToro's spread-only basis approach means investors only pay the difference between the buy and sell price at the time of the trade, which adds to the simplicity of buying Dogecoin.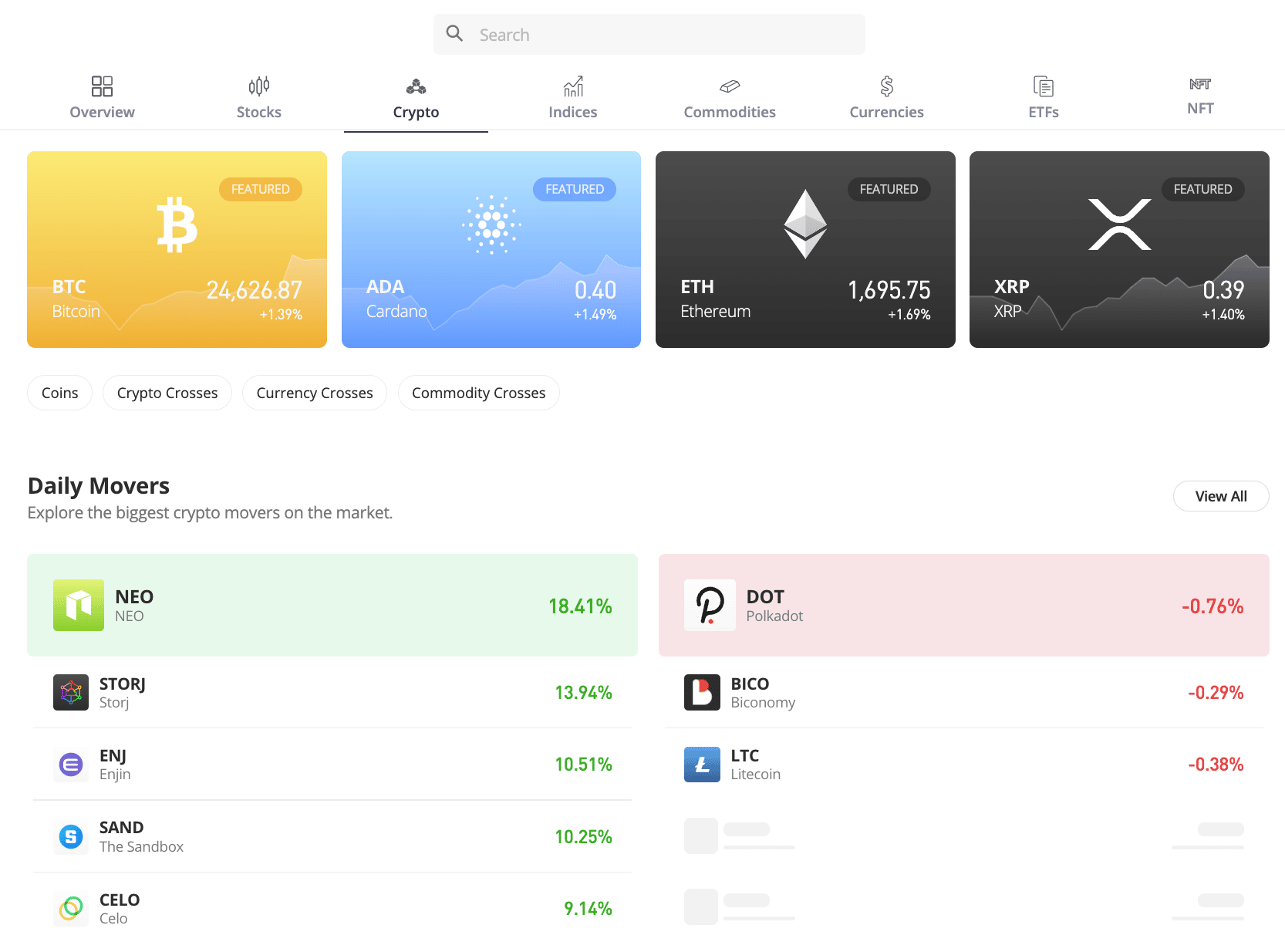 eToro provides innovative features like copy trading, where users can automatically replicate the trades of successful investors. The platform also offers the CryptoPortfolio, enabling diversification across dozens of crypto assets through a single investment. These innovative features have drawn in new users, making eToro one of the best day trading platforms in the UK.
Aside from cryptos, eToro hosts thousands of UK and foreign stocks and ETFs at 0% commission. Although crypto investments are not covered by the Financial Services Compensation Scheme (FSCS), these traditional securities offer further diversification options.
eToro charges a 1% fee per trade plus the bid/ask spread. These low costs contribute to its reputation as one of the UK's best places to buy and sell Dogecoin.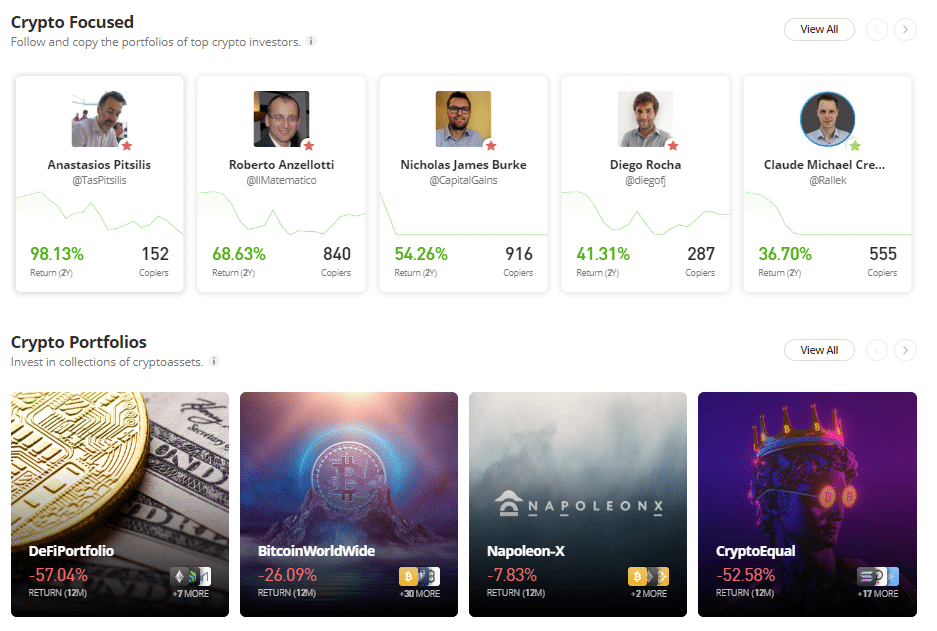 eToro also offers one of the best crypto wallets in the UK, especially for diversifying their portfolios across multiple digital assets.
eToro is an attractive option for those buying Dogecoin in the UK. With strong regulatory backing, a user-friendly interface, diverse investment opportunities, low fees, and additional trading tools, eToro fulfills the needs of both beginners and experienced traders.
It offers a robust and simple solution for those learning how to buy and sell Dogecoin in 2023, making it a preferred choice among 28 million users worldwide.
Pricing Structure
Fee For Buying Dogecoin
FCA Regulated?
Top Features

Tight Spreads

1%

Yes

Accessibility

: $10 minimum deposit and various payment methods.

Copy Trading

: Replicate successful trades by copying experienced investors

Multi-Asset Platform

: Includes stocks and ETFs at 0% commission.

Crypto Wallet

: eToro Money Crypto wallet comes with unlosable keys and is regulated by the GFSC

Global Reach

: Preferred by 28 million users worldwide.
Pros
Regulated by FCA: Ensures a safe trading environment.

User-Friendly: Suitable for beginners and experienced traders.

Low Costs: Competitive pricing with a 1% fee per trade.

Diverse Investments: Offers cryptos, stocks, ETFs and more.
Cons
Spread-Only Basis: This pricing structure may not appeal to all traders.
Crypto assets are highly volatile and unregulated in most EU countries, Australia, and the UK. No consumer protection. Tax on profits may apply. Your capital is at risk.
2. Coinbase – Leading Exchange With Robust Security and Instant Processing, Offering Over 250 Assets
Coinbase is one of the best crypto exchanges in the UK, with an expansive reach of over 100 million customers. The process of how to buy Dogecoin through Coinbase is simple.
It begins with account creation, which requires personal information and identification verification, such as a passport or driver's license. After verification, you can quickly purchase Dogecoin using a Visa or MasterCard, with an instant processing time.
However, it's essential to consider the cost involved. Coinbase's fee for purchasing Dogecoin with a debit card is 3.99%, making it a more expensive option.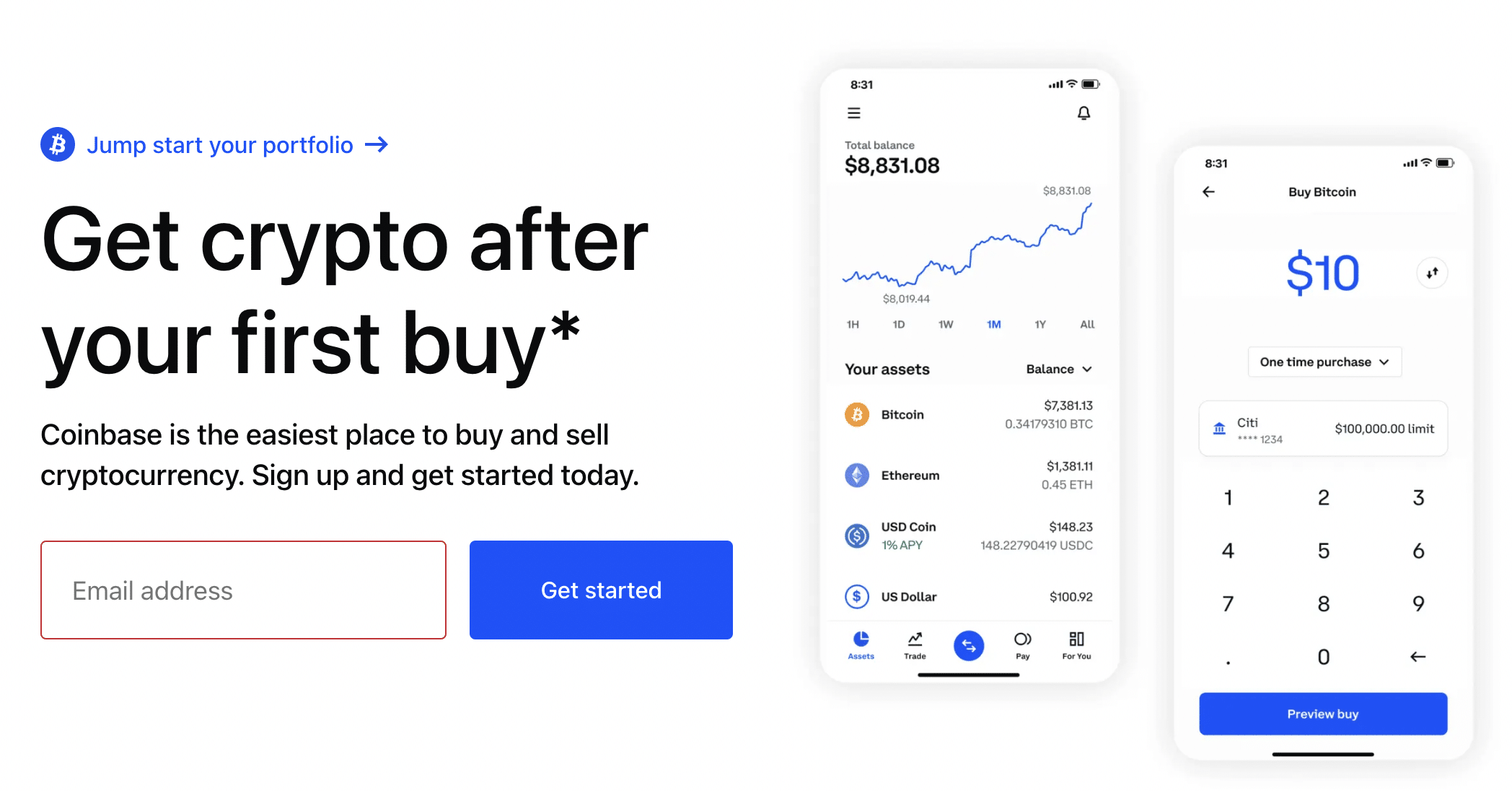 Alternatively, one can transfer funds from a UK bank account, eliminating deposit fees but incurring a 1.49% trading commission. These charges contrast with platforms like eToro, which may provide cheaper alternatives.
Besides Dogecoin, Coinbase allows investment in over 250 other crypto assets, including Ethereum, Litecoin, Bitcoin, and more. With a minimum investment requirement of just £1, Coinbase attracts beginners.
While Coinbase provides an easy-to-navigate platform for buying Dogecoin in the UK, the higher fees may lead some to explore other alternatives. Nevertheless, its reputation, security features, and broad asset support make it a viable option for new and experienced traders.
Pricing Structure
Fee For Buying Dogecoin
FCA Regulated?
Top Features

Relatively High – 3.99% (debit card); 1.49% (bank transfer)

1% trading fees + 0.5% spread

Yes

Simple Buying Process

: Quick execution using Visa or MasterCard.

Broad Crypto Asset Support

: Over 250 crypto assets are available for investment.

Robust Security

: Two-factor authentication and other secure features.

Convenience

: A native wallet app that improves access and mobility.
Pros
Ease of use, with a simple account creation and verification process.

Wide range of available crypto assets (250+), including Dogecoin.

Robust security features, including two-factor authentication.

Low minimum investment (£2), making it beginner-friendly
Cons
Relatively high fees for buying Dogecoin (3.99% for debit card, 1.49% for bank transfer)
Crypto assets are highly volatile and unregulated in most EU countries, Australia, and the UK. No consumer protection. Tax on profits may apply. Your capital is at risk.
3. Bitstamp – User-Friendly Platform To Buy Dogecoin With 24/7 Support
Bitstamp, founded in 2011, offers access to over 80 cryptos, such as Dogecoin, Ethereum, and Polygon. This platform has developed a reputation for being cost-effective and versatile, especially for users trading less than $1,000 in a month, where trading commissions are non-existent.
One of Bitstamp's main draws is its competitive fees, charging only 0.5% per trade and lowering it to 0.25% if the trading volume exceeds $10,000 monthly. This makes it an attractive choice for both small and large investors.
However, it's important to note that there is a 4%-5% fee for UK debit card deposits, making it more expensive than other platforms. This aside, Bitstamp's fee structure remains transparent with no hidden charges, which appeals to the user's trust.
The registration process is simple, and the availability of mobile applications for iOS and Android further improves the user experience. Moreover, the Faster Payments network allows UK clients to fund their accounts without fees or minimum deposits.
The platform caters to seasoned and casual investors, offering three trading platforms: Bitstamp.net, Tradeview, and a mobile application. The provision of 24/7 global support adds another layer to its reliability.
Bitstamp's extensive decade-long operational history, diverse crypto selections, transparent fees, and strong security measures make it an appealing option for those buying Dogecoin and other digital currencies.
Pricing Structure
Fee For Buying Dogecoin
FCA Regulated?
Top Features

0.5% per trade (0.25% over $10,000/month)

0.5%

Yes

Pricing Structure

: 0.5% per trade, reduced to 0.25% if trading volume exceeds $10,000 monthly.

Diverse Selection

: Offers over 80 different cryptos.

User Experience

: Simple registration process with mobile applications for iOS and Android.

24/7 Global Support

: Ensures consistent access to assistance for any potential issues.
Pros
Competitive and transparent fee structure.

Versatile platform catering to both casual and seasoned investors.

Extensive operational history (10+ years) adds to credibility.
Cons
4%-5% fee for UK debit card deposits, making it more expensive in certain scenarios.
Crypto assets are highly volatile and unregulated in most EU countries, Australia, and the UK. No consumer protection. Tax on profits may apply. Your capital is at risk.
4. Crypto.com – User-Friendly Platform For Low-Cost Dogecoin Trading
Crypto.com is a rapidly growing crypto exchange offering a user-friendly mobile app that supports iOS and Android. Primarily appealing to investors looking to buy Dogecoin, the Crypto.com app stands out in a competitive market with its user-friendly interface and low fees.
Opening an account on Crypto.com is quick, with free GBP deposits available through personal bank accounts. Although these might take a few days to clear, the process is usually significantly quicker. Dogecoin can be bought instantly with a UK debit card, but at a 2.99% fee, slightly higher than some competitors.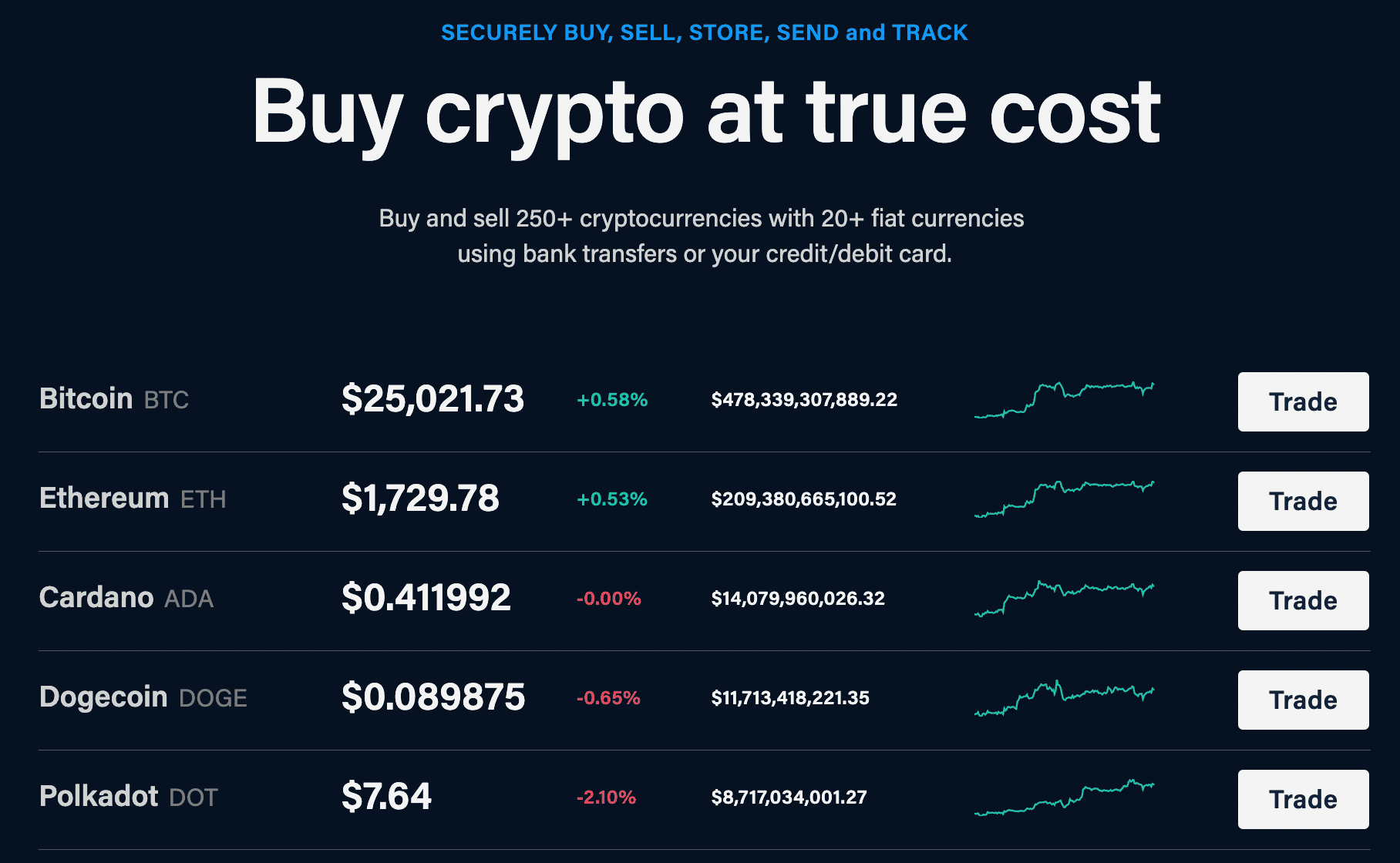 The platform offers over 250 cryptos, including Dogecoin. The trading commission stands at 0.075% when exchanging cryptos, and the platform even offers interest accounts and functions as a fully-fledged wallet.
In terms of incentives, Crypto.com provides unique features like 'Missions,' where users can earn Diamonds to exchange for rewards. They also offer a crypto VISA card with up to 8% cashback in certain places.
The platform is an efficient choice for purchasing Dogecoin, especially for those prioritizing a user-friendly mobile experience. The fee structure and innovative features make it a noteworthy option, but it is essential to consider individual needs and preferences.
Pricing Structure
Fee For Buying Dogecoin
FCA Regulated?
Top Features

2.99% fee for UK debit card

Trading – 0.075%

Yes

Extensive selection of over 250 cryptos, including Dogecoin.

User-friendly wallet and app.

'Missions' feature to earn Diamonds for rewards.
Pros
A user-friendly mobile app is available for both iOS and Android.

Competitive low fees for trading, 0.075% trading commission.

Fast account opening with free GBP deposits.

Unique features like 'Missions' and crypto VISA card incentives.
Cons
Buying Dogecoin with a UK debit card incurs a slightly higher fee of 2.99%.
Crypto assets are highly volatile and unregulated in most EU countries, Australia, and the UK. No consumer protection. Tax on profits may apply. Your capital is at risk.
What is Dogecoin?
Dogecoin is a decentralized, peer-to-peer crypto launched in December 2013 as a lighthearted alternative to mainstream cryptos like Bitcoin. Its name and Shiba Inu logo, derived from a popular meme, give it its unique identity.
The creation of Dogecoin was inspired by a social media buzz that caught the attention of software developers Billy Marcus and Jackson Palmer.
Initially conceived as a joke, the positive feedback led them to bring Dogecoin to life. Its code was based on Luckycoin, which in turn was derived from Litecoin.
In the early years, Dogecoin was more associated with memes and internet fun than a serious investment. However, it gained significant fame during the crypto bubble between 2017 and early 2018, when its value increased exponentially. After the bubble burst, its value decreased, but a core group of believers still supported it.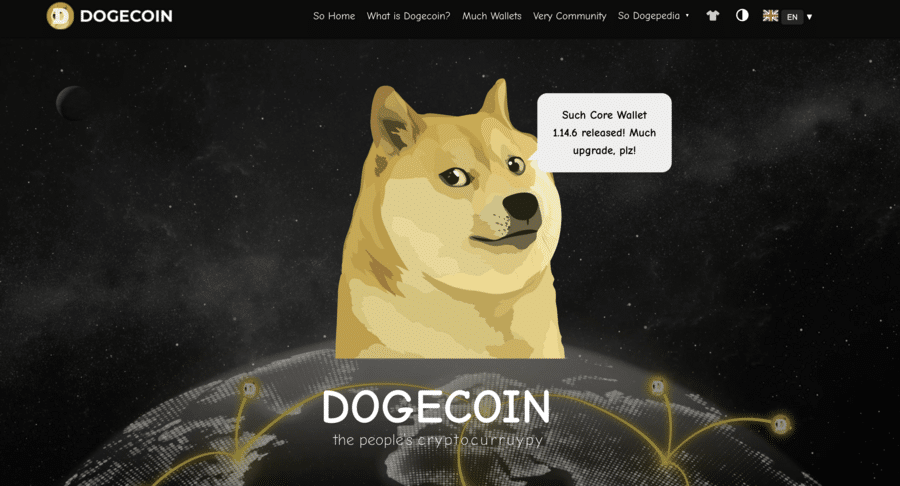 Dogecoin's blockchain protocol is forked from Litecoin with specific alterations. While Litecoin takes 2.5 minutes to mint a block, Dogecoin does so in one minute. Utilizing the Scrypt hash function instead of Bitcoin's SHA256, Dogecoin made certain hardware, specifically engineered for Blockchain, inefficient.
The platform's fast block minting and acceptance by various services, such as the American Gold Exchange, provide practical utility. Furthermore, Dogecoin is used for donations for Twitch streamers and purchasing merchandise from teams like Dallas Mavericks.
Unlike Bitcoin, Dogecoin has no cap on the number of DOGE in circulation, creating an ever-growing supply. Approximately 10,000 new coins are mined every minute, contributing to its abundance.
What makes Dogecoin valuable is a complex interplay of supply and demand. Its ever-growing supply required a surge in demand to drive its values. The price rocketed around 7,000% in 2021, influenced by the broader crypto boom and media attention.
Crypto assets are highly volatile and unregulated in most EU countries, Australia, and the UK. No consumer protection. Tax on profits may apply. Your capital is at risk.
Is Dogecoin a Good Investment?
The question of whether Dogecoin is a good investment has many dimensions. It depends on individual financial goals, risk tolerance, and careful consideration of the points discussed below. It requires a nuanced perspective that weighs the potential rewards against the inherent risks.
Community and Development Support
Community Engagement

: One of the main factors of Dogecoin's success is its strong community support. From tipping content creators to funding philanthropic projects, the community can continue to drive positive attention to the coin.

Developer Activity

: While the development activity was relatively stagnant, recent engagements indicate an uptick in interest in improving the network's functionality and security. However, it's worth comparing the development activity with other major cryptos to gauge Dogecoin's competitiveness.

Partnerships and Integrations

: Dogecoin's adoption into payment systems, collaboration with businesses, and ongoing integration with DeFi platforms may have a lasting impact on its value and utility. Monitoring these developments can help investors make a more informed decision.
Liquidity & Accessibility
Highly Liquid Asset

: Dogecoin's multi-billion dollar market capitalization ensures high liquidity, making buying and selling easier.

Widespread Availability

: Some of the

best brokers UK

and crypto exchanges offer Dogecoin, improving its accessibility for investors.

Affordability

: Unlike Bitcoin or Ethereum, which can cost thousands of dollars per coin, Dogecoin is priced under $1, allowing investors to own many tokens without heavy investment. This affordability can attract small investors who prefer owning whole tokens over fractional parts of expensive assets.
Potential for Global Payments
Fast and Cheap Transactions

: Dogecoin's one-minute confirmation time and low transaction fees make it an attractive option for transferring funds domestically and overseas.

Comparison with Other Cryptos

: Although it outperforms Bitcoin in speed and cost, other networks like XRP, Solana, and Cardano offer even more efficiency, which might make Dogecoin less competitive in the long run.
Other Points To Consider
Discounted Price: Dogecoin experienced a significant market correction since its peak in 2021. This price reduction is an opportunity to buy at a discounted rate. At press time, DOGE is trading at a 91% discount from its ATH price of $0.73.
Volatility Risk

: However, the same price fluctuations that create these opportunities also indicate a level of volatility that may not be suitable for all investors.
Celebrity Endorsement

: Elon Musk's support for Dogecoin has significantly impacted its value. A single tweet from him can move the market. However, dependence on Musk's endorsement could make the price susceptible to sudden changes based on his statements or actions.
Global Payment Network Suitability

: While superior to Bitcoin, its performance does not make it the de facto choice for a global payments network.
Dogecoin Price History
Dogecoin's price history can be categorized into three phases: the pre-2021 stability, the meteoric rise in 2021, and the turbulent journey from 2022 into 2023.
The 2021 Surge
From its inception in 2013 until the dawn of 2021, Dogecoin remained relatively uneventful, often mirroring the broader crypto market trends. Its value hovered around the $0.002-$0.004 range during this period.
2021 was a turning point for Dogecoin, with its price rising from $0.008 to $0.7 by early May. This represents an impressive gain of over 8,000%, partly attributable to Tesla CEO Elon Musk's endorsements. This rise peaked on May 8, 2021, with an all-time high of $0.7376, a surge of over 15,650% from the start of the year.
However, after Musk's appearance on Saturday Night Live, where he referred to Dogecoin as a "hustle," the price dropped, falling to around $0.3 by the end of May.
2022-2023: A Roller Coaster Ride
In 2022, Dogecoin opened at around $0.17, fluctuating throughout the year. A high of $0.2 was achieved in January, followed by a dip to $0.05 in June when Bitcoin crashed.
Several events contributed to Dogecoin's fluctuating price, such as Elon Musk's interventions, the collapse of specific exchanges, and social media-driven spikes. By the end of 2022, Dogecoin settled at $0.07, followed by a resurgence in early 2023.
The beginning of 2023 saw Dogecoin recovering, closing January at $0.09. However, the collapse of Silvergate Bank led to a drop to $0.06 in March. At press time, DOGE was near the $0.06 level after being relatively stable near its $0.05 support level for the last two months.
Future Outlook – Dogecoin Price Prediction
Dogecoin has proven to be more than a fad in the crypto space. Though its journey has been filled with ups and downs, the coin continues to draw attention from investors and analysts alike. Below is a Dogecoin price prediction analysis based on recent market trends.
Since reaching its ATH in May 2021, Dogecoin's price has descended for around 18 months, forming a pattern known as a descending channel. This pattern, comprising two parallel downward lines, resembles a sharp downtrend. Yet, it also signals a cyclical behavior, hinting at a potential price reversal.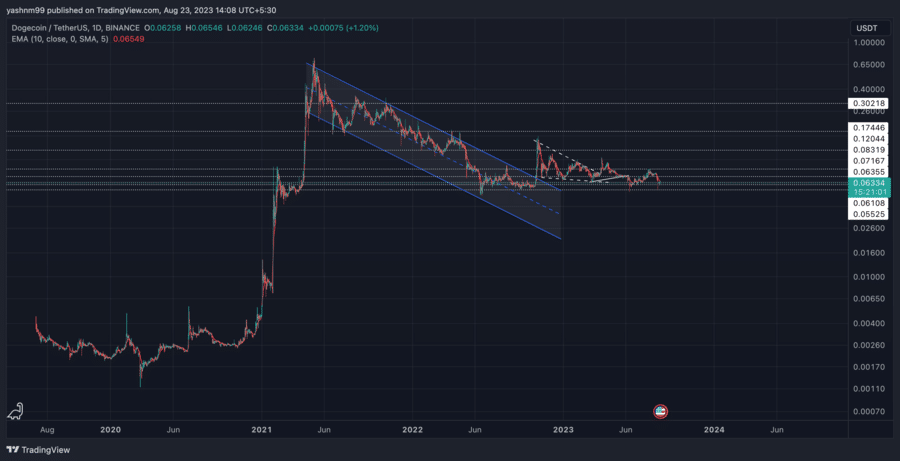 In October of the previous year, Dogecoin broke free from this downward momentum in a bullish rally, but unfortunately, the rally was short-lived.
The market then slipped into a 'falling wedge,' indicating a bearish domination. However, the price recently reversed from the $0.07 horizontal support, aligning with the lower trendline of the rising wedge.
Moreover, looking at the Exponential Moving Average (EMA) is crucial for a well-rounded view. Acting like a temperature gauge for market momentum, investors often refer to the 20-day and 200-day EMA. The price has slipped below these averages, and a bearish crossover has amplified the bearish momentum.
Currently, Dogecoin's price hovers near the EMA lines, and the coin is in a low volatility phase, meaning price fluctuations are minor for now. However, this could induce a period of high volatility, soon leading to dramatic price movements.
A solid rebound from the $0.05 support could trigger a near-term price rise. A decisive indicator for buyers might be the closure above the 20/200 EMA, signaling a possible trend shift. Closing above the $0.083 mark might induce a bullish break, potentially taking DOGE to the $0.17-$0.2 range by 2023.
Other Analysts' Predictions
Below is a quick overview of Dogecoin prediction of some top analysts until 2025;
Digital Coin Price suggests a possible rise to $1.23. Here's their specific assessment for the coming years:
In 2023, they expect a minimum price of $0.0565, an average price of $0.12, and a maximum price of $0.14.

For 2024, these numbers increase to a minimum of $0.14, an average of $0.15, and a maximum of $0.16.

The prediction for 2025 includes a minimum price of $0.19, an average of $0.22, and a maximum of $0.23.
Another perspective comes from Telegaon, with more optimistic projections for Dogecoin:
Their 2023 forecast ranges between $0.13 and $0.34, with an average price of $0.25.

By 2024, they anticipate a $0.37 to $0.59 range, with a $0.48 average.

Their 2025 prediction spans from a low of $0.61 to a high of $0.92 and an average price of $0.76.
CoinCodex also offers its view of Dogecoin's future, forecasting the following:
For 2023, Dogecoin is expected to trade between $0.052 to $0.16.

Their 2024 prediction suggests a range from $0.052 to $0.27, with a potential 332.95% increase if it reaches the higher target.

Their 2025 forecast ranges from $0.06 to $0.14, possibly reaching a 127.31% increase if it attains the upper target.
Can You Buy Dogecoin with PayPal in the UK?
Potential investors in the UK may explore various options to invest in digital currencies, including through PayPal. Unfortunately, the options are limited when buying Dogecoin, specifically via PayPal in the UK.
PayPal does allow the purchase of a select few cryptos, such as Bitcoin, Ethereum, Bitcoin Cash, and Litecoin. The convenience of a $1 minimum purchase and the platform's reputation for security and user-friendliness make it a preferred choice for many. Yet, Dogecoin is notably absent from the list of supported cryptos on PayPal in the UK.
This exclusion leaves those interested in acquiring Dogecoin with PayPal needing alternative methods. Reputable brokers like eToro have filled this gap, allowing traders to deposit funds via PayPal and then utilize those funds to purchase Dogecoin within the UK. This indirect method offers a viable solution, albeit with considerations around fees.
For example, eToro doesn't charge fees for PayPal accounts denominated in US dollars, but if one opts to use Coinbase for depositing funds with PayPal, a 3.99% charge applies.
Cheapest Way to Invest in Dogecoin in the UK – Exchange Prices Explained
If you're wondering how to invest in Dogecoin in the UK via the cheapest method, there are several things to consider. Here's an explanation that aligns with the cheapest options:
Brokers

: Platforms like eToro, an FCA-regulated broker, offer a relatively quick and efficient way to invest in Dogecoin. With an investment minimum of roughly £7, eToro charges a nominal 0.5% on debit card purchases, significantly lower than competitors such as Coinbase, whose fee is 3.99%.

Centralized Exchanges

: Traditional exchanges offer different payment options, including bank deposits, which are often free but can take days to clear.

Decentralized Exchanges

: These are often credited for security and privacy but might present a steeper learning curve for beginners.

Payment Methods

: Debit/credit cards and e-wallets provide instant processing, but the fees can vary across providers. Awareness of the trading commission and potential withdrawal fees is key to minimizing costs.

Hidden Costs

: Beyond the transaction fees, investors should be cautious of potential withdrawal charges, depending on the chosen broker or exchange.
Considering the overall cost, including deposit and trading commissions, eToro is the best way to buy Dogecoin in the UK.
While other methods might suit different preferences, eToro provides a balanced combination of affordability, speed, and user-friendliness, appealing especially to those new to the crypto space.
Nonetheless, investment decisions should align with individual financial goals and risk tolerance, ensuring a well-informed approach.
Crypto assets are highly volatile and unregulated in most EU countries, Australia, and the UK. No consumer protection. Tax on profits may apply. Your capital is at risk.
Things to Consider Before Investing in Dogecoin
Before you buy DOGE in the UK, it's vital to understand factors that can affect its future. Below are vital aspects potential investors should be mindful of:
Speculation

: Meme cryptos, including Dogecoin, are often driven by speculation and hype rather than inherent value. While Dogecoin's meteoric rise of over 8,000% in just seven months in 2021 caught the world's attention, this rapid growth can also lead to steep falls. Unlike traditional investments in blue-chip stocks, which may grow steadily over the years, Dogecoin's volatility can result in stunning profits and devastating losses.

Elon Musk's Influence

: Elon Musk's past endorsements of Dogecoin played a crucial role in its price surge. His recent silence and

accusations of insider trading in a lawsuit

could affect investor sentiment in the near term. The reliance on a celebrity's remarks for market movement highlights a lack of stability and might discourage long-term investors.

Performance

: While Dogecoin may be considered for its fast and low-cost transactions, other blockchains, such as Solana, outperform it significantly. Dogecoin's inability to enhance its network's efficiency might render the project obsolete in the face of competitors that offer superior technology.

Ongoing SEC Case

: Recently, the

SEC has filed charges against Binance

, which include charges of operating as an unregistered exchange and misrepresenting trading controls. This legal turmoil may shadow Dogecoin's recovery and the broader crypto market, adding to the uncertainty.
How to Buy DOGE in the UK Detailed Step-by-Step
If you're wondering where to invest in Dogecoin in the UK, this section outlines a five-step process to buy DOGE through the FCA-regulated platform eToro.
Step 1: Select a Platform
When deciding where to buy DOGE from, choose a platform that complies with UK regulations. eToro is authorized and regulated by the FCA. Opting for a regulated platform ensures safety and legality in the trading process.
Step 2: Create an Account
Now, you'll need to open an account with eToro. Platforms like eToro require you to complete a registration form, including your name, email address, mobile number, and other details.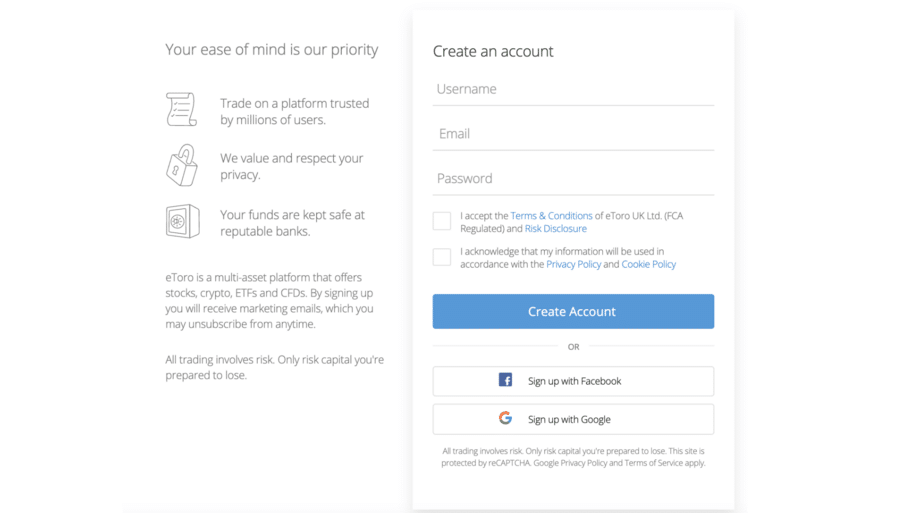 Step 3: Verification Process
As part of the Know-Your-Customer (KYC) process, you must upload identification documents such as a passport or driver's license and a recent utility bill or bank statement.
If depositing less than £1,600, you can buy DOGE without uploading these documents initially, but verification is mandatory before withdrawals.
Step 4: Deposit Funds
How to invest in DOGE? Start by depositing funds into your account. UK customers can start with just £7 and choose to pay via debit/credit card, e-wallet, or bank transfer. A reasonable 0.5% FX fee may apply for GBP deposits to convert funds into USD for the DOGE purchase.
Step 5: Search and Buy DOGE
Once your account is funded, search for Dogecoin by entering 'DOGE' in the search bar. Click on 'trade' when you see the asset appear.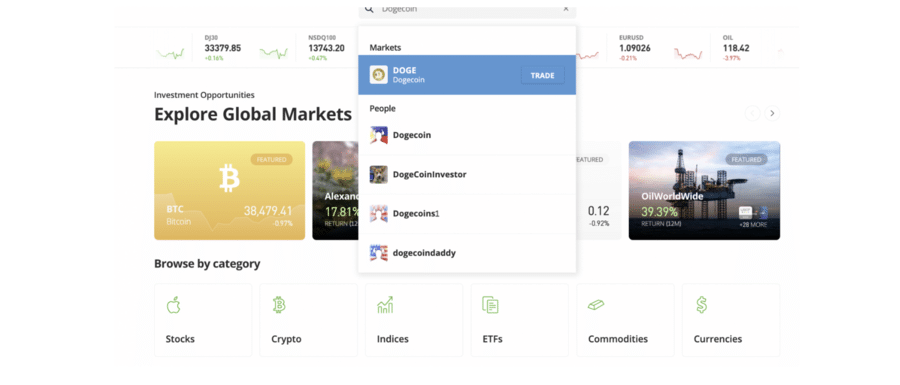 An order box will appear where you can specify the amount you wish to invest, starting from $10. Click 'Open Trade' to confirm, and the DOGE tokens will be added to your portfolio.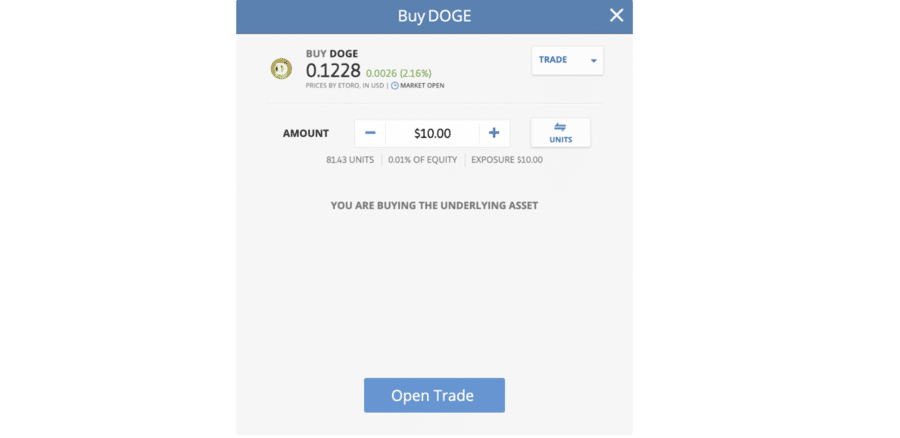 Conclusion
In this comprehensive guide on how to buy DOGE, we have outlined the most cost-efficient and secure methods for beginners, particularly highlighting the FCA-regulated platform eToro.
Whether in the UK or elsewhere, buying Dogecoin is simple if you choose the right brokers or exchanges. From a detailed review of the top options to the step-by-step instructions, we've covered everything you need to invest in Dogecoin.
From these options, eToro stands out with its user-friendly design. With a low minimum deposit, various payment methods, and a spread-only pricing structure, eToro makes Dogecoin trading accessible and affordable.
Crypto assets are highly volatile and unregulated in most EU countries, Australia, and the UK. No consumer protection. Tax on profits may apply. Your capital is at risk.
References
FAQs
How can I buy Dogecoin in the UK?
Can I buy Dogecoin on eToro in the UK?
What is the best place to buy Dogecoin in the UK?